You can make these decorated wooden spoons for a gift for mom or for your own kitchen. This week I am going to share a couple of tutorials using a 2 part resin epoxy. This is one material that I think people are afraid to use in their crafting but can give really professional results. You can also see below just how easy this product can be to use!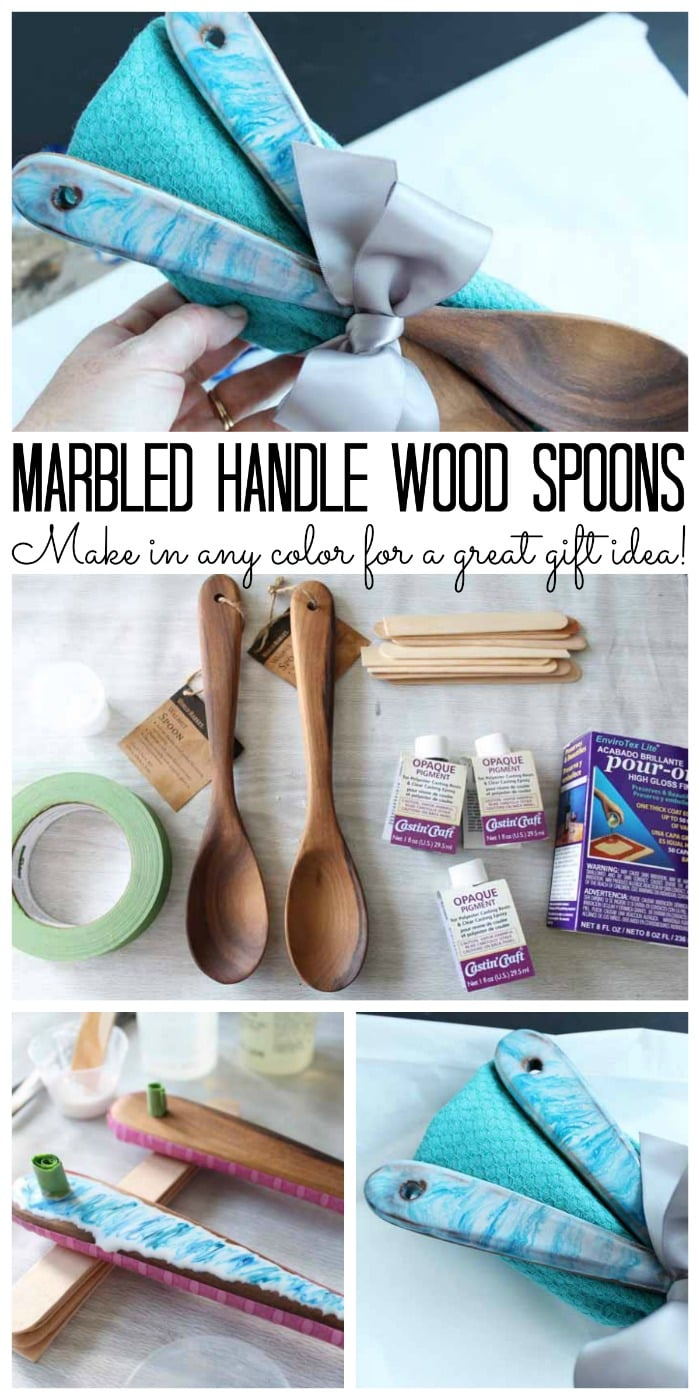 Supplies needed to make these decorated wooden spoons:
Some product below was given to me free of charge as well but all opinions and projects are always my own.
Wood spoons (choose ones with a flat handle surface)
Stir Sticks
Castin' Crafts Opaque Pigment (in the colors of your choice however I used white, green, and blue)
Measuring and mixing cups
Toothpicks
Rags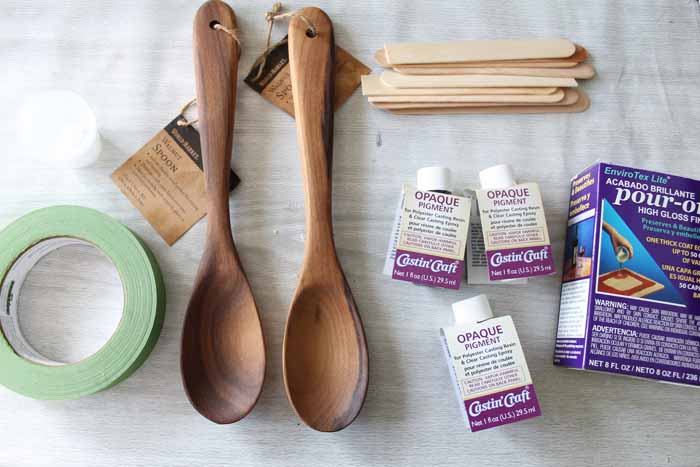 Instructions:
You will want to start by covering the sides of your handle with masking tape. See below how I cut the edges to help the tape wrap around the spoon.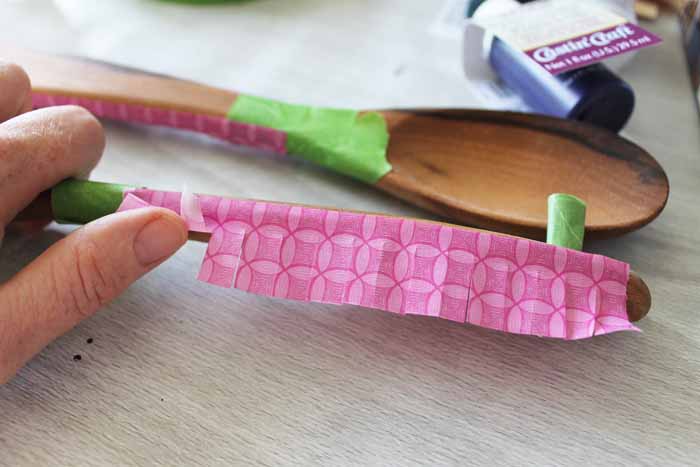 Be sure to also mask any hole that may be in your spoon.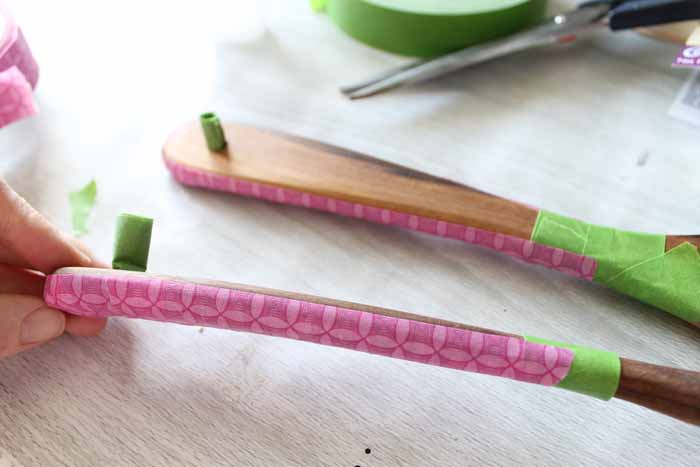 Then lay your spoon down on a flat surface. You may have to prop up the end to make the handle flat. Protect your work surface as well. Product may spill over the edges and would ruin your table.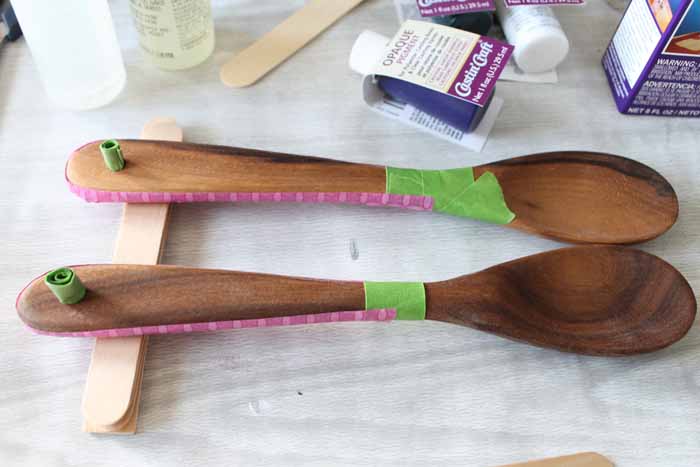 Start by mixing the EnviroTex Lite Pour-On High Gloss Finish according to the package directions. It is very important to follow the directions when mixing this product. You will then pour small amounts into three different measuring cups. NOTE: I used more white than the other colors. In each of these cups, add in the Castin' Crafts Opaque Pigment and stir well. From left to right I used, blue, a mixture of blue and green, and white.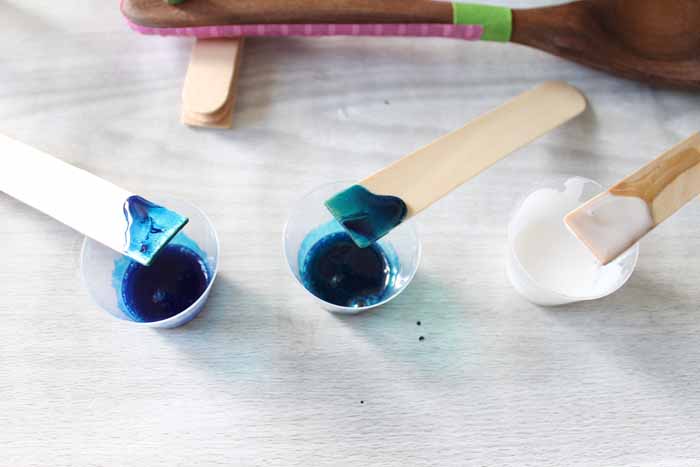 Start by adding the white to the handle of one of the wood spoons. I found it easier to control if I dripped on the resin with the stir stick. Use less then you think you will need as it will spread out and fall over the edges. You can also use a toothpick to drip the product for even smaller amounts.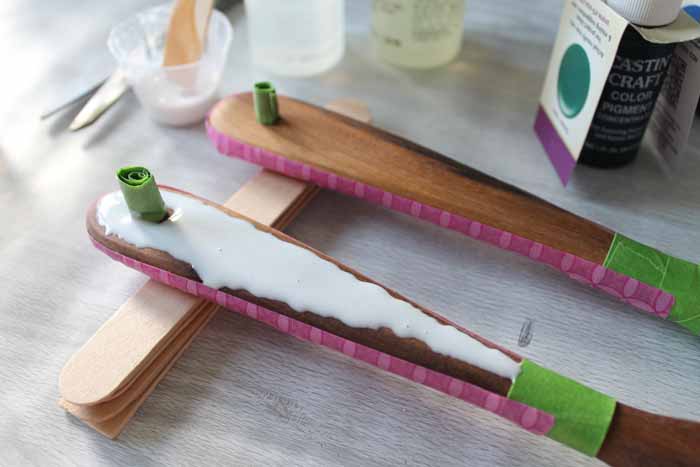 Then start dripping on your colors randomly with some toothpicks.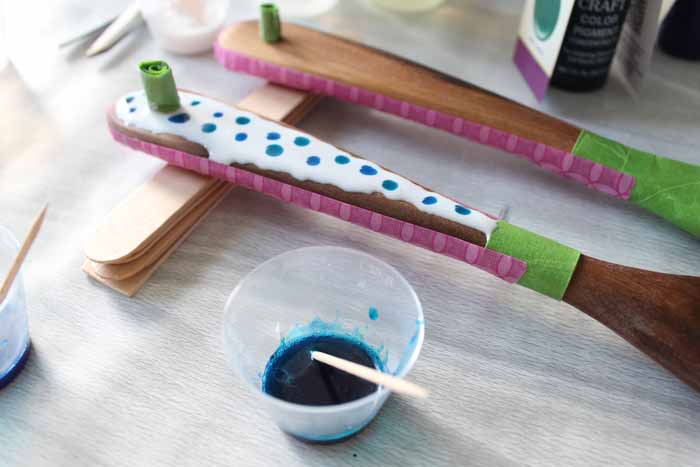 Run a clean toothpick through the resin to start getting some decorated wooden spoons and that gorgeous marbled effect.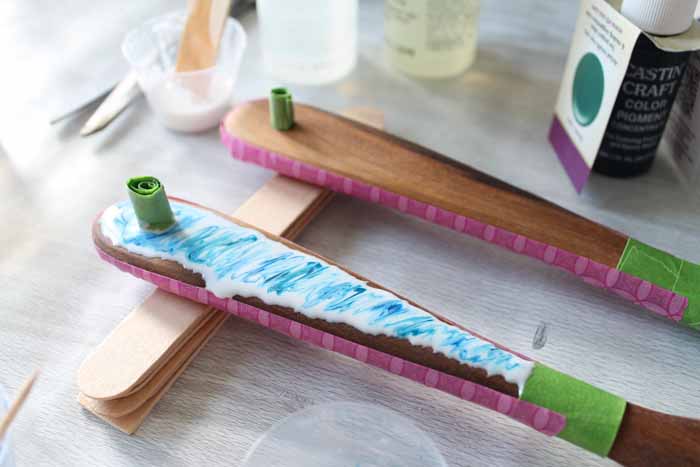 Allow to sit and run off the sides. You can add more white if needed to some areas. You will also want to follow the package instructions for popping bubbles that come to the surface.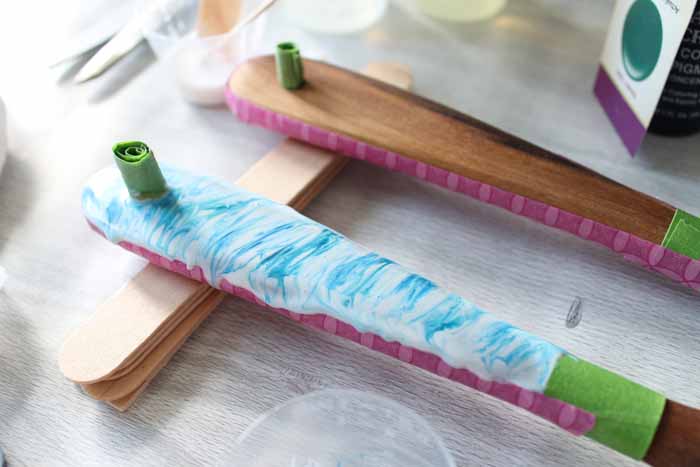 Repeat on as many decorated wooden spoons as desired. Check on your spoons occasionally and use a damp rag to wipe away any excess resin.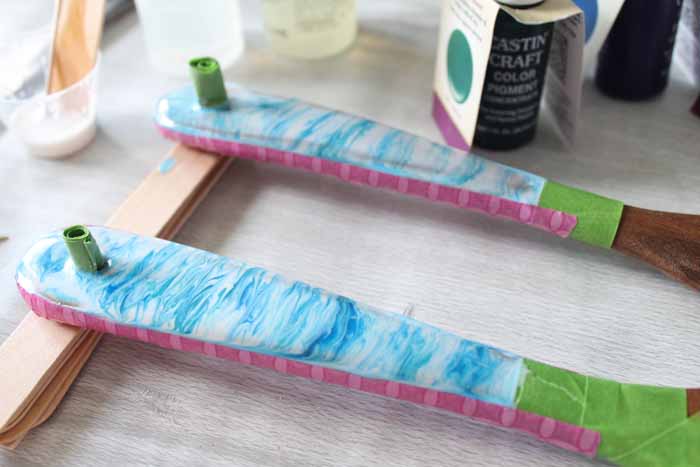 Allow to set up for a few hours then carefully remove the tape. The resin will still be wet. You can then use your rag to wipe away any excess resin that may have seeped under your tape. Be sure the resin is sufficiently set up before doing this step. You can test any leftover resin in your mixing cup to ensure that it is set up enough not to run.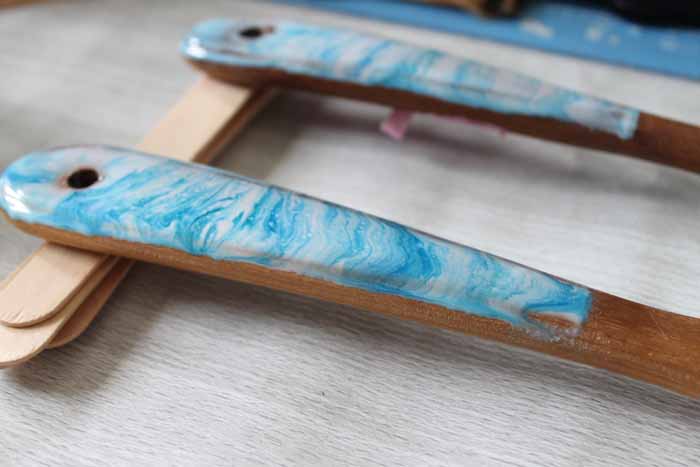 Check on your decorated wooden spoons a few more times to ensure that no additional resin drips over the edges. You will then allow the entire project to cure about 24 hours.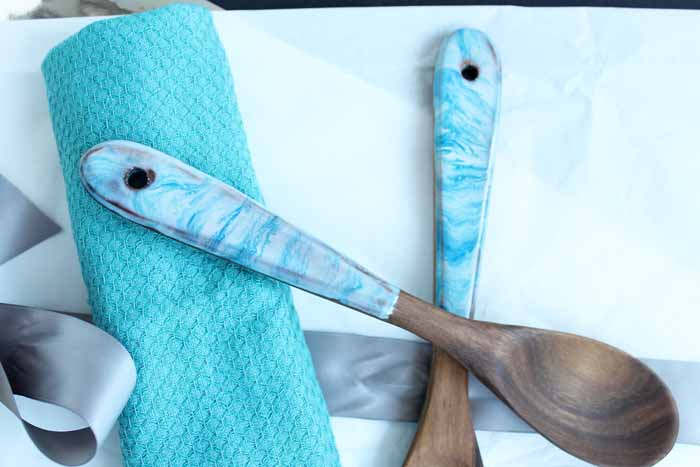 The final product looks amazing! Remember that you should hand wash these and they also should never be left in contact with a hot pan over long periods of time. Otherwise, your decorated wooden spoons are ready for the kitchen!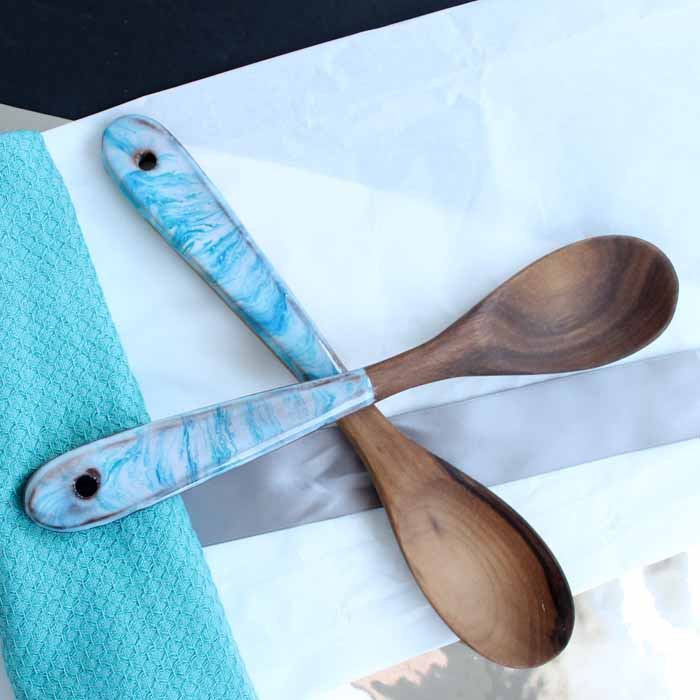 Or you might also wrap them up as a fun gift for mom.
Add something fun to the kitchen with this project and take the intimidation out of resin. This product is perfect for adding some flair to a variety of surfaces.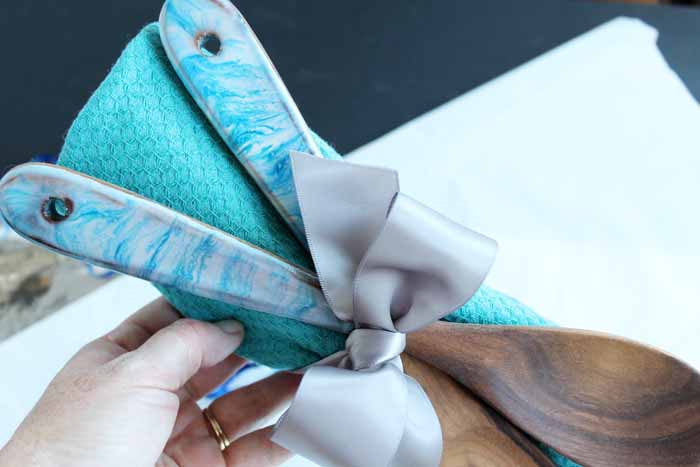 So pick up some spoons and start making a gift for mom (or yourself) today. What colors will you use on your set of decorated wooden spoons?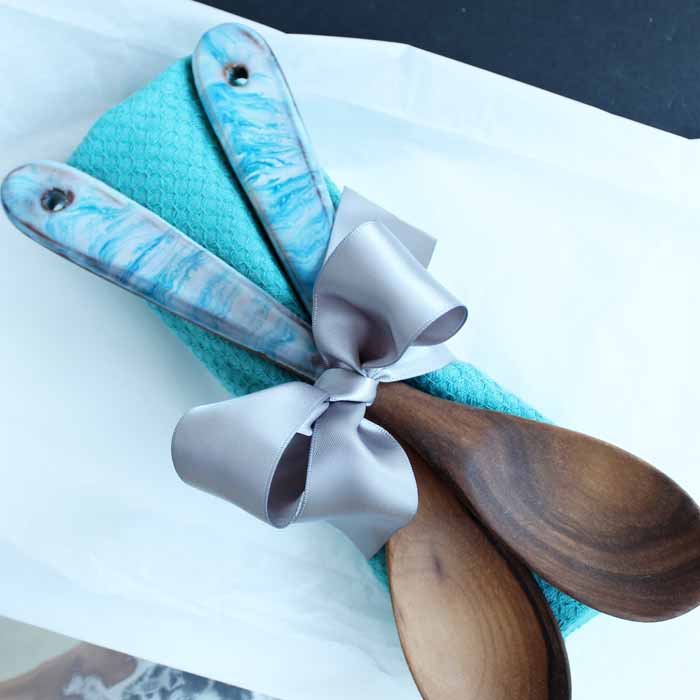 Love these and want more handmade gift ideas? Try the links below!
Struggling with resin and need help?
I know that a ton of you are intimidated by resin. Don't be! You just need to know the basics and gain some experience with the medium. I have a course that will help you to master epoxy resin and give you the confidence you need to tackle this project and so much more.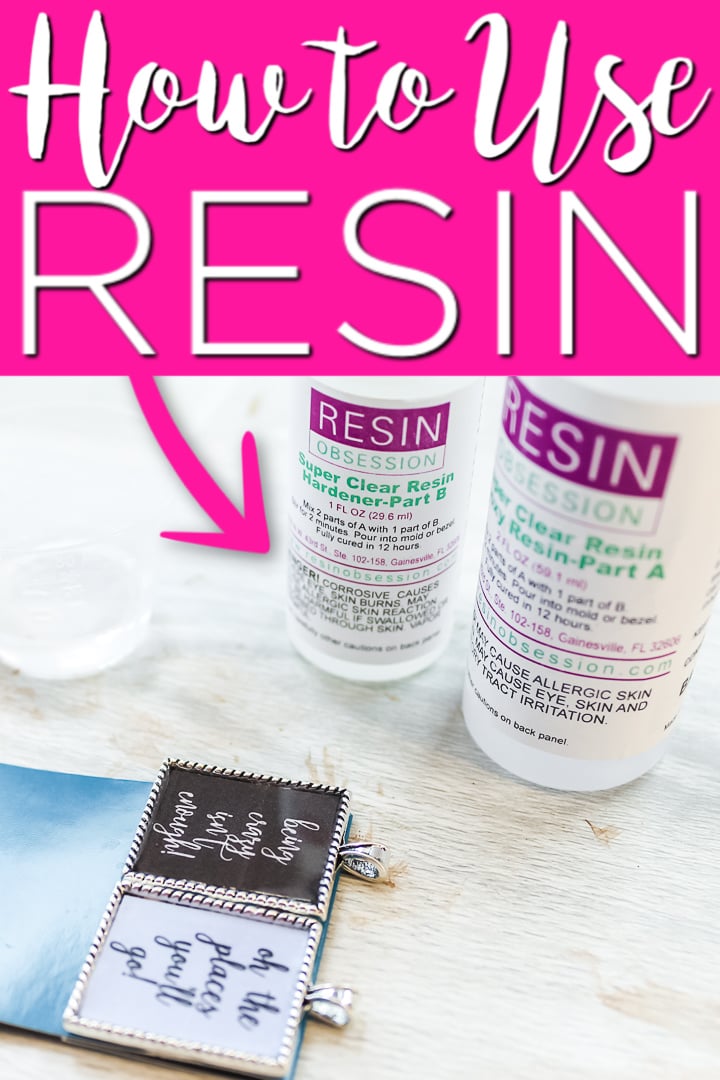 With unique insights drawn from more than a decade of creating and selling resin jewelry worldwide, this course is from an Amazon best-selling author on the topic. This class goes beyond making a few projects. You get thirty video lessons to give you clear directions on how to make resin jewelry you can confidently share and sell. Want to see more?