I am experimenting with the Spin It from We R Memory Keepers and showing you how to make epoxy tumblers. You may have seen a glitter tumbler floating around and wondered how to make your own. Well, I have all of the instructions as well as tips and tricks for using epoxy resin. You will be making resin tumblers for yourself and all of your friends!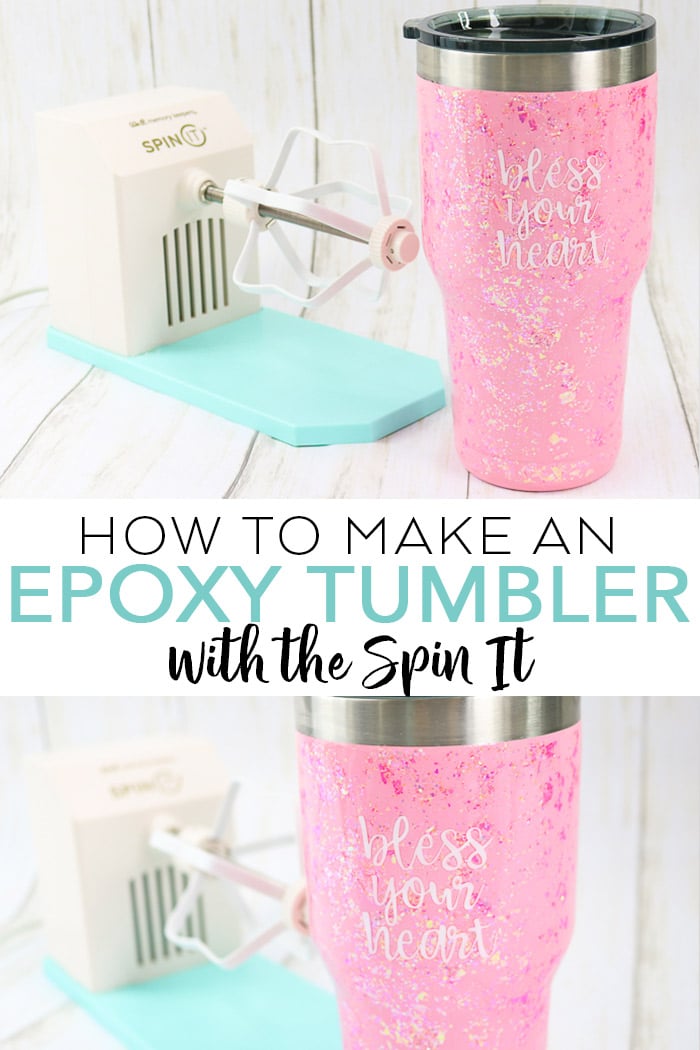 Supplies needed to make an epoxy tumbler: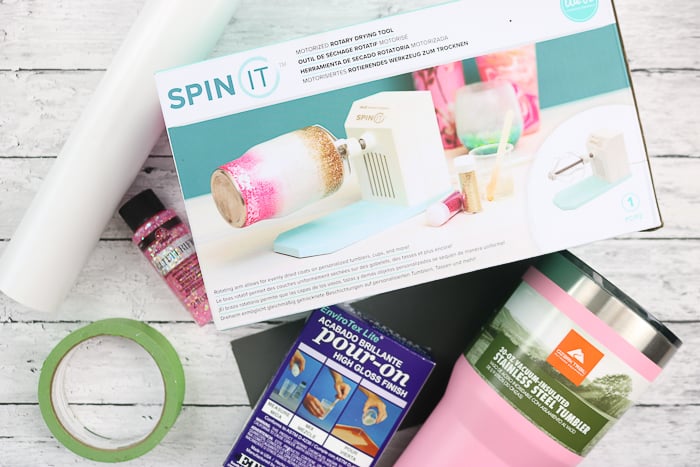 Best Epoxy for Tumblers
You need to pick a really good epoxy for your tumbler. Here are a few that I have used over the years and how I feel they work with epoxy cups:
Resin Obsession – I like this one the best but it is pricey. The color is super clear and it dries fairly fast making mistakes minimal.
Envirotex Lite Pour-On – This has a slightly yellow tint to it right out of the package so I would not use it on a white tumbler. It also takes longer to cure so be prepared to leave your tumbler turner on a bit longer. It is less expensive, however.
How to Make a Glitter Tumbler
Want to just watch the process of making an epoxy tumbler? I have a video for you!
If you can't watch the video or want to see pictures instead, just keep following along below!
Spin It from We R Memory Keepers Tumbler Spinner
So, just what is the Spin It and what does it do? The epoxy coating needs several hours to set up on the surface of your tumbler. This can mean turning it every few minutes for at least an hour or two. That is where the Spin It comes in. It is simply a tumbler turner with a motor. It will constantly spin your tumbler during the drying process so that you are left with a nice and even coat of resin.
The speed is adjustable as well as the holder for the tumbler itself. You just adjust to fit the cup you are making, plug it into the wall, and get started spinning. The concept is super simple but it really is indispensable when making these epoxy cups.
Don't want to buy a tumbler spinner? Find out how to make a tumbler turner here.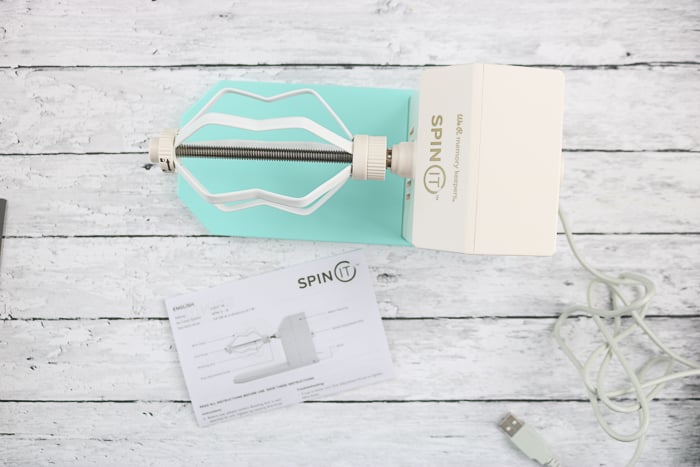 Painting a Steel Tumbler
First, you will need to paint your tumbler. I started with a pink version but you can also paint the plain steel versions as well. Just be sure to leave a lip at the top for your mouth to come in contact with. Most paints are not food safe even though they are non-toxic.
Once you have a painted tumbler, it is time to add glitter! You can do this a variety of ways including loose glitter and decoupage. I, however, am obsessed with the Glitterific paint! I used one coat all over my tumbler and it came out perfectly. Be sure to use painter's tape around the top and the bottom before painting. I went in slightly so that I would have room to come out with my epoxy and seal everything.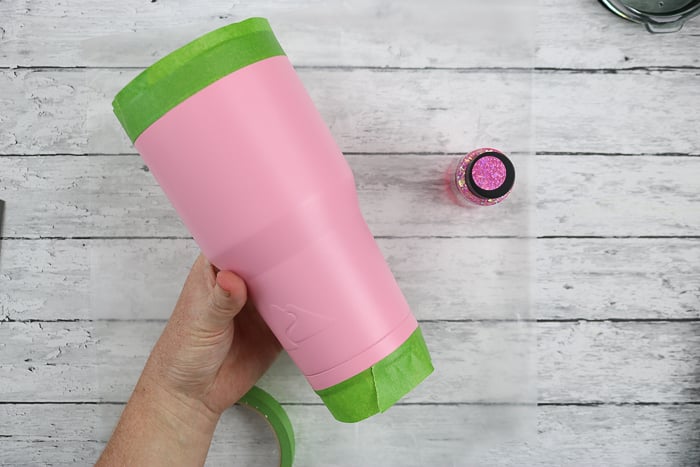 Then just brush on a nice and even coat of the Glitterific.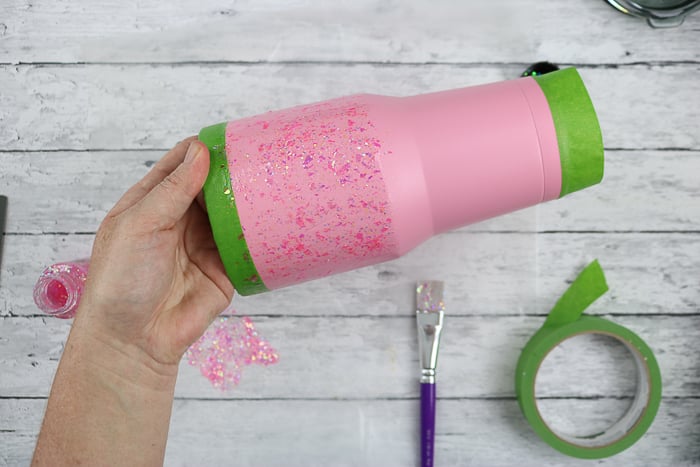 This paint does have a tendency to sag when drying so you can either put it on your Spin It or turn occasionally while drying. I love that this paint has both small glitter and large glitter pieces all in one bottle.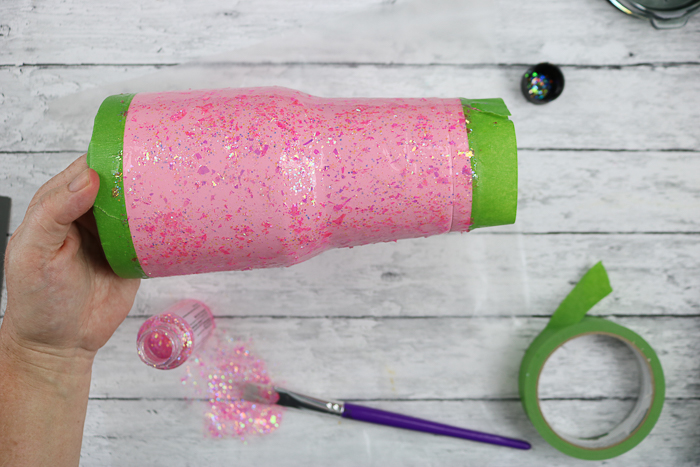 Once your glitter is dry, you can remove the painter's tape and get ready to add your epoxy resin.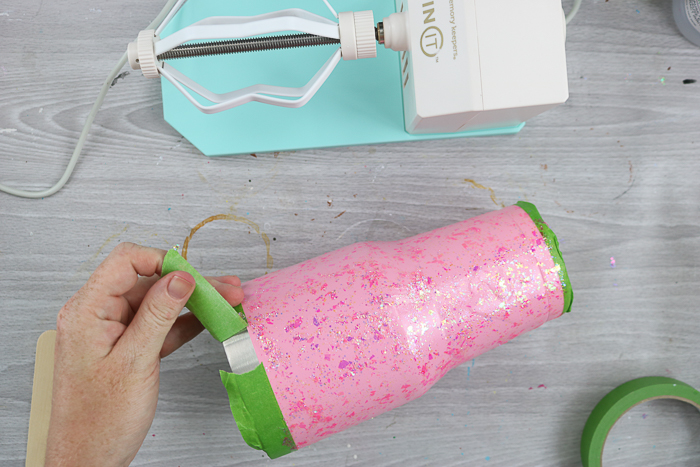 How to Make a Tumblers
First, you will need to adjust your Spin It. Make sure the nut on the very end is tight. Then use the adjustment knob to make the turner itself larger or smaller. Make it where the steel cup you are making is tight.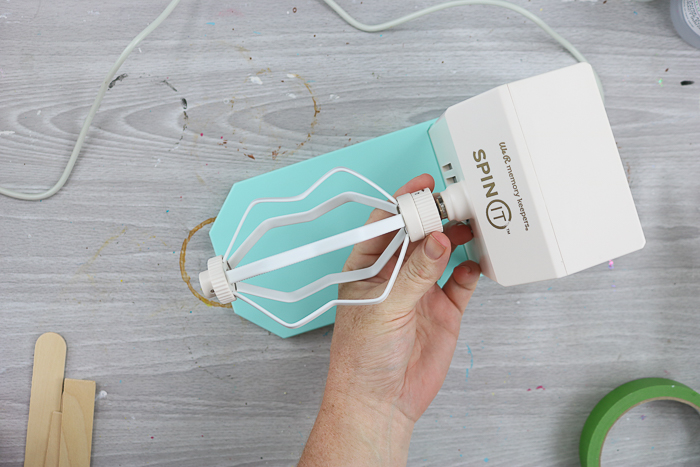 Applying the First Coat of Epoxy
You will need to add more painter's tape to your tumbler on both the top and the bottom. Put it a little outside of your glitter line so that the epoxy will lock in the glitter. Remember to press the tape down well.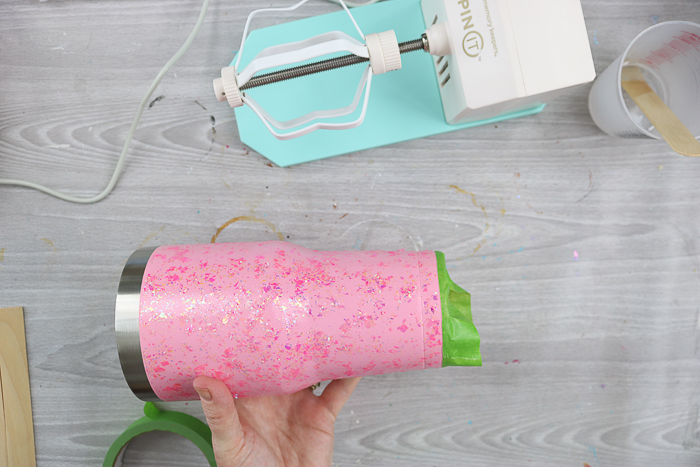 Then add the tumbler to the tumbler turner. Make sure it is both tight on the machine and level as well. Move and adjust as needed. You can also shim the base of the Spin It to level.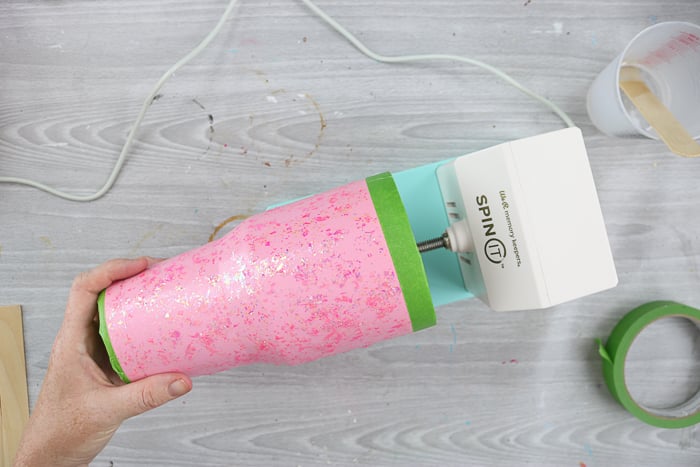 Protect both your work surface and the base of the Spin It. The epoxy will get everywhere.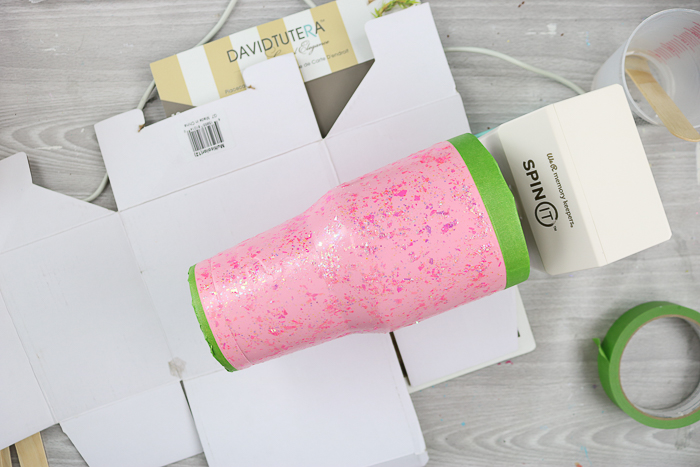 Measure and mix your resin according to the package directions. The steps included are crucial to your success. Turn the Spin It on and start spinning at a low speed. Then start pouring the mixed resin onto your tumbler. You will need to get an even coat over the entire surface. I used a stir stick to push the resin around to make sure I had complete coverage.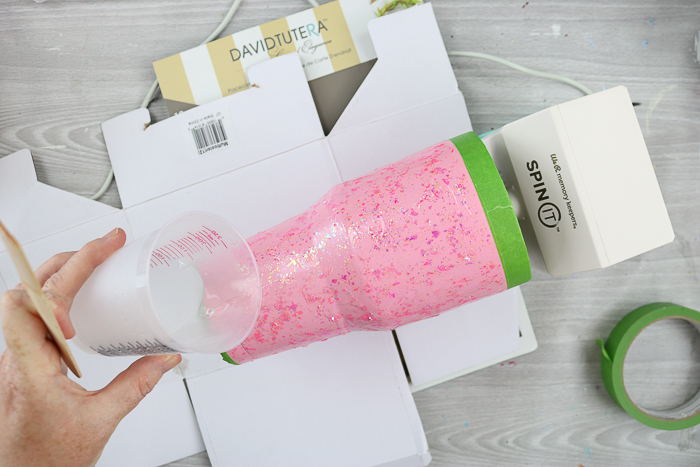 Allow the epoxy tumbler to spin while it cures. You will want it to remain on a flat surface during this time away from any dust and debris.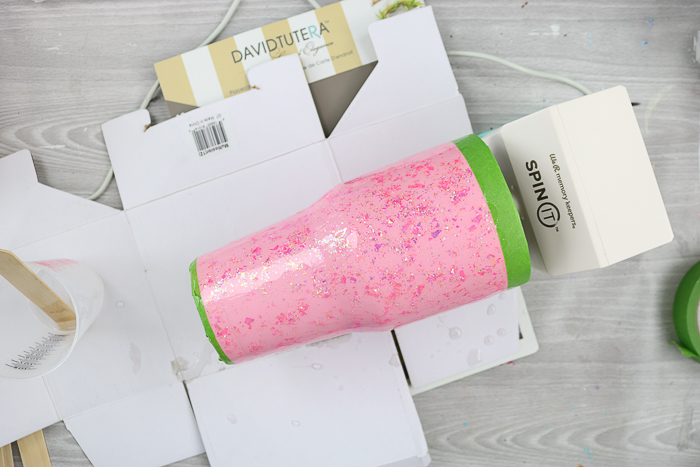 Leave any unused resin in the cup and set to the side. You can use it to gauge how hard the resin on your tumbler is. After an hour or two, the epoxy should be set up enough that you can remove the tape from the top and bottom. Try to remove while spinning or just stop for very short intervals.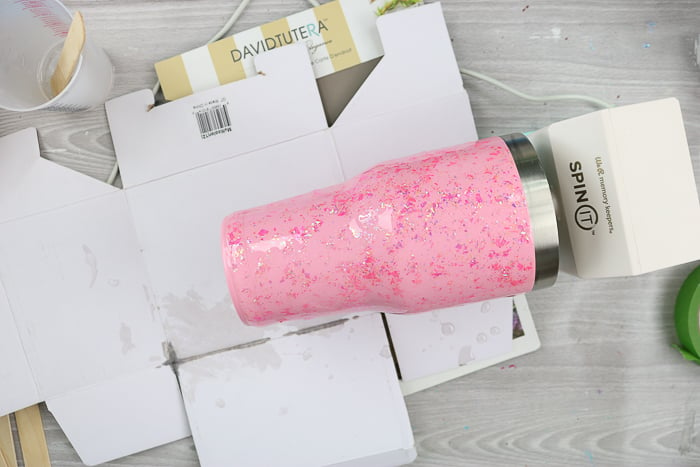 Keep spinning until the resin left in your mixing cup seems set enough not to run. The Spin It is not designed to rotate more than 6 hours at a time, however. Once set up, you can stop the spinning but leave your epoxy tumbler on the machine. You will want it to continue to cure without touching the surface.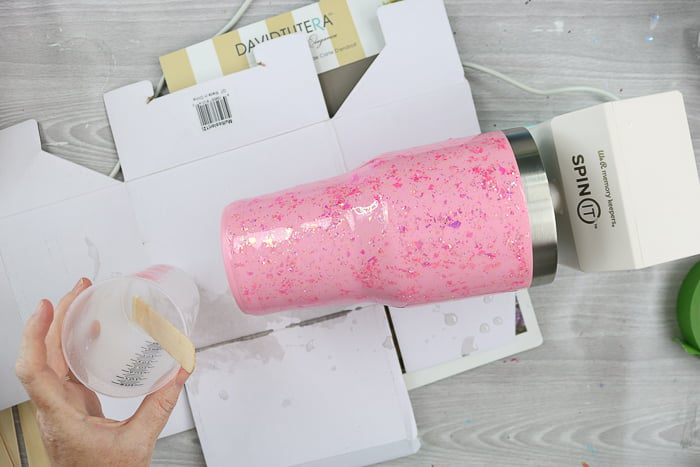 Sanding the Resin Tumbler
I allowed my spin it tumbler to cure overnight. Then you can sand it down with some water and wet sandpaper. I used 800 grit. You can find this on Amazon or in the automotive section of your store.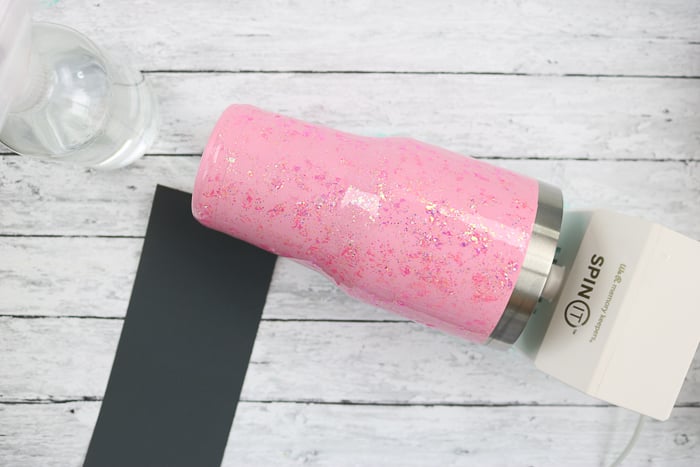 Spray with water and sand down the entire tumbler making sure to sand down any imperfections. Clean the surface well once the sanding is complete. Rubbing alcohol is good for this. Dry well before continuing.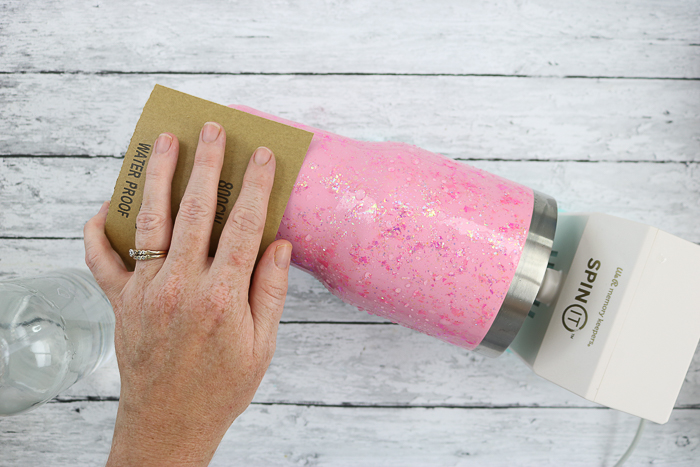 Applying the Vinyl Quote
You can now add a vinyl design to the outside of your glitter tumbler. I cut a quote with my Cricut machine but you can cut any design that you like. Then just weed away any excess vinyl and apply transfer tape.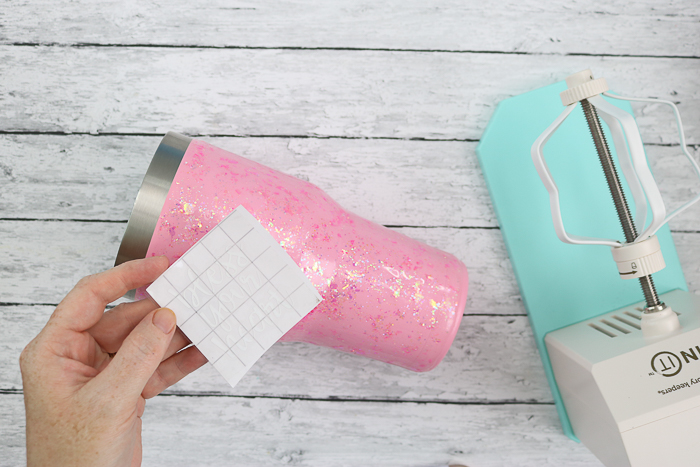 Peel back the backing paper and apply the design to your tumbler with the transfer tape.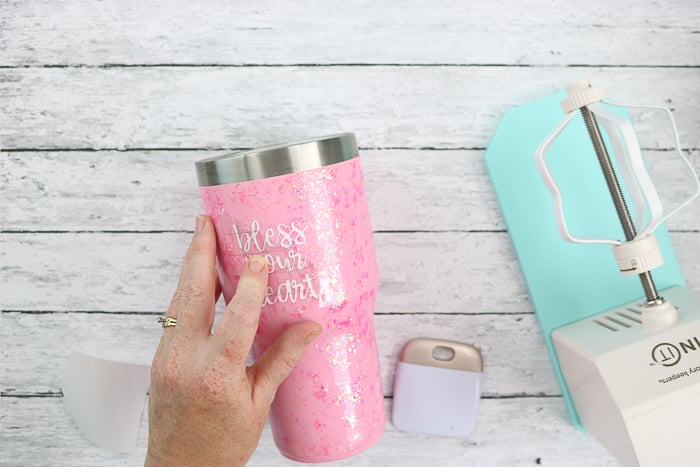 Burnish well then peel back the transfer tape to reveal your design on the tumbler.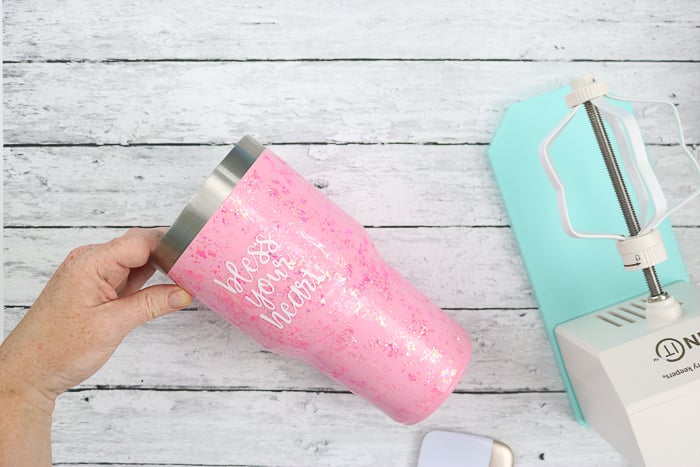 Sealing Vinyl on a Spin It Tumbler
Now you can add a second coat to your epoxy tumbler to complete it. This is done in basically the same manner as the first coat. Be sure to add painter's tape to the top and bottom once again. I added it slightly outside of my first coat to seal everything in. Then add to the tumbler turner just like you did before.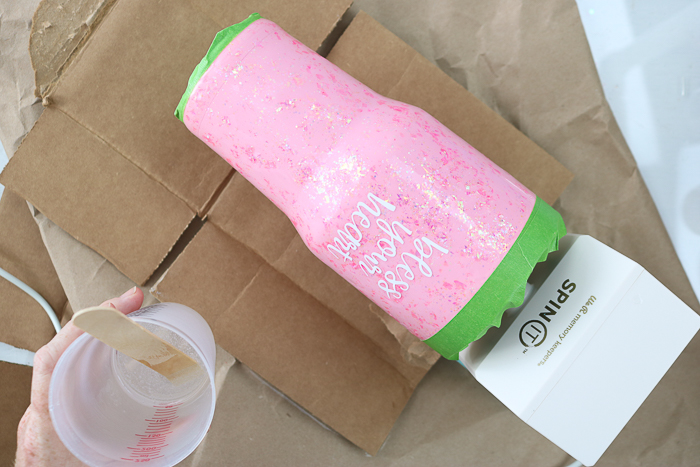 Measure and mix another batch of resin then start pouring on your resin tumbler while it turns. Again you want to make sure you get complete coverage with a nice and even coat. You are going to cure in the same manner as you did your first coat. Remove the tape after an hour or two then continue turning until set up. Turn off the Spin It after set and allow to cure on the machine until hardened.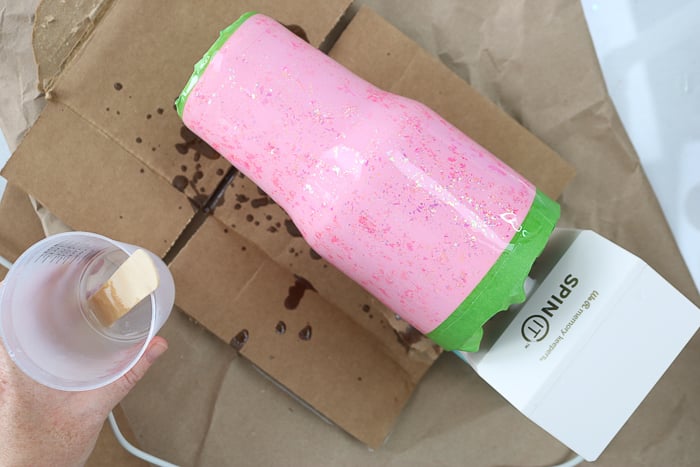 Once this second coat has cured, you have an epoxy tumbler that is ready to use or give as a gift.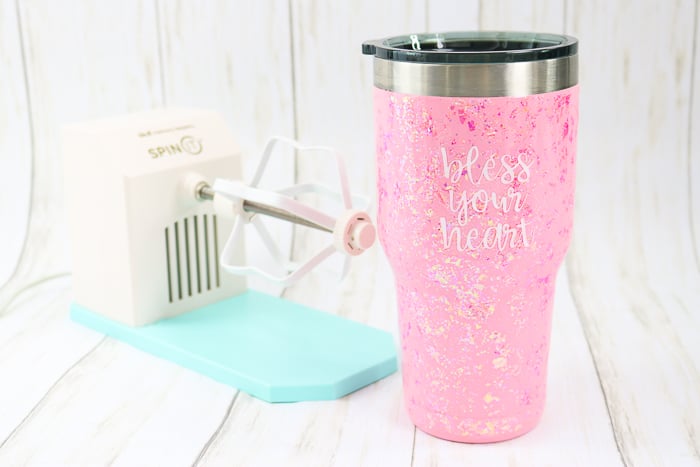 I personally thought the Spin It from We R Memory Keepers did an amazing job! I will be trying to make my own tumbler turner as well so y'all stay tuned for that. UPDATE: You can find my instructions for making your own here. Then I will do a comparison between the two as far as performance and price. You can make a decision on which is right for you.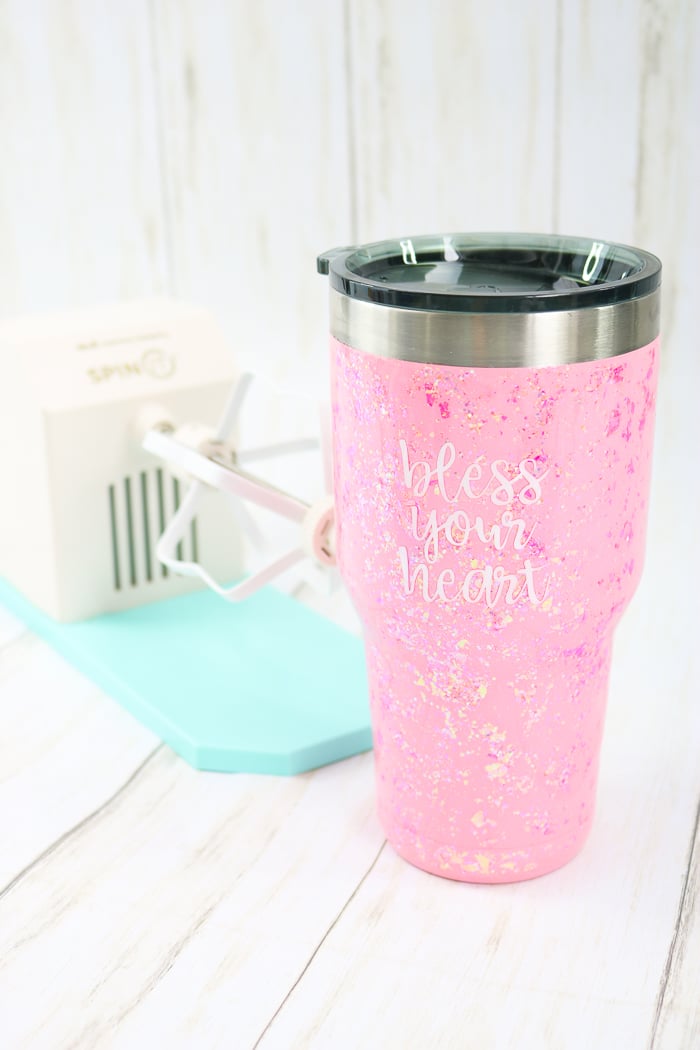 In the meantime, I will be enjoying my new glitter tumbler! I love how these look and they are actually pretty easy to make. If you are familiar with epoxy resin and how to use it, making these will be a breeze!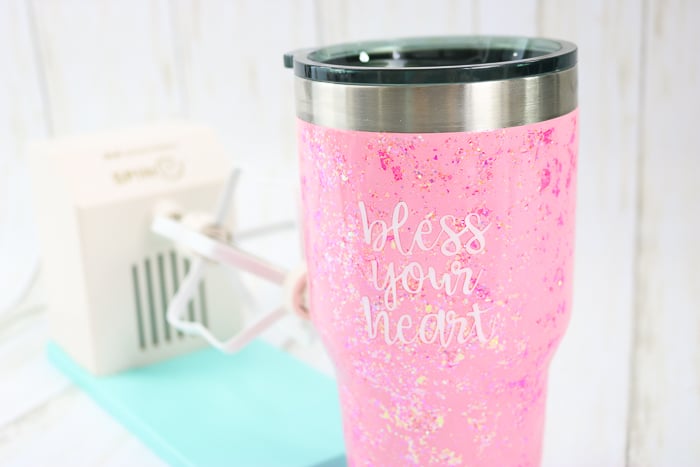 Make your own resin tumbler today and show off your love of glitter and all things pink! After all, you deserve it!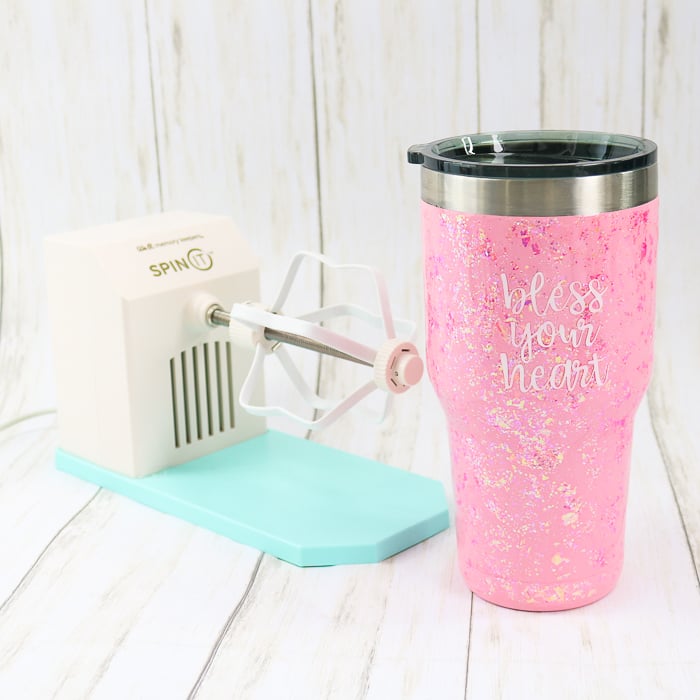 Love this epoxy tumbler and want more ideas? Try the links below!
Struggling with resin and need help?
I know that a ton of you are intimidated by resin. Don't be! You just need to know the basics and gain some experience with the medium. I have a course that will help you to master epoxy resin and give you the confidence you need to tackle this project and so much more.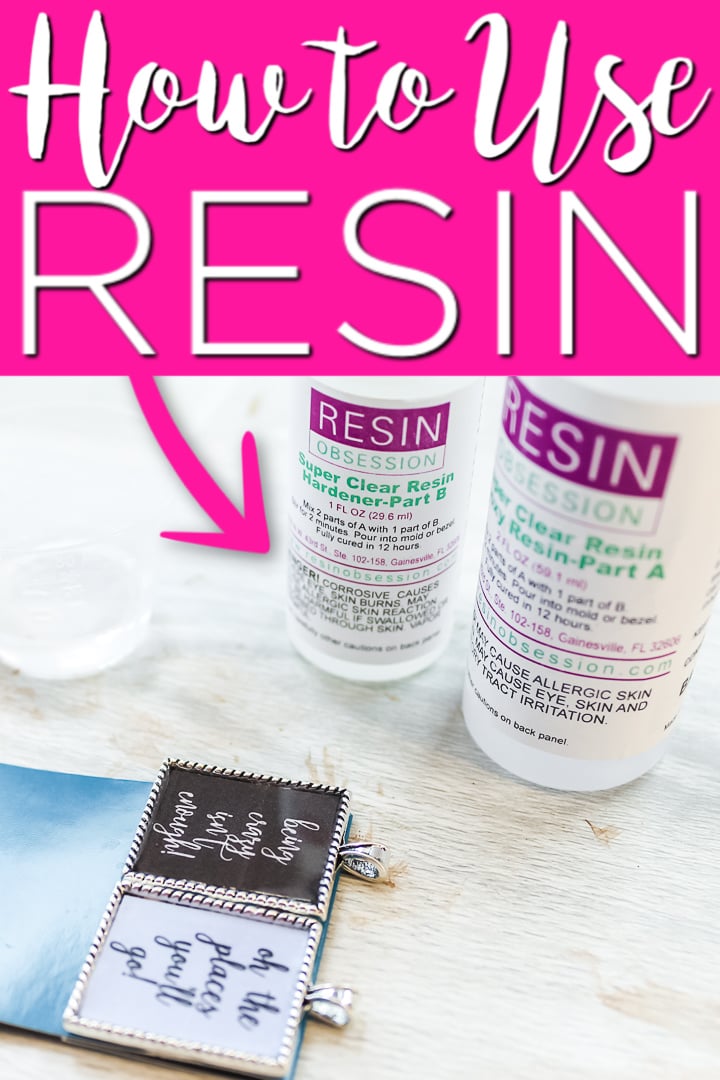 With unique insights drawn from more than a decade of creating and selling resin jewelry worldwide, this course is from an Amazon best-selling author on the topic. This class goes beyond making a few projects. You get thirty video lessons to give you clear directions on how to make resin jewelry you can confidently share and sell. Want to see more?
New to Cricut?
Sign up for our email list here to download the Beginner's Guide to Cricut Design Space for FREE today!
Sign up to get the guide emailed to you!