If you have been around here any time at all, you already know I love mason jars. Adding some color to those jars makes them even better sometimes. So I started playing around with some supplies sent to me by Plaid and came up with not one by FIVE ways to add color to mason jars! I am going to give y'all a tutorial to do all five yourself!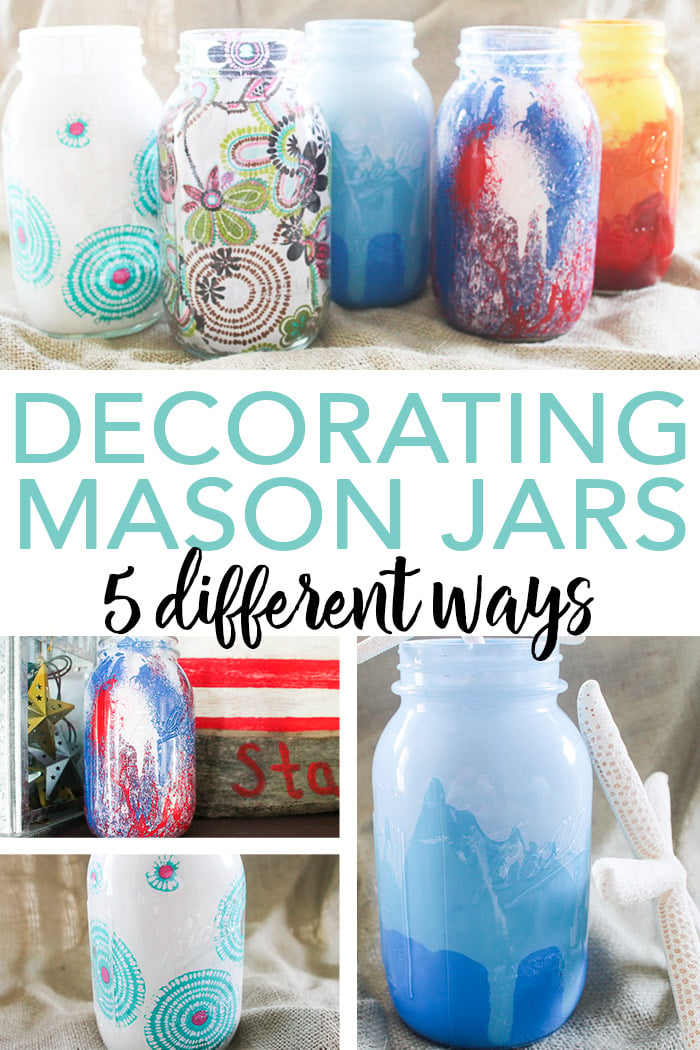 First of all , this box from Plaid arrived at my house packed with goodies. I had tons of ideas when looking through the box. I have already posted some projects here that have used some of the supplies. After all, who could make just ONE thing with a box this great??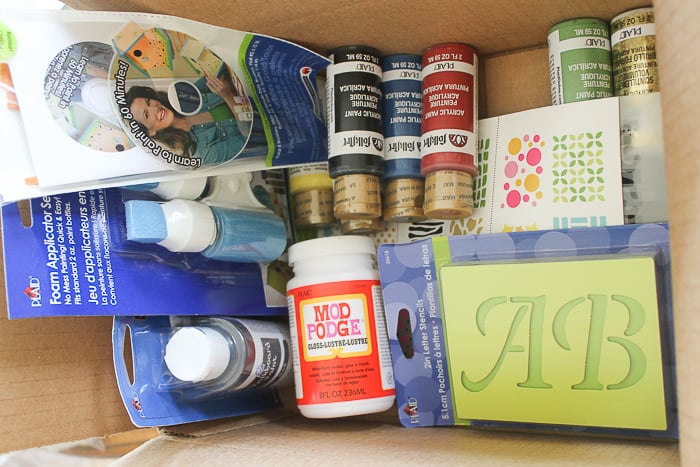 How to Decorate Mason Jars: 5 Creative Techniques
1. Beach Themed Blue Ombre Mason Jar
Now let's get crafty! First up is my ombre blue jar. This one screams "beach" themed to me. Perfect for decor in any room in your home. Ready to make your own?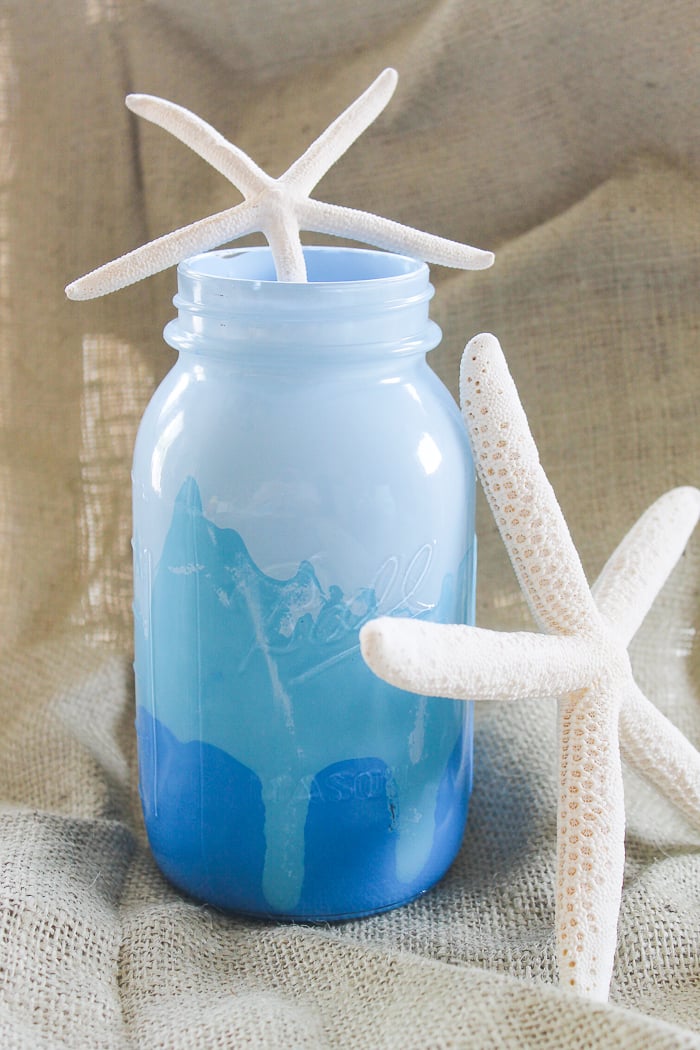 You will need a jar for painting and ombre paints. The Folk Art Paints by Plaid
come in soooo many colors and the variety available at Walmart is amazing. I picked up some colors and used some I had at home.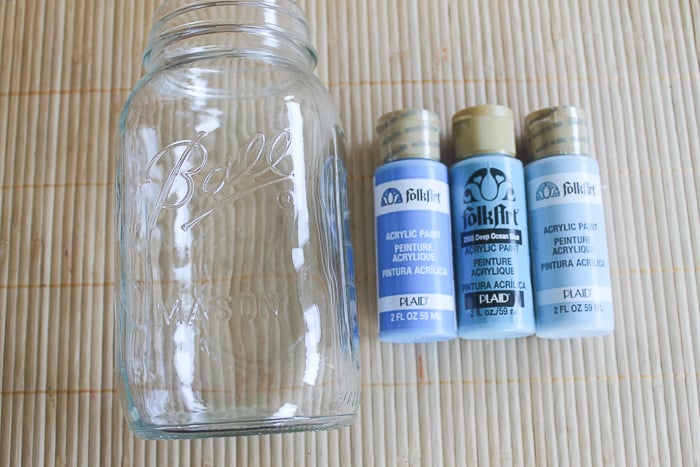 You will need a "drying rack" for a couple of jars I am going to show you. I used popsicle sticks and a paper plate. I illustrate this to show you that you don't need anything fancy to make these.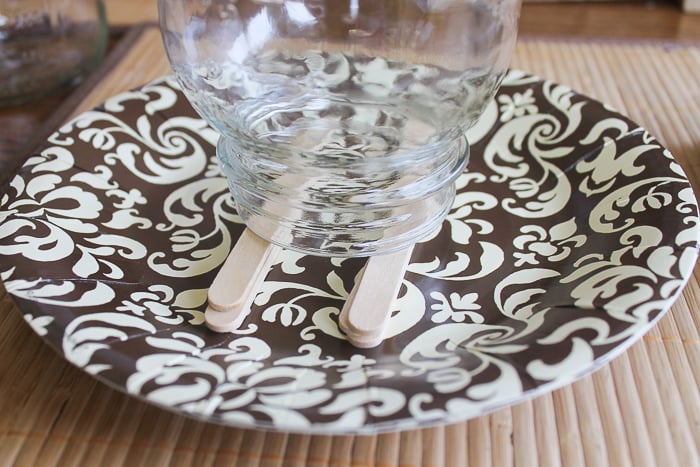 Pour a blob of your darkest color in the bottom of your jar and start working it around.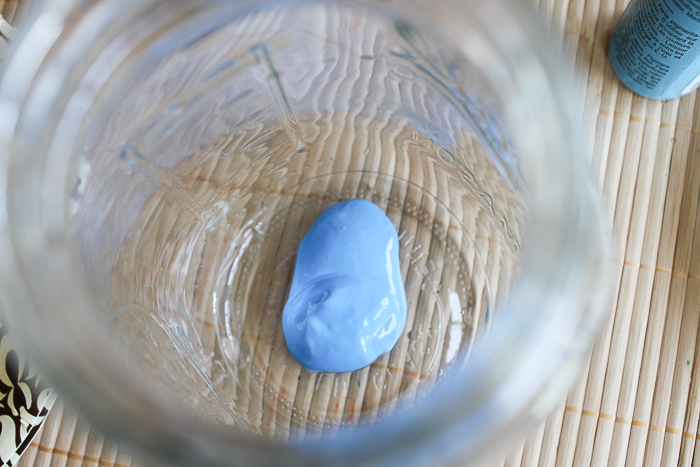 I literally turned, tapped, pounded, etc until I got this.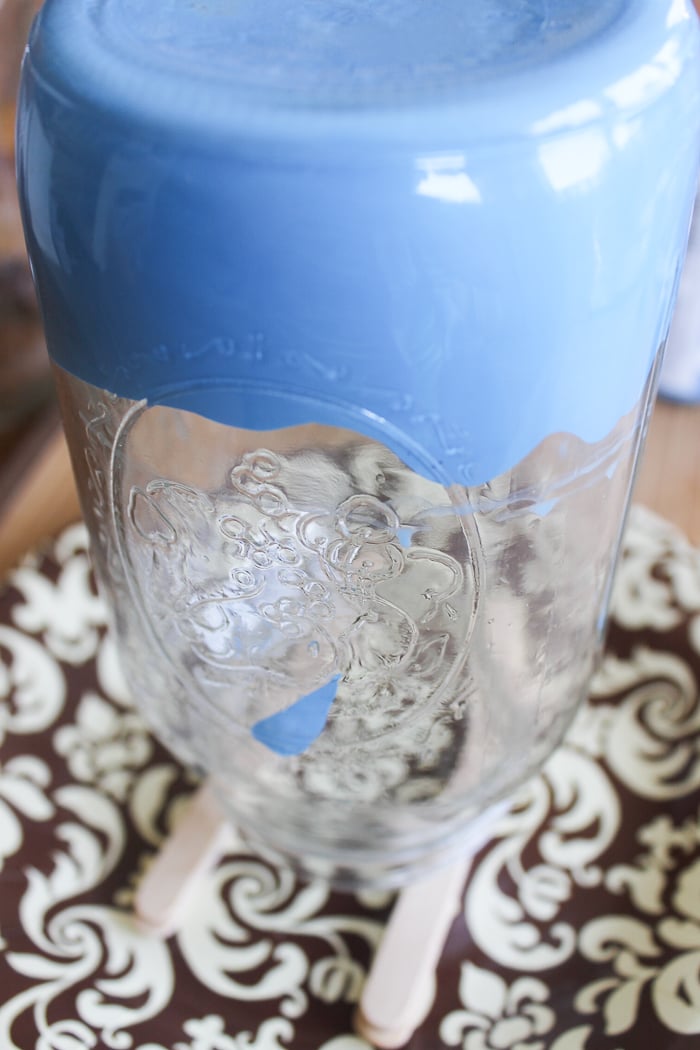 Yes just let your paint flow on the inside of the jar. Then add in your second color on the side of the jar above the first. Again tap, shake, pound, etc.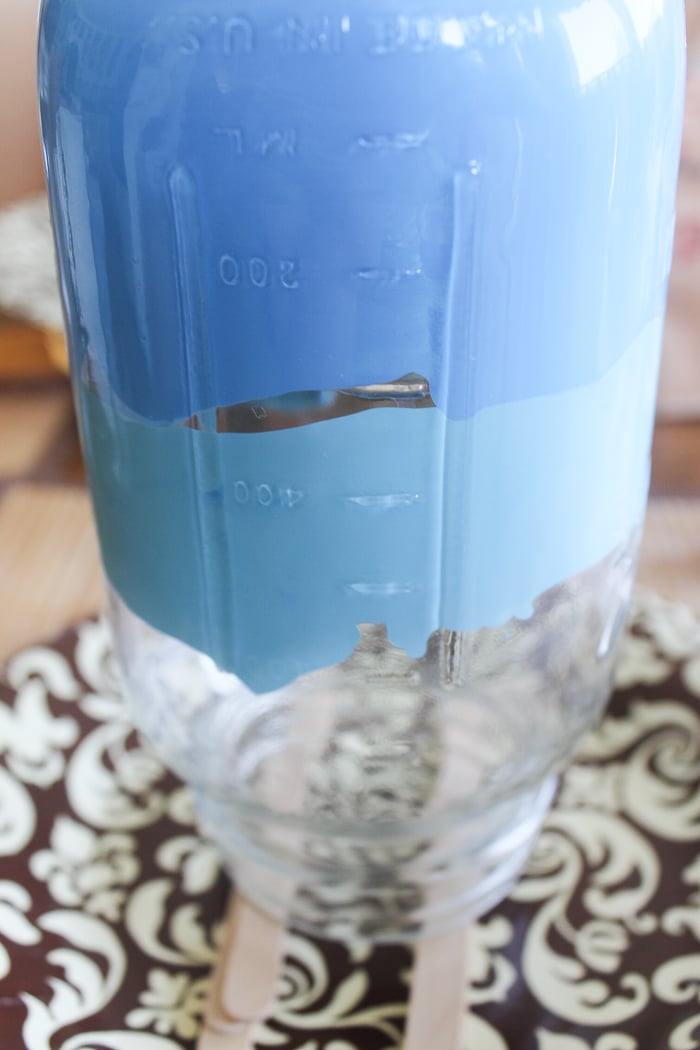 Adding in my third color and letting the paint flow around the jar.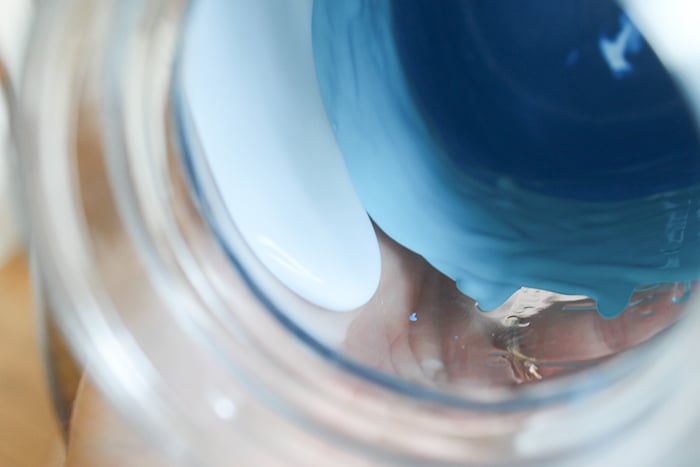 I then turned it up and let it dry. Gorgeous ombre.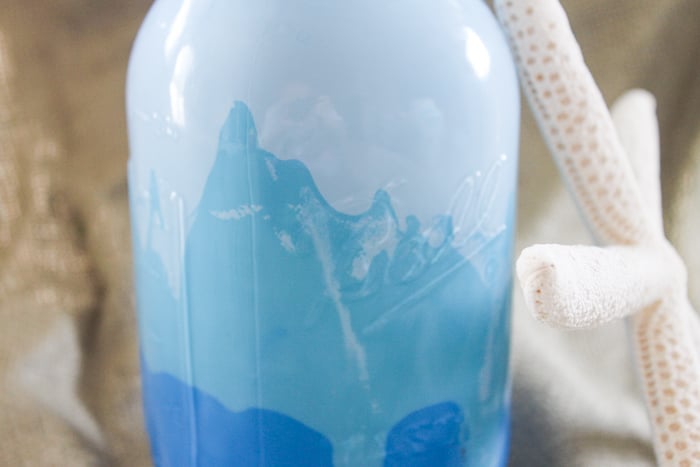 Why paint on the INSIDE of the jar?? See that gorgeous Ball lettering? You don't want to cover that up. So keep your paint on the inside…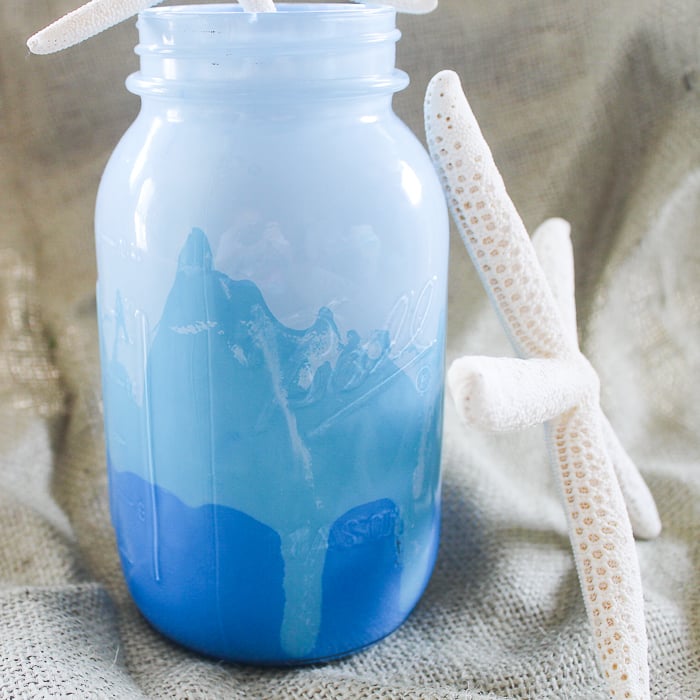 2. Sunset Painted Mason Jar
I made the ombre version first and then got to dreaming about a brighter version. So I made this sunset version.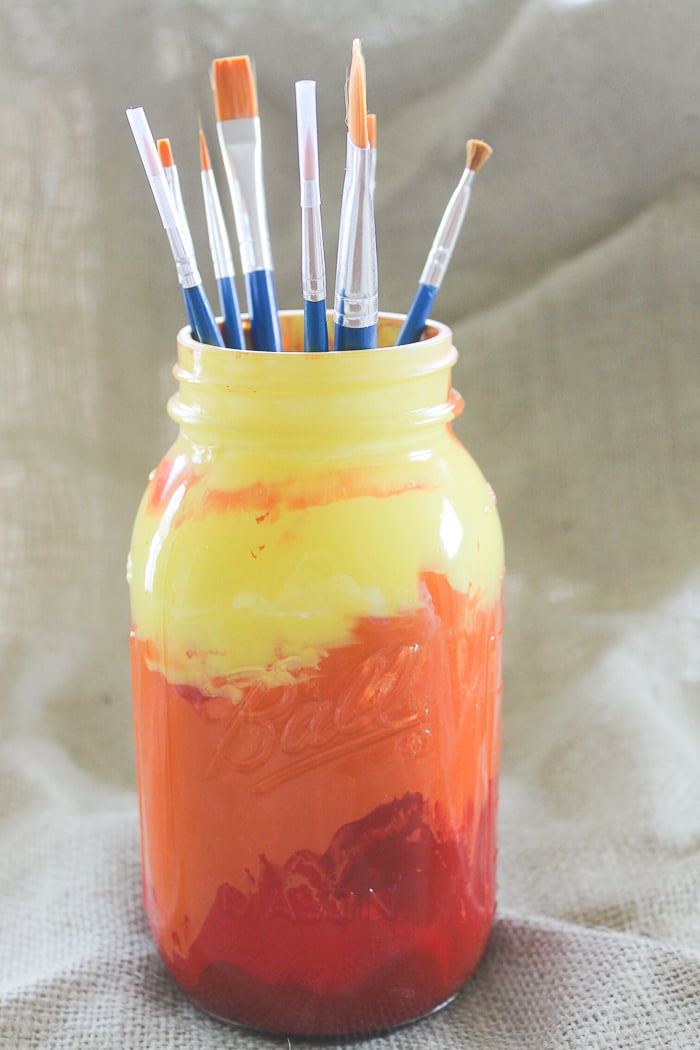 For my jar, I used two different reds, an orange, and a yellow.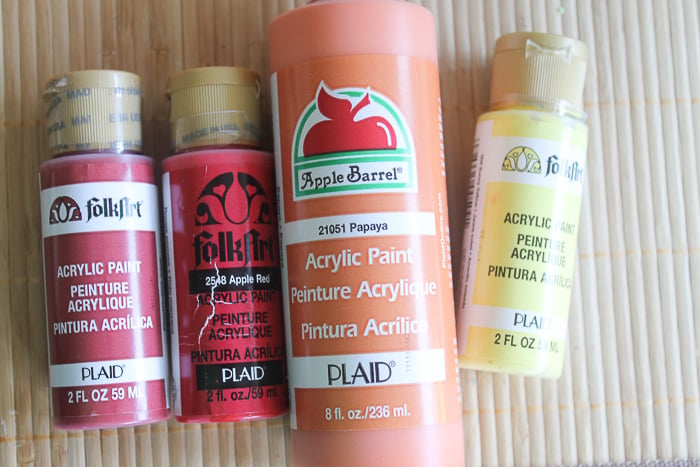 I used the same type of technique but this time I did not worry about the paints mixing together. I let them run, mix, and create fabulous patterns.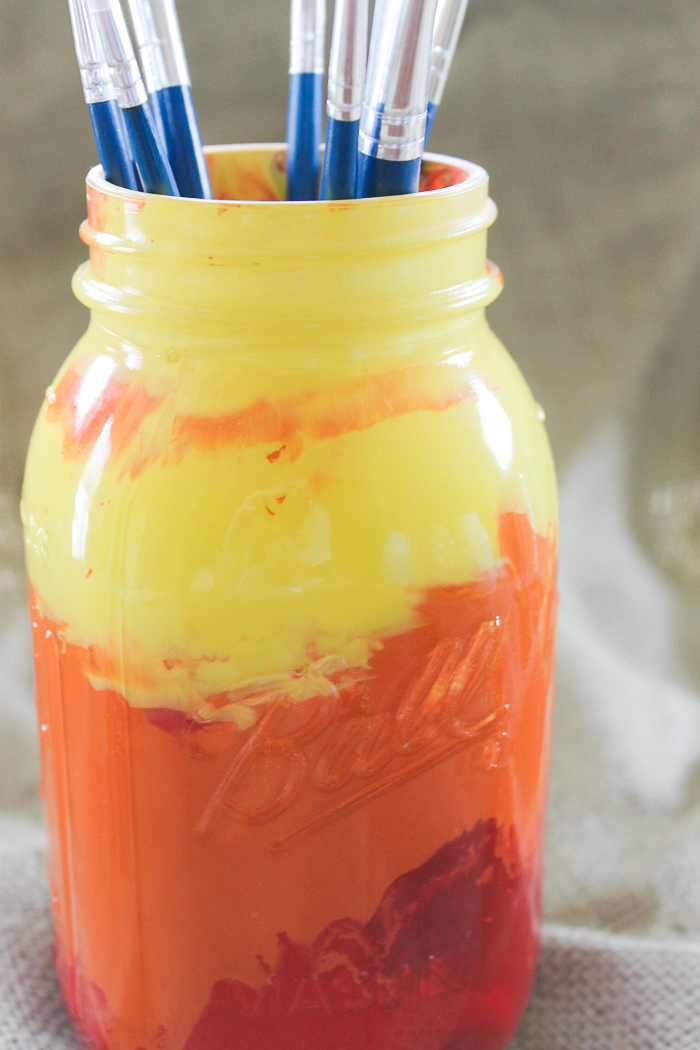 What a great colorful storage solution…don't you think?
Again the paint is on the inside, so that gorgeous Ball lettering stands out.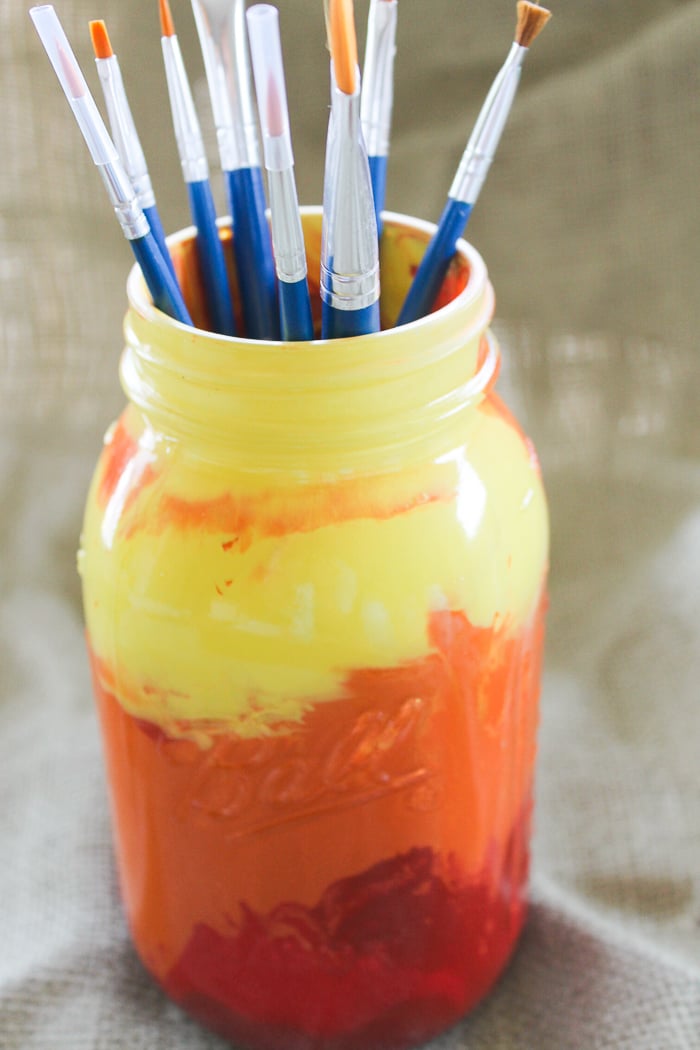 3. Fabric Decoupage Mason Jar
For my next version, I grabbed the Mod Podge
and some fabric.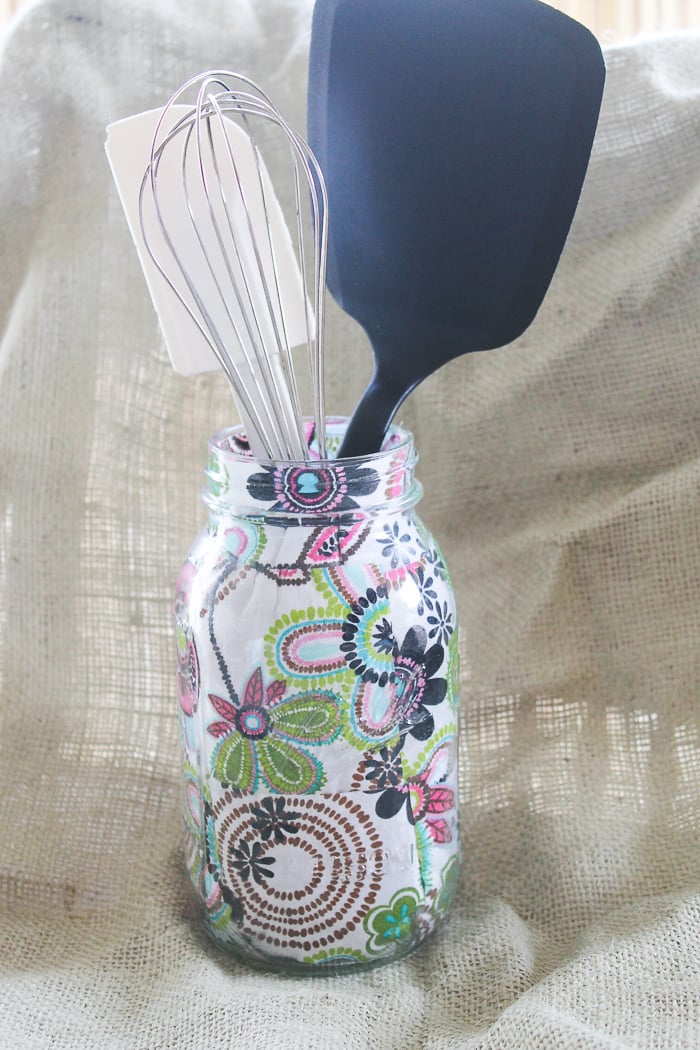 Have y'all seen these pre-cut fabrics at your local Walmart. I love the color, variety, and convenience. I picked up some of those to experiment with on my mason jars.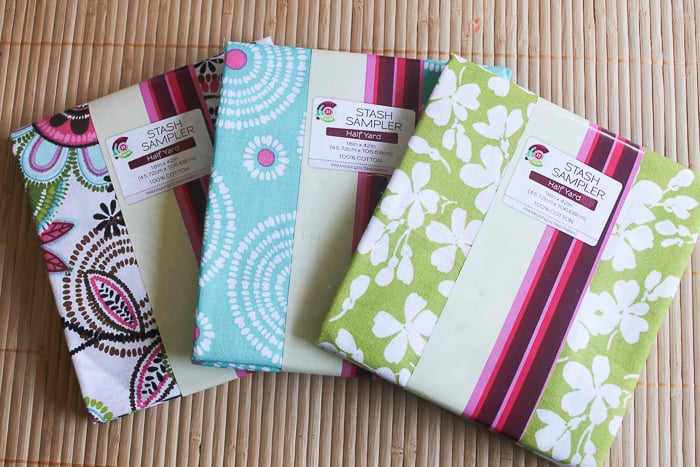 For this first one, I cut the fabric into approximately 3-inch squares.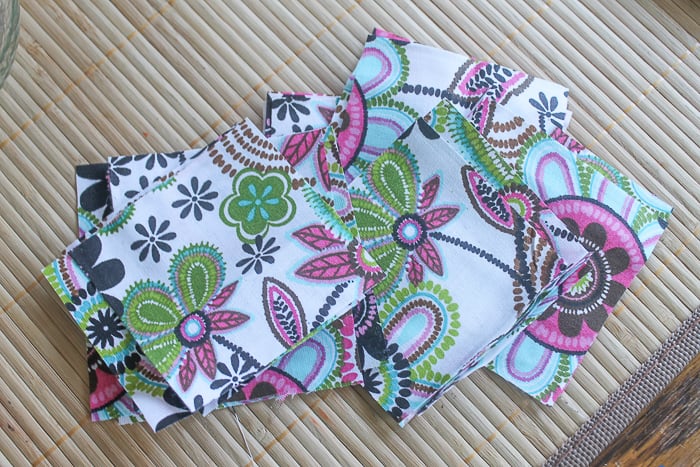 I then applied Mod Podge
to the FRONT of my fabric square.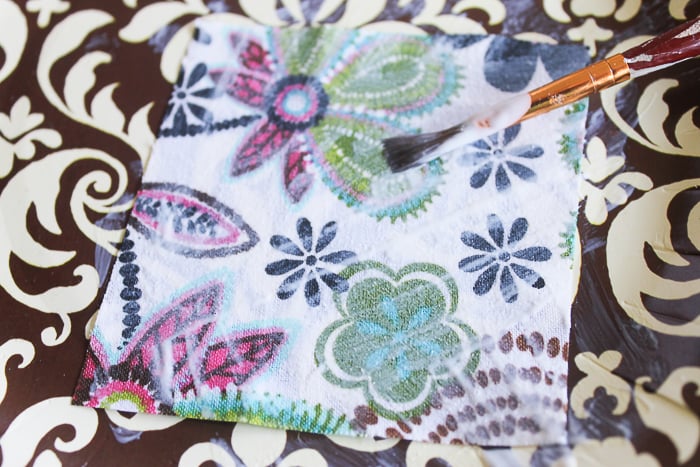 I put the squares INSIDE of my jar and pushed them into place using a wooden skewer.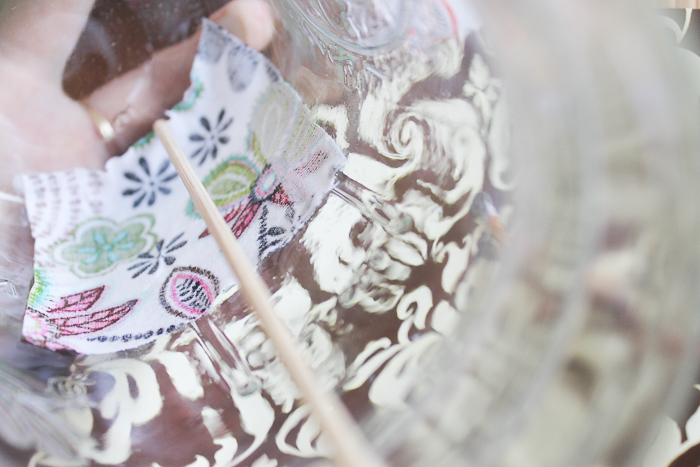 Two squares tall brought me up to the rim of the jar.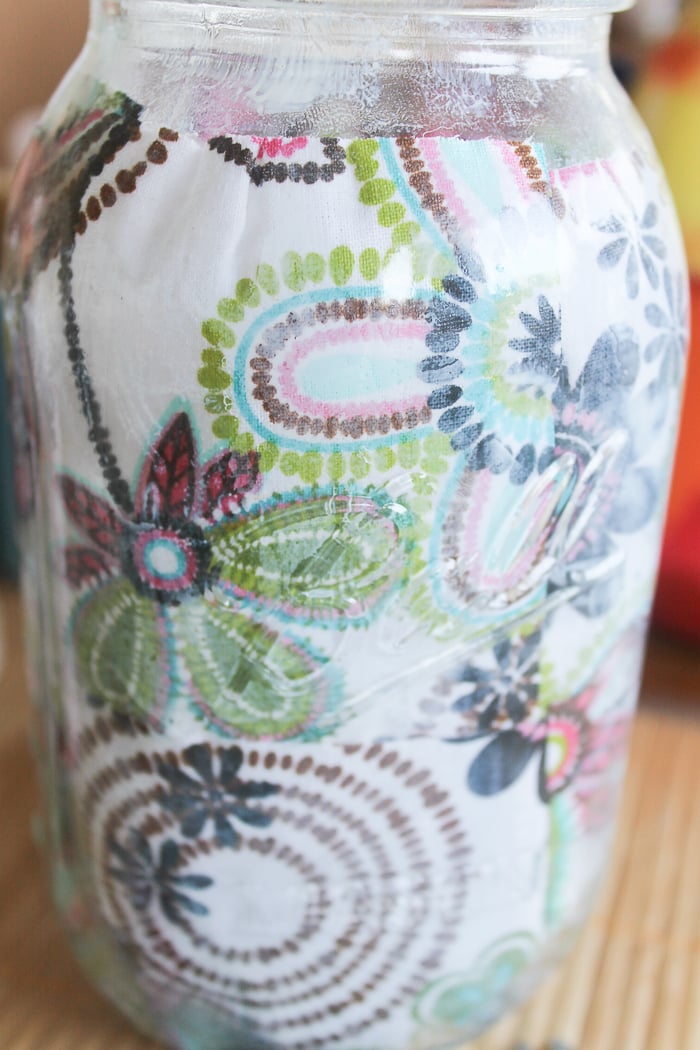 I found the rim area easier if I cut my square in half.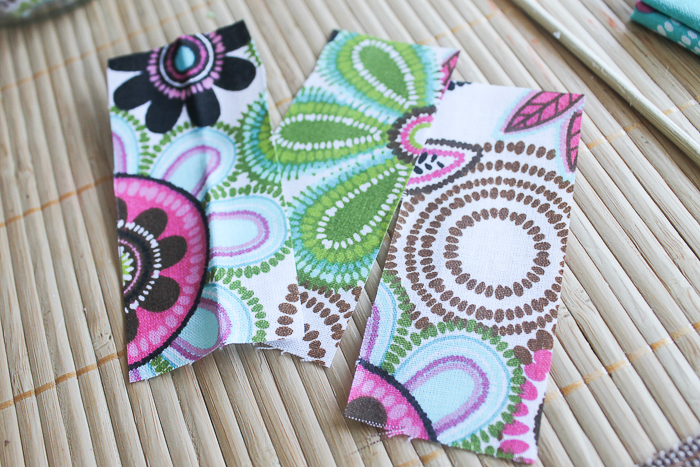 There will be some "bunching" on the rim area where the jar comes up to the neck.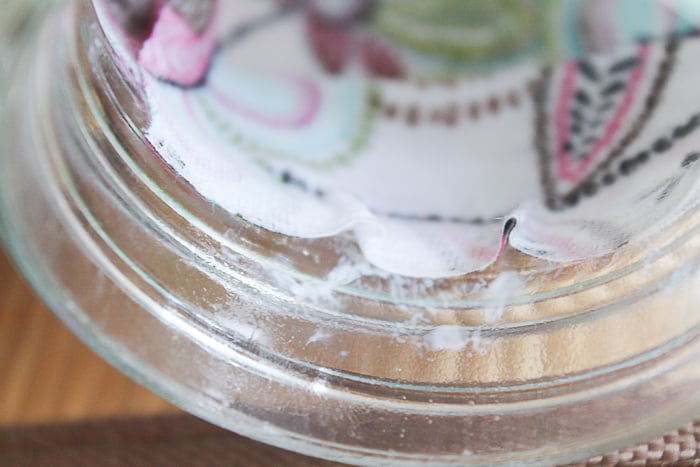 I left my pieces long. Then after the jar had dried for about 24 hours, I just used a craft knife to remove the excess fabric.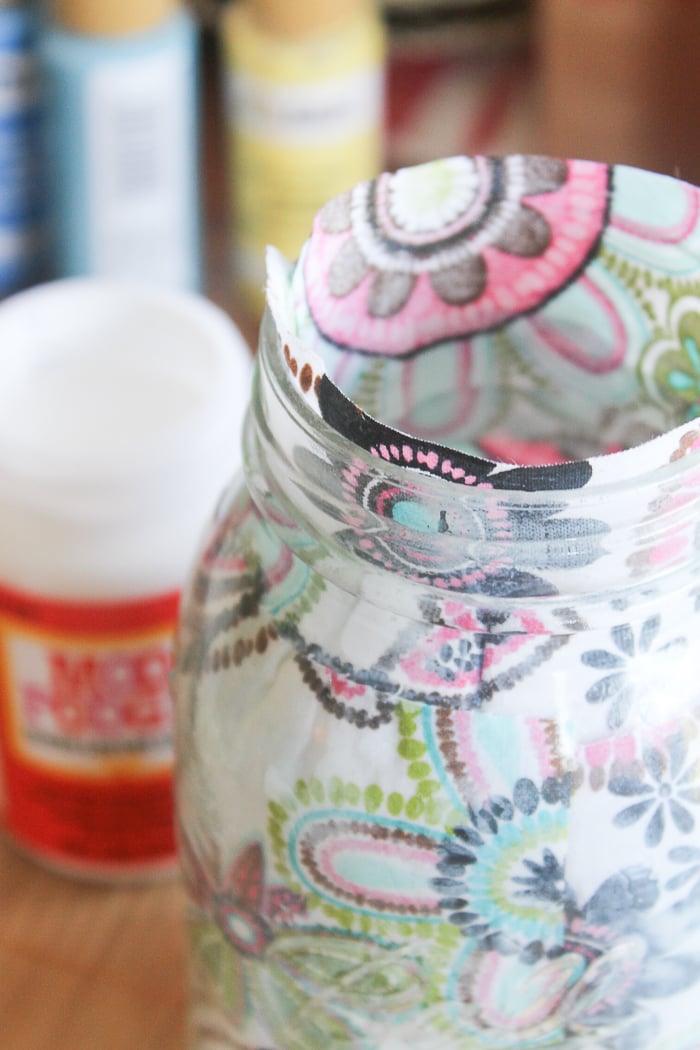 I love how bright and colorful this jar is but it is so very easy! Layering in the fabric squares with Mod Podge
is super simple. But what a look when you are done!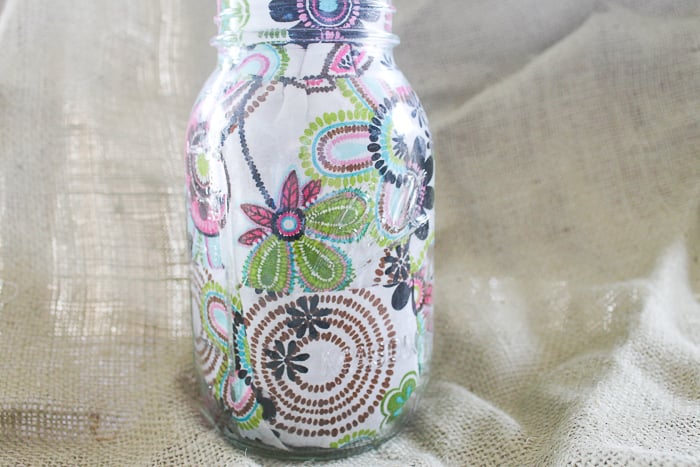 4. Fabric and Paint Decorated Mason Jars
My next thought was why not combine the two techniques. So using Mod Podge, fabric, and paint, I came up with this beauty…
I cut the fabric into circles around the existing fabric design.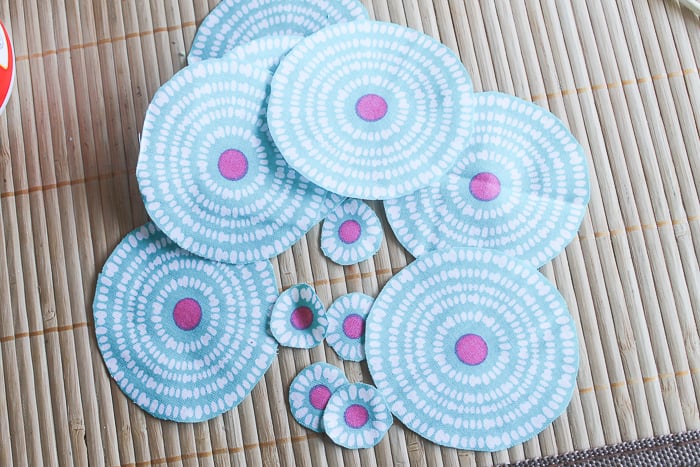 I then used Mod Podge to adhere them to the inside of the mason jar. Again applying Mod Podge to the front of the fabric and using a wooden skewer to work them into the tough spots.
Then let all of that dry for about 24 hours. Take a paintbrush and apply white paint all on the inside of your jar. The fabric pieces were not completely sealed so the pour method of painting I used before will not work. This method is quick and easy as well though.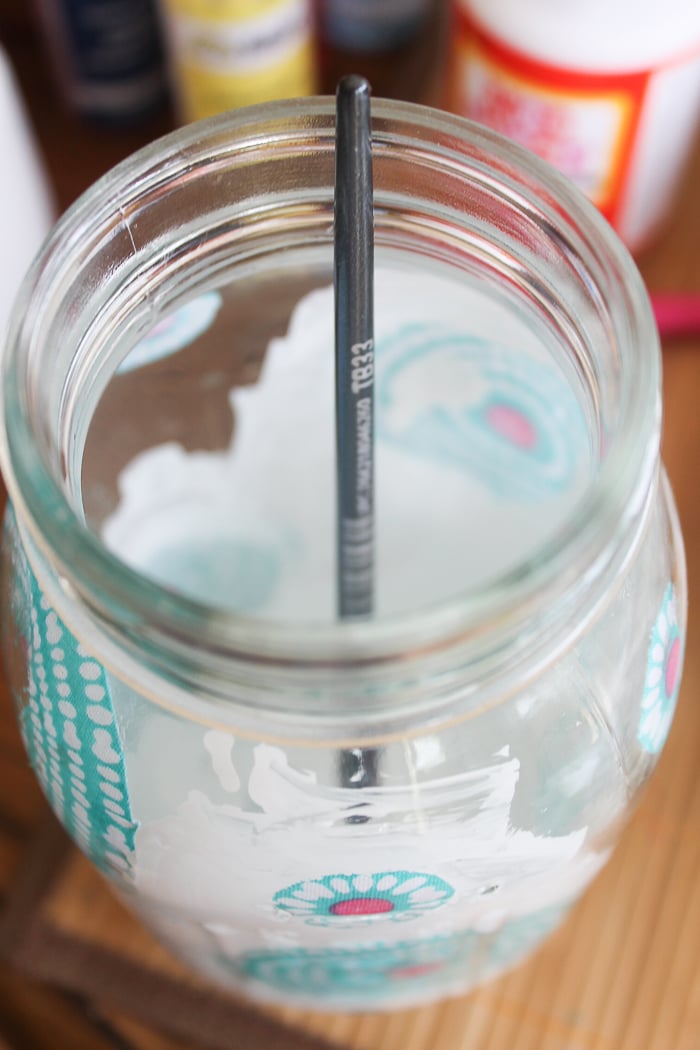 Allow your paint to dry then enjoy your colorful jar!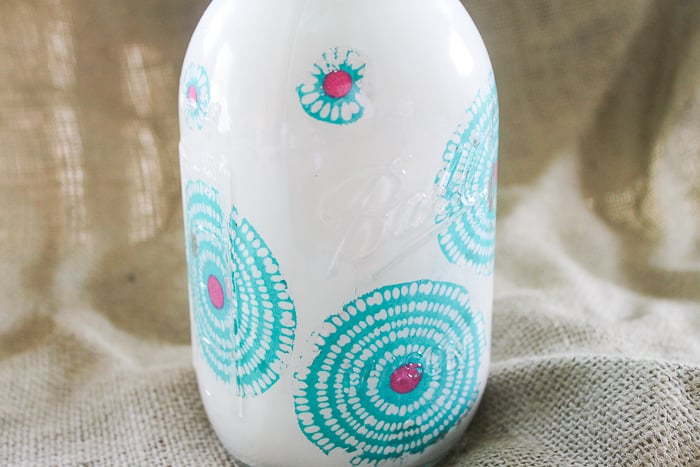 I am displaying this using flowers. I would seal the entire inside if I was going to add water. These are for display purposes only in my case. 🙂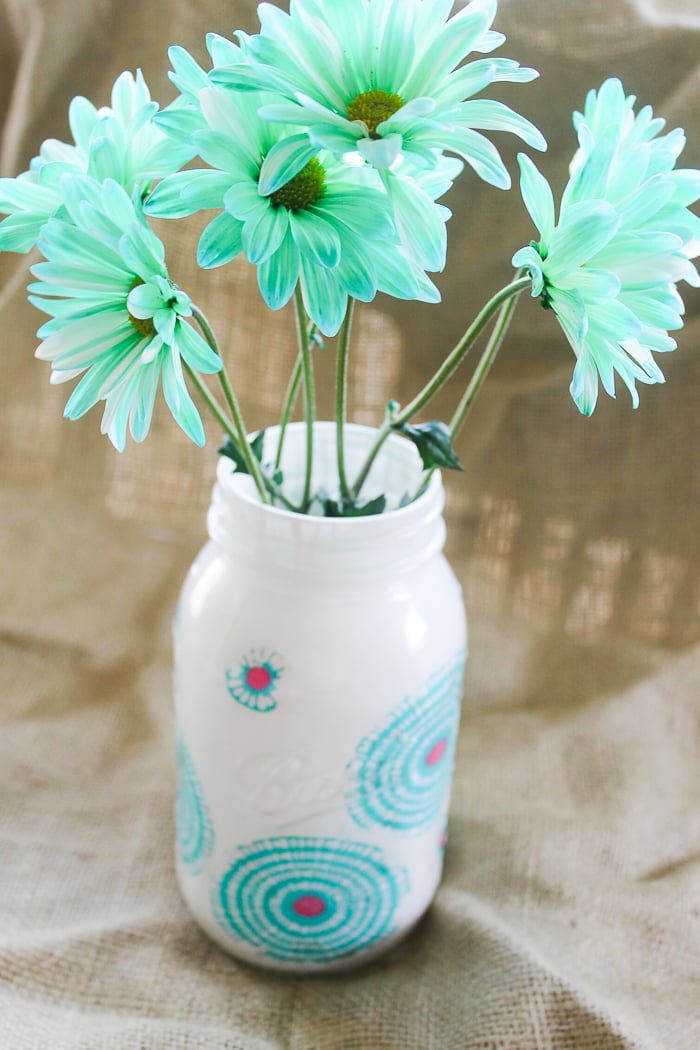 5. Red, White, and Blue Patriotic Splattered Paint Jar
For my fifth and final jar, I wanted a patriotic themed jar for my summer decor. I came up with a fireworks mason jar…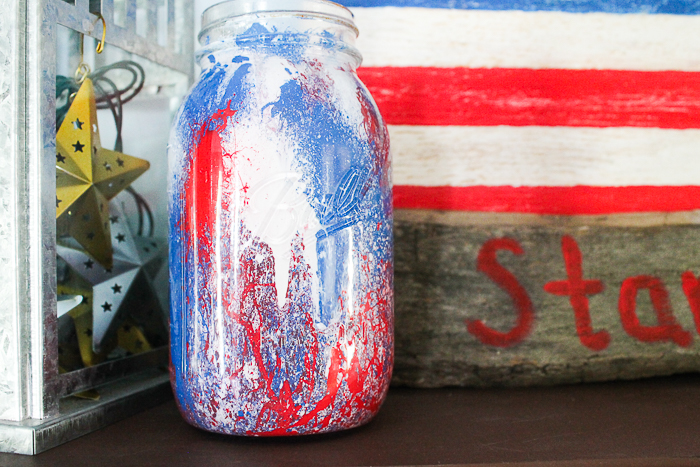 You are going to need red, white, and blue Folk Art Paints by Plaid
.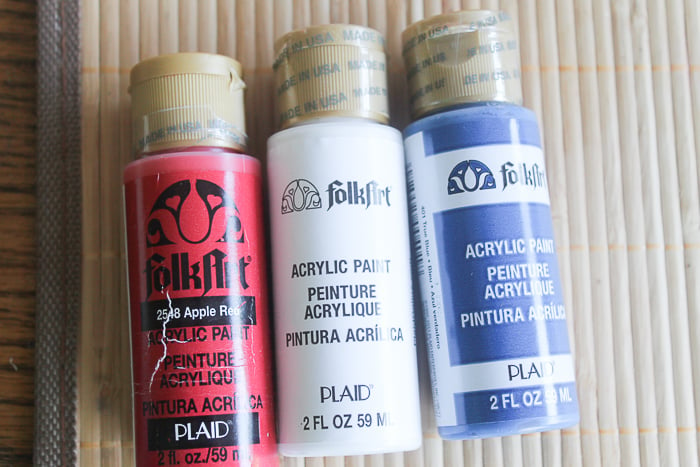 Do you recognize my next tool? Purchase or dig up a baby nose cleaner
and get to work. NOTE: This can no longer be used for babies after this project. Suck up some paint in your bulb syringe.
Then SQUEEZE hard on the inside of your jar.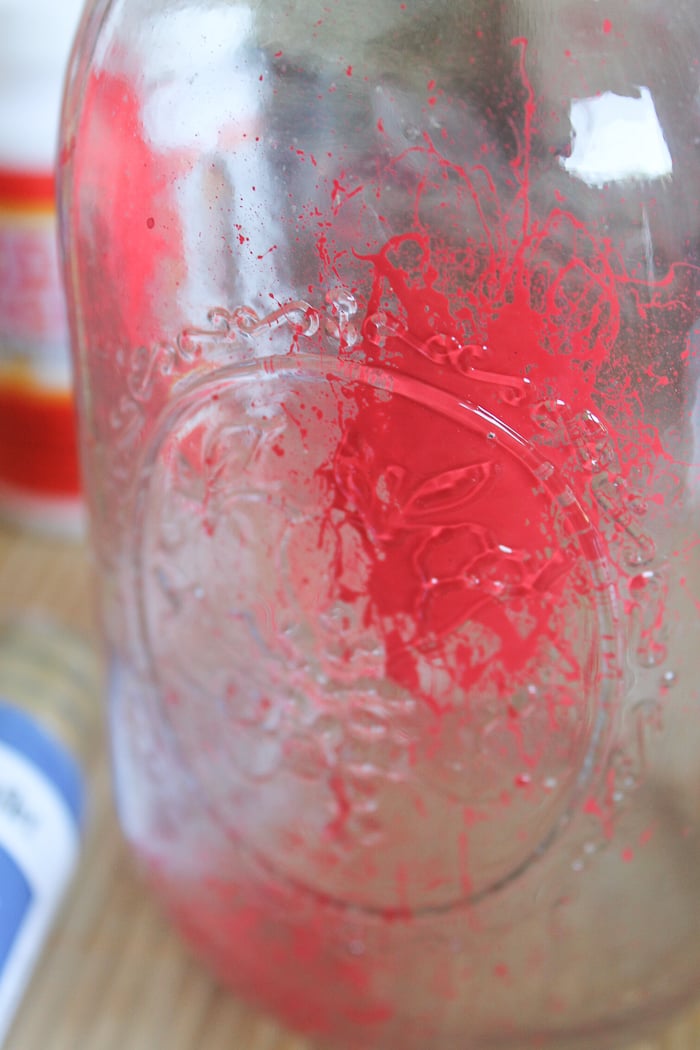 Hello fireworks!! Continue until your jar is just how you like it!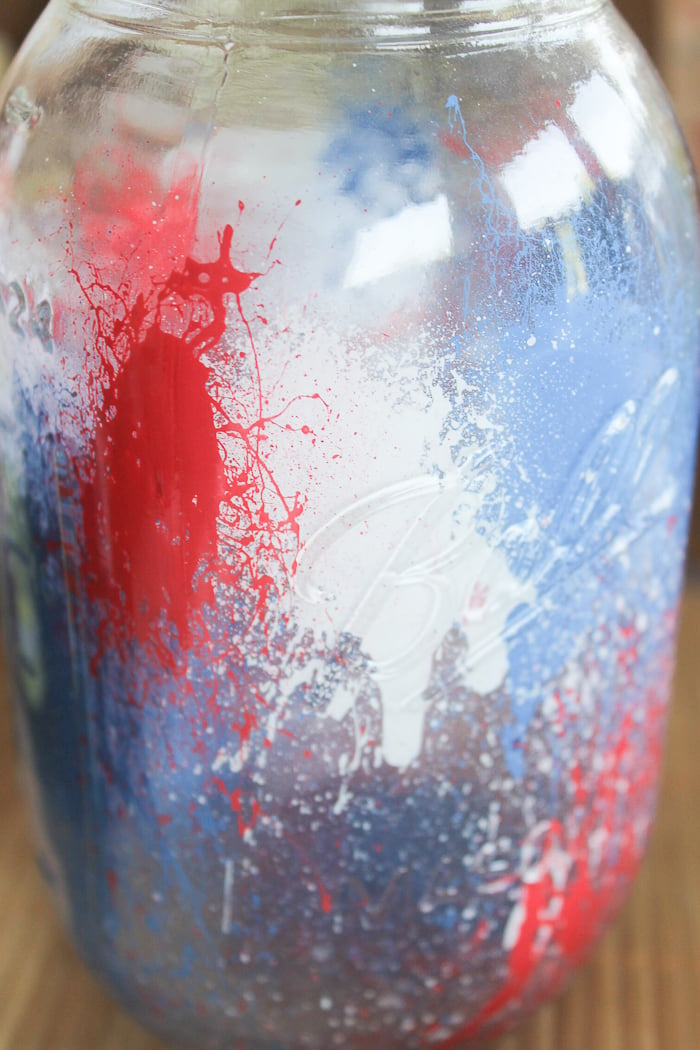 Stay tuned…that fireworks jar will be a part of my summer mantle which I will be showing you later this week!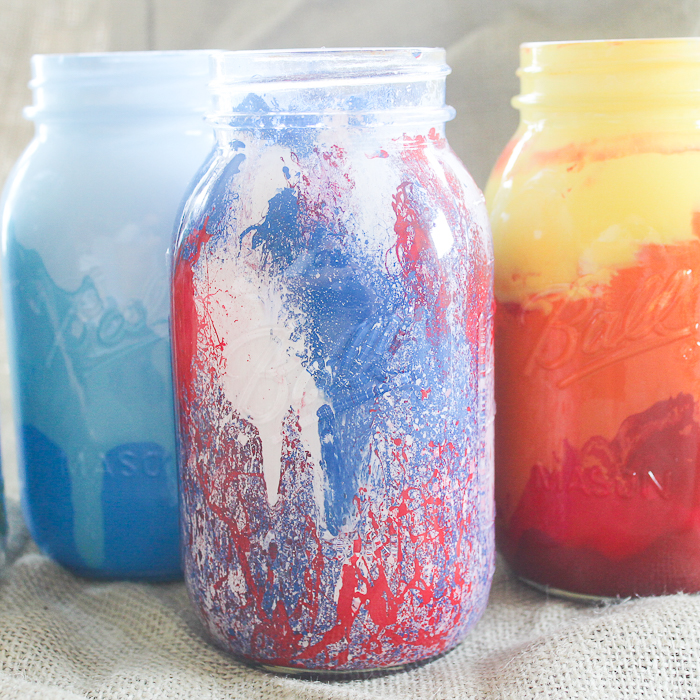 There you have it…FIVE different ways to make yourself a colorful mason jar. Use them in your home decor, for storage, or just to make you smile.
I want to know…which jar is your favorite?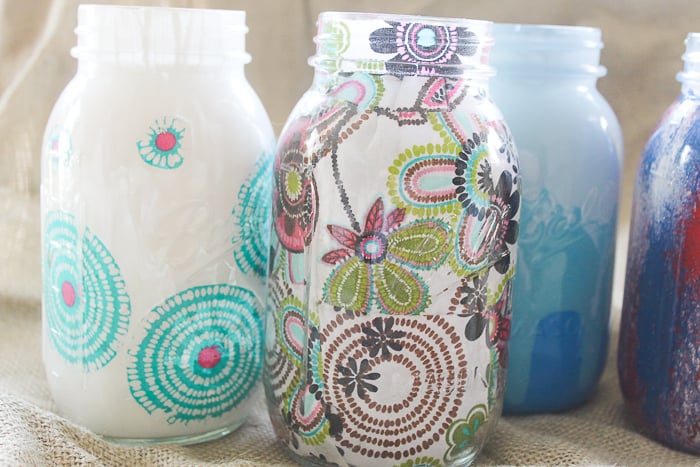 They are all so simple, you can make your own five in an afternoon. Head to Walmart for your supplies from Plaid and your Ball jars…then get to crafting!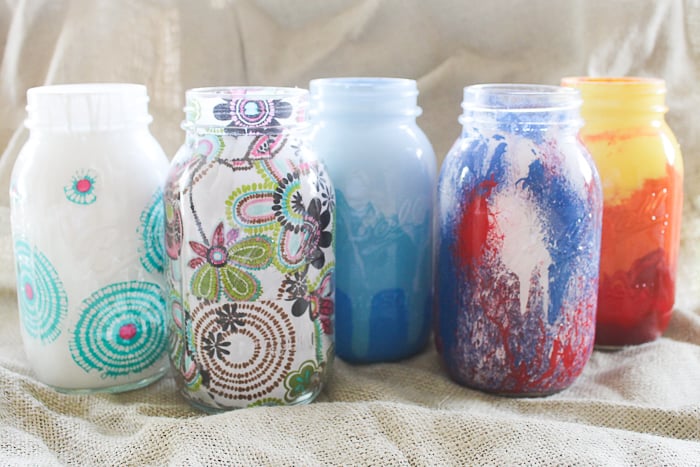 Want even more ways to decorate mason jars? Head on over and check out all of our
mason jar crafts
.
Love these ideas for decorating mason jars? Try these other links as well!
A Year of Jar Crafts
Sign up for our email list to get a FREE book with an entire year of jar crafts! 12 months, 12 crafts, tons of fun!