Jen Goode with 100 Directions is back this month with a DIY beware bat sign that is perfect for Halloween! Add those bats to various parts of your decor for a spooky addition.
Dig through your scrap wood pile and make your own DIY Beware Bat Sign for Halloween this year! All you need is some wood, paint and a little time to wait for paint to dry. If you've got some black paper, you can add a few bats for fun, but just the painted sign will work too. I don't have a fancy template for this project, I did a lot of pencil, eye-balling sketching to make this project work. I'll show you how it's done… in just a few steps.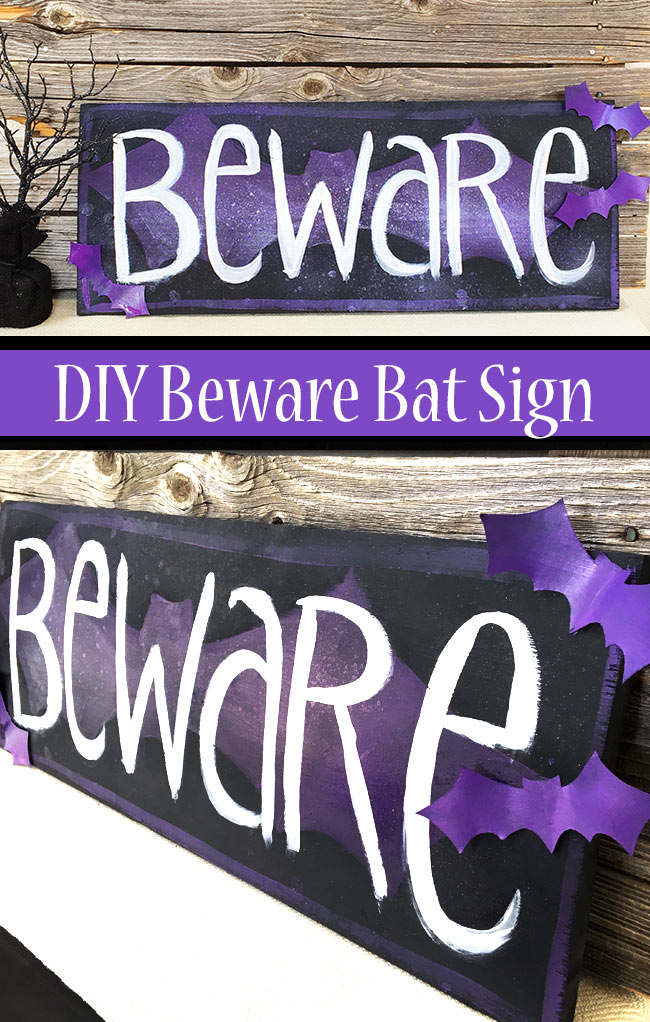 DIY Beware Bat Sign for Halloween
You can customize your sign to feature any kind of Halloween words you'd like. I went with the bat/Beware theme because I love the look of bat decor and "spooky" seems to usually be on everything I make. I wanted to change it up a little bit this time. I hand lettered the word on the board, but you could use stencils or even pre-cut letters if you prefer. I tend to like the hand-drawn look a bit more than the perfect lines of manufactured words. Go with what you like best!
Materials:
Piece of scrap wood – mine is about 12″ x 30″ and 1″ thick.
Paint – black spray paint, purple and white craft paint and maybe some paint for sparkle
Pencil
Black cardstock and glue – optional
Instructions:
Sketch your basic design right on the wood using the pencil. I started with the outline of the background bat.
Using spray paint, quickly paint in the basic shape of your bat design, making sure to paint the edges of the board. I like to put my piece I'm painting on top of a piece of cardboard so I can easily rotate the art around without having to wait for all the edges to dry. You can use craft paint instead of spray paint if you'd like. I chose spray paint because that's what I had on hand.
Using a paint brush and purple paint, brush in the shape of the bat. You don't need to be perfect nor exact with this design, you will be writing over it. Allow the paint to dry thoroughly.
Using your pencil, sketch the word art you'd like on your sign.
Use a paintbrush and the white paint and draw/paint your word art. I love the painted, somewhat sketchy look, so I didn't get too picky about the look of the letters. For Halloween especially, you can get away with a fun, loose lettering style.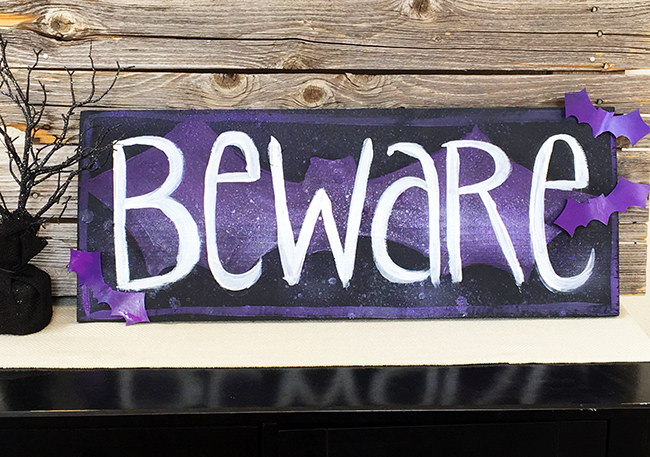 Optional, while the lettering is drying, cut out some card stock bats to glue on to your sign. If you would like them to be more weather resistant, use a spray sealer or paint the bats.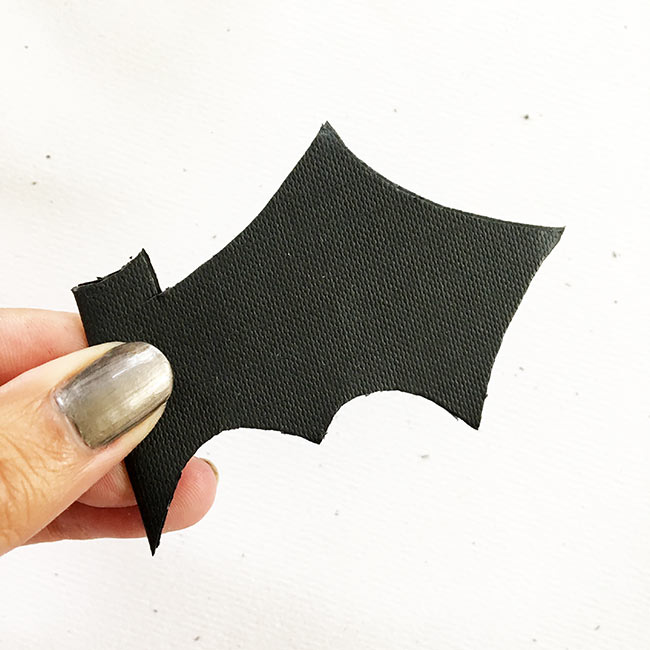 Once the lettering dries, glue the bats to the sign.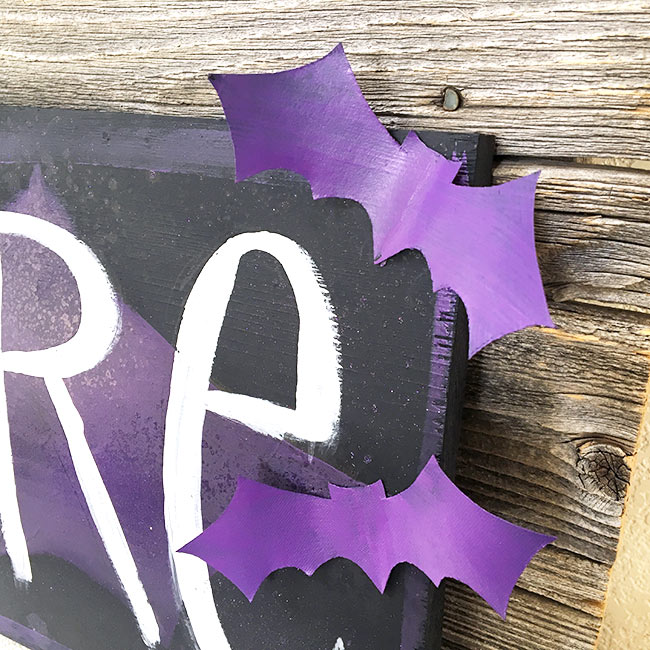 Extra: I had some leftover purple Glitter Blast paint that I sprayed over my sign to give it a slight sparkle. You could also use a glow-in-the-dark paint to add some extra fun night time effect to your sign.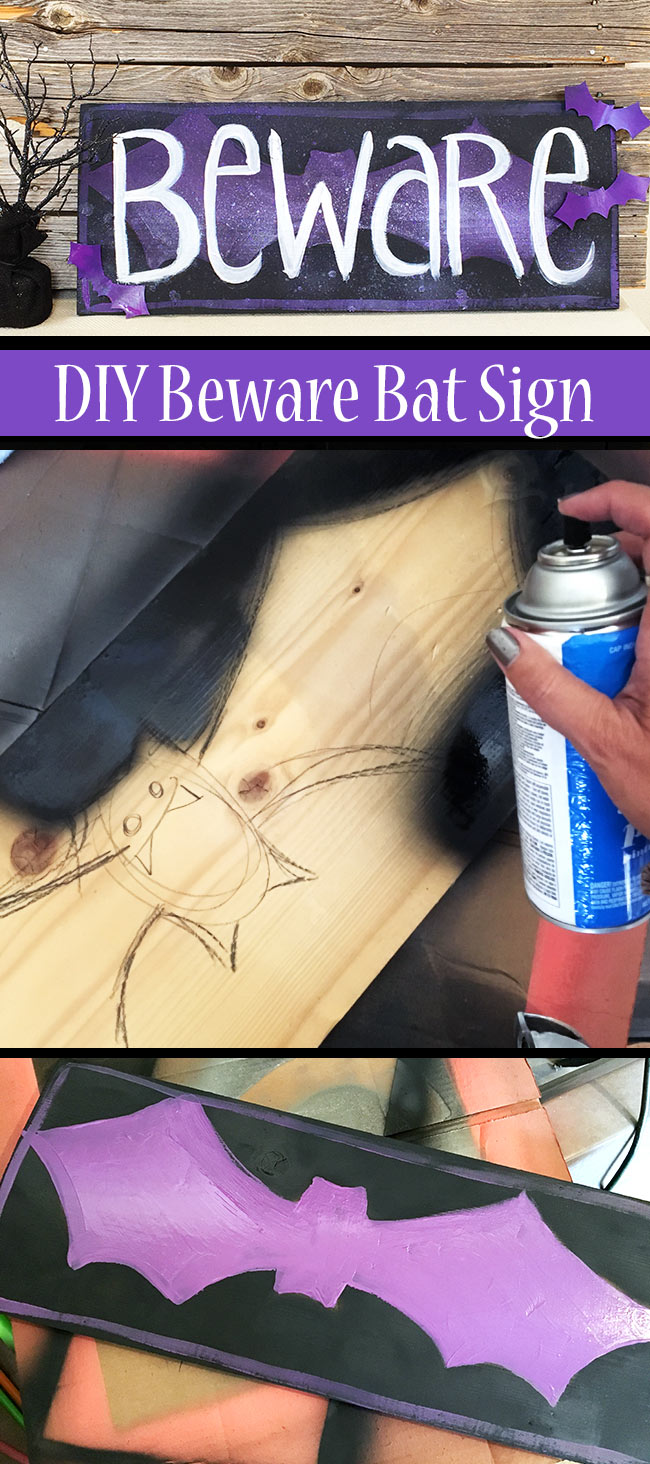 Have fun creating your own Halloween Beware sign. Personalize the look however you'd like. If you'd like some help cutting your bat shapes, I have a bat template you can use on my blog. Tip: fold your paper in half and cut out the bat along the fold to create a more symmetrical bat shape easily.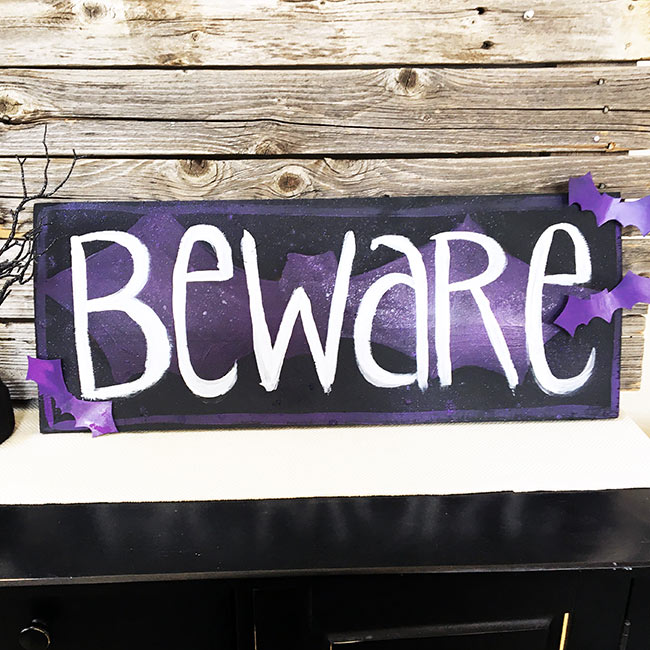 Want another idea for a Halloween sign? Be sure to try this google eye BOO sign!