I am partnering with DecoArt today to bring you a DIY color block mirror that you will love. Plus it is super simple to make. My final version is 24 inches by 24 inches but with this super simple tutorial you can keep adding on blocks to make your version as large as you would like. The pieces are all pre-purchased it is just a matter of painting and assembling them.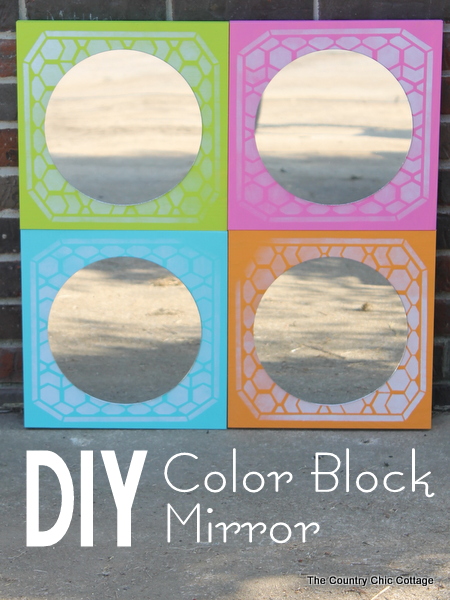 DIY Color Block Mirror supplies:
Some items below were supplied to me but all opinions and projects are my own.
Americana Multi-Surface Satin in coastal waters, flamingo, orange sherbet, chartreuse, and cottonball. (NOTE:

Americana Multi-Surface Satins are available for purchase at

Michaels

, A.C. Moore, Hobby Lobby, and other fine craft retailers.)

12 inch wood squares (I used four.)
9 inch mirrors (I used four.)

easy tack stencil adhesive

12 inch Americana stencil

pipe strapping

screws

E-6000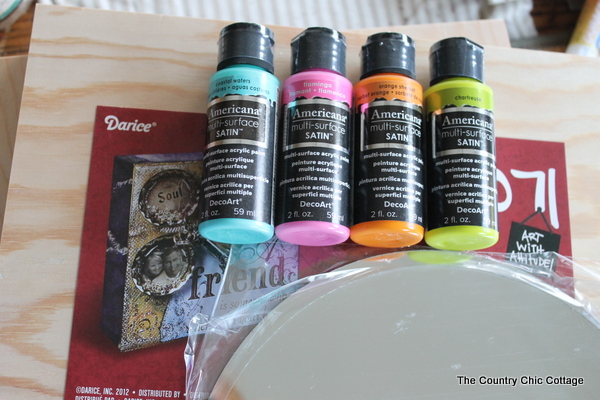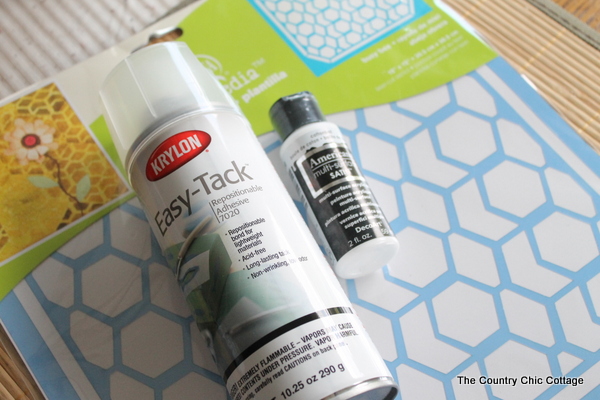 DIY Color Block Mirror Instructions:
Begin by painting your wood squares with two coats of Americana Multi-Surface Satin. Seriously two coats on raw wood is all you need. The Americana Multi-Surface Satin is new from DecoArt and I have loved playing around with it. It is my newest obsession so be prepared to see lots of it used around here! You can pick and choose from the wide variety of color options offered for your projects. Buy your paints then be sure to fill out the rebate form below to get $3 back when you buy 5 paints. US residents only and be sure to read all the fine print.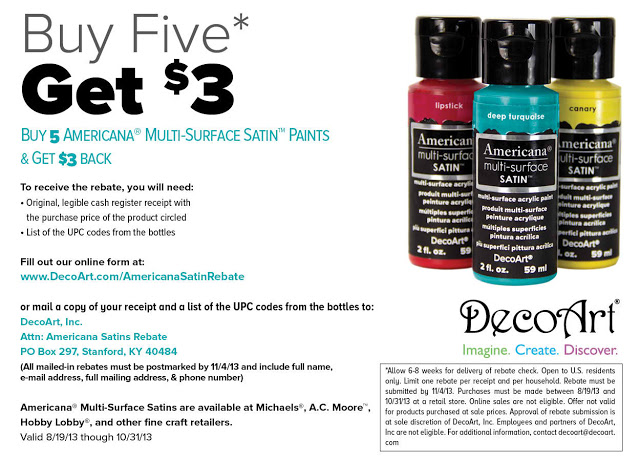 Be sure your boards are completely dry, then grab a great Americana stencil. They make some large 12 inch x 12 inch stencils now that fit these wood squares exactly. I used my stencil adhesive on one and applied to the board.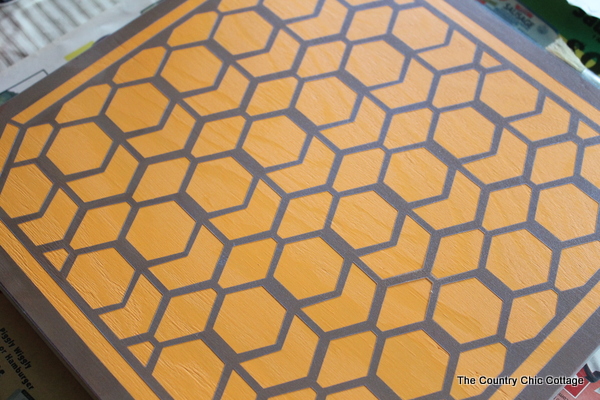 I started with a stencil brush full of paint in the upper right hand corner and slowly worked my way to the lower left hand corner. I DID NOT refill my brush the entire time. So you get a gradient or ombre look across your panel. I did this for each panel. Remove your stencil as soon as you are done painting.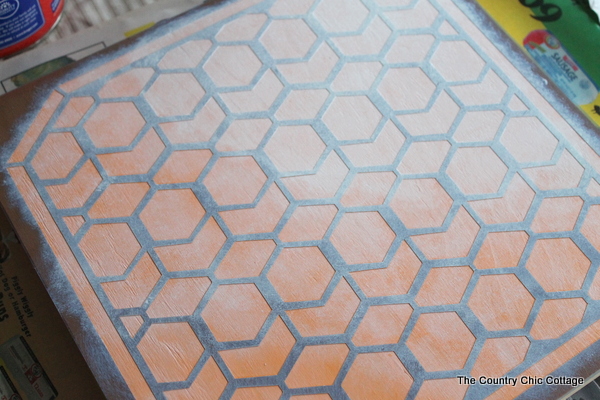 Allow all four stenciled panels to dry. Then attach them together with wood glue, some pipe strapping and screws. Allow to dry before moving so your glue can set. It took me a while and a few oops before I figured out the best way to attach these together.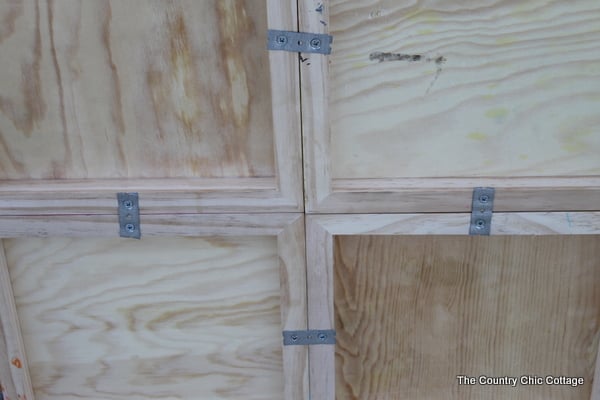 Now flip over your project and attach your mirrors to the center of each block using E-6000. There should be equal space on all four sides of your mirror ( 1 1/2 inches in this case). Allow that to dry the recommended amount of time (generally 24 hours).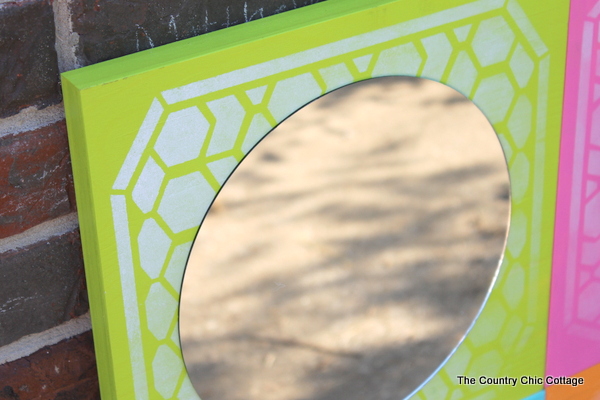 Then you are ready to take crazy pictures of yourself in the mirror rocking a mom bun. No?? Okay then you can hang this one up.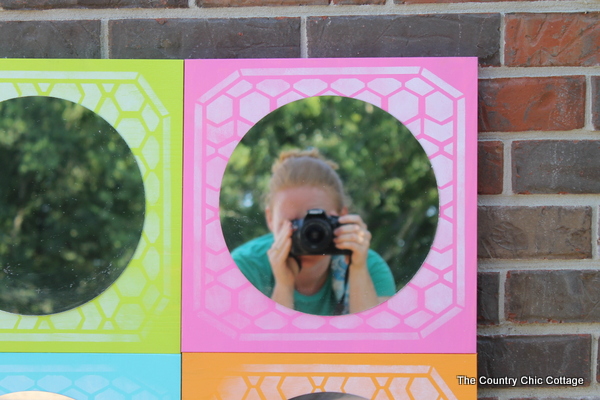 I am actually waiting to hang this one until I can put it in my teen daughter's new room. So y'all stay tuned for the final spot on this one. You won't want to miss it!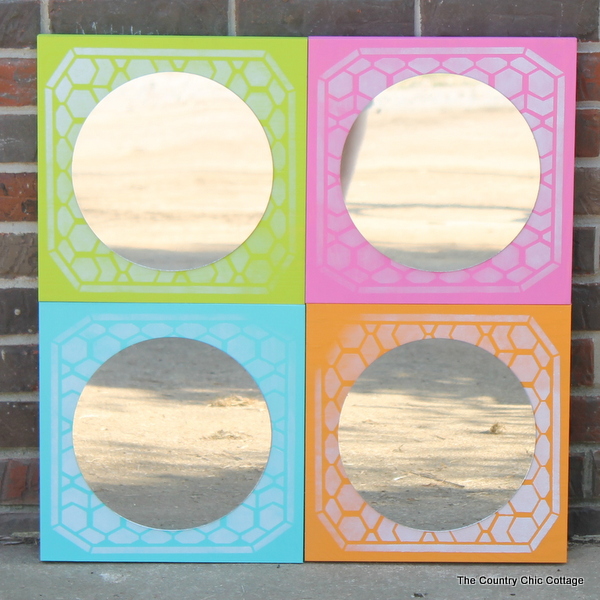 Many thanks to DecoArt for partnering with me on this project. I had fun creating this DIY color block mirror and I know my daughter will love it in her new room!