If you have a Cricut, you can make a DIY doormat easily. Yep, a custom doormat all your own which is pretty much the perfect way to celebrate the spring weather. So, grab one of the 11 free SVG files below and fire up your machine. You will be thrilled with the outcome and might just make a few for every season.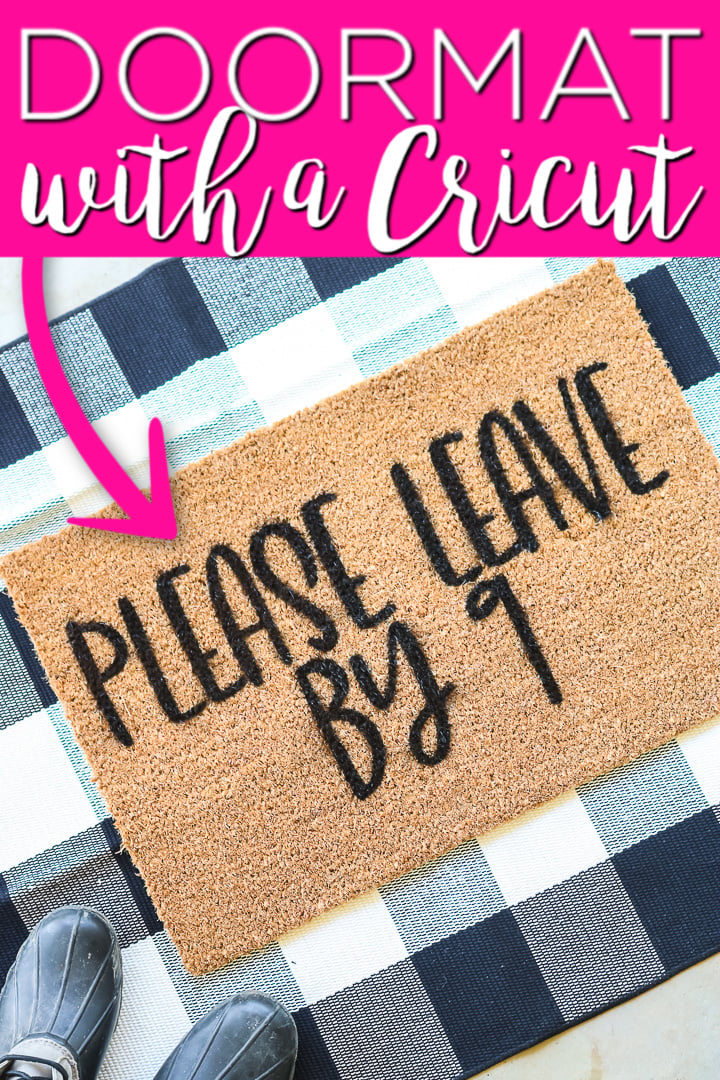 Supplies to make a DIY doormat:
Please Leave by 9 SVG File
You will need a design to add to your doormat. You can get my please leave by 9 file by signing up in the form below. Once you sign up, the file will be sent to your email. It will begin to download as soon as you click the button that is sent via email. It will download as a zip file that you will need to unzip before uploading to your Cricut. You can see how to use SVG files with a Cricut here.
Please note that this file is for personal use only. You can email me if you have any issues with your download or have any questions. Want the rest of the free files? You can find those towards the bottom of this post.
How to Make a Custom Doormat
Now that you have all of your supplies as well as your free SVG file, you can fire up your Cricut and make your own doormat. See the video below to see just how to do that.
If you can't watch the video or want more instructions, you can follow along with our how-to below as well.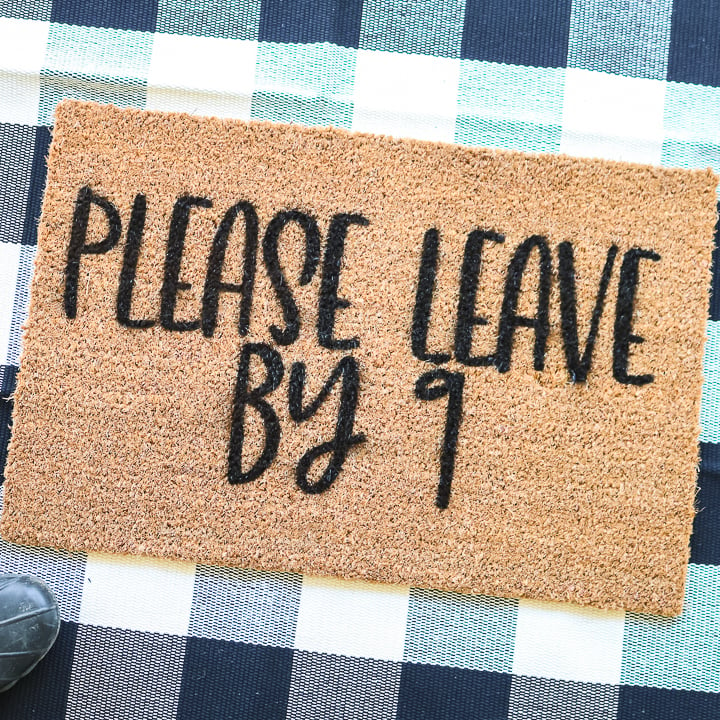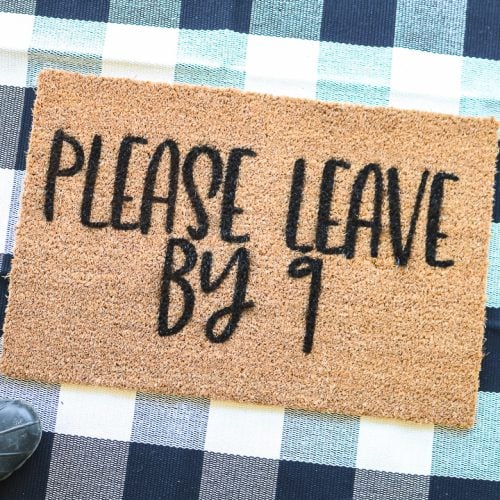 Make Your Own Doormat
A doormat is super easy to make with a Cricut machine and our instructions.
Supplies
Coir doormat

Freezer paper

you can usually get in the wrap section of your grocery store

Spray paint

Iron or EasyPress Mini

Cricut machine

SVG file

find 11 total free files below

12×24 Cricut mat

blue preferred
Instructions
Add your freezer paper to your Cricut mat with the shiny side down on the mat. Remember that for large doormats you will need the 12×24 mat for cutting. I like the blue mat but the green should work as well.

Cut the design from the freezer paper using a light cardstock setting on your Cricut. Be sure to resize the design to fit your doormat. I also like to center the design on my mat so I will have as much as possible around the outside edge to prevent paint overspray.

Start removing all of the letters from the design. You will need to keep things like the centers of letters.

Once your design is fully weeded, you will be left with something like the image below.

First, carefully remove the outer piece from the mat. Go slowly so you will not tear your design.

Leave the centers of the letters on the mat for now so you will not lose them and set aside.

Apply the freezer paper to the doormat with an iron or EasyPress Mini. You will need to press for a while as there is not much area to adhere to on the doormat. Work your way all the way around the design. If you have issues with some areas lifting, use something to hold them down while they are hot and lift when cool. This usually helps them to stick.

Once your outside design is in place, start adding the centers of the letters in the same manner.

Keep adding with the iron until your entire design is in place on your mat.

I also like to cover any exposed area on the mat with painter's tape to prevent overspray from getting where it shouldn't.

Carefully lift your mat and transfer outside for painting. I like to use spray paint and paint from the top down in several light coats.

Be sure to cover all of the stencil completely. NOTE: it was a windy day so I put rocks in the corners to help hold everything down. The tape does not stick really well to the doormat so it was not enough to hold it by itself.

While the paint is still wet, peel back the freezer paper to reveal your design. It will easily lift off your mat.

Then remove the centers of all of your letters in the same manner and allow your doormat to dry completely.

You can then place your doormat on your front porch to let everyone know to leave by nine when they come to your home.
Tried this project?
tag us to show off your work!
I added my DIY doormat to the top of a checked doormat on the front porch. I love how it looks!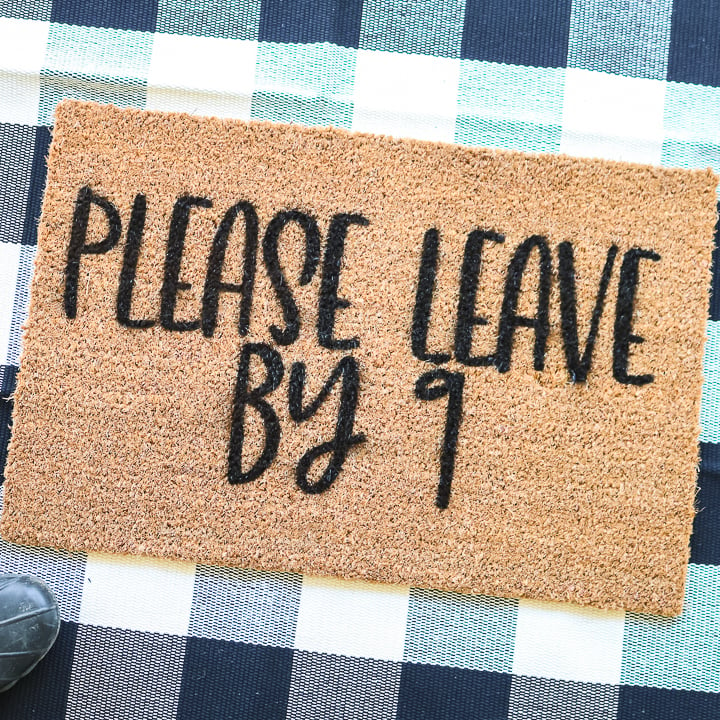 Yep, I think I need to make one of these doormats from just about every occasion. What about you? Have you ever made a doormat with your Cricut?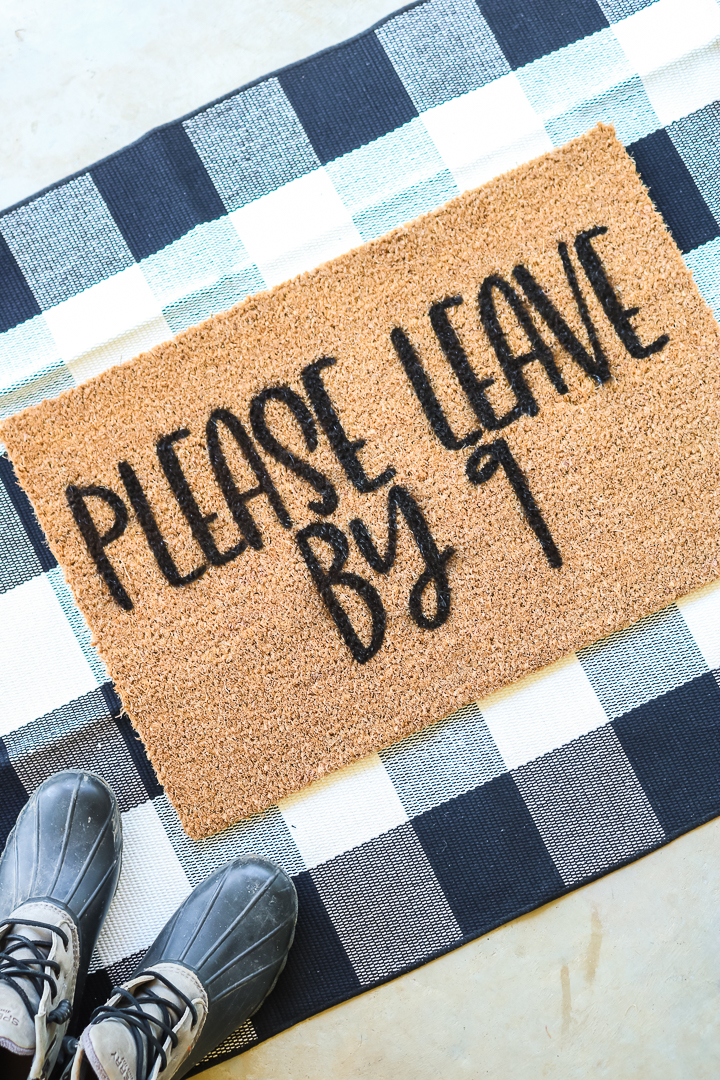 More Free Doormat SVG Files
I love a funny doormat. It is like my favorite thing on Earth. So, I also teamed up with my Totally Free SVG crew to bring you some other designs you might like. So, if you don't want to ask your guests to please leave before 9, you might like one of these other designs.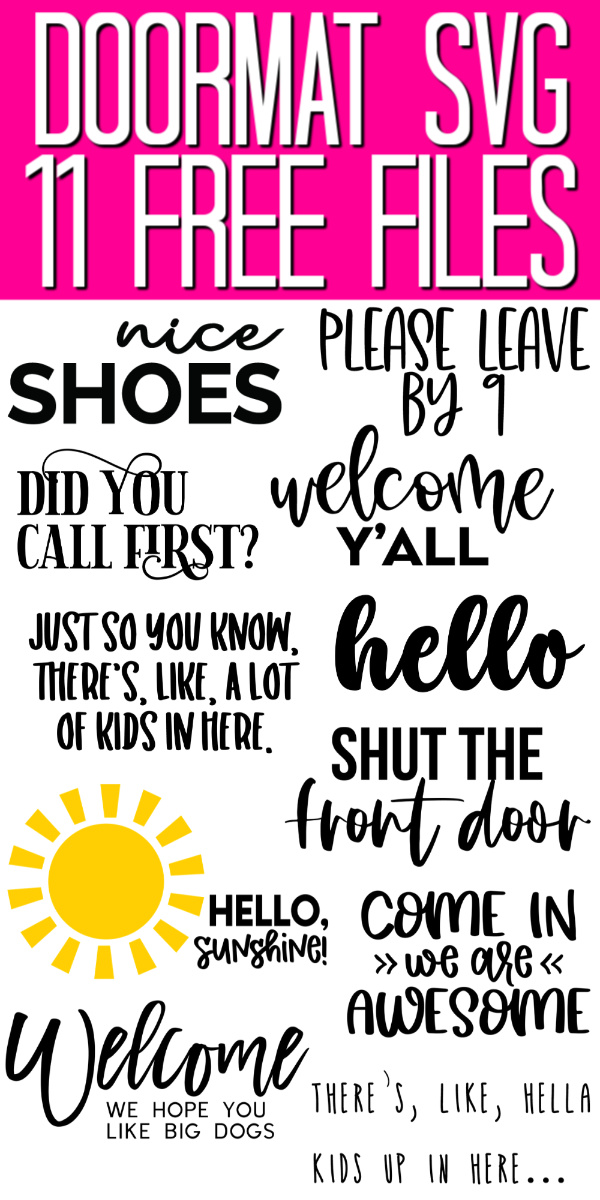 Click on each of the links below then follow the instructions on the page to get your free SVGs.
So, now the only question is which of these doormats will you make? I hope you enjoy them and making a doormat for your home.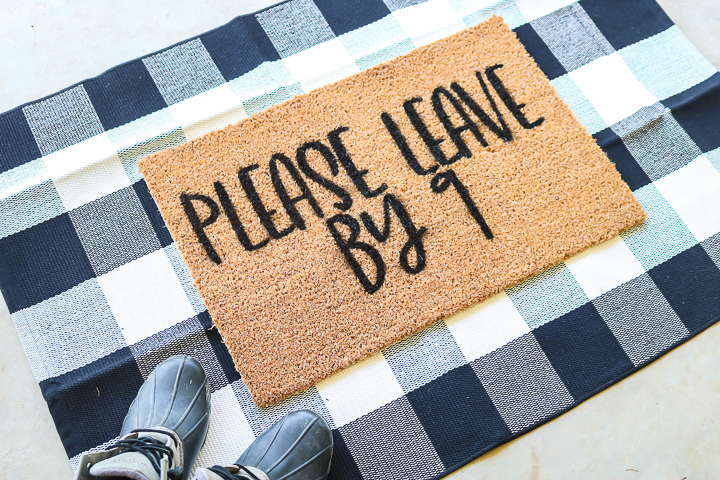 New to Cricut?
Sign up for our email list here to download the Beginner's Guide to Cricut Design Space for FREE today!
Sign up to get the guide emailed to you!