Needing some inspiration for front porch decor for Spring? I am sharing some finds with you today so that you can be prepared once this winter storm has passed. I know I am looking forward to adding some gorgeous spring color to my outdoor areas! Whether you love a more colorful front porch or this neutral farmhouse-style version, I know you are probably looking forward to spring just as much as I am.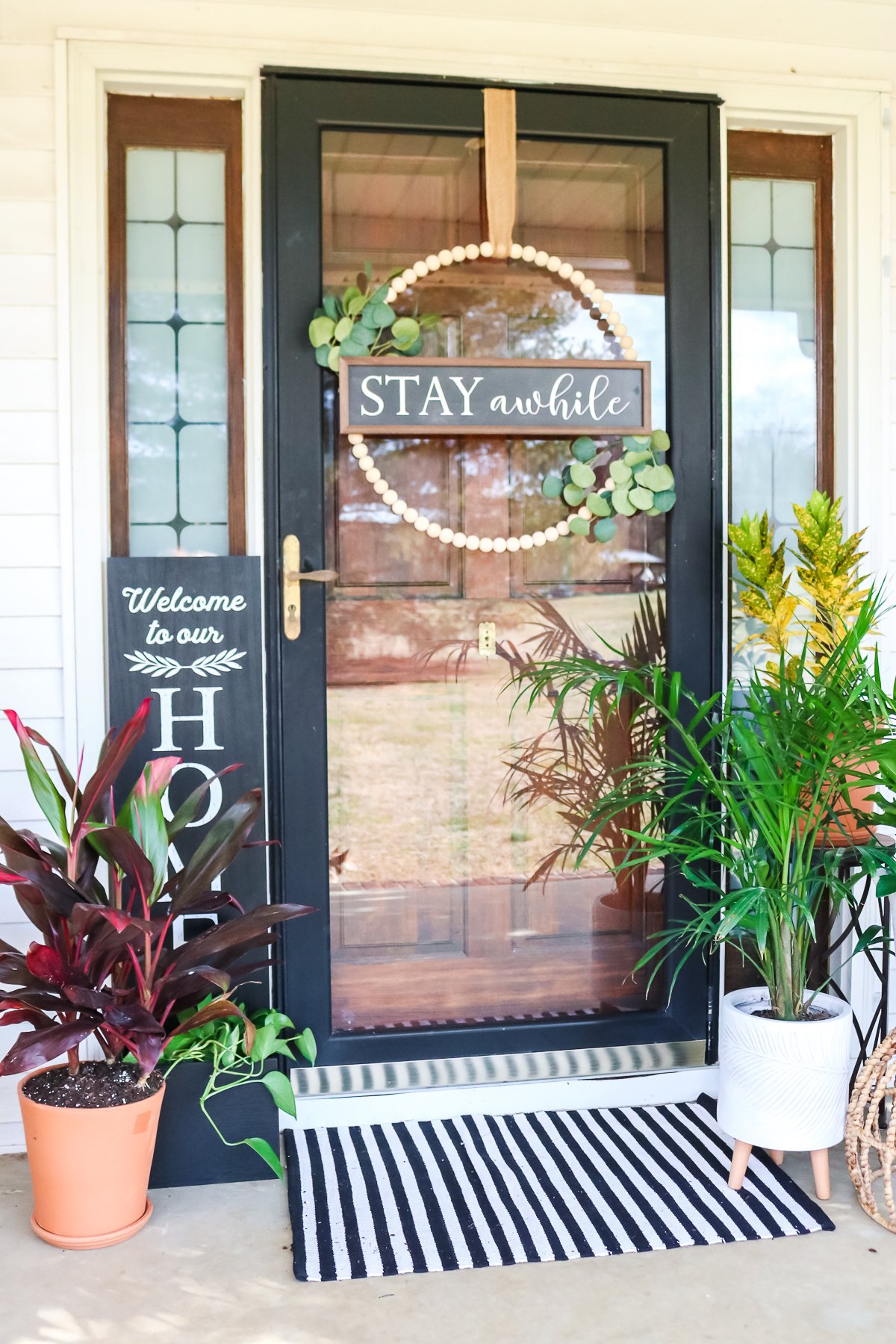 Front Porch Decor for Spring
Start planning your spring porch now so you will have all of the supplies you need to decorate as the weather gets warmer. I went with a neutral color pallet this year so these same pieces could be used for several seasons.
Where to Purchase
I picked up all of the supplies you see at my local Hobby Lobby. Just one stop and I had everything I needed to bring some spring and farmhouse-style to my home. My shopping list included:
Spring wreath
Planters
Rug
Plant stand
Welcome sign
I had already been shopping for plants for a few weeks so that part was easy! Try finding houseplants on sale and stocking up in the off season then add them to your porch as soon as the weather turns warmer.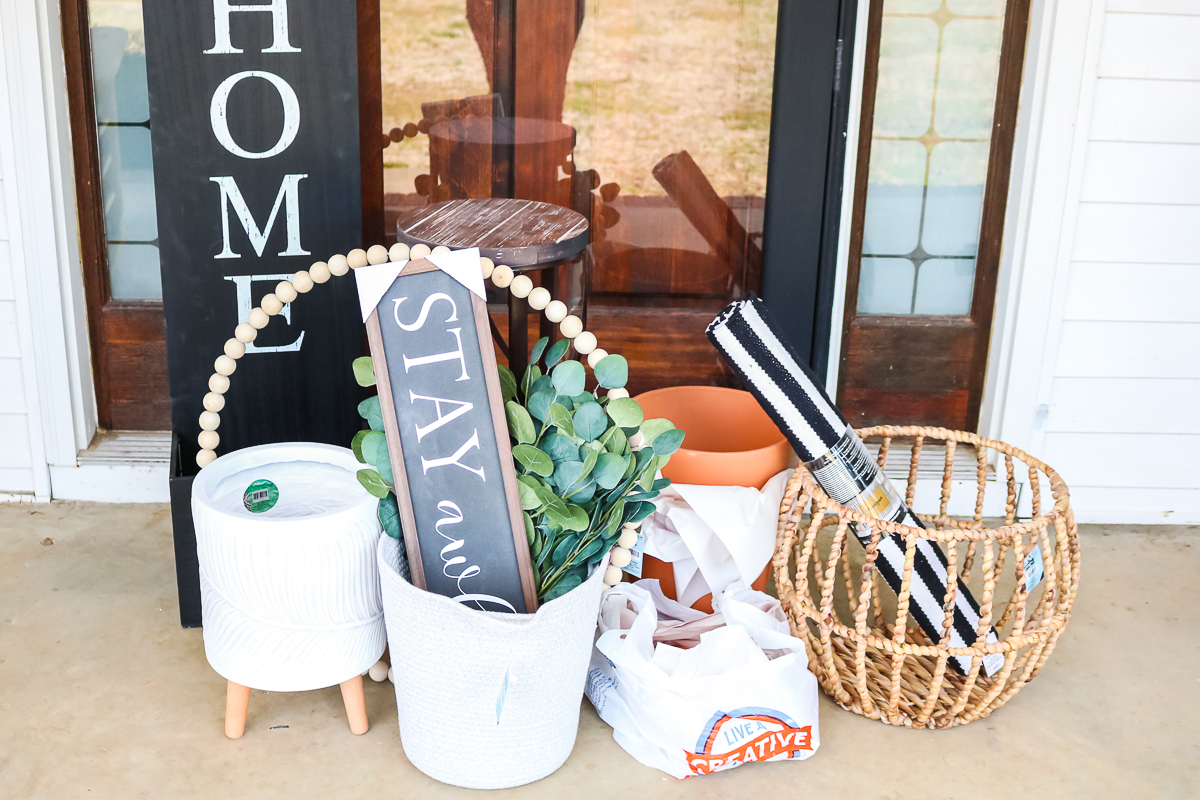 How to Make a Wood Bead Wreath
First, let's talk about making a wood bead wreath. I have seen several versions of these online and I was excited to find one at my local Hobby Lobby! I just used hot glue to add a sign to the middle and a few greenery stems.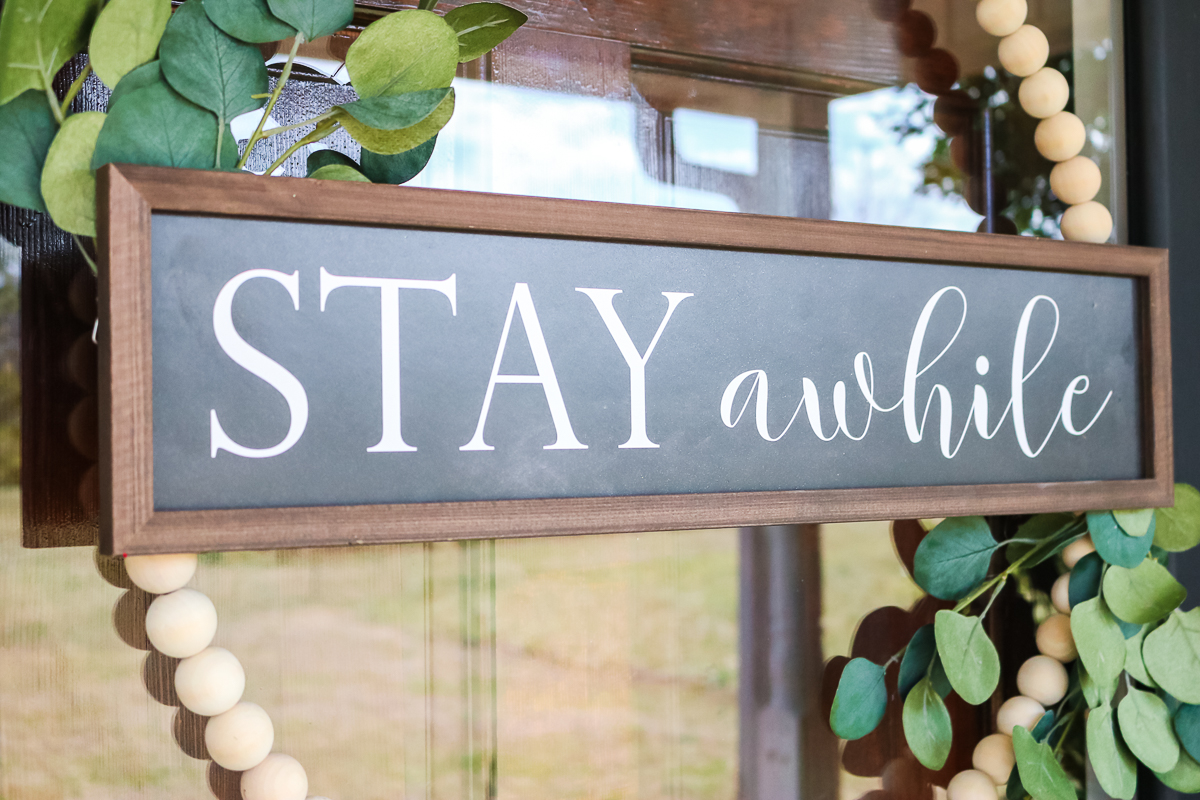 This makes for a super simple wreath that will look amazing on your front door. This version of the wood bead wreath would actually look great on your door for several seasons so don't think this one is just for spring.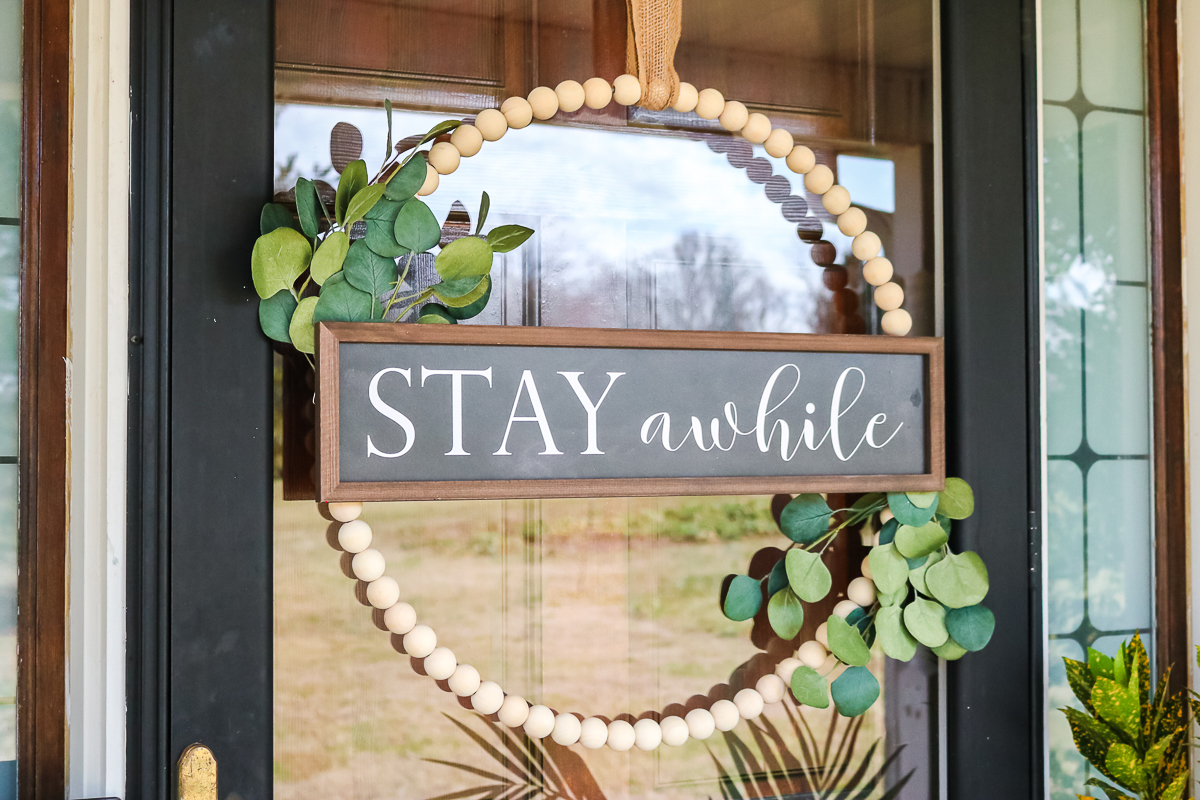 How to Decorate a Spring Porch
Now that we have a cute wreath on the door, let's add a few more elements. My favorite front porch decor is plants. Adding a variety of planters with plants of all sizes makes for easy decor that freshens up any space.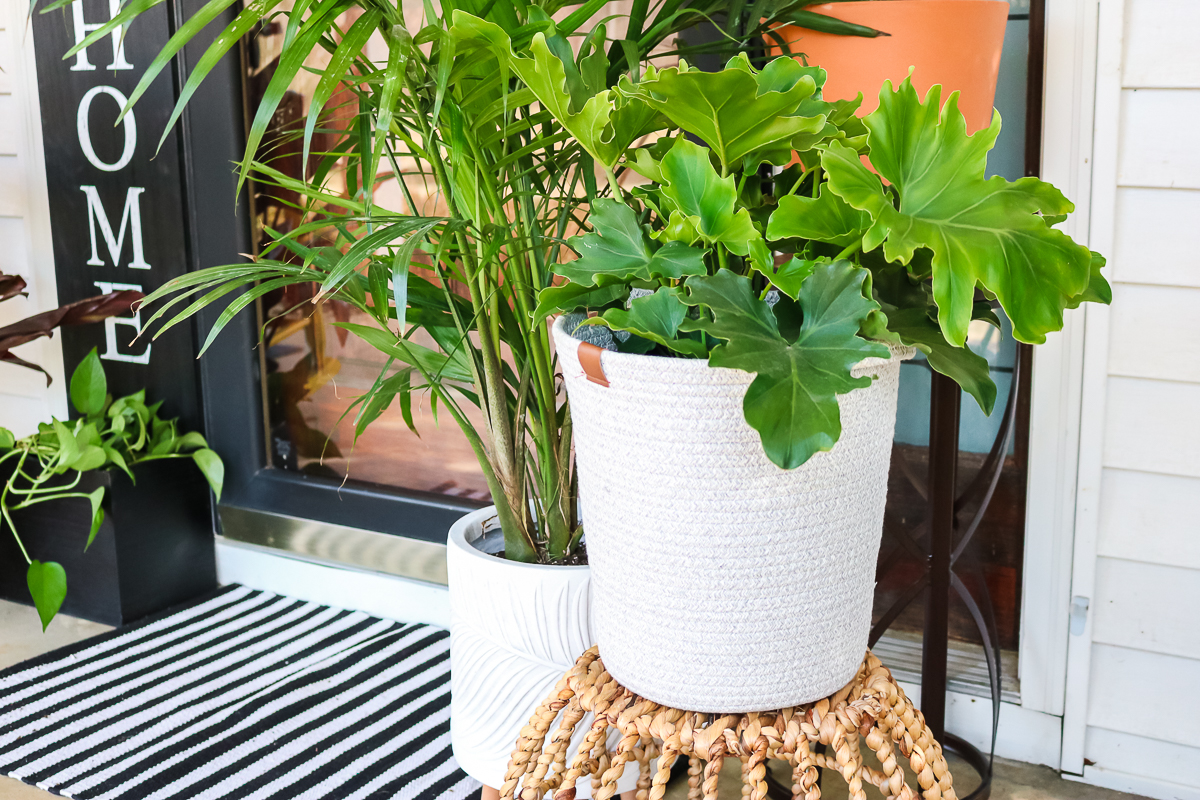 Add height to your decor with either tall plants or by raising up short plants on stands. Plant stands can be just about anything as long as you can put a plant on top of it.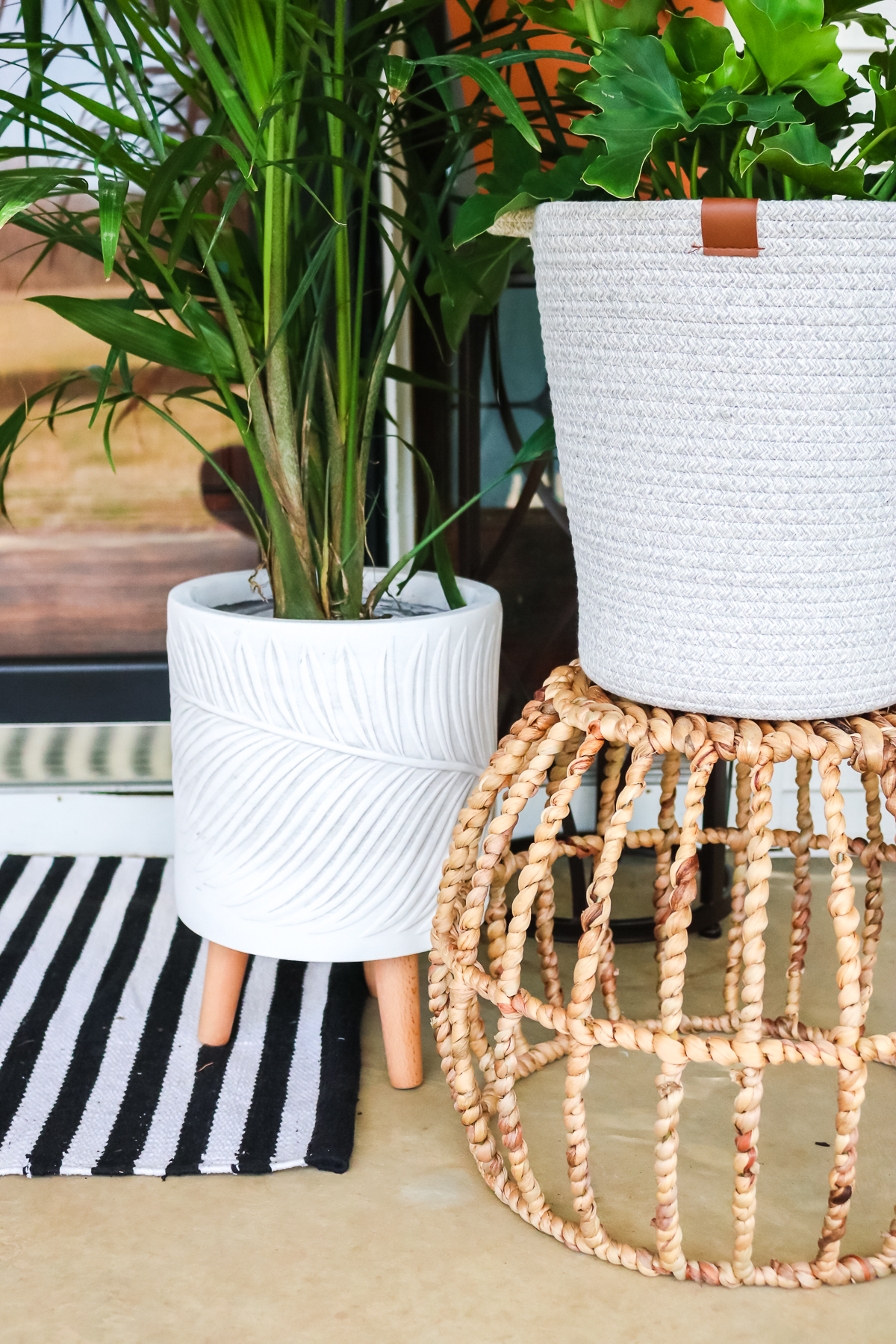 Some planters even have legs that raise them up a bit. As you can see, I mixed neutral tones with black and white. Look for colors that you love as you want to end up with a porch that you adore.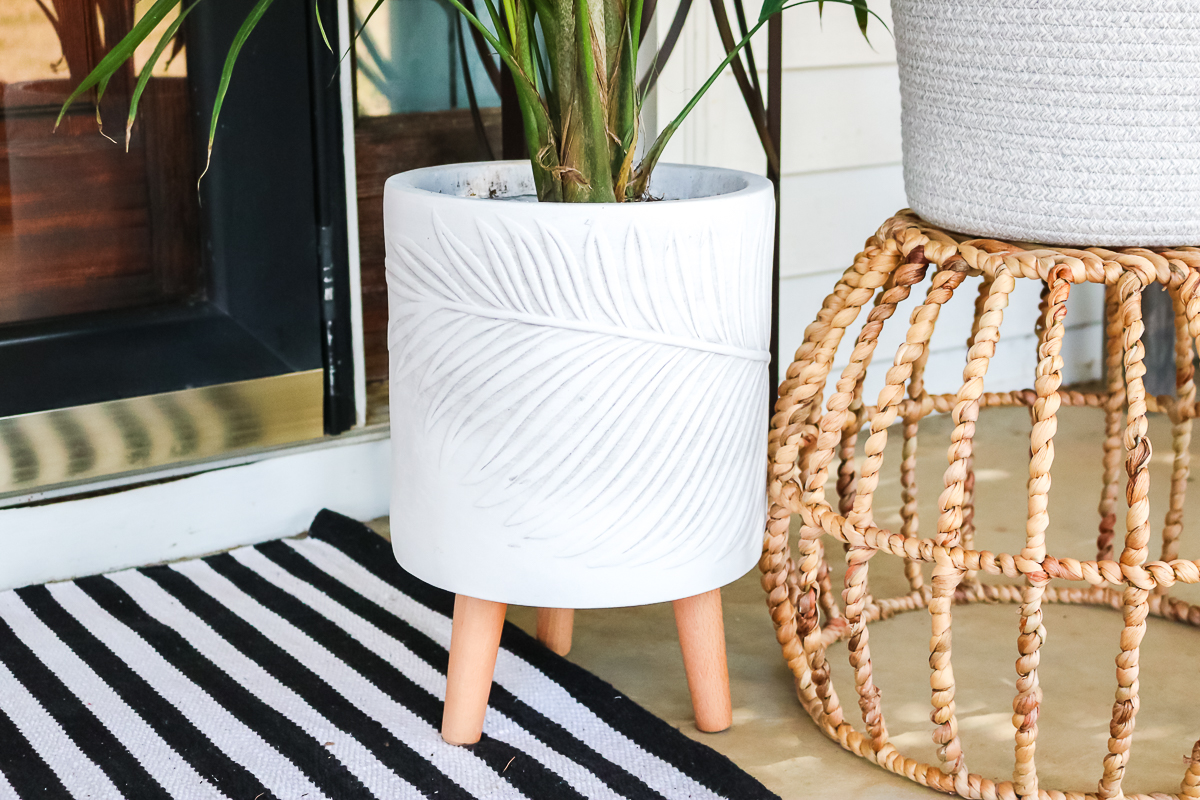 You can, of course, get more traditional plant stands as well. I use these for shorter plants or places that I really want to add height to my decor.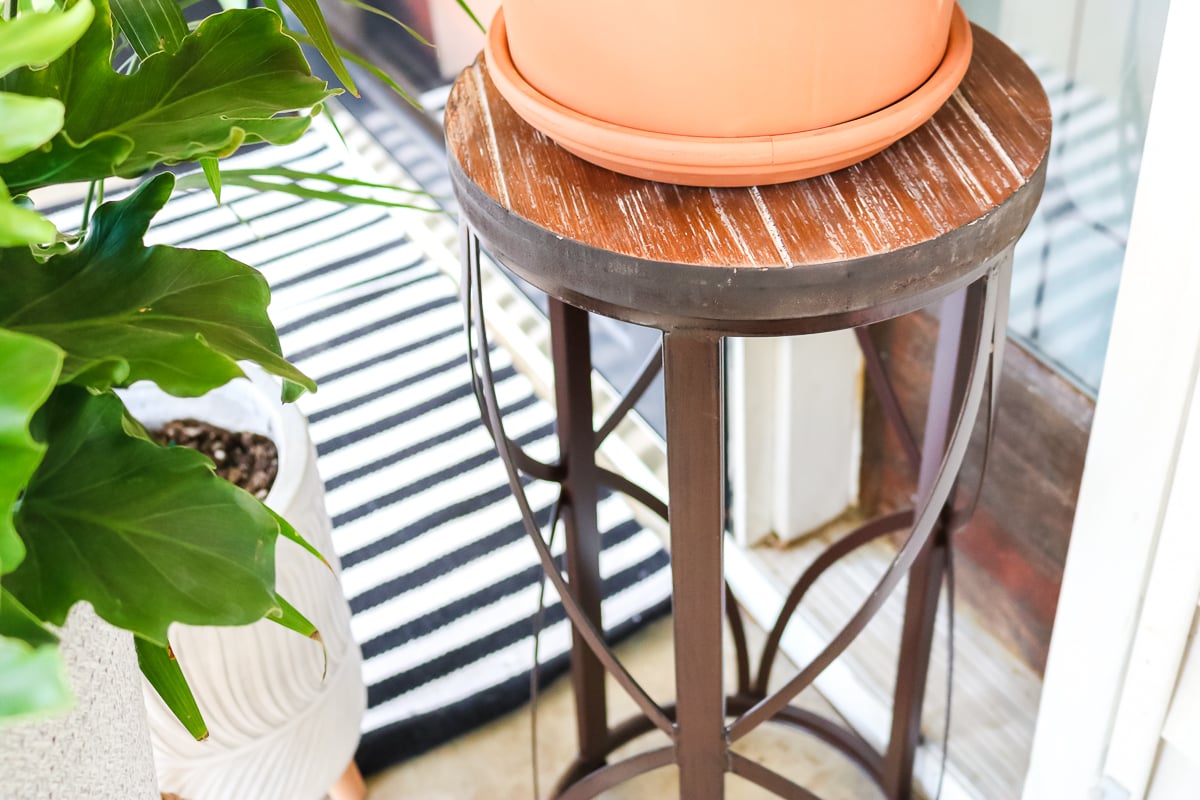 To add height on the other side of the door, I added a wood welcome sign with a planter. You can absolutely make one of these with your Cricut machine, however, you can also purchase one at Hobby Lobby. I even saw unfinished wood versions of this if you wanted to paint one and add your own design.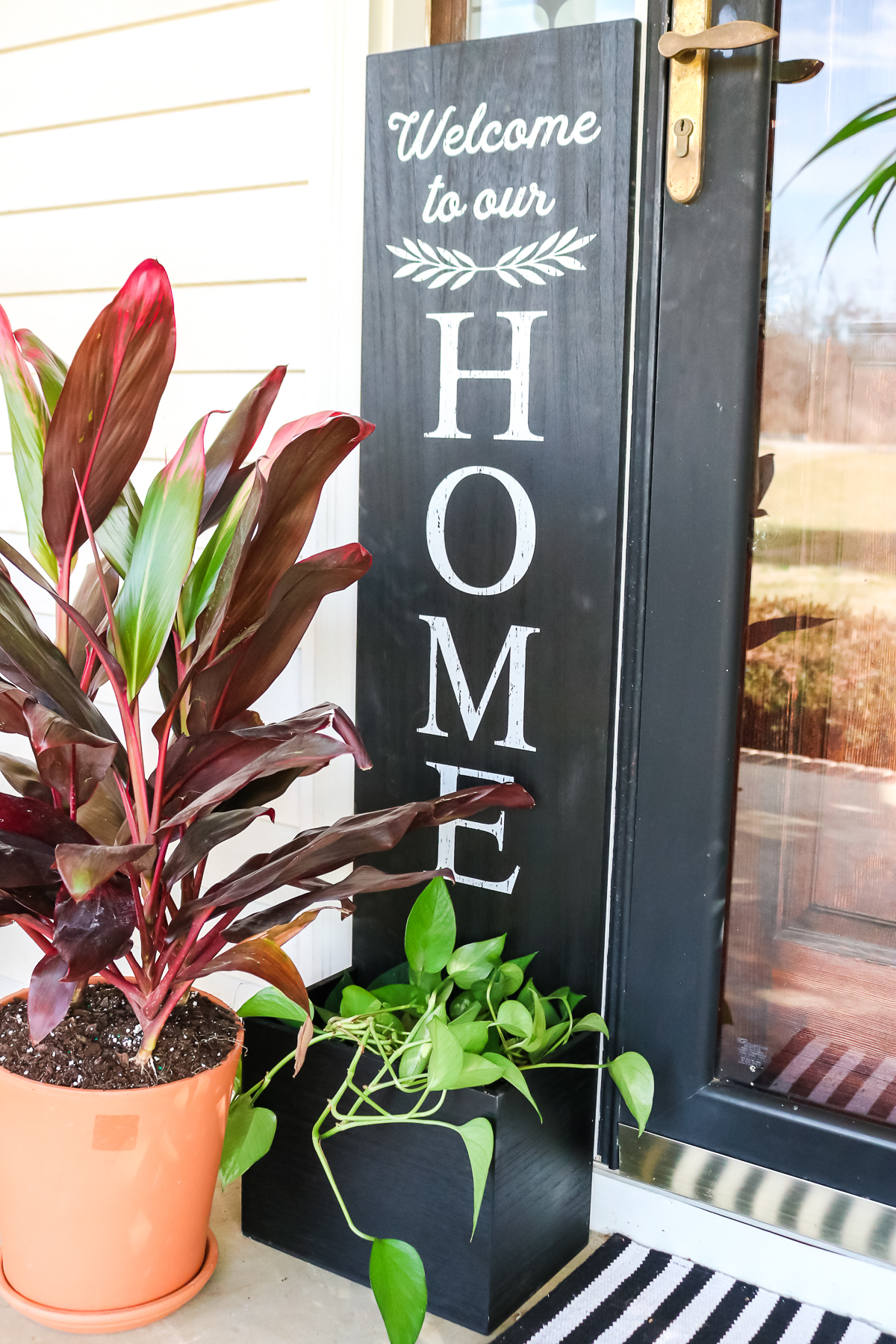 I added a vining plant to the bottom and I am in love with the results! Want to make your own version of this from wood? Try this tutorial.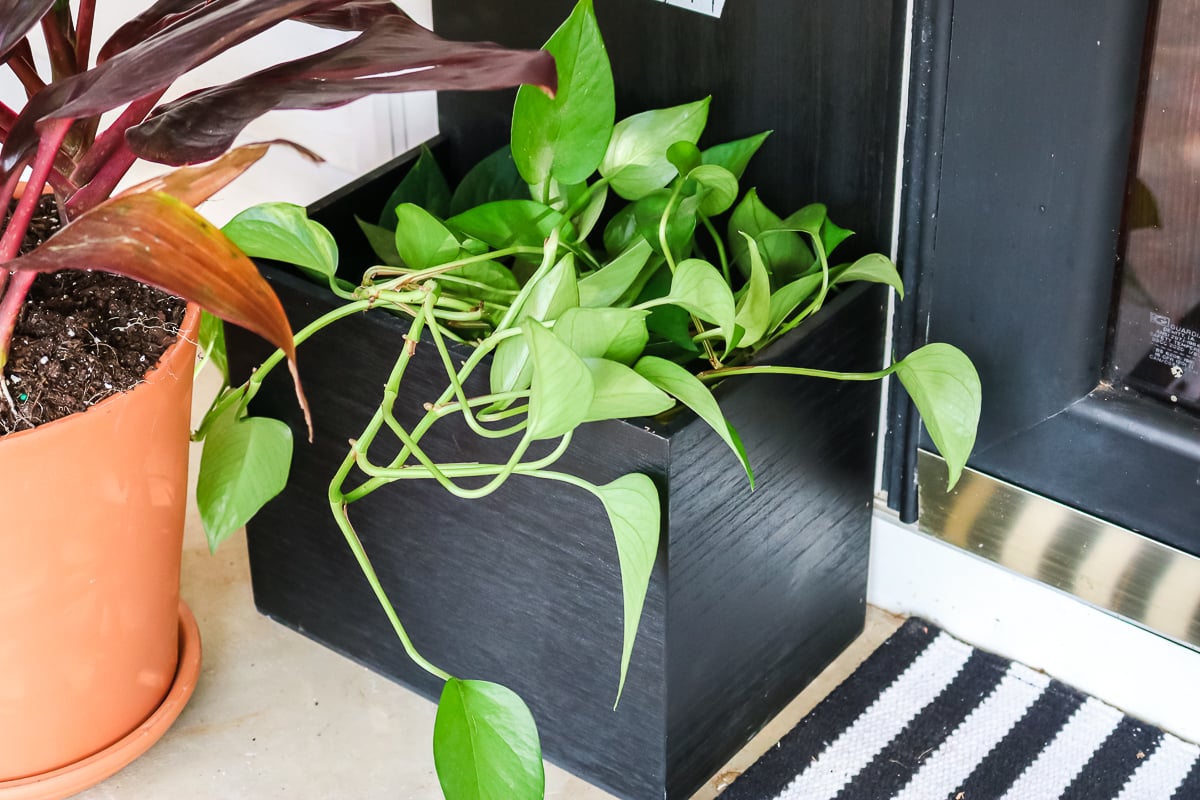 Terracotta pots are also a staple around here in my decor. They are generally inexpensive and match a neutral color palette perfectly. You can see how to paint terracotta here if you want to add a splash of color.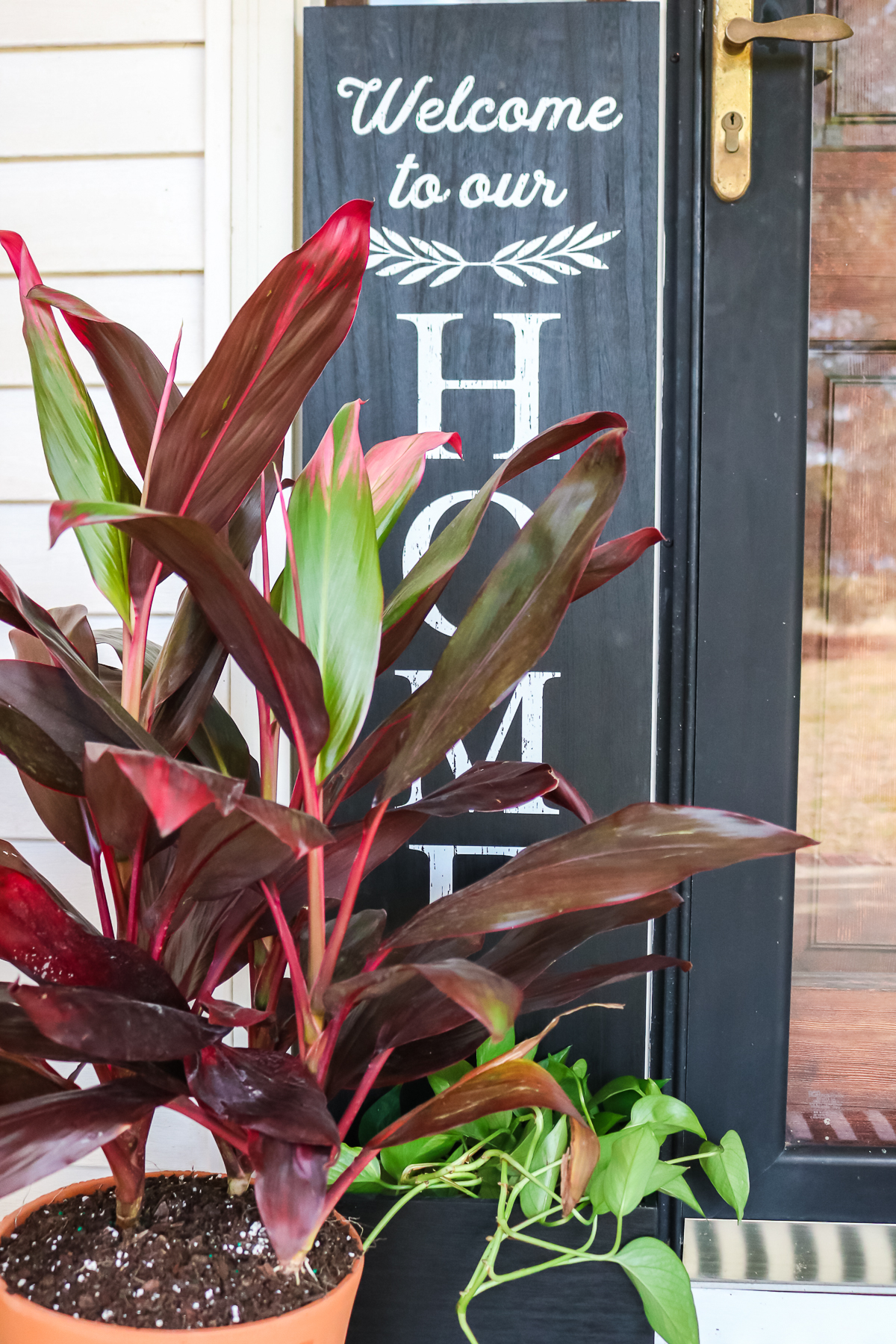 Add a striped rug and you have front porch decor that you can be proud of! So, as spring approaches, start shopping for your favorite planters and other decor items to make your porch something special this year.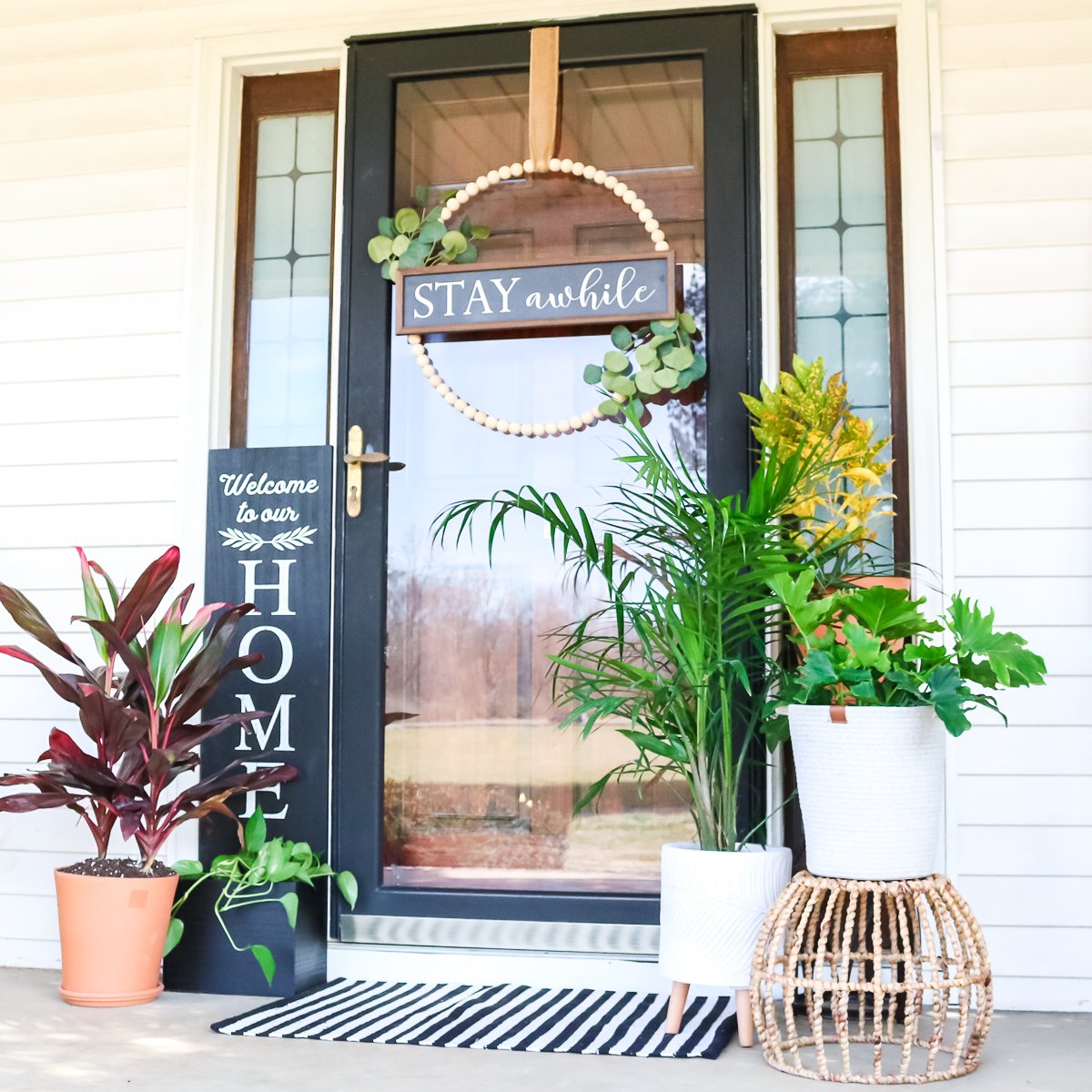 Then you just have to wait for the weather to warm up so you can actually add your plants outdoors. I don't know about you but I am crossing my fingers that it won't be too long. I am ready for some front porch decor for spring!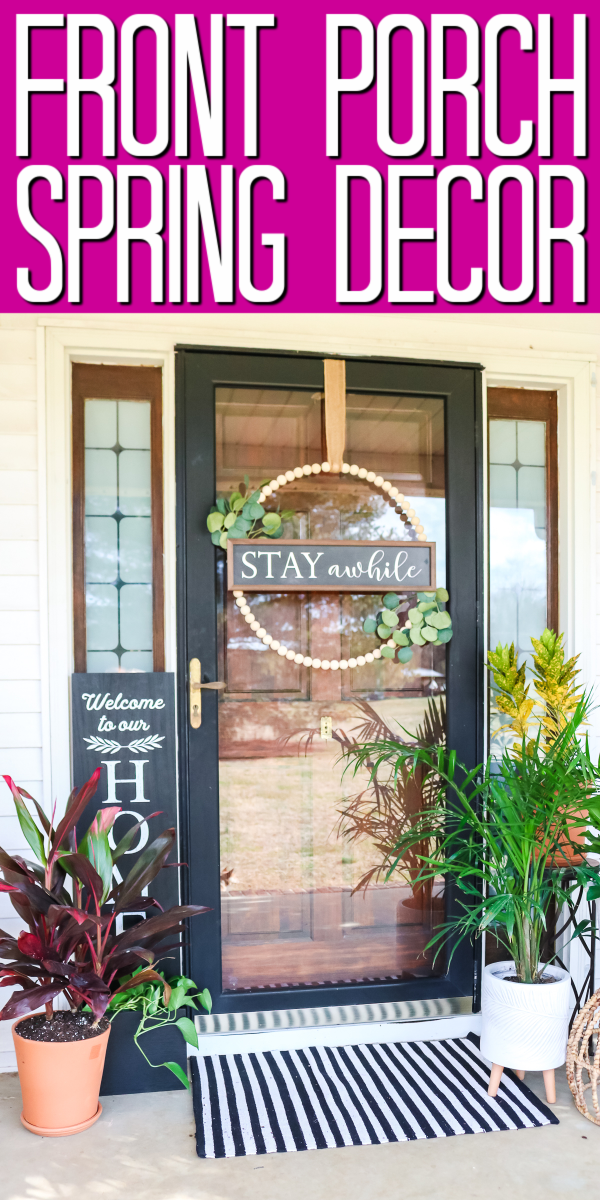 Need more outdoor decor ideas? Try the links below as well!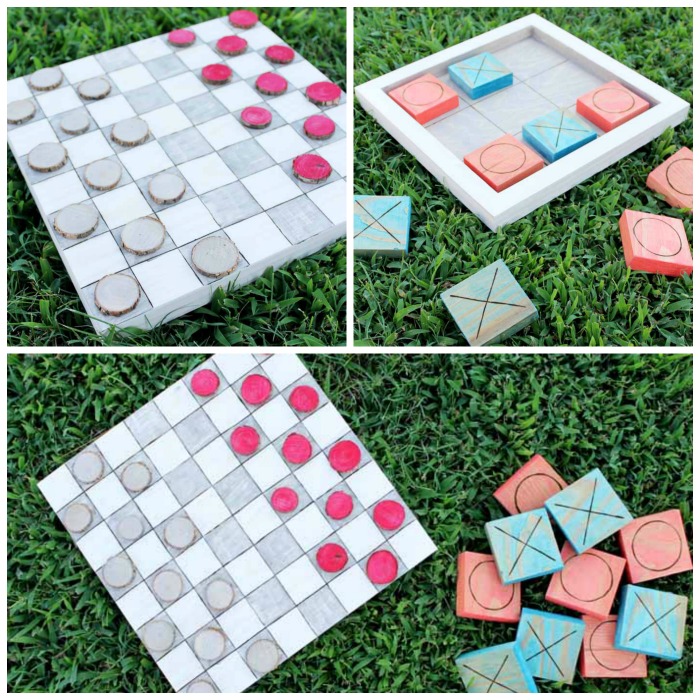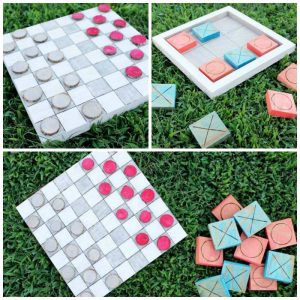 Reversible Outdoor Lawn Game: Tic Tac Toe and Checkers
Make this family-friendly outdoor yard game board! This reversible game board includes a tic tac toe board and checkers board with fun, easy-to-make game pieces.
Read More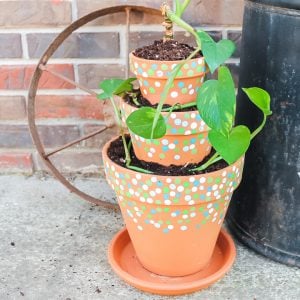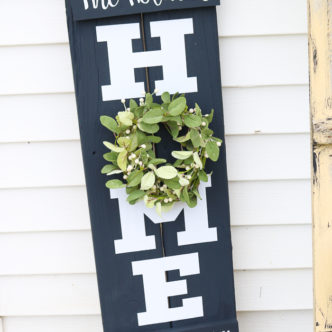 How to Make a DIY Scrap Wood Home Sign with a Wreath
This DIY scrap wood HOME sign is perfect for your front porch or backyard decor! The O is interchangeable–use seasonal wreaths or other creative decorations to customize your family home sign!
Read More