Jen Goode is back this month with some DIY Easter basket and decor ideas! Such a great way to decorate that Easter basket and make it extra special!
Do you make your own Easter baskets? I've got some pretty, spring DIY Easter basket and decor ideas you can customize and create all yourself. Using spring themed printable art or coloring pages, you can decorate your own Easter baskets and accent your other Easter home decor or craft projects. Make your own personalized baskets too, I'm sharing my favorite tips today.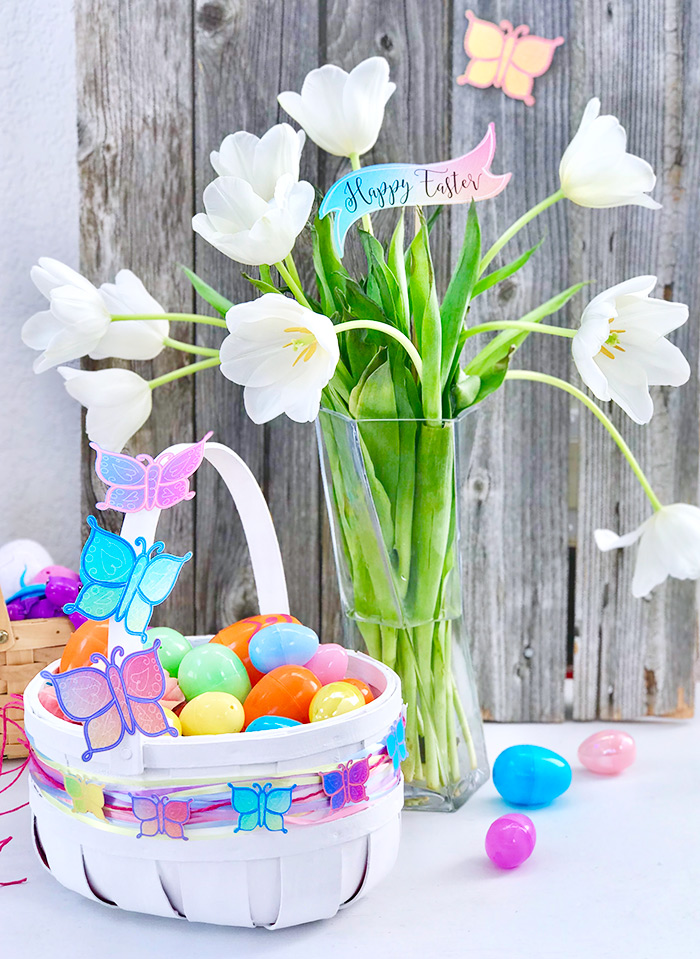 DIY Easter Basket and Decor Ideas
I've created a printable you can use to make this Easter craft. You can print it out and cut on your own, or upload the png file to Cricut Design Space and cut the designs out with your Cricut machine.
Materials
Instructions:
Download the printable art or use your own favorite Spring designs.
Shrink the butterflies to about 1/3 original size, print and then cut as required.
Optionally, apply glitter nail polish to add a little sparkle. You can use glitter paint if you prefer, I like how quickly polish dries and the iridescent sparkle is so printed on top of the printed art.
Glue the butterflies to the twine to create a paper butterfly garland. You can wrap this garland around a variety of decor pieces in addition to decoring your Easter baskets. I used a hot glue gun because I'm impatient and wanted my glue to dry fast! But you can use craft glue too.
Tip: If you have a Cricut mat, place the little butterflies face down on the mat, lined up how you'd like them on the twine. The mat will hold everything in place while you apply the twine. If you don't have a Cricut mat, painter's tape can come in handy, just be careful to not remove the printed art from the paper.
Wrap the Easter basket with ribbon. I used multiple colors of pastel curling ribbon on my solid white basket.
Wrap the butterfly garland on top of the ribbon, tie to secure in place.
Cut additional butterflies at various sizes and place around the basket however you'd like. Optionally, gently fold the butterfly wings to create a bit of a 3D butterfly before attaching to the basket.
Extra Easter crafting fun
I also have a Happy Spring and Happy Easter printable you can use to for extra design accents or to create pretty decor for your floral bouquets.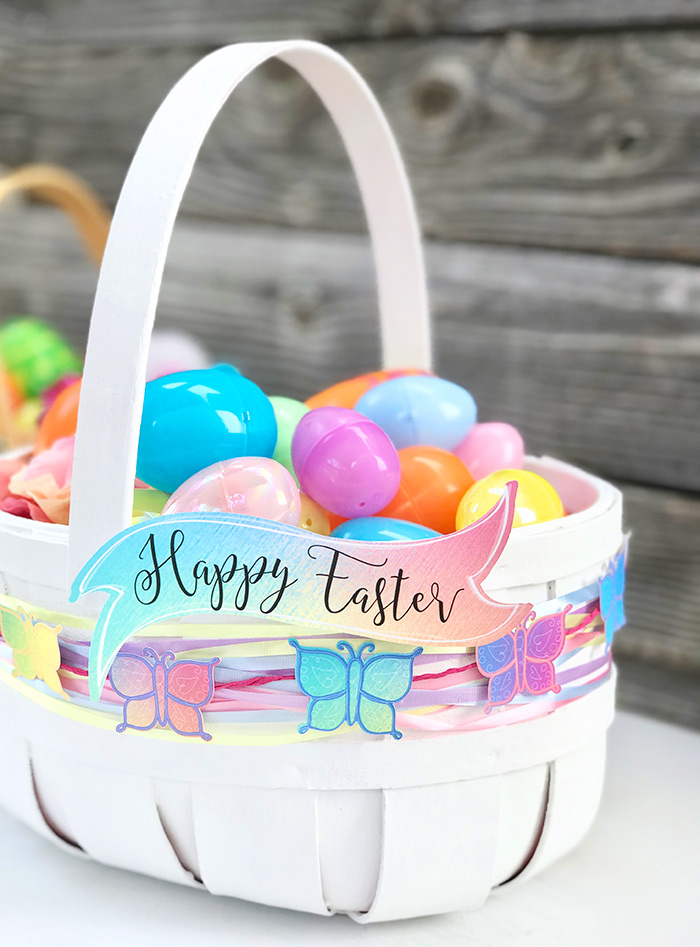 Simply print and cut out the word art banner from the free printable art. Glue cut out on to the end of a wood skewer and allow to dry. Place the wood skewer in your flower vase.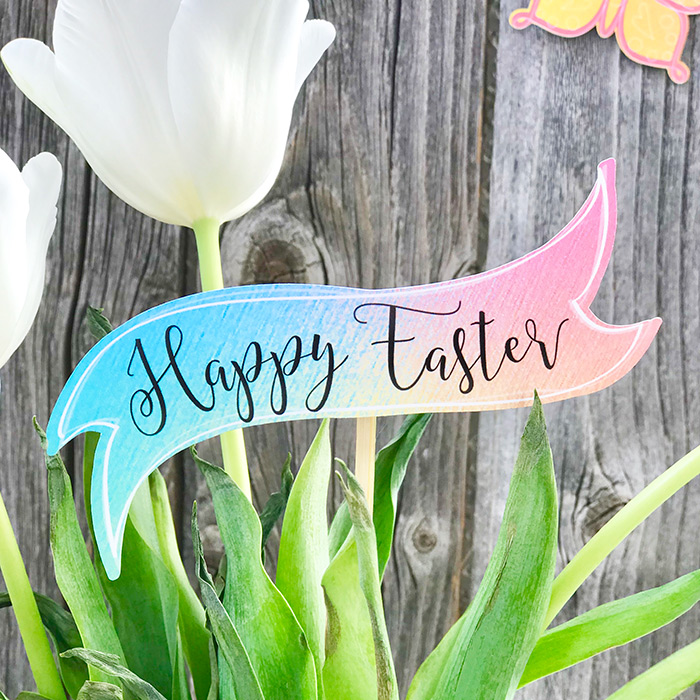 Easter Basket Ideas & Tips
Here are some of my favorite Easter basket ideas and tips to help you create your own baskets in no time.
Buy plain baskets that you can decorate yourself. You can use the baskets over and over without worrying about the theme or characters.
Coordinate the colors of ribbon, grass and eggs to make a more classy Easter basket. Use pastels and muted colors for a softer look. Use brights and bold colors for a more upbeat, fun look.
Include a variety of sizes of eggs, filling them with all kinds of treats and snacks, to make the egg opening more fun. I like to use snack items the kids already eat instead of just candies… but I look for the bunny shaped snacks for extra fun. Try items like Annie's Bunny crackers (they come in cheese and other flavors), bunny gummy snacks and then non-candies like stickers and tiny toys (we love Shopkins).
Add more Easter grass to the basket so you don't have to overfill the basket with too many eggs, or leave out grass if you want to allow more room for egg hunting. We like to use tissue paper for younger kids so there isn't Easter grass all over the house.
If you have multiple kids hunting for eggs, coordinating their decorated basket colors with eggs they should find helps make the hunting "fair". Example, a pink decorated basket finds all the pink eggs, a green basket finds green eggs, etc.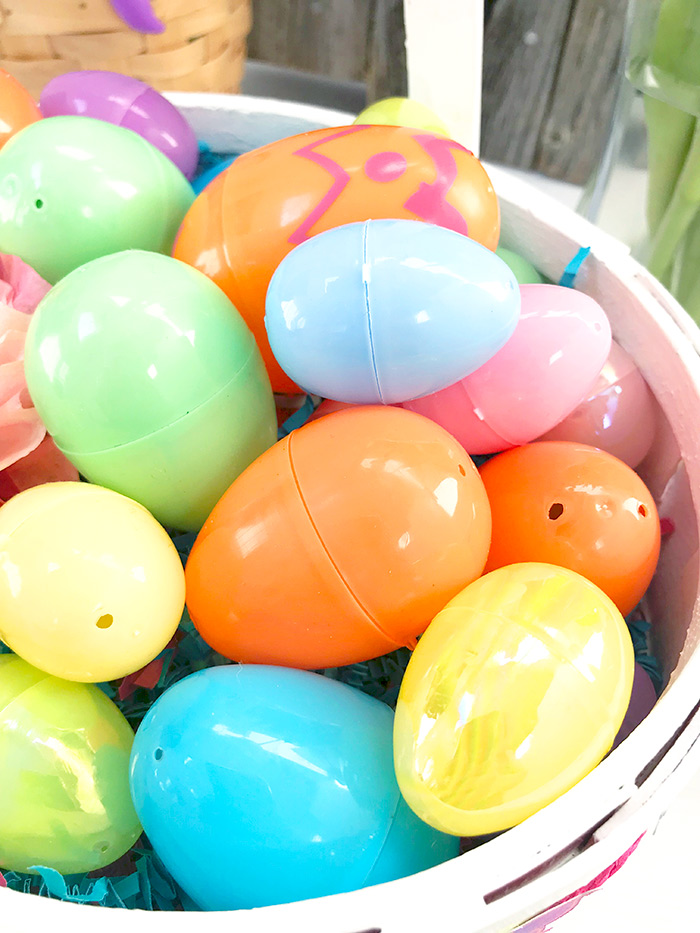 Do you have favorite Easter Basket Ideas? I'd love to hear about them!
If you decorate your own Easter baskets, don't forget, you can always personalize each basket with a handwritten note or name tag. Accent with bows or just add ribbon, whatever you do, I'm sure your baskets will be beautiful!

Love this DIY Easter basket and looking for more ideas? Try the links below!