Handmade gift ideas are special. I love giving my kids handmade for any occasion. Easter is no exception. So I gathered up over 30 handmade gifts that would fit in an Easter basket. Make these gifts over the next two weeks and be sure to slip them into the basket Easter morning.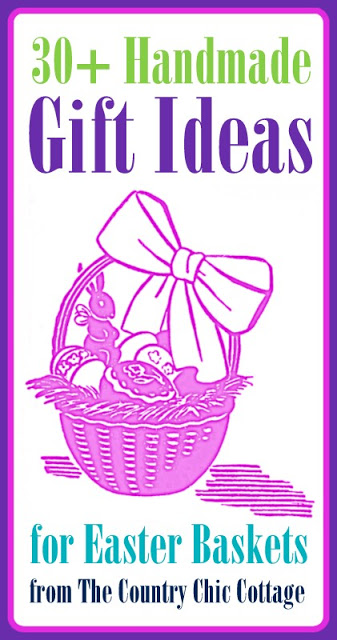 Want to see pictures of all these great ideas and not just links? Head on over to my Fun for Kids Pinterest Board for all of these ideas and more!
Kanzashi Flower Pin
DIY Bottle Cap Checkers
Dr. Seuss Cootie Catcher
Painted Shirts for Teens
Printable Flat Stanley
Pom Pom Easter Eggs
Popsicle Stick Photo Puzzle
DIY Puzzle Cube
Tic Tac Toe Travel Game
Popsicle Stick Bracelets
Paper Bead Bracelets
DIY Paper Dolls
DIY Alphabet Magnets
Plush Peep Tutorial
How to Make Hair Bobbles
Pixie Dust Necklace
DIY Doctor Kit
Finger Puppets Tutorial
Healthy Cheddar Bunny Carrots
Crinkle Eared Bunny Blanket
DIY Bow and Arrow
Simple Flower Hair Clips
Pop Tab Treat Cans
Cupcake Cradle Purses
DIY Wood Owls
Mini Notebook Tutorial
Pearl and Ribbon Necklaces
How to Make Handmade Barrettes
Easter Egg Caterpillars
Make Your Own Yoyo
Monster Tooth Pillow
DIY Puppet Theater
Clothespin Airplane
Make this Easter extra special with these great handmade gift ideas. Give handmade from the heart!
Get Our Weekly Newsletter