DIY grill storage is a great idea for dad for Father's Day or just a way to get your outdoor space more organized. Plus with this ombre paint technique, you are sure to love the way this one brightens up your space. Pick the Testors paint colors that will work best in your space and get started on this creative organization project for your deck or patio. Be sure to add these flower pots to your outdoor decor as well.
This post is sponsored by Testors, however, all projects and opinions are my own.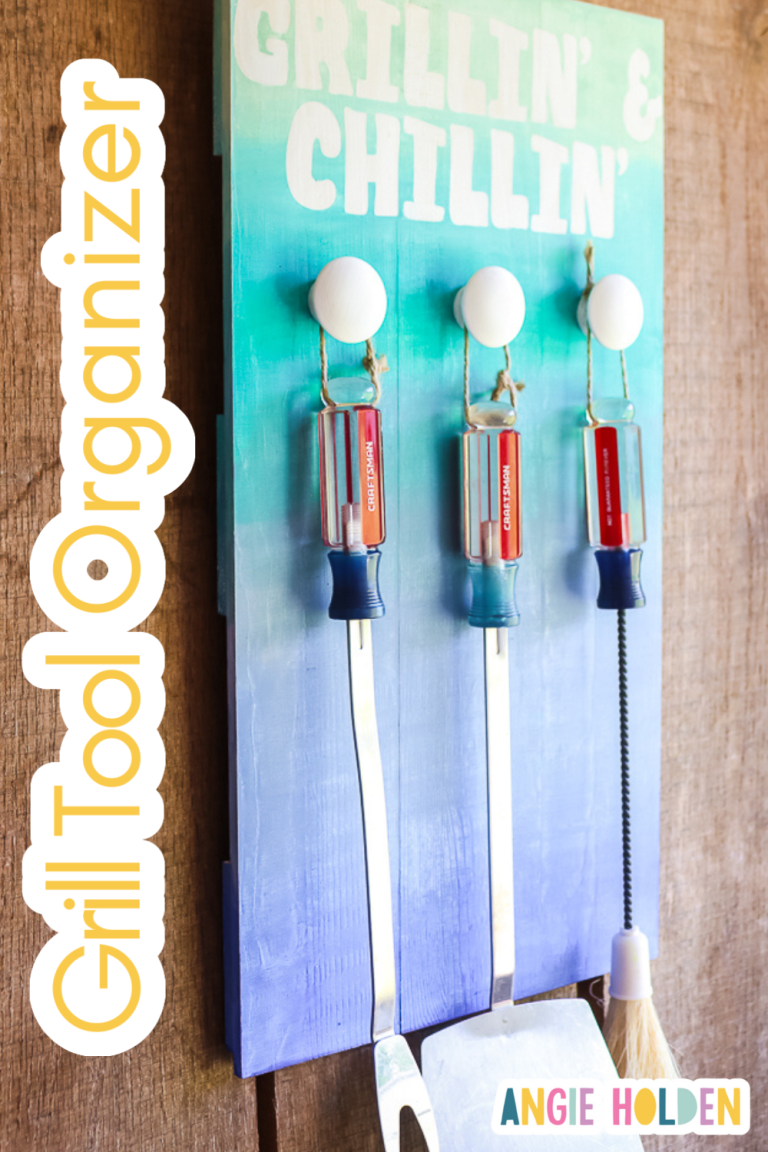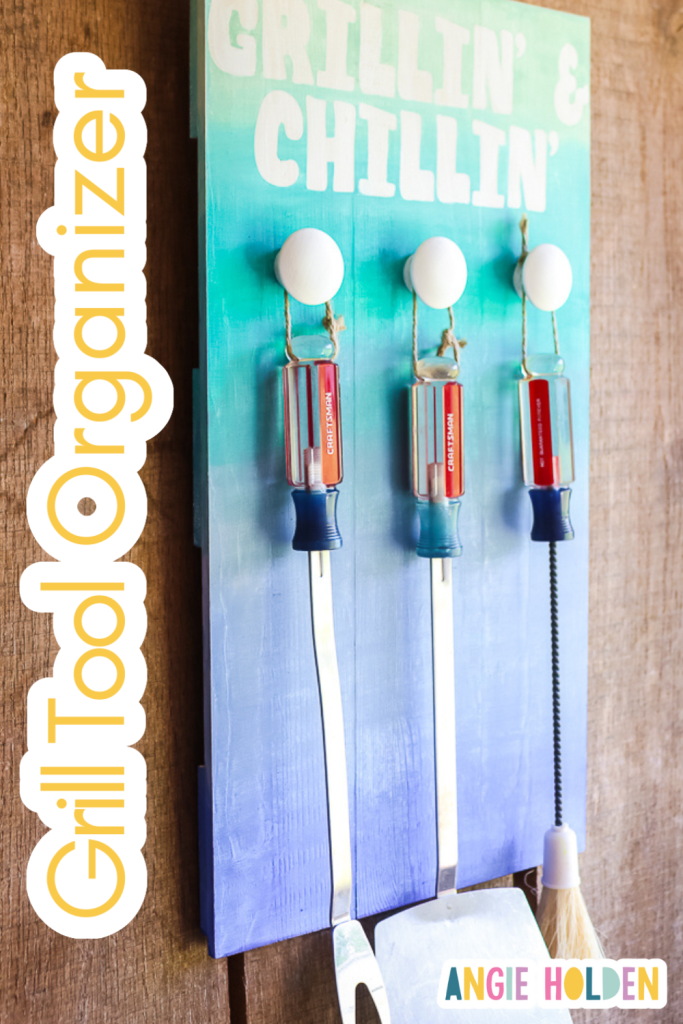 There's nothing like summertime that makes you get your outdoor space in order. This is the perfect gift item for Father's Day! You can even put together a basket full of goodies like a personalized "Grill Skillz" apron, stenciled dish towel, or homemade BBQ rub!
Looking for more Father's Day gift ideas? Try this DIY Grill Trophy or make your own Father's Day Gift Bag and fill it with homemade bacon cookies with caramel icing.
Ombre is an easy painting technique that adds a little something extra to the board. Plus, the cute saying pulls it all together. Feel free to your own file or use our pre-made one below.
If you want to add "Grillin' and Chillin'" to your board like I did, just sign up for our newsletter below and the free file will be sent to you. From there, you can print or upload it to your cutting machine.
Please remember that this file is for personal use only. Once you receive the email, click the button to download the zip file. You will need to unzip the file in order to use it.
How to Make DIY Grill Storage for Your Home
Supplies needed to make this grill tool storage board:
Board or sign (any size that will work for your grill tools)
Testors craft paints (you will need white and four or more coordinating colors)
Stencil (I have the file below that you can use to trace onto your board or cut vinyl with a Cricut machine)
Knobs
Now that you have your supplies, it is time to get started making a grill tool organizer for your home. You can watch all of the steps in the video below if you would like.
You can find my inspiration for this project over on A Girl and Her Glitter. She did an entire wall but I thought I could do the same type of technique on a much smaller scale. And I love how this turned out!
Can't watch the video or missed some of the steps? I have the steps broken down for you below as well. Just follow along or even print the instructions to make this project yourself.
So, will you make some DIY grill storage for your home this summer? There is nothing better than grilling and chilling once the weather gets warm.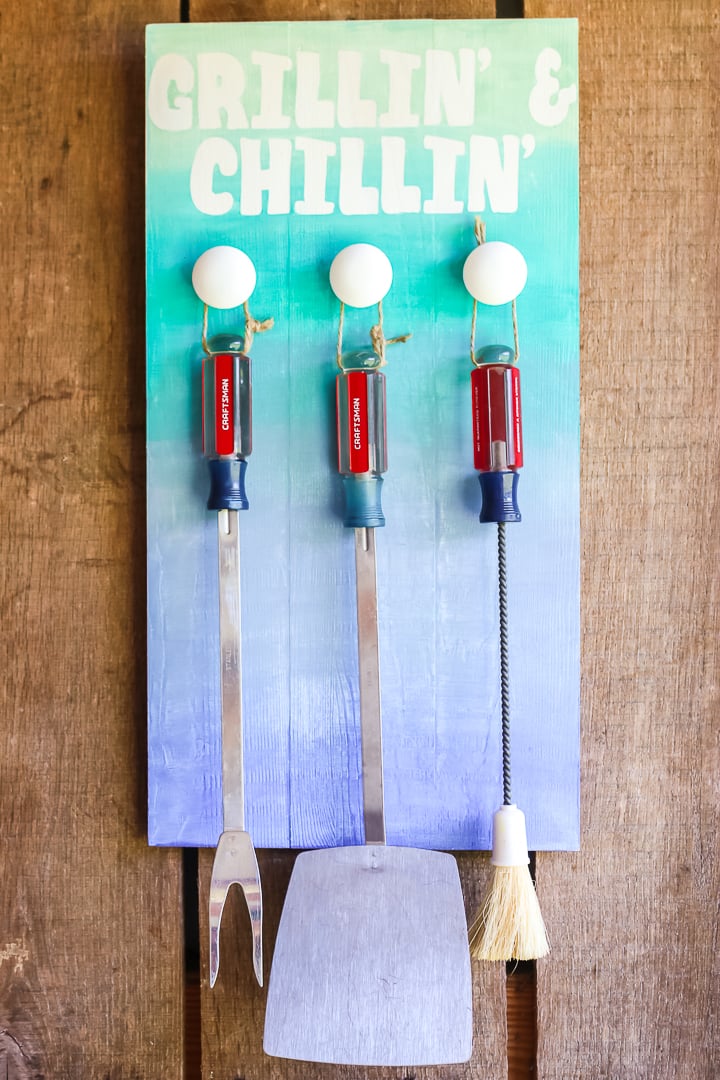 You could also change up the text at the top with your own words. So, be sure to personalize this project however you would like.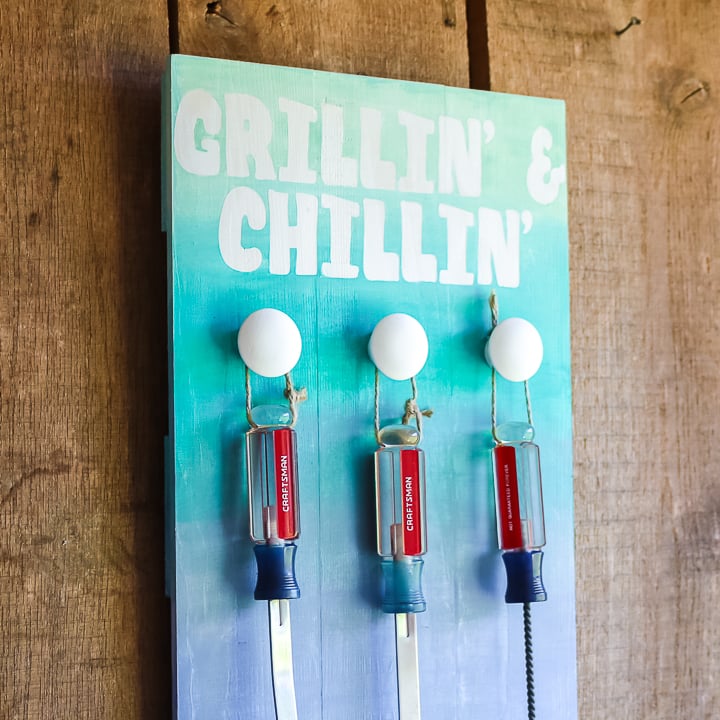 Then pick your colors and use the ombre paint technique with your Testors craft paints to make this even more special.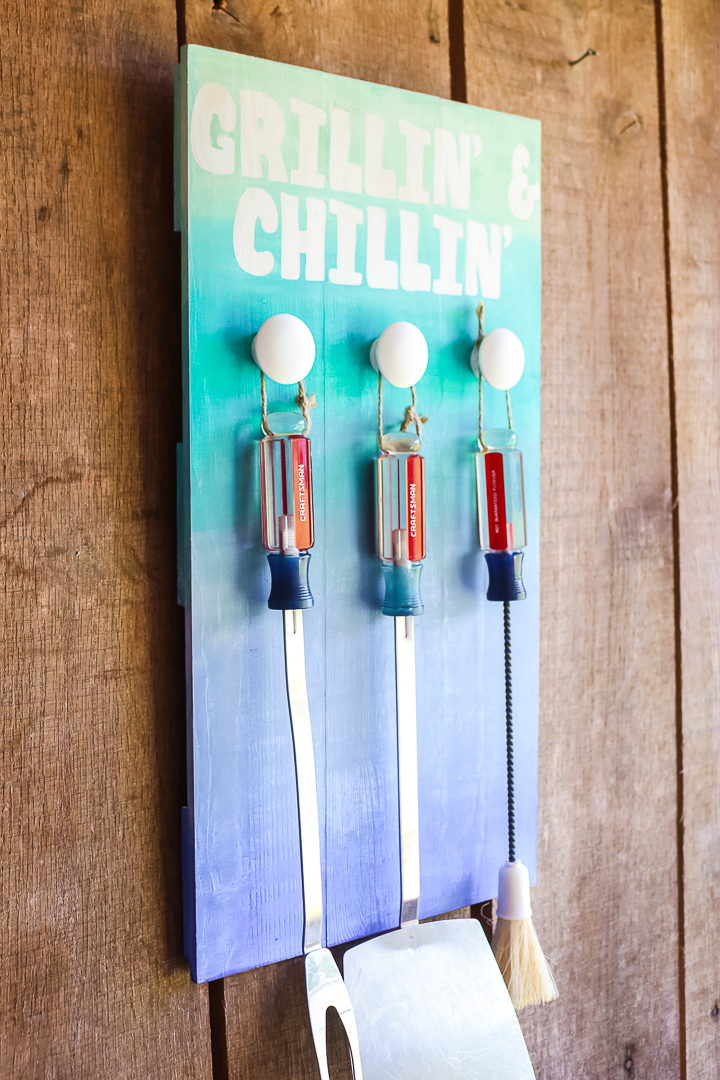 If you choose to give this one for Father's Day, I know that he will love this. Be sure to get a new set of BBQ tools to go along with it. Now, pick your colors of Testors craft paints and start on your own version of this cute grill organizer.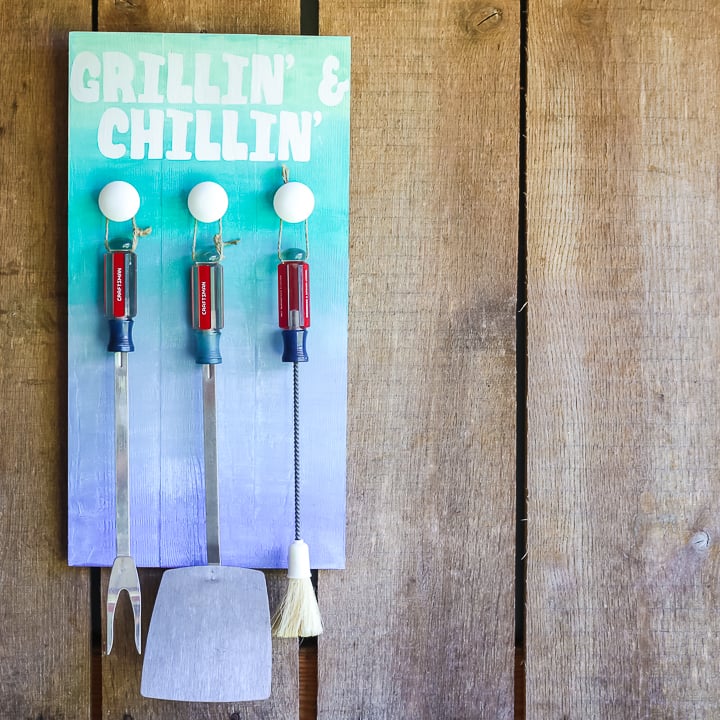 Love this DIY grill storage and want more ideas? Try the links below as well!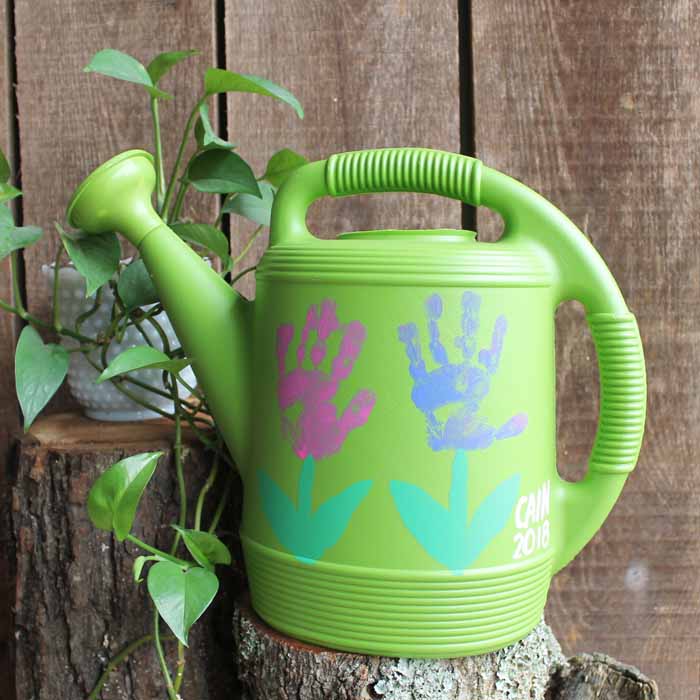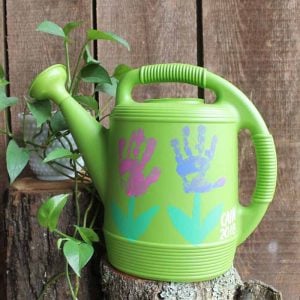 Handprint Flowers on a Watering Can
Craft with the kids to add these handprint flowers to a watering can.
Read More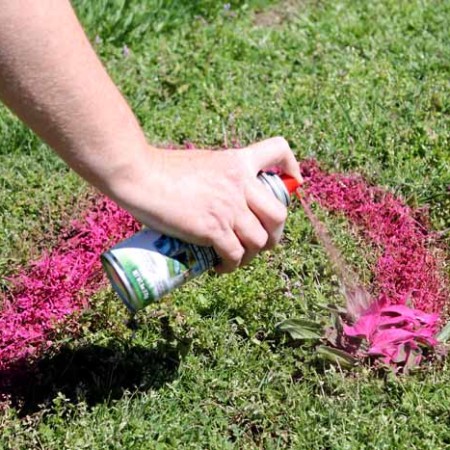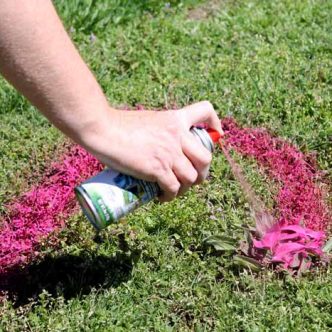 Chalk Spray Paint for Your Yard
How to use chalk spray paint for your yard for parties and more.
Read More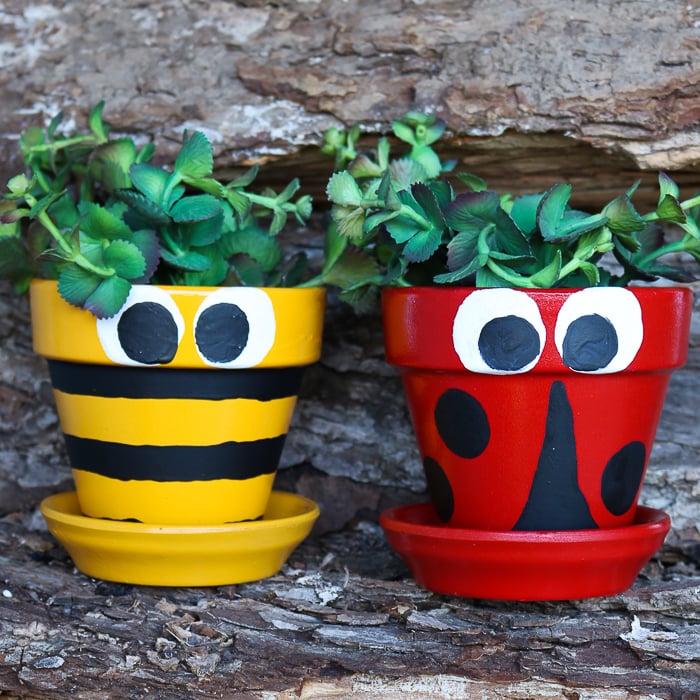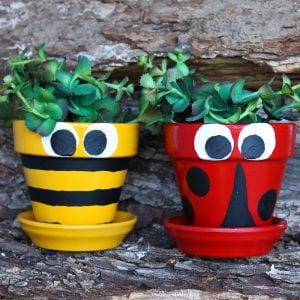 Pot Decoration Ideas
Give your planters a makeover with these pot decoration ideas.
Read More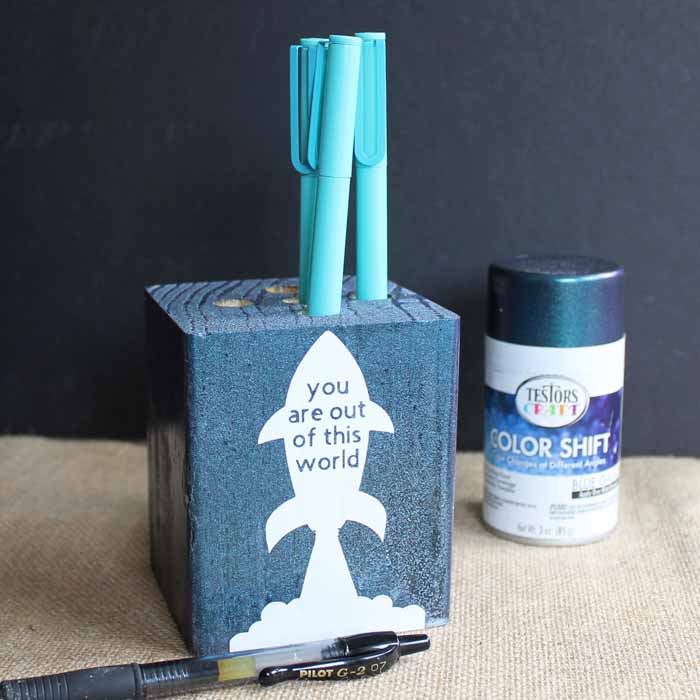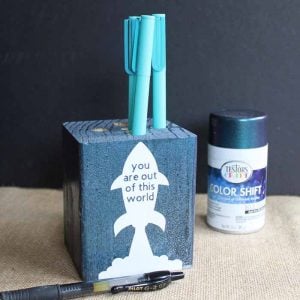 Wooden Pencil Holder for Dad
This Father's Day paint a wooden pencil holder for Dad with this tutorial.
Read More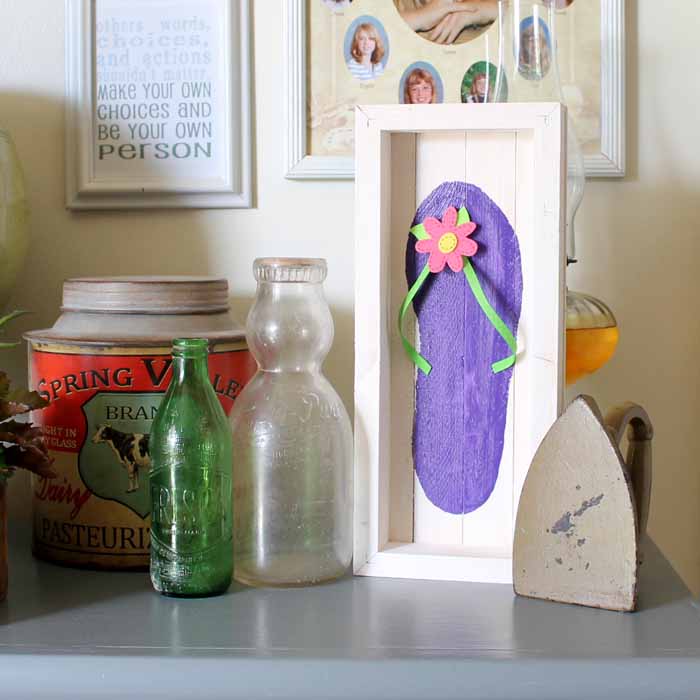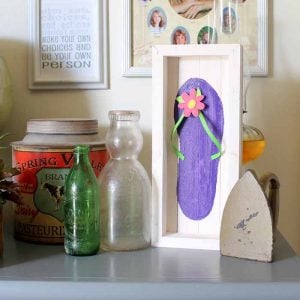 Reversible Sign for Spring and Summer
Make your decor reversible with this easy to follow tutorial.
Read More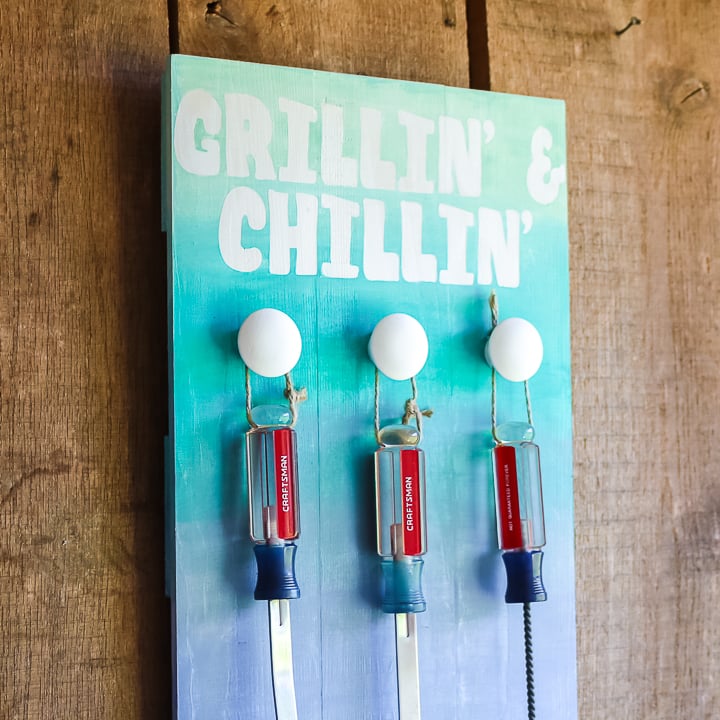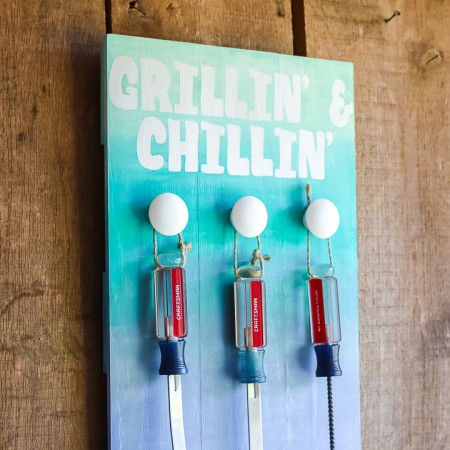 Grill Tool Organizer
Make this DIY grill storage with just a few supplies and some simple steps!
Supplies
Board or sign

any size that will work for your grill tools

Testors craft paints

you will need white and four or more coordinating colors

Stencil

Download the file to trace onto your board or cut vinyl with a Cricut machine
Instructions
You will want to start with a board that works for your grilling tools. Be sure to account for the words we are going to put at the top as well as the knobs. You can make this project any size that you would like.

Then coat both the top and sides with white paint. Please note that if you are using this outdoors it is best to coat all surfaces.

I found that I needed two coats of paint on my board but you may only need one. To make multiple coats, be sure to allow in between coats.

You will also want to give the wood knobs a few coats of white paint. NOTE: If you are not using unfinished wood knobs, you can skip this step.

While your knobs are drying, you can start adding your masking to the board. Cut the design with your Cricut machine on any color vinyl then transfer it to your design using transfer tape. You can see more about the basics of doing this here. Be sure to size the design to fit your board.

If you don't want to use vinyl, continue to the painting portion of the tutorial here and you can add your letters by tracing at the end.

Add a thin coat of white paint over the top of your letters. This will help with any bleeding and keep it to a minimum. Allow this to dry.

Now it is time for that ombre paint technique! Pour out each of your colors as you will want to work fast. I am using two shades of green and two shades of blue. You can use whatever colors and as many or as few as you would like.

I have four colors so I mentally divided my board into four sections. Paint the first section. Then paint a small strip just below that of another color WHILE THE FIRST IS STILL WET. Go between the two with an up and down motion to blend the first into the second. Then go over the area with horizontal strokes to finish blending. You can add more of the first or second color if you find this too dark or too light.

Continue this all the way down your board with all of your colors.

Blend each one into the previous one until you are happy with the look. I used one paintbrush for this entire project. There is no need to wash your brush or switch brushes.

While the paint is still wet, you can lift up the vinyl letters and discard them. I like using something pointy for this. You can do any touch up to the paint for any bleed through that happened while painting as well. Then let your entire sign dry.

No cutting machine? Just print the picture of the letters and trace them onto your dry and painted sign. Fill in your pencil lines with the white paint then allow to dry. Once everything is dry, measure and mark for the location of your knobs.

Drill your holes then add the knobs with your screws. All that is left is to add some sort of hanger to the back and hang up your tool organizer.
Tried this project?
tag us to show off your work!
New to Cricut?
Sign up for our email list here to download the Beginner's Guide to Cricut Design Space for FREE today!
Sign up to get the guide emailed to you!