Making a DIY stained glass Christmas ornament may be easier to make than you think. This technique uses epoxy resin for a long-lasting ornament that is fairly simple to create. I am using a Christmas tree on mine and have the template below that you can print at home. You can, however, use any design you would like once you learn this technique.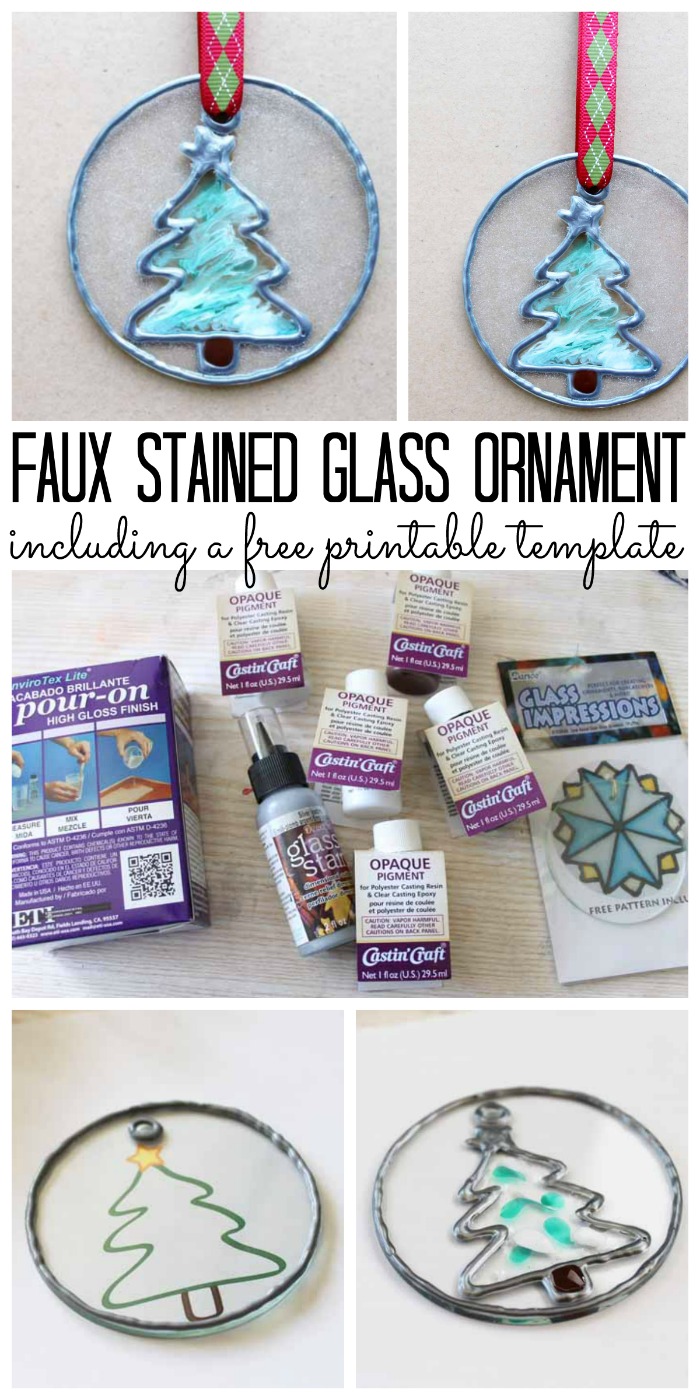 Supplies needed to make this DIY stained glass Christmas ornament:
Some links below may be affiliate links which means that you do not pay anymore, however, a portion of your purchase will go to this site.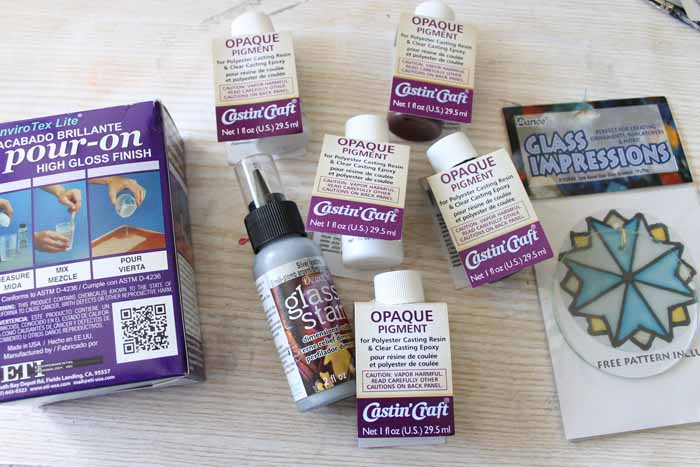 What is the difference in the pigments?
I have the opaque pigments in the supply list but wanted to talk a bit about the differences in case you were wondering. I tested a few different transparent and opaque pigments to decide which would work best for my project. As you can see below, the transparent pigments are see through while the opaque gives a more colorful appearance. I really loved the look of the Opalescent pigment which I thought I could make look like snow.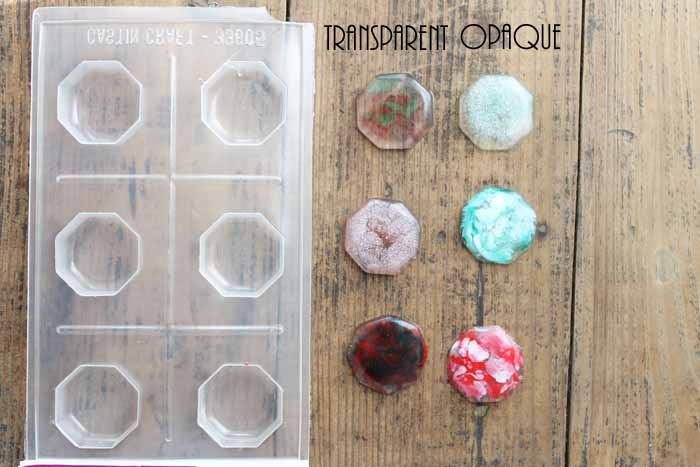 Making DIY stained glass:
Print out the tree template to the size of your glass ornament. Then just lay your ornament on top of the template.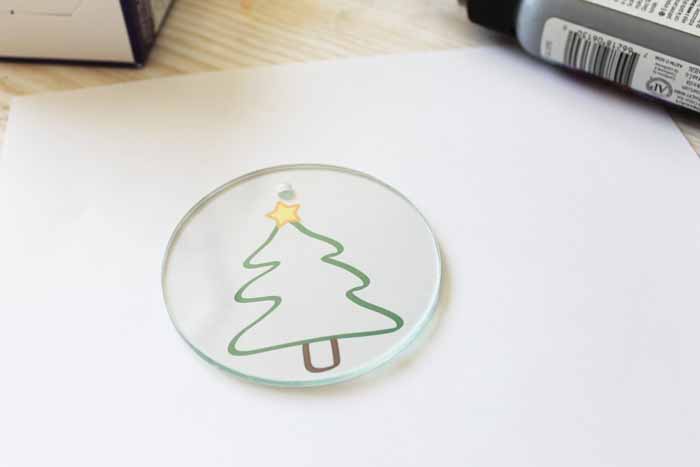 Trace around the outer edge as well as the hole for the hanger with the faux leading paint. As you can see, this is a dimensional paint and it sticks up on top of the glass. Just be sure that there are no gaps when using this product as it will be like a dam for our resin.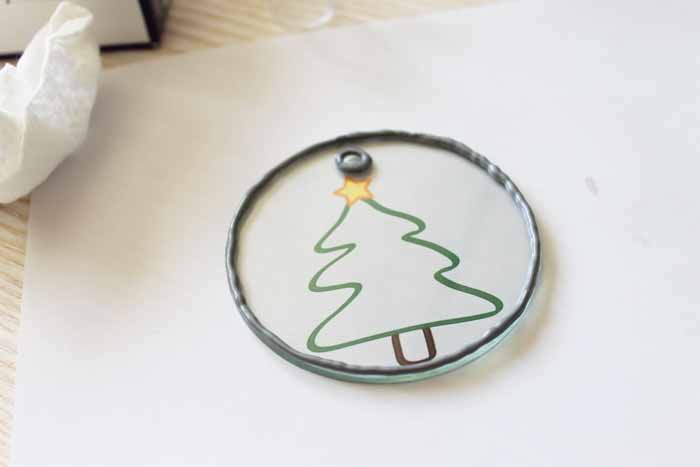 You will also want to trace that tree and I filled the entire star in with the leading. This will need to dry overnight before continuing.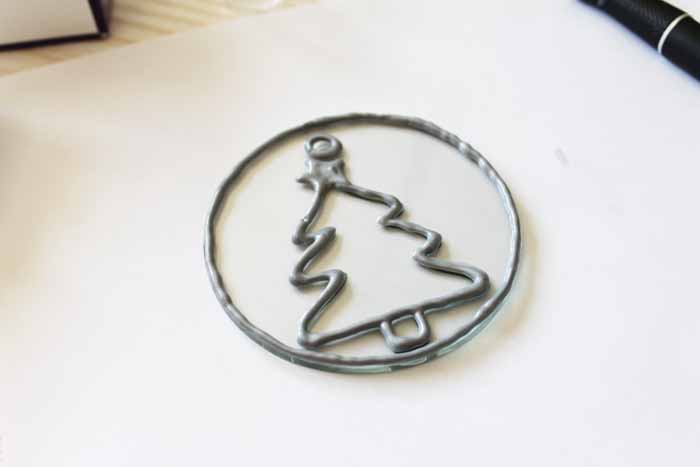 Then mix up your EnviroTex Lite Pour On High Gloss Finish
and add it to several small cups. Tint each one with the pigment colors of your choice. Be sure to keep some mixed resin with no tint at all.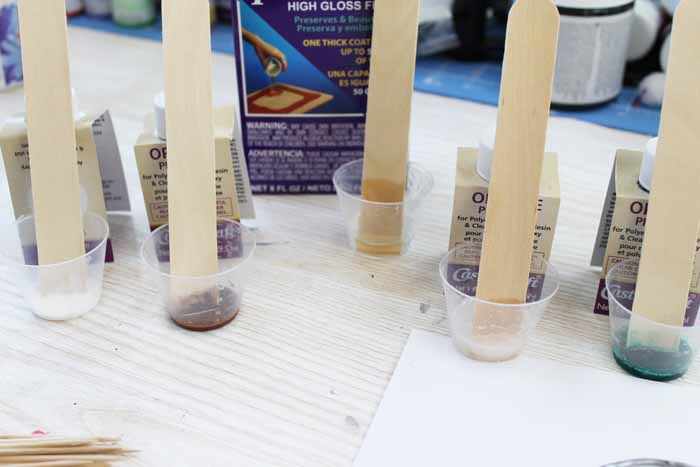 Start dripping the resin into place on your ornament. Be sure not to fill the areas too full and allow them to spill over. You can use toothpicks to push the resin around and make sure it gets into all of the corners.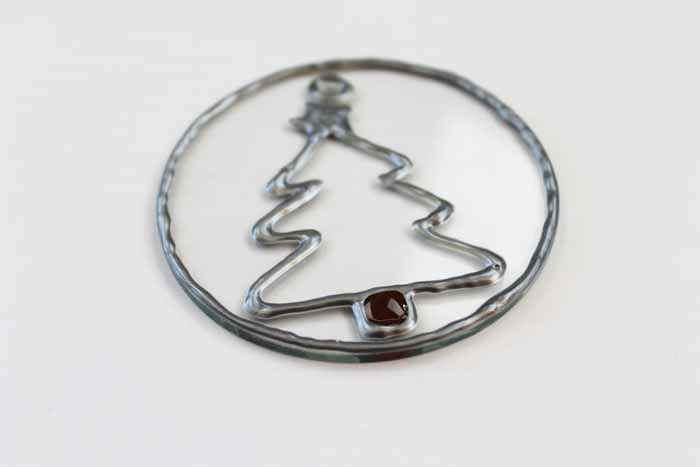 For the tree, I added clear resin then put on a few drops of green and white.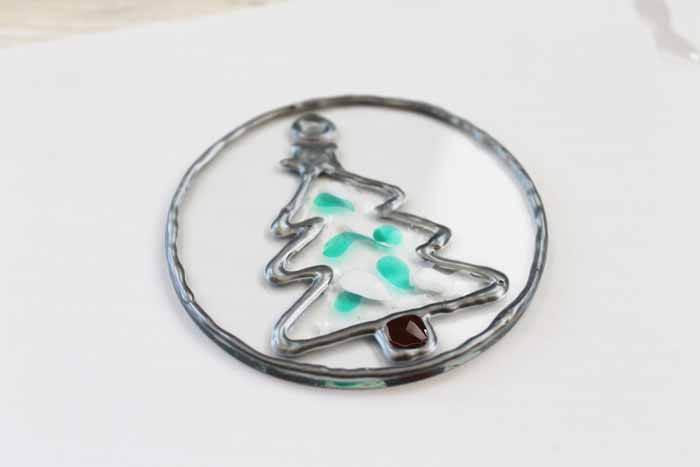 I then swirled them with a toothpick to give it a marbled look.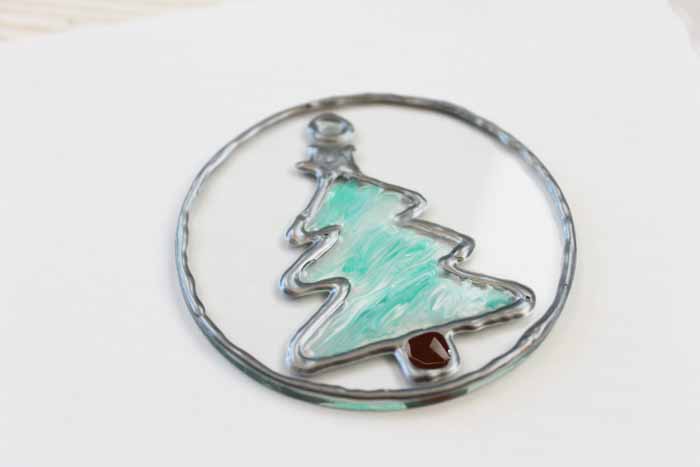 Then add resin that has been tinted with the Opalescent pigment to the rest of the ornament. This dries looking a bit like snow with a glittering that I love. Remove any bubbles that come to the surface.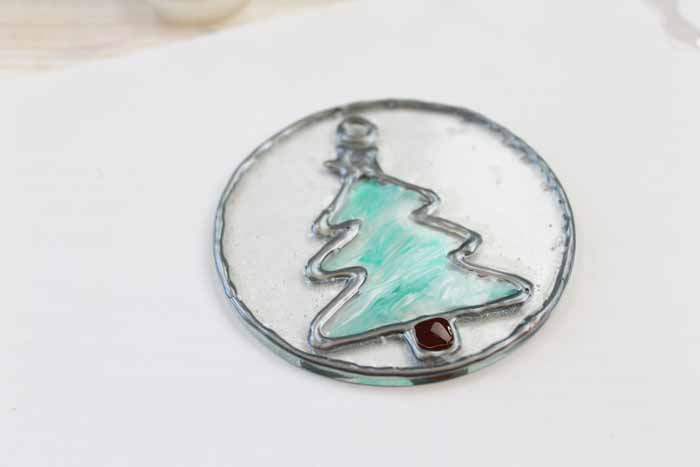 Set everything aside and allow it to dry flat overnight. Then you have a DIY stained glass Christmas ornament to add to your tree!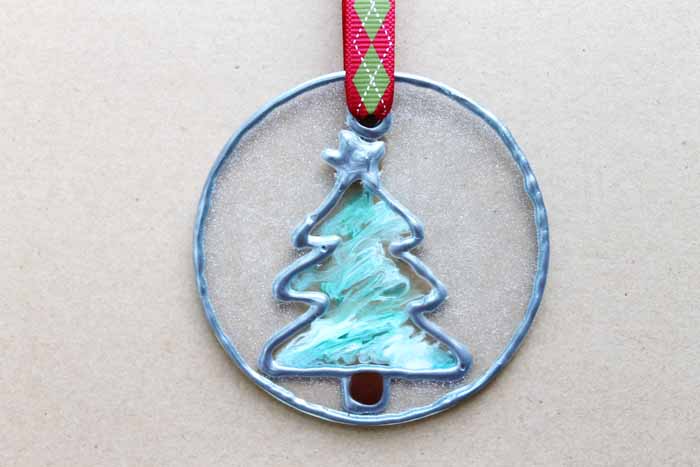 Now that you know how easy this technique is, what else will you make?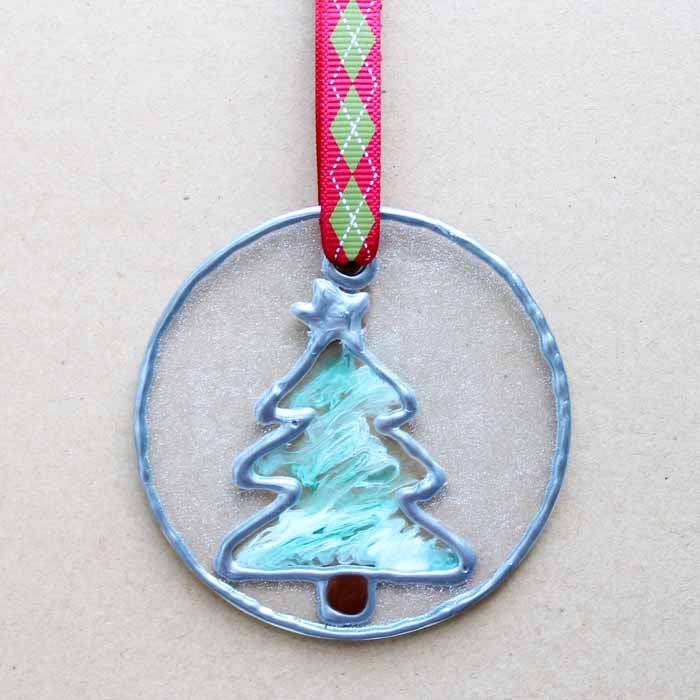 You can see the shimmer of the Opalescent pigment a little better in the image below. It looks great right? Grab your supplies and try your hand at DIY stained glass today!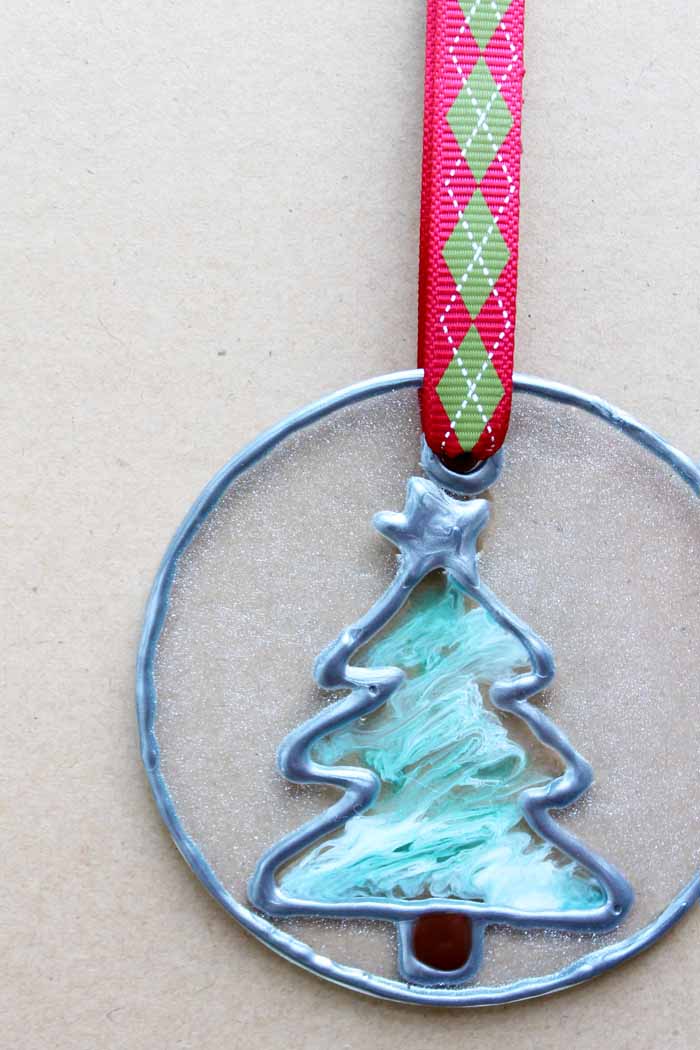 Love this DIY stained glass and want more ideas? Try the links below!
Struggling with resin and need help?
I know that a ton of you are intimidated by resin. Don't be! You just need to know the basics and gain some experience with the medium. I have a course that will help you to master epoxy resin and give you the confidence you need to tackle this project and so much more.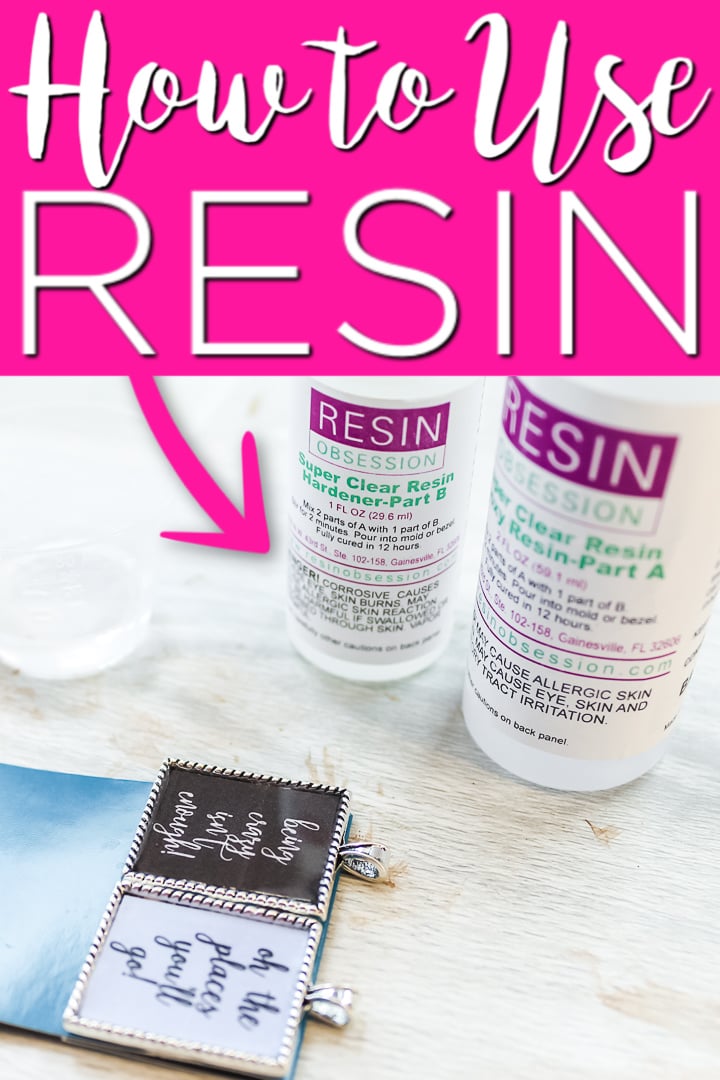 With unique insights drawn from more than a decade of creating and selling resin jewelry worldwide, this course is from an Amazon best-selling author on the topic. This class goes beyond making a few projects. You get thirty video lessons to give you clear directions on how to make resin jewelry you can confidently share and sell. Want to see more?