If you're craving a touch of nostalgia this holiday season, hang a red truck with a tied Christmas tree ornament on your tree this year! It's an easy craft project that will add to the holiday festivities. Here's how to make red truck Christmas decor you'll love year after year!
Christmas ornaments are so much fun because there's such a huge range of possibilities for styles. You can literally find Christmas tree ornaments depicting nearly anything.
Think about it – if you want classic, playful, or elegant ornaments, you can find them.
Me…I love rustic farmhouse-style ornaments and decor.
But, my favorite part about Christmas tree ornaments is that if you can't find what you want, you can definitely make it. In fact, holiday decorations are much easier to make than you may think.
I love adding red truck Christmas decor to my other decorations, but I have never found one that I want to purchase. So I made my own!
If you also love rustic and nostalgic Christmas ornaments as much as I do, you can make a red truck with a Christmas tree ornament in just minutes with only a handful of supplies.
In fact, I love adding trucks with trees to my mantel and my Christmas tree. Basically, I can't get enough of them!
Note: Try making these DIY Paper Ornament, Burlap Mason Jar Christmas Ornament, and DIY Stained Glass Christmas Ornament ideas, too.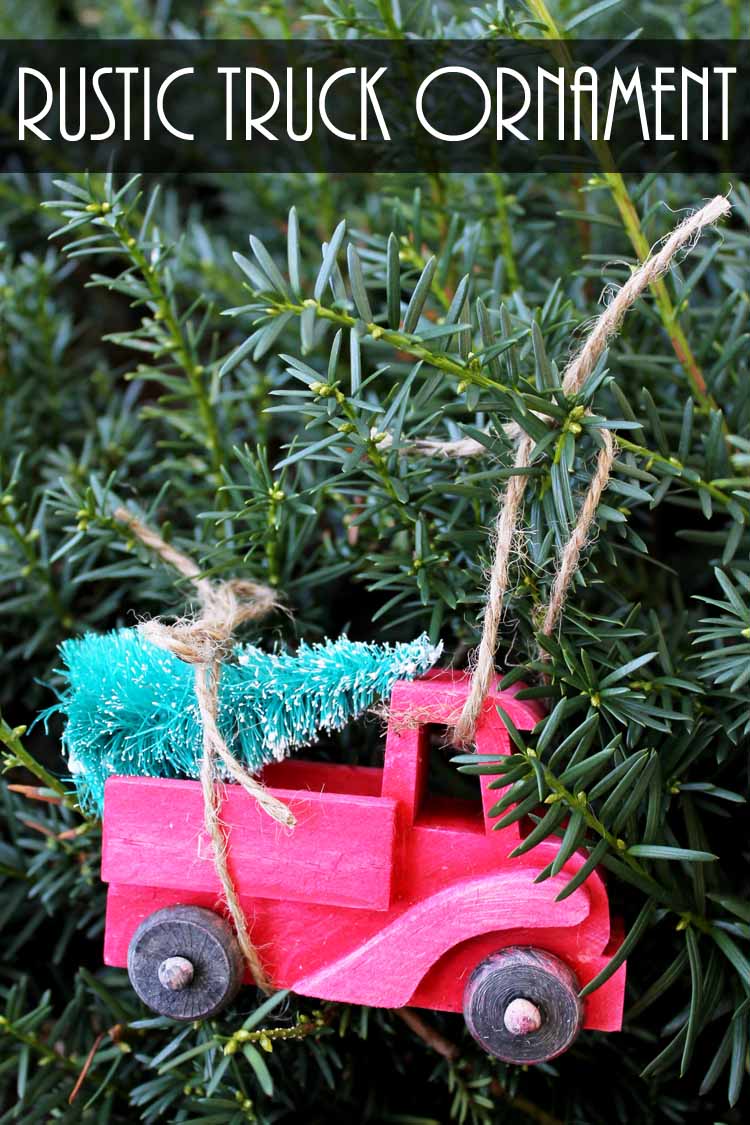 How To Make A Red Truck With Christmas Tree Ornament
The process for making this adorable truck is simple. Just grab the supplies listed below and follow the step-by-step instructions.
Supplies Needed
Here's everything you need to make a homemade ornament: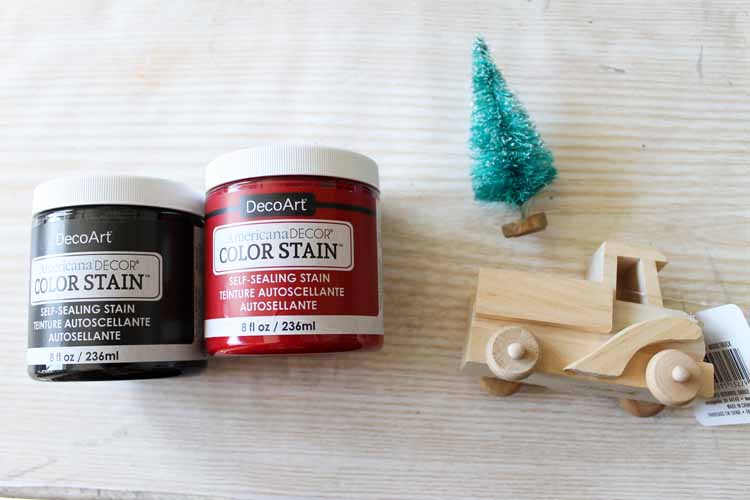 Instructions
All you need is about 20-30 minutes, and your red truck ornament will be ready! Here's how to make it.
Step 1
Start by staining your truck red. Paint on one coat, allow it to sit for a few minutes, then wipe away any excess with a rag.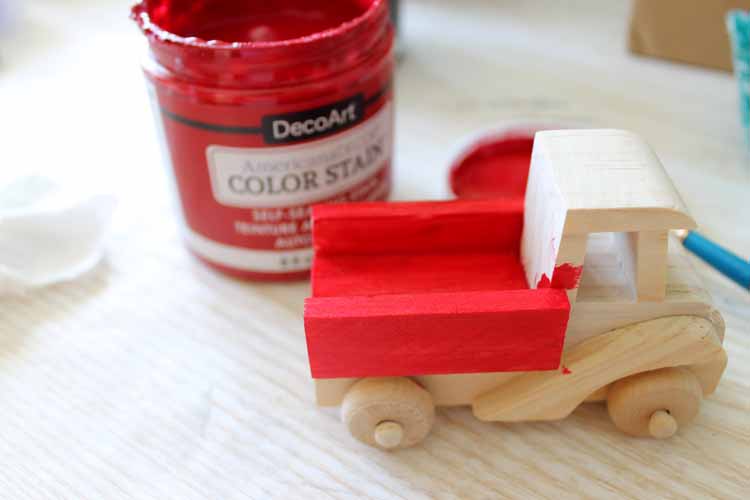 Step 2
Once your red stain has dried completely, move on to the black wheels. Repeat the same staining process and then let the entire truck sit and dry.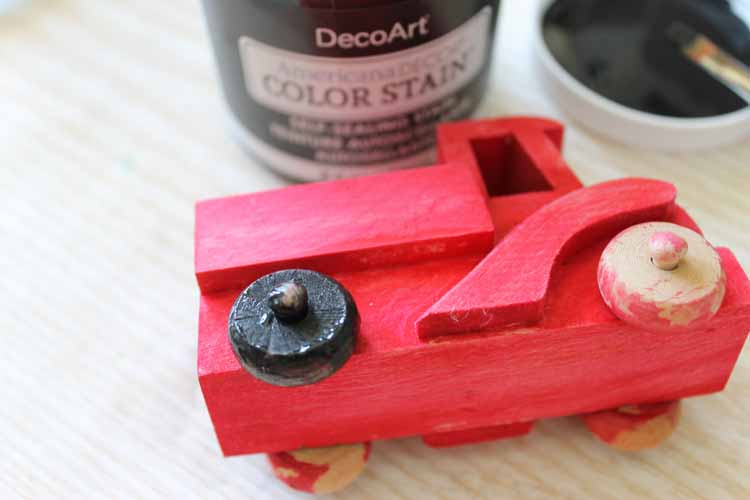 Step 3
In the meantime, if your bottle brush tree has any sort of stand, go ahead and remove that. I just used scissors to snap it off of my tree.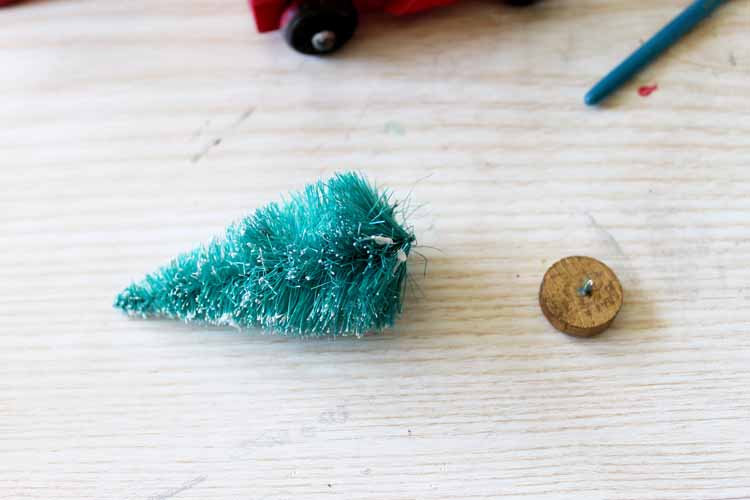 Step 4
Then, once the truck is dry, just tie the tree into the bed of the truck with some twine.
Thread additional twine through the cab and tie it off so you can hang your red truck with Christmas tree ornament on your own Christmas tree.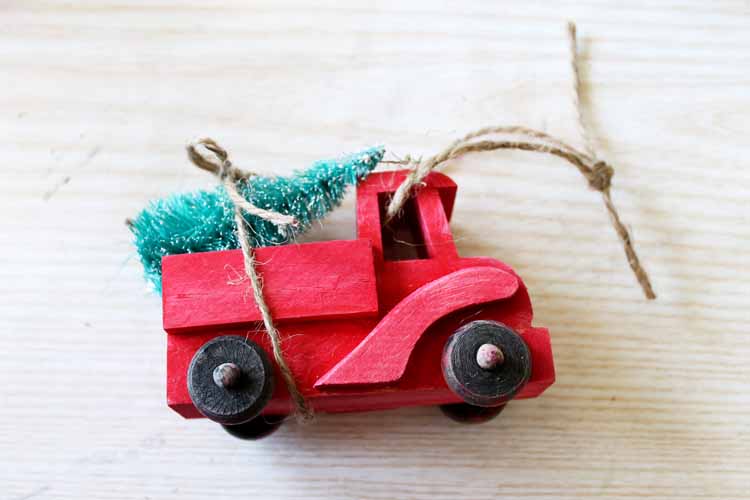 Finally, just hang your new ornament on the tree!
You might want to get enough supplies to make a bunch of these at once because you are going to love the way they look on your tree. Plus, they make terrific DIY gifts. 🙂
NOTE: The stain goes a long way and one container holds enough to make a ton of ornaments with it. All you really need to do is pick up a bunch of trucks and trees.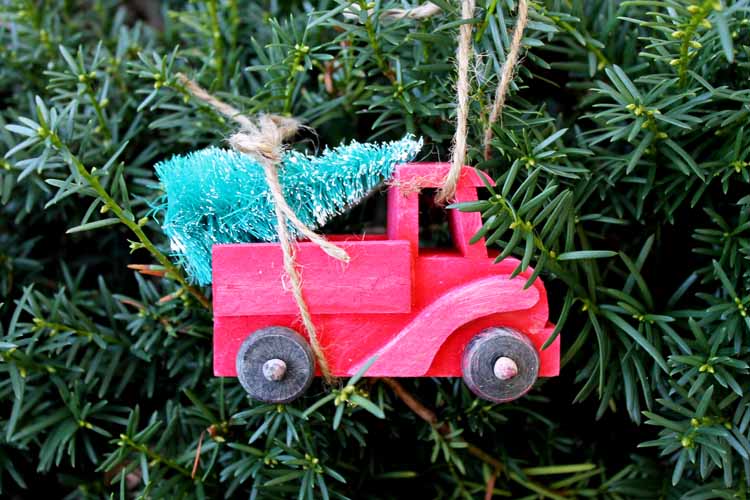 Will you be making a red truck with a Christmas tree ornament this year? We would love to see the results if you do!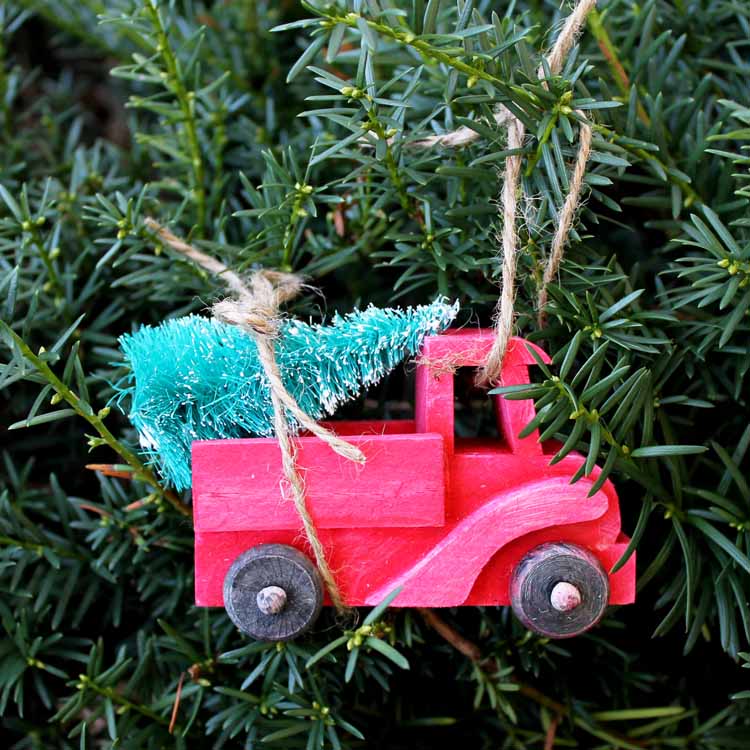 FAQs
Here are questions I frequently see readers ask about this red truck with Christmas tree ornament project. If you have a question but don't see it answered down below, please leave it in the comments so I can answer it for you.
Why stain instead of painting the truck?
Well, a stain is more forgiving on a project like this one. It is easier to get into the details, cracks, and crevices. The stain will also give a more rustic appearance to this red truck Christmas decor, and that is exactly the look we are going for!
Can I use something other than twine to hang these ornaments?
I used twine for a couple of reasons: because I love the rustic vibe it gives the ornament and because I always have it on hand. However, there's no reason to feel locked into using twine!
If you want to use something else, try using embroidery floss, baker's twine, ribbon, or thin metal wire.
More Christmas Crafting Inspiration
Add these red truck with Christmas tree ornaments to your holiday craft list this year! You will love your truck hanging on your tree – and they make terrific DIY gift ideas too.
Do you love this red truck with Christmas tree ornament and need more ideas? Try the links below!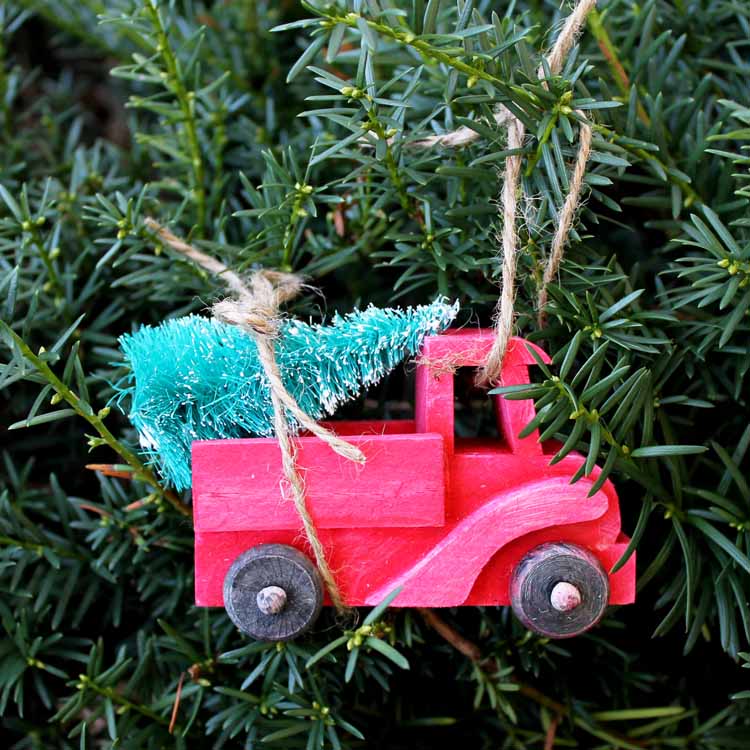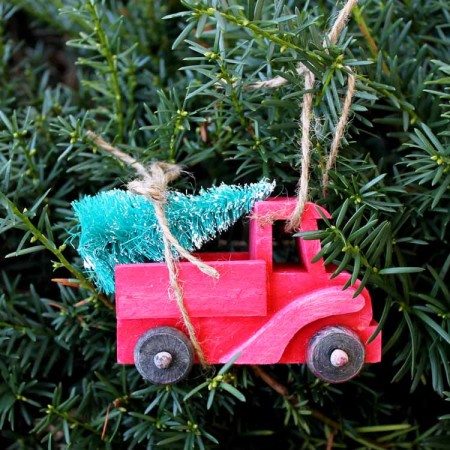 Red Truck With Christmas Tree Ornament
Make this rustic red truck ornament for your Christmas decor. It's hauling a Christmas tree for that perfect touch of nostalgia.
Instructions
Take the truck and stain it red. Apply one coat and allow it to sit for a few minutes before wiping it off with a rag.

After the red stain dries, repeat the same process for the black wheels (using black stain). Set it aside and let it dry.

While your stain is drying, use scissors to remove any stand that your bottle brush tree may have.

After the truck is dry, tie the tree into the bed of the truck with some twine. Then add another piece of twine through the cab of the truck and tie it off to be your hanger.
Tried this project?
tag us to show off your work!