Taking a little break from zebra stripes but I will be back with party details early next week. Let's do something with a little farmhouse flair today. Let's make a "vintage" crate. Y'all know how much I like to fake vintage items. You can give your home a vintage touch with some farmhouse flair and spend just a few dollars.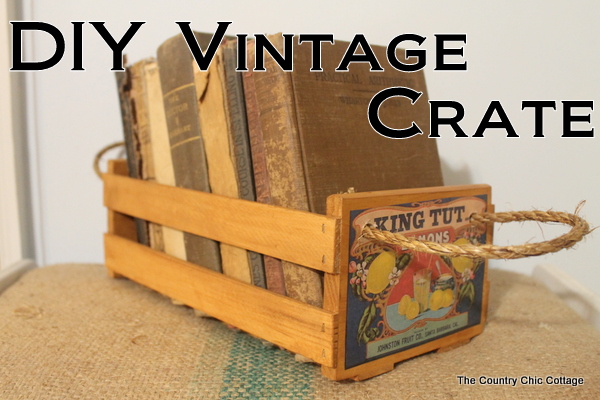 The inspiration for this project came from Pretty Handy Girl and her wine crate with rope handles. I put my own spin on this project with the "vintage" label. The project is super easy over all. You will need some sort of crate to make vintage. I found this one for $1 at a thrift store. It is a pine storage box. I have seen tons of these at the Goodwill and thrift stores.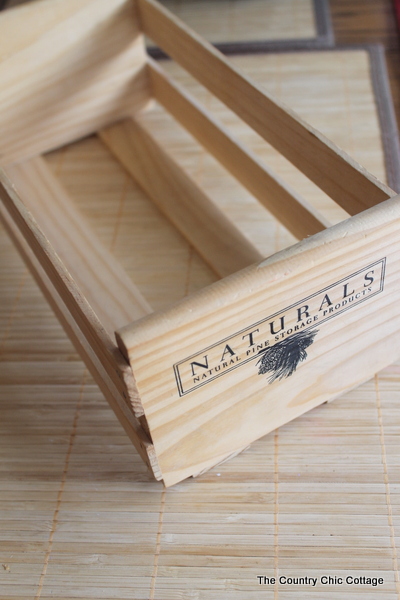 First step is to stain that box cause that wood is too light to be vintage. I grabbed some stain I had on hand and applied it to all surfaces. While that dried I looked around the net for printable vintage fruit crate labels and hit the jack pot over at Vintage Holiday Crafts! I sized the labels to fit my crate and printed them out.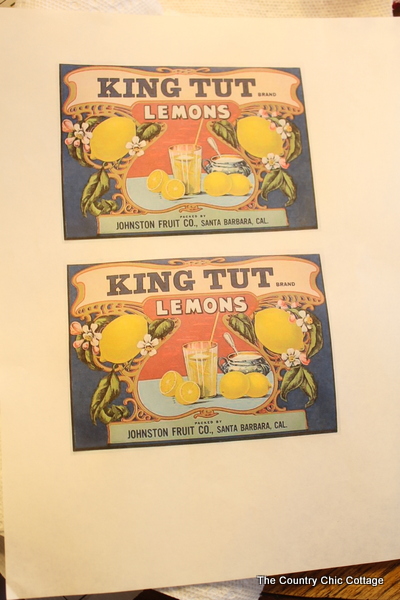 I have learned tons about the proper way to use Mod Podge over the past few weeks. Cut your labels out and apply a layer of Mod Podge to the BACK of your labels and let dry. That is right — don't apply them yet. After that coat dries, then apply a coat of Mod Podge to your crate and apply the label. This makes sure your application is as smooth as possible. I was always getting wrinkles in my Podge projects…not anymore! After my labels dried, I broke out my Ryobi Lithium Ion Drill.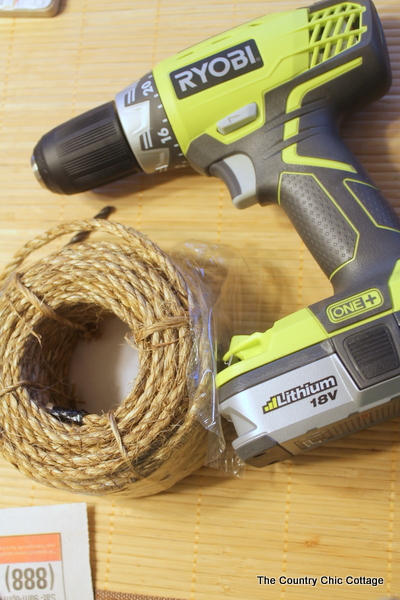 You will notice I said MY drill right?? I posted a drill comparison between Lithium Ion and Nicad around Father's Day. The Home Depot was nice enough to send us two drills to try out and compare. The RYOBI 18V ONE+ Lithium Ion Compact Drill Kit won in my book hands down. There are the advantages with the Lithium Ion battery life and being able to hold a charge four times longer. There is the battery compatibility with other Ryobi Lithium Ion tools. There are all of those advantages. What won me over completely? THE WEIGHT!! It is soooo much lighter than any other drill I have used. Girls….buy it for Father's Day or birthdays or whatever but USE IT for YOU! Every girl needs a drill to love….don't y'all think…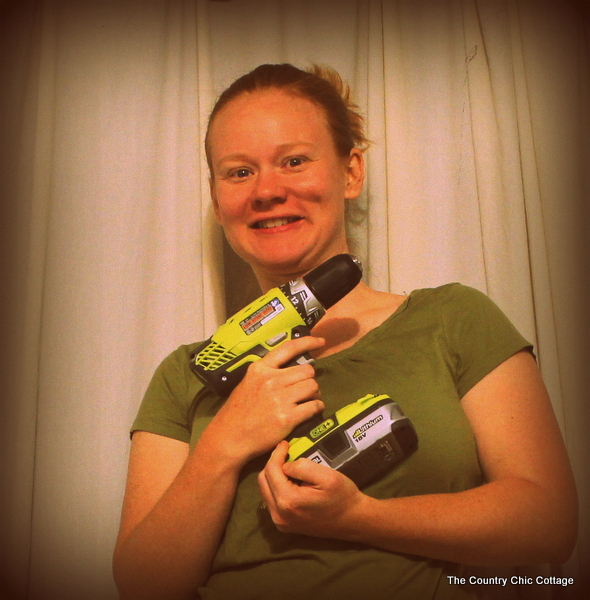 Okay enough drill love, back to the project at hand. I created a template for where I wanted my holes to go and marked my box.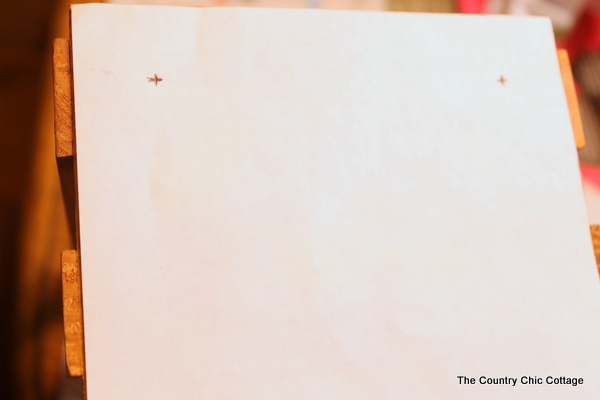 I then drilled large enough holes on both sides for my rope to run through. Yes using my beloved Ryobi Lithium Ion Drill… 🙂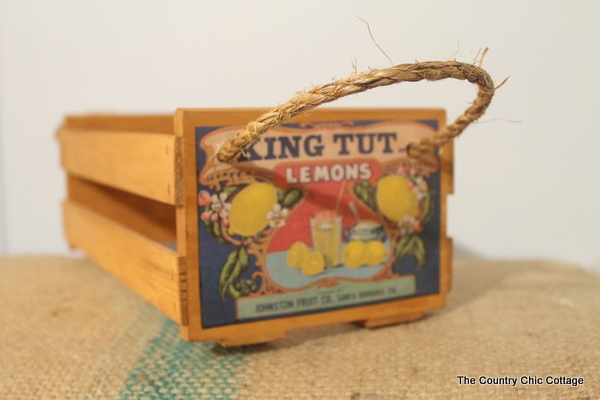 Be sure to cut your rope VERY long. I made the mistake of not cutting enough to make my knots the first time and I had to cut another piece. Run your rope handles through both holes and tie it off. Then just trim any excess rope.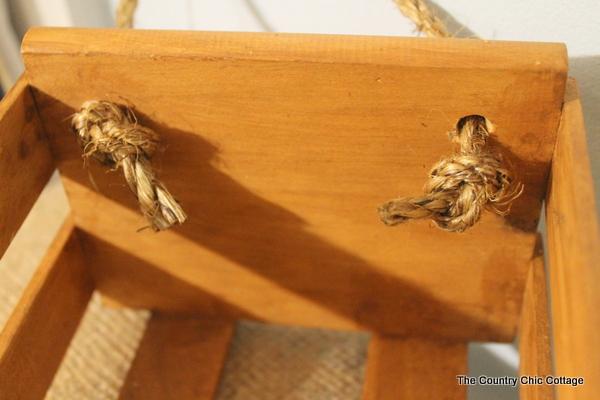 I used a stain I had on hand and it is an oak color. You can use a darker stain or maybe another technique to darken the wood even more.
I am in love with that vintage looking label! I did not add a coat of Mod Podge or any sealer on the top of my label. I think if the label gets beat up and worn over time, it will just make it look more authentically vintage.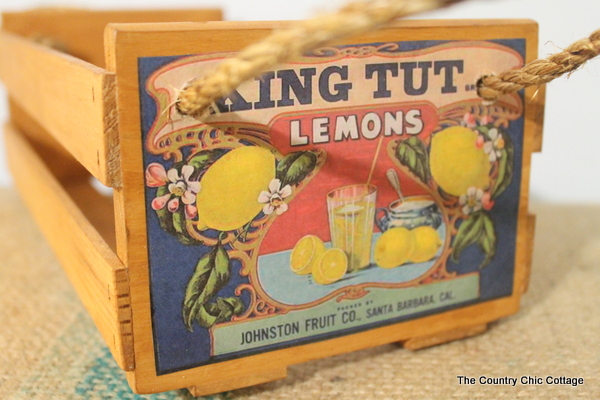 I filled my crate with a collection of vintage books. I love old books with worn and/or missing covers.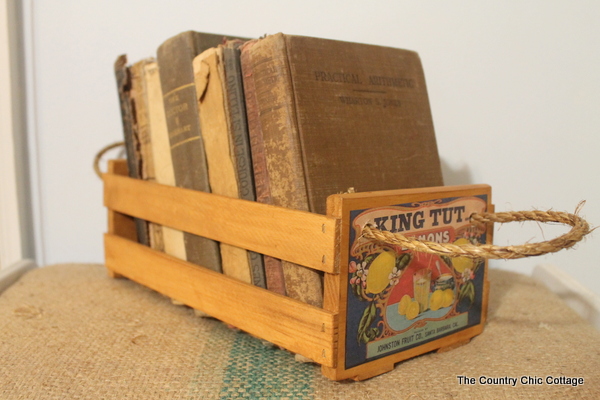 My DIY Vintage Crate is ready for display. Would you be fooled if you saw this in my home?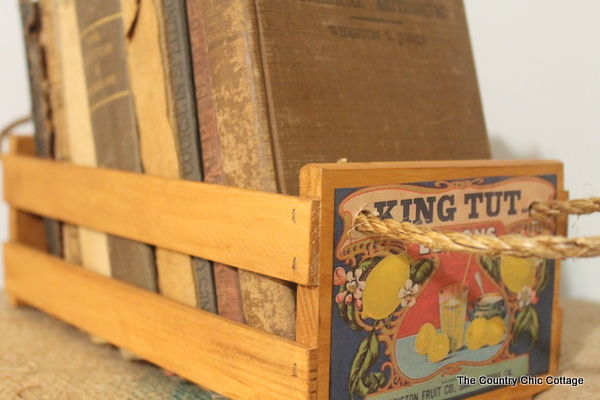 And if you are shopping be sure to get your own RYOBI 18V ONE+ Lithium Ion Compact Drill Kit
. It is available at The Home Depot or online at homedepot.com/ryobi. Tell hubby you bought it for him…I won't tell…
Posting to Transformation Thursday at The Shabby Creek Cottage.
Postsed at SNS on Funky Junk Interiors.
The Home Depot partnered with bloggers such as me to help promote their Lithium Ion power tool Father's Day program. As part of this promotion, I received compensation. They did not tell me what to purchase or what to say about the products. The Home Depot believes that consumers and bloggers are free to form their own opinions and share them in their own words. The Home Depot's policies align with WOMMA Ethics Code, FTC guidelines and social media engagement recommendations.

~Thanks for stopping by!~
~Angie~