DIY wedding favors are a simple project that will make your reception extra special. I love a quick and easy craft especially when it comes to weddings. With the long list of craft ideas that you have for your wedding, the easier the better in my opinion! So grab your supplies to make your own DIY wedding favors from miniature milk bottles today.
For this project, I am using print then cut with my Cricut machine. You can use scissors as an alternative to the Cricut if you would like.
This was first posted on May 4, 2016, however, it is being reposted with more information.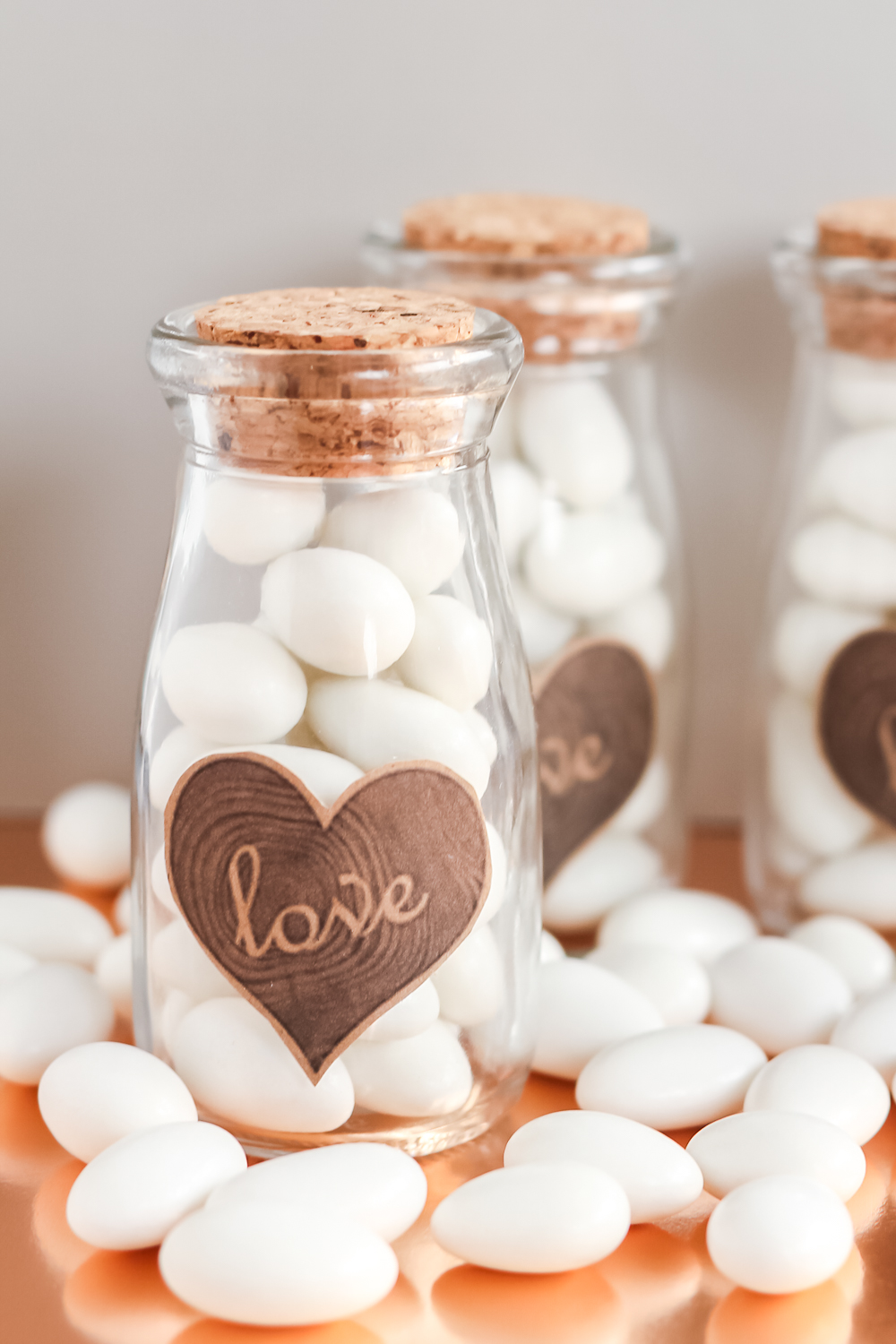 DIY Wedding Favors
These simple wedding favors are inexpensive and perfect for a rustic wedding. If you cannot find enough of the milk bottles I used, there are other options on Amazon that will work as well.
Supplies needed: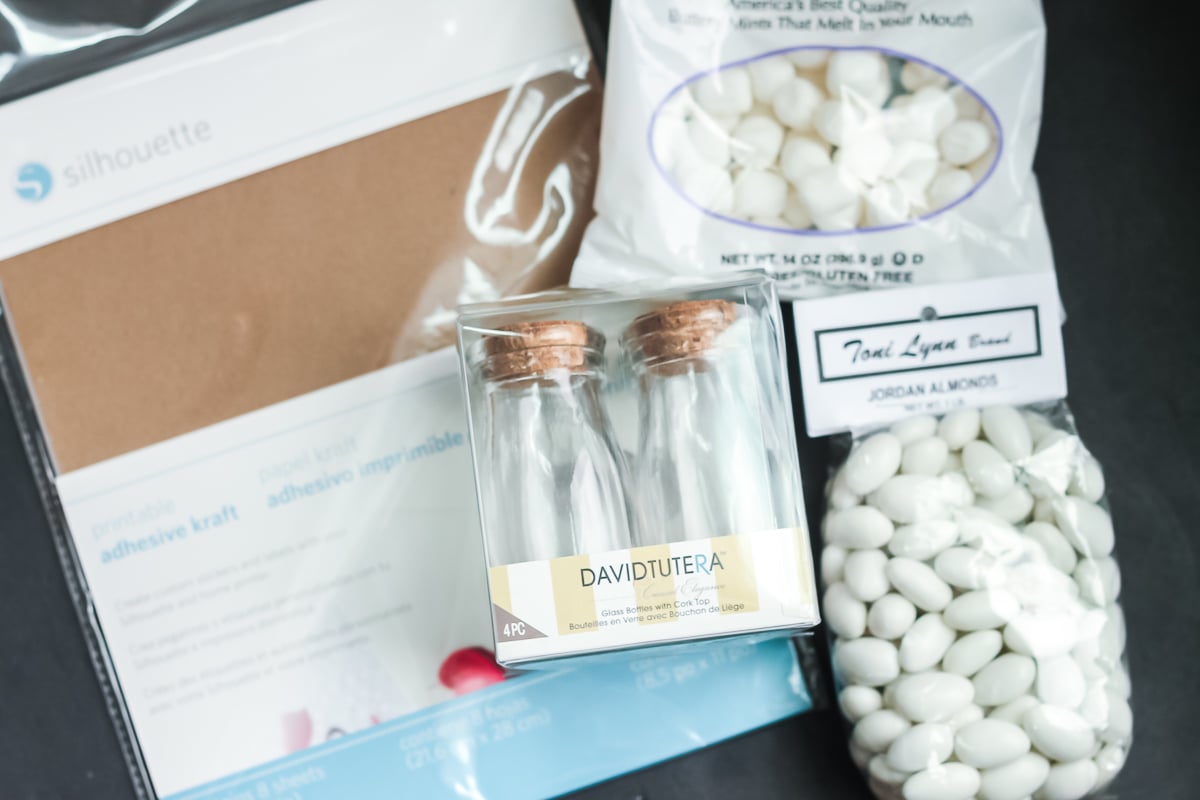 Free Printable Label File
Sign up for the email list in the form below to get the free label file. You should see a form below with a picture of the label file. Just add in your information then check your email to get the file. Please note that if you are already on my email list, add your information again as you will not be signed up for anything further. If you do not get your file, email angie@thecountrychiccottage.net with your issue, however, you will need to be sure to check your spam and other folders in your email.
How to Make Wood Grain Favor Label
My instructions below will cover how to add the file to Cricut Design Space and cut the labels with your Cricut machine. You can skip the Cricut portion if you are going to use scissors for cutting around the labels.
Uploading to Cricut Design Space
Unzip the file you get with the email sign-up form above. Upload the PNG file to Cricut Design Space and save it as a print then cut file. You can see more about uploading files here if you need more information.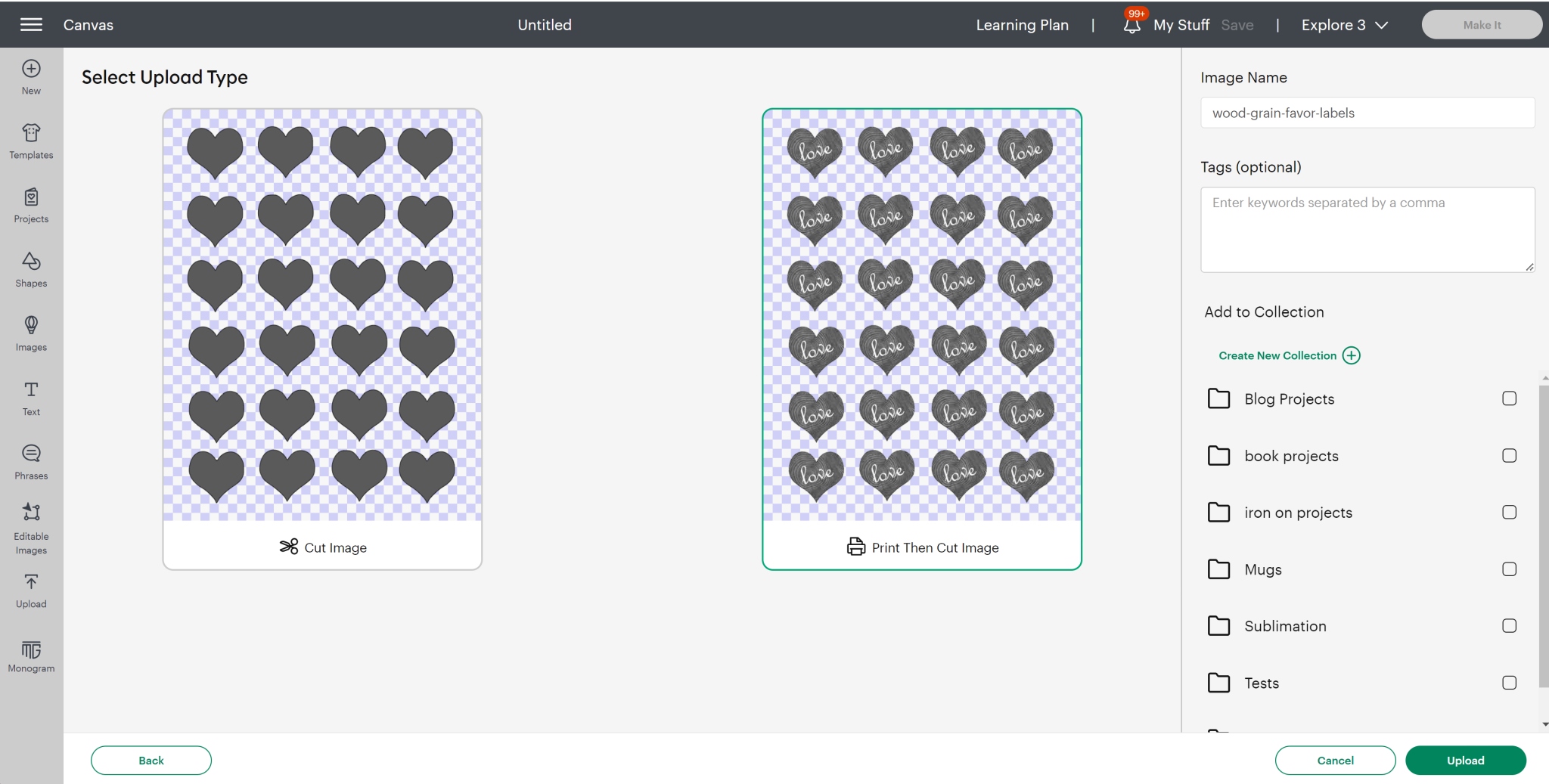 Pick the file and click add to canvas. Resize as needed to make printing possible with your Cricut machine.
Add an Offset
I like to add an offset around labels like these but this step is optional. Pick your labels and click the offset button. I used a .05 offset around my labels.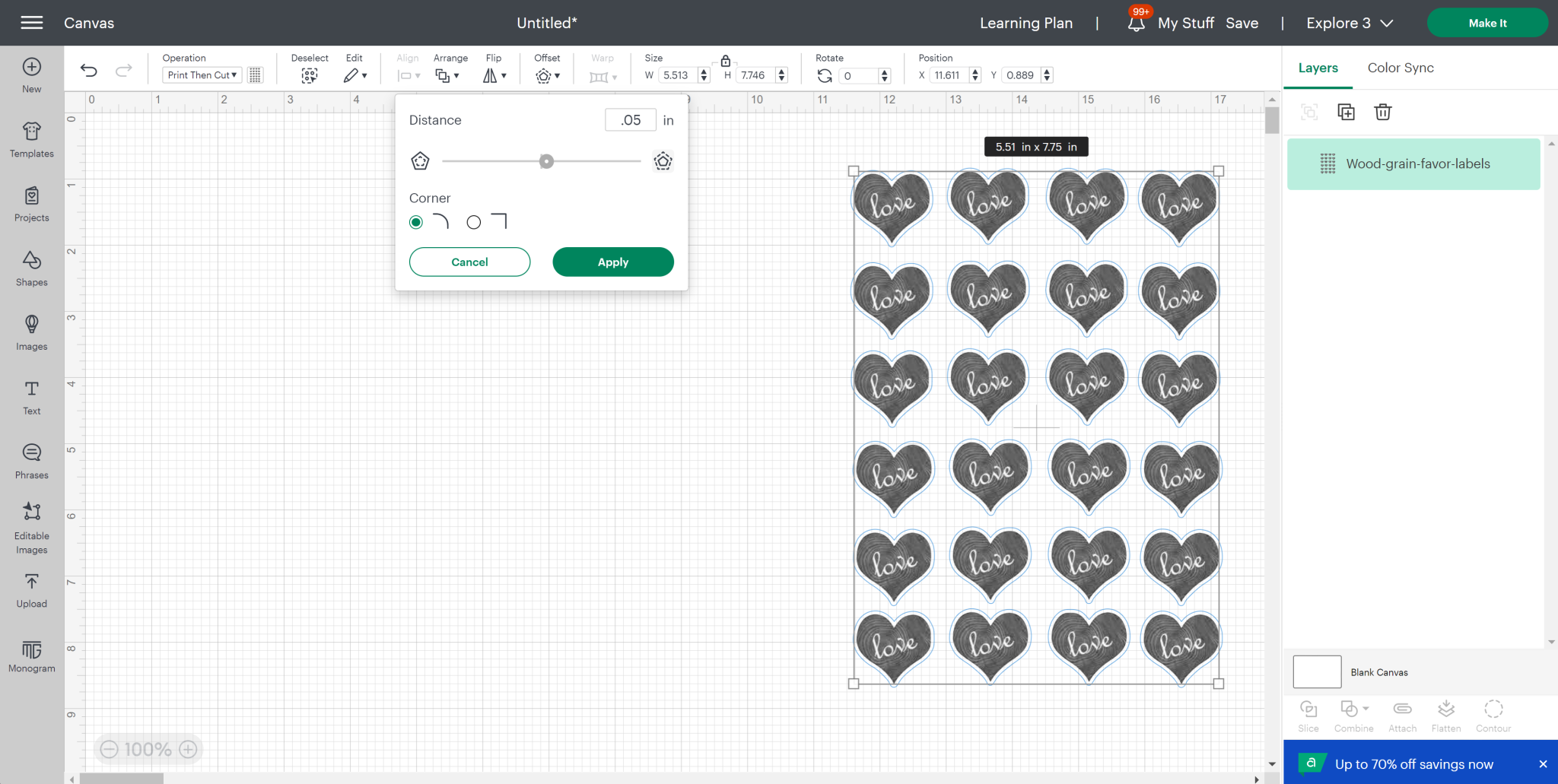 Click apply. Then change the color of the offset to white. Pick both the labels and the offset and click flatten. This will make your labels print and your Cricut cut around the offset only.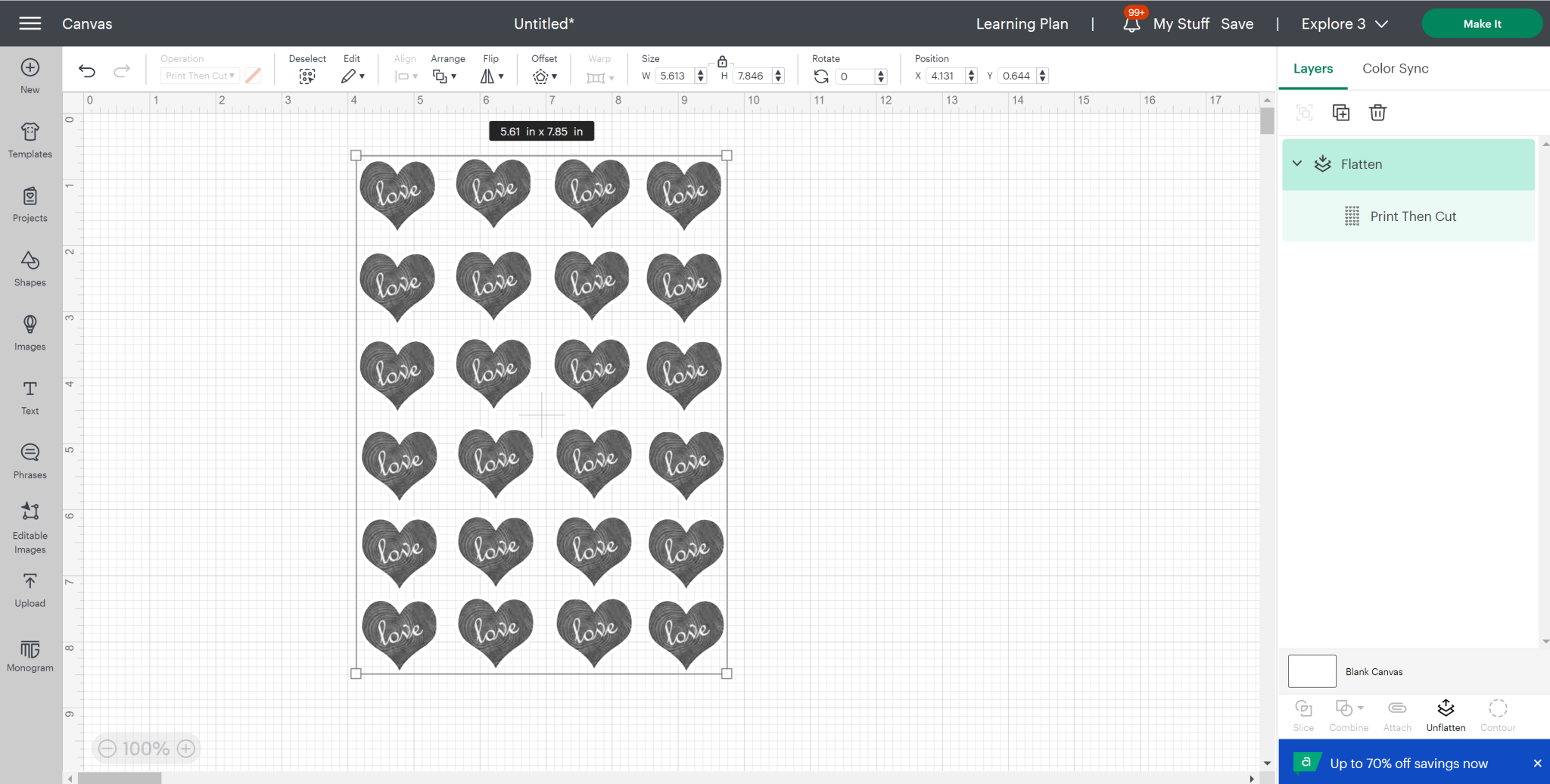 Cutting Labels with a Cricut Machine
Click make it and continue to print the labels on a printer from Cricut Design Space. Once printed, use your Cricut to cut around the labels. Generally, the printable vinyl setting works well with this material but you may need to do a test cut on a scrap piece of material.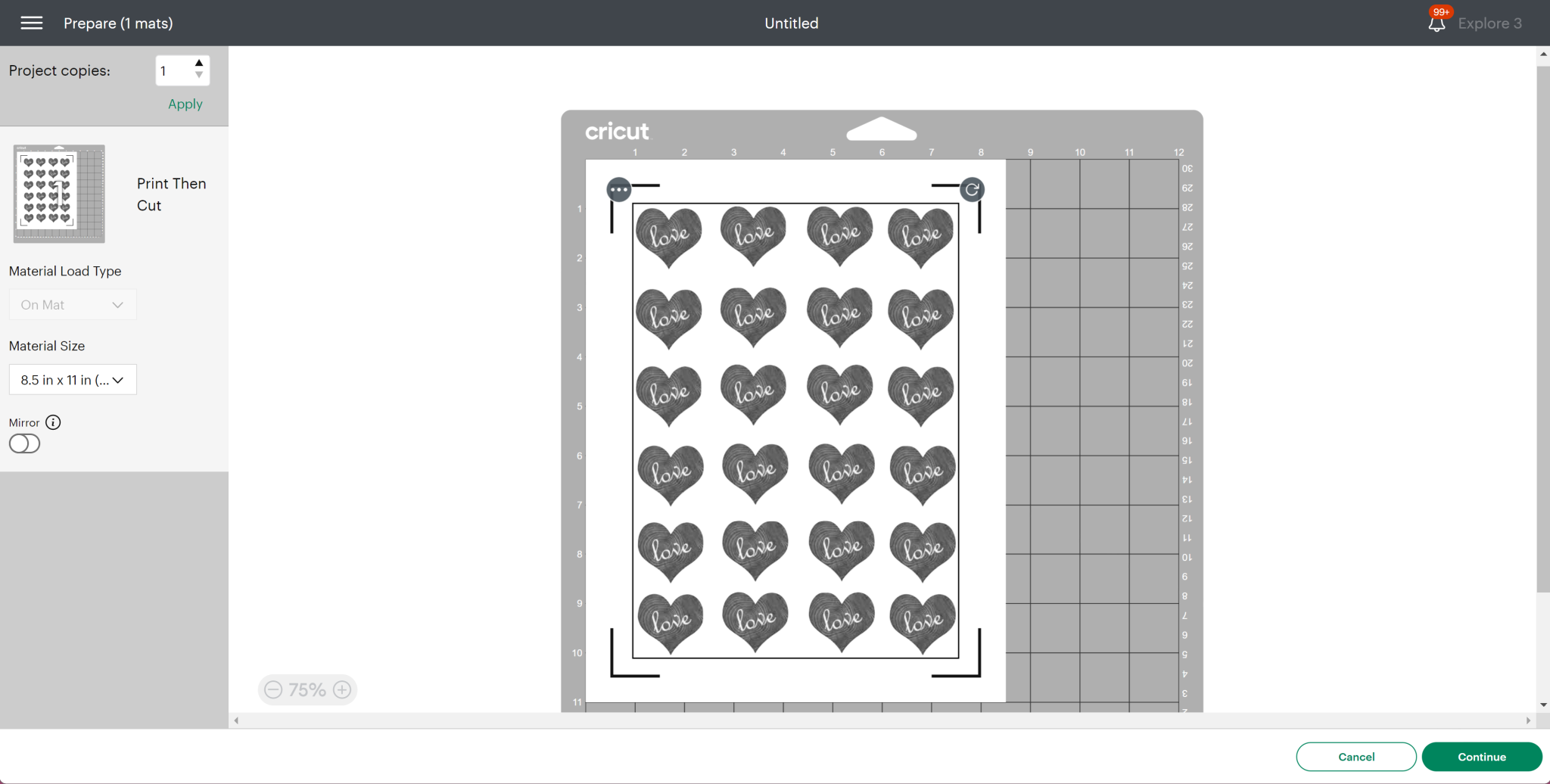 Cutting with Scissors
If you do not have a Cricut machine, print the wood grain labels onto the kraft paper with your printer. Then cut around each label carefully with scissors. This process will take longer but it will work as well.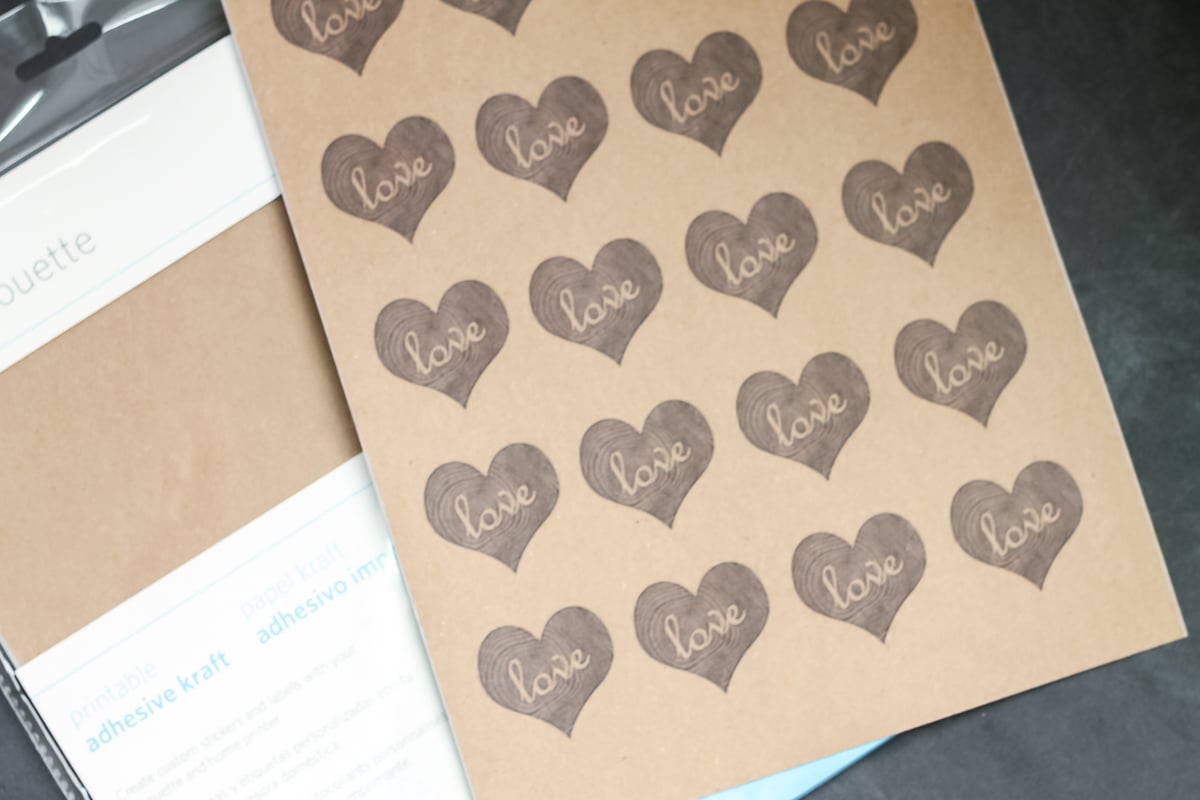 Assembling the DIY Wedding Favors
These simple wedding favors are easy to assemble. Fill each milk bottle with the candy of your choice. Cap with the cork stopper.
Apply the heart labels to the front of each milk bottle and hold until set. The paper is self-adhesive so this part should be very easy. These fun DIY wedding favors are ready for your wedding reception! The best part is that they were made in just minutes.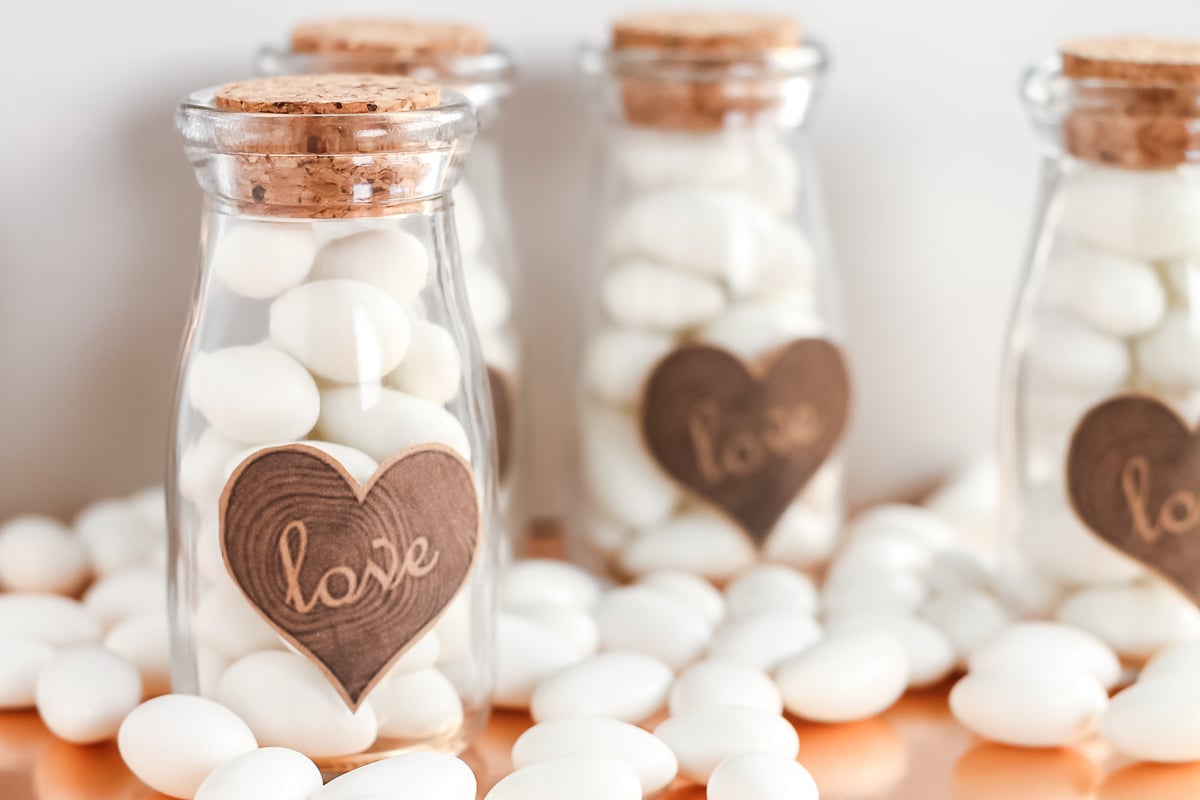 Invite over your bridesmaids and have a crafting party! You will have the DIY wedding favors done and ready for your wedding with the extra hands to make and assemble these fun crafts.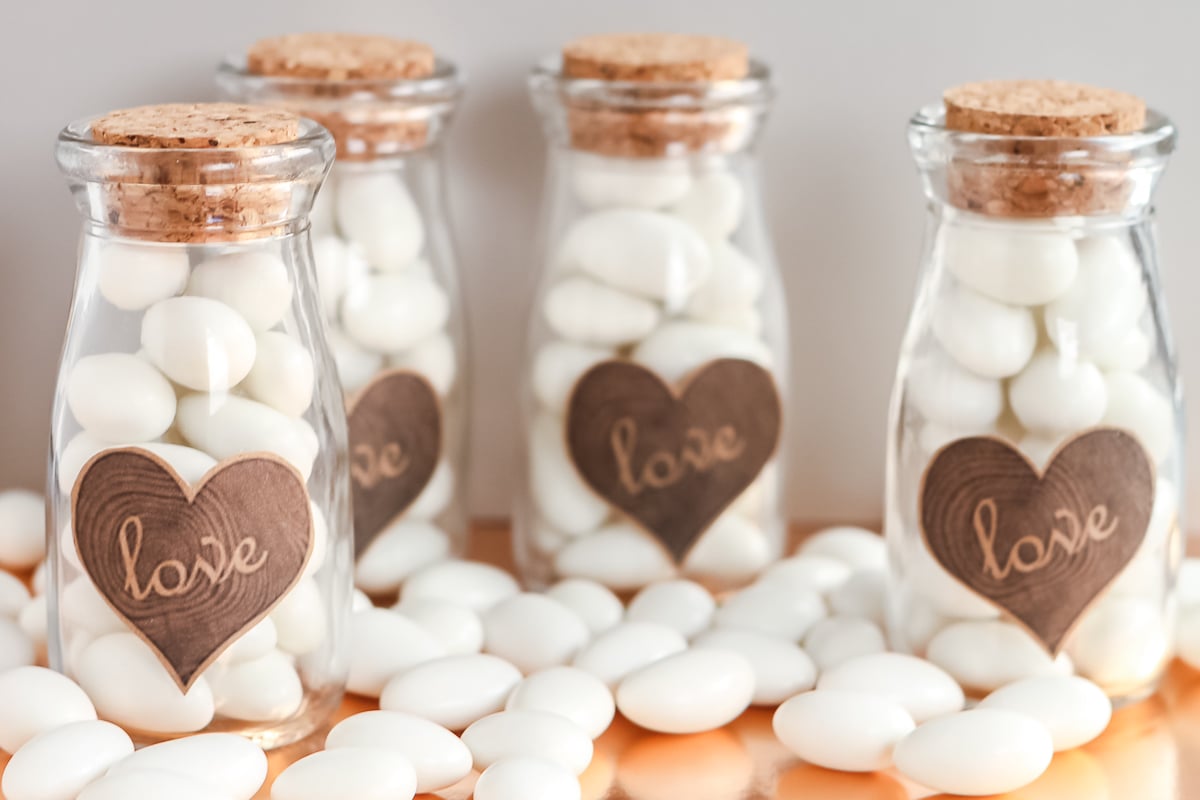 Love ideas with jars for weddings? Get 50 mason jar wedding ideas by clicking here. These will go great with your DIY wedding favors! You can have the rustic DIY wedding of your dreams with projects just like this one!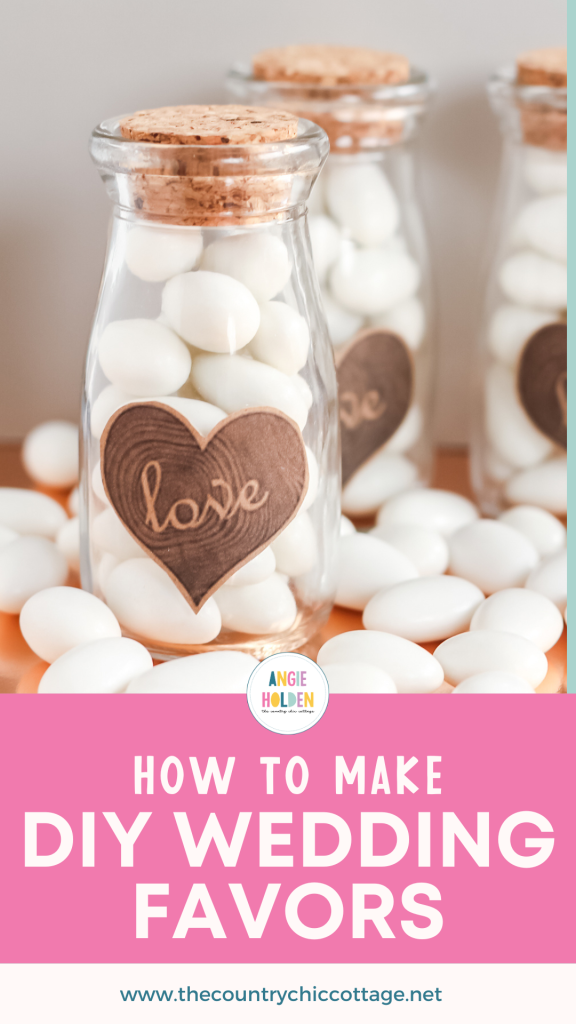 Want more DIY wedding ideas? Try the links below!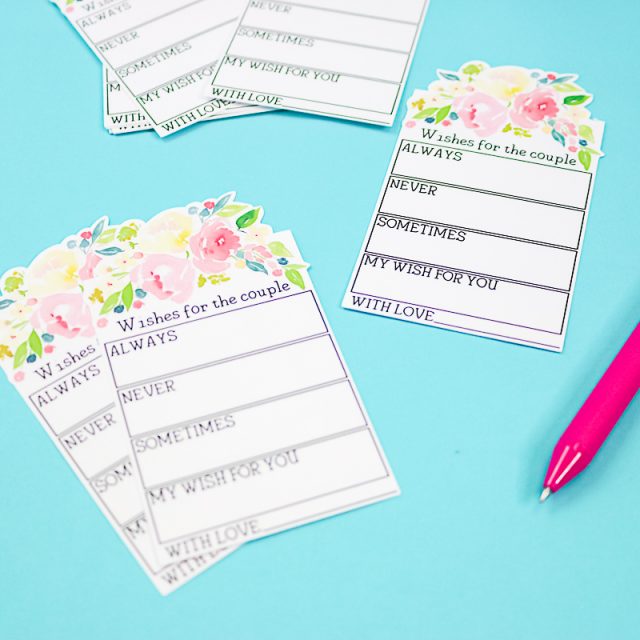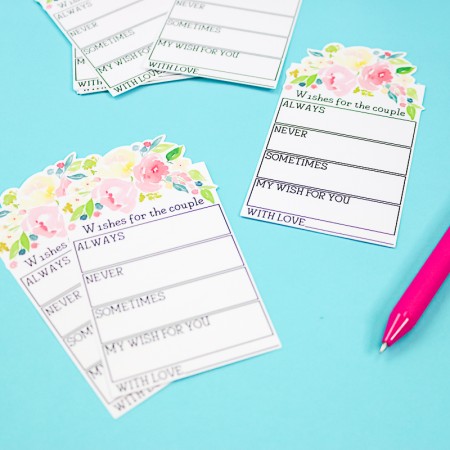 Print Then Cut Wedding Advice Cards
Make these wedding advice cards using print then cut and your Cricut machine.
Read More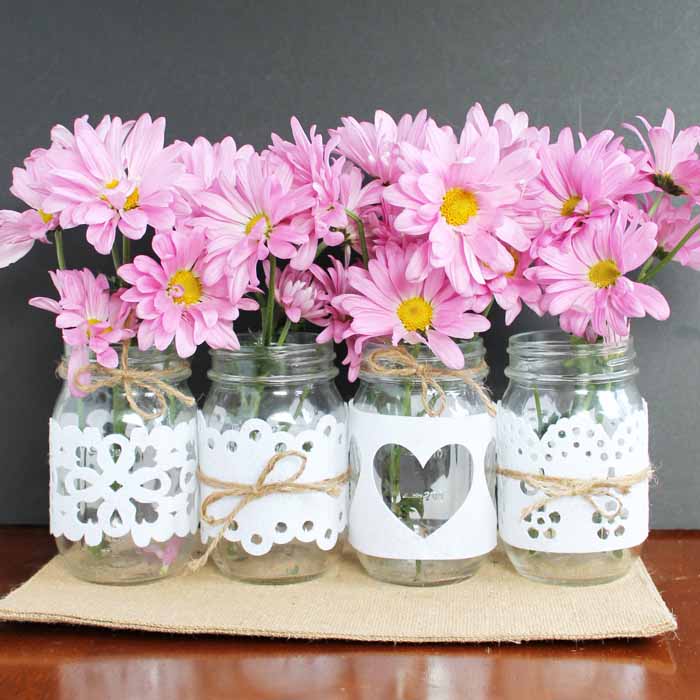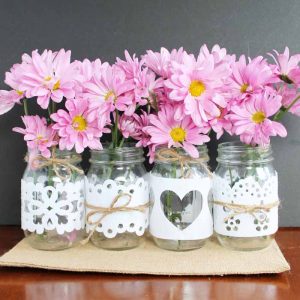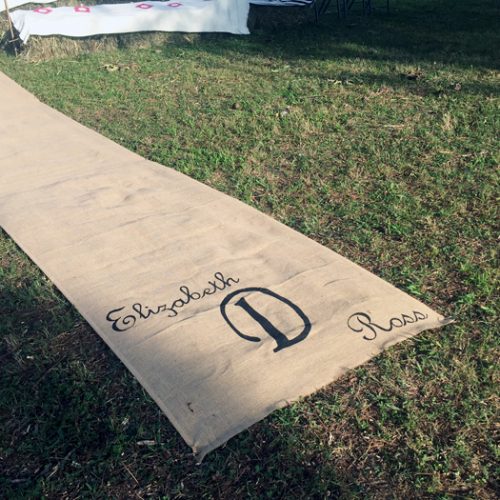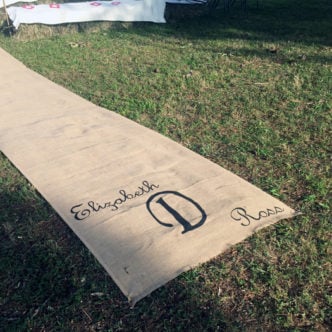 DIY Burlap Wedding Aisle Runner (Rustic)
A DIY burlap wedding aisle runner is easier to make than you might–plus it's rustic! I whipped up this beauty for my daughter's wedding and I loved how it looked in the barn setting. You can even add a monogram and the couple's name with my super simple method below. I even hunted around and figured out how to get the burlap for the cheapest price possible. Perfect for outdoor weddings!
Read More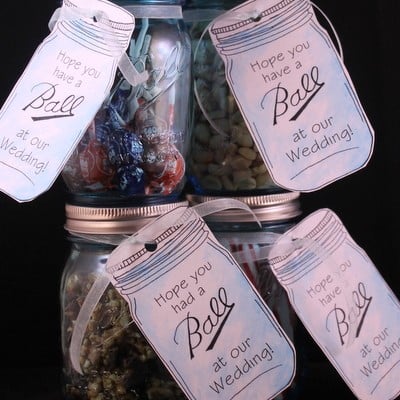 Mason Jar Wedding Favors
You're going to love these simplistic mason jar wedding favors! The perfect idea for the guests at your ceremony or in your wedding party, these crafty wedding favors using mason jars are so easy to make and such a joy to create! The options are limitless when it comes to what you could fill these jars up with, and you're going to fall in love with the free printable mason jar tags included within this tutorial.
Read More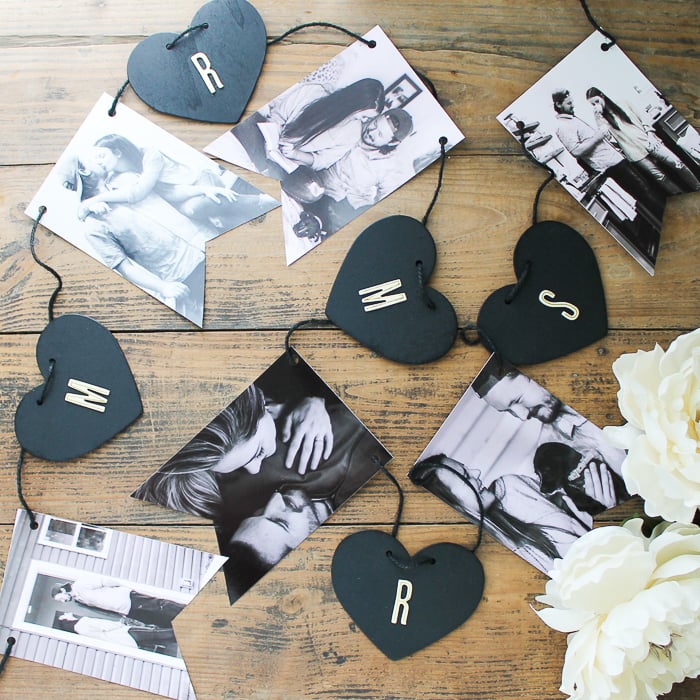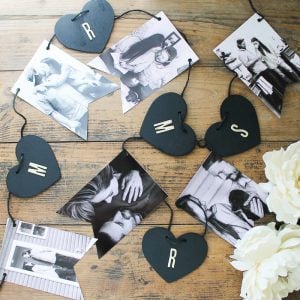 How to Make a Banner from Photos
Today I am going to show you how to make a banner from photos. I am making mine in a wedding theme but you can use this same idea for parties and so much more. Photos personalize this banner for just about any occasion. If you have a DIY wedding coming up, you are going to love how easy this photo banner is to make.
Read More