I love vintage farmhouse decor so why not add it to my porch? I have been working on my front porch for a few weeks now and it is finally time to share with y'all. Grab a glass of sweet tea and take a tour with me. Get inspired to create your own farmhouse inspired area inside or out!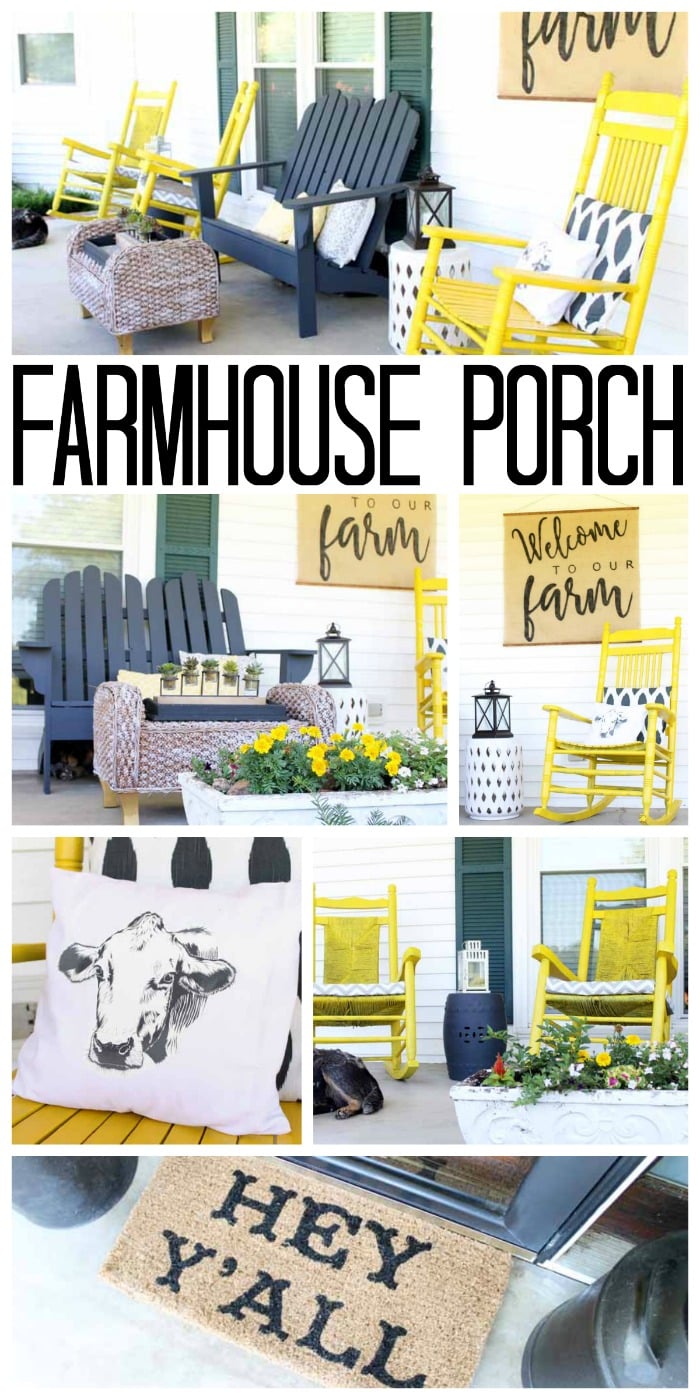 First of all, I will just apologize in advance for the dogs that are in the pictures. I guess you can say they are part of the farm around here so they belong in the pictures. Bonus points if you can spot two different dogs in these pictures…they are there!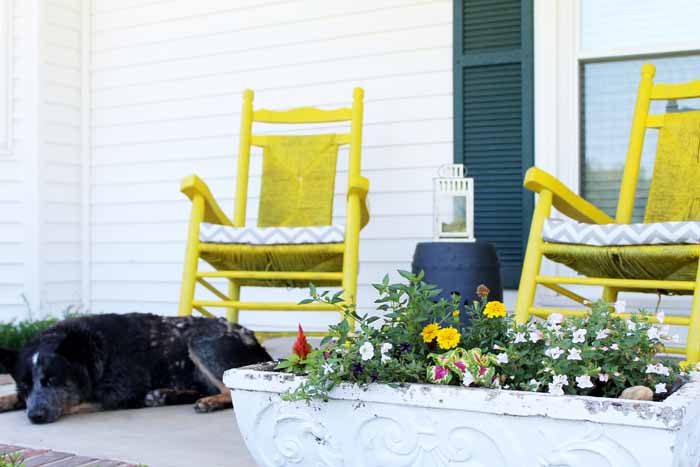 I made this an extremely budget friendly makeover so very little was purchased. I started with all of the porch furniture that I already had on hand with a nice new coat of paint however. The color palette I decided to go with is gray color with pops of yellow. That meant the rocking chairs could get a fun new look!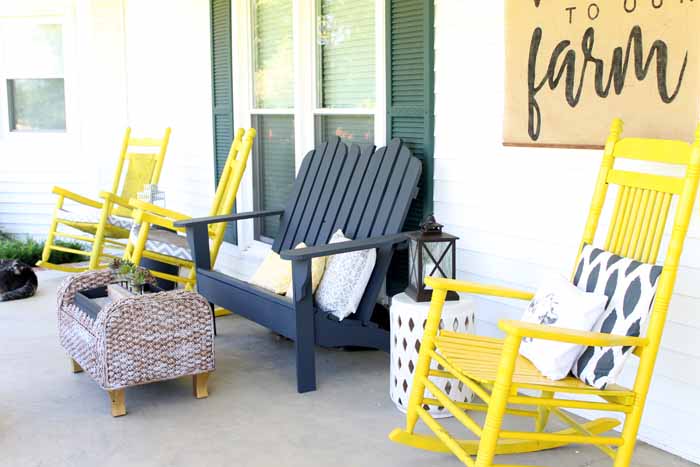 I used spray paint on my old rockers to make them pop! Nothing is better than a little paint for fixing up an area on a budget.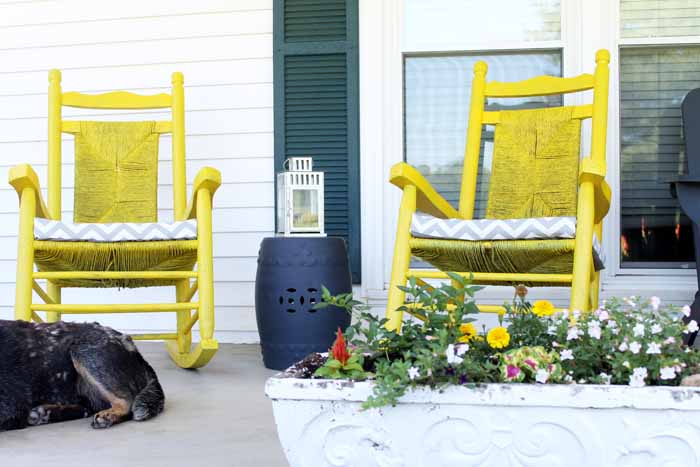 I also used some outdoor paint to paint the ceramic stool in between the rockers. It was a colorful floral pattern but looks so good in a dark grey.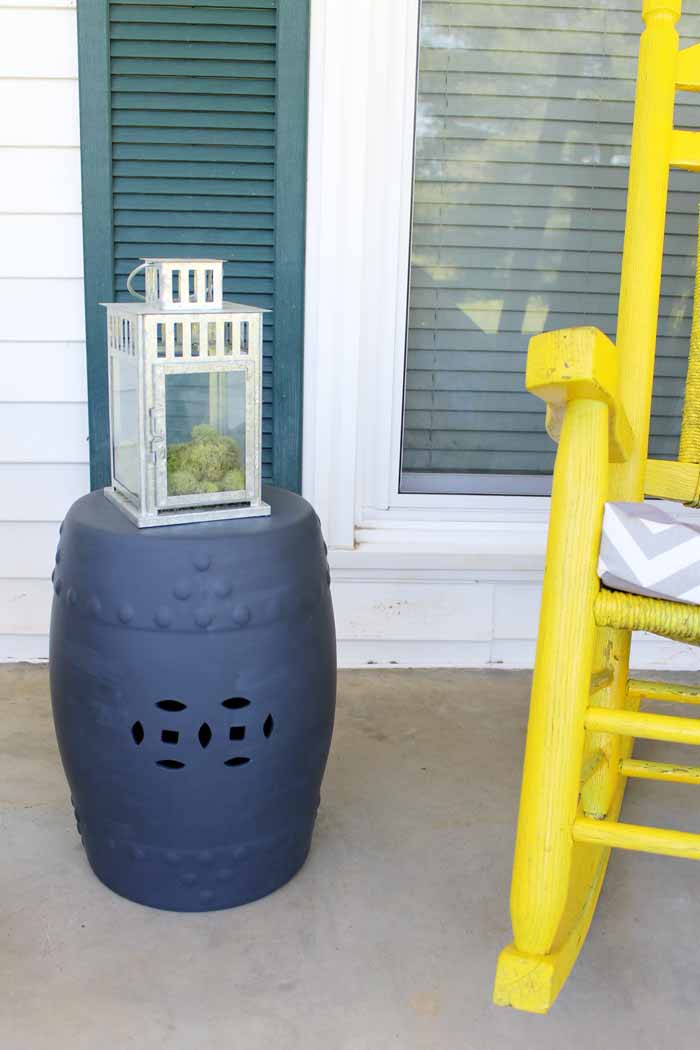 I used a couple of different grey fabrics to make cushions for the chairs. I love the added pop of pattern around the outer edge of these!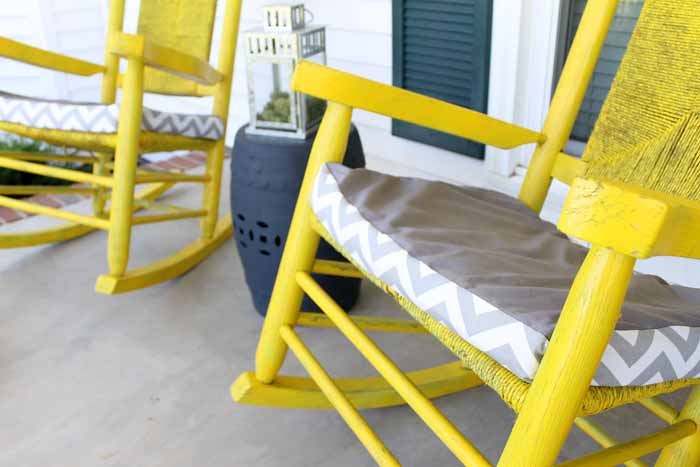 In the center of the porch, I painted that double Adirondack chair with outdoor paint as well. The wicker table was actually in a room in the house and needed to move. It fit in perfectly with the porch.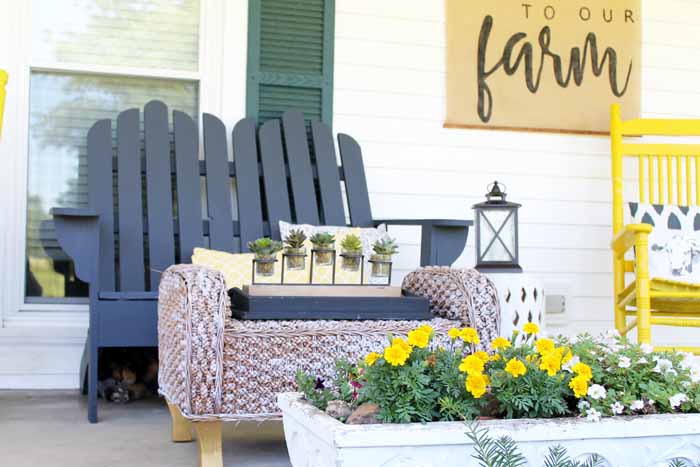 You can see how I gave it a rustic makeover with paint in this post. Adding that rustic touch of white to the wicker is perfect for my style and so easy to do.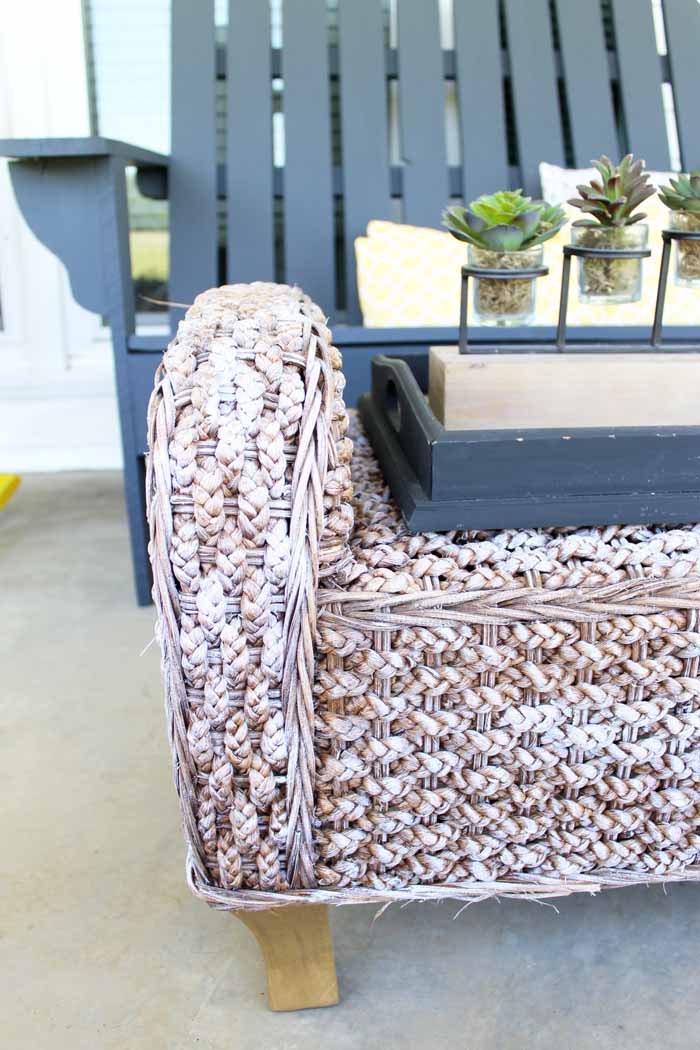 On top of the table, I added this map tray as well as a candle holder with a few succulents. You can never have enough succulents or old maps in vintage farmhouse decor.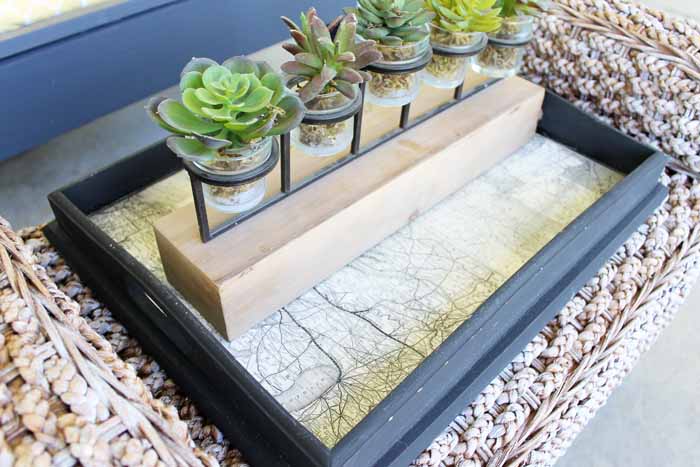 The next area is where I hung my DIY burlap wall hanging. Yes I made that and you can too!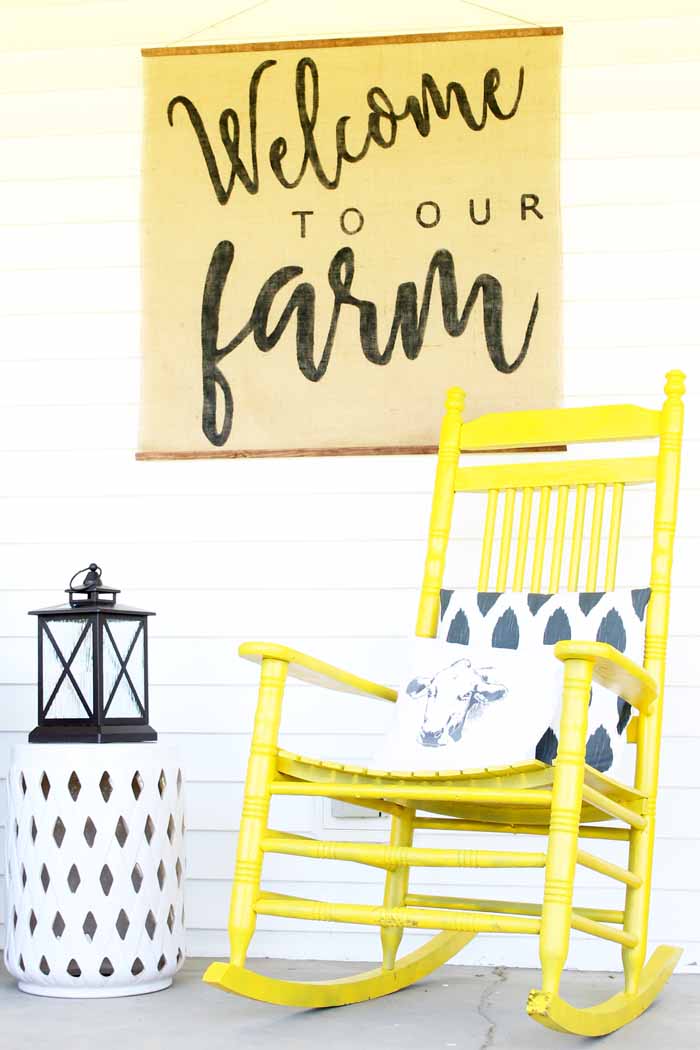 I added another ceramic stool because I just can't get enough of them! To the top of this one, I added a solar powered lantern. It lights up our front porch every night.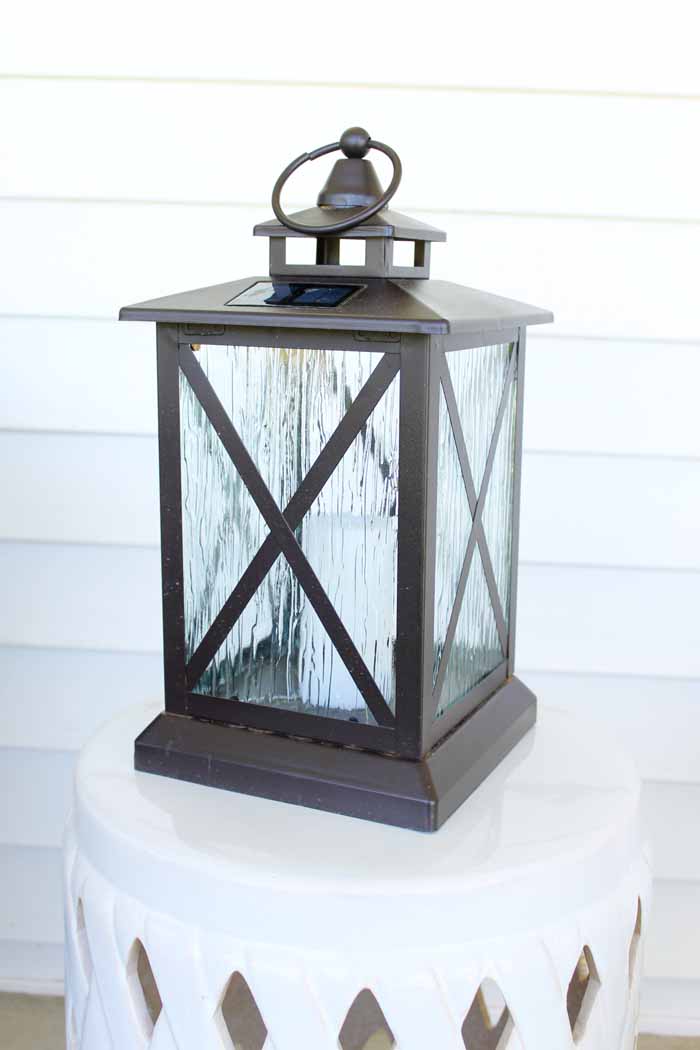 I used a few pillows in grey and yellow around the front porch. I must say, however, that this cow pillow is my absolute favorite. She is perfect for those that have a farm or just dream of owning one. You can see how to make your own here.
The front door has a milk can on either side along with this great mat from a local store. I am in love with this one!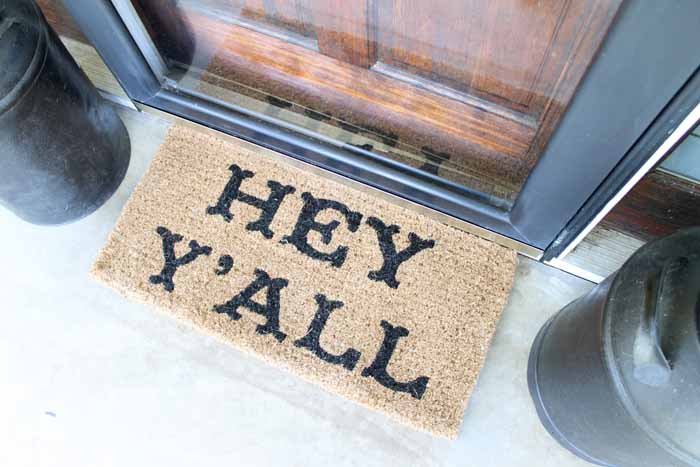 On the other side of the door, there is a small amount of space that I always struggle with how to decorate. This time I added a rustic table along with my sweet tea sign.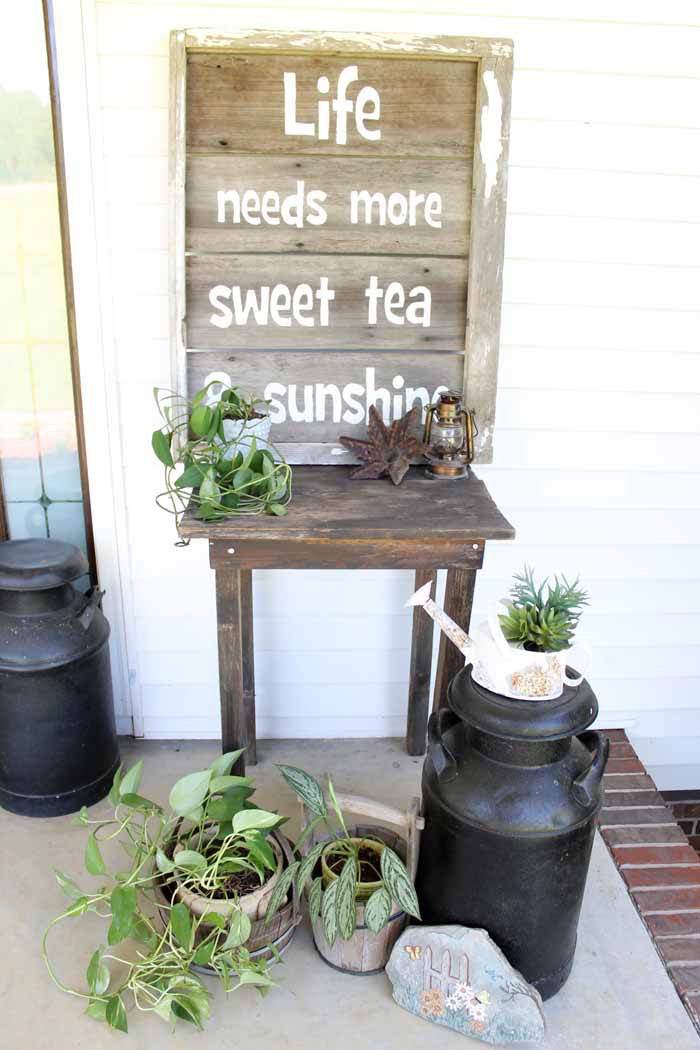 This rustic sign was actually my inspiration for this entire space. I wanted some vintage farmhouse decor on the porch to match this amazing rustic sign! And we all need more sweet tea and sunshine….am I right?
I also added in a few plants and flowers to the porch for some greenery.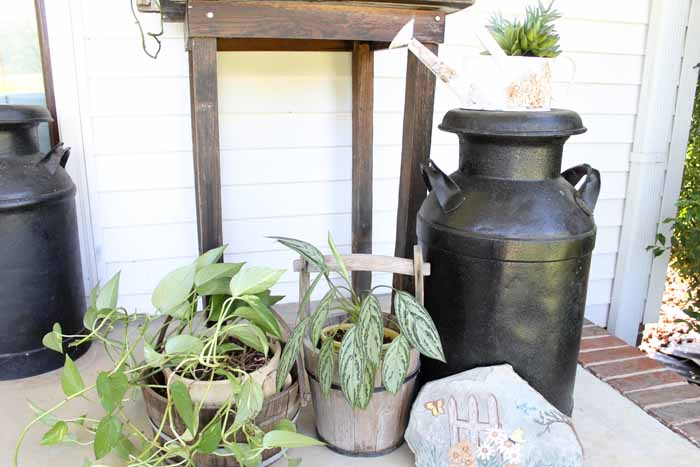 And remember what I said about never having enough succulents….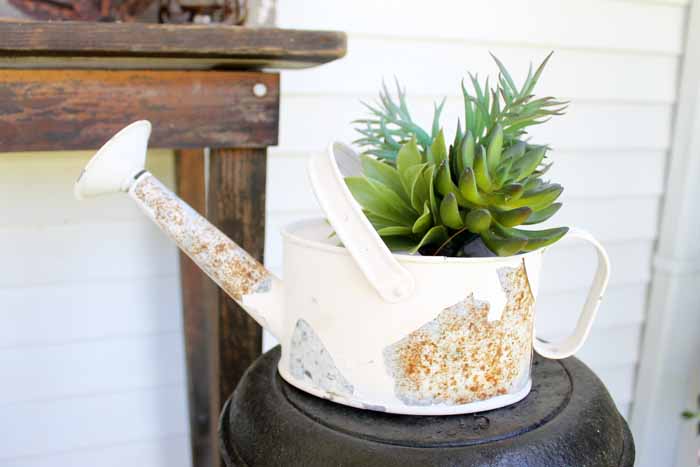 If you need me, I will be on my front porch enjoying the vintage farmhouse decor and a glass of sweet tea. I hope y'all enjoyed it as well. Need more ideas? Be sure to head here to see how to create a cozy farmhouse style porch.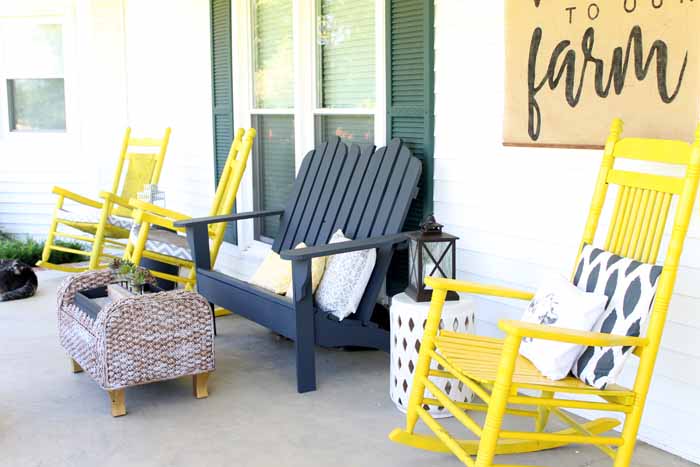 So which of these ideas is your favorite? Will you be trying any of them at your home?