Once you learn how to engrave acrylic with the Cricut Maker you'll be hooked! You can make gift tags, ornaments, and so many other gift ideas. Grab your Cricut Maker. and get crafting today. You will be so glad that you did. In fact, you might also want to engrave some wood with your Maker while you have your engraving tip out!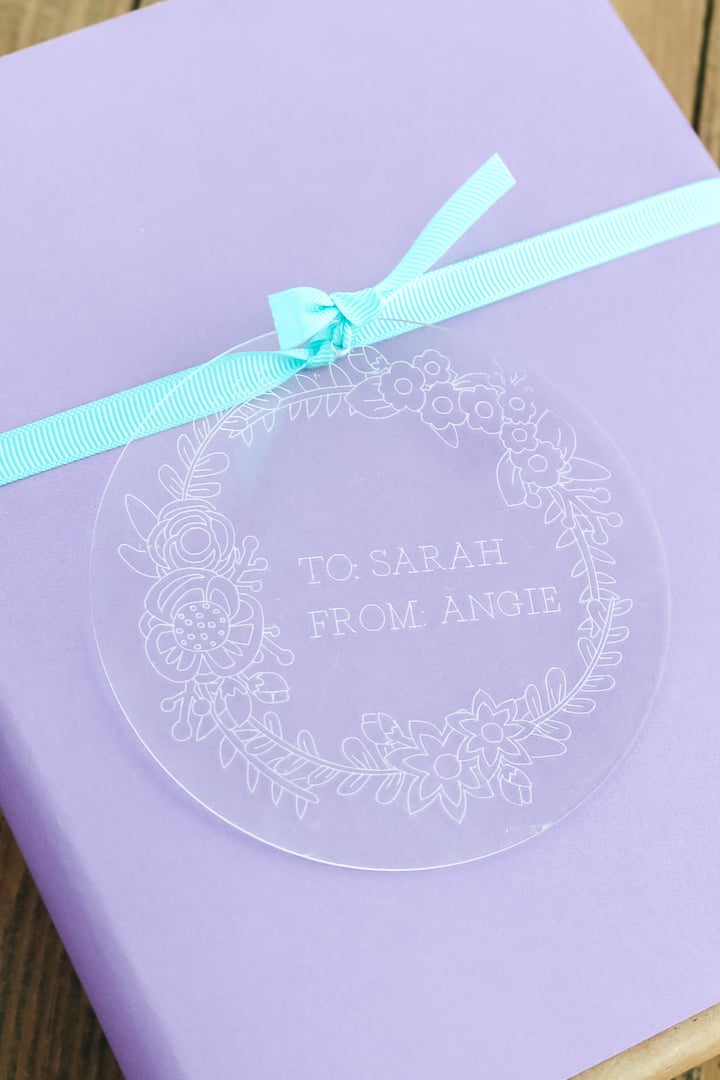 How to Engrave Acrylic with the Cricut Maker
You can actually engrave and cut acrylic on the Cricut Maker. Before you get started cutting acrylic there are a few tips and tricks for you to know. This post has a video that might help.
Grab your acrylic and start engraving all the things. I'm sure you can come up with all kinds of projects that you can do with this technique.
Supplies needed: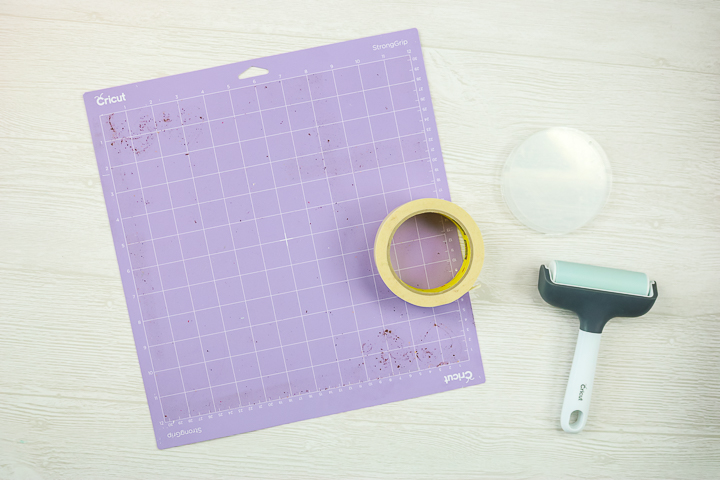 Engraving Acrylic with a Cricut
First, if you like to learn things with video, you can actually watch the entire process in the video below.
Can't watch the video or missed some of the steps? You can also follow along with the steps in the card below.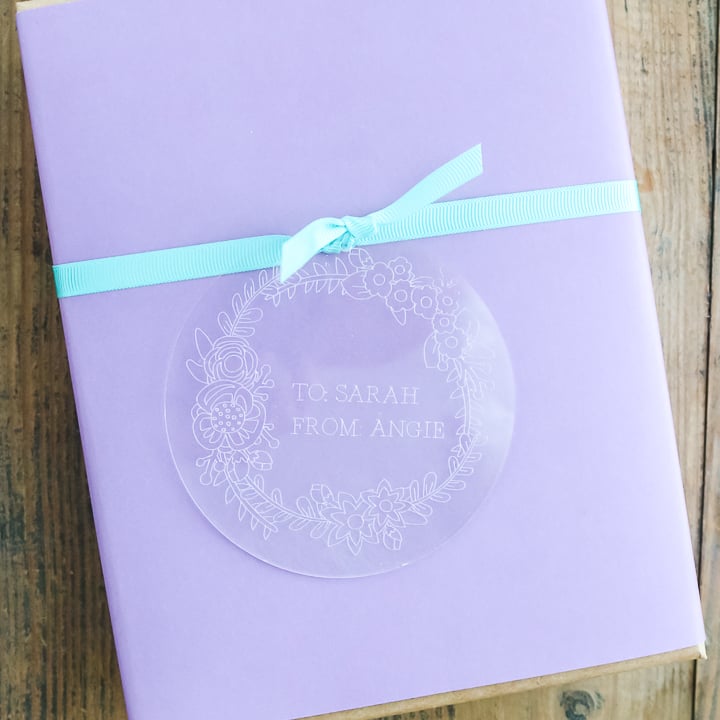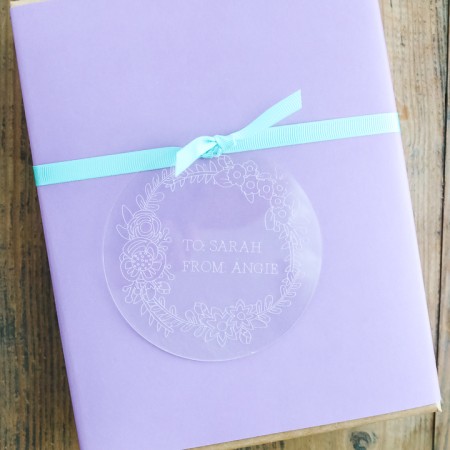 Cricut Maker Engraving Acrylic
Did you know that you can engrave acrylic with a Cricut Maker? Follow along to see how and start making your own projects today!
Supplies
StrongGrip mat

Brayer

Cricut Maker

Acrylic blank

I'm using a four-inch circle blank that already has a hole punched in it.

Engraving Tip

Knife blade

if you want to cut the acrylic
Instructions
The first thing you need to note about the acrylic blanks is that they will most likely have a protective film on both sides. For engraving on the Maker, you need to remove that protective film from one side. You can leave the protective film on the back. Then locate the blank on your mat. Locate somewhere where you know where it is, so when we're in Cricut Design Space, you can move it around. I located my circle on the three-inch line in both directions.

Press it down really well and then run the brayer over it to make sure it's stuck.

Add some masking tape all the way around the edges. Make sure not to add the tape in any of the areas where you will actually be engraving. For instance, my engraving is actually a little over three inches, so I'm just going to tape the edge of my four-inch circle. I like the extra security of going all the way around with the tape.

Open Cricut Design Space and pick your design. The designs that work best with your engraving tool are going to be ones that are draw files. When searching designs, click art type and draw only, that will sort your results by ones that are draw files. These will make a better engraving.

Insert the design onto the mat. For my project, I'm making a gift tag. I did a circle with flowers all the way around and then some text. So what you can do is insert a circle, just for illustration purposes, and make it the four inches. Send the circle to the back and make it gray. This will help you to see what the engraving is going to look like on your tag. Delete the circle from your canvas once you're happy with the design.

For text, do the same thing. Go to fonts, and filter those for writing. Type your text and make sure that this is set to draw for now.

Once you're pleased with the design, pick the image as well as the text and attach those together. Then, with them both chosen, change your line type to "engrave". NOTE: Make sure that your machine type is on Maker, otherwise, this option will not show up.

Locate your design in Design Space exactly where your blank is located on your mat. In my case, that is at the 3 inch mark in both directions.

Set the base material. For acrylic, there are actually two options when you're engraving. There's two-millimeter thick and one-millimeter thick. These blanks that I'm using are fairly thin, so I'll pick one millimeter. But if you're using a thicker blank, just pick the two millimeter.

Load the engraving tip in Clamp B and load your mat to start. Be sure to move the star wheels along the bar all the way to the right so that they won't scratch the face of the acrylic. Press the arrow button to load, and the C button to start. Once the engraving is finished, unload the mat, and remove the blank.

Once done, there are all kinds of little bits and pieces of the cut acrylic. Since you've already wasted the tape, take the tape and run it across the acrylic, and pick up all those little pieces.

Remove your blank from the mat and then remove the protective sheet from the back. Your project is ready and you just engraved acrylic with your Cricut Maker.
Tried this project?
tag us to show off your work!
If those design space steps confuse you, be sure to watch the video. I walk through the entire process and that should clear it up for you. Trust me, you will be engraving acrylic like a pro in no time at all.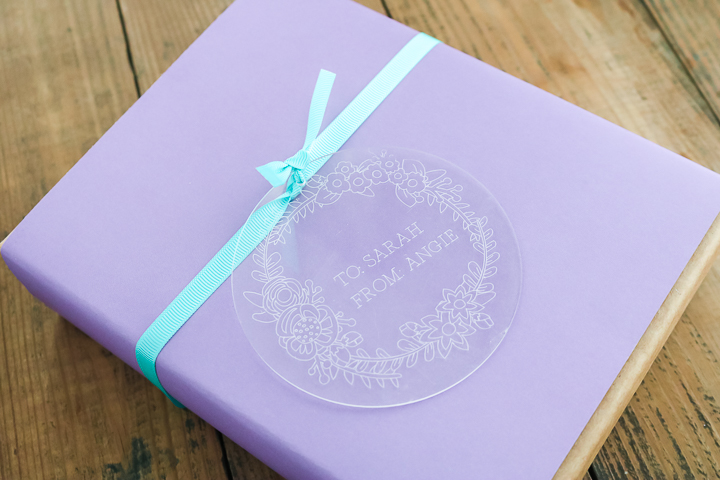 Cutting and Engraving Acrylic
The above is an example of a pre-purchased blank and engraving that can be done with the Maker. But you can also cut and engrave acrylic all with the Maker. Learn how to cut your own acrylic and engrave it. That opens up even more ideas and project possibilities. You can actually see the hexagons below which I both cut and engraved on my machine.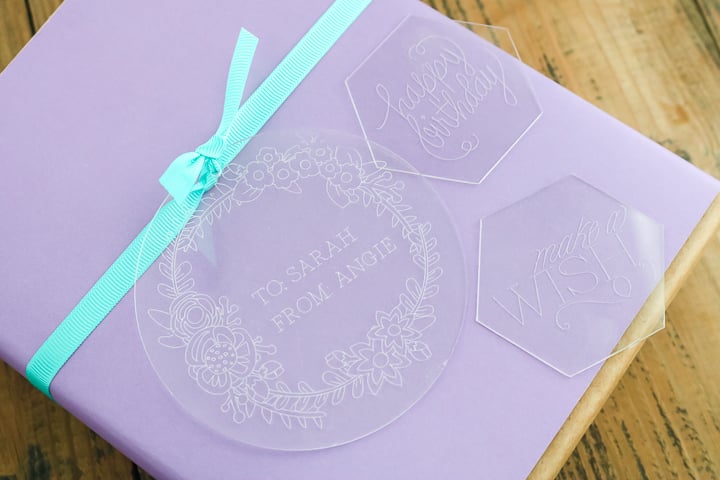 I am sure you can think of so many things to make with this tutorial. I made a gift tag and thought that the hexagon pieces would make a great cupcake topper. Want more ideas? I also love these keychains made with engraved acrylic.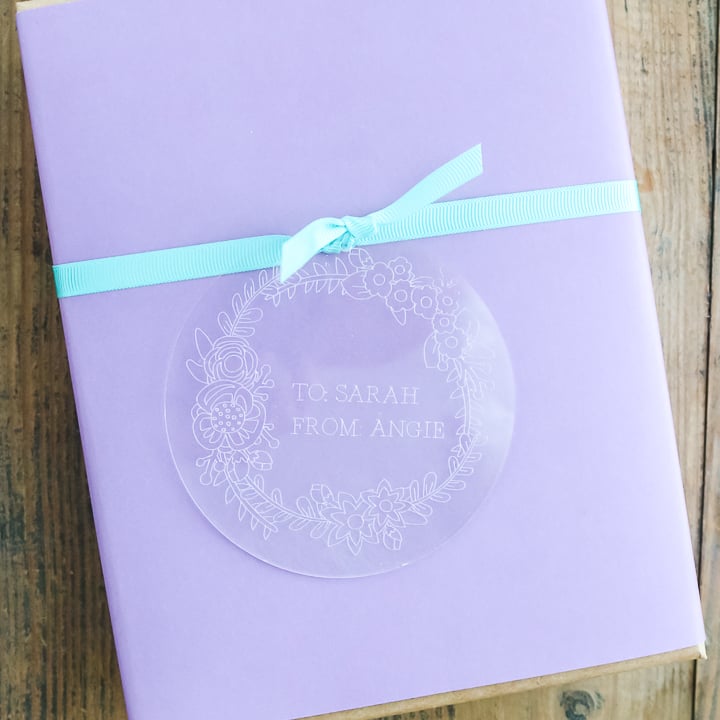 Whatever you make, you should definitely get the engraving tip and give it a try on acrylic. I think you will love the effects that you can get. Now that you know how to engrave acrylic with the Cricut Maker, what will you make?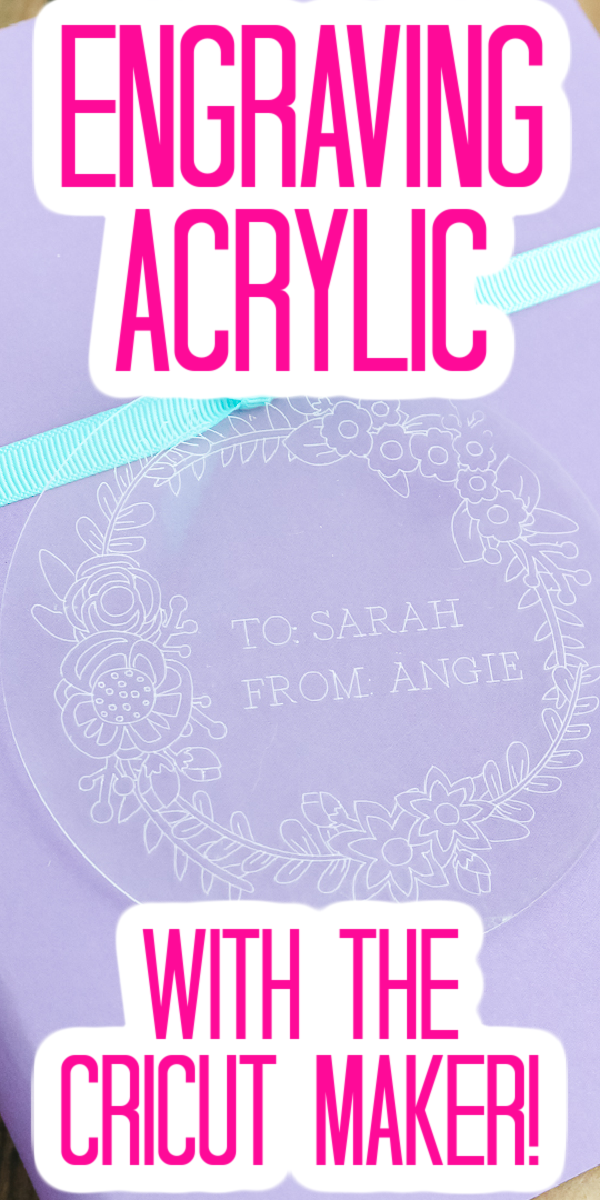 Check out these other Cricut Tutorials: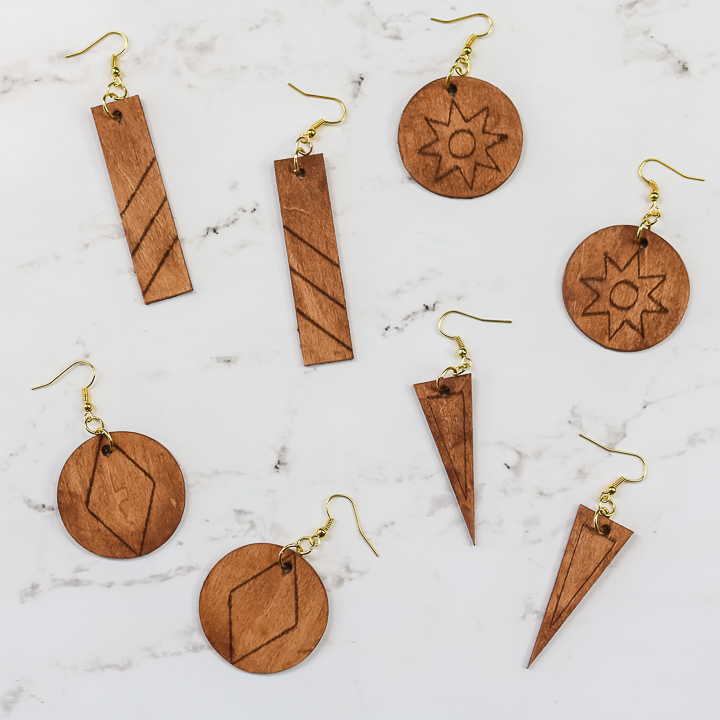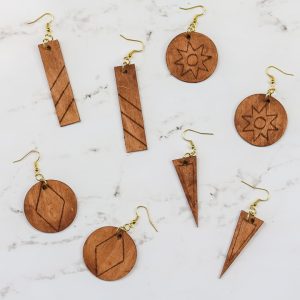 Engraved Wood Earrings
Learn how to engrave wood with the Cricut Maker and use it to make some earrings you will love!
Read More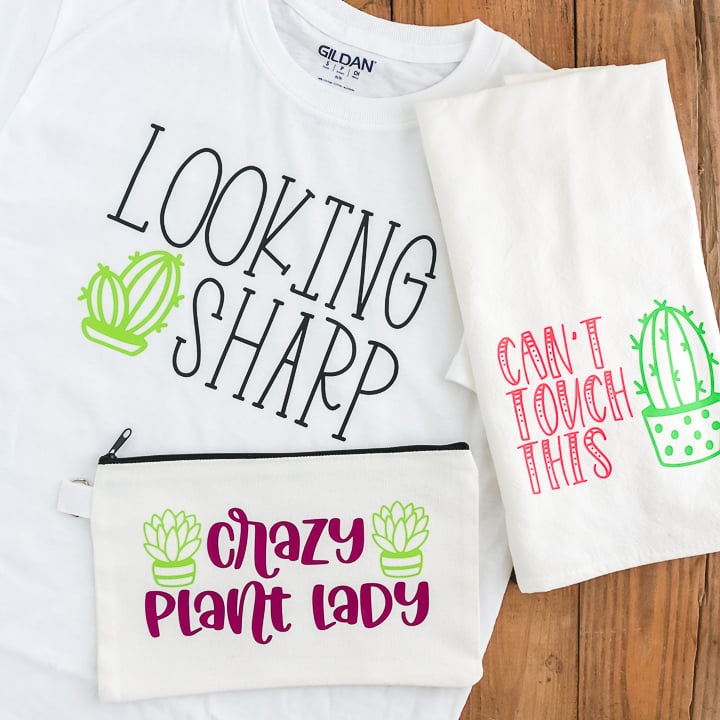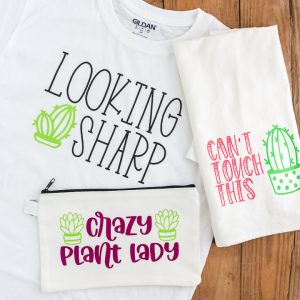 Applying B-Flex HTV
How do you use the heat transfer vinyl from B-Flex? We are showing you with a few simple projects to get you started.
Read More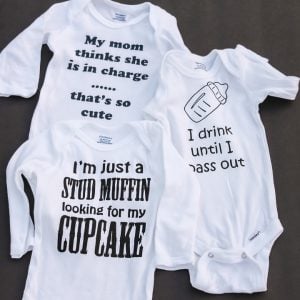 DIY Baby Onesies with Iron-on
Use heat transfer vinyl to customize those onesies in addition to our three free SVG files.
Read More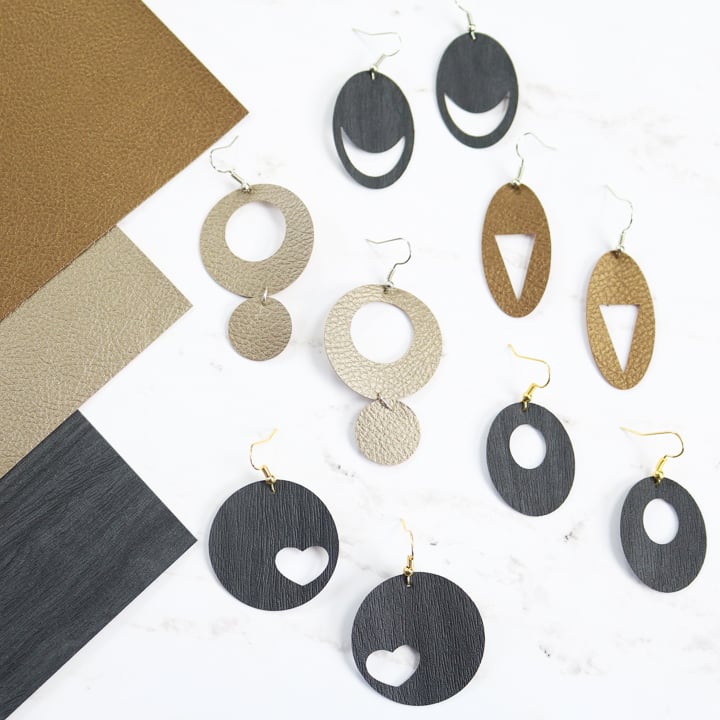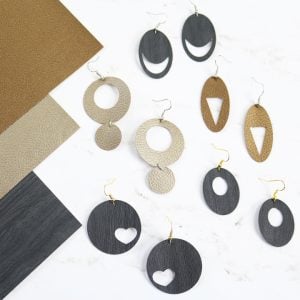 Cutting Earrings with a Cricut Machine
It is so easy to make earrings with a Cricut. You will have a pair for every occasion!
Read More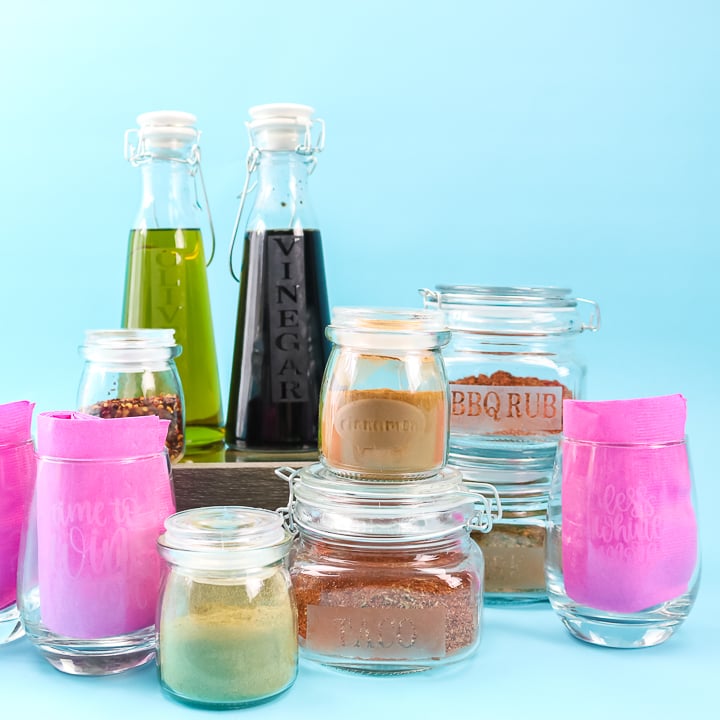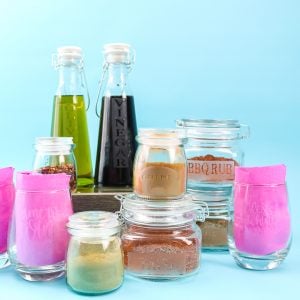 How to Etch Glass with a Cricut
Grab your Cricut machine and start etching glass with this easy to follow tutorial.
Read More