Tea towel printing at home has never been easier! I am going to show you how to use Chalk Couture to print your own tea towels to keep, give as gifts, or even to sell. Are you ready for a quick and easy project that will look amazing in your kitchen? You will also want to scroll to the bottom of this post as I am joining with some other bloggers showing you the versatility of Chalk Couture today!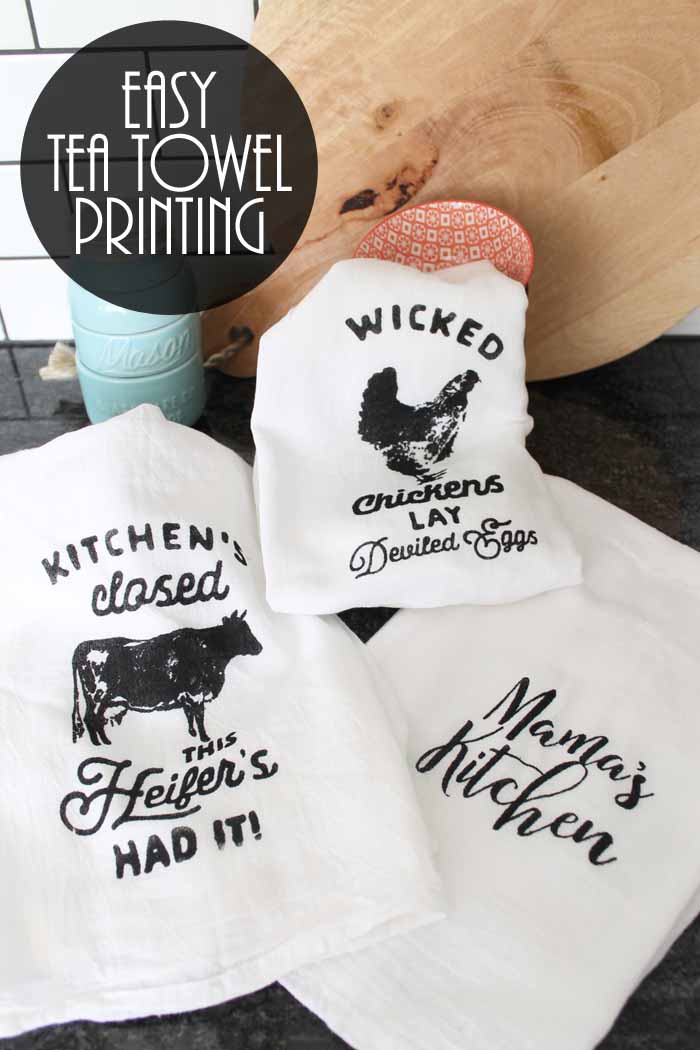 Supplies needed for tea towel printing:
I am an independent designer with Chalk Couture and the links below are from my online shop.
Chalk Couture Transfer (I used Mama's Kitchen and Wicked Chickens.) (You can find a wide variety of transfers that will work for tea towels here.)
Couture Ink (in any color)
Ink mat (currently sold out but you can use an old Cricut or Silhouette mat instead or even try cardboard sprayed with stencil adhesive)
Squeegee (currently sold out but use a kitchen spatula that you will not use in your kitchen again)
Tea towels
Iron or Heat Press
Painter's Tape
Clorox Wipes
Magic Eraser (optional)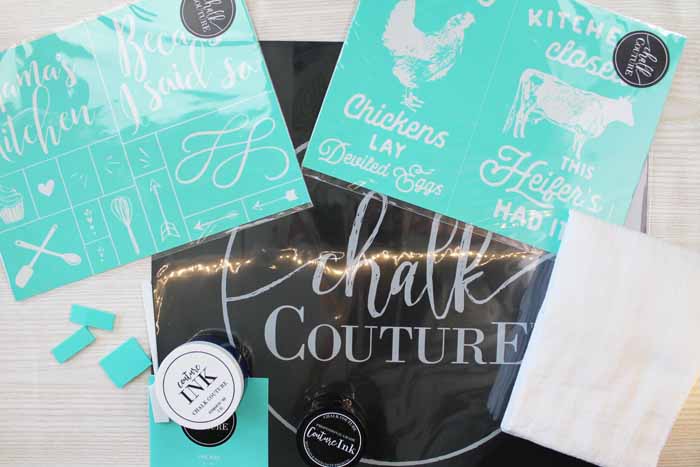 Learn all about tea towel printing with Chalk Couture in the video below. It is so easy but I thought showing you would be better then telling you.
Can't watch the video or missed some of the steps? Try the instructions below!
Tea Towel Printing with Chalk Couture Instructions
Start with a tea towel that has had all of the wrinkles pressed out.
Apply the tea towel to the ink mat. NOTE: If the ink mat is out of stock, use an old Cricut or Silhouette mat or cardboard sprayed with stencil adhesive.
Cut the transfer apart on the cut lines.
Remove the transfer from the backing paper and then apply to the appropriate location on your tea towel. Be sure to press down well and eliminate any air bubbles.
You will also want to apply painter's tape around transfer as the ink is permanent and you do not want any outside of the transfer area.
Open ink container and be sure to stir well.
Then apply the ink to the transfer in a few blobs.
Use the squeegee to pull the ink across the transfer. Ensure that all areas are covered then return any excess to the container for use on another project.
Pull up the painter's tape first and discard.
Then pull up the transfer. You can lay this in some water if you do not have time to clean immediately.
Carefully pull your tea towel up from the ink mat. Hang to dry.
Clean Up
Start by cleaning your ink mat with a damp rag. Do not use Clorox wipes on this! Set aside and allow to dry before adding the protective cover back to the mat.
Clean up your squeegee and stir stick with a Clorox wipe.
Wipe excess ink from your transfer with a Clorox wipe or a rag in the water. Then move to an old towel. Wipe away all ink on the front and back with a fresh wipe.
Dark inks tend to stain your transfers. If you want to clean this staining, use a damp magic eraser and rub on the stain to remove.
Dry your transfer with the adhesive side up then return to the backing paper for use again and again. Remember that these transfers can be used 12 or more times so be sure to take care of them!
Heat Setting
Once your ink is dry, it is time to heat set your project. Any project using Couture Ink must be heat set. You can use an iron or a heat press to do so. Settings are as follows:
Iron – medium high heat for 3 to 5 minutes per side.
Heat Press – 305 degrees F for 30 seconds per side.
Be sure to add parchment paper over your design before pressing. Once heat set, your tea towels are ready to go!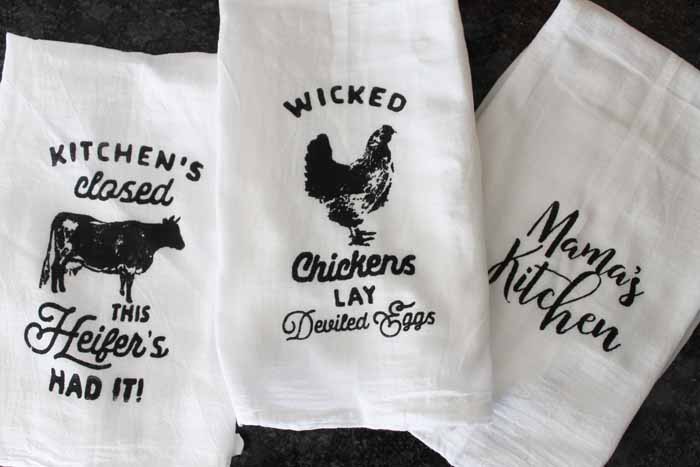 I am not sure which of these towels is my favorite! I do know that the detail you are able to get in such a short amount of time is incredible!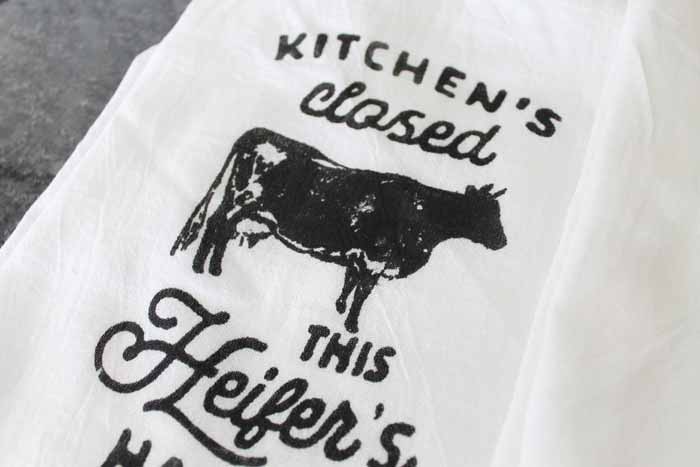 And yes wicked chickens do lay deviled eggs! Don't you agree?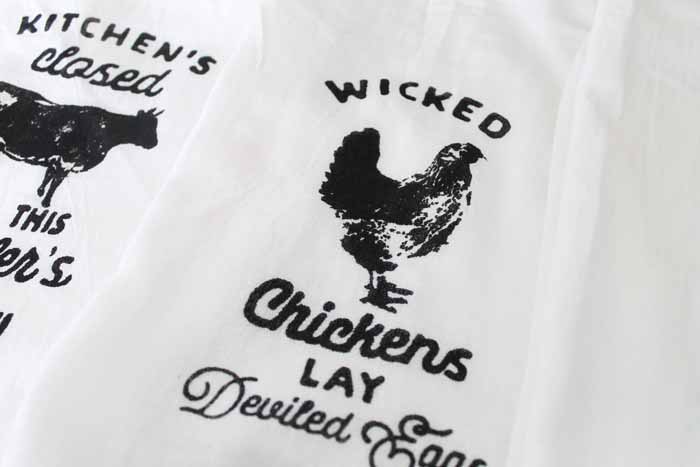 Which of these will you be making? Are you going to try tea towel printing at home? Trust me…it is so super easy!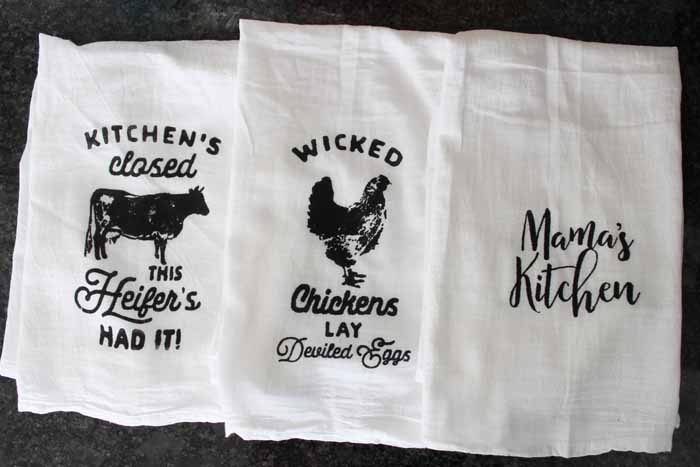 I am off to make even more tea towels with Chalk Couture. I can see so many of the transfers that are available in my kitchen!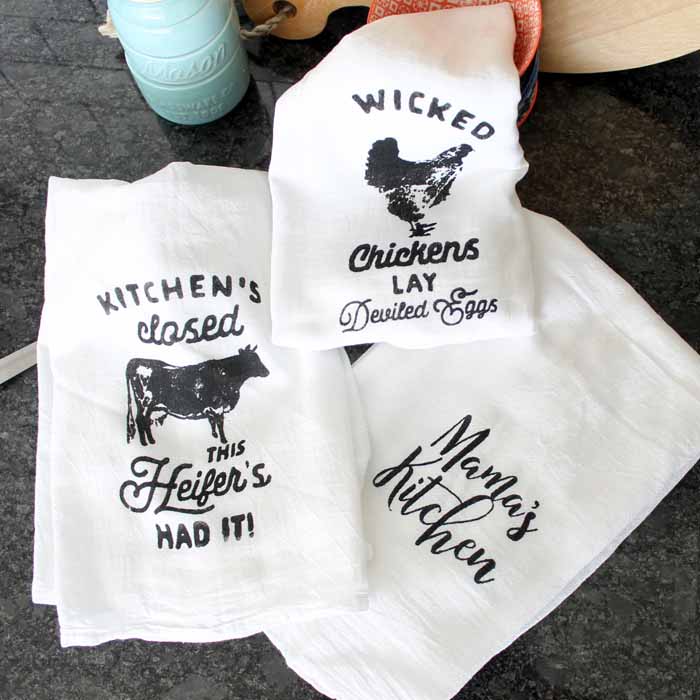 If you love that Mama's Kitchen transfer, you might want to check out the links below! I have some blogger friends that are sharing their projects with this design as well.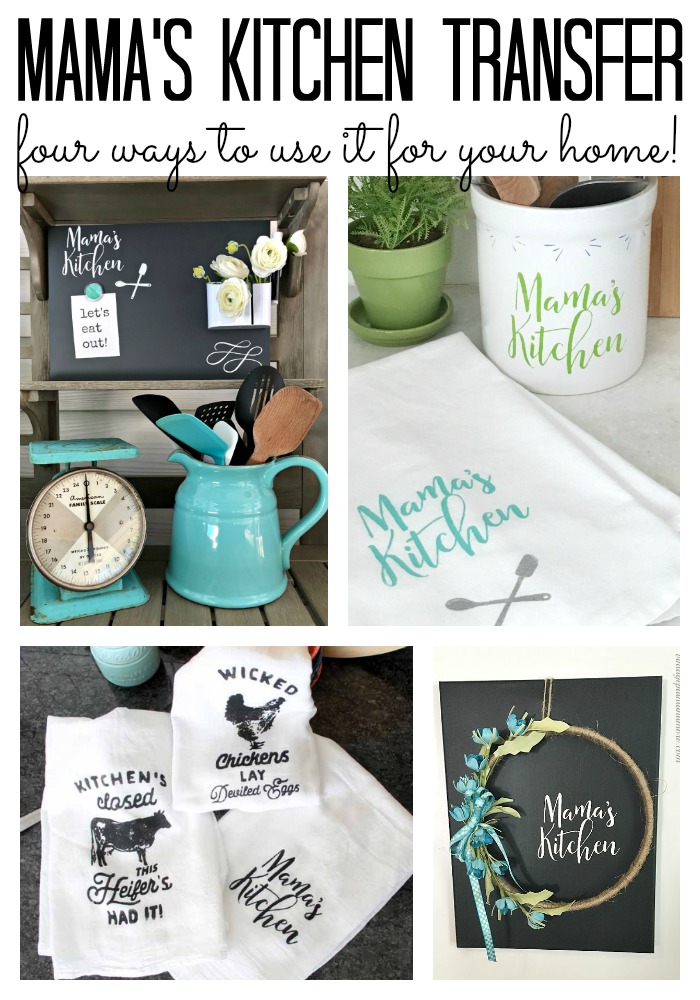 Chalk Couture Beginner's Guide
Getting started with Chalk Couture? Sign up for our email list and then use our handy free printable guide to start creating chalkboard art in minutes!