When you want to give your kitchen a beautiful and affordable farmhouse makeover, check out the Better Homes and Gardens collection at Walmart. I'm sharing a tour of my own rustic kitchen decor to show you the types of amazing pieces they offer!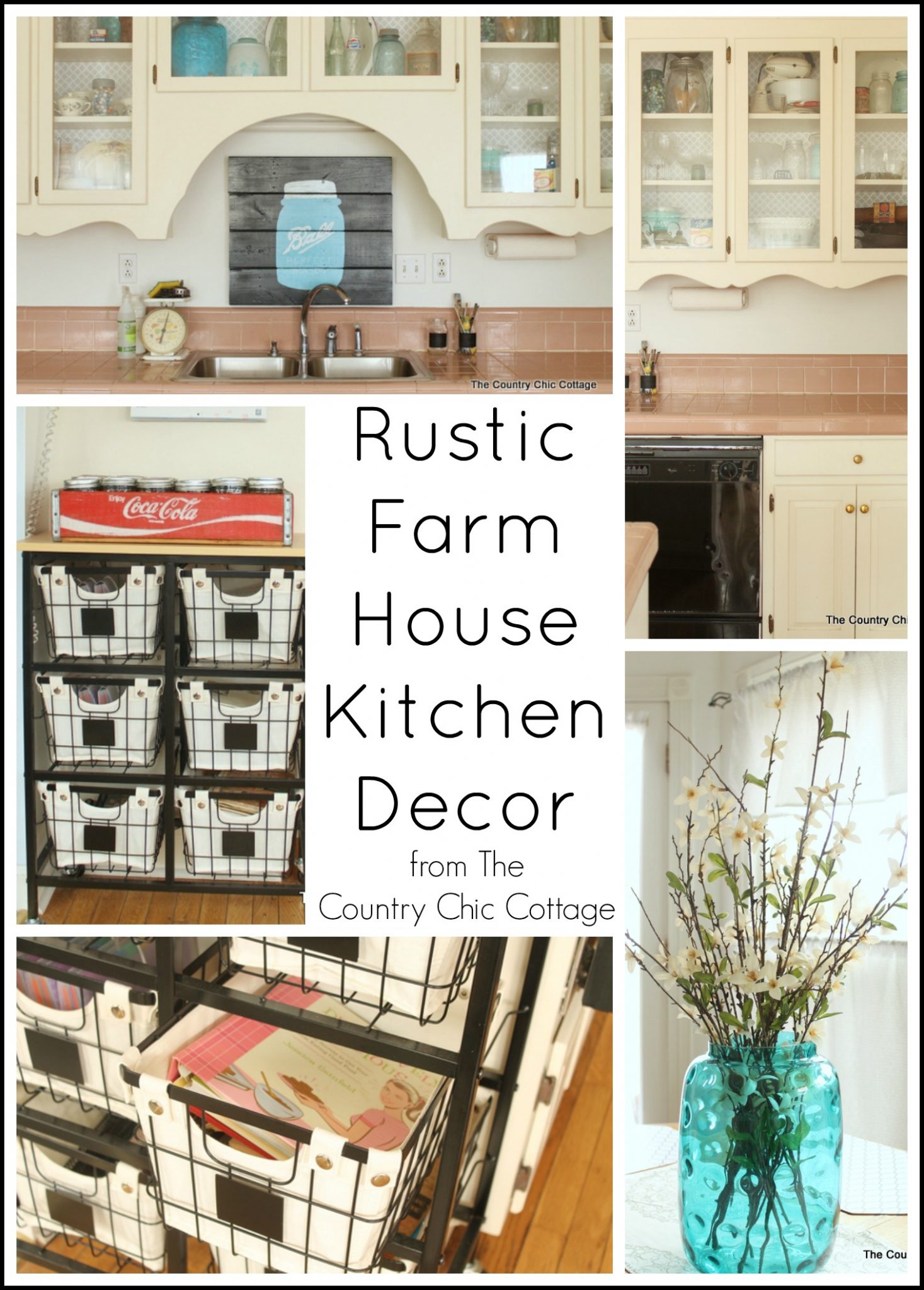 Can you really find great rustic country chic kitchen decor at Walmart? Oh yes, you can! I have found so many great products online and in stores, and I am super excited to share even more of those with you today.
Our kitchen is currently a work in process and I am taking baby steps at getting it updated. I have worked on it every weekend for several weeks, and I must say I am loving the results so far! We have even more to do in this space, but I love seeing the progress along the way. It keeps me moving forward. 😉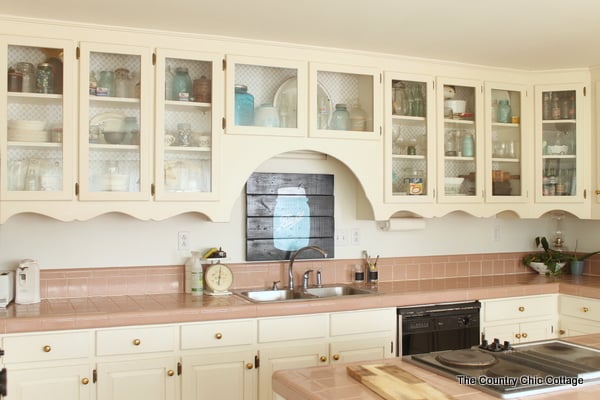 Beautiful And Affordable Farmhouse Rustic Kitchen Decor
Let's take a little tour of my kitchen so I can show you the progress I've made so far and introduce you to some amazing affordable farmhouse pieces you may want to use in your own home.
We'll start with the cabinets and counters and move from right to left in our little tour. In the picture below, we have some storage to the left of the refrigerator. I'm in love with those stacking galvanized bins. 😍 I found them on Amazon and they're perfect for our home!
That Pottery Barn knock-off canister was a nice addition, but those chalkboard label jars might be my favorite storage feature.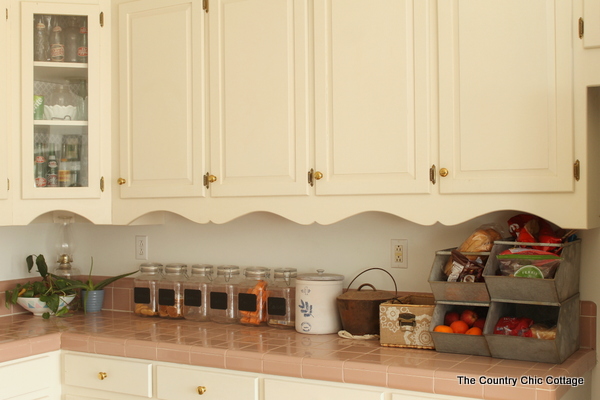 The back wall is full of glass-front cabinets that I love using to house a variety of rustic kitchen decor items. I took shelf paper and applied it to foam core board then put it in the back of every cabinet to add some texture to the background.
It was amazing what a difference this small change made! I love coming up with super affordable and non-permanent ways to give your kitchen a lovely update.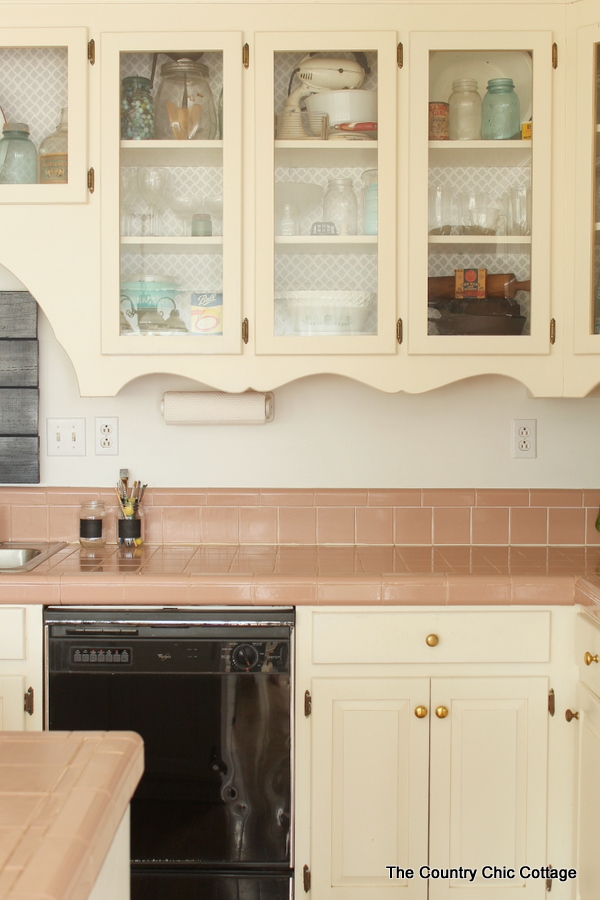 DIY Mason Jar Pallet Sign
Above the sink, I made a mason jar pallet sign (check out the tutorial)! It's the perfect addition to this space and pulls in that lovely blue from other areas of the kitchen. When you love jars as much as I do, this quick and easy little project is a must!
I also use a rustic vintage scale beside the sink to hold sponges and sink stoppers. I love the country chic touch it provides.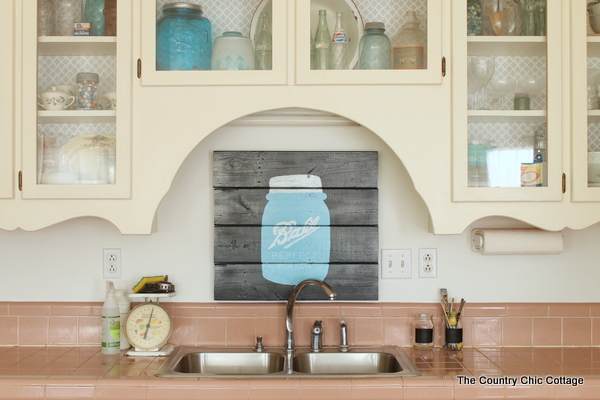 There are more rustic kitchen decor and vintage goodies in the next set of glass front cabinets. I might like jars a little bit….maybe. 😉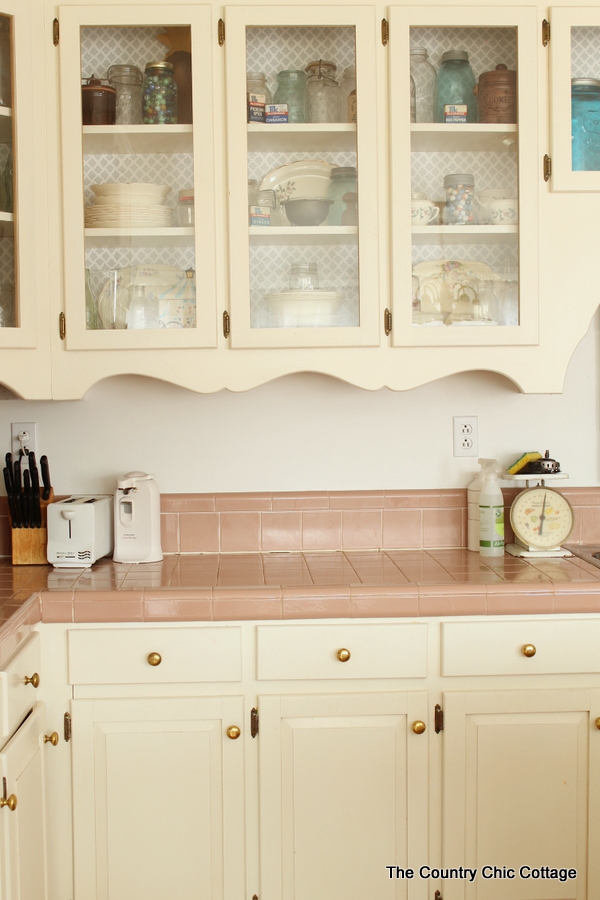 Turning the corner as we continue moving to the left, we have a small family command center where we keep papers and incoming mail sorted and (some what) organized.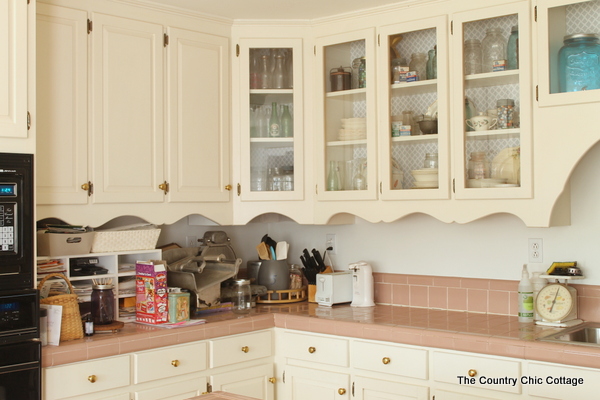 Mixing New Vintage-Looking Pieces With DIY Pieces
Zooming out a bit from that area you can see a few new pieces that I purchased from the BHG collection at Walmart. The Better Homes and Gardens 6-Drawer Wire Cart
is one of my favorite pieces! And, it is wonderfully affordable at under $55!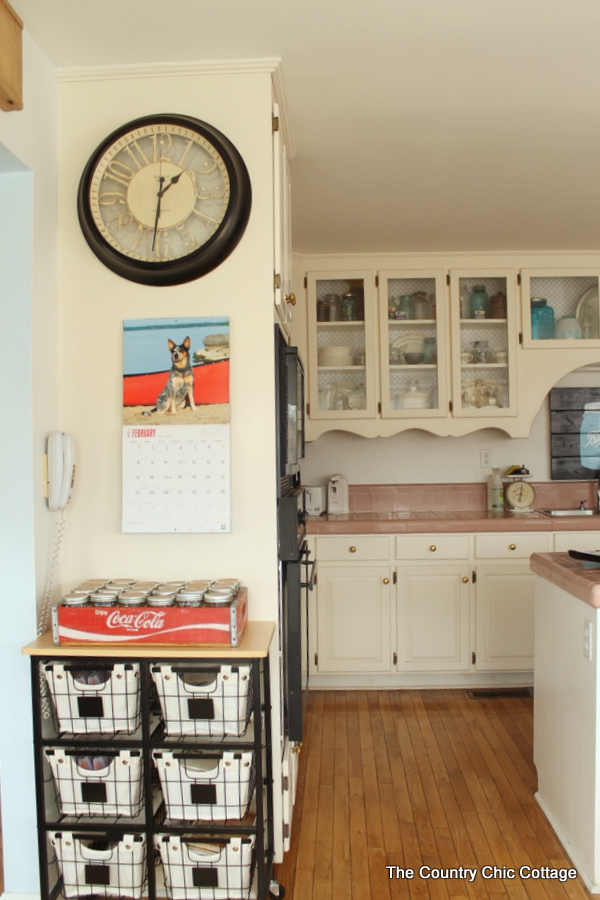 I was impressed with how easy it was to put together and its sturdiness. On top, I have the mason jar hardware organizer that I made recently to store all of the hardware odds and ends in our home.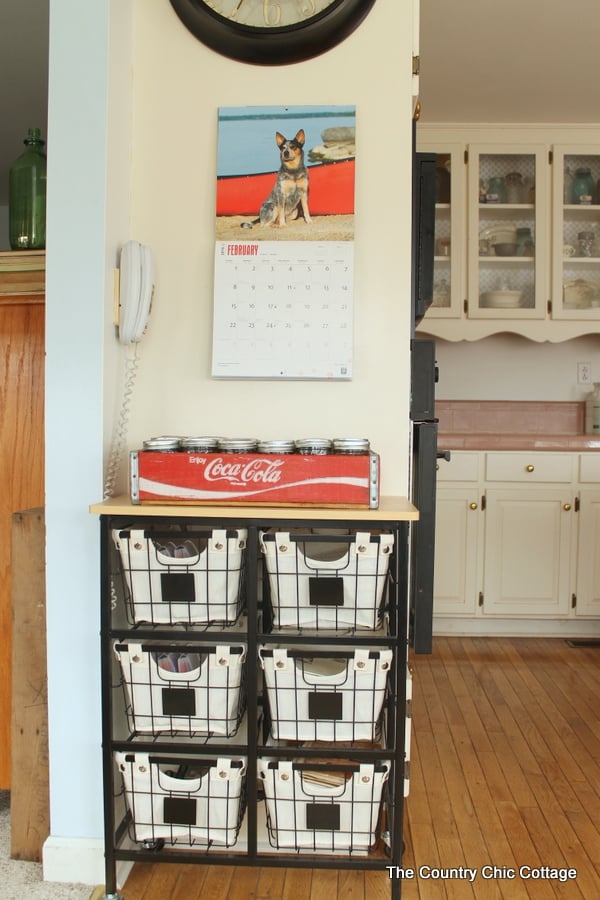 Taking a peek inside the baskets reveals my cookbook collection. I plan to organize it some and write on each of those chalkboard fronts soon so that I know at a glance which books are in which baskets.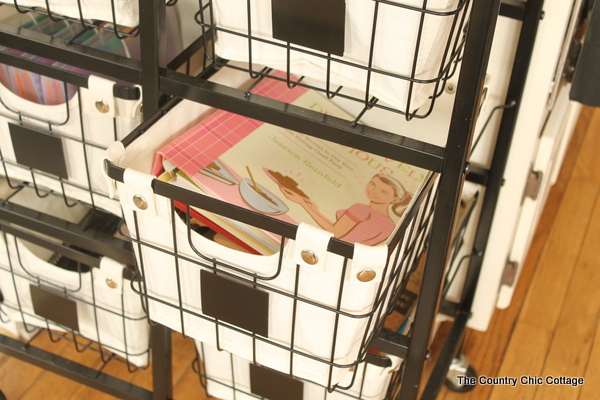 Above the cart is the HUGE Better Homes and Gardens Silhouette Wall Clock
. I am in love with the fact that this clock almost looks vintage! It's a large statement piece but is still so light to hang on the wall. It fits right in with everything else even though it's new.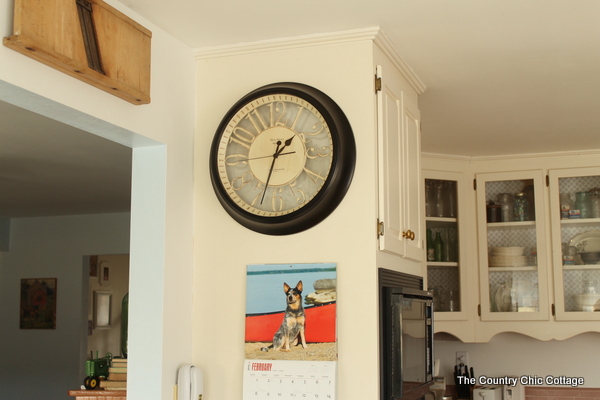 Next to that wall is an opening into our family room. I hung a variety of vintage and new rustic kitchen decor around this opening.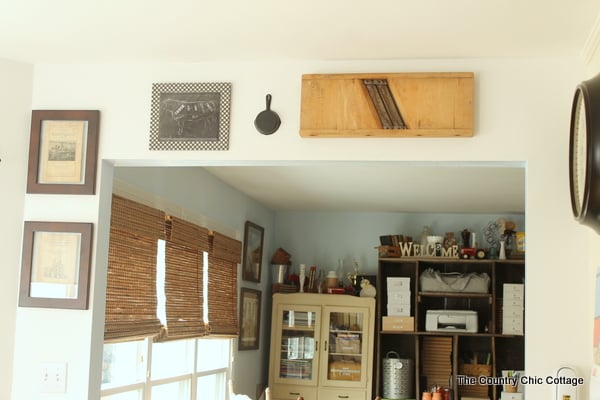 I used a pair of BHG floating frames (not available online but check your local Walmart) to frame and hang some great vintage agriculture guides that I picked up at a yard sale.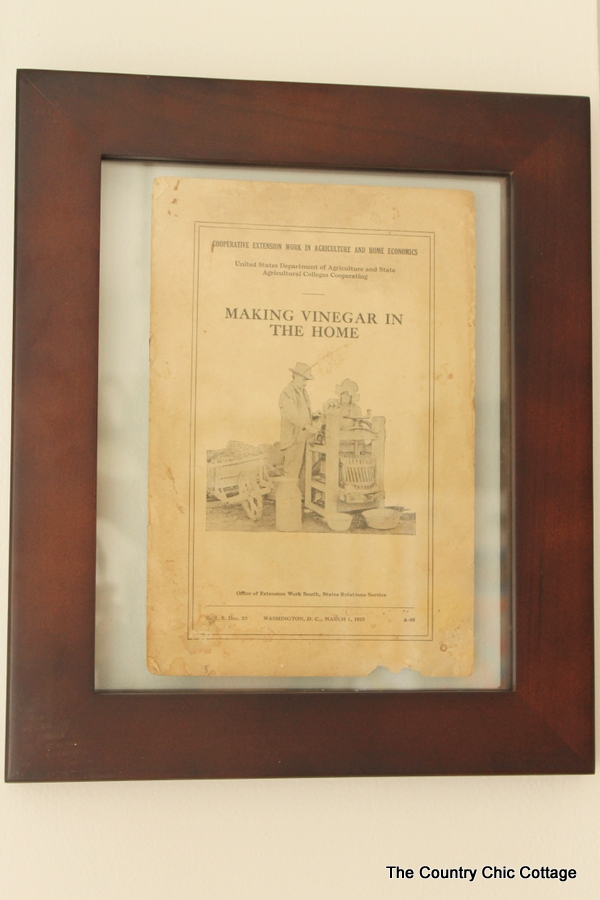 DIY Cafe Curtains
I decided to hand make cafe curtains for the windows to filter the bright natural light and give us some privacy.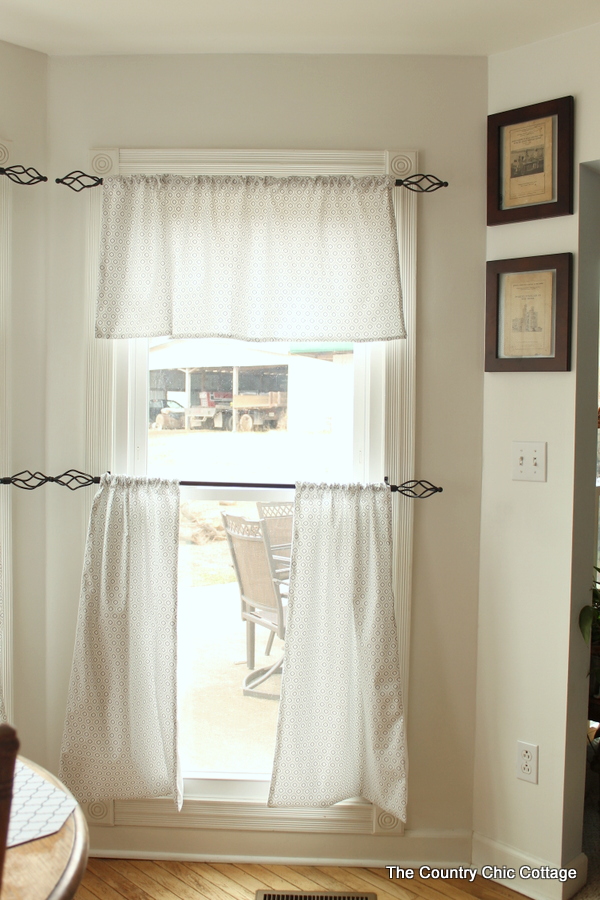 The fabric for these is actually a Waverly print that's now available at Walmart.
I have to say that Walmart has received a great fabric selection recently at our store so make sure to take a look at your store too!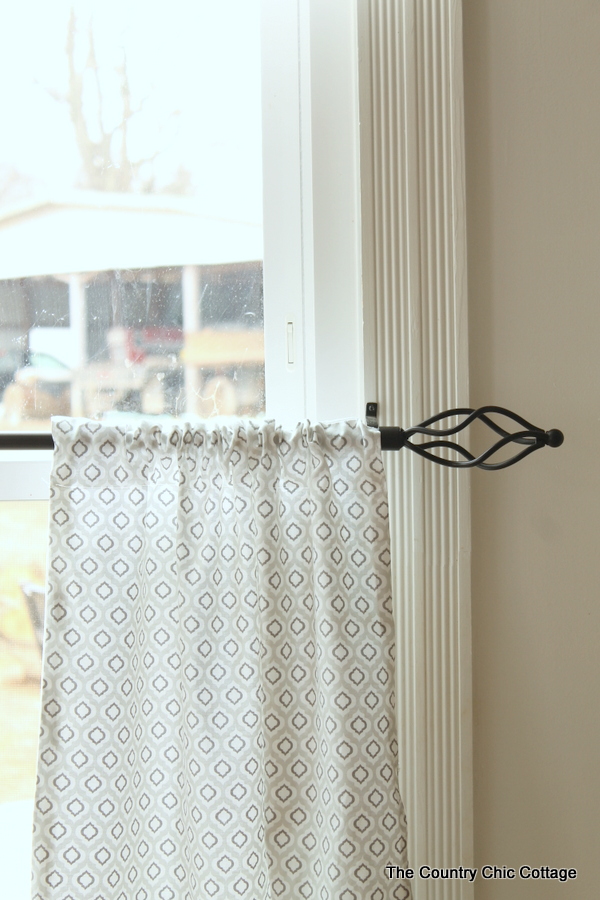 Here is a wider view of our kitchen table area. Yes, I do have a TON of windows in my kitchen (which explains the need for curtains)!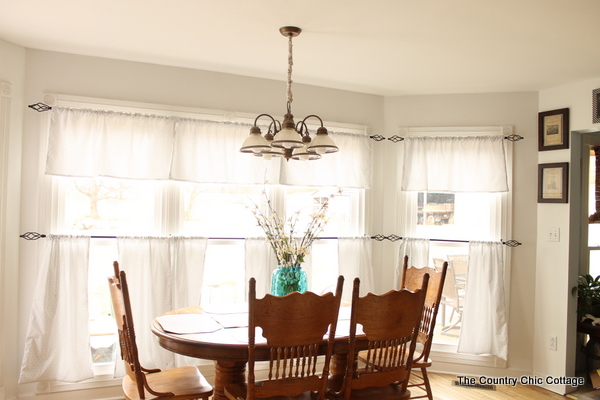 Rustic Kitchen Decor At The Kitchen Table
Let's take a closer look at the kitchen table. I picked up that jar in the center of the table from TJ Maxx and the branches are from Hobby Lobby. The combination is beautiful and the blue jar ties in with the blue in other areas of the kitchen.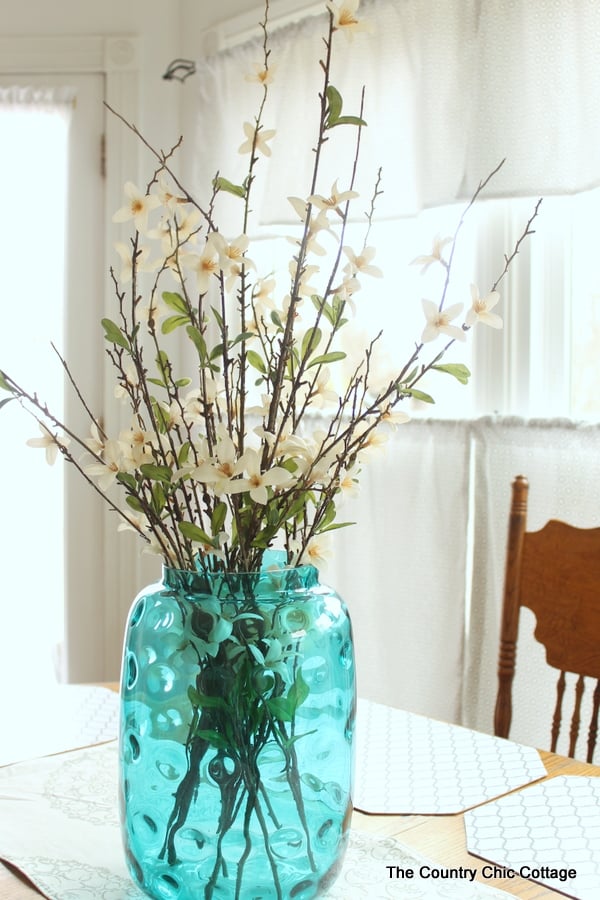 I actually made both the placemats and the table runner. They are both so super simple to make that really anyone can do it if you want to create your own DIY rustic farmhouse kitchen decor!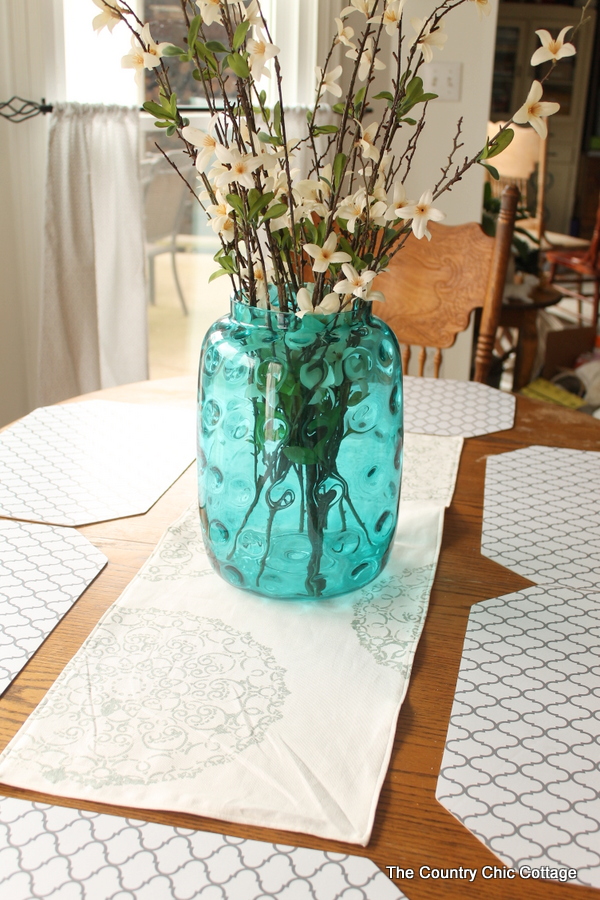 Easy DIY Table Runner
The runner is stenciled with some metallic paint. The fact that it's very rustic and imperfect fits right in with this kitchen.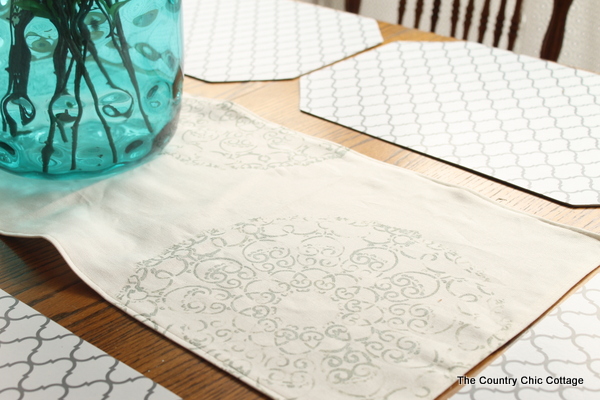 Want to make a stenciled runner yourself? I made a quick graphic (below) to show you how! The fabric is a white canvas material that I found a remnant of at my Walmart. I just sewed a hem all the way around and stenciled on the design randomly.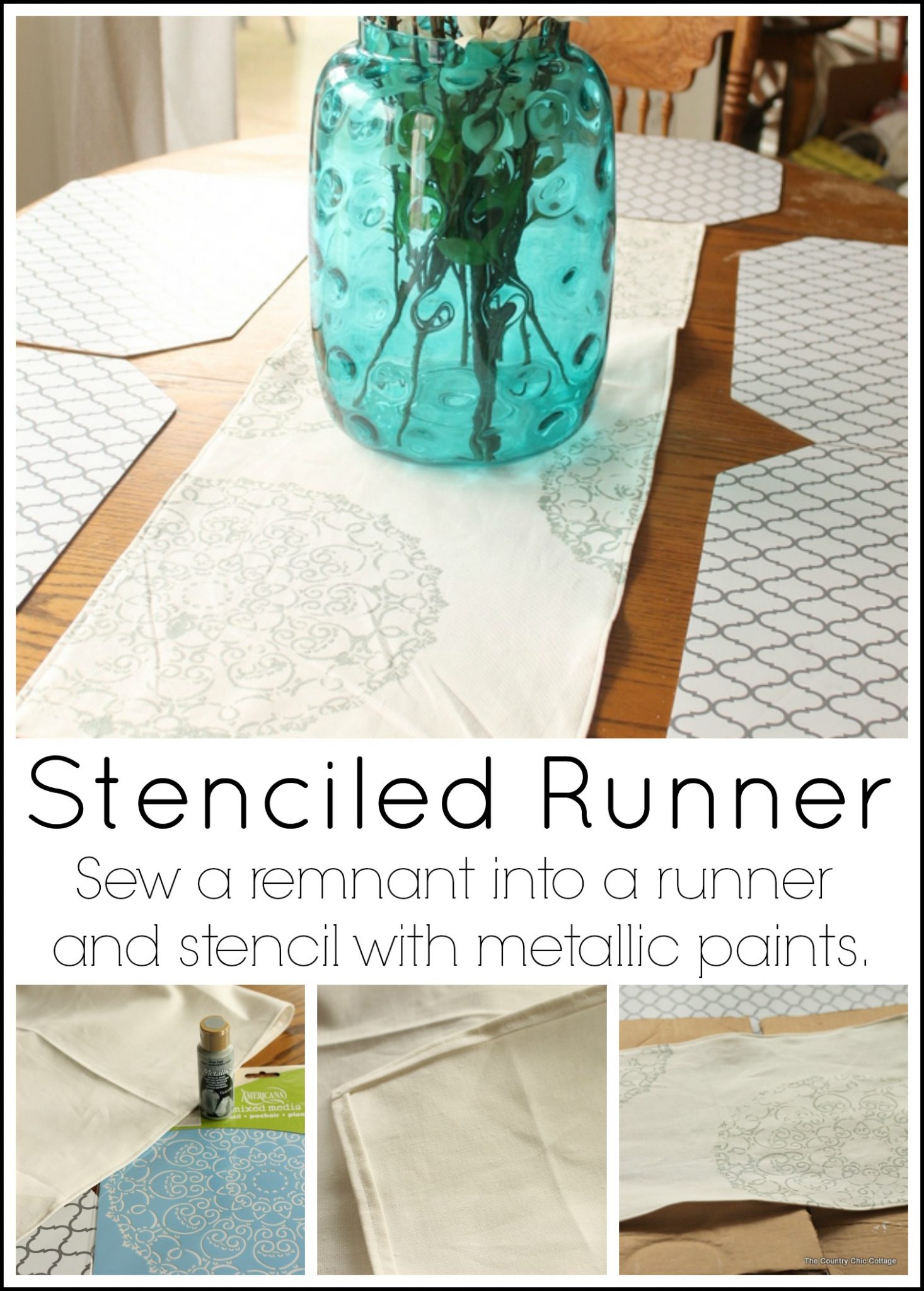 Easy DIY Washable Placemats
I had the HARDEST time finding placemats that would work in this room because I really needed something that I could easily clean. Since the kids use this table for everything from eating to homework to art projects, the ability to quickly and easily clean up is a must.
I came up with a super simple and affordable solution that looks amazing as well.
Grab just plain cheap placemats from Walmart along with a roll of shelf liner. Adhere the liner to the mats and then trim the excess. So easy and so far they are holding up so well!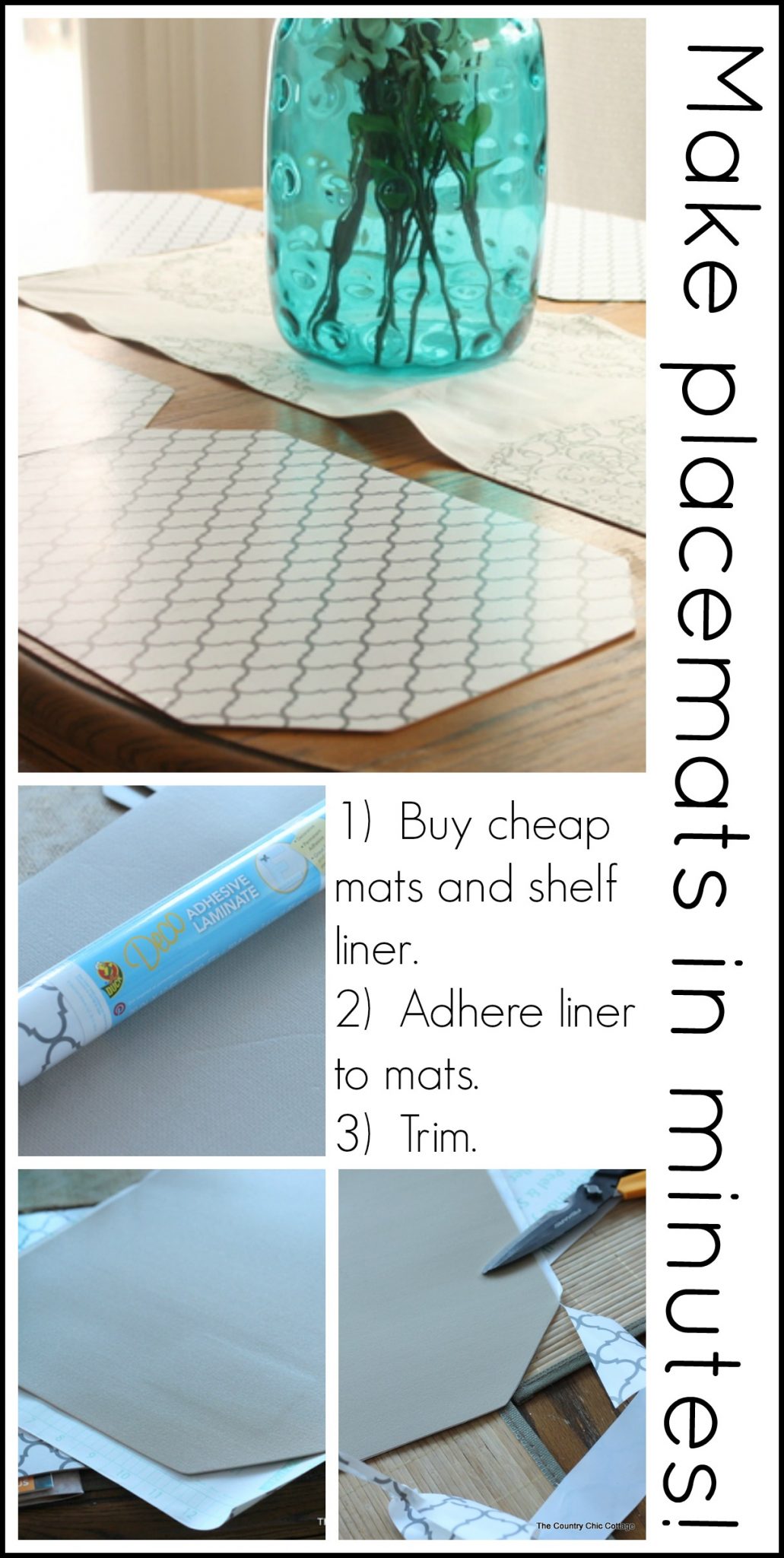 I hope y'all have enjoyed this tour of our kitchen as much as we are enjoying living in it!
More Rustic Inspiration