The recent release of the fine Cricut deboss tool and the other tools that can be used with the QuickSwap housing and the Cricut Maker have been making a big splash. I am going to do a post and video on each of them so you can see just how to use them with your Cricut machine. First up is how to deboss with your Cricut Maker. The fine deboss tool is only for the Cricut Maker and you can see my tests with it below. Psst…be sure to subscribe to our YouTube channel here so you don't miss any of the videos!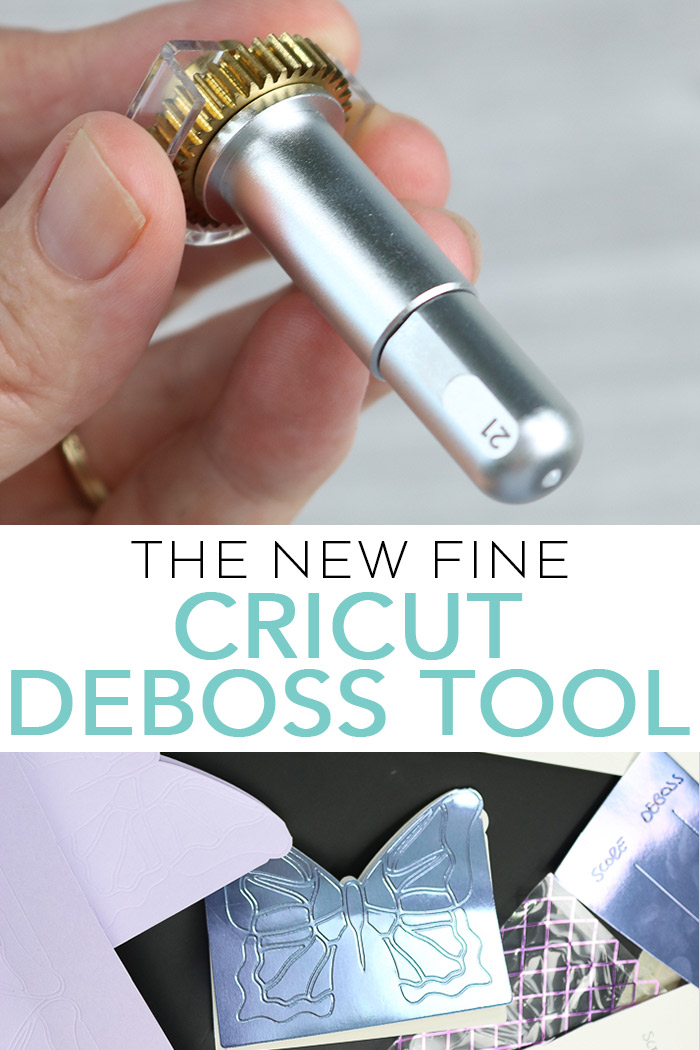 Some links below may be affiliate links which means that you do not pay anymore, however, a small commission will go to support this site.
What is the fine Cricut deboss tool?
Now you can deboss any design with no folders required right in your Cricut Maker. This tool contains a small rollerball in the tip that will roll over any shape or curve to give a debossed look.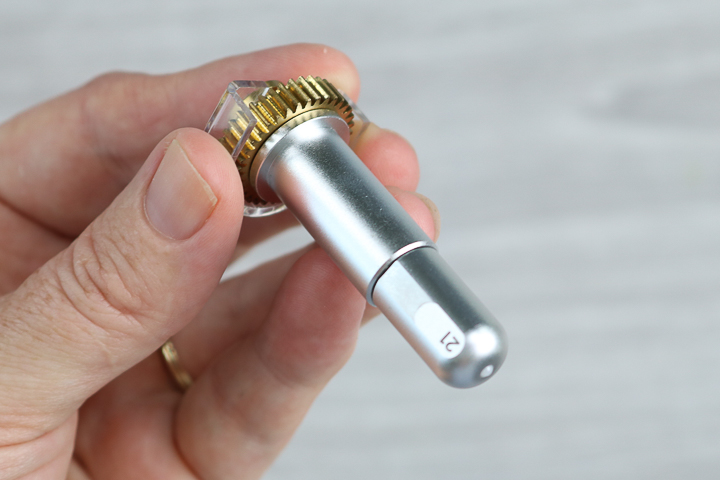 The rollerball itself can be seen in the image below. It is very small and not very deep. Keep this in mind when choosing a tool to work with your project.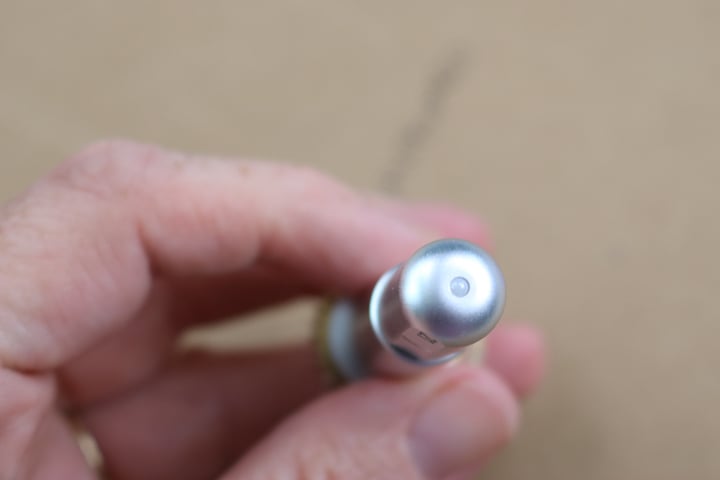 The tip itself fits on the same QuickSwap housing as the scoring wheel and the other new tools in Cricut Maker line up. The deboss tip is designated with a number "21" on the tip. Want to see how the QuickSwap housing works? Head here for a short video!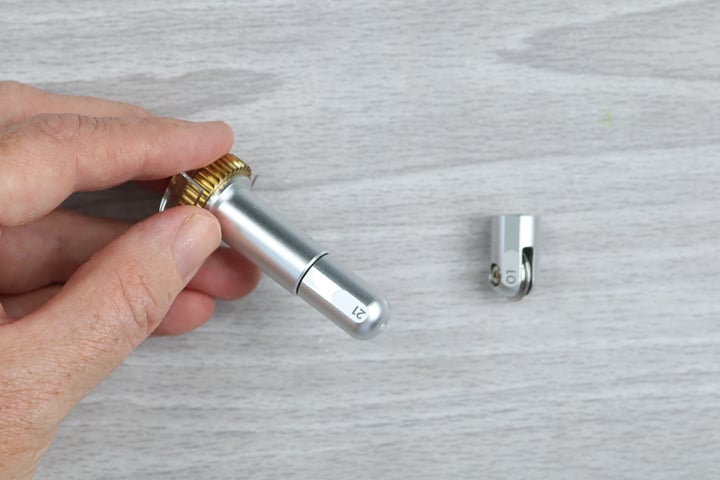 You can actually just purchase one housing for all of your tips but you may want two if you will be working a lot with these tools. You can find the deboss tool here or just the tip here. The deboss tip is meant for a fine deboss application. You can actually see it next to the engraving tip below and what a big difference there is. I will be doing a post on the engrave tool soon so y'all stay tuned!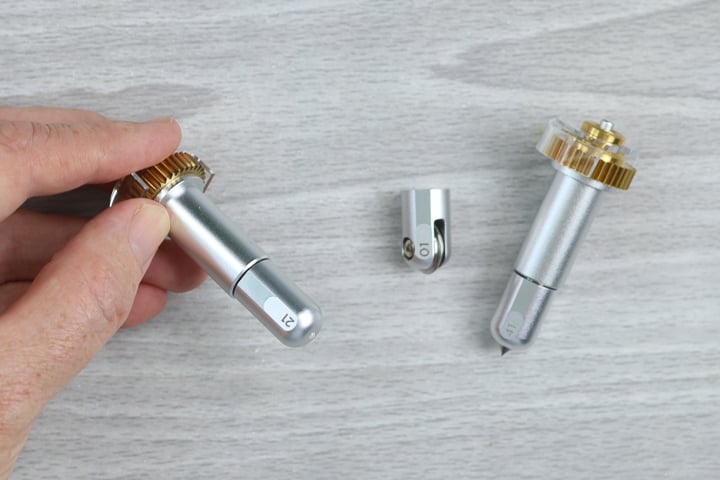 Cricut Fine Deboss Tip Video
Want to see all about this tip in a video? You can watch that below! This is also the only place where I have a description of how to change to deboss lines in Cricut Design Space so be sure to watch.
Can't watch the video or missed something? Everything I discussed in the video can be found below as well.
Why not deboss with the scoring wheel?
So, I have made a few debossing projects and just used the scoring wheel? Why not continue to do that? Why do you need two tools? Here is a comparison to show you why the scoring wheel does not work well for a debossed pattern.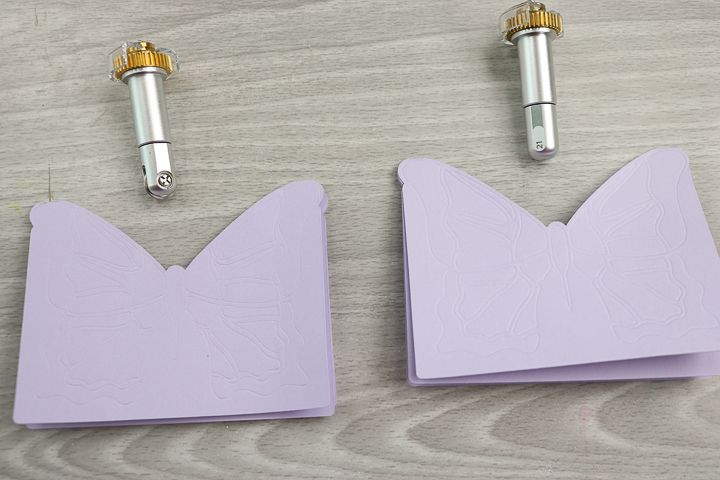 Below is a card that we made just using the scoring wheel. While you can see the butterfly pattern, can you see how the wheel goes slightly over each line? The scoring wheel does not stop exactly on the line making your deboss look a bit sloppy. The finer the pattern, the worse this problem becomes.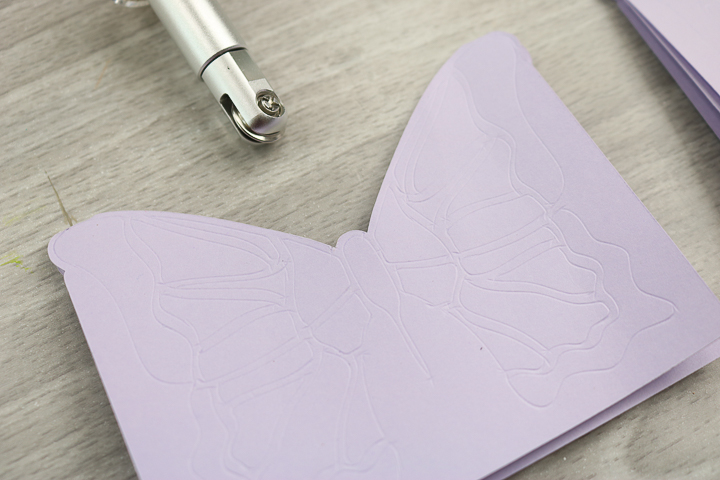 The same card made with the deboss tip shows that this tool really does a much better job. The lines are crisp and the pattern is perfect. If you want to deboss with your Cricut, the fine deboss tip is really the only way do go.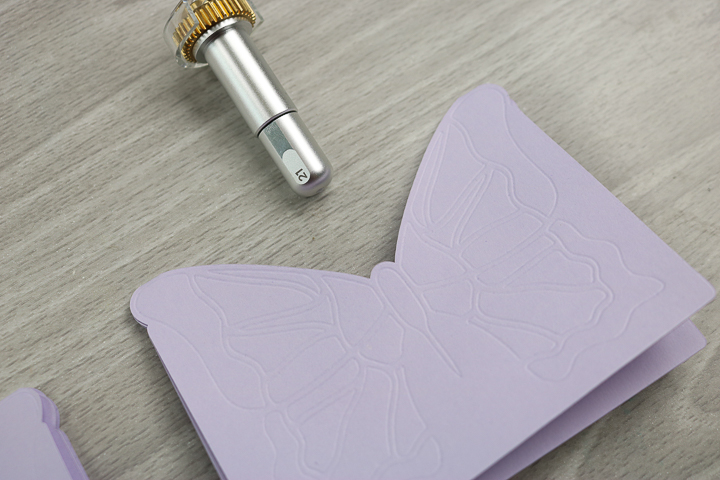 What materials can you deboss on your Cricut Maker?
So, what can you use the fine Cricut deboss tool on? The official list from Cricut for materials you can deboss is as follows:
Acetate (including the foil version)
Adhesive Sheet, Double-Sided
Construction Paper
Copy Paper – 20 lb (75 gsm)
Copy Paper – 32 lb
Deluxe Paper
Duct Tape Sheet
Faux Leather (Paper Thin)
Flocked Paper
Foil Holographic Kraft Board – Neon
Foil Poster Board
Genuine Leather
Glitter Cardstock
Heavy Cardstock – 100 lb
Heavy Chipboard
Medium Cardstock – 80 lb (216 gsm)
Heavy Watercolor Paper – 140 lb (300 gsm)
Kraft Board
Light Cardstock – 60 lb. (163 gsm)
Light Chipboard – 0.37 mm
Kraft Cardstock
Light Glitter Paper
Light Patterned Paper
Matboard
Metallic Poster Board
Mulberry Paper
Pearl Paper
Poster Board
Shimmer Paper
Sparkle Paper
Sticker Paper – Removable
Sticky Note
Tooling Leather 2-3 oz. (0.8 mm), 4-5-oz. (1.6 mm), 6-7 oz. (2.4 mm)
Transparency
Vellum
I thought we would put a few of those materials to the test to see how well the tip works under a variety of conditions. We will be using this butterfly card cut file for all of our experiments below if you want to use it for your project.
Medium Cardstock
The first thing I made was something from medium cardstock. You saw this above when comparing the scoring wheel and deboss tip. The butterfly looks amazing! I also did some comparisons on the depth of the scoring wheel and the deboss tip and I must say that every single time the deboss tip is slightly deeper and more pronounced.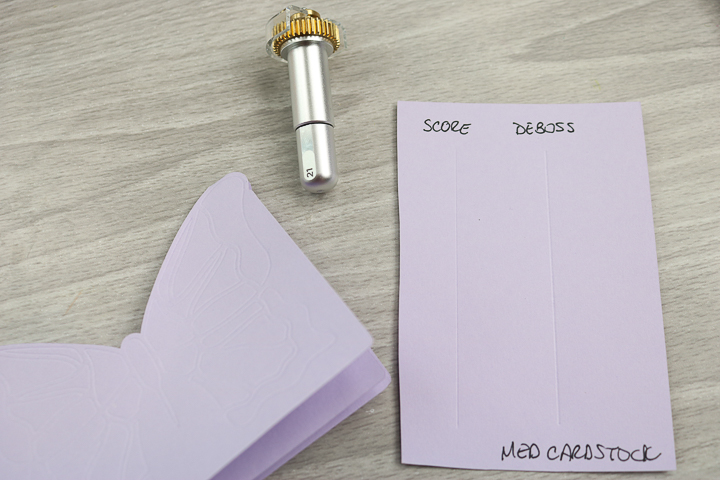 Now, from behind, the deboss is not very pretty. This means you really can't use the back of the project for an embossed look. It also means that for something like this card, you will need to use another piece to cover the inside.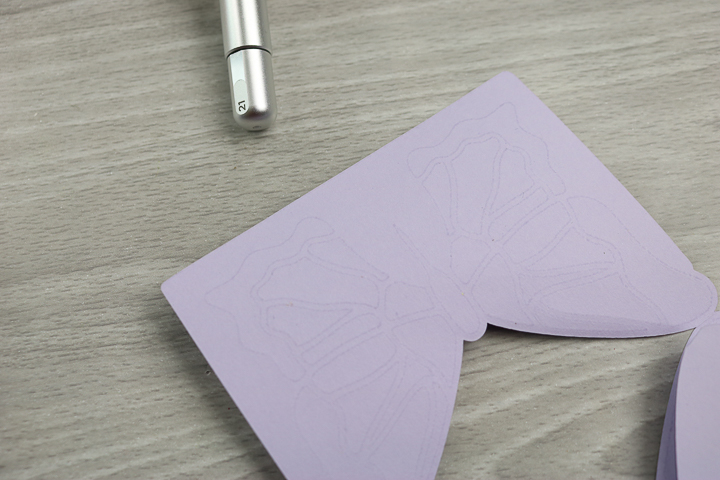 I also wondered if I used a thicker material setting with the thinner material if I would get a deeper deboss. The answer is no. I used a chipboard setting on medium cardstock and the deboss was the same as the setting for cardstock.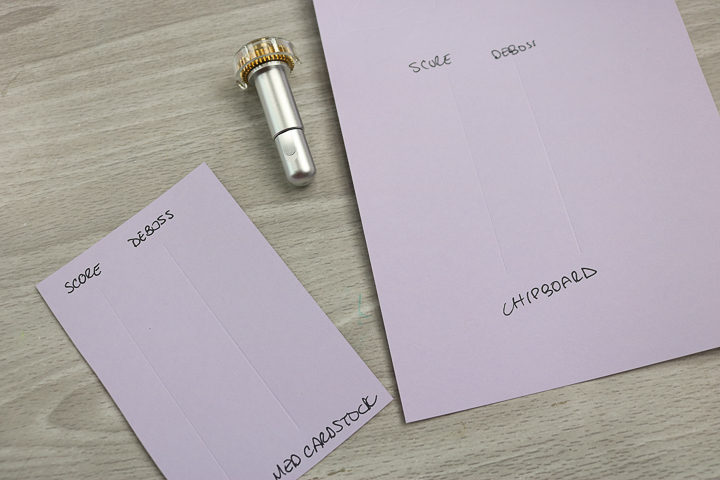 Foil Paper
What happens with you use the fine Cricut deboss tool on foil paper? Magic! I really loved this tip for this type of paper. It really pops and adds something extra special to a project.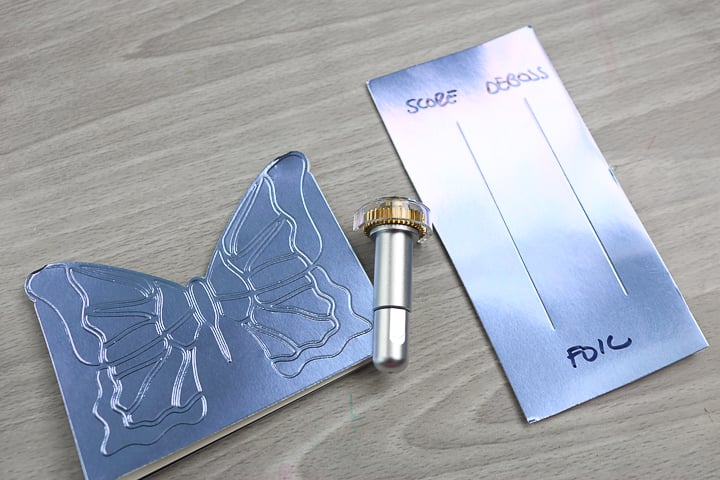 Acetate
The Cricut deboss tip also worked on acetate. I will say that the lines are hard to see on this material so the application would have to be unique but it is definitely possible.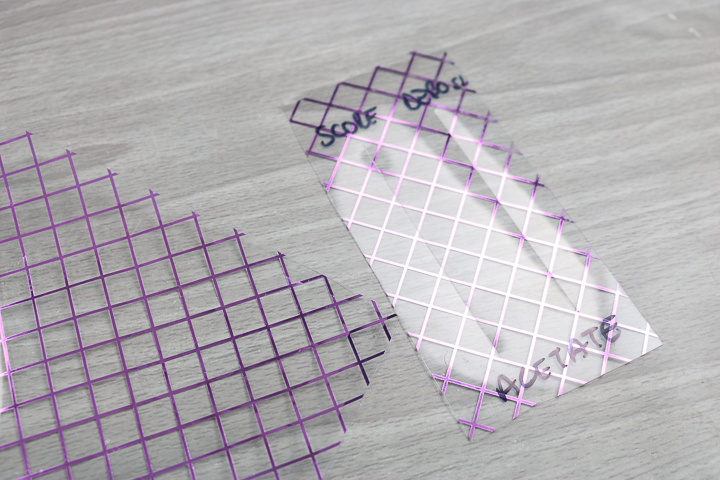 Kraft Paper
The debossing tip for the Cricut Maker also works great on this material. This is one of those where you probably add ink or something else to make the deboss pop more as it is hard to see on the white but definitely there!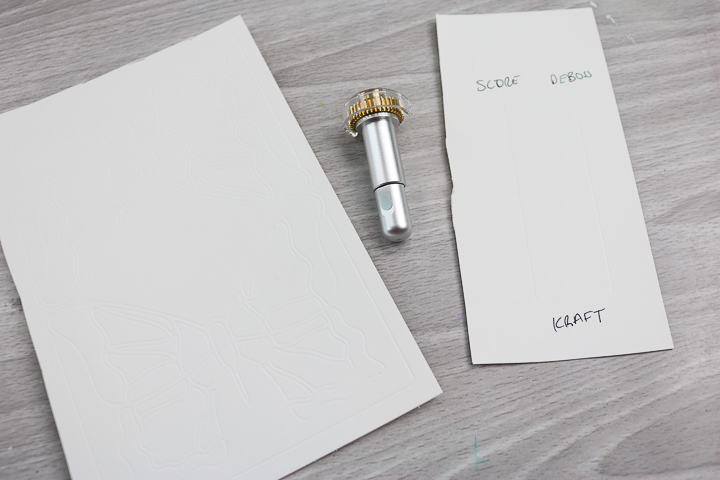 Chipboard
A couple of tips when it comes to chipboard:
Move your star wheels all the way over to the right and only use 11-inch wide material.
Use the strong grip mat and tape down all the way around the edges.
Be sure not to put the tape anywhere that the deboss tool will go. It can "clog" the tip and it will stop.
If you follow these tips, the fine Cricut deboss tool works great on chipboard!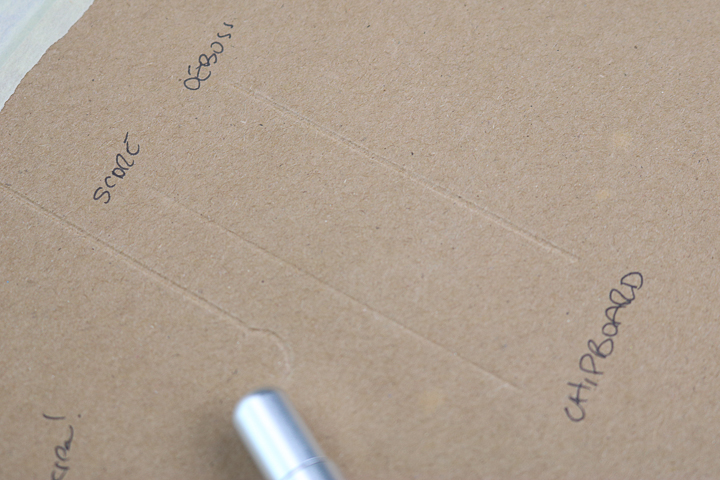 Genuine Leather
So, the thicker the material the more issues I had with the deboss tip. Leather gave me a few issues. Here are a few tips if you are going to attempt a project:
Move your star wheels all the way over to the right and only use 11-inch wide material.
Use a NEW strong grip mat and tape down all the way around the edges.
Be sure not to put the tape anywhere that the deboss tool will go. It can "clog" the tip and it will stop.
The deboss did work but not very well. The effect is super subtle. I am actually hoping that the engraving tip works better on leather. Y'all stay tuned as I hope to have that post up soon and you can compare the two before deciding which to purchase. I was able to get the deboss to work on the leather but I frankly was not impressed. I will probably not use this tip for this application again actually.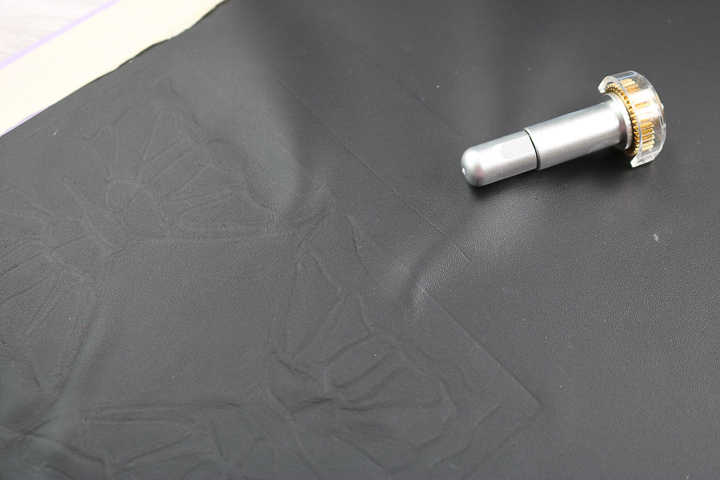 Do you need the fine debossing tip from Cricut?
Should you buy this new tool for your Cricut Maker? Is it worth the investment? The bottom line is that if you do a lot of debossing when crafting, it is definitely worth it. Think about never needing to invest in another debossing folder. Just fire up your Cricut machine and do it all right there. I think the fine Cricut deboss tool is a great addition to your machine for those that love that debossed look.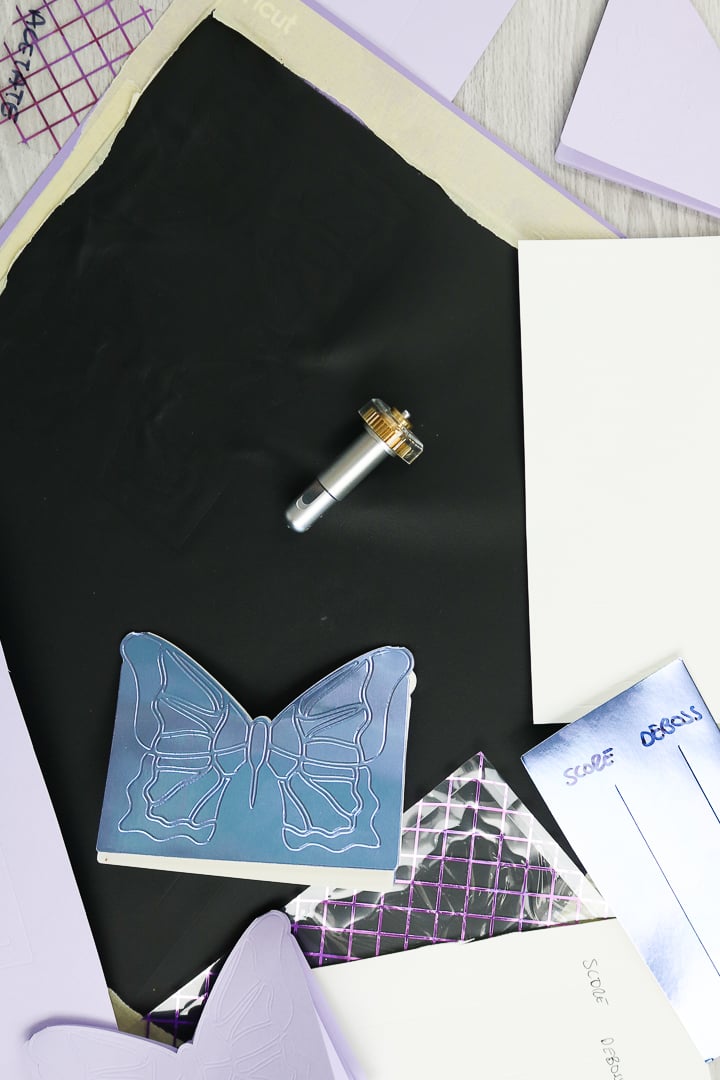 I do hope this post has helped you learn about the new tip and what it can do on a wide variety of materials.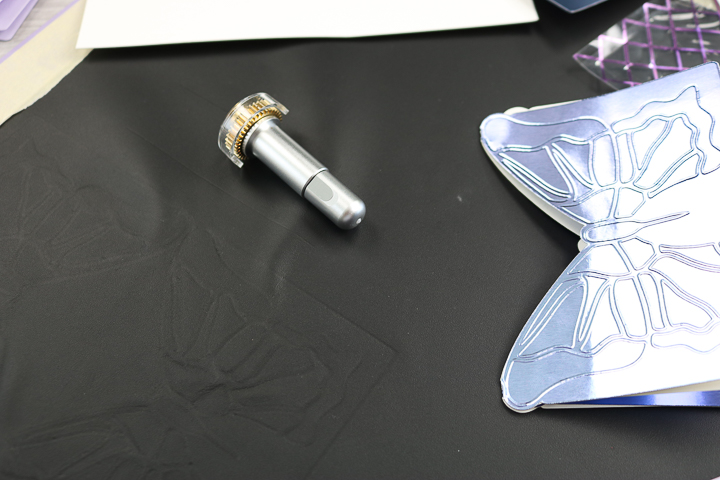 Jump in and make something amazing with your deboss tip from Cricut!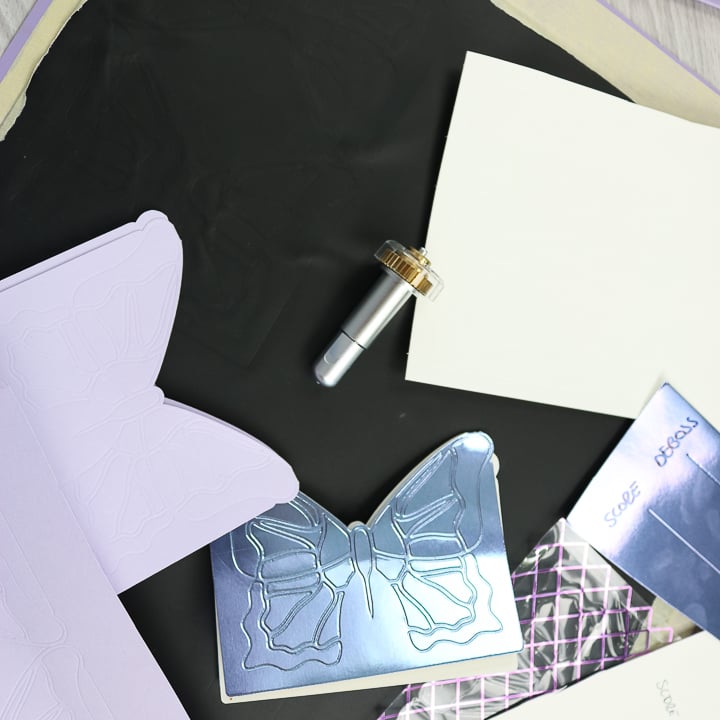 We would love if you share your creations in our Facebook group as well. We are always looking for inspiration. You can also ask any questions you have about the fine Cricut deboss tool below. Enjoy and happy crafting!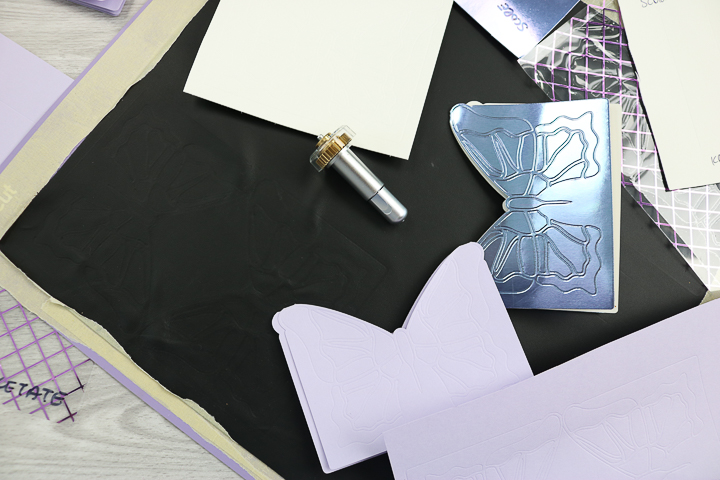 Love this post on the deboss tip for the Cricut Maker and want more ideas? Try the links below!
New to Cricut?
Sign up for our email list to download the Beginner's Guide to Cricut Design Space for FREE today!
Sign up to get the guide emailed to you!