A whimsical fishbowl necklace is the perfect addition to just about any outfit. Plus, this is probably the easiest resin jewelry you will ever make. So, if you have wanted to start resin crafting but have been unsure or scared, this may be the project for you. Something that is easy and cute? Sign me up! In fact, once you are done with this one, you might move on to some resin coasters or another more challenging project.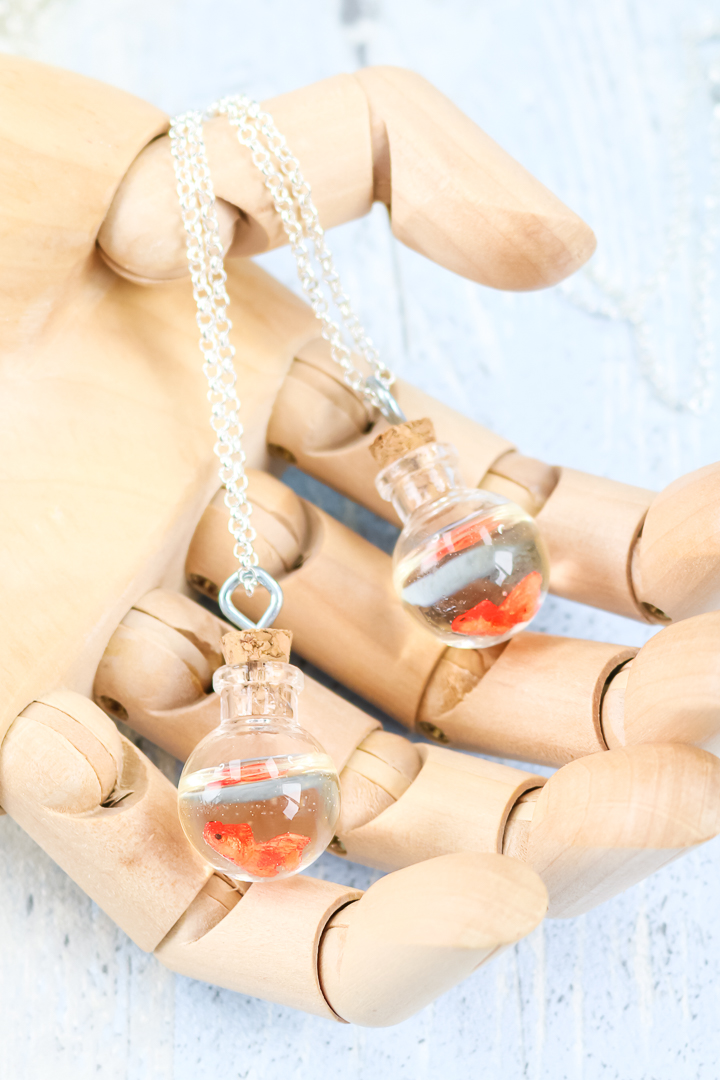 Fishbowl Necklace
The most challenging part of this is finding the right supplies. You will need to purchase mini goldfish that are the correct size for the bowls that will go on the necklace. After that, the rest of the instructions are a breeze!
Supplies needed:
Stir Sticks
Protective Gloves
Eye hooks
Miniature goldfish (the exact ones that I used are sold out but these look like they would work or you could try making your own clay goldfish)
Necklace chain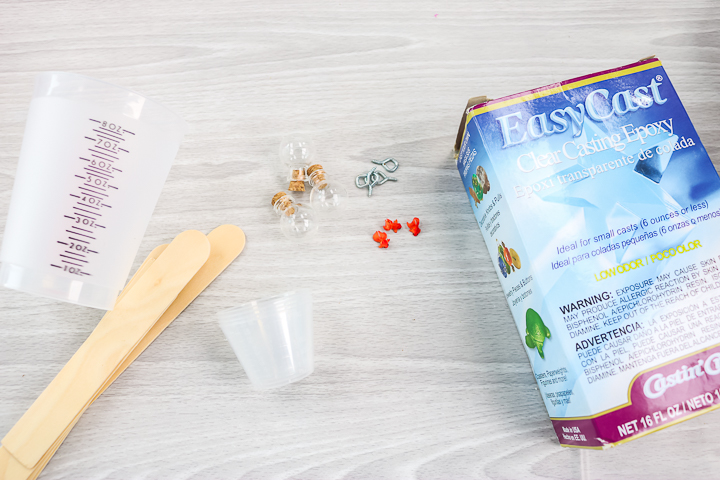 How to Make a Goldfish Necklace
Now that you have your supplies gathered, it is time to jump in and make your own version of this cute necklace. Don't like the goldfish? Look for other miniatures that will work like this as well! I have even made a version with candy eyes for Halloween!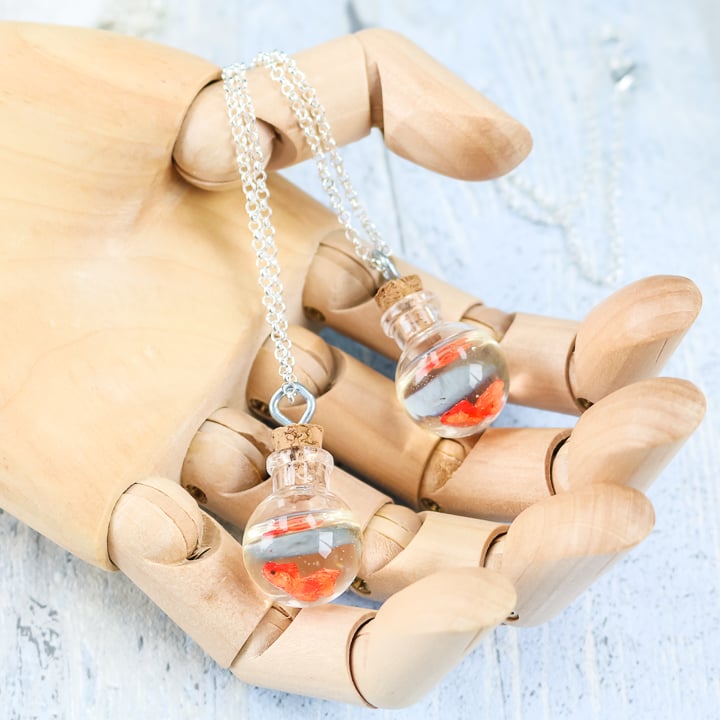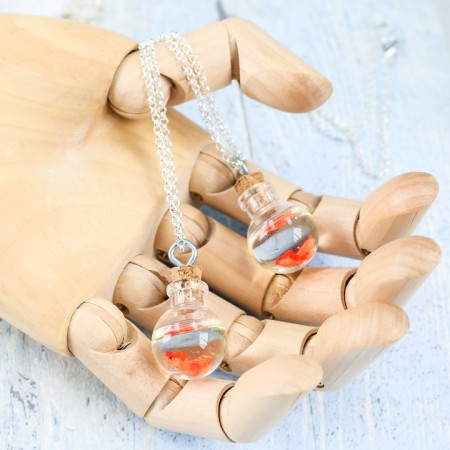 DIY Fishbowl Necklace
Make a cute necklace that includes a goldfish in a bowl for anyone that may love fish or just loves something a bit different.
Supplies
EasyCast Clear Casting Epoxy

Stir Sticks

Protective Gloves

Mini globe containers with corks

Eye hooks

Miniature goldfish

Necklace chain
Instructions
Start by measuring and mixing your 2 part epoxy resin. You will want to wear protective equipment and follow all instructions that come in the box. One of the main reasons for resin failures is this part of the process. You will then add the mixed resin to a small measuring cup. These bend more and will make pouring into the small glass globes easier.

Pour some into one of the glass globes. You want to just add about half of the total amount now as we will be adding more later.

You will need to prop them upright to cure. I had this paint pallet but anything will work as long as they are held up and down instead of laying over.

Allow your resin to cure a while. You want to set up a little bit so your fish will drop in and "float" inside. So hard enough so it won't sink to the bottom but liquid enough so it will embed into the resin. I recommend leaving some in your cup so you can use it to check before adding your goldfish to the bowls.

Once the resin has started to set up, you can drop in your fish and arrange it however you would like. If you drop this too early, it will sink to the bottom. But you want to drop before it sets up completely so that the sticky resin will hold it in place. Use needle nose pliers and even a needle to arrange everything.

Then put the jars back into an upright position and let them cure completely.

Once the resin is cured, you will repeat the mixing procedure for a second batch and add that to the jars. This time you will want to cover up your fish completely. Allow these to sure with the jars in an upright position.

Add the eye hooks to the corks by screwing them into the top.

Add the corks to the top of the bottles and thread in a necklace chain to complete your fishbowl necklace. NOTE: You may want to glue your cork into place to ensure it doesn't come off.
Tried this project?
tag us to show off your work!
Now you have a fishbowl necklace to wear any day of the week. The fish will probably all end up in different locations in the bowls but that is part of the fun! This is a great project to make for gifts or just one for yourself.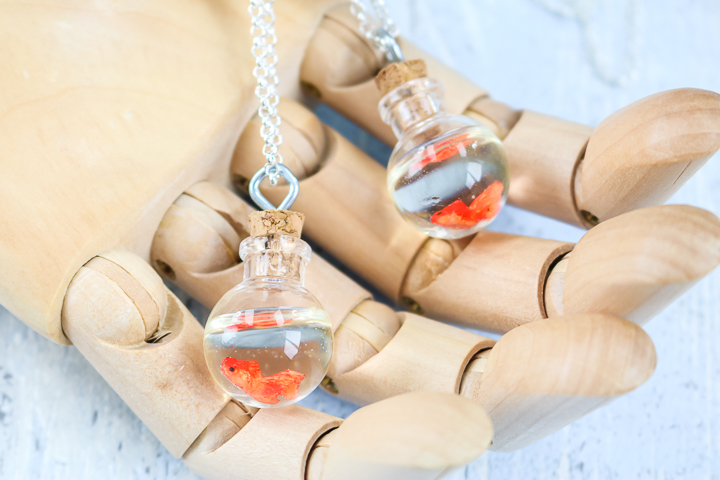 A tiny fish "swimming" inside of a necklace is a great way to show your love for animals to the world! So, grab your miniatures and get started on this project. I know you will love how this one turns out.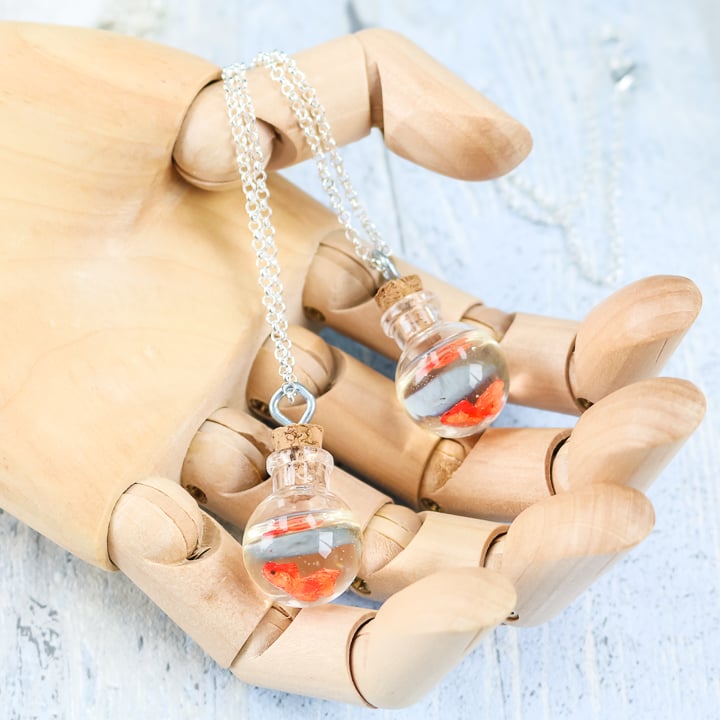 I did also want to note that I did not worry about popping the bubbles with this resin project. Normally, you would try to get those to the top and pop them before they set up. In this case, I felt like they added to the entire project so I left them in.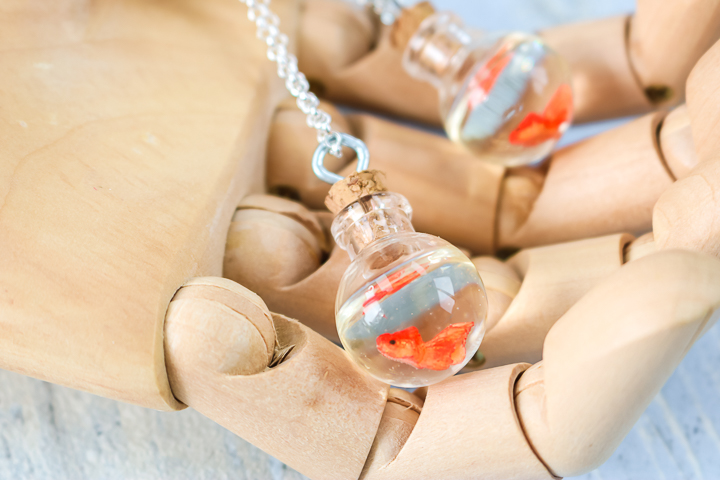 If you need me, I will be thinking of more things that would look good in these little bowl necklaces. I love this idea and I know there are more miniatures out there that need to be trapped in resin! In the meantime, make this DIY fishbowl necklace for yourself.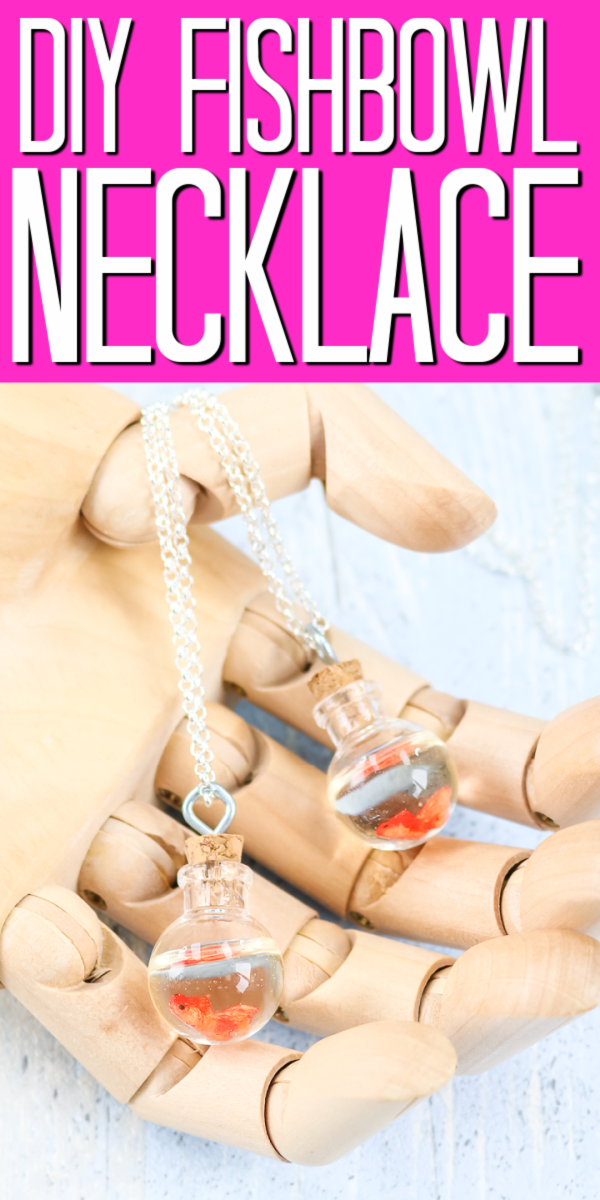 Love this resin jewelry project and want more? Try the links below as well!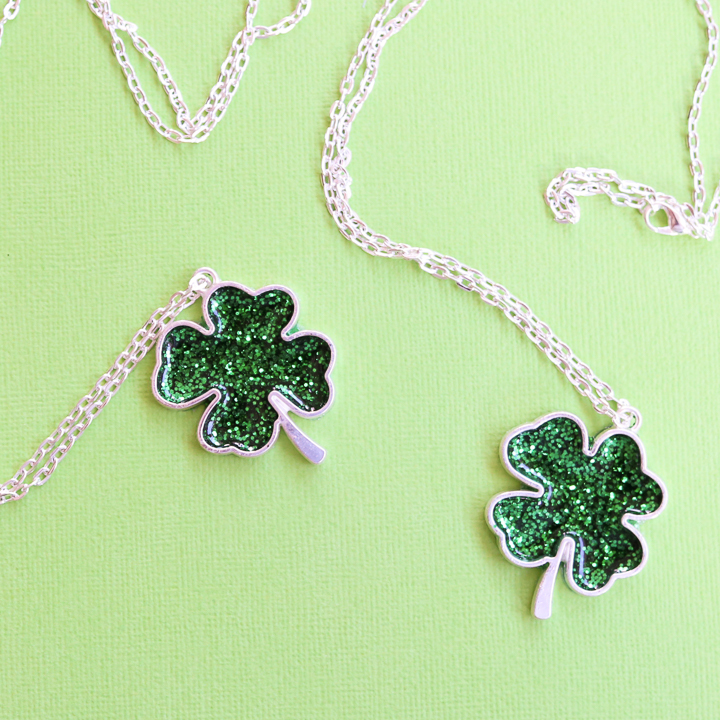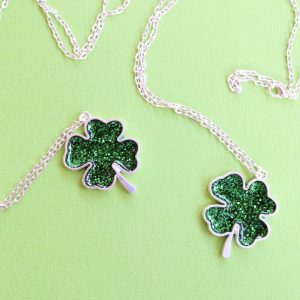 DIY St. Patrick's Day Necklace
Make this DIY shamrock necklace with a few supplies and resin!
Read More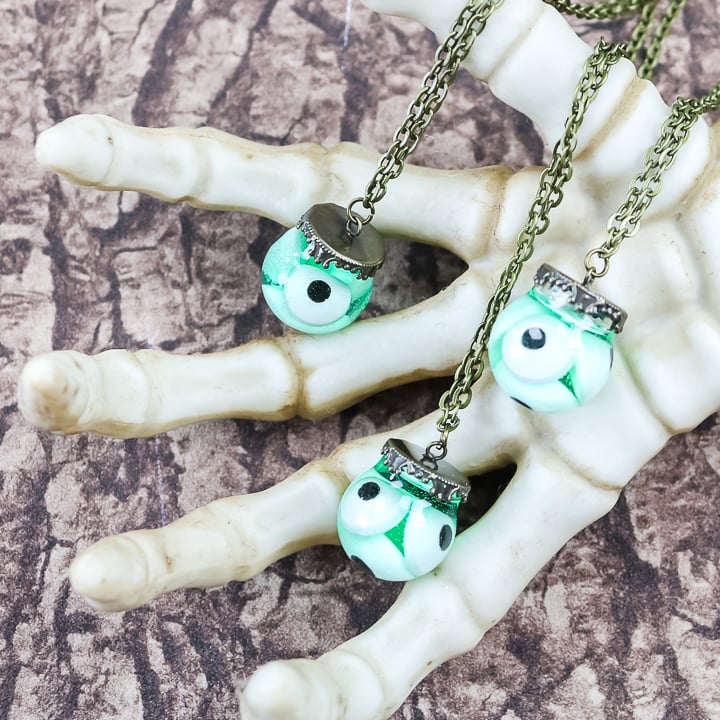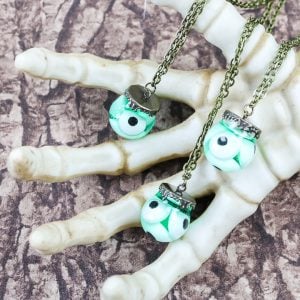 Make Your Own Halloween Necklace
Use resin and a few supplies to make a cute Halloween necklace that everyone will love.
Read More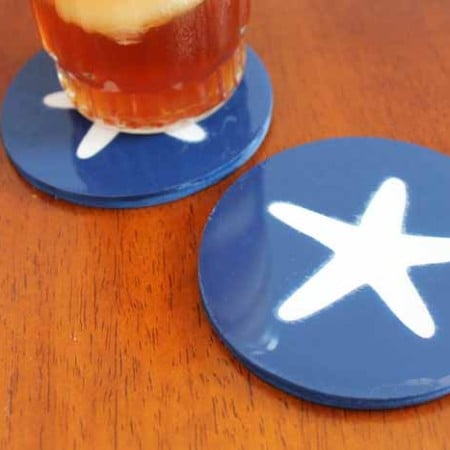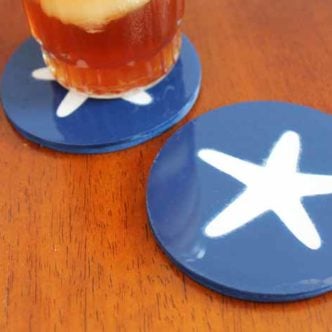 How to Make DIY Wood Coasters with Your Cricut
These easy DIY wood coasters are a simple and fun DIY you can make with your Cricut's knife tool! These coastal starfish coasters are just one design of many you can make with this easy technique.
Read More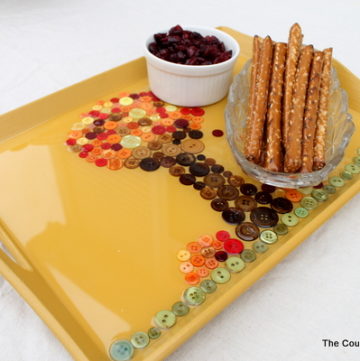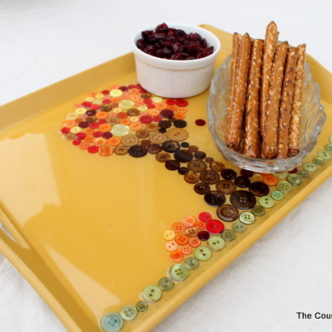 Make a Fall Tray with Buttons
Add a fall tray to your Thanksgiving table with this easy DIY tutorial.
Read More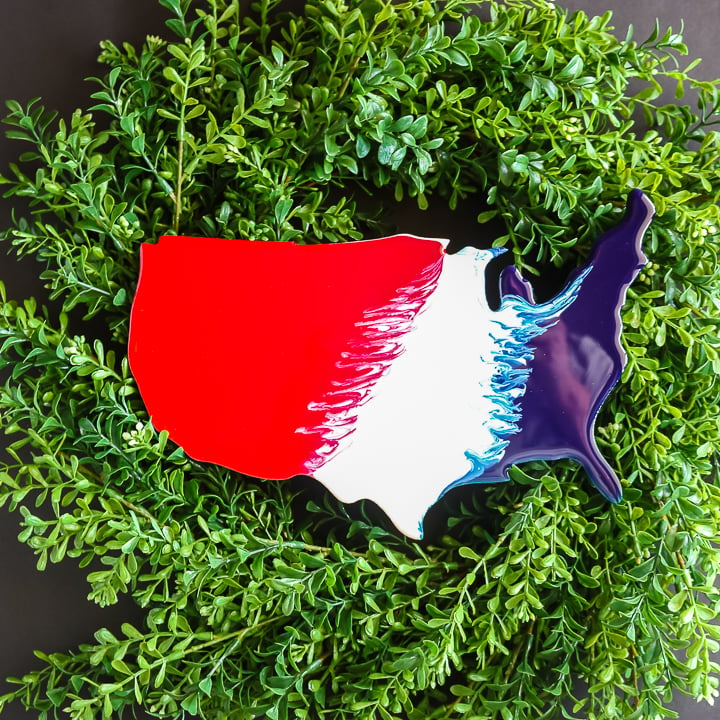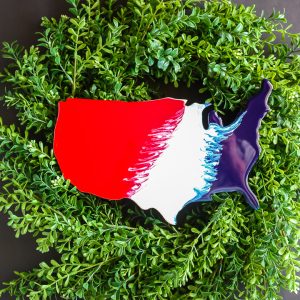 Red, White, and Blue Wreath Idea
Your guests will love this touch of patriotism on your front door this summer.
Read More