I have been putting off a project for my girls room for waaaay too long!! I finally bit the bullet and made my preteen some name art! After putting it off for so long you would think it would have been hard but in fact it didn't take long at all!!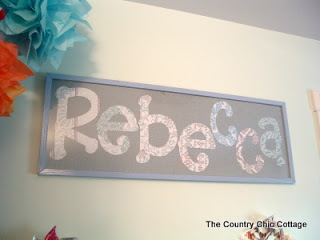 I got the frame at the goodwill. It is just one of those frames for a long poster print. I took some before shots but they turned out so darn blurry I opted not to use em. I paid maybe $5 for the frame. I picked up a pack of scrap book paper in the colors of her room also for around $5. There is plenty left and I already have another project in mind!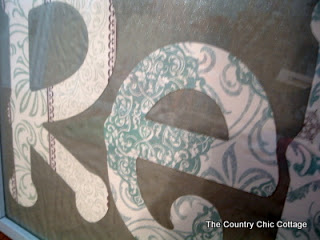 I let my preteen pick the paper for each letter. I used my Silhouette to cut the letters but you would easily use scissors or an exacto knife.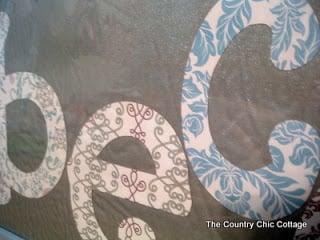 The frame was dark blue so I broke out the trusty Krylon and painted it a lighter blue…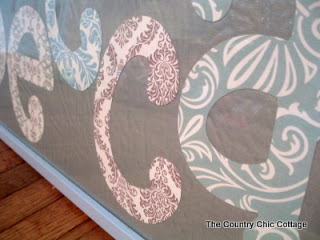 I needed a background for my letters. I took a white sheet and cut it to size with a little overhang. Then I took some shear blue fabric and cut it the same size. I just stretched them around the cardboard already in the frame and hot glued the back. White in back and blue on top.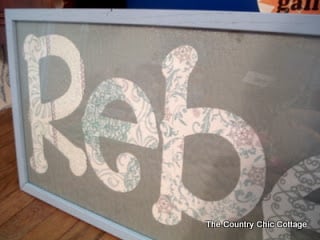 I then arranged out letters and secured them with a little mod podge. We decided to not make the name straight to add a little interest.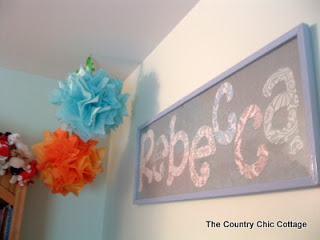 Did you notice those paper poms in the corner?? They are from her birthday party! Reusing party decor can be a great budget stretcher!! We hung the pom poms in two corners of her room and they look great!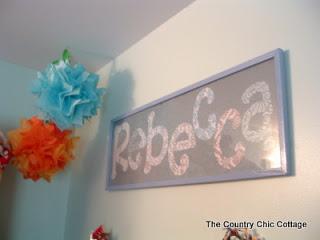 Next time maybe I won't put a project off this long…okay who am I kidding?? I know I will!! But at least it looks good!
Posted at Friday Favs on Naptime Crafters.
Posted at Feature Yourself Friday on Fingerprints on the Fridge.
~Thanks for stopping by!~