Are you trying to find the best glue gun for crafts? Cricut recently released its own glue gun and I decided this is the perfect opportunity to test out a variety of glue guns to see which one is best. After all, a good glue gun is the best investment you can make for any craft room.
Do you need more info on glue guns? I actually have a glue gun book. You can learn more about it here.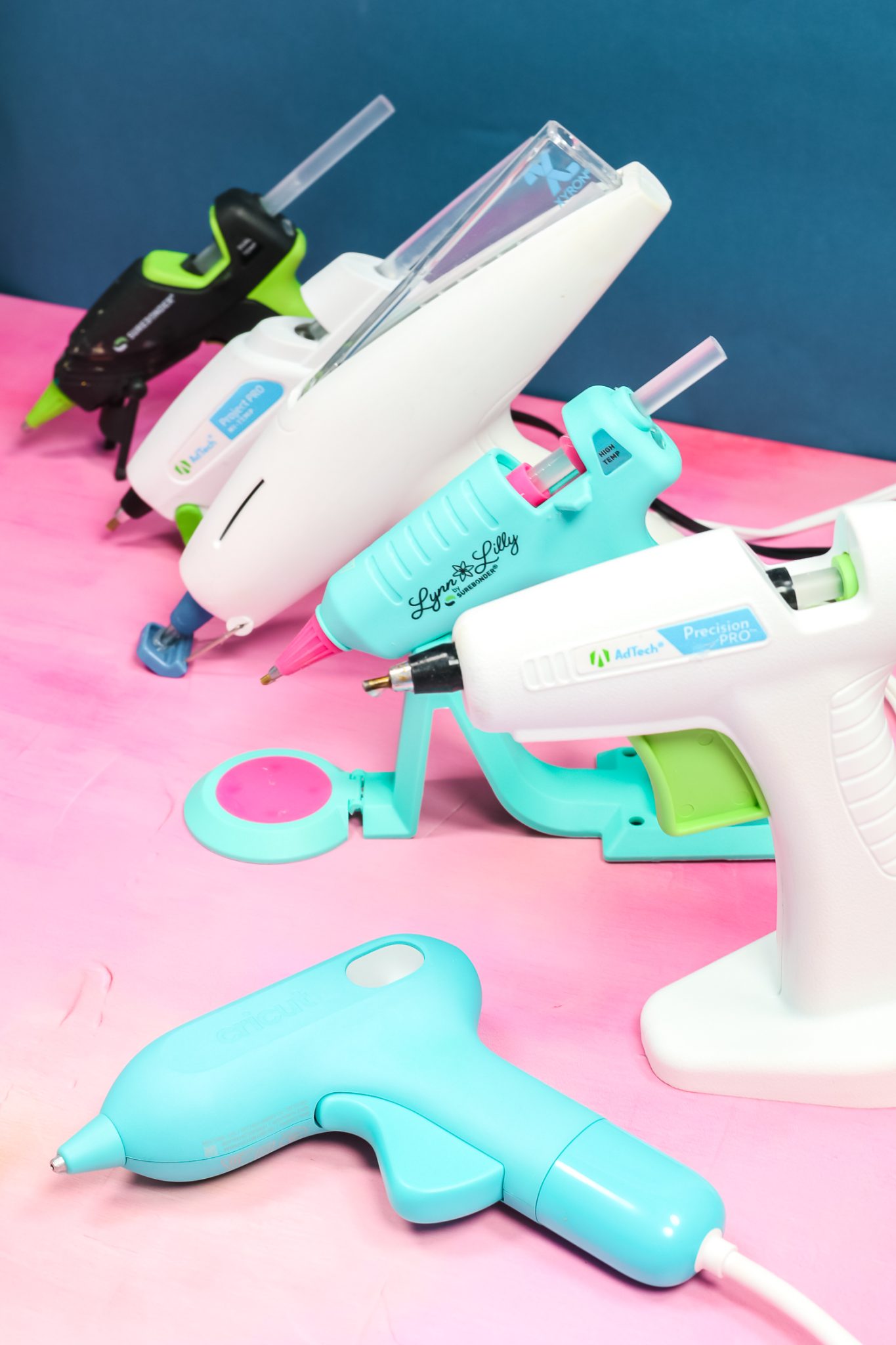 Why Get the Best Glue Gun?
I have to say I believe a good hot glue gun is the best investment you can make for any crafter. I believe this so much I co-authored a book on hot glue! I have used a lot of versions over the years. Different brands, different types, ones that are simple and ones with tons of features. I definitely have favorites and will talk about them below.
I do want to say I am personally not a fan of super cheap glue guns. You can get one for a dollar at the dollar store and I just don't feel those work properly and you're going to get frustrated. A good quality glue gun can make a huge difference in your crafting.
You can actually watch me test all of these. Just press play on the video below:
Glue Guns Tested:
Other Supplies:
Different Types of Glue Guns
I'm going to show you a few of my favorites, what the features are, and do a few tests. The only glue gun in this post that I haven't used yet is the Cricut version. I am going to plug it in and use it for the first time for this post. All the other guns are ones I've used before.
Glue Stick Size
You will find glue guns that use full-size glue or mini glue sticks. Not all are available in both sizes so if you are partial to one size glue stick or the other that may factor into your decision.
For instance, as of the writing of this post, the Cricut version only takes mini sticks.
Interchangeable Tips
There are glue gun options on the market that have interchangeable tips. I don't have an example of them but have used them before. You can get really complicated with glue guns. If you want more info on those other glue guns, they are included in my hot glue gun book. It is several years old but still has good information in it.
Other Glue Gun Features
What are some other features to look for in a glue gun? You can find glue guns that have stands, and glue guns that are cordless. There are glue guns that claim to have fewer drips or fewer strings and glue guns that have a precision or silicone tip.
Do I Need a Silicone Mat?
I am using a large silicone mat for this comparison. Hot glue won't stick to the silicone so having a large surface to set your glue gun on or to work on is great. The hot glue will just peel off after it cools without causing any damage.
For me, having a silicone mat in my craft room is a must. I keep my hot glue gun on one at all times and having a large one is nice when I'm working on something large. It helps protect my surface from any glue drips.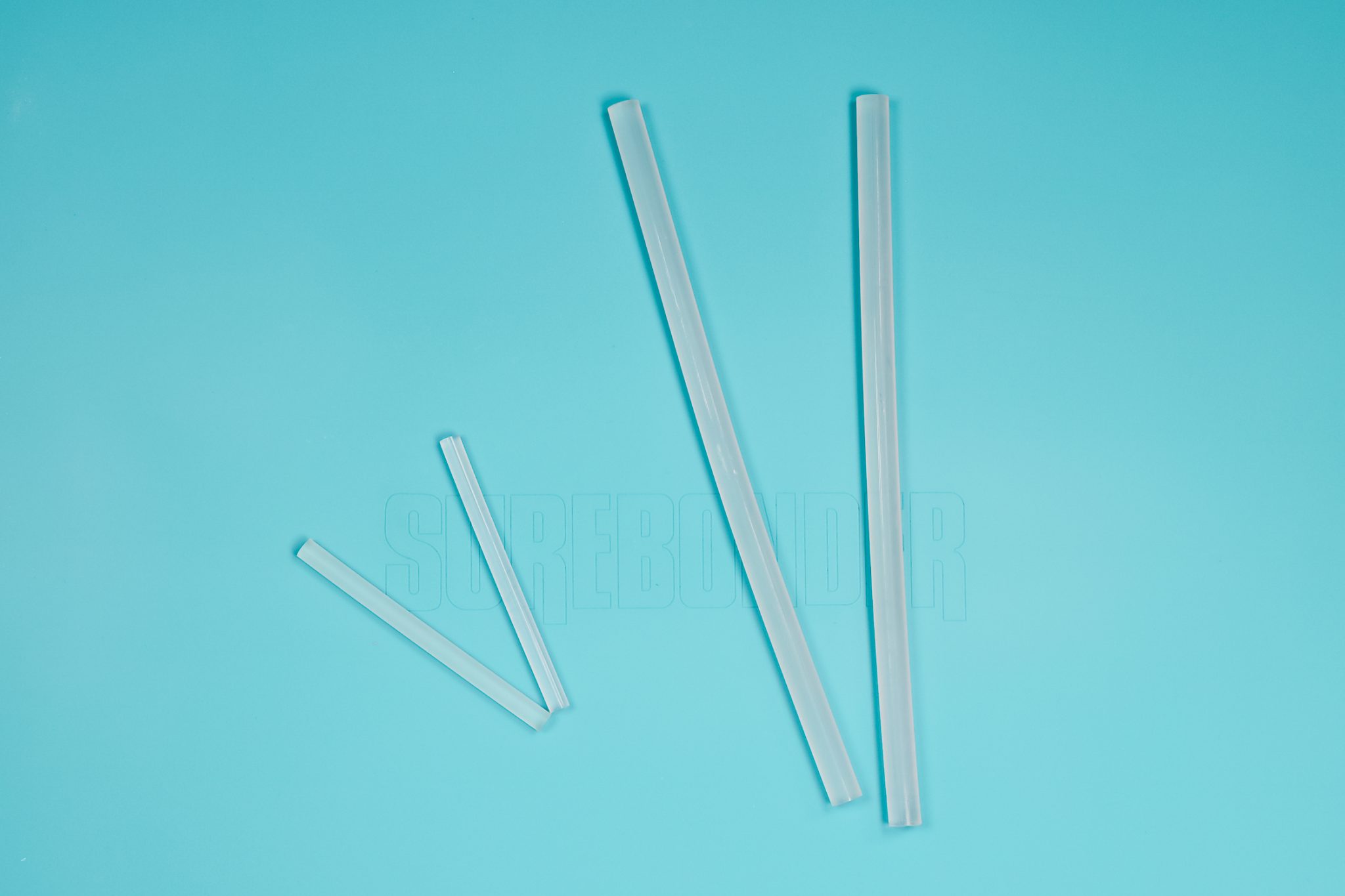 Finding the Best Hot Glue Gun
Now let's test a variety of hot glue guns to find the best one for your crafting. I will be testing each on how easy the glue sticks are to refill, how easy the glue comes out, and how many drips or strings there are. I will also note any other features of the glue gun so you can make an informed decision.
Cricut Glue Gun
When Cricut announced their new glue gun I was determined to find out if it was the best glue gun for crafts. They advertise that there are fewer strings and fewer drips with their glue gun but they only guarantee that if you use their glue sticks.
The glue gun does come with three of those glue sticks to try so I will be using those as well as regular glue sticks to compare the difference if there is one.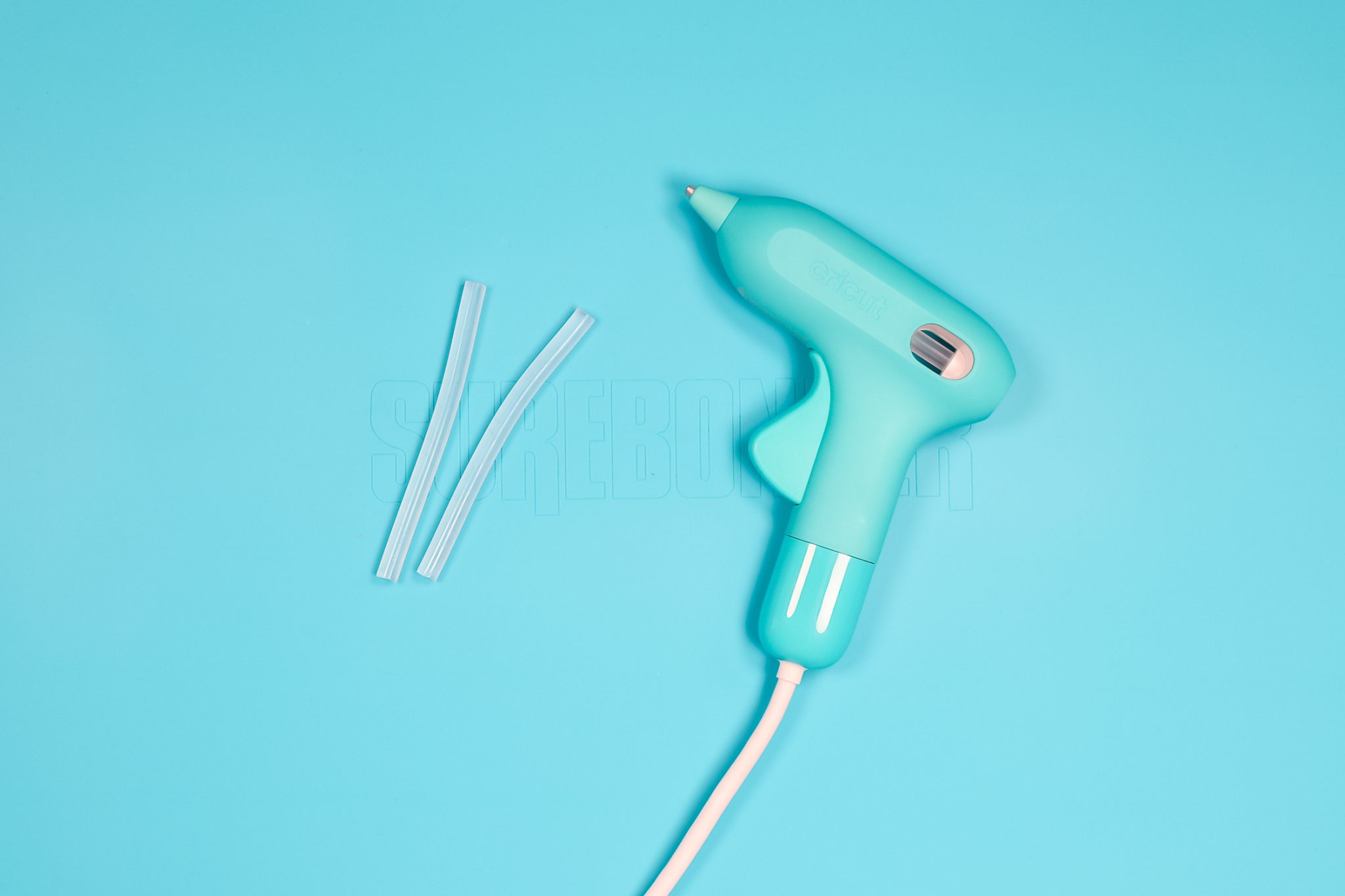 Cricut Glue Gun Features
Let's take a look at some of the features of the new Cricut glue gun.
It doesn't come with a stand. You just need to lay it on whatever surface you're using which I don't love. This is where a silicone mat comes in handy.
It did come with three glue sticks. When you first put one in, it goes almost entirely into the glue gun.
It has a light on the top. There is no on/off switch. When you plug it in, it is on. When the light is red, it's not heated up yet, when it turns green it's ready to put glue through.
The Cricut glue gun does have a silicone tip at the end that is small for detailed projects. I do like it when glue guns have that.
As the glue gun is heating up, it gets warm from the tip to about halfway up the aqua portion of the gun. So even though it has a silicone tip, the tip will still be hot. The handle portion does stay cool even when it is completely heated up.
The Cricut glue gun also has an auto-off feature. When it's left not in use for 15 minutes, it will shut off. This is nice if you're like me and sometimes forget to unplug your glue gun.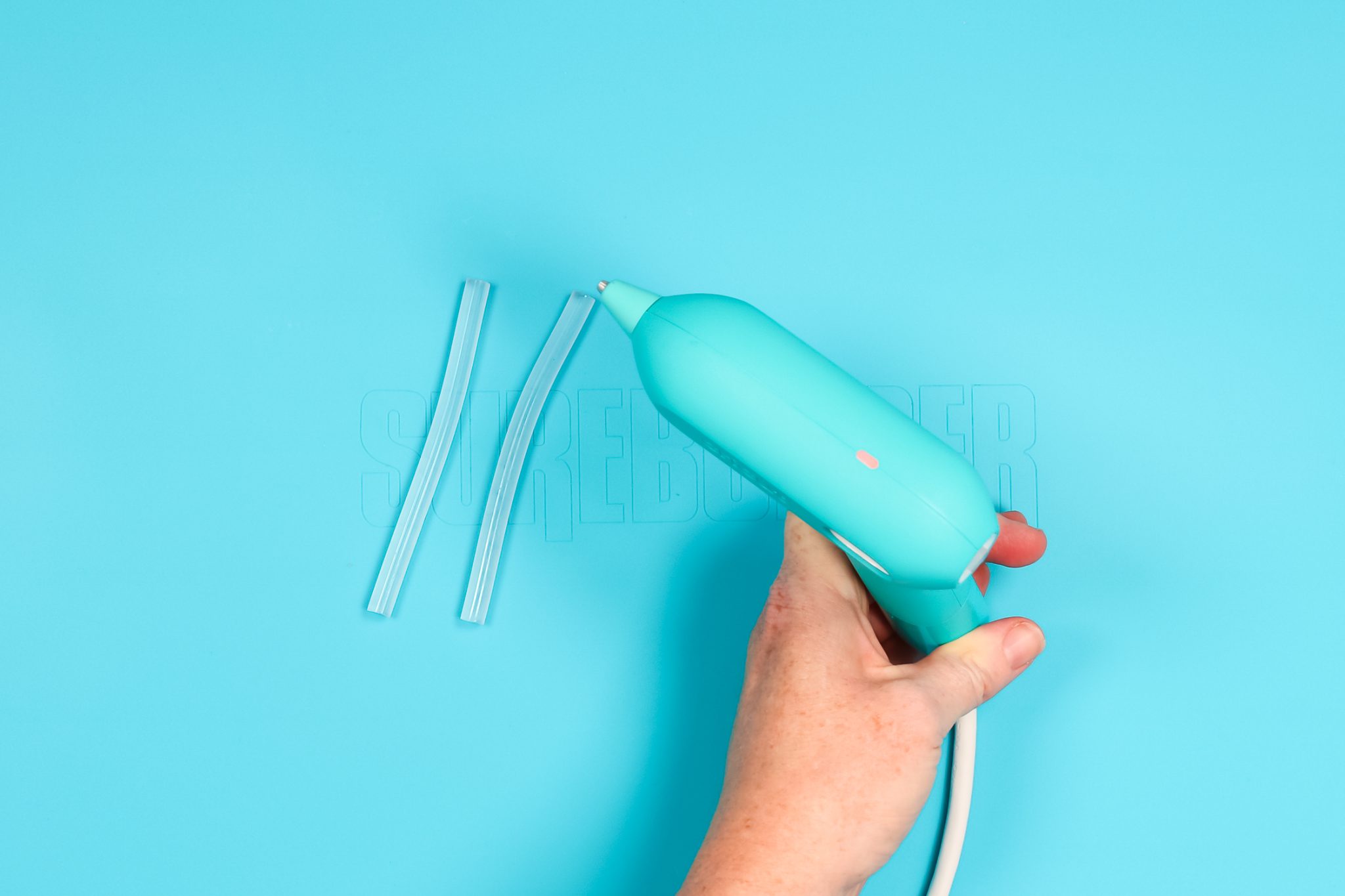 Testing the Cricut Glue Gun
Now that the Cricut glue gun is heated up we can start testing it.
I do like that it didn't take long at all to heat up. When I squeeze the trigger glue starts coming out immediately. There is no need to keep squeezing the trigger to get it started. The trigger pull is also very smooth and easy which is also really nice.
Laying down a fine line of hot glue worked really well with this glue gun. The way the trigger squeezes results in a nice long line of glue without breaks until you need to squeeze again or load a new glue stick.
I did find because so much of the glue stick fit into the glue gun right away I needed to add a second glue stick pretty quickly to keep the glue flowing. It did grab the next glue stick easily, no forcing the glue stick in required.
Like most glue guns, once the first glue stick was about halfway used I did have to push the second glue stick down further into the gun for it to keep it moving through.
Fewer Glue Strings and Drips
Cricut claims when using their glue sticks in their glue gun you will have fewer strings and fewer drips. Does this really work?
When making a large puddle of glue, I did still notice glue strings when pulling the gun away from the puddle.
After years of using glue guns, I have learned to sort of twist the tip after applying the glue to get rid of strings. When not doing that, I don't feel as though I'm seeing no strings right off the bat. I might say there are fewer strings but there will still be strings even with the Cricut glue.
When laying the gun on its side (which is the only option since this one doesn't have a stand), within a few minutes I had a drip coming out of the nozzle. Mine continued to drop slowly as it lay there. I would not say it doesn't drip and I'm not even sure I can say it drips less.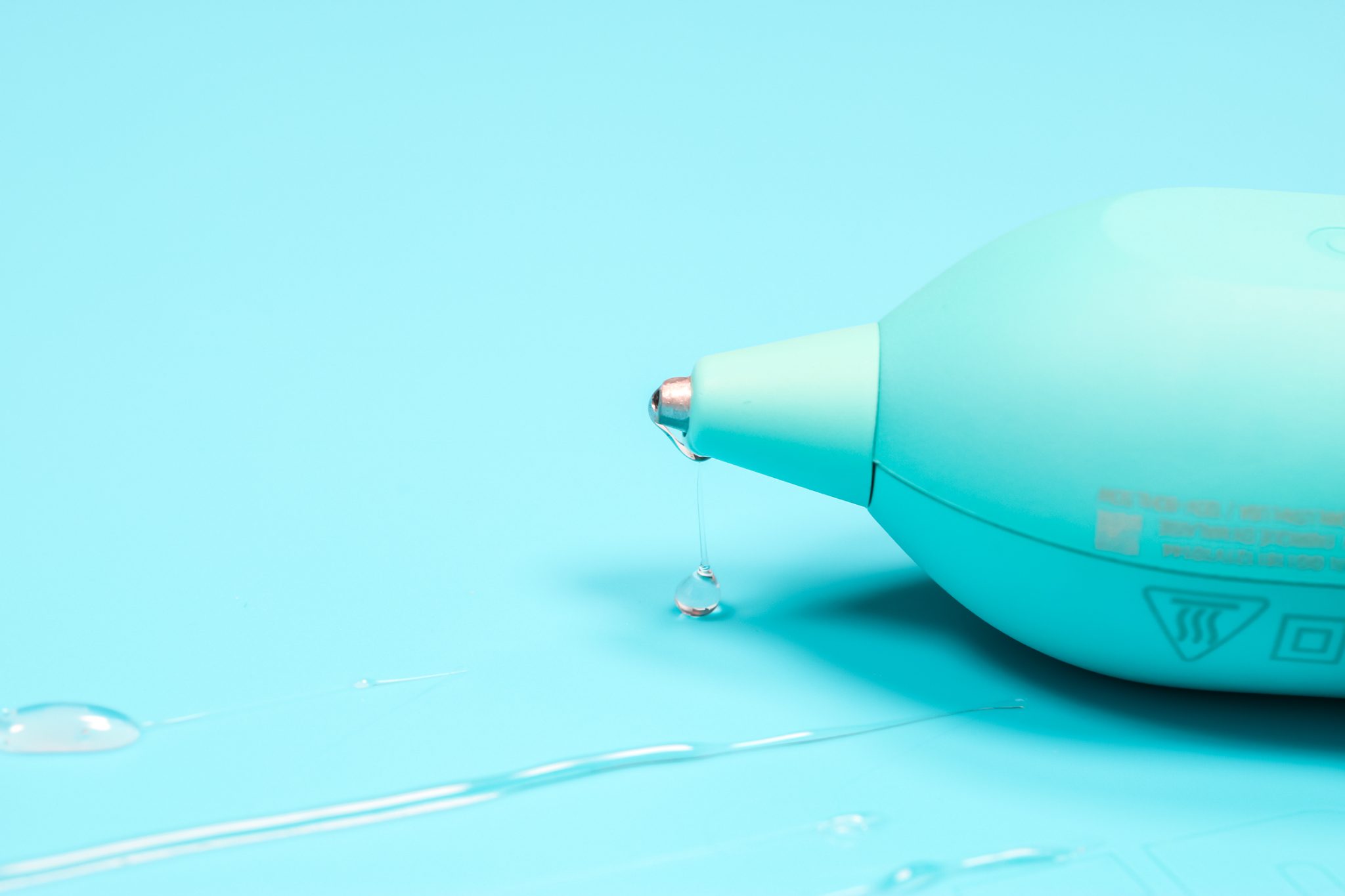 Using Regular Glue Sticks in the Cricut Glue Gun
After pushing the Cricut glue stick all the way through the glue gun, I switched to a regular glue stick. I then ran the glue gun through the same tests.
As it sits laying on its side, I still see dripping. It's about the same as the Cricut glue sticks.
The regular glue goes through the gun the same as the Cricut glue did and, after testing more puddles and fine lines, I do believe I had fewer glue strings with the Cricut glue.
I do think more regular glue drips out after releasing the trigger than it did with the Cricut glue. So I will say, overall when using Cricut glue sticks there were fewer strings and fewer drips than using regular glue. But there are still strings and drips.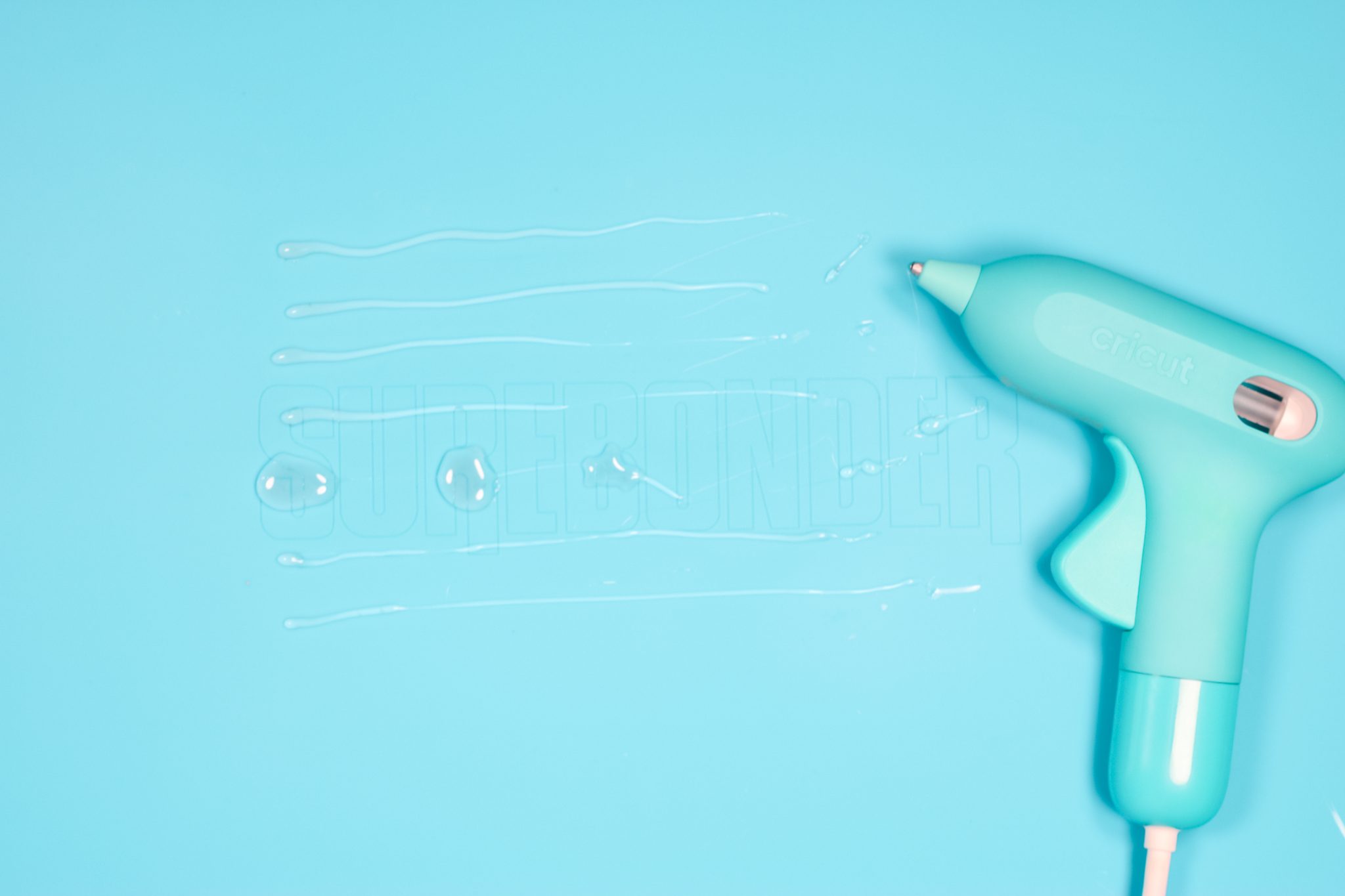 Surebonder Glue Guns
Next up in our quest to find the best glue gun, we have the Surebonder brand of glue guns. If you follow me on YouTube, you've likely seen the pink and teal one as I've been using that one a lot lately.
Both of these versions take mini glue sticks. The pink and teal one is the Lynn Lilly version. It does come with a stand and has a little tray that catches any drips. It is cordless. The base is corded so you can remove it from the base and use it without a cord.
The green and black version is similar. It has a different stand and is corded. It does come in full size if you like a larger glue gun.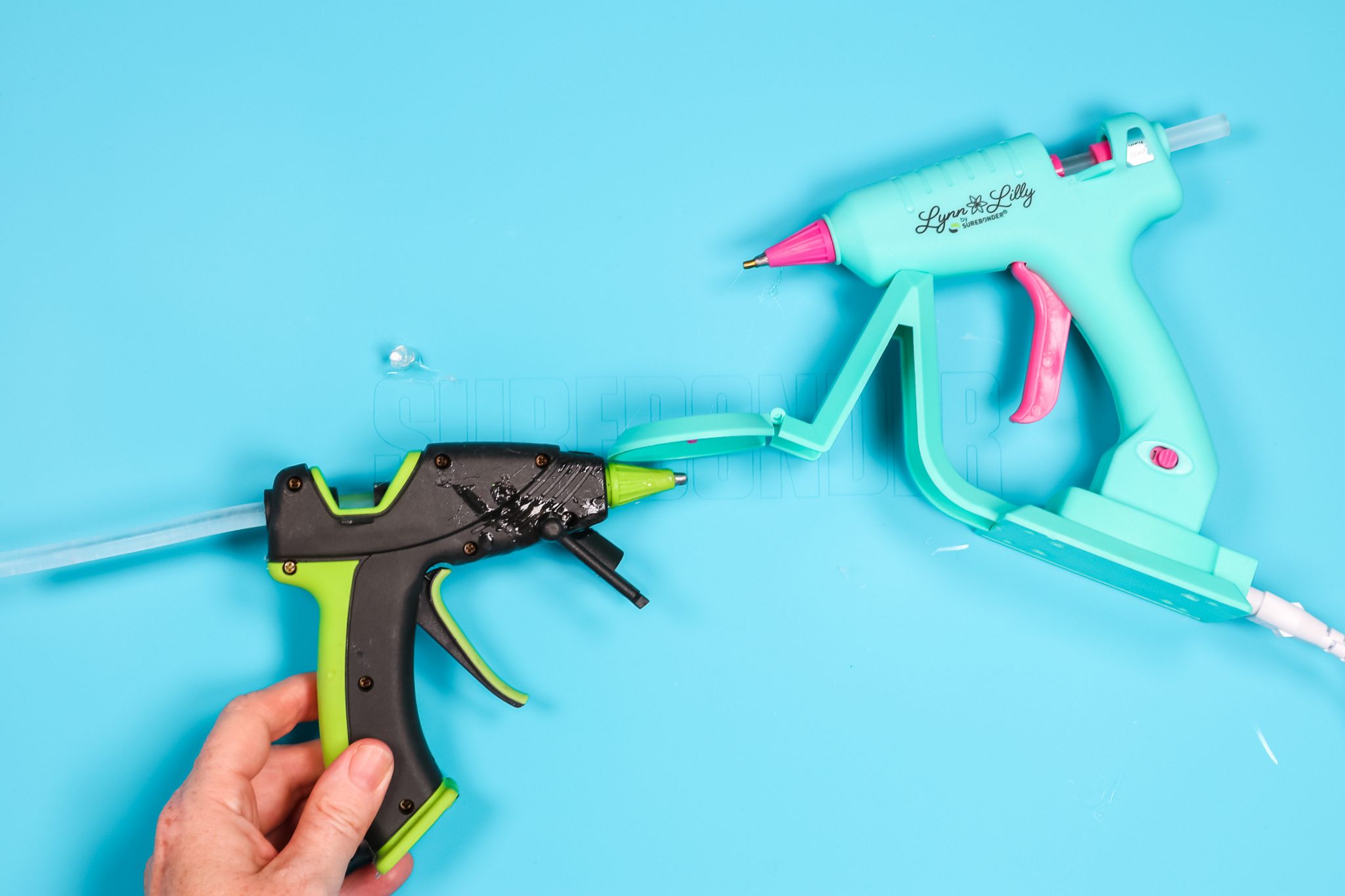 Comparing the Surebonder Glue Guns
The black and green version is a dual-temp glue gun so you can select high or low temp. The Lynn Lilly version only has an on-off switch. Both have an indicator light that lets you know if it is on. The light does not change when the gun is heated.
Like the Cricut glue gun, both of these have a silicone portion on the tip and they get hot right up to the silicone portion. They both feel hot up through the barrel of the gun but the handle remains cool. Both have a precision tip that is similar to the Cricut glue gun.
I plugged both of these in at the same time and I noticed that the green and black one dripped more than the Lynn Lilly version while it was heating up. The green and black one is older but I'm not sure why that is since they're almost identical guns other than one being corded and the color.
Lynn Lilly Surebonder Glue Gun
With the Lynn Lilly glue gun, I can get thin lines and make a big pile of glue. I feel like the strings are similar to the Cricut glue gun with regular glue.
Similar to the Cricut glue gun, when loading a new glue stick you'll push the glue in and pull the trigger to get it loaded in all the way. I really like that the stand allows me to use the gun cordless and the little pad that collects any glue drips is great too.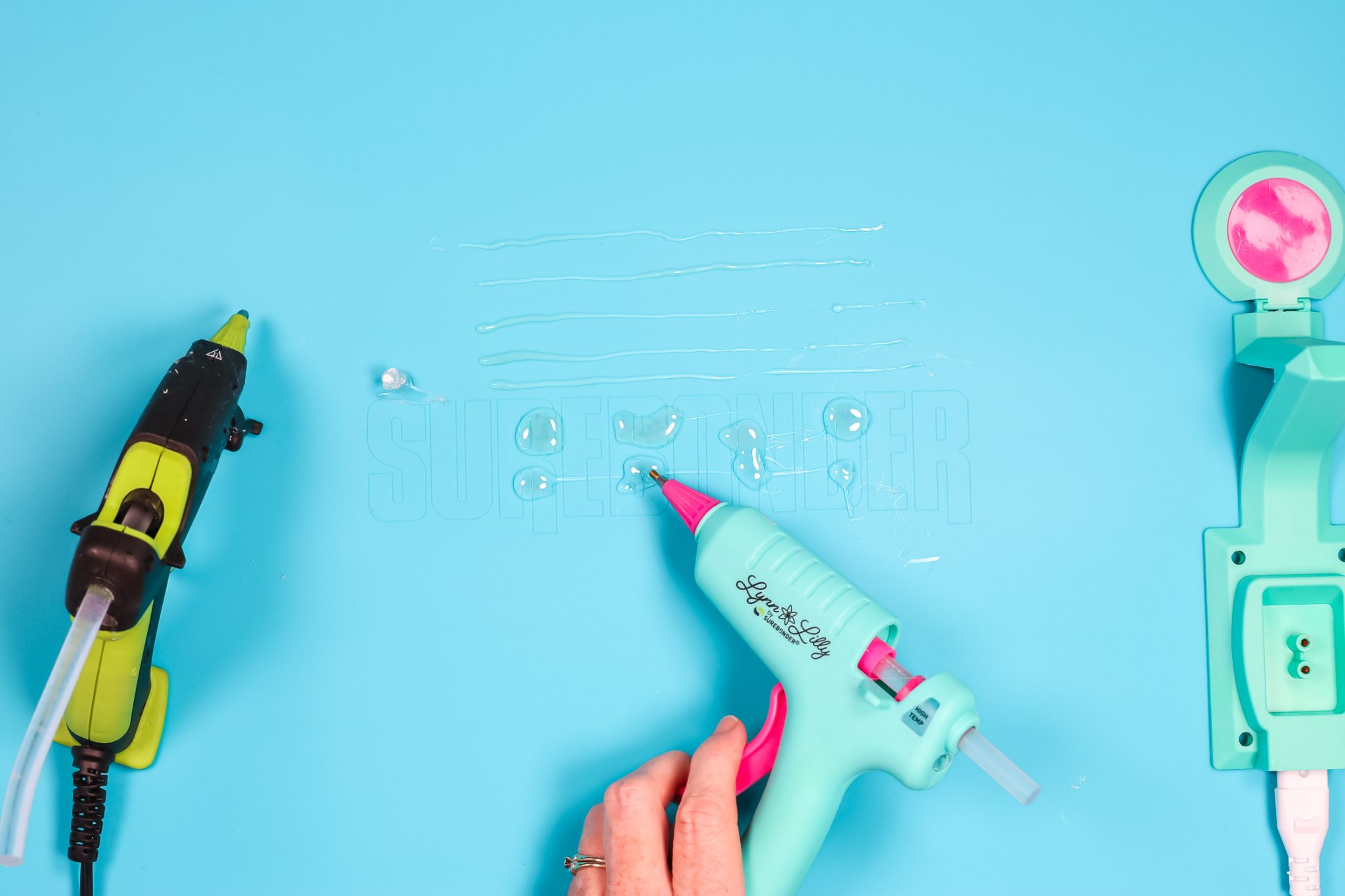 How to Use a Cordless Glue Gun
With this style of cordless glue gun, the base itself is what is plugged in. You do need to set it back on the base when not in use to keep it charged. If you have it off the stand for more than a minute or two you'll notice the glue gun starting to cool down.
Having a cordless glue gun is really helpful especially when I'm making videos. I can have it plugged in anywhere on my craft table and still use the glue gun if I'm crafting further away from a plug. You can get the cordless glue gun in the green and black version if you like that look better.
Corded Surebonder Glue Gun
I do think that the tip on this Surebonder glue gun is less precise than the Lynn Lilly version. Looking at them side by side you'll see that the Lynn Lilly version does have a finer point. I can't get as thin of a bead as I can with the other two.
After testing it I found that the glue strings are similar to the Cricut glue gun with regular glue and the Lynn Lilly version. I also found that it drips way more than any of the guns I've tested so far. It's possible the difference in the tip is what causes the increase in dripping.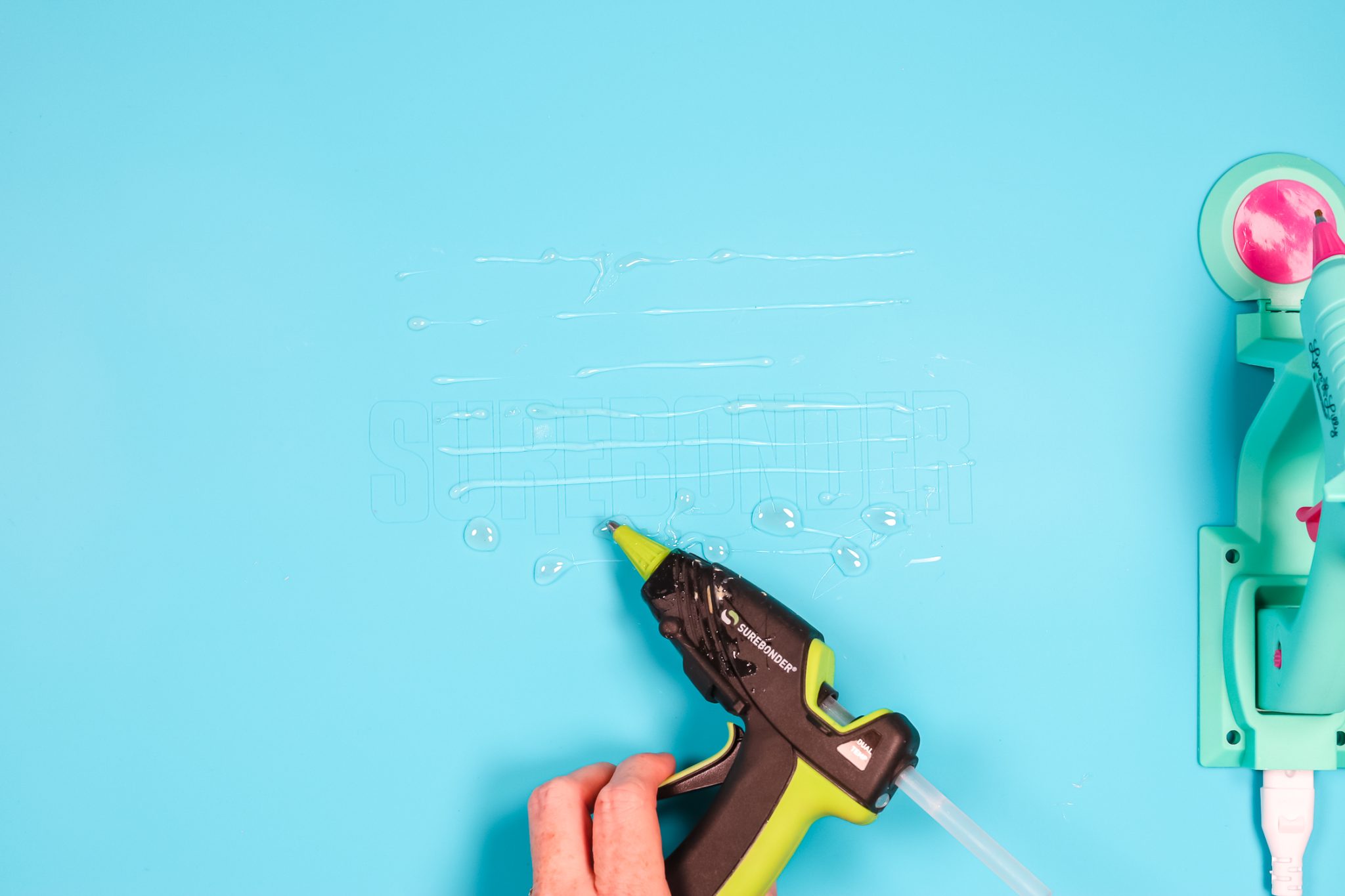 Xyron Multi Stick Glue Gun
The Xyron Multi Stick glue gun comes in two versions. This one takes the mini glue sticks but there is another version that takes the larger ones. The tip of this glue gun is pretty large but I can still get a pretty fine bead of glue.
They can each hold 4 glue sticks. One in the barrel and 3 in the back cartridge.
It does have a stand that has a little catch tray on it. While it was heating up it did drip some but that was caught right in the stand and goes with it when you flip it back.
It does get hot at the tip including the silicone area. It doesn't get hot too far back on the barrel which is nice.
I like to use this glue gun when my project uses a lot of glue. The back cartridge allows you have multiple glue sticks loaded into the gun at one time which means you don't have to stop to reload the gun while you're working.
When the first glue stick is running out, the gun will auto-load the next stick. You'll know it's getting ready to load a new glue stick when it gets harder to squeeze the handle. I find shaking the glue gun helps the glue stick drop into place.
The glue strings on this gun are similar to the other guns including the Cricut glue gun with regular glue sticks in it.
This glue gun is a little harder to squeeze than the Cricut and Surebonder glue guns. The Cricut gun is really smooth when you squeeze it and the Surebonder guns have a similar feel. I do think the extra glue sticks are a bonus, especially when working on a project with a lot of glue requirements.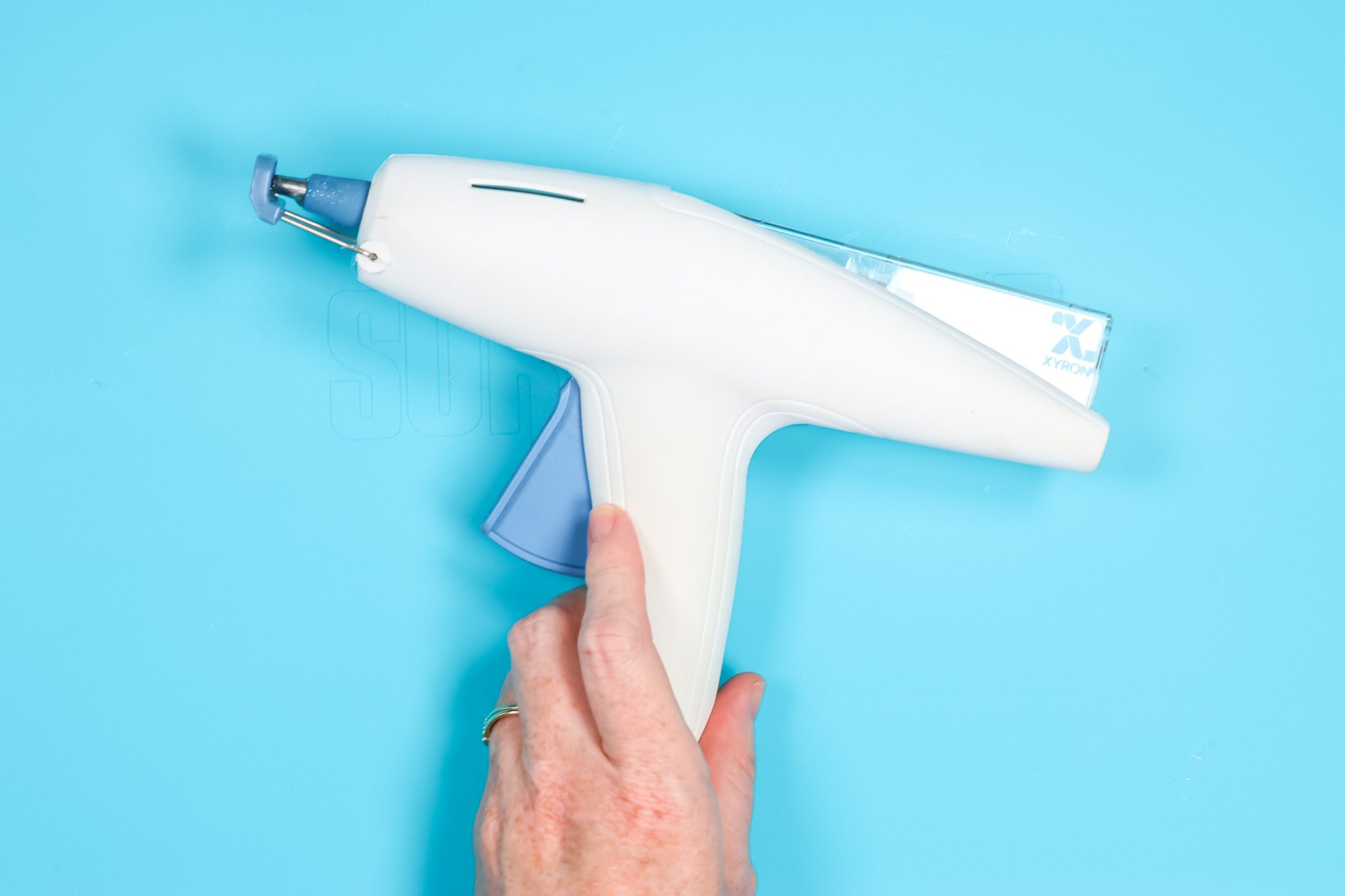 AdTech Glue Guns
These two glue guns are by AdTech. They drip about the same as the corded version of the Surebonder which was quite a bit. Overall, I think both have the same amount of glue strings as the Cricut when it has regular glue sticks installed.
With any glue gun when you add a new glue stick it takes a moment for it to warm up and come out the tip. I do think the AdTech guns take even longer.
These glue guns do not have a silicone tip so more metal on the end is exposed. The silicone gets hot to me since I'm not willing to risk getting burned I am not going to touch it but it does get hot in that area so I'm not sure if the silicone tip is really worth the extra cost or is actually an additional feature.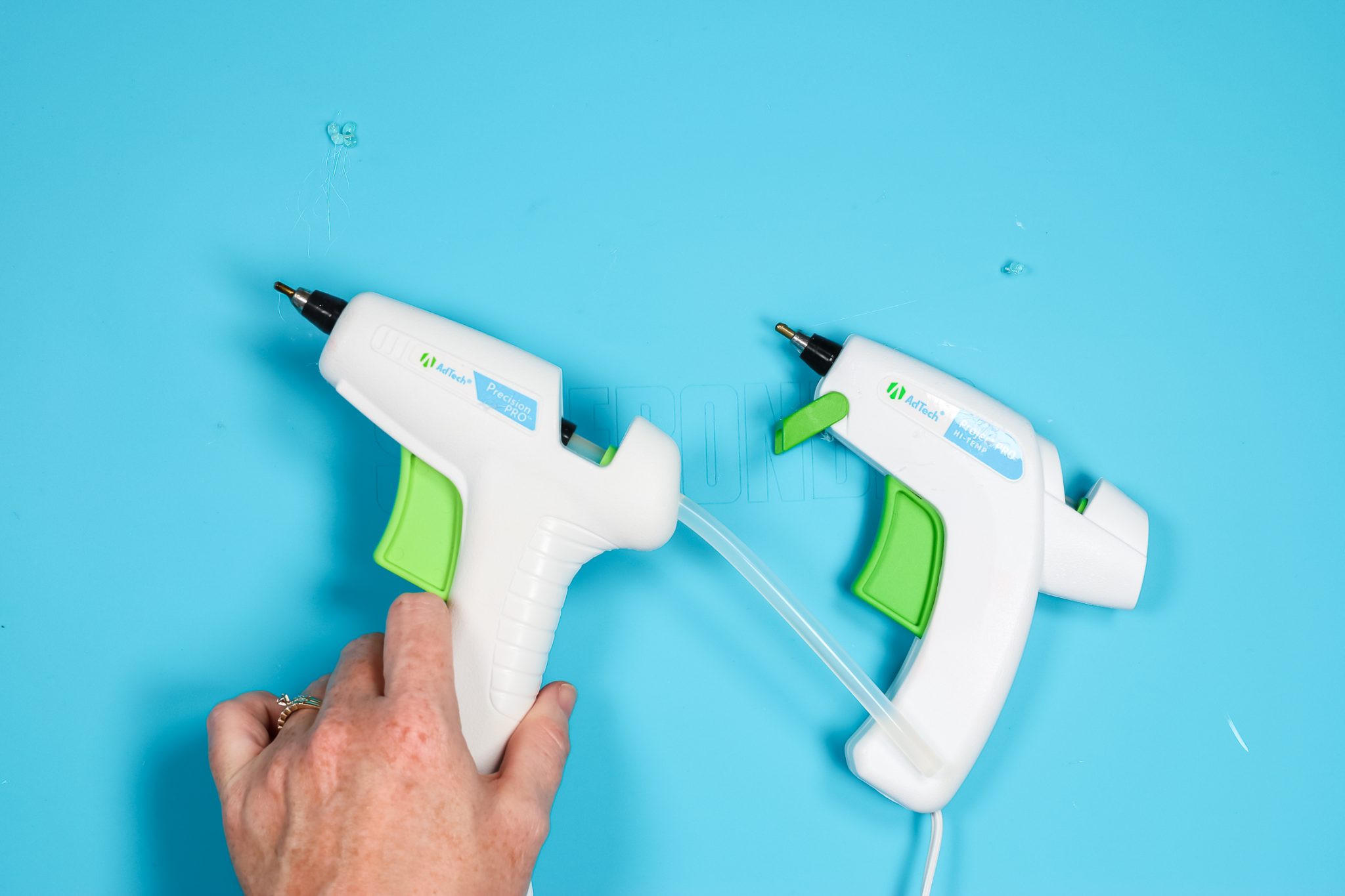 Project Pro High Temp Glue Gun
The Project Pro High Temp glue gun has a little stand and does have a cord. It has a fine tip and a flip-down stand so it doesn't have to lay on its side.
Installing another glue stick is the same as all the other glue guns. You'll likely have to put the glue stick in and then push it down again after squeezing the trigger a couple of times. I think this is easy to squeeze the trigger and I can get a pretty good bead with it.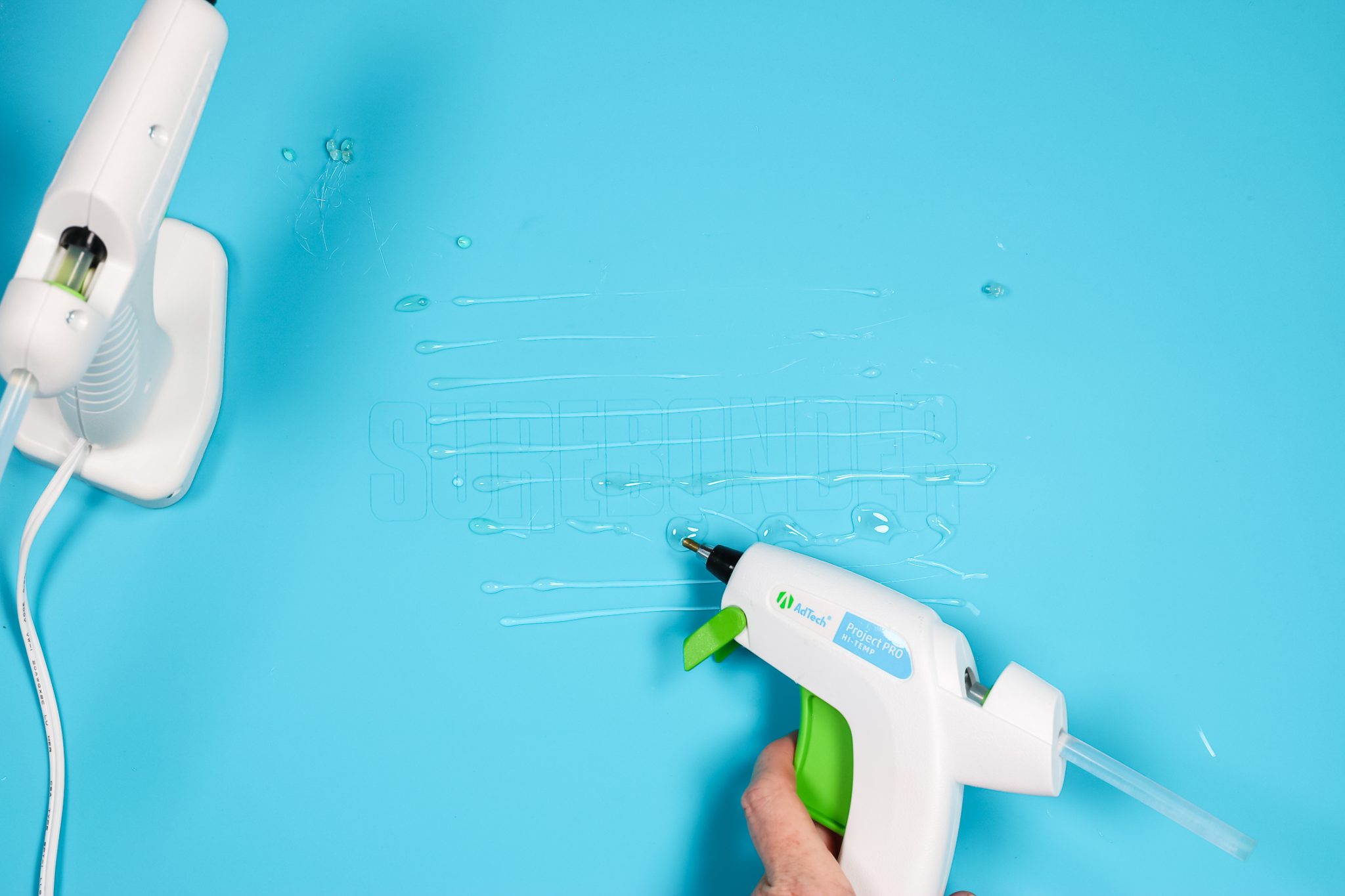 Precision Pro Glue Gun
The Precision Pro glue gun is also corded and has a fine tip. Most of the glue guns I own have a fine tip. This one is almost identical to the project pro but maybe a little smaller.
This glue gun also has a wide base so it stands up on that base. I really like the base, it is wide enough that it feels secure when I set it down.
As I use this one, I do believe the tip is finer than the Project Pro. I am able to get a finer line with it. My favorite glue guns are always the ones with the finest tips. The tip on this one feels similar to the Surebonder glue gun.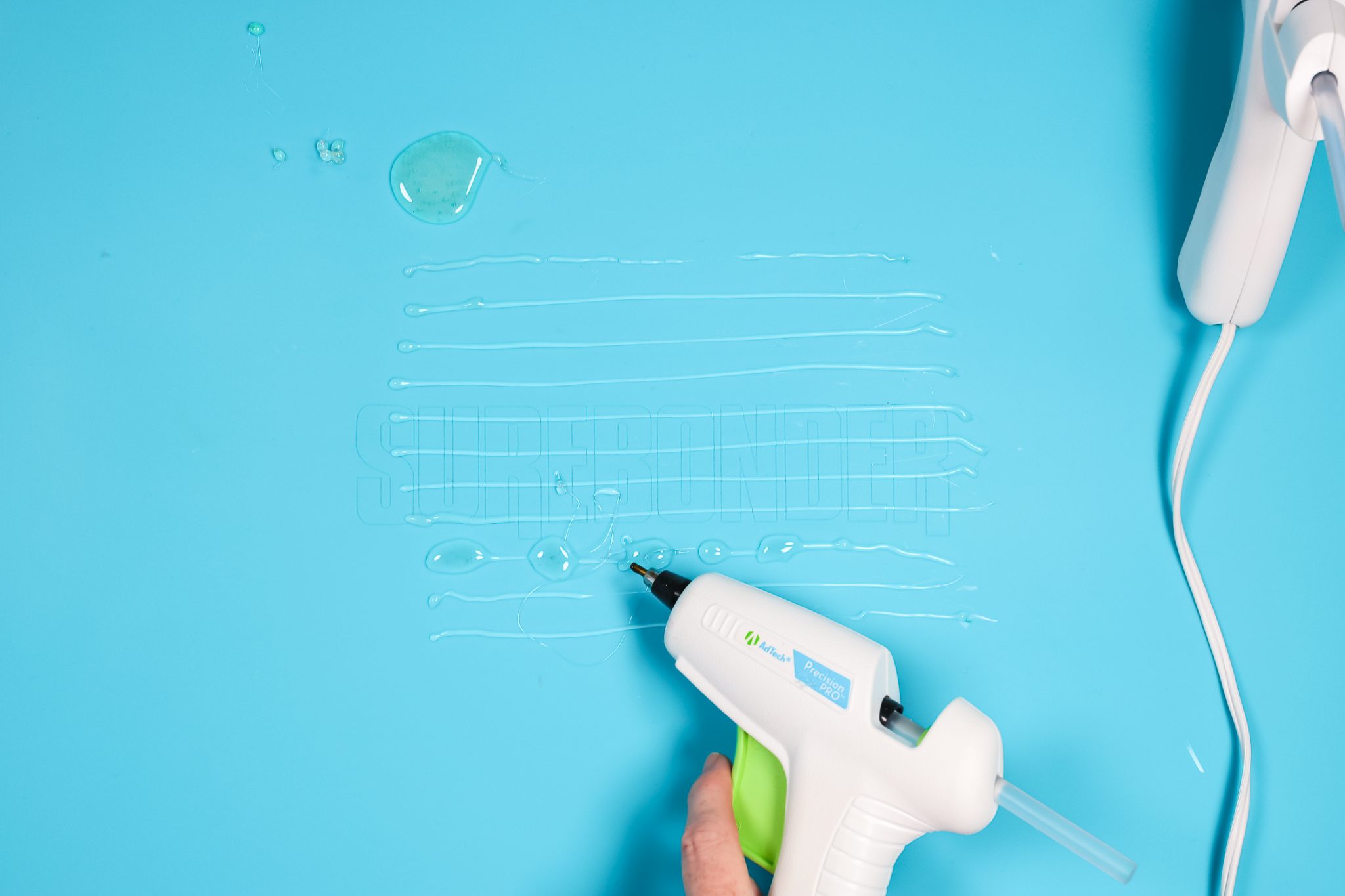 Trigger Squeeze Comparison
I found the Cricut and Surebonder were the easiest to squeeze. The Xyron and Adtech were a little more difficult The AdTech guns have a smaller trigger than the others even when the gun itself was a similar size.
If we compare how many fingers I can fit on the trigger, the Cricut is about 2 and a half fingers. With the Surebonder guns, I can fit 3 fingers on the trigger. The Xyron can fit almost 4 fingers and then the AdTech is about 2 fingers.
The Cricut and Surebonder are the best glue gun for ease of squeezing the trigger. If you have trouble with your hands, I would suggest one of those. Next up would be the Xyron and I would rank the AdTech at the bottom or ease of squeezing.
What is the Best Glue Gun for Your Craft Room?
Each of these guns is a high-quality glue gun that would make a great addition to your craft room so let's go over the pros and cons of each one so you can choose the best glue gun for your crafts.
Cricut Glue Gun Pros
When using the Cricut glue sticks the Cricut glue gun did drip less and had fewer strings. It is super easy to use and if you have issues with your hands or hand strength the trigger is amazing, it's really easy to. squeeze. It has a nice precision tip.
I also really like the auto shut-off feature and I think it's especially great since you have to lay it on your table.
Cricut Glue Gun Cons
Not having a stand is the biggest con for me. I almost always have a small silicone mat on my table so that isn't an extra step for me but I personally like my glue gun sitting up so that was a big drawback for me. To get fewer drips and strings, you have to use the Cricut glue sticks and even then it did still drip some.
The price point is also a con for me. The Cricut glue gun retail price is $39.99 and that is more expensive than all the other guns I tried today. If I was choosing which gun to purchase today I don't think it has the features to make it worth the price.
Final Thoughts – Cricut Glue Gun
I do think it is a really good glue gun, it has a nice precision tip that allows you to lay a fine bead. It's really cute and the trigger is nice and smooth. I would definitely wait for a sale before purchasing.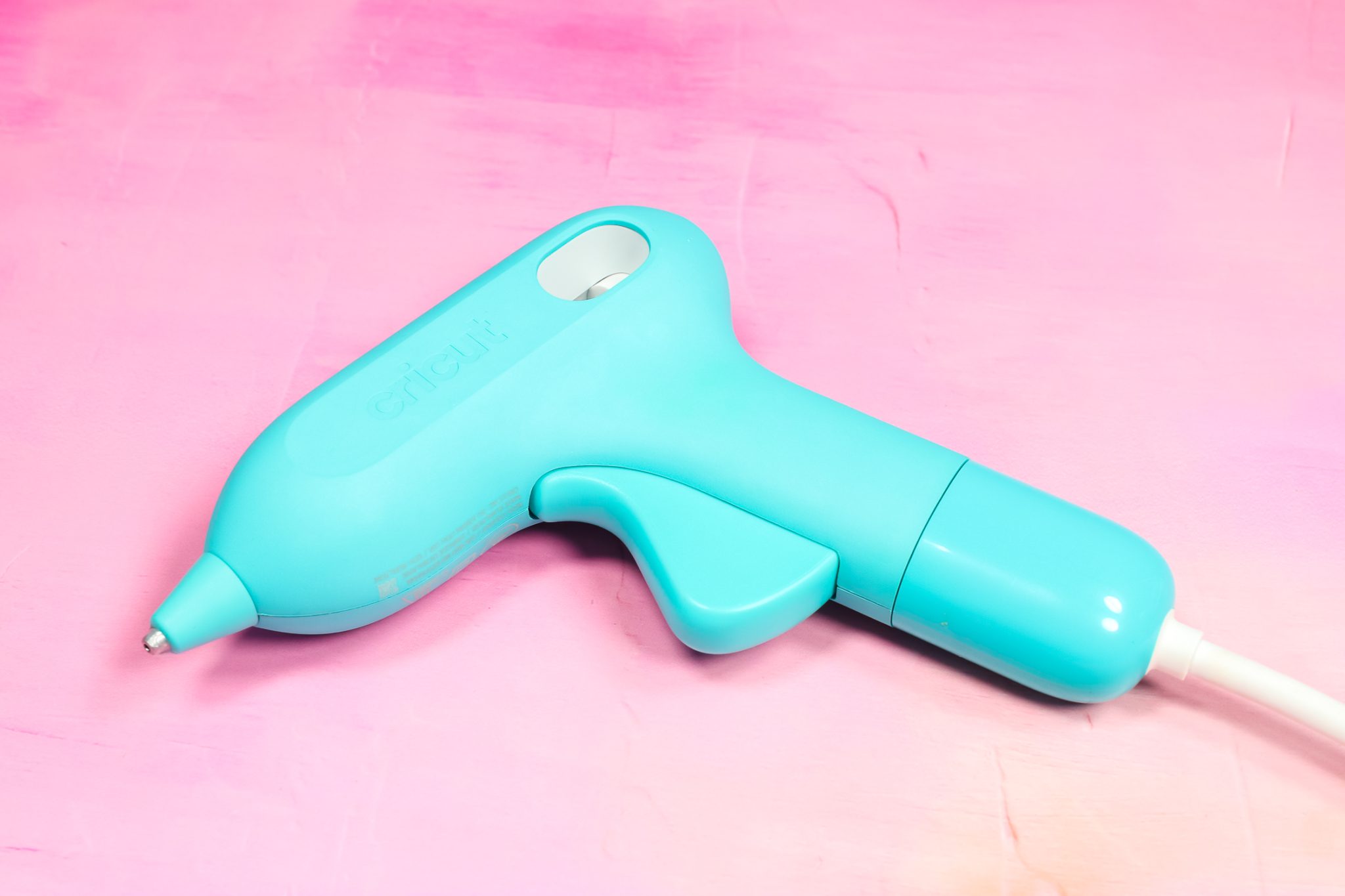 Surebonder Glue Gun Pros
The Lynn Lilly version of the Surebonder glue gun you have probably seen me use the most. I really like the glue gun. I like the base and stand and that it has a place to collect any drips regardless of where I set it down.
I like that it's cordless and I think the trigger is easy to squeeze. I also like the precision tip. The corded version also has a precision tip and is very easy to squeeze the trigger.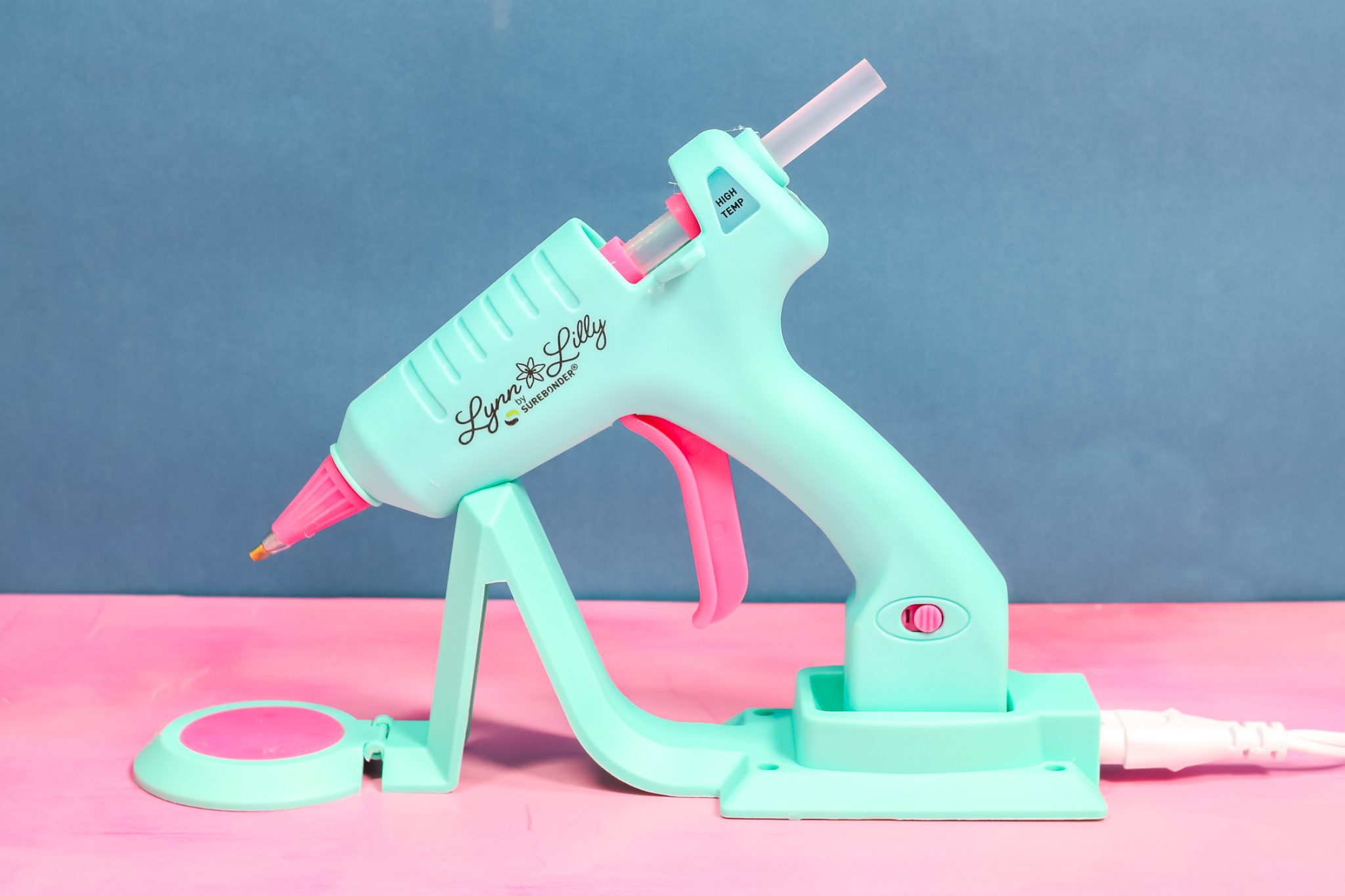 Surebonder Glue Gun Cons
Even though the Lynn Lilly glue gun is cordless, you cannot leave it off the base for long. More than a minute or two and it will start to cool down and your glue won't come out.
The corded version dripped more than the Lynn Lilly and the tip isn't as precise and the stand is a little flimsy.
Final Thoughts – Surebonder Glue Gun
The price point for the Surebonder glue guns is $25 or less. For all the features included, this is a great price. The Lynn Lilly version is currently the glue gun I reach for the most. I really love that it's cordless. If you don't like the color combo you can find the same glue gun in the black and green version.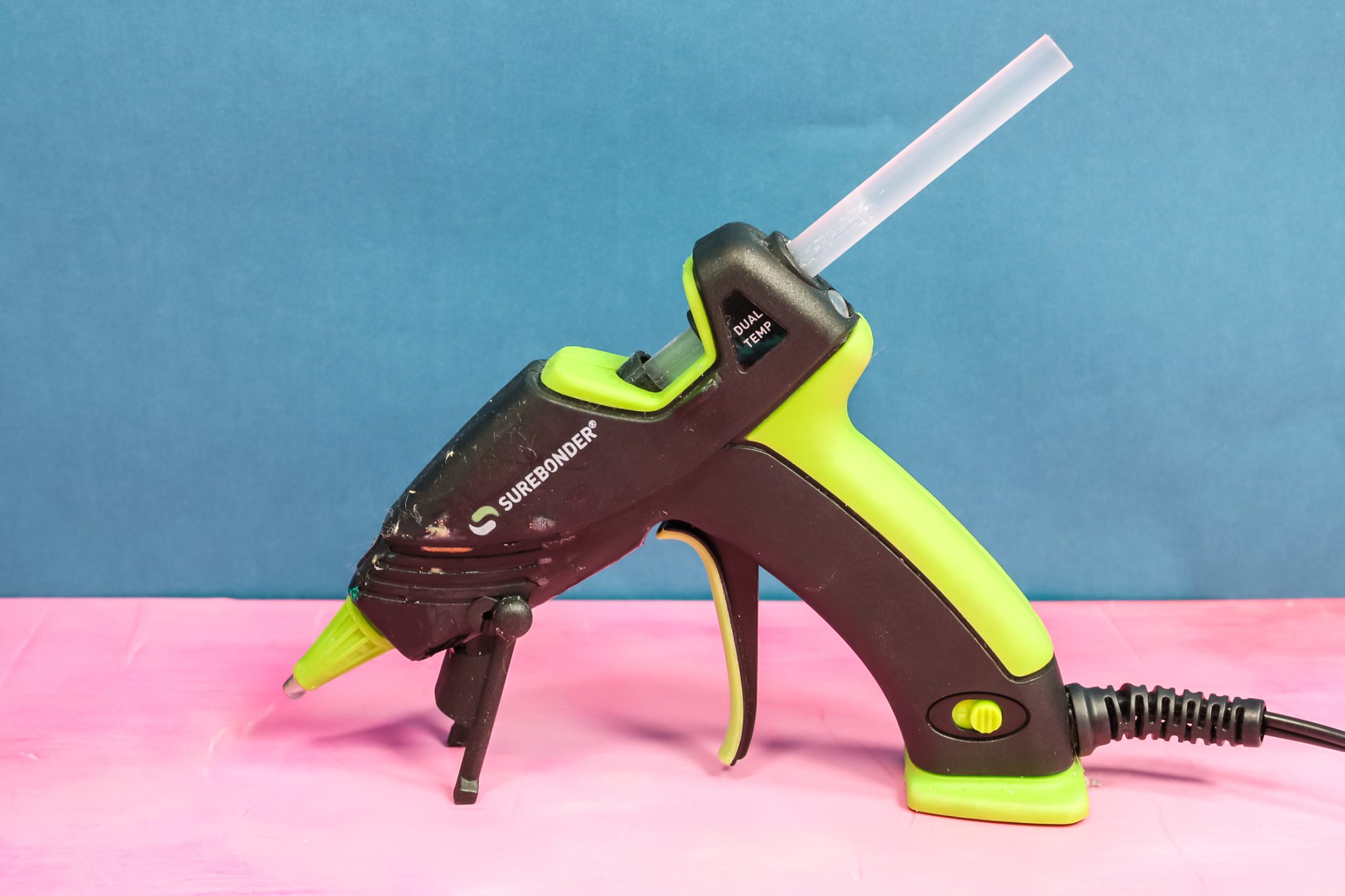 Xyron Multi Stick Glue Gun Pros
Any time I have a project that uses a lot of glue, I use this glue gun. I like that I don't have to refill it as often. The tip is fairly precise and it has a stand.
Xyron Multi Stick Glue Gun Cons
I do wish the tip was a little more precise and, while it has a stand, I wish it was a little wider. Sometimes I have a problem with it falling over because of its size. It just isn't as stable as some of the others.
It is a little harder to pull the trigger with this one and you do need to get the feel for when you need to shake it to get a new glue stick into place.
Final Thoughts – Xyron Multi Stick
Once I got the feel for using the Xyron Multi Stick, I really liked it. I reach for it almost as often as I do the Lynn Lilly glue gun and always reach for it when I have a lot of gluing to do on my project. Not having to add glue sticks regularly is a major bonus.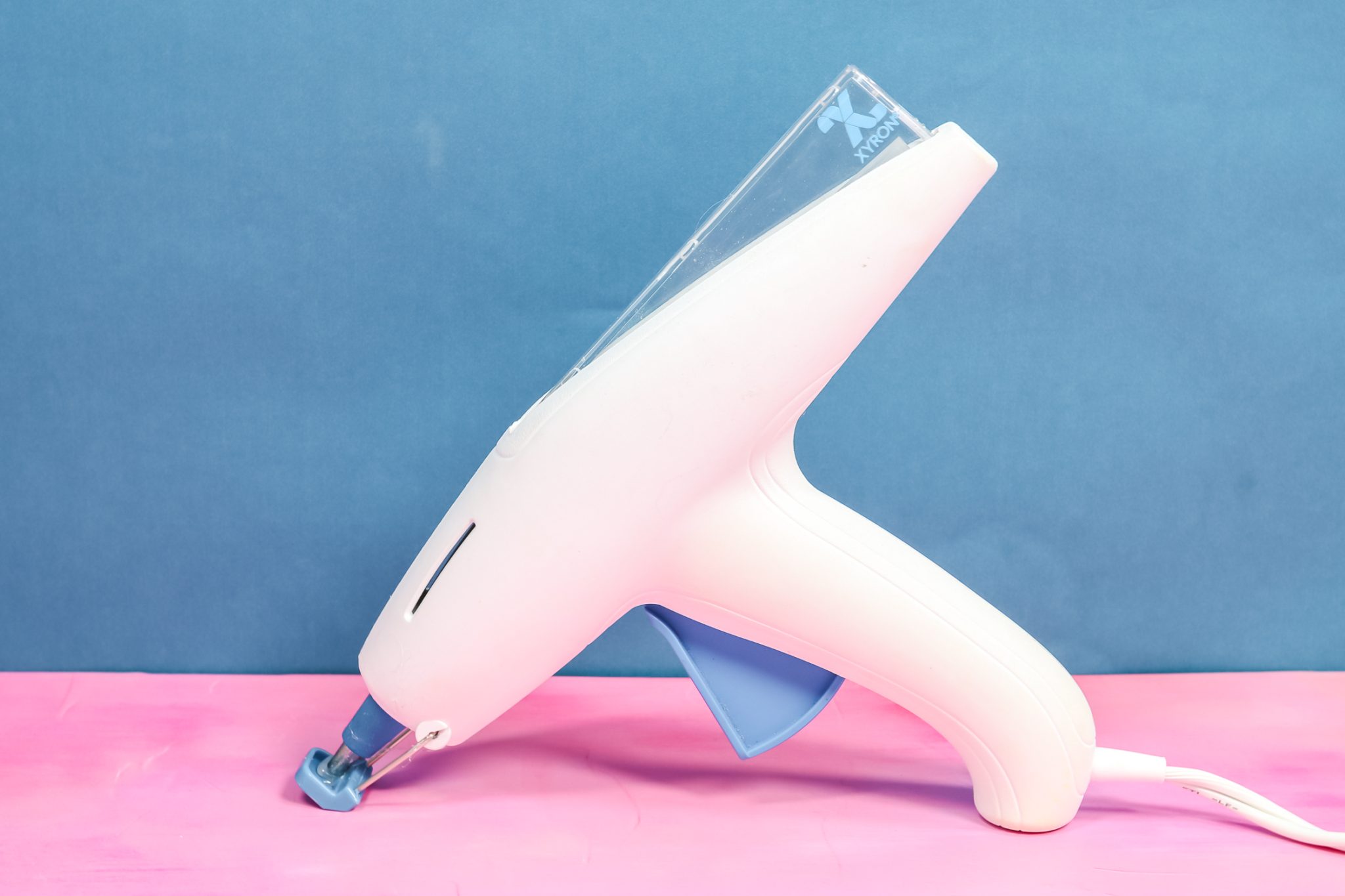 AdTech Glue Gun Pros
Both options have a nice precise tip. Both also have a stand of some sort. I really like the wide base on the Precision Pro. I can set it down easily and I don't have to worry about it falling over.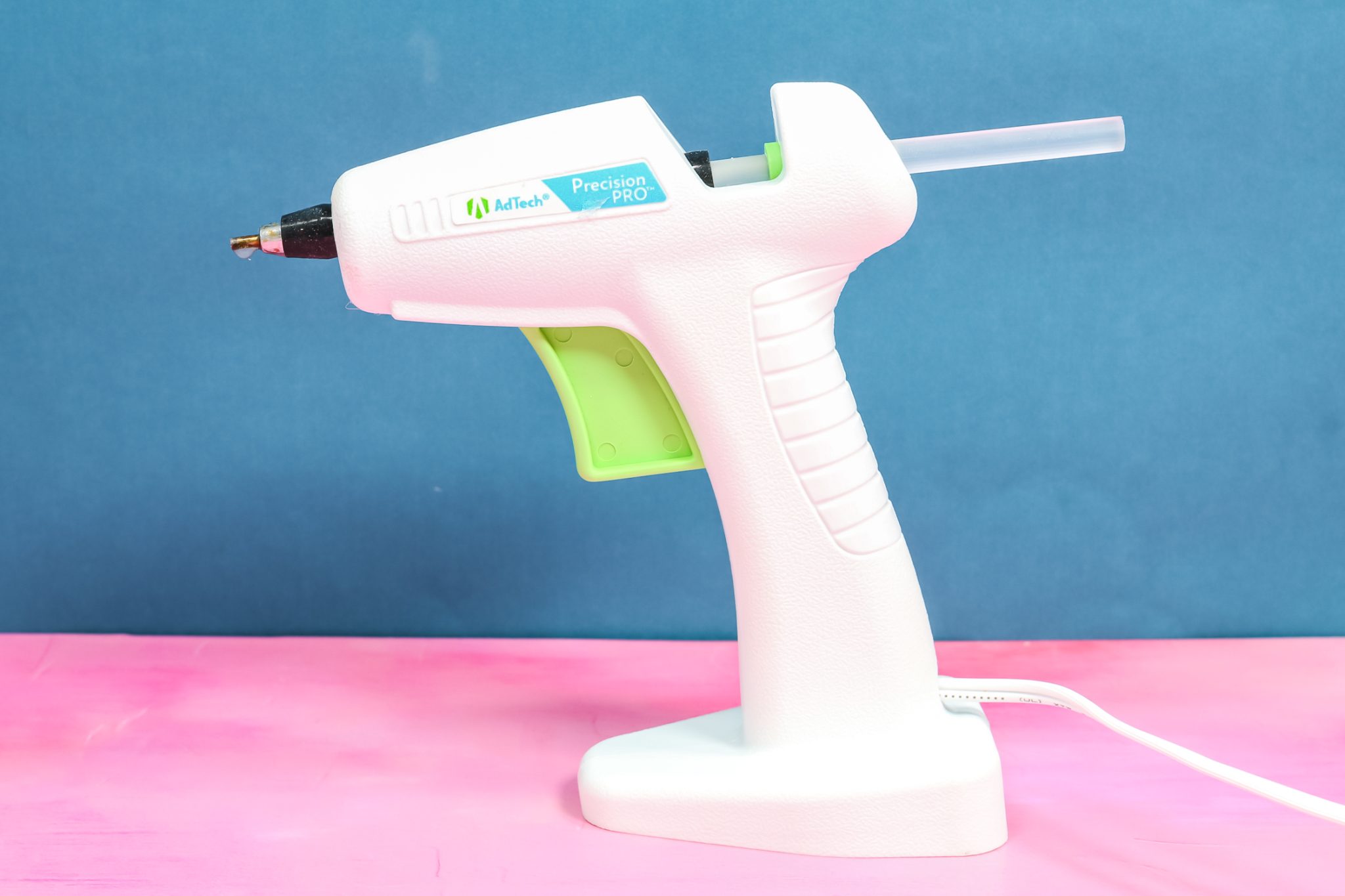 AdTech Glue Gun Cons
These ones drip the most out of all of them. They also don't have silicone on the tip so that may be something to worry about because more metal is exposed. The Project Pro has a smaller stand, it's nice enough but not as stable as the Precision Pro.
AdTech Glue Gun – Final Thoughts
These tie for the lowest price point of all the options I tested today so that is nice. While they do drip more than the others, the stand and price point help make them a solid choice for a glue gun.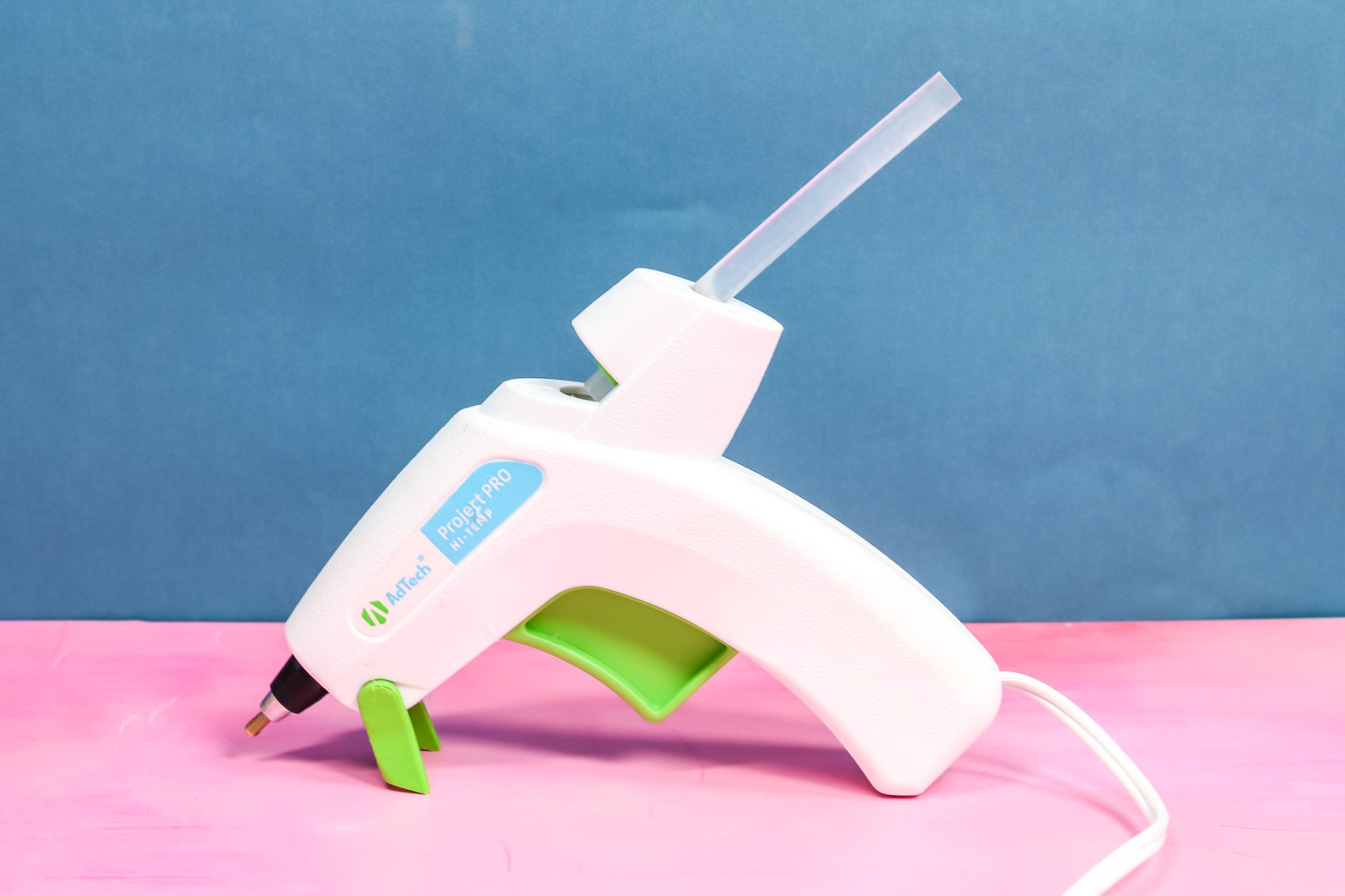 Which Glue Gun Should You Buy?
I own all the glue guns shown and even a few more. These are all my favorites that are still on the market today. But which is the best glue gun? Which should you buy?
Cricut claims that theirs with their glue drips less and has fewer strings. Over the years, there have been other glue guns that have claimed the same thing. I actually own a few of those and when I looked them up none of them are still sold. Since I still had some strings and some drips with the Cricut gun, it wasn't that big of a benefit for me over some of the other features.
I rank a stand, the ability to be cordless, and holding multiple glue sticks higher than a glue gun that didn't have those features but offered fewer drips or strings. For my dollar, I would probably pick the Surebonder or the Xyron. They have the features I prefer in a glue gun. However, if you like the look of the Cricut version and you don't mind laying it on the table it's a great option.
The Surebonder and AdTech tied for the lowest price point – all of them except the Cricut falling into the $25 or less category. The Cricut version retails right now for about $40 which makes it quite a bit more than the other options. That is definitely a factor for me in deciding which one to purchase.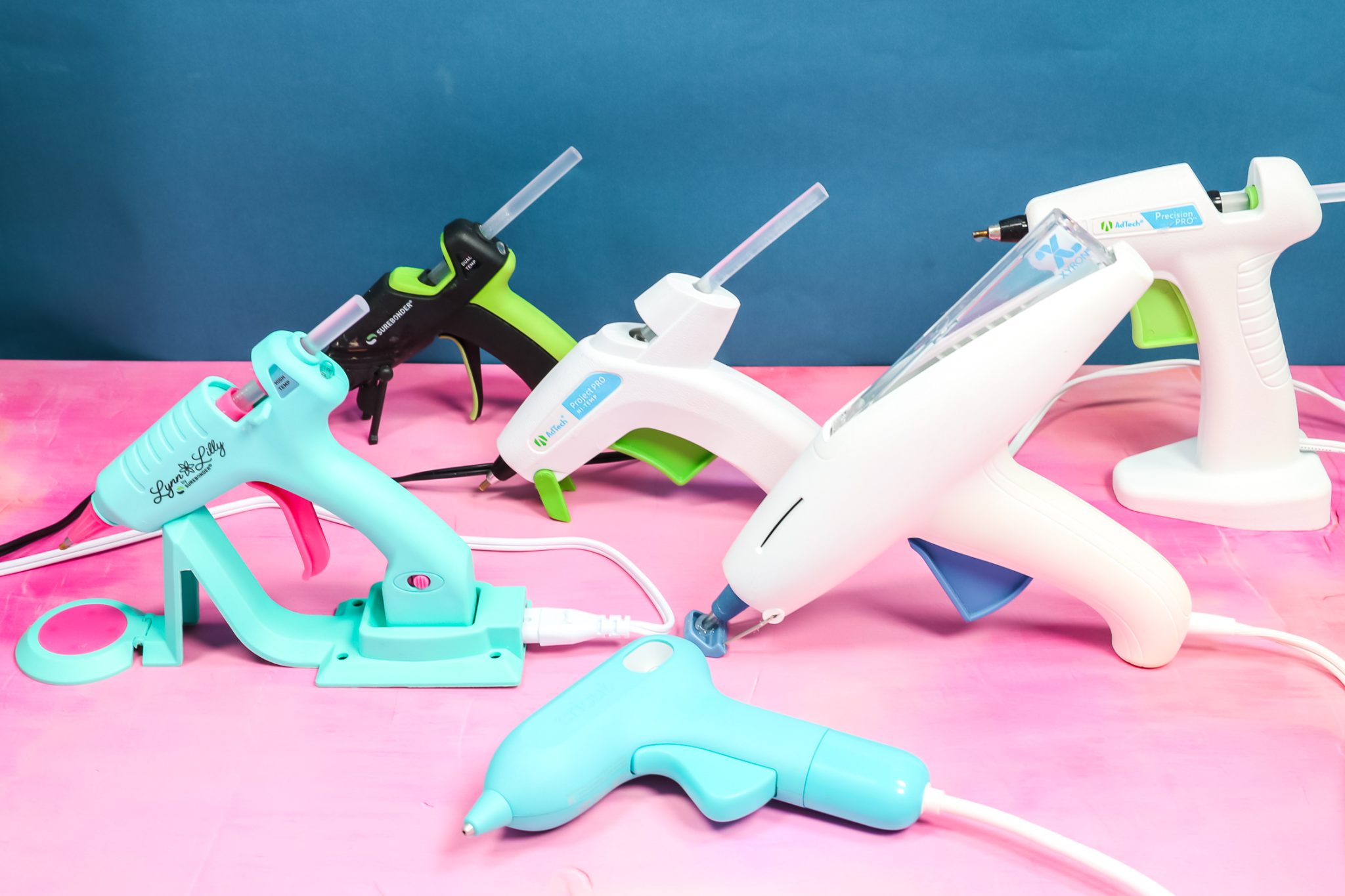 I hope this helps you pick the best glue gun for your craft room. I think any of them would be a great addition to your craft room and you will never regret the purchase of a good glue gun.