I have a glow in the dark yard game craft for y'all today. Awesome right? First lets get started on making this great game! This glow in the dark yard game is perfect for your 4th of July party y'all. Let the kids play all night while you mix and mingle with family and friends. Plus it is super easy to make. Not throwing a 4th of July bash? Make this one anyway as the kids will love playing in the dark all summer long.

Products below may have been given to me free of charge but all projects and opinions are my own!
My game is made out of a
canvas drop cloth
from The Home Depot. This is the perfect thing to use for this type of thing as it is sturdy yet affordable. I cut the drop cloth to my desired size then grabbed some craft paints from my stash. I am using Americana Neons,
Glo It
, and a
Glo in the Dark writer
all from Decoart. I was given these paints from Decoart but you can find them at a craft store like Hobby Lobby. The neons will actually glow under a black light all by themselves! So if you want more glow then the glo paint provides you can always hook up a
black light
for the little ones.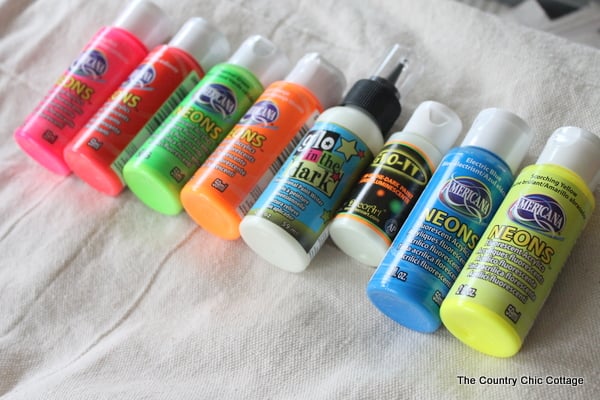 I laid my game in the grass and started painting. My version of the game is about 3 1/2 feet by 3 1/2 feet. But you can make any variation of this game that you desire. Just be sure you have somewhere to hang it when it is complete. I free handed some shapes and numbers onto my drop cloth with the neon paints and allowed that to dry. I think the fun part of this game is that you free hand the painting. Don't get too fussy over it!
Next comes the glow in the dark. I added the writer first and allowed that to dry. Again just free hand on your glo paint in crazy shapes and have fun with it!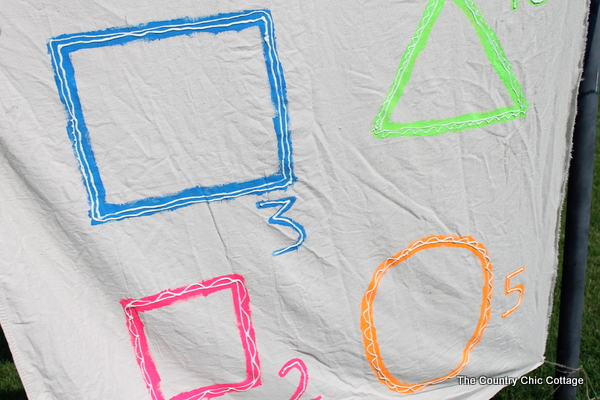 I then added some of the other glow paint with a brush around all of the openings and the numbers. You want this to GLOW when the sun goes down. After all of your paint dries, just cut around the inside of all of your shapes. Just use a good pair of scissors and cut away your material. No sewing or fussing over this project!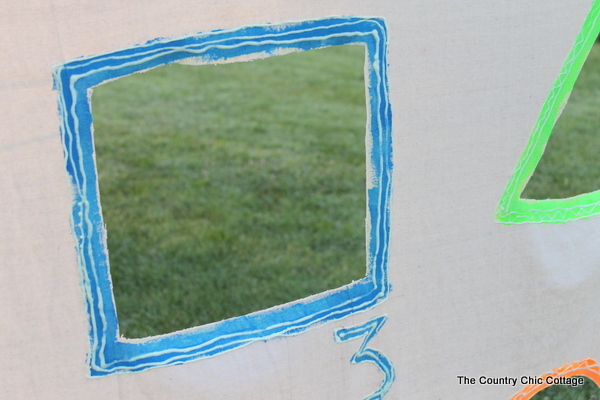 All that is left now is to hang and have fun. I use the clothes line to hang my version then I have twine run through holes in the bottom so I can secure it to stakes in the ground. We used glow in the dark bracelets to throw through our holes. Who will get the most points in your home?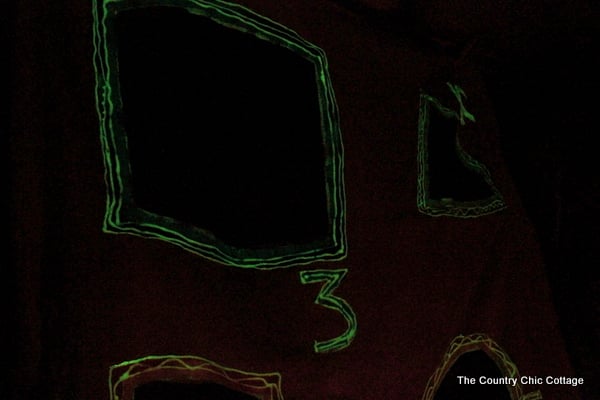 If the game does not glow enough for you, a black light will make the whole thing brighter or you can attach a few of those glow bracelets to the canvas using clothespins. Trust me the kids will find a way to play this in the dark! I hope you will make my glow in the dark yard game for your 4th of July party or just for back yard fun all summer long.