This post and photos may contain Amazon or other affiliate links. If you purchase something through any link, I may receive a small commission at no extra charge to you. Any supplies used may be given to me free of charge, however, all projects and opinions are my own.
You can make your own ring toss game for fun with adults and kids. Grab some wood trays and decorative bottles to make this fun game at home. This one can be played indoors or out so be sure to make your own today as those dreary days of winter are ahead.
This one was first posted over at the Darice blog but I thought y'all might enjoy it as well.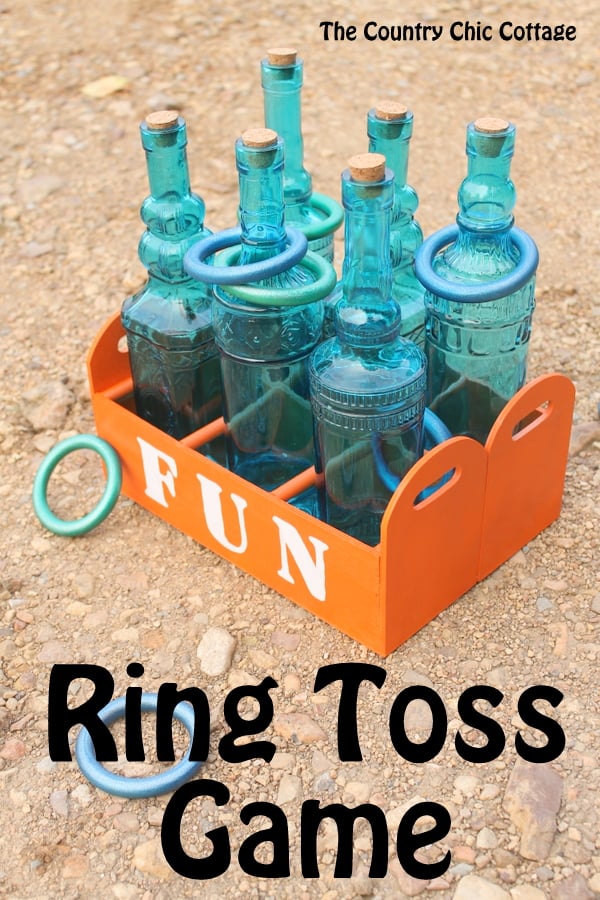 Ring Toss Game Materials: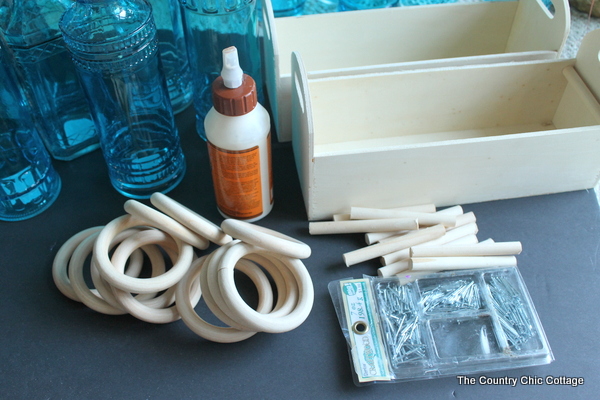 DIY Ring Toss Game Instructions:
Start by cutting your dowel rod to fit inside the wood trays. Cut to length then sand the ends. I used a sander but you can sand by hand. Put those cut dowel rods in place as shown below. These should be placed so that your bottles will fit in easily. Do a dry fit before continuing.
Use wood glue to hold dowel rods, as well as the two trays together. Clamp or use rubber bands in a pinch. Add nails to help secure.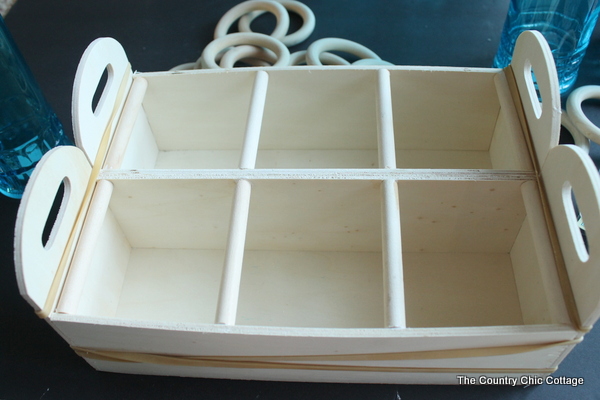 Allow the glue to dry overnight then paint the entire thing with a coat of orange Krylon. It may take a few light coats inside and out to get yours looking like the below.
Allow the spray paint to dry and cure overnight especially if you are making this in the south during the summer! Add whatever word you like to the front using the stencils, craft paint, and a stencil brush.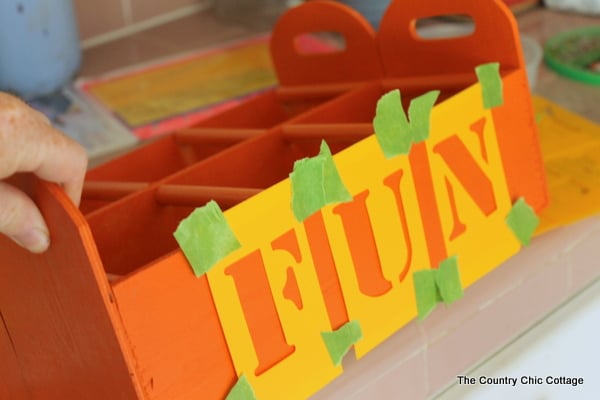 Use a fine line paint brush with the same craft paint to fill in any gaps left by the stencil. Compare the image above with the image below to see what I am talking about.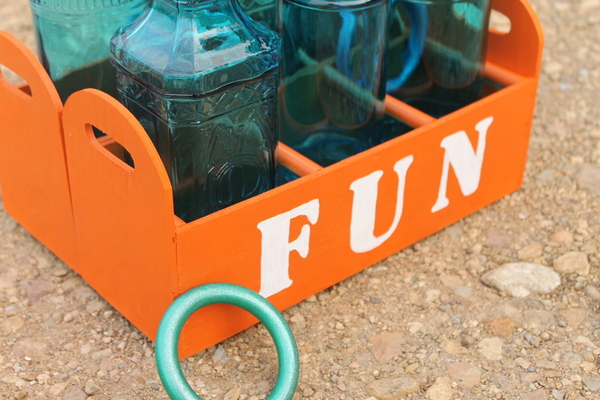 I wanted my rings two different colors for a little ring toss competition! I used Krylon in blue and green to paint the rings outside. Paint one side, allow to dry, then paint the opposite side.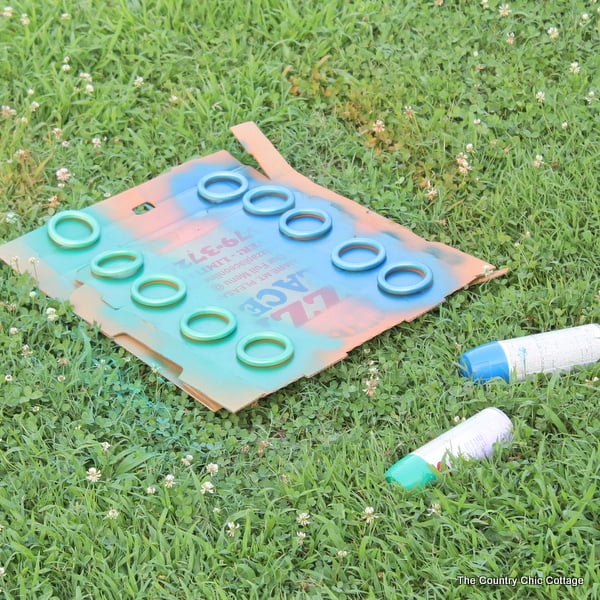 Add your bottles to the crate and you are ready for a friendly family ring toss competition.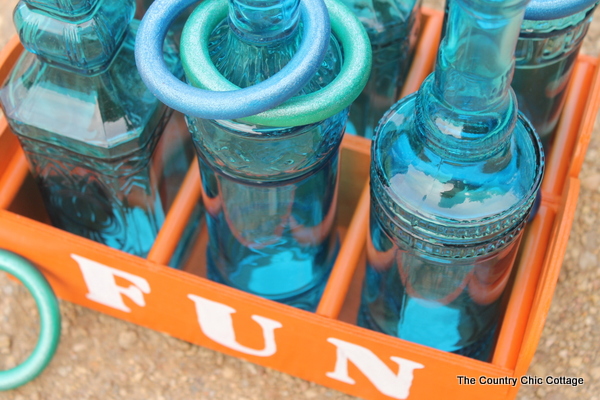 I obviously need to work on my ring toss skills. I actually had to put some of the rings on the bottles by hand to take these pictures. Sigh.
Be sure to gather the supplies to make your own ring toss game for your home. The kids (and adults) will love it!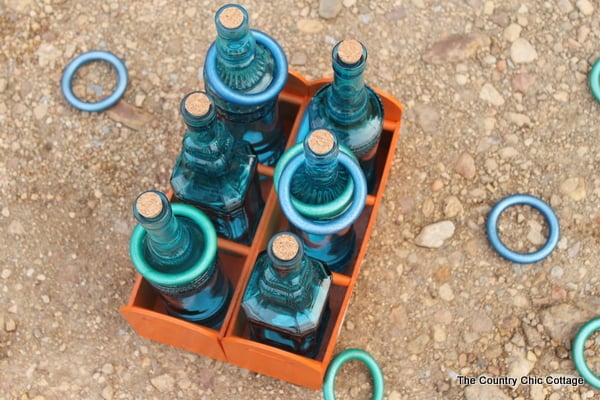 Benefits of Ring Toss Game for Kids:
Throwing skills such as underarm throwing is a fundamental movement skill that should be practiced and encouraged in the early years. The ring toss game is a simple and fun activity that also helps develop your child's skills and attributes.
Here are reasons why you should let your kids play the ring toss game:
Hand-Eye Coordination:
Any child's game or activity that requires throwing, catching, hitting helps them develop their hand-eye coordination. That being said, the ring toss game is a good exercise for them to master hand-eye coordination and measuring distance and power.
Balance:
Kids are experts at falling down. Whether playing their favorite sport or just walking across the room, kids regularly reacquaint themselves with the wonders of gravity.
Balance is a significant component of child development and relies heavily on the vestibular system. Children must learn to balance before they can progress to higher level gross motor skills like stair negotiation, hopping, galloping or skipping.
However, balance exercises don't always require standing on one foot. Playing the ring toss game can also help develop this attribute in children as they need to do a proper form when throwing the ring. The more they do this and they practice their form and standing firmly, they'll be able to perfect balance.
Social Skills:
The ring toss game is best played with two or more players. This encourages conversations and fun interactions between children and/or adults playing the game. Especially for kids, taking part in this game, they'll be feeling a lot of different emotions–excitement, nervousness, joy, sadness (if they lost). By playing this game, they could learn how to handle these emotions and express it to others as well.
Self-Esteem:
In anything that children do, when they succeed, they get a boost of self confidence. Playing the ring toss game is no difference. The satisfaction of seeing that ring landing perfectly around a bottle would surely excite your child and give them a feeling of elation.
This would encourage them to keep on going, trying again and again until they master the activity–at least at their level.
Note that there are also cases wherein if the child continuously "fails" at this activity, it might have the opposite effect. In this case, it's critical that you encourage the child to not give up and not lose hope. Make the game easier for them by allowing them to throw closer to the bottles. Basically, build their confidence up slowly but surely.
Strengthen Body:
For kids, the ring toss game is not just a simple game, it can also serve as a full body exercise which can build muscles, strengthen bones, and their cardiovascular health. It's not too much of a stretch, considering kids tend to run and jump around when they get excited while playing games.
Not only that, practicing proper form and repeatedly throwing would work out their little muscles and stretch them out as well.
What are you waiting for? Create your own ring toss game DIY and start playing today!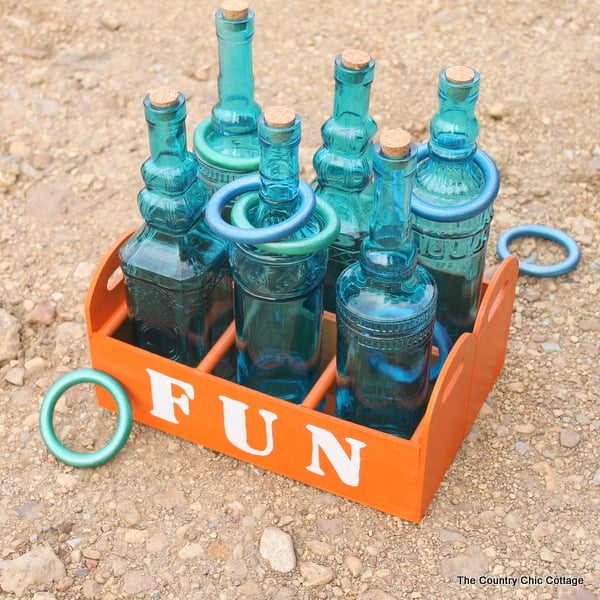 Want other outdoor fun and games for your kids? Check out these other fun DIY projects!