These 8 hoop ornament gift are perfect any time of year. Follow all of the easy tutorials on this page and discover more gift ideas too!
These are perfect for anyone on your gift-giving list. I have ideas for everyone; from grandma to teens to little boys to teachers. Seriously- grab one of the craft tutorials below and make a fabulous handmade gift this year.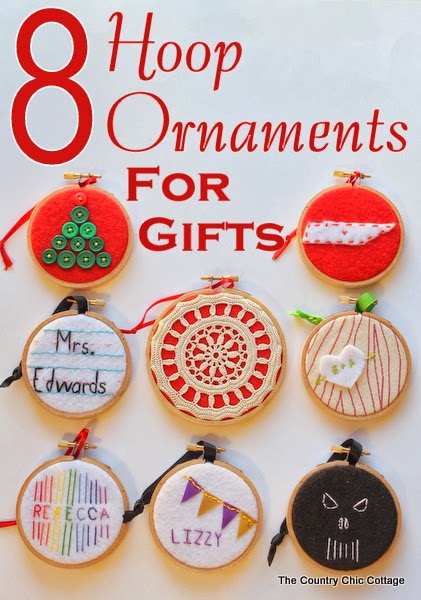 8 Ornament Gifts For Any Occassion
Whether you are looking for a birthday gift or a teacher appreciation gift, these hoop ornaments are a perfect choice every single time.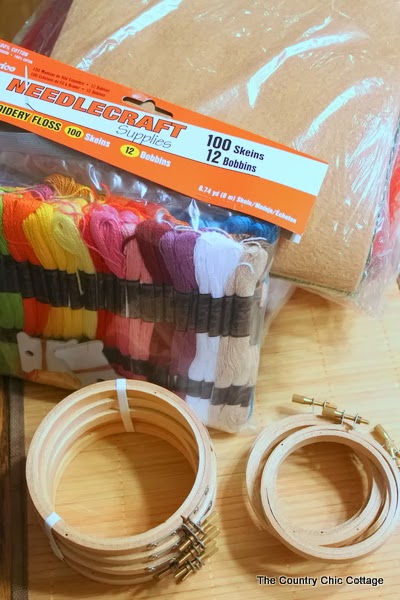 Hoop Ornament Supplies For A Handmade Gift
Before you get started, these are the supplies you will need.
Note: If you are just making one of the ornament gifts pictured, be sure to scroll to the tutorial below as you may not need all of the supplies listed.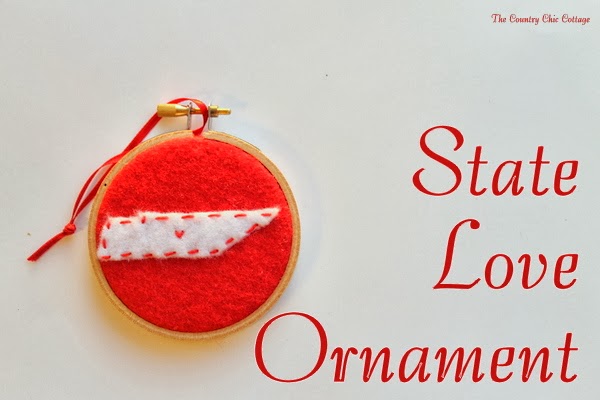 1. State Love Hoop Ornament Tutorial
First up is my state love ornament!
This one would be perfect for anyone who loves where they live. Even a set of these for someone in the military that includes all of the states they have lived in. I actually made many of these last year and gave them as gifts.
These are very simple to make! I used red and white felt but the colors could of course be customized to your gift recipient.
First, place your hoop on the sheet of felt and tighten.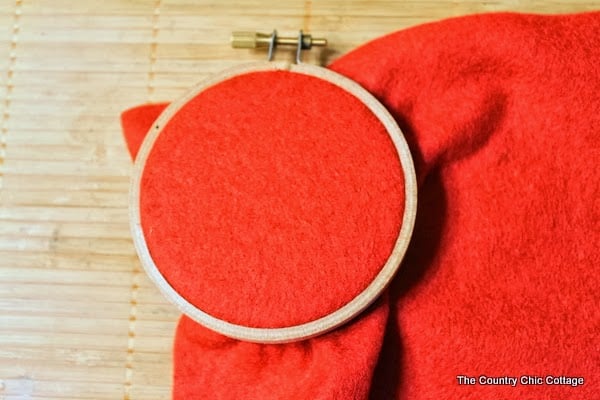 Next, cut away most of the excess with a pair of scissors.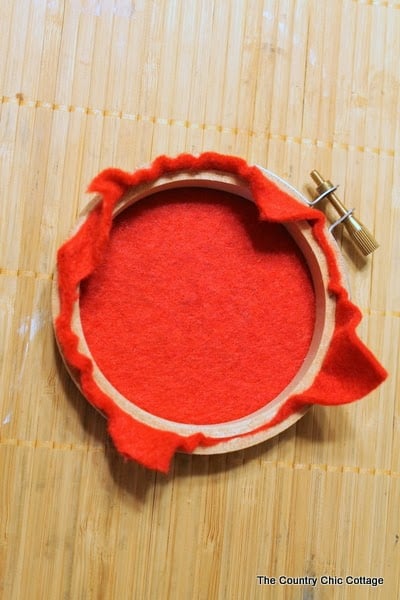 Then, use a craft knife to trim the felt neatly.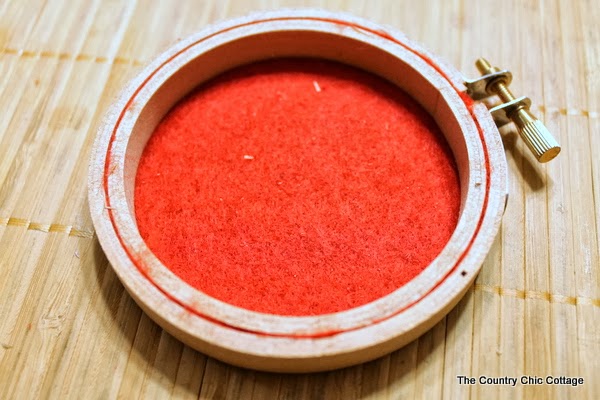 Then print out your state (mine is Tennessee) on the computer in approximately the size you would need to fill the hoop. Cut the state out from the paper.
Lay that on white felt and trim around it with your craft knife.
Note: Please place an old magazine or something under your work area.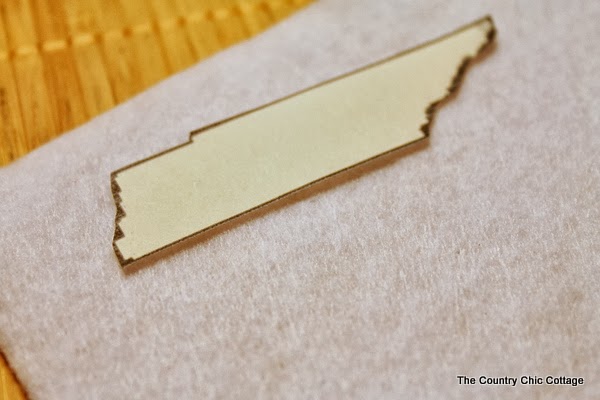 Then, place your cutout state on the hoop in the approximate location. Stitch around with red embroidery thread and stitch a heart in the middle of the approximate location of the town where you live.
The first of the ornament gifts are done!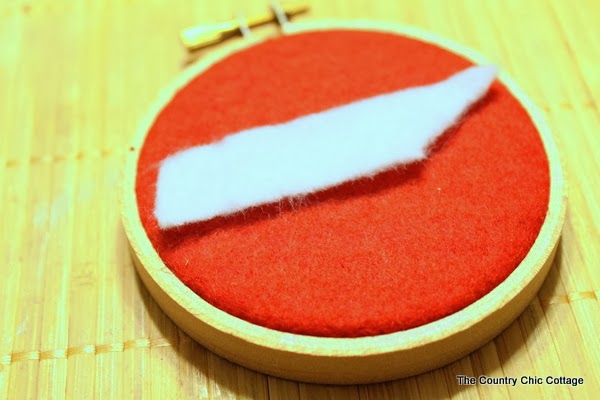 2. Tree of Love Hoop Ornament Tutorial
Next up is the Tree of Love Ornament for newlyweds or those that still think they are! Perfect for any couple.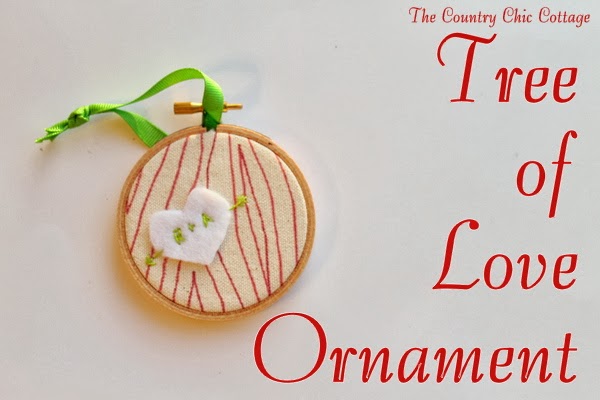 You will need a scrap piece of fabric for this one as well as a marker. I used a scrap piece of off-white canvas material. The marker is from my scrapbook supplies. I think any thin line marker would do fine.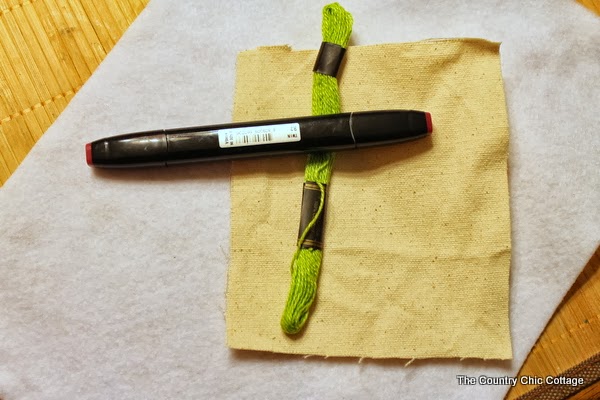 Draw faux bois or wood grain pattern on your scrap piece of fabric with your thin line marker.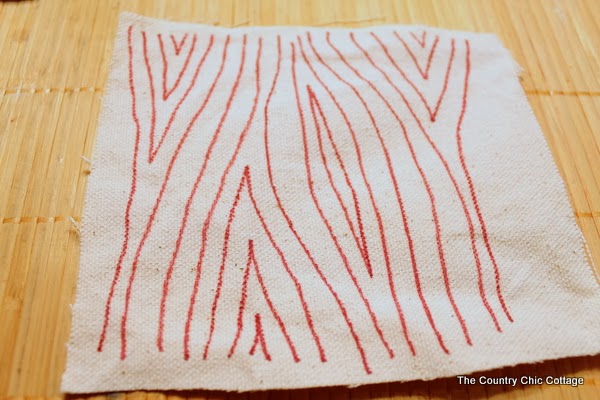 Place the fabric in your embroidery hoop. Again repeat the steps that are above in the state love ornament. Trimming any excess with your craft knife.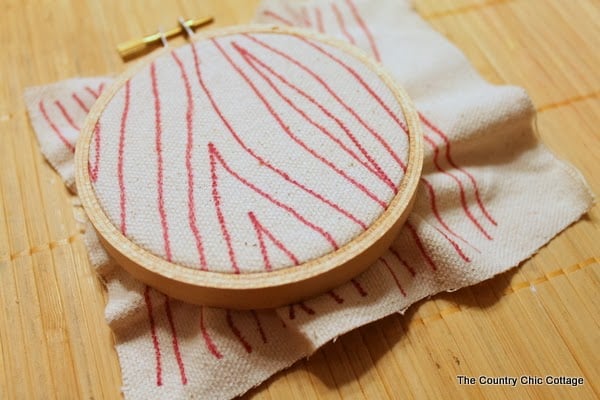 Then, cut out a heart from felt (I used white). I embroidered an arrow and "R + A" on my heart. This is supposed to be reminiscent of a carving on a tree.
Fall in love all over again with this handmade gift!
We have our second handmade gift complete.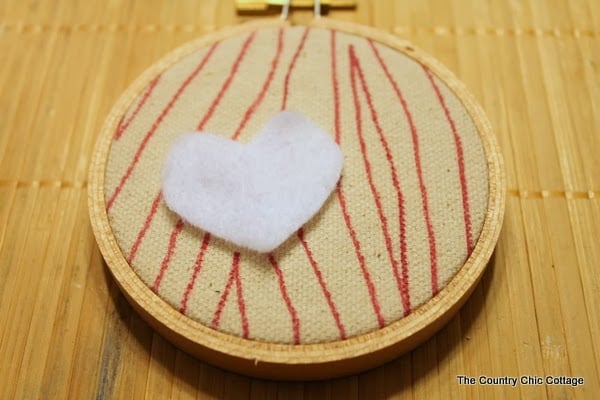 3. Button Tree Hoop Ornament Tutorial
I just had to make one using buttons. I love working with buttons in my craft projects!
My button tree ornament would be perfect to give as a gift or keep for your own tree.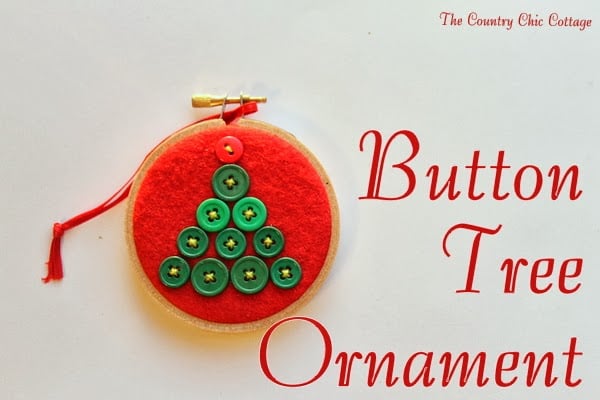 I laid out the buttons I wanted to use before I even started, making sure I had the correct placement and number of buttons that I wanted.
I then followed the State Love Ornament tutorial above as far as putting the felt in the hoop. The buttons were stitched on with embroidery thread.
Simple and easy, don't ya think?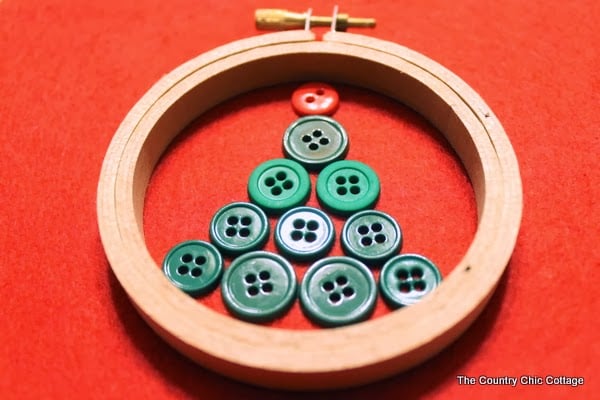 4. Teacher Gift Hoop Ornament Tutorial
One of my absolute faves is the Teacher Gift Ornament! I love this idea.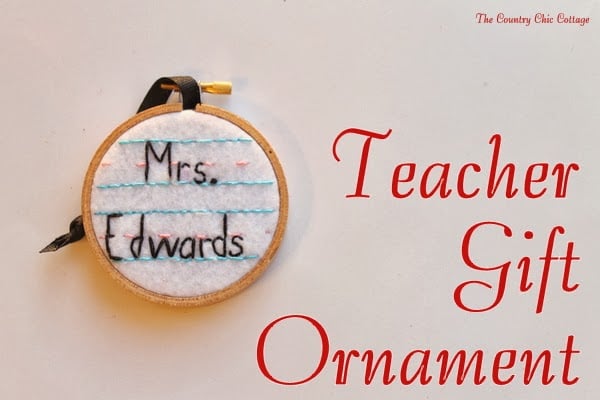 Again you follow the instructions in the State Love section above for inserting your felt into the hoop. I then drew on the felt with a disappearing ink marker to layout my stitches.
It is very hard to see the writing in pictures but it was enough for me to use as a guide. I did the stitching for the "paper lines" first then the stitching for the name.
I am loving how these ornament gifts are turning out!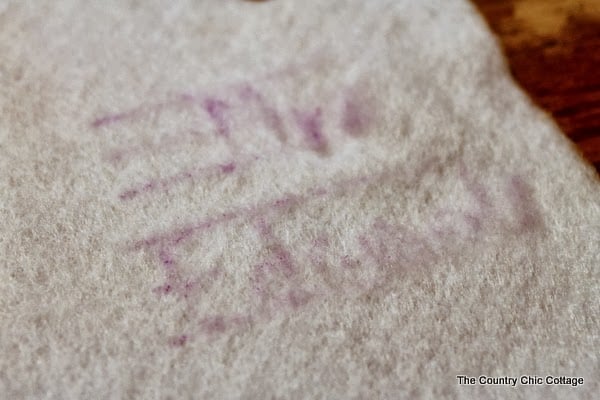 5. Rainbow Name Hoop Ornament Tutorial
The exact same methods apply to my Rainbow Name Ornament. This one is perfect for any little girl from newborn to teen. Again, use a disappearing ink marker to layout your design.
Then, put their name in a rainbow!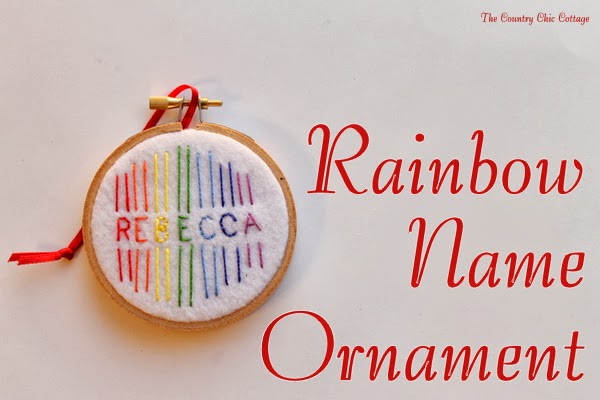 6. Goth Skull Hoop Ornament Tutorial
Now, I did say there would be an ornament for everyone on your list right? What about those pesky boys? You know the ones that are so hard to buy for.
So, I asked my seven-year-old what type of ornament he would like. Dinosaurs? Trucks? What did he say….a skull.
The Goth Skull Ornament was born! You gotta give 'em what they want right? I just freehanded the stitching on this one. You could lay out the design with chalk on the black felt and it should wipe off after you are done.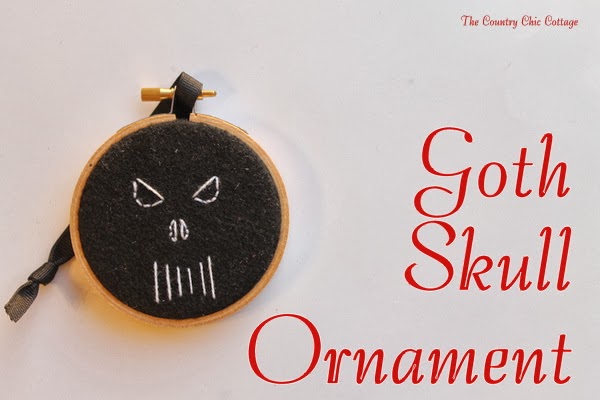 7. Doily Hoop Ornament Tutorial
What about grandma? Or, even those of us that are grandmas at heart? A Doily Ornament is a perfect gift!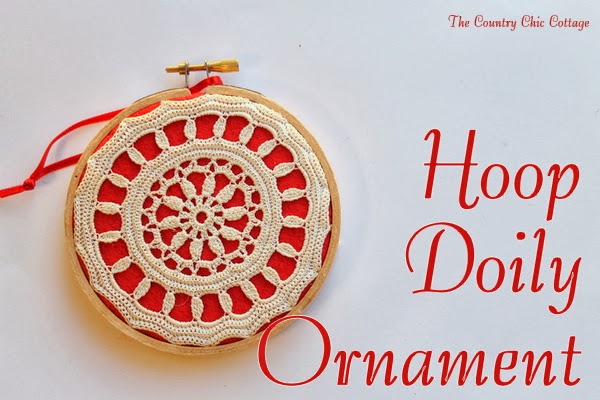 I used a vintage doily that I had at home but there are a wide variety of doilies for sale on Consumer Crafts. Size it to your embroidery hoop.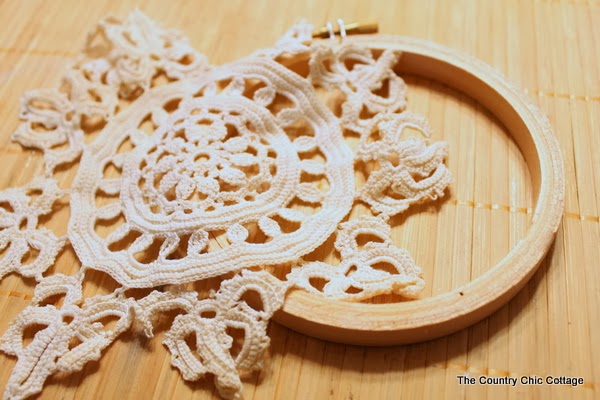 Then, just insert the felt and the doily at the same time and pull tight. Tighten the screw on the hoop. Turn it over, trim the excess with a craft knife, and you have an ornament ready for display or gift giving!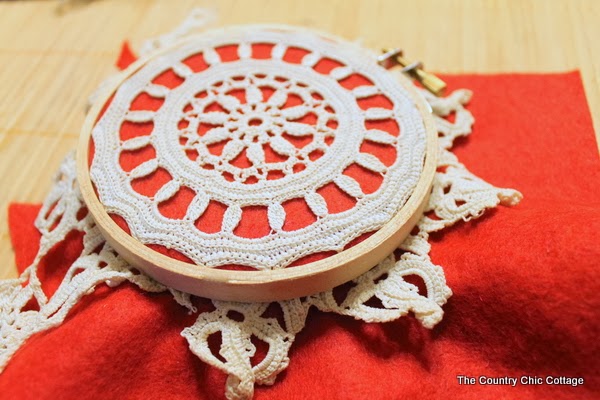 8. Team Spirit Hoop Ornament Tutorial
Last but not least, are you ready for some team spirit? The Team Spirit Ornament is perfect for sports fans, college students, or even high school students.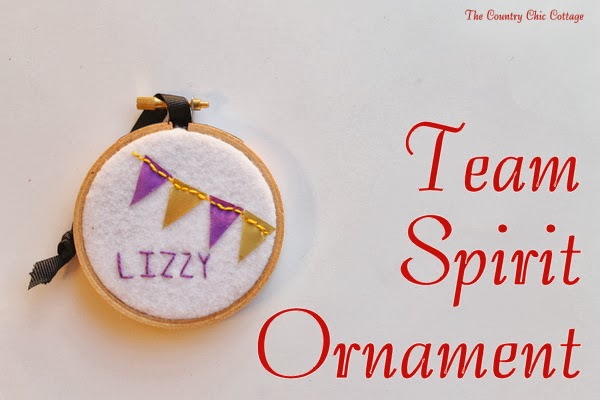 I used scraps of ribbon in my daughter's college colors. Just cut scrap ribbon or fabric into triangles.
Put your felt in the embroidery hoop. Add the triangles with embroidery thread. Then, layout the name with disappearing ink and stitch.
How To Hang These Handmade Ornaments
Each of the ornament gifts has a ribbon to hang by. I actually just threaded the ribbon through the screw portion of the hoop and tied it.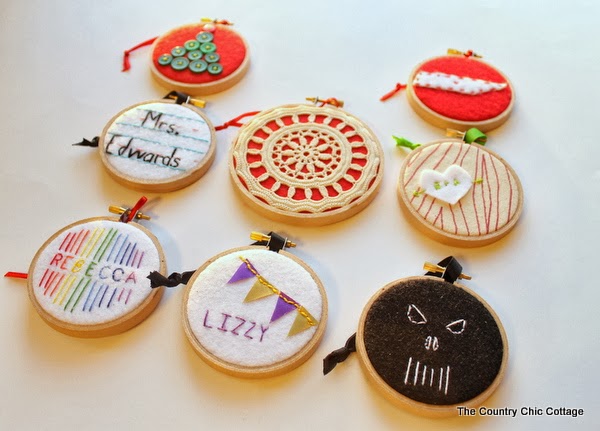 The Best Handmade Ornament Gifts: Show Everyone Your Appreciation!
Show everyone on your gift list a little extra love by adding a hoop ornament to their present this year. These are also the perfect small and personalized gift for those in your office or friends that deserve a meaningful but small gift.
My hoop ornament ideas are for everyone on your list. I hope you have enjoyed this installment of our handmade gift series!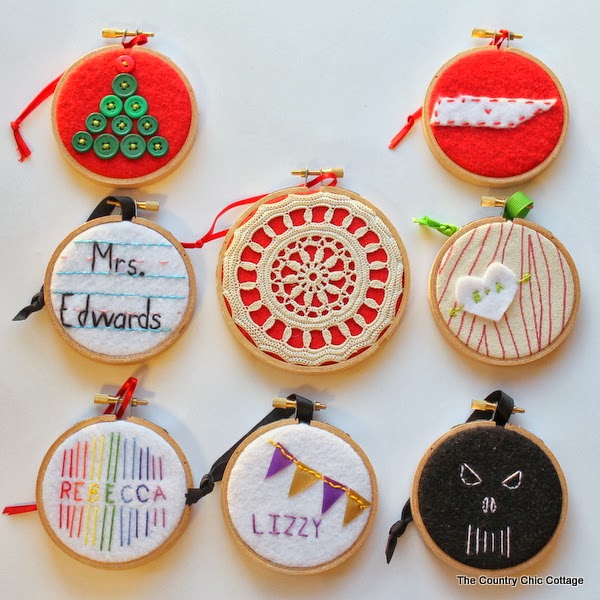 More Handmade Gifts
Have you missed any of our handmade gift series? Visit all of the links so far.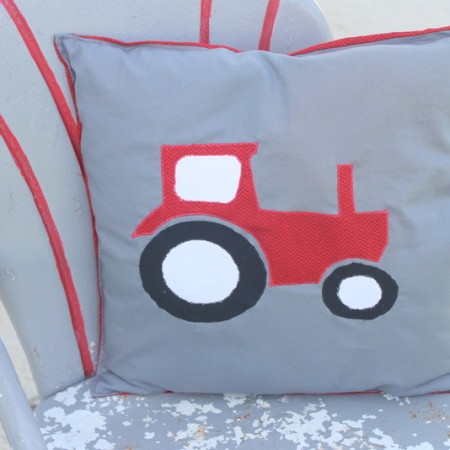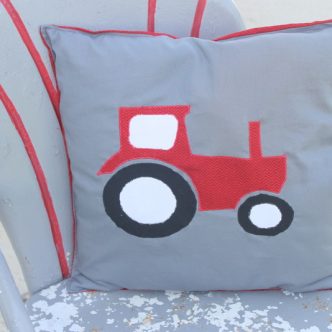 Tractor Applique Pillow
This gift is perfect for anyone that loves tractors or farming.
Read More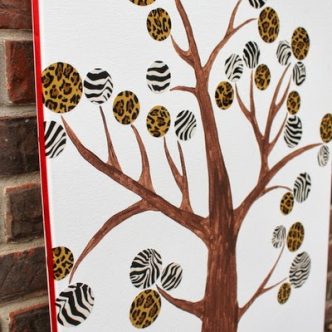 DIY Modern Tree Art
The perfect gift for teens and adults this modern tree art is super easy to make.
Read More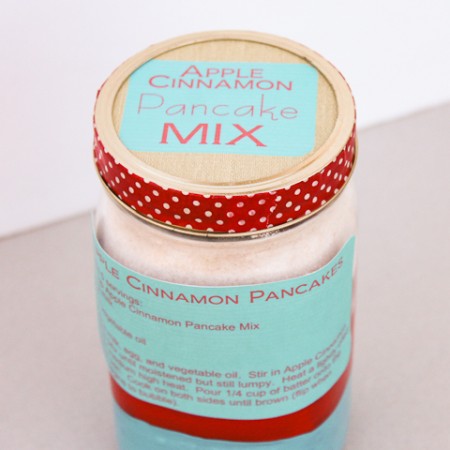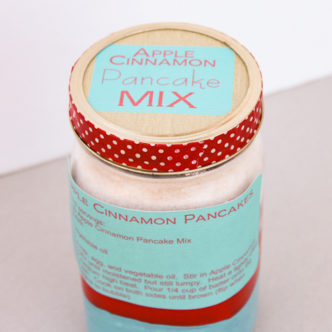 Apple Cinnamon Pancake Mix Gift in a Jar
This Apple Cinnamon Pancake Mix Gift in a Jar is perfect for anyone on your gift-giving list. I have included the recipe and free printable labels for you to create your own gift in a jar quickly and easily.
Read More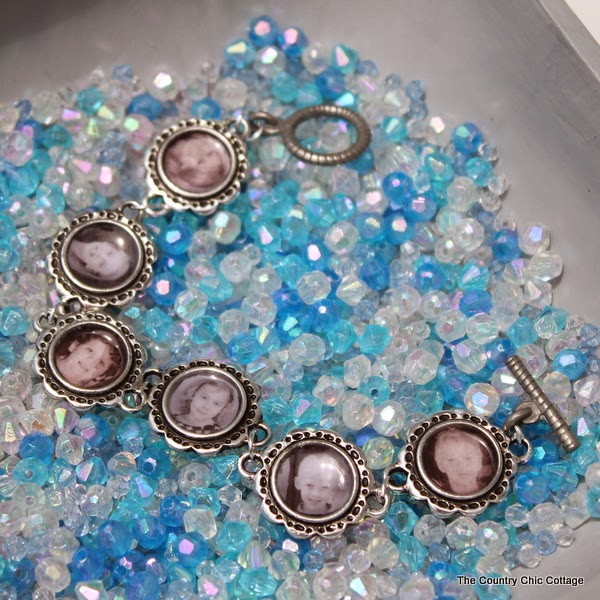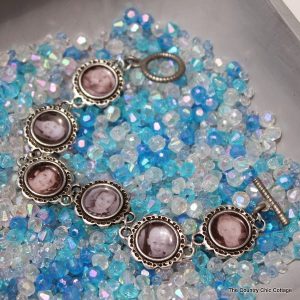 Grandma Photo Bracelet Tutorial
Any mom or grandma would love to get one of these filled with pictures of the ones they love.
Read More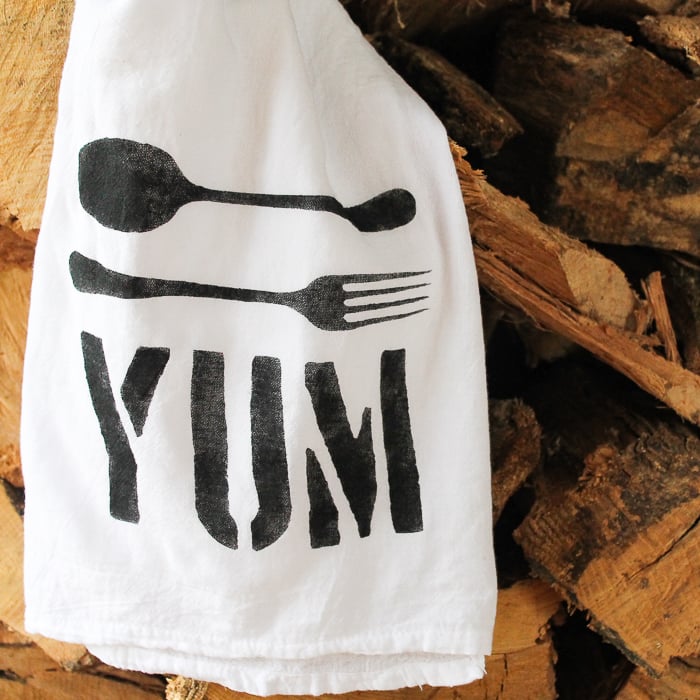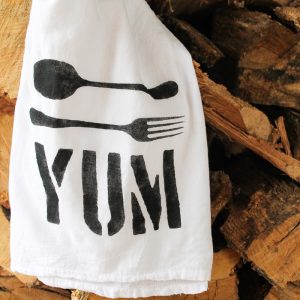 DIY Stenciled Dish Towel
These can be customized easily to your gift recipient. Grab a few flour sack towels at your local store to get started.
Read More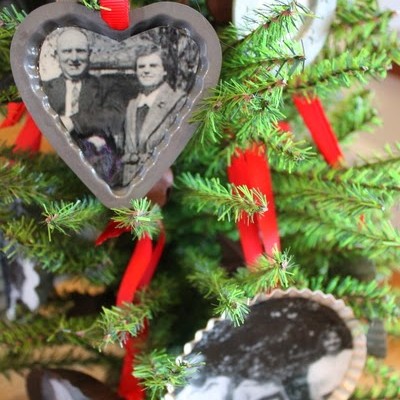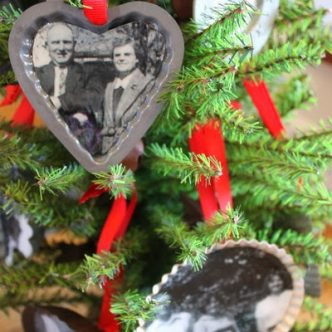 Family Tree Ornaments
This tutorial takes old or new photos and turns them into heirloom ornaments.
Read More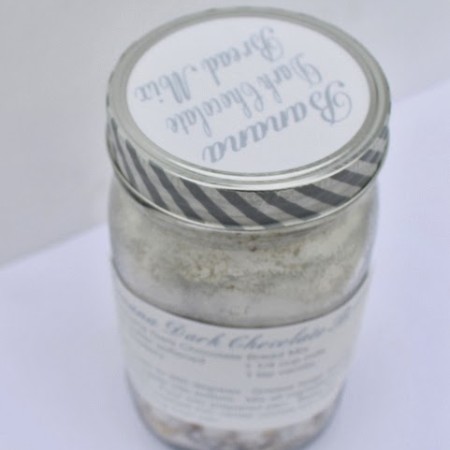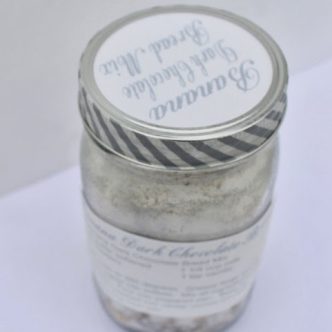 Banana Dark Chocolate Bread Mix in a Jar
Mix up the ingredients, drop them in a jar, add our free printable labels, and you have a gift worth giving to anyone.
Read More
Don't miss our Handmade Gift Gallery Page for more ideas!