I am continuing with my handmade gift series today with some family tree ornaments that will please almost anyone on your holiday gift giving list. This tutorial takes old or new photos and turns them into heirloom ornaments. A perfect addition to any tree, gift, or add them to their own special tree like I did below. This tutorial was actually on Crafts Unleashed last year but I thought y'all would enjoy a repeat performance.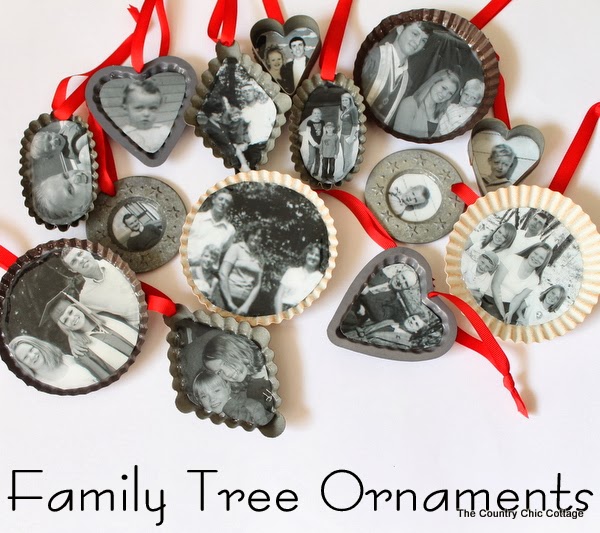 First, you will need some black and white pictures. I used a variety of old and new pictures. I converted them all to black and white on my computer and had them printed at the local drugstore. I think my total was around $4. I actually printed more than I needed. The "ornaments" are going to use are a variety of shapes and I was unsure how the pictures would look in them. Better to have too many then to have to run back to the store to print more pictures.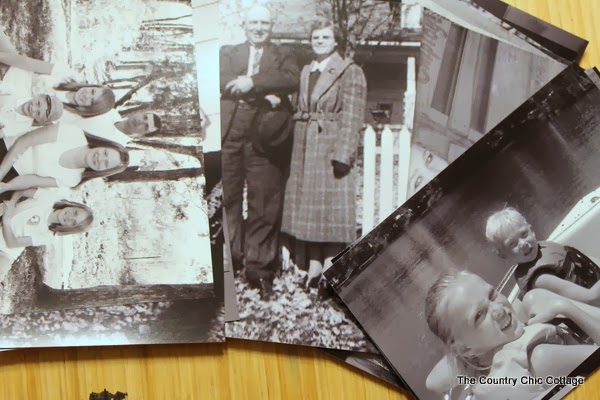 In addition to pictures, here are the supplies needed to make your own handmade Christmas ornaments and family tree: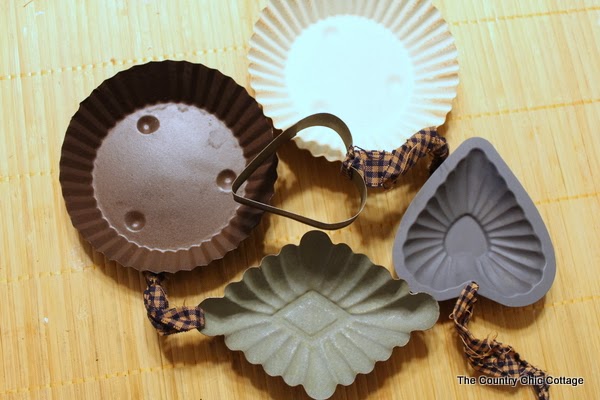 I started with my pile of pictures and determined which photo would look best in each metal object. I trimmed my pictures to where they would fit inside and removed any ribbon that came on the metal objects.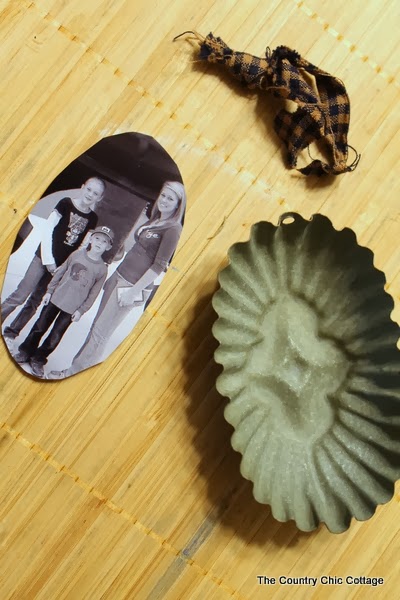 The pictures did not sit all the way down inside of the metal objects. I made them where they would sit slightly inside but not all the way on the bottom.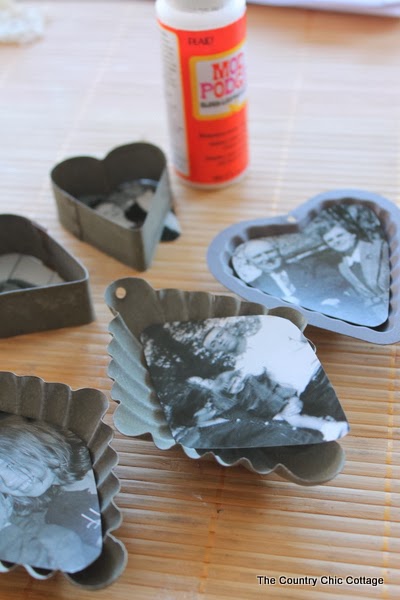 First up is to coat the pictures with two coats of Mod Podge (matte or gloss). Allow them to dry in between coats. Note that I also used the Mod Podge to hold the picture inside of the metal object, so I used excess Mod Podge where ever the picture touches the metal. This is shown in the picture below. I allowed the Mod Podge coats to cure overnight before going onto the next step.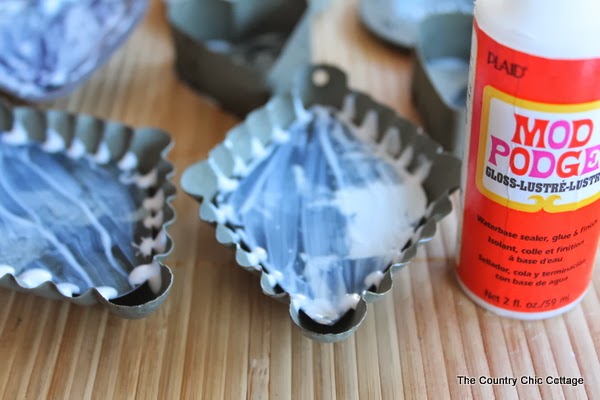 After both coats of Mod Podge have dried completely, it is time to use Mod Podge Dimensional Magic. This product will add a dimension and luster to your project not found with regular Mod Podge.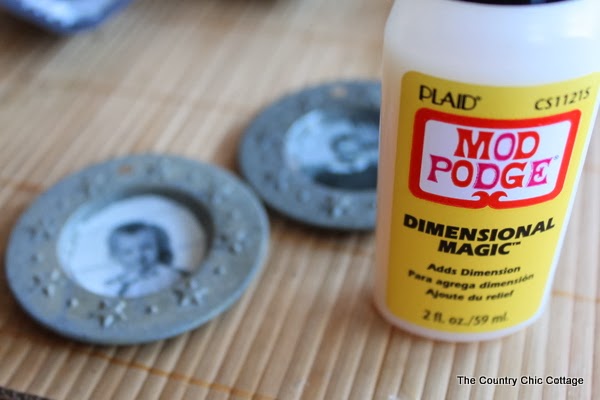 The ornament on the left below only has two coats of regular Mod Podge applied. The ornament on the right has the Dimensional Magic. This is what it will look like wet. Apply an even coat on all of your ornaments and allow to dry. I find that leaving it to dry overnight is preferred.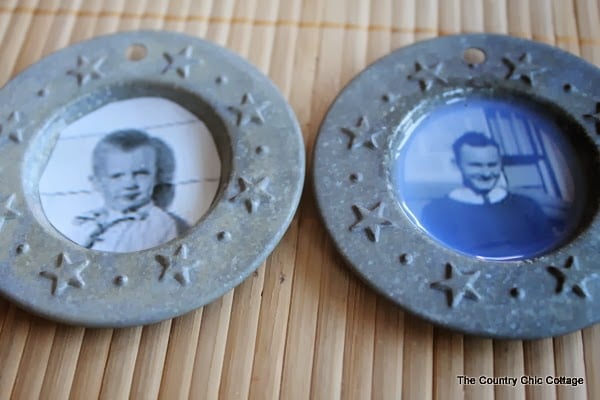 I added a ribbon to each ornament. Either threading it through the already present hole, or using hot glue to adhere to the back.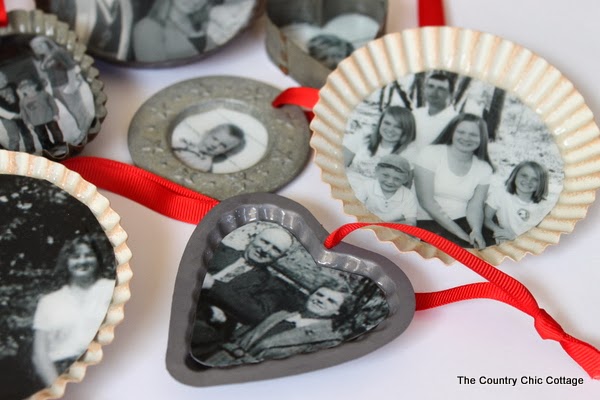 I then pulled out my mini tree and decorated it. First layering on rusty stars and jingle bells tied with jute cording. Then adding on all of my family tree ornaments.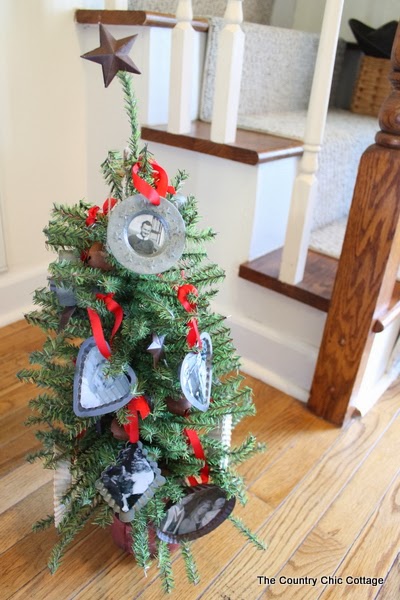 I made my little tree tell the story of my husband's family. From years gone by all the way to present day. This is a fun and memory filled addition to our Christmas decor.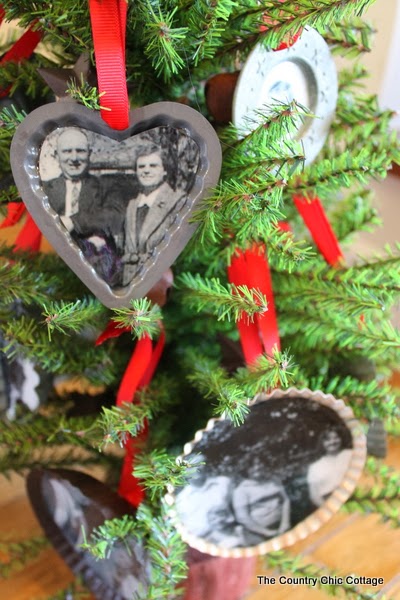 Each ornament in this collection has a special meaning to us. I can imagine giving a collection of these to someone for Christmas. You know the gifts that make the recipient cry….this would be one of those.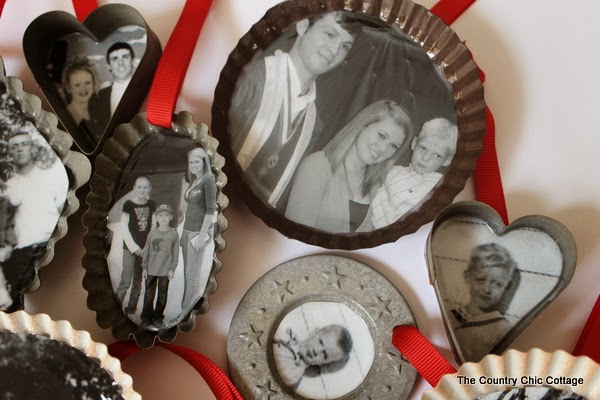 Grab your pictures and get started on your own set of heirloom ornaments today. Make a set for mom, grandma, or anyone else special on your holiday gift giving list. My handmade gift idea of family tree ornaments is sure to put a smile on their faces.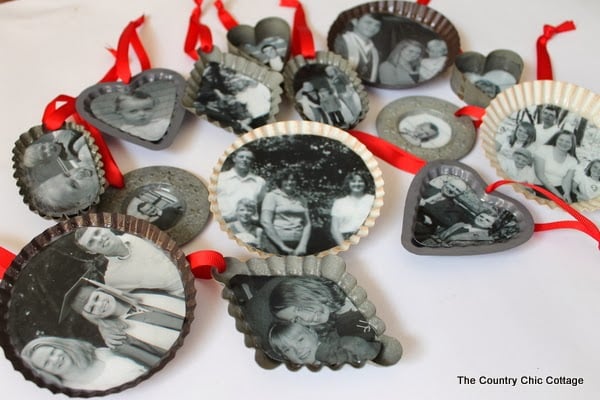 Have you missed any of our handmade gift series? Visit all of the links so far:
Stay tuned for even more handmade gifts!