Do you want to learn how to cut acetate with the Cricut? We have everything you need to know about adding this material to your crafting arsenal. You can open up a whole new world of crafts with your Cricut machine by cutting plain and even foil acetate. Plus we have project ideas below that you do not want to miss! Maybe you want to cut acrylic instead? We have a post on how to cut acrylic with your Cricut as well!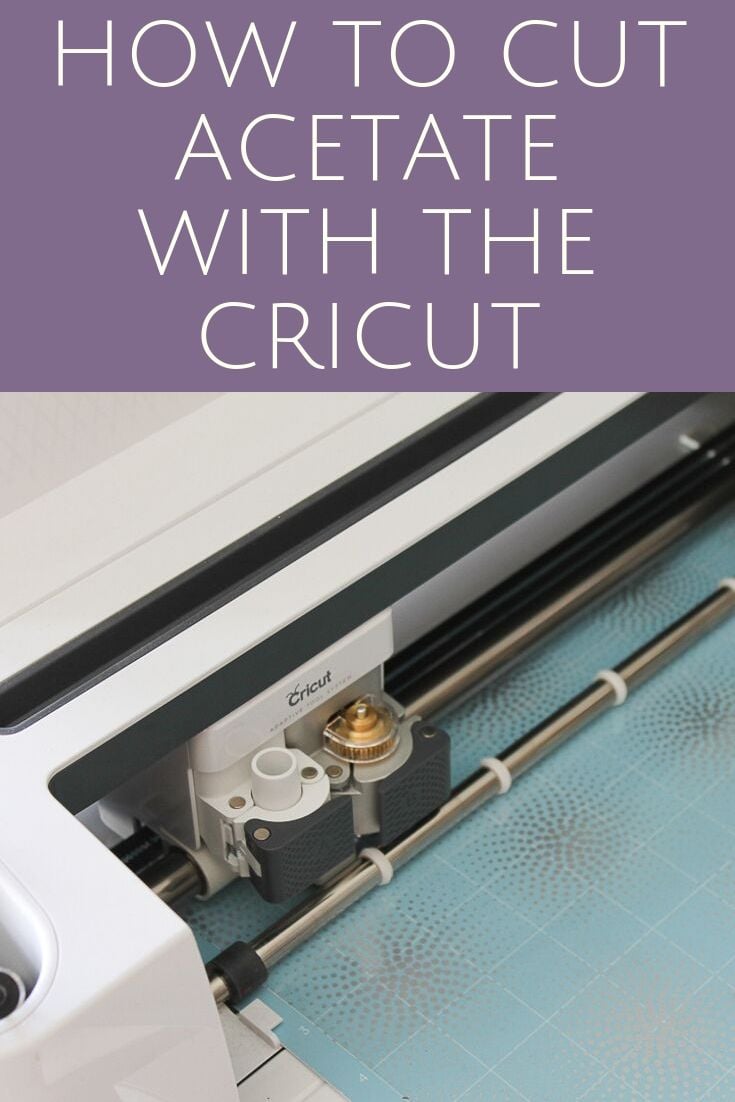 Some links below may be affiliate links which means that you do not pay anymore, however, a small commission will go to this site.
Types of Acetate
There are a few different types of acetate that will work in your Cricut machine. The first is just plain clear acetate. Cricut did make this at one time but they no longer manufacture under their brand name. You can still pick up something similar on Amazon here. Cricut does, however, make a variety of foil acetate products that you might like. Foil acetate is simply clear acetate with a foil design. You can see all of the varieties of it here.
What Cricut machine will cut acetate?
Actually either the Cricut Maker or any of the Cricut Explore series will cut acetate. For the Explore series, just set your dial to custom to get the acetate setting. Both machines will use the fine point blade when cutting acetate. It is actually a dream to cut with both machines so be sure to order some and give it a try if you have not already.
How to Cut Acetate with the Cricut
Here are the steps for cutting acetate with a Cricut machine:
Acetate sheets usually have a clear protective sheet on both sides. You will want to remove the sheet from the BACK of your sheet. In the case of foil, the foiled side is the front.
Place the acetate on the mat good side up. So, the side that has the protective sheet removed will be down on your mat. I like the green standard grip cutting mat for acetate.
Press the acetate down well on the mat.
Select "foil acetate" from the cut settings window on your Cricut machine (remember to put the Explore series dial on custom.) You will pick foil acetate even if you are cutting plain acetate as that is the only option. It works great on both versions.
You will then use the fine point blade to cut the acetate in the machine. That is it! So simple and easy!
Other Things You Can Do with Acetate
I have actually experimented with my Cricut and a few of the tools on acetate. If you want to see what your other Cricut tools will do on this material, try the links below
Cricut Acetate Project Ideas
So, now that you know how to cut acetate with the Cricut, what will you make? We have a few project ideas for you as well!
Now you can use your knowledge to start cutting acetate on your Cricut machine. Be sure to pick up a few different types of acetate as you will want them. Once you know how to cut acetate with the Cricut, you will be making all the things!
New to Cricut?
Sign up for our email list to download the Beginner's Guide to Cricut Design Space for FREE today!
Sign up to get the guide emailed to you!