Today we are going to cover how to use the Cricut Perforation Blade. This is the last blade in our series on the new tools and it's a fun one.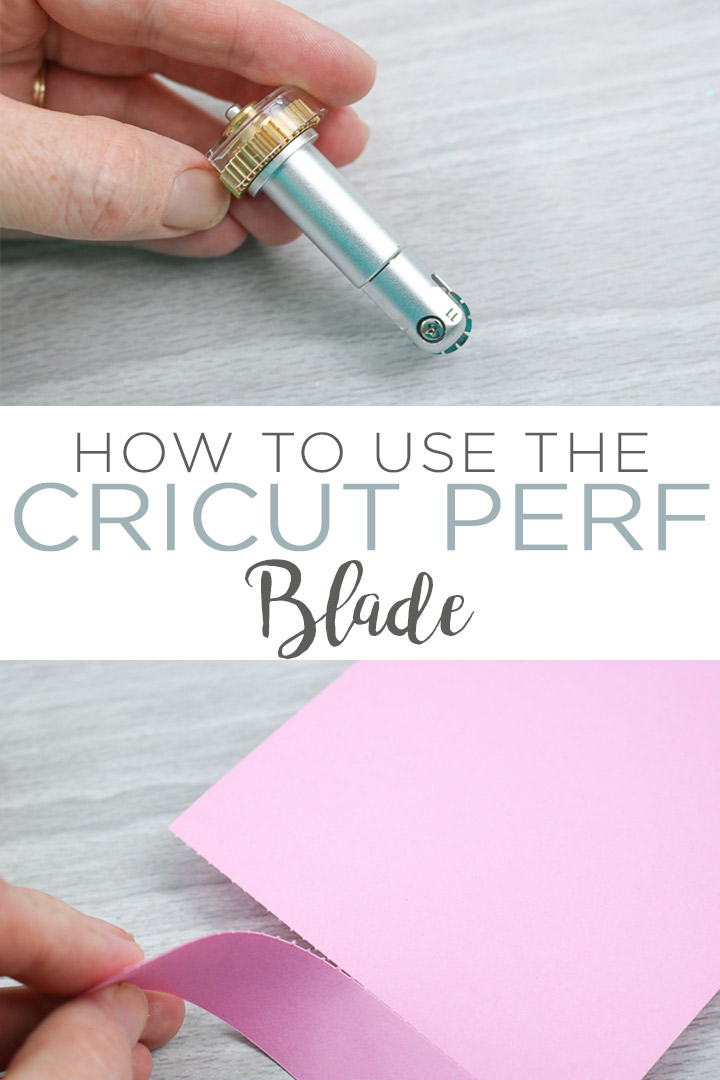 You can see my posts on the Wavy, Deboss, and Engraving tips as well. The Perforation tip is perfect for those projects where you need a tear away line. Change the line type to perforation and you are ready to cut. You can see how easy it is below!
Remember the Cricut Perforation tool is only for the Cricut Maker machines and you can see my tests in this post. Psst…be sure to subscribe to our YouTube channel here so you don't miss any of the videos!
Some links below may be affiliate links which means that you do not pay more, however, a small commission will go to support this site.
What is the Cricut Perforation Blade?
Want to add perforated lines to your projects with your Cricut Maker? There is a super-easy way to do so. The Cricut perforation tool allows you to change your lines to perforated lines and then they cut perfectly all in a few seconds. You can buy just the tip here or the entire tool here.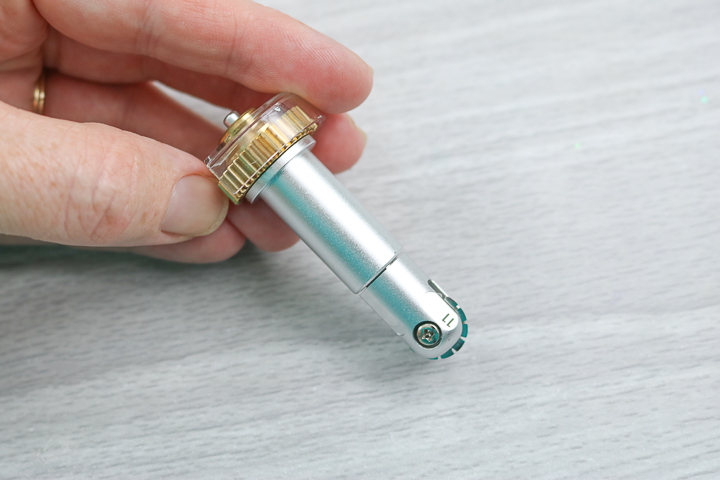 The perf blade itself comes with a protective cover to protect both your hands as well as the blade.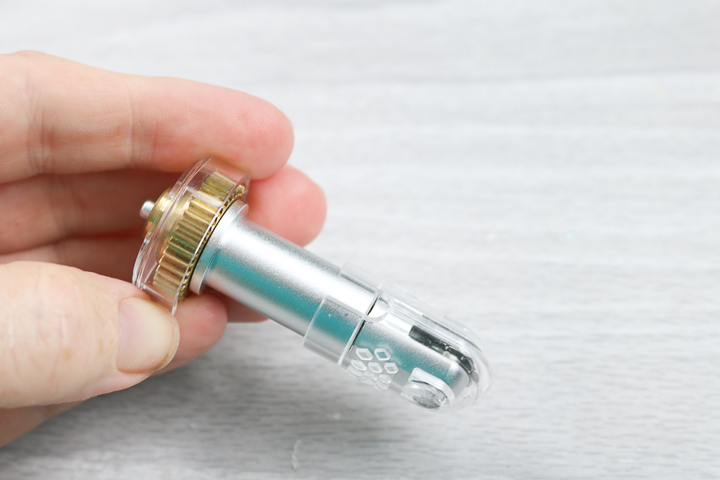 You will need to pull off the cover before use.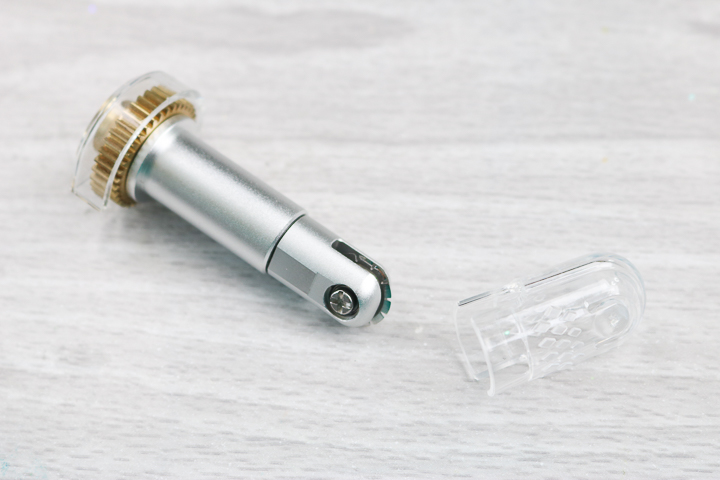 The tool itself is similar to the rotary blade but it has indentions in the blade that will leave perforations when cutting.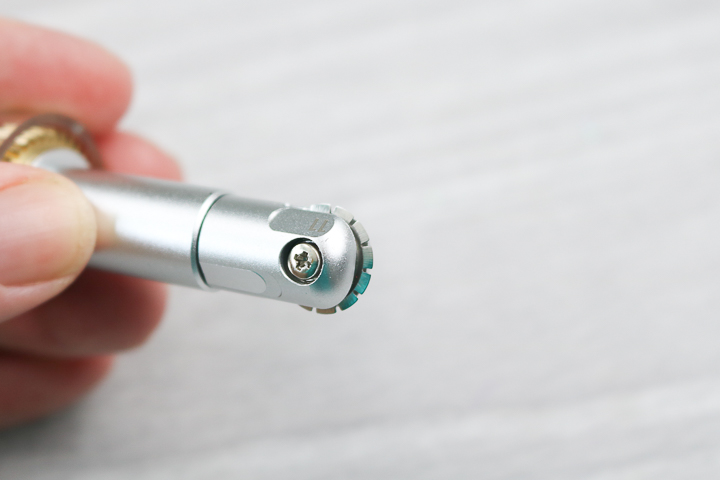 You can also tell it apart from the other blades by the number. The Cricut perforation tip has an 11 engraved in the side to help you tell it apart from the other tips.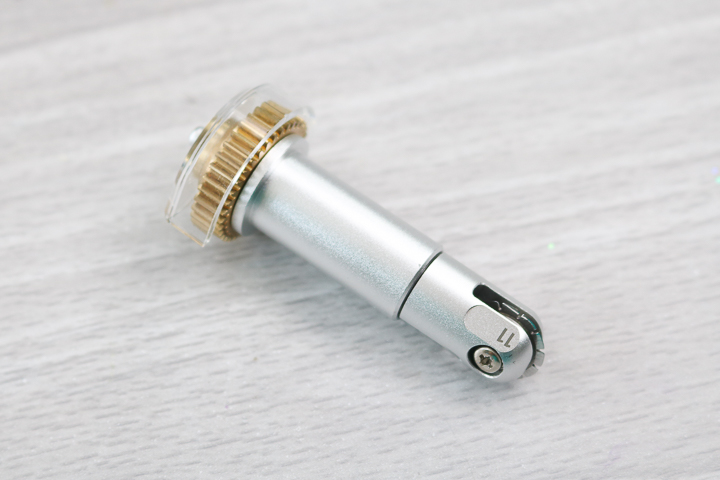 This tool is another addition to the line up that works with the QuickSwap housing. That means you only need one housing and can use multiple tips with it. Want to see how the QuickSwap housing works? Head here for a short video!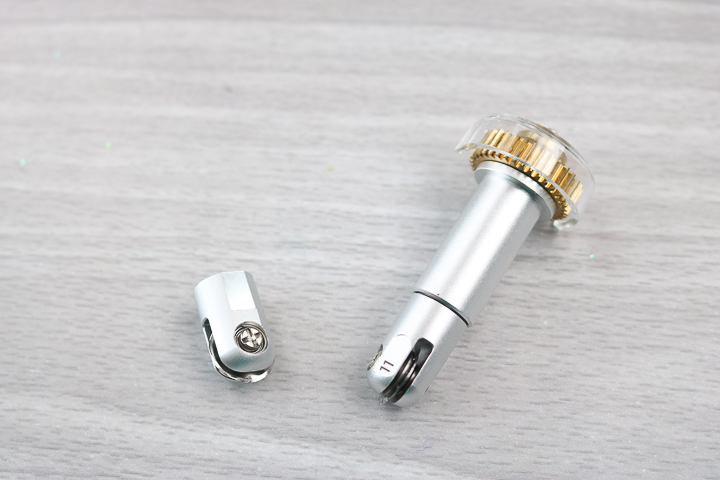 Putting the Cricut Perforation Blade in the Cricut Maker
You will add the Cricut Perforation Blade to the cutting side of your machine. The machine itself will stop and Cricut Design Space will ask you to add the perf blade to the machine.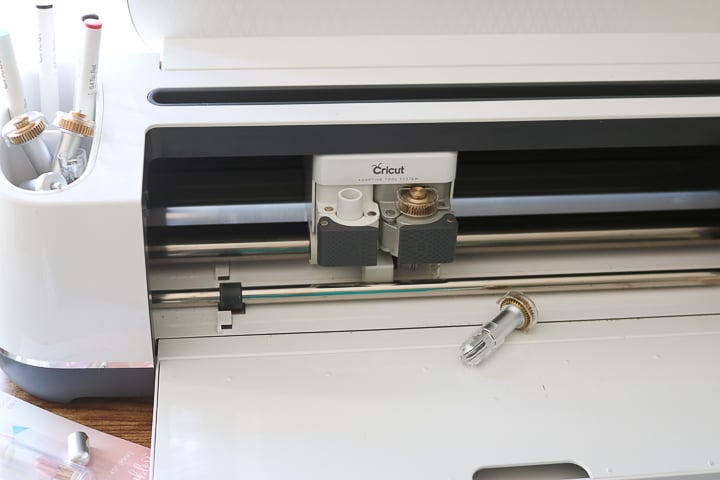 Just remove the protective cap.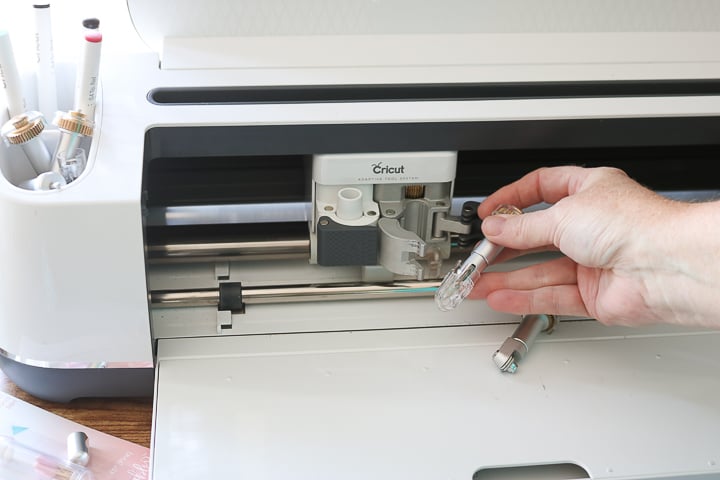 Then add the Cricut perforation tool right to the cutting side of your machine and close the clamp.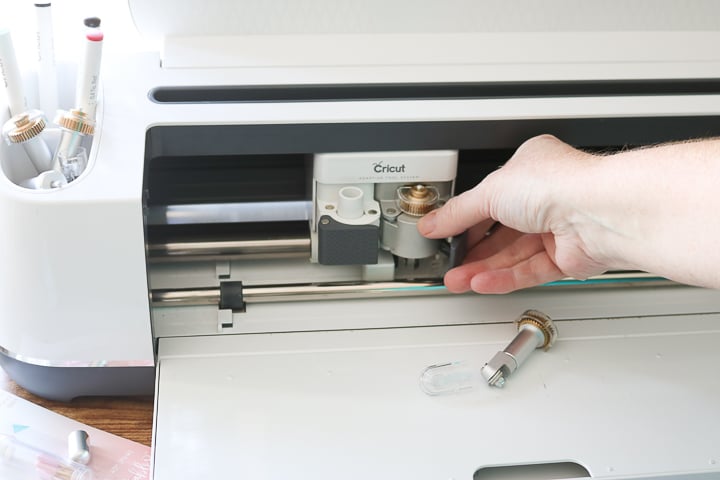 Cricut Perforation Tip Video
Want to see the Perforation Blade for the Cricut Maker in action? You can watch the video below! I am also showing you how to change your lines to perforated lines in the video so be sure to watch that part as well!
Can't watch the video or missed some of the details? You can follow along with my cutting experiments on a wide variety of materials below.
What materials can you cut with the Cricut Perforation Tool?
There is an official list of materials to use with the Perforation Tool for the Cricut Maker. You can find all of those below:
Acetate (including foil version)
Cardstock (light, medium, and heavy)
Construction Paper
Copy Paper – 20, 24, and 32 lb.
Crepe Paper (Extra Fine and Heavy)
Deluxe Paper
Faux Leather (Paper Thin)
Flocked Paper
Foil Embossed Paper
Foil Holographic Kraft Board – Neon
Glitter Cardstock
Heavy Watercolor Paper – 140 lb.
Kraft Board
Kraft Cardstock
Light Glitter Paper
Light Patterned Paper
Metallic Poster Board
Pearl Paper
Photo Paper
Poster Board (including foil version)
Shimmer Paper
Sparkle Paper
Sticker Paper, Removable
Tooling Leather 2-3 oz. and 4-5 oz.
True Brushed Paper
Vellum
Washi Sheet
I wanted to put this tool to the test, however. So, I used the Cricut perforation blade to cut 8 materials. You can see all of the results below. For each of the experiments, I cut a 4×6 card with a perforation line down one side.
Copy Paper
To test copy paper I used the copy paper that I regularly use in my printer. The Perforation Blade worked great!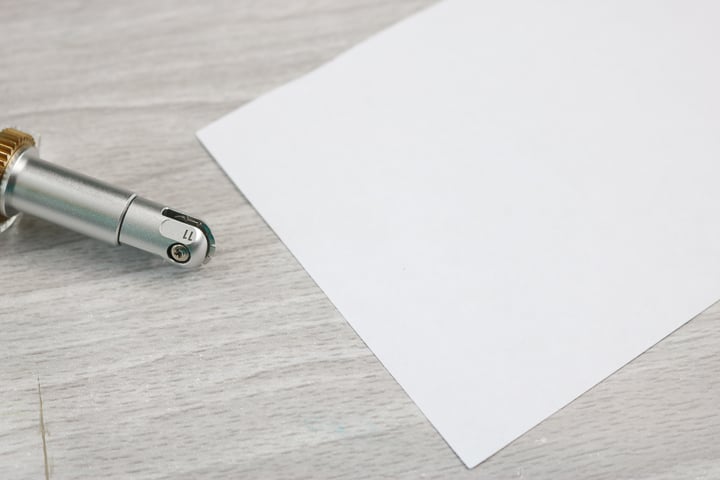 The tear was also just perfect!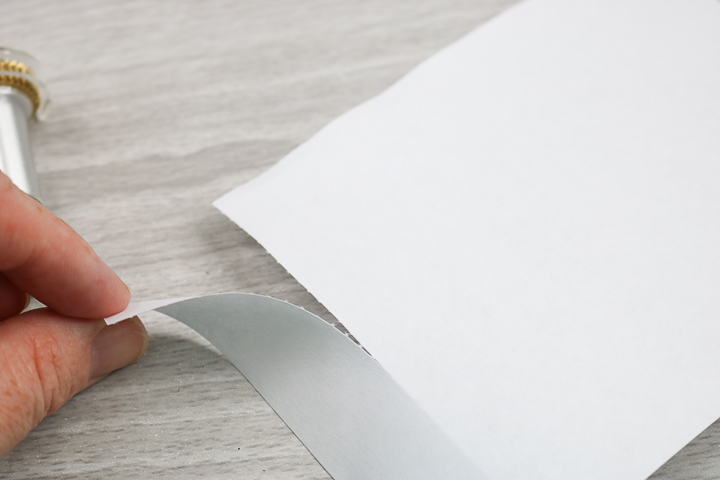 Cardstock
This was a light to medium cardstock that I had on hand. The perforation line itself looked great coming out of the Cricut Maker.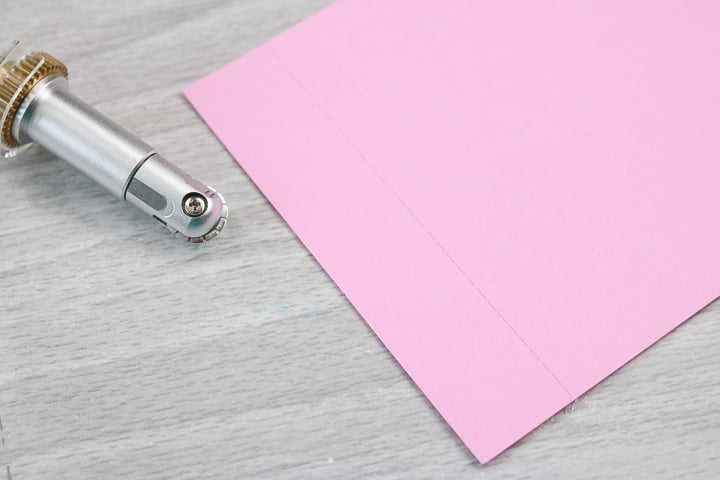 I also found that it tore perfectly.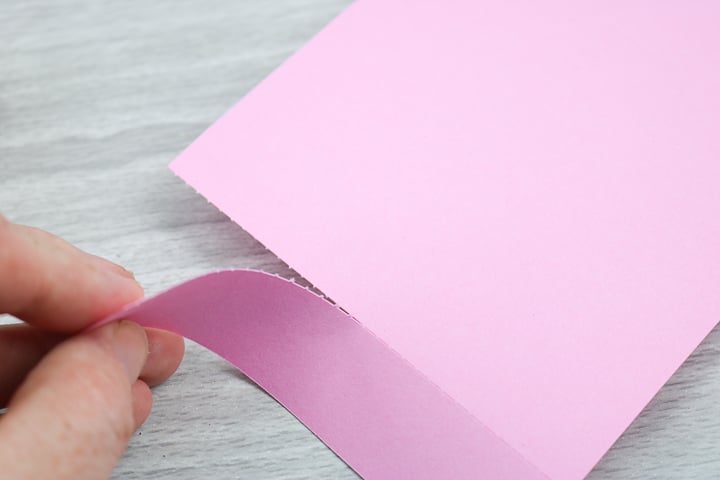 Glitter Cardstock
I will say that the Cricut Perforation b\Blade worked perfectly on this material but the perf line is nearly impossible to see from the front.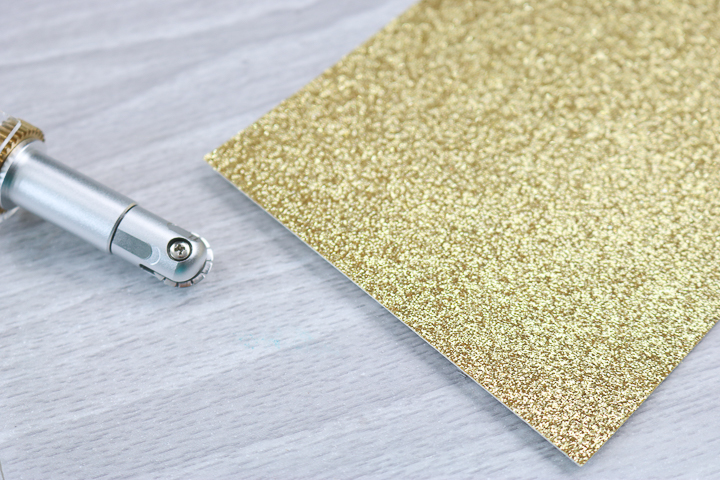 It does, however, tear perfectly so the blade works great.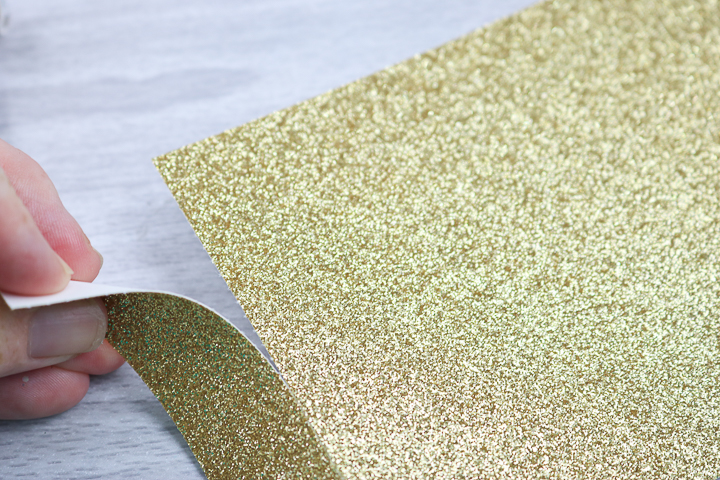 Kraft Board
I went a little thicker to see what the Cricut Perforation Blade can really do. Kraft board is a really heavyweight cardstock and the tool did great.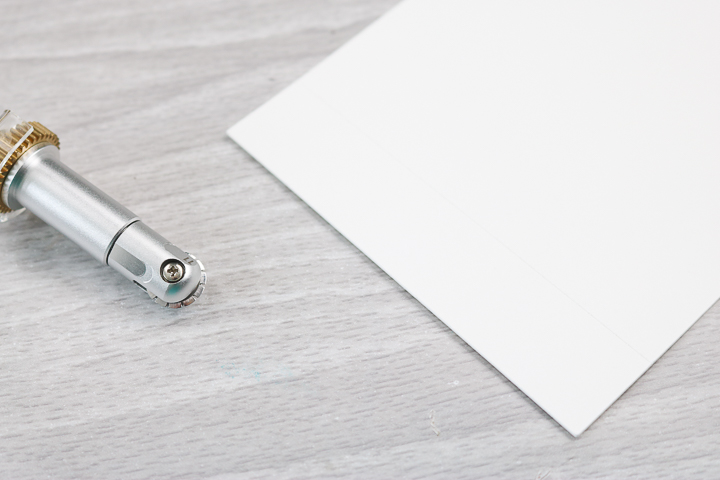 Once again, the tear on the material across the perf line was pretty much perfect.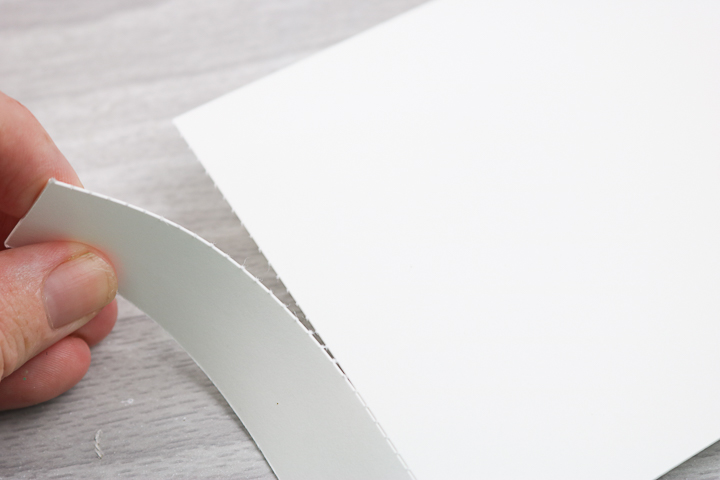 Acetate
I also wanted to try a few odd materials. Acetate is a really thin plastic material and the perf tool worked great here as well.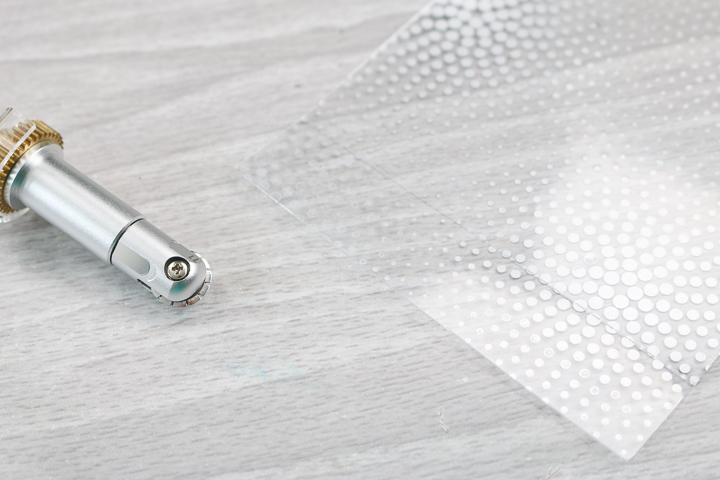 The tear was still clean even on this uncommon material.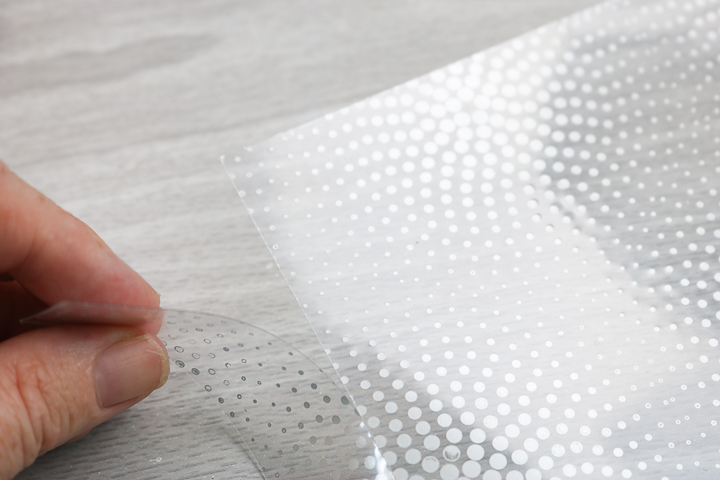 Felt
Yes, you can even cut something like felt with the Cricut Perforation Tip! You can't really even tell where it cut the material once you remove it from the mat.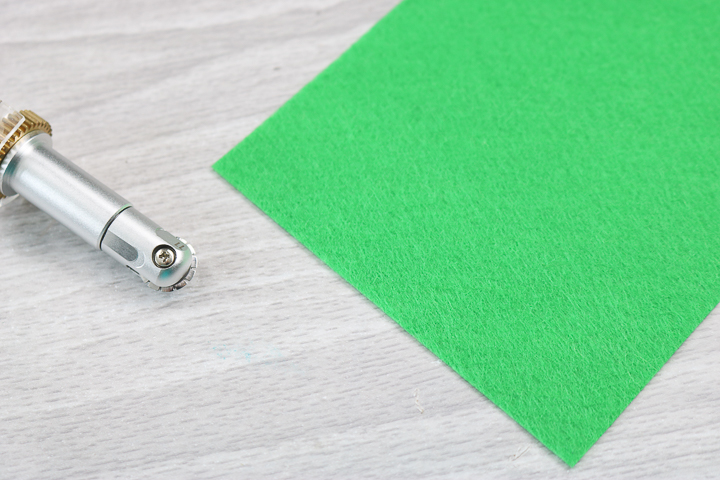 The tear is not very clean and is slightly hard to pull. It does work, however note how the felt frays a bit.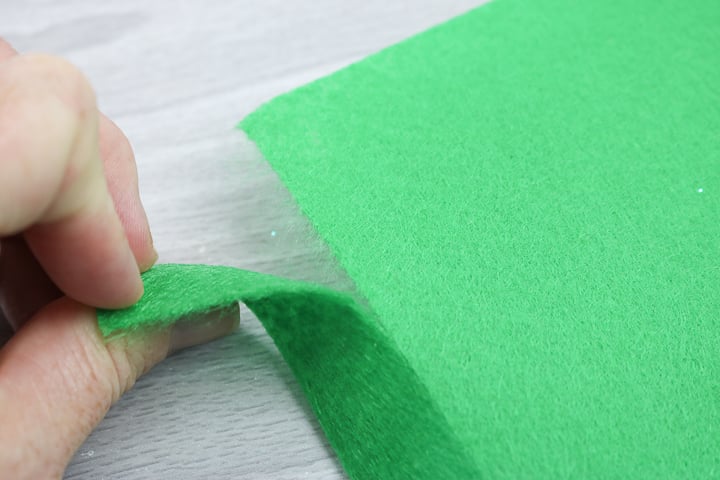 Faux Leather
You really cannot see where the perf lines are on faux leather once it's cut.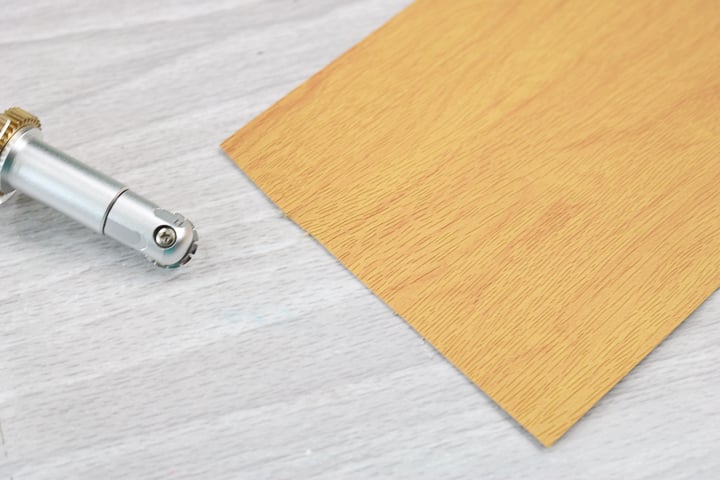 The tear, however, is cleaner than I expected. There is some fraying but overall the Cricut Perforation Tool does a great job here.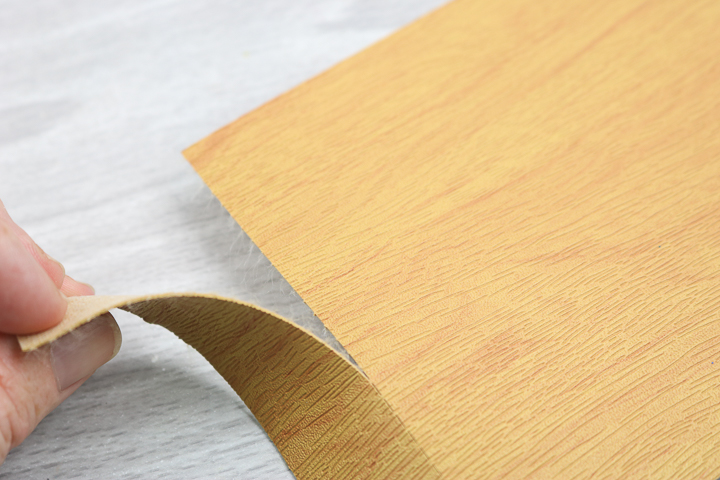 Craft Foam
I really didn't have high hopes that this would actually work great and I was pleasantly surprised. The perf line looks great on craft foam.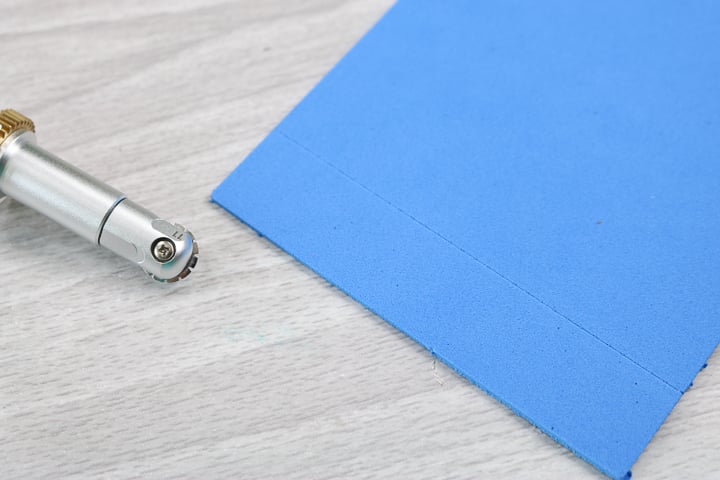 Plus, the tear is really, really great! I am excited about the possible projects with craft foam and the Cricut Perforation Blade.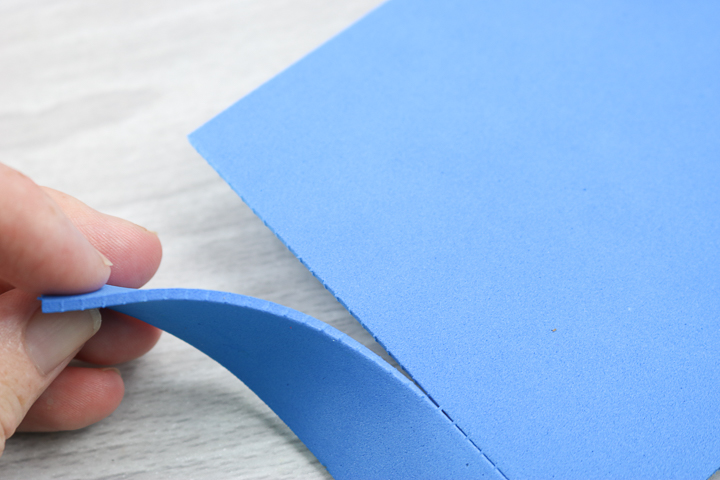 Do you need the Cricut Maker Perf Tool?
This is the bottom line, right? Do you REALLY need this new tool for the Cricut Maker? You can actually draw short cut lines to get the same effect as this blade. It does take some time but it is doable.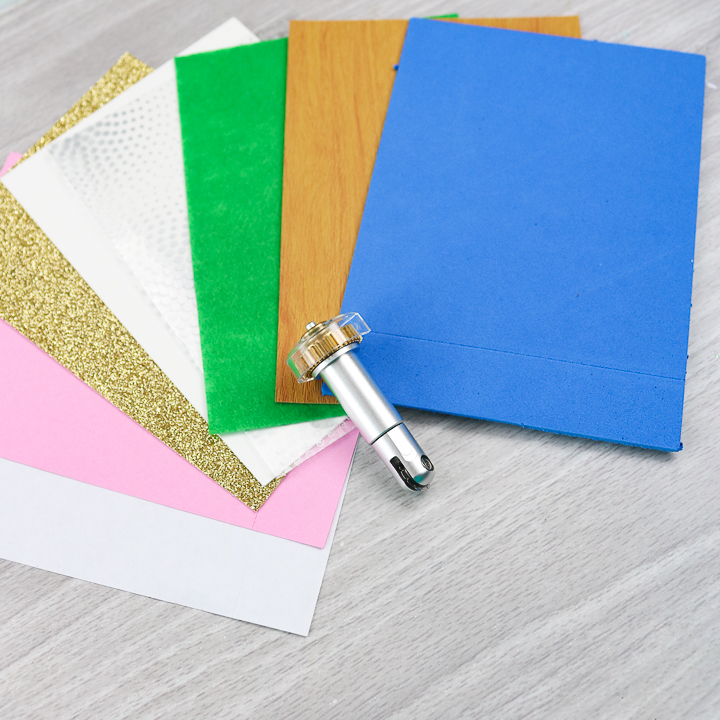 So, I would say there are a few cases where the Cricut Perforation Blade is absolutely required:
If you use perforation lines on a lot of projects.
If you want to make curved perforation lines or perf lines in a pattern.
Or if you want to save time when creating and will be using perf lines in your projects.
In any of these situations, the Cricut Perforation Tool is the answer for you. Otherwise, if you just want to play with a really fun new tool, then definitely pick one up as well. It is a fun new addition to the Cricut Maker machines that will open up some new crafting possibilities. I, for one, am all about new craft ideas and experimenting with new things. So, it was really a no brainer for me! But you might want to weigh your options before picking up the new Cricut Perforation Blade for yourself.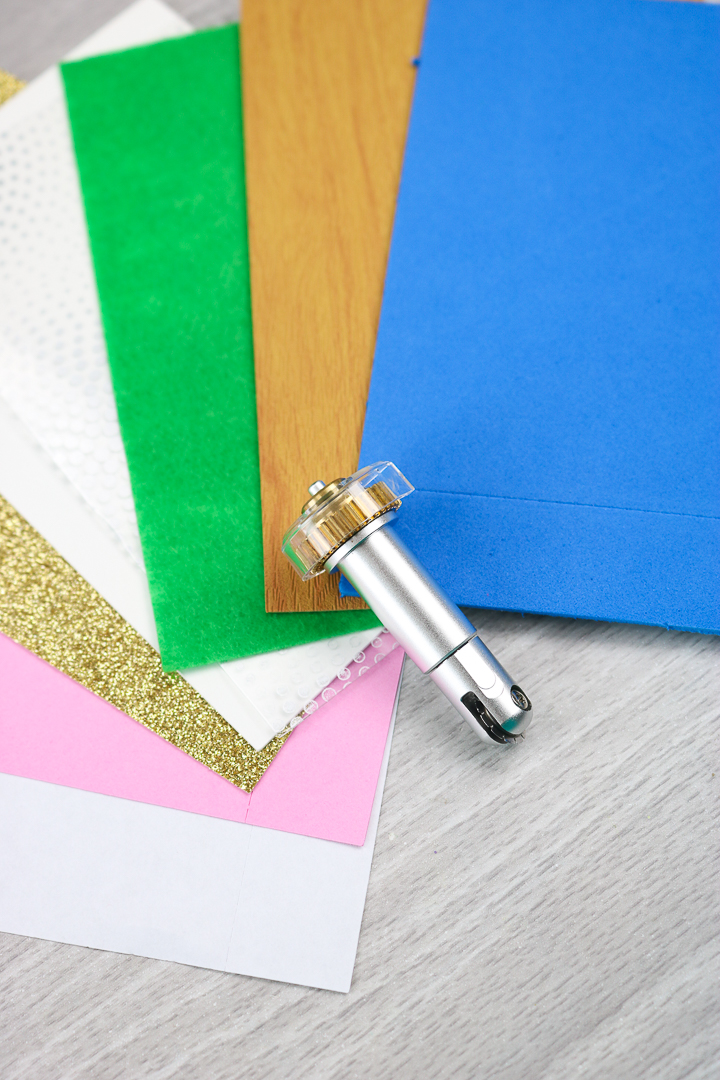 We would love to see what you are making with your new Cricut Maker tools! Be sure to join our Facebook group and show off your creations.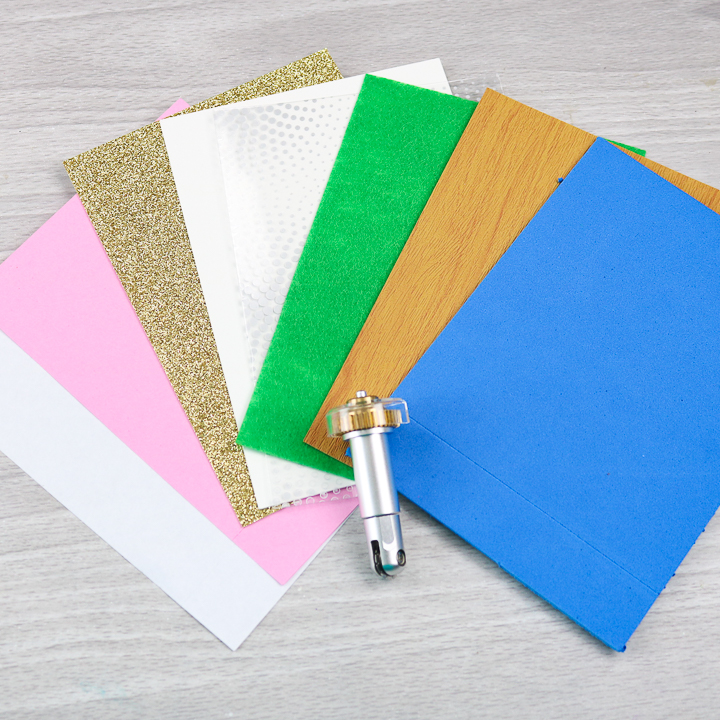 The new perf tool from Cricut has a ton of fun possibilities! I know that I am dreaming up a few projects myself. What about you? Will you be purchasing the new Cricut Perforation Blade?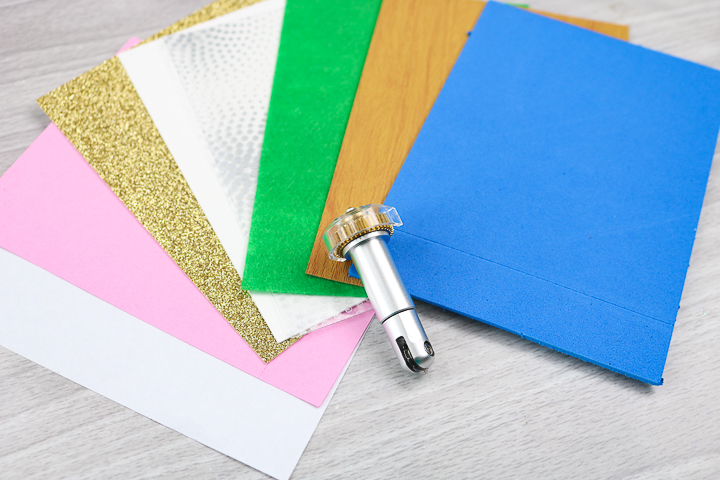 Love this post on the Perforation Blade for the Cricut Maker and want more ideas? Try the links below!
New to Cricut?
Sign up for our email list to download the Beginner's Guide to Cricut Design Space for FREE today!
Sign up to get the guide emailed to you!