Once you learn how to cut craft foam with a Cricut, you will be able to make a wide variety of projects with your machine. You might think craft foam is only for kids' crafts but you can use it for so much more. It is an amazing everything that this material can do. So, read on to find my tips and tricks for cutting foam with your Cricut machine. Which blade is best? What mat should you use? Which project should you start with? We have all of those answers and so much more.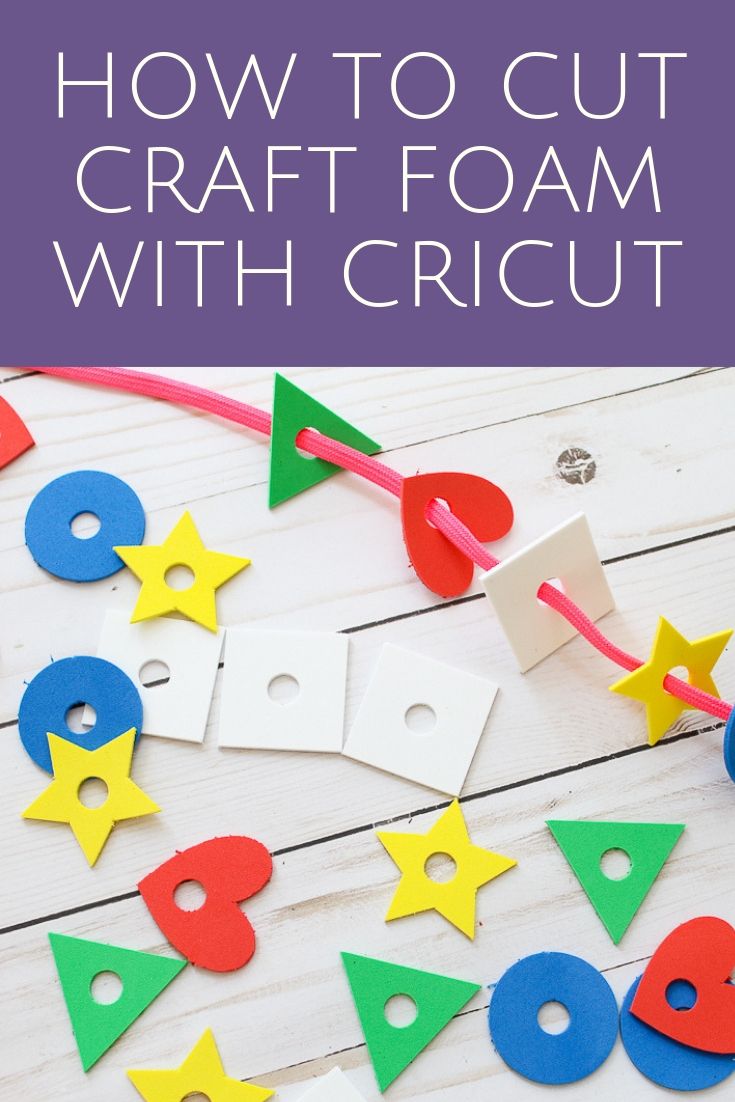 Which blade is best for cutting Cricut craft foam?
There are two options when cutting craft foam with a Cricut. Your machine will default to the deep point blade. This blade works on the Cricut Explore series as well as the Cricut Maker. So, if cutting foam with your Explore, you will need to use the deep point blade. If you have a Cricut Maker, however, you can click "edit tools" and change the blade to the knife blade. I get MUCH better results from the knife blade when cutting craft foam. The cuts are so much cleaner. So, for my Cricut craft foam projects, I always use the knife blade and my Cricut Maker. You can read more about cutting various thicknesses of craft foam with the Cricut Maker knife blade here.
Which mat should you use when cutting craft foam with a Cricut?
Generally, the green standard grip mat will work with craft foam. However, I find that the strong grip mat works a bit better with thicker materials. Just be sure to press your craft foam down well on the mat. A brayer works well to help with this. You can also use masking tape around the outer edge if you find your material is moving during the cuts.
Moving the Star Wheels
Craft foam will get marred by the star wheels on both the Cricut Explore series and the Cricut Maker. These are the white wheels that are on the roller. These can be moved to prevent marring. Just push them all the way over to the right-hand side of your machine. Then you will need to cut your material to 11 inches wide so it does not run under the wheels.
How to Cut Craft Foam with a Cricut Machine
Here is a simple breakdown for cutting craft foam with a Cricut:
Attach your foam to your mat. A strong grip mat is preferred. Be sure to press down well.
Move the star wheels on your machine all the way to the right to prevent marring of the material.
Click "make it" in Cricut Design Space and choose your material.
Click "edit tools" if you have a Cricut Maker and pick the knife blade. Otherwise, you can use the deep point blade.
Cut the craft foam into your desired shape. Please note that Cricut does not recommend intricate images smaller than 2 inches by 2 inches when cutting craft foam.
You can also use the perforating tip to make perforated lines in craft foam for even more project ideas.
Craft Foam Projects for Your Cricut
Now, are you ready to try some projects? I thought so! Once you know how to cut craft foam with a Cricut machine, you will definitely want to make all the things. Here are a few ideas to get you started:
So, which project will you try first? Do you have any questions for me? Be sure to join our Cricut Facebook group to share your successes and ask any questions that you may have. Then use this tutorial on how to cut craft foam with a Cricut to get started on your own creations!
New to Cricut?
Sign up for our email list here to download the Beginner's Guide to Cricut Design Space for FREE today!
Sign up to get the guide emailed to you!