Learn how to make a door wreath using your favorite yarn- perfect as an everyday cheery welcome on any front door. The process is simple, and the results are stunning!
I love a great door wreath. In fact, I always have one hanging on my front door!
Even so, I frequently change it out for different seasons or holidays. Front door wreaths make such a welcoming touch to any entryway!
Thankfully, making your own wreaths is much easier than it may seem. So today, I'm on a mission to show you how to make a simple, cheery door wreath with yarn you'll love.
Note: I have quite a few amazing wreath projects here on the site. If you love making yarn wreaths or any other simple DIY wreaths, check out some of my favorite everyday wreaths, including my Burlap Wreath Tutorial, Burlap Wreath Tutorial, and DIY Flower Wreath Made From Burlap!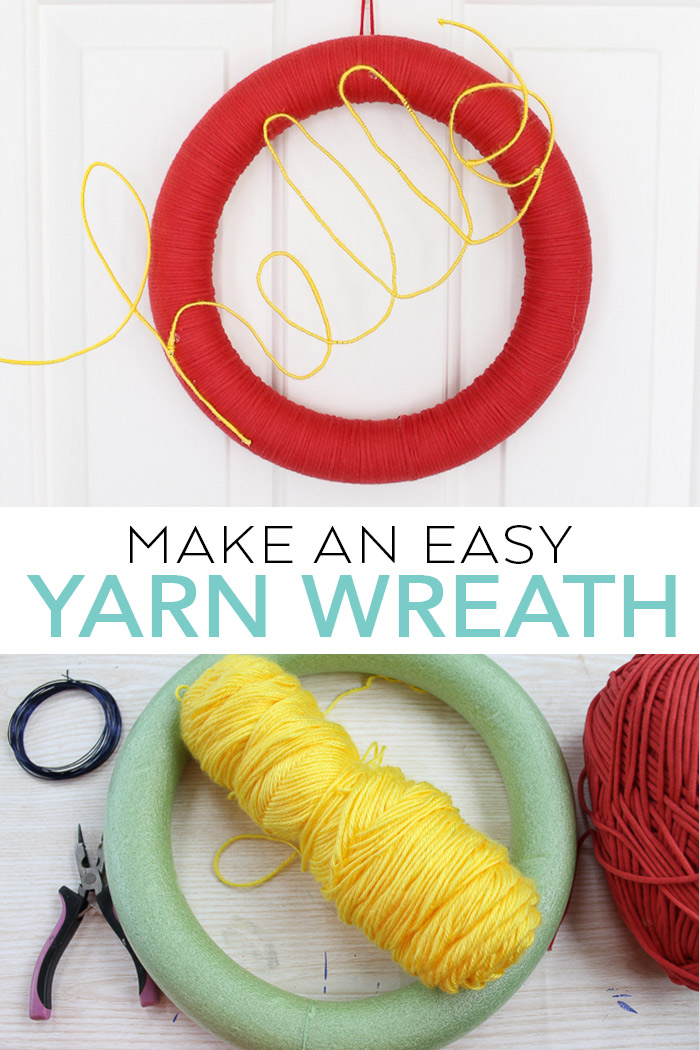 Yarn Wreath Supplies Needed
For today's wreath project, we are actually going to use a couple of different types of yarn. It is easy to say "hello" to all of your guests with this front door wreath that is so much fun for summer.
So, grab a few supplies and whip this one up in no time at all!
Wreath form
Yarn in two colors
20 gauge wire
Hot glue and a glue gun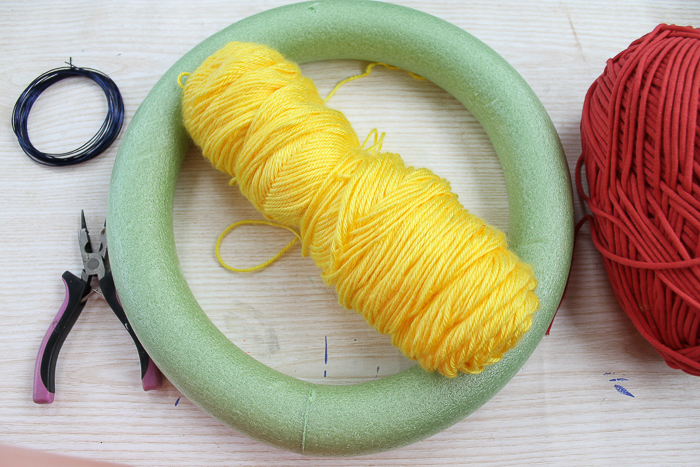 How To Make A Door Wreath
This yarn wreath is a breeze to pull together. Just follow these simple instructions!
Step 1
Start by wrapping your wreath form with one of the colors of yarn. You want to wrap the form tightly (almost overlapping) so that no portion of the wreath form shows through.
Here, I am using a jersey yarn that is a bit thicker. However, any yarn will work for this part. Just keep it tight as you roll!
Also, be sure to secure the ends of your yarn with hot glue when you start or end your wrap. This will prevent the yarn from coming undone and unraveling.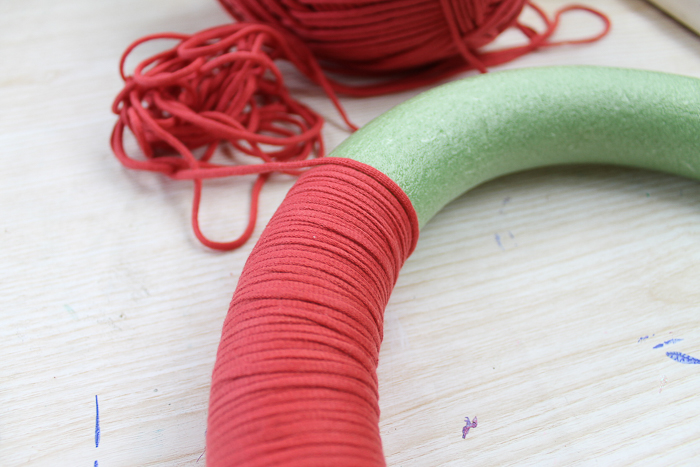 Step 2
Next, we need to make the word that will go on top of the wreath. Use your jewelry pliers to form a word out of the wire. I found that 20 gauge wire works best for this project.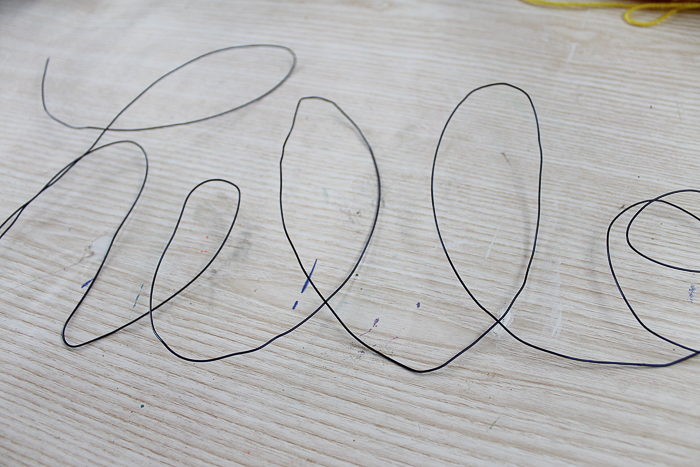 Step 3
Then, it's time to start wrapping your yarn around the wire to complete your word. Secure your ends with hot glue.
Note: In some places, I wrapped the yarn around two thicknesses of wire at the same time. This gave the word a more finished appearance.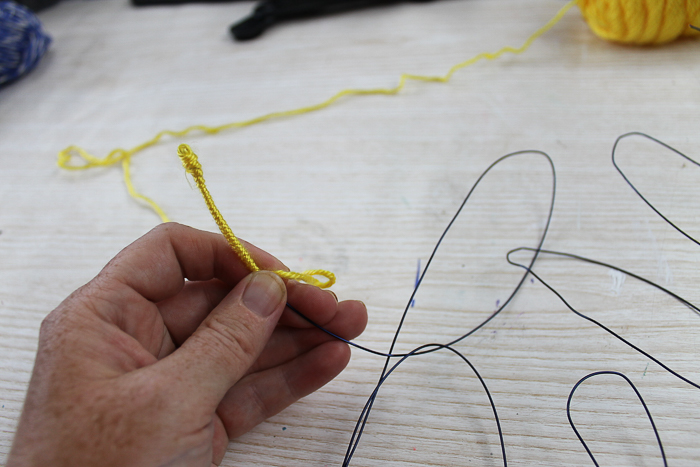 Step 4
Once your word is completely wrapped, all that's left is to just add it to your wreath form with a bit of hot glue.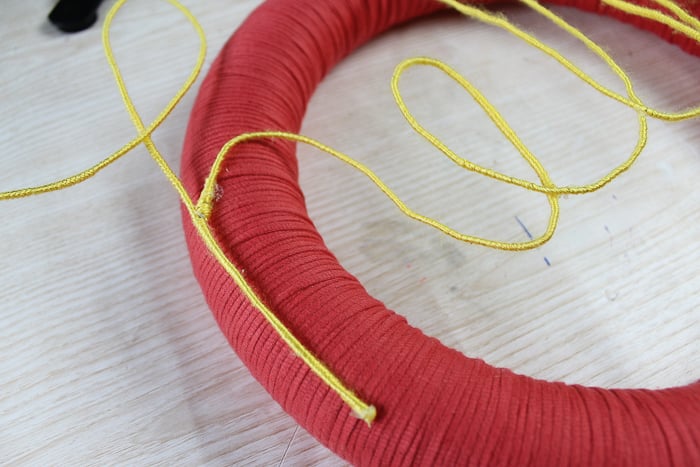 Your yarn wreath is ready to hang on your front door to welcome all those guests!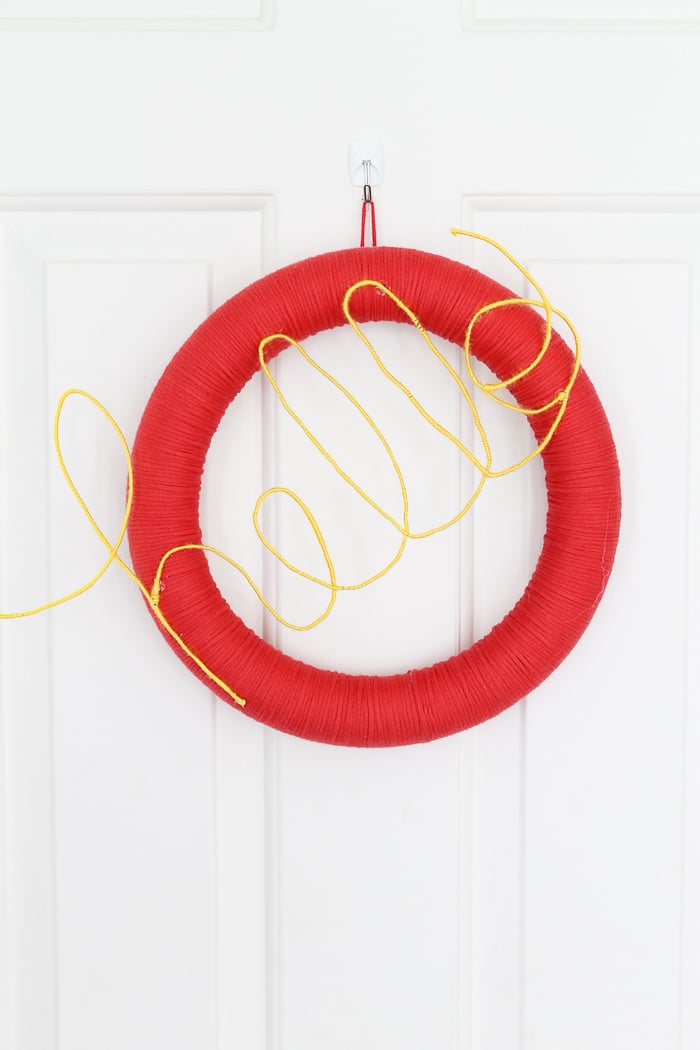 Once you learn how to make a door wreath, you are sure to be hooked! It's an easy craft to do with a high payoff…what more could you ask for?! Ever since I started making wreaths, I've enjoyed making them for every season as well as some holidays.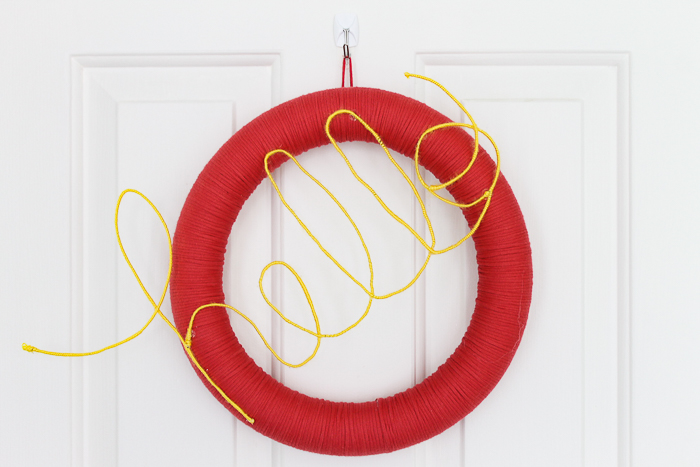 I love this particular wreath because all of these supplies are super inexpensive. When a project is cute as well as affordable, it is definitely a win-win in my book.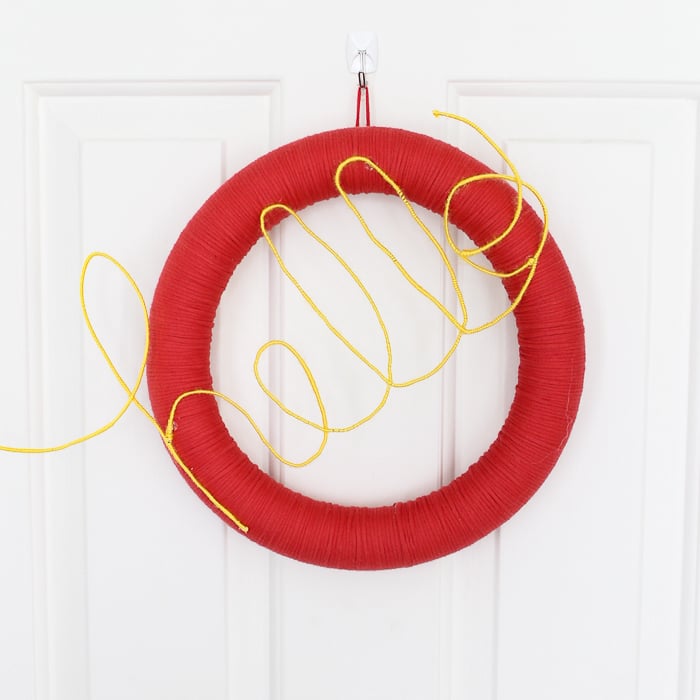 How To Make A Door Wreath: Make Your Own Version
Did you know you can make your own version of this wreath? The process is simple and can be adapted to whatever you want. As long as you can form the word(s) with wire, you can make the wreath!
Remember that you can change up the colors as well as the word on the front to be whatever you would like! The possibilities are endless for you to create a wreath you love.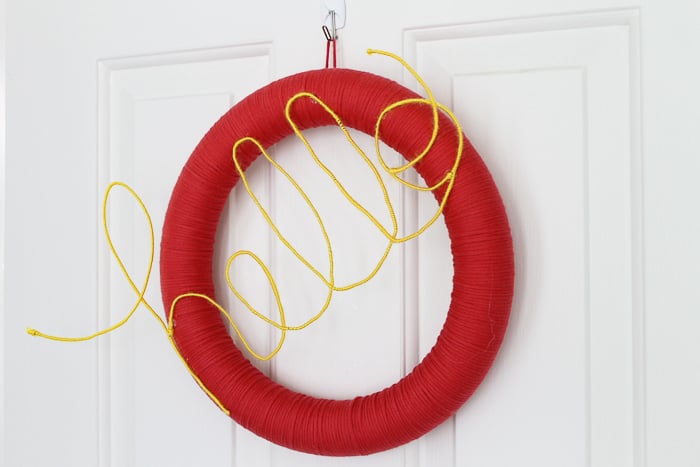 More Wreath-Making Inspiration
Now that you know how to make a door wreath, you might like these other wreath project ideas as well!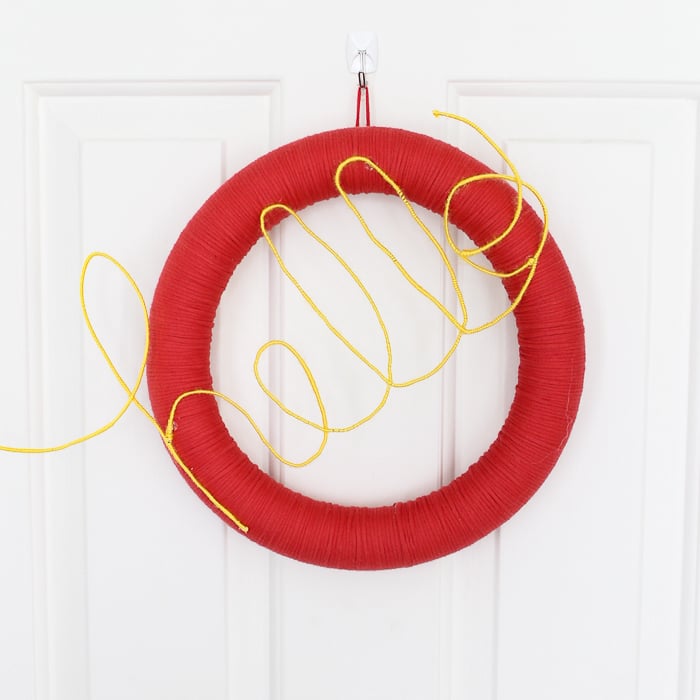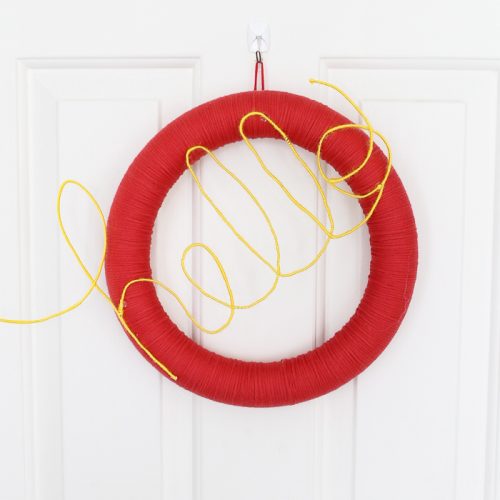 How To Make A Door Wreath With Yarn
Learn how to make a fun and cheery wreath with two different types of yarn. Check out the simple process and see for yourself.
Supplies
Styrofoam wreath form

Yarn

different colors/types

20 gauge wire

Jewelry pliers

Hot glue and a glue gun
Instructions
Pick on the colors of yarn and wrap it around your wreath form. Hot glue the ends of your yarn to the wreath frame.

Grab your wire and jewelry pliers and form your chosen word.

Wrap your second color of yarn around the wire. Hot glue the ends of the yarn to the wire word.

Attach your word to the wreath frame with hot glue.
Tried this project?
tag us to show off your work!