This post and photos may contain Amazon or other affiliate links. If you purchase something through any link, I may receive a small commission at no extra charge to you. Any supplies used may be given to me free of charge, however, all projects and opinions are my own.
I generally just toss my craft fails and move on. But this one got to be so epic that at some point I thought it needed a post. I will save the after pics for the bottom of this one and tell this story from the beginning. I started with a styrofoam cone, some elmer's glue, and some vase filler. This vase filler was at the Dollar Tree and I really thought I had scored when I found it. I couldn't wait to craft with it….maybe I should have left it at the store.
You would think my first clue would have been when I opened that vase filler. That stuff is lighter than air y'all. It is like painted red air pellets. They go EVERYWHERE. Note: I am on the back porch crafting so I pushed on. So I knew that hot glue and those little air pellets would NOT mix. So I poured some Elmer's into a plate.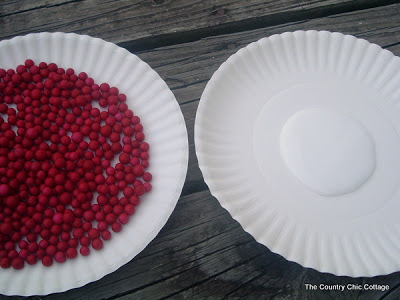 A couple of skewers for handles and I started rolling. Yes this seemed like a great idea at the time.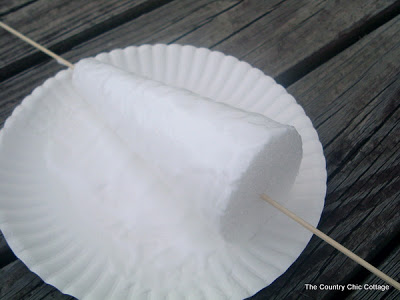 I then rolled my glue tree into the air pellets. Please note that their are little red air pellets all around my project. There was not even a breeze that day and they would blow away in the wind…I am guessing my breathing was the problem. Maybe you can work with these if you can hold your breath. So yeah…I rolled the tree and rolled the tree and rolled the tree. Yep it still looked like this….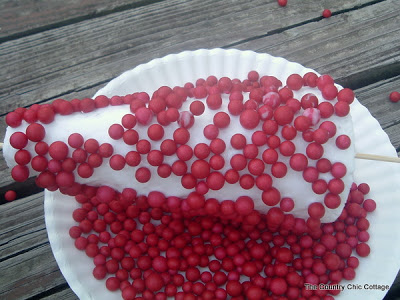 Some would stick, then fall off when I rolled again, then stick to one another, the blow away when I would breath…. At that point, I developed the nickname "Devil Tree". I stopped taking pictures cause I became a glue and pellet covered mess. I had to pick up the pellets and put them on the tree. That only took an eternity. Not only are those pellets lighter than air, they get static and stick to you. Plus the red starts coming off and making the glue and ME pink. Peeeerrrrrfect….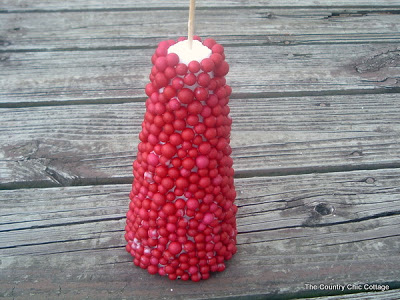 But I DID it!! It was getting dark but I had showed that tree who was boss!! I set it aside and went to another project. Realizing that this could never be a blog project. I would never subject y'all to such torture. I was ready to write it off as a failure…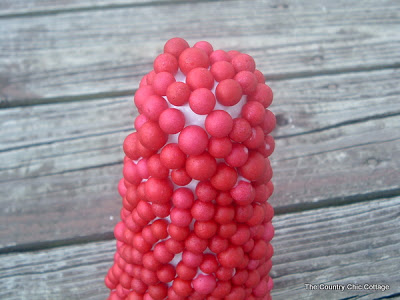 But the next day it REALLY started to get humorous…oh the fun had just started. The tree was not even dry. Yes overnight…not dry. The pellets were sticking to the plate, they were sagging off, it was one hot mess. Oh my! Now I started laughing. I mean really?? How many things could go wrong with one project. So over the course of like three days I babysat the tree and pushed back up the sagging pellets. Oh yes three days. Don't attempt this if you are on the lookout for quick crafts….really don't attempt it at all….seriously. Apparently air pellet pink glue takes forever to dry.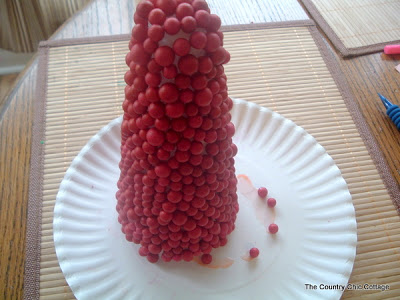 After it was dry, it looked actually pretty decent. My intention from the start was to paint the tree after I was finished. So I thought "why not?" I had come this far, put myself through this torture….let's see if I can salvage this one. I broke out my silver spray paint and went to work. I sprayed. Then I laughed so hard that tears came out of my eyes. Spray paint plus air pellets equals one epic failure. Oh yes they shrivel at the sight of spray paint. Great job Angie…really great….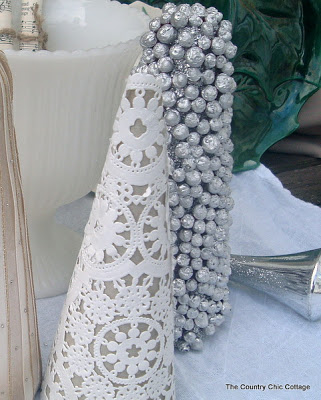 From a distance you can pretend it looks lovely and leave an awesome comment…m'kay? Y'all just leave the pellets at the Dollar Tree. If you bring them home, you have been warned. Right now I have red pellets all over my closet. It is really great when the open bag spills….really great.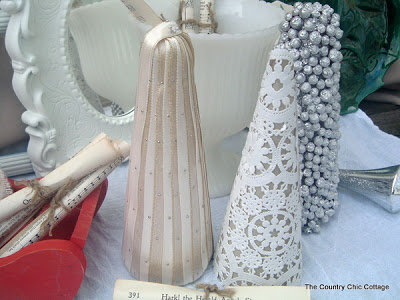 I hope y'all enjoyed my pain. Maybe we can at least get a laugh out of this one!
~Thanks for stopping by!~