A stain removal guide can keep the tips and tricks for stain removal right at your fingertips. Just print our free printable guide and frame or even add to a magnetic sheet and stick it to your washing machine. You will have our tips and tricks for the removal of common stains right where you need them. Help save your laundry from unwanted stains and add something cute to your laundry room!
This was first published February 16, 2016, however, I am republishing with more information.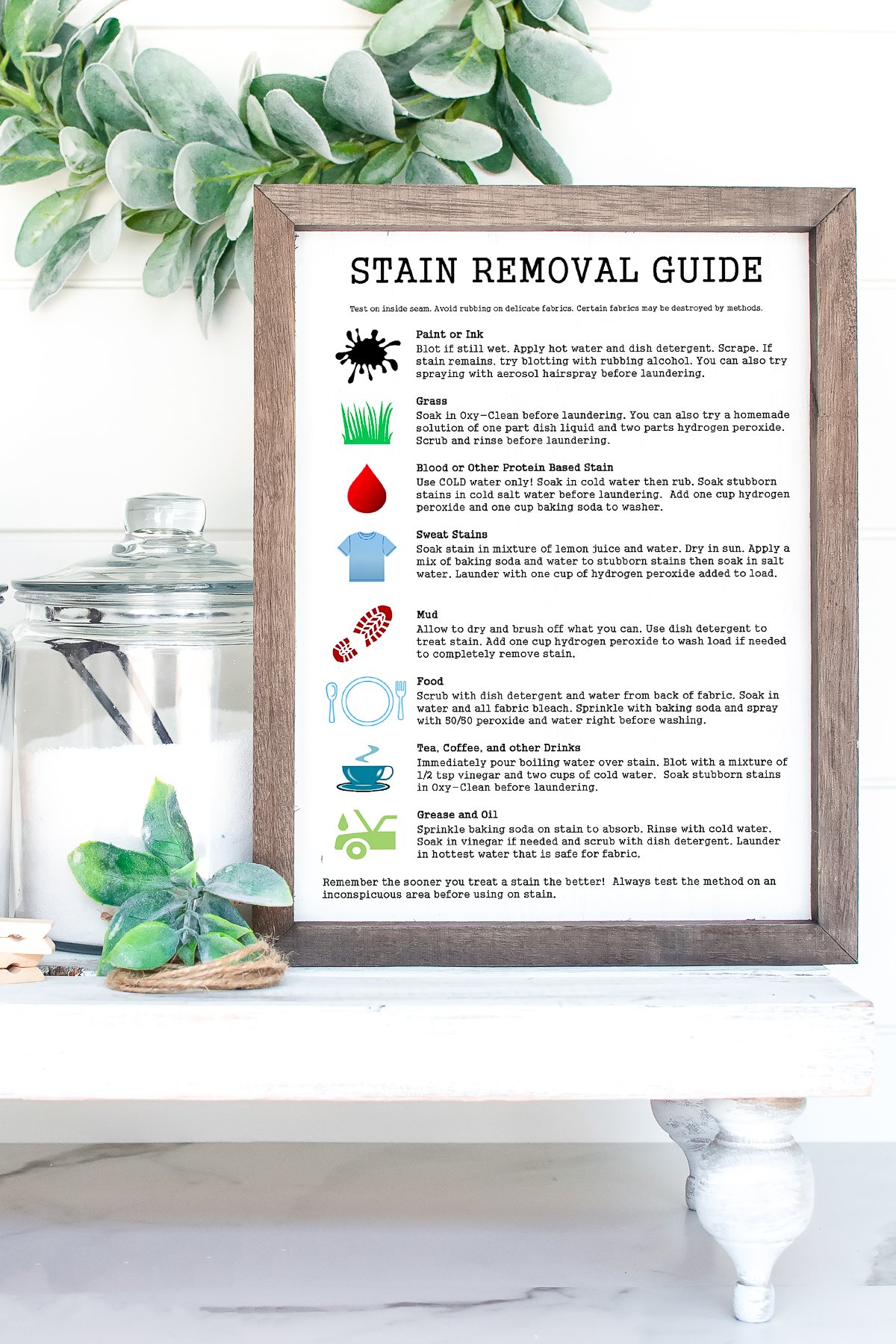 Free Printable Stain Removal Guide
First, you will want to download and get your printable ready for use. To do that, you will need to subscribe to the newsletter in the box below and the PDF file will be sent to your email. Look for a box below with a picture of the printable you want to download then add in your information. If you already get our newsletter, just add your information again as you will not be signed up for anything further.
Please note that this file is for personal use only. You can also contact me if you have any issues.
Options for Printing Your Stain Removal Chart
Once you sign up for the newsletter above, just check your email to get your download. You can then print right from home. I have a few options for you to consider!
Print and Frame
Print on regular paper or white cardstock and add to a frame. This is probably the easiest option as most people will have everything readily available for this right at home. I added mine to a rustic frame for a farmhouse look but this print can even be used in a more modern decor setting.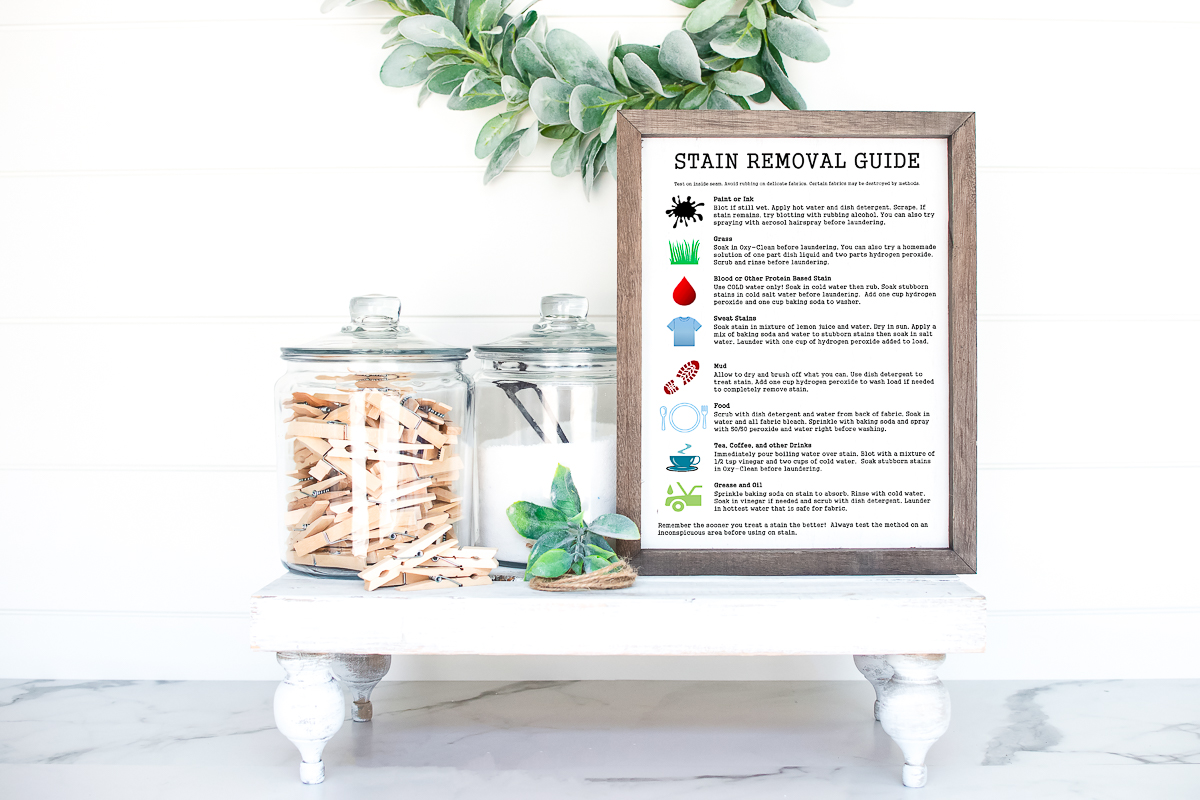 Print on a Magnetic Sheet
For this option, you will need a full-size magnetic sheet that is okay for printing. You can then use your regular printer to run the magnetic sheet through and print out the guide. That is right….these full-size magnetic sheets work in your home printer. Then just stick this stain removal guide right on the metal surface of your washer or dryer.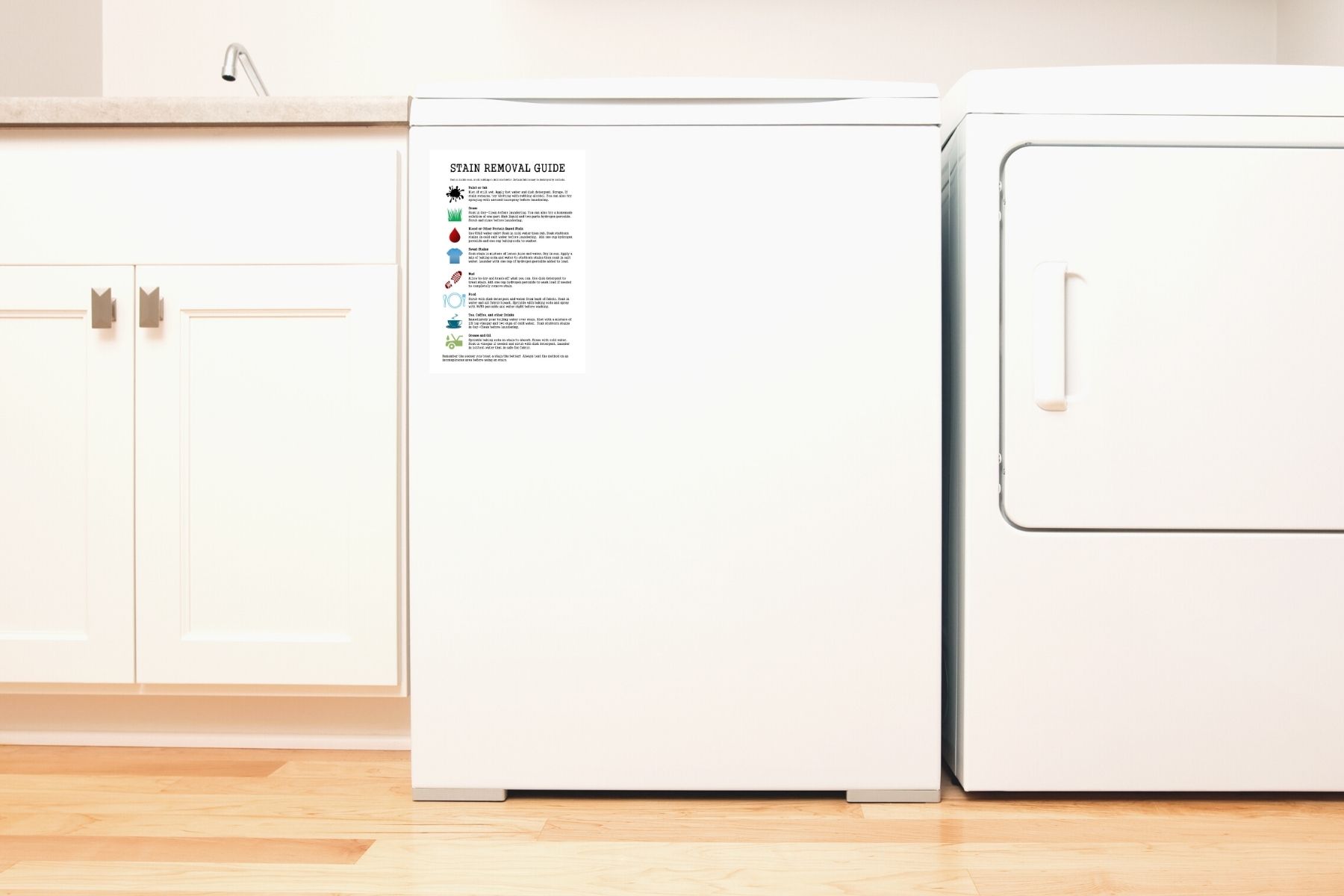 Please note that you will want to allow your printed guide to sit 5 minutes or so. This will allow the ink to dry and make sure you don't get any smudge marks. You can then take it into your laundry room and put it on any metal surface. I put ours on the side of the washing machine but the top works as well. Anywhere that will be convenient for you to reference when treating those stains. The beauty of printing on the magnetic sheet is you can move it later if you would like!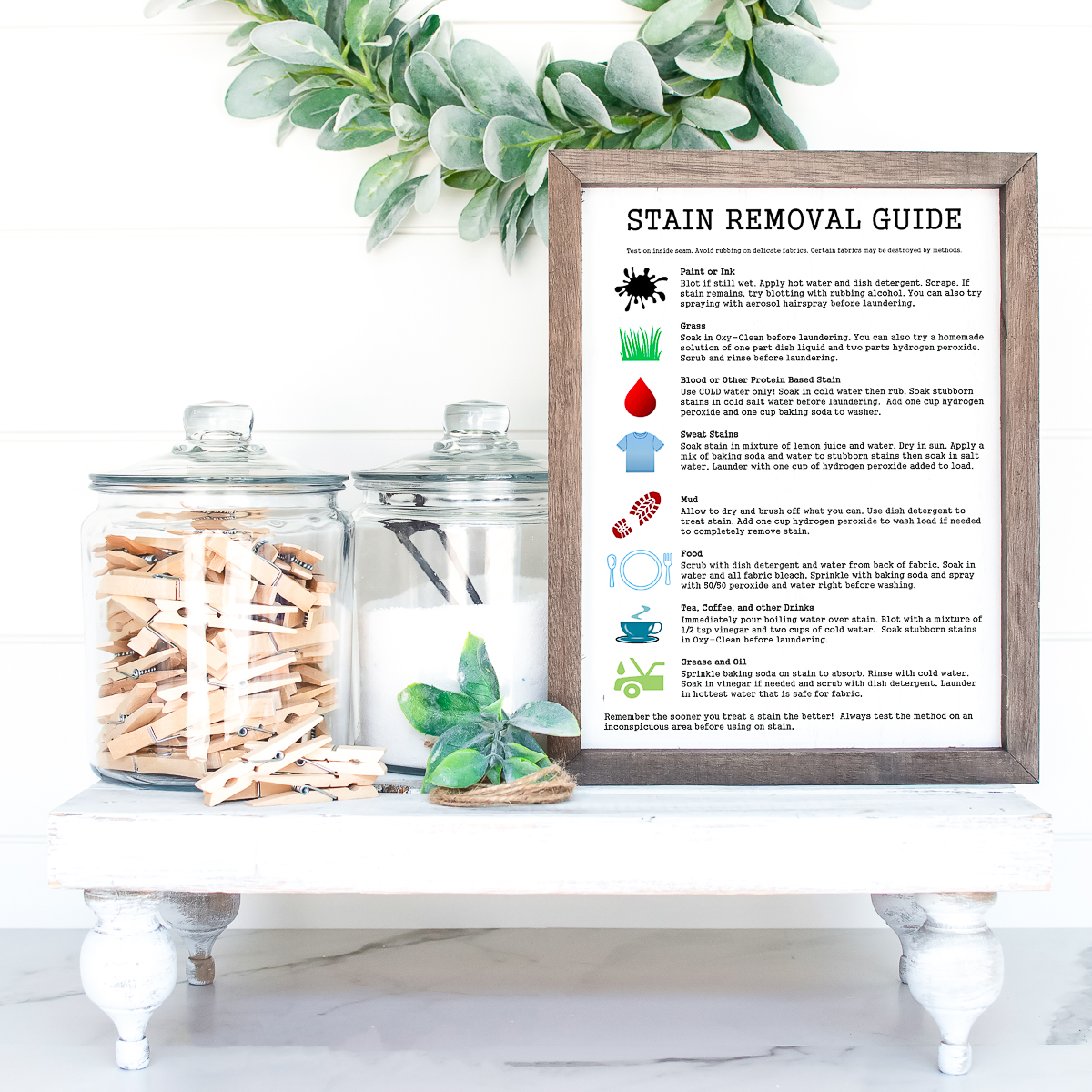 I love that this printable stain removal guide is handy to reference for all of those kid stains. Y'all know the ones. Grass stains on the knees, blood or other bodily fluids a little bit of everywhere, and oh so much more. I now have a handy guide to reference and save our clothes from falling victim to these stains.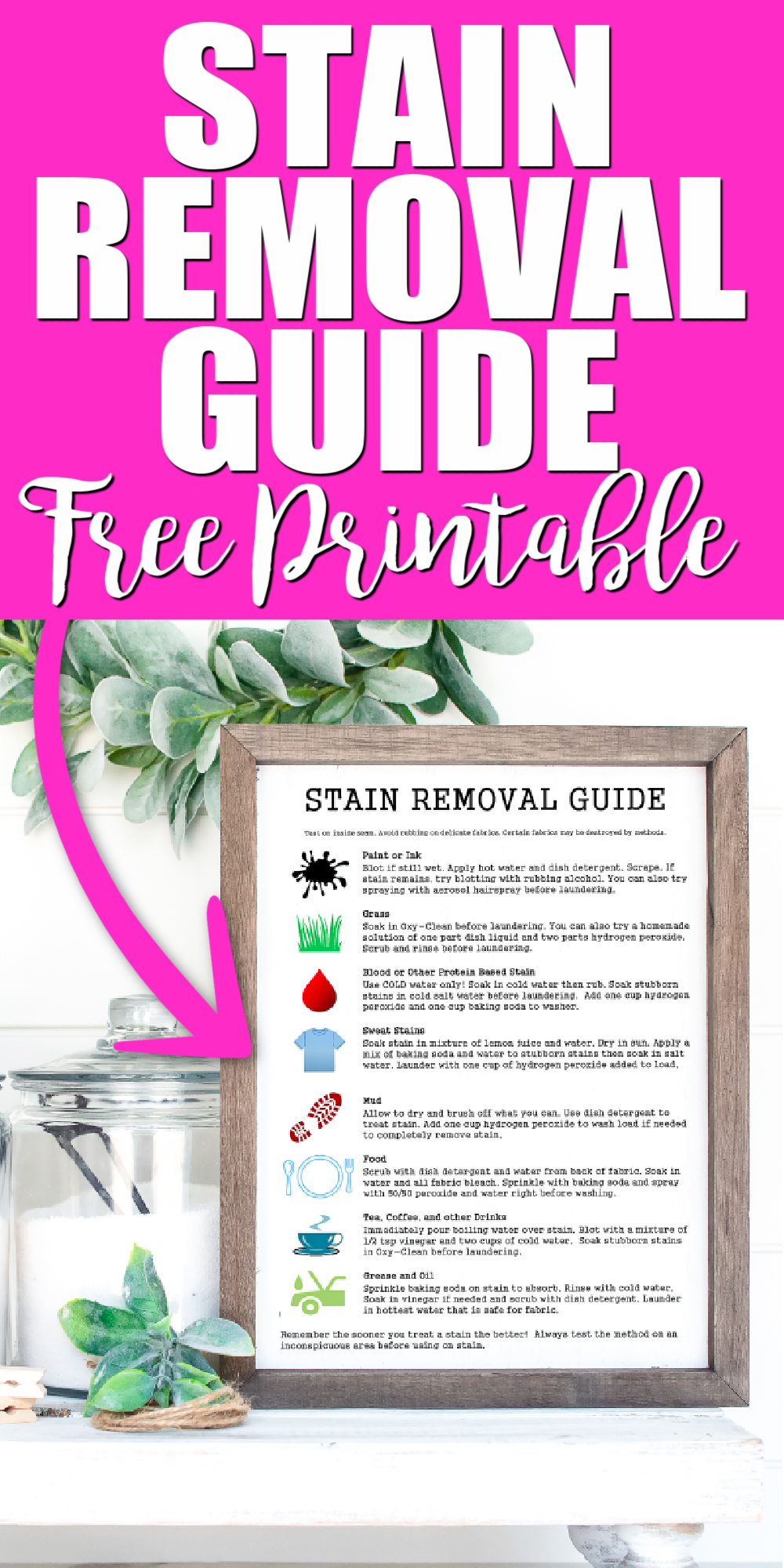 I hope you enjoy this one and using it to decorate your laundry room. Need some more art options? You can also click here to get this great printable art for your laundry room or click here for even more laundry room signs you will love! Now download your own copy of this stain removal guide and get to work adding it to your space. You are sure to love it once it is decorating your home!
Want to see my favorite cleaning supplies and products?
I have gathered all of the products I love using around my home into one great section of my Amazon storefront. You can click here to shop! If you're looking for just about anything to clean your home, I probably have an option that you will love!