Guess who we have next?? My friend Viv from The V Spot!! Prepare to laugh….oh and learn something too!! She is going to teach you how to make your own sailboat!
*~*~*~*~*~*~*~*~*~*~*~*~*~*
Hi all, I'm Vivienne from The V Spot and I am so excited that Angie invited me to her Beach Bash! When she asked us to come up with a beach themed craft, I knew immediately what I wanted to do. I wanted to try and create one of those big, gorgeous (expensive) sailboats for my mantel.
You know what happened? EPIC FAIL.
What's a crafty girl to do? Pardon the pun, but I changed course and decided to embrace the failure. The finished product is more Huck Finn than it is Nantucket Weekend, but I am really liking it.
I give you my Newspaper Sail Boat:
I did NOT want to spend any a lot of money on my project. I am not even kidding when I tell you I used what I had.
Step 1: Get a piece of wood from the wood pile and ask Handsome Hubby to drill a hole in it "real fast", even though he's walking out the door to go to work.
Step 2: Find old pieces of cardboard and use duct tape to make a frame around the log. Tape the log down as well.
Step 3: Get a big piece of kraft paper and fold it over and around the basic boat shape of the cardboard. Secure with duct tape.
Step 4: Take basic and wonderful Elmer's Glue and water it down. Brush it on the "boat" and then add strips of newspaper. Brush more of the glue mixture over the top.
Step 5: Keep adding layers of newspaper, including across the top of the "boat" being sure to leave an opening over the drilled hole, where your "Mast" will go.

*~*~*~*~*~*~*~*~*~*~*~*~*~
Thanks Viv!! I laughed and learned something!! How bout you??
The Beach Bash has been full of great ideas and runs til July 20 — follow along with The Country Chic Cottage and don't miss a day!! Grab a button if you want and help spread the word!!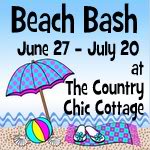 I will be having a little giveaway day at the very end of the beach bash. If you have a beach themed item you would like to giveaway, drop me an email!! 🙂
~Thanks for stopping by!~