When I started seeing driftwood sailboats I fell in love… I mean if I am going to do a coastal theme at the river cabin, I have to have a driftwood sailboat. It is a must. Top priority. Non-negotiable. Y'all understand, right? So, follow along and learn how to make a driftwood sailboat below.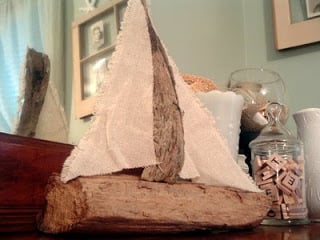 Supplies needed to make a DIY driftwood sailboat:
two perfect pieces of driftwood

leftover material in white or off-white

hot glue gun and glue
How to make a driftwood sailboat:
Once you find those two perfect pieces of driftwood. Make sure they fit together to make the boat itself as well as a mast. You might have to cut the pieces off or sand them down to get a really good fit. Then I used wood glue to put the two pieces of driftwood together and make them look like a boat. Support the two together until the wood glue dries completely.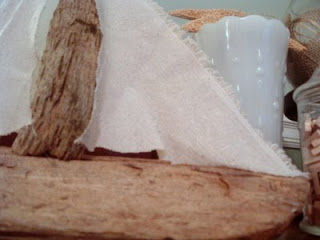 Then cut the scrap material you have sails to a size that is perfect for two sails. I ripped my fabric so there would be frayed edges as well. I then used hot glue to put those in place on both sides of the mast of the sailboat.
The hardest part is waiting for the glue to dry. I am very pleased with the way this one turned out. Now that you know how to make a driftwood sailboat, the only question is how many will you make for your nautical themed home?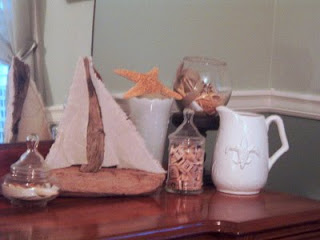 I staged this up for y'all but this one is headed to the river cabin. If you want to see more nautical themed decor, you might want to see this beach themed bathroom on a budget.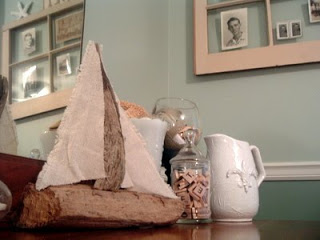 Do y'all want your very own driftwood sailboat? Will you make one for yourself or one to give as a gift?