Today I am sharing how I put together a beach themed bathroom on a budget. You see, the upstairs bathroom needed some beachy touches! And, well, I love starfish home decor in a bathroom! I seriously dream of a beach theme bathroom. Why do I feel the need to put shells in every bathroom?? I dunno. But I do! So I revamped this shelf display for more of a coastal themed bathroom!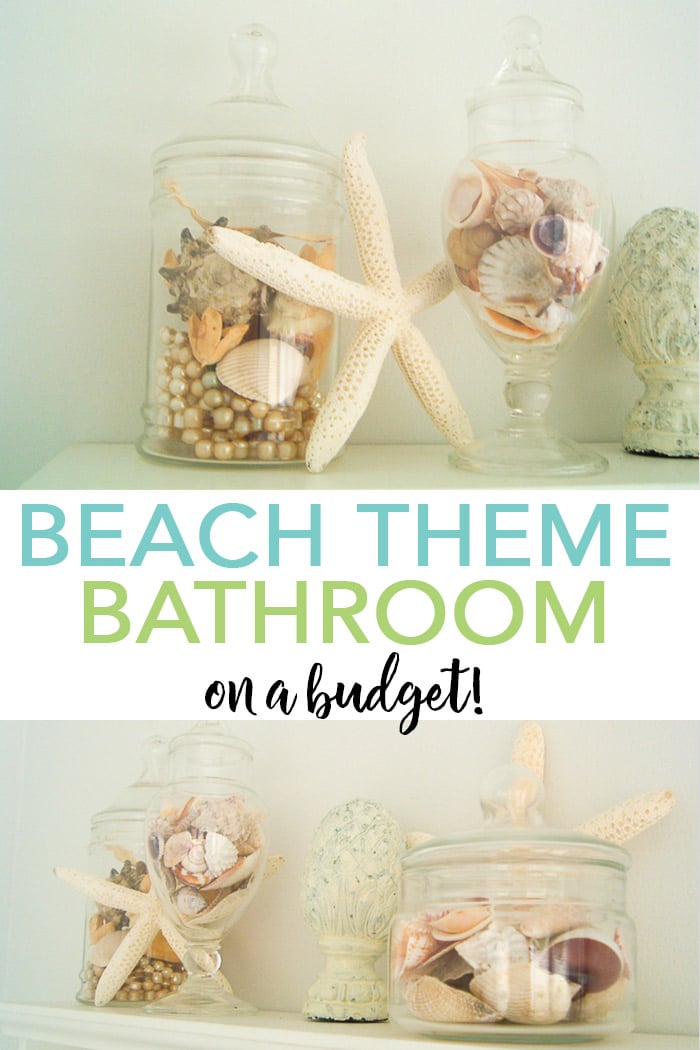 How to Decorate a Beach Themed Bathroom with Thrift Store Finds
Finger starfish, apothecary jars full of shells, driftwood…all the touches of beach living….all in my bathroom! You too can have a beach chic bathroom with just a few stops at a thrift store and maybe digging around your home a bit.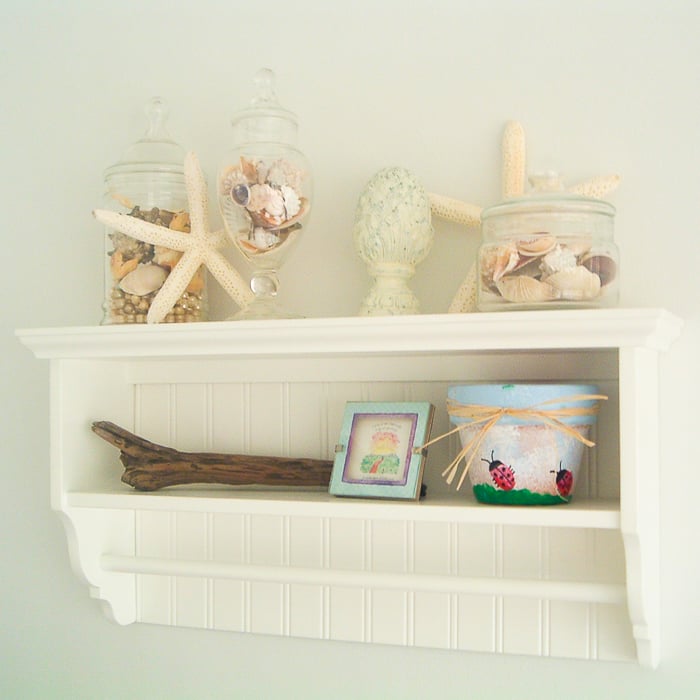 How to Find Driftwood for Your Beachy Bathroom
Driftwood is slowly stealing my heart away from starfish! I mean look at the detail in the image below. No beach themed bathroom would be complete without it. The best part? It is as close as a local creek or river. Go on a hunt for some free decor. When you get it home, just follow the instructions in this post for sterilizing it before adding to your home.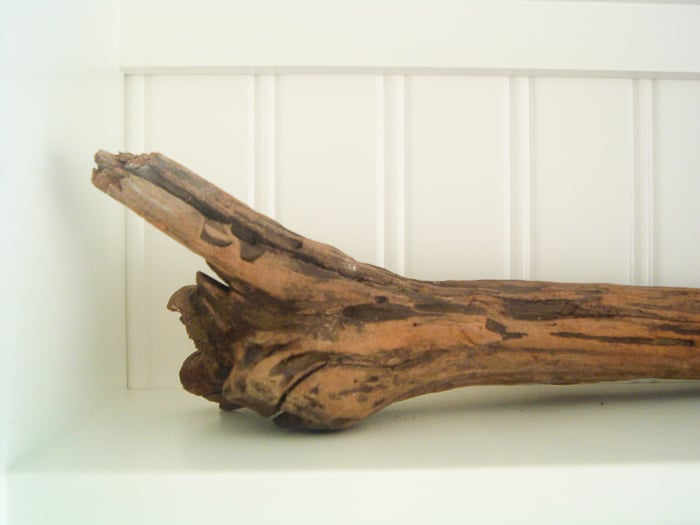 Shopping Your House for Extra Bathroom Decor
In most rooms, I add a meaningful touch or two. The flower pot my 16-year-old made in pre-school and she bought me that little picture with her own money many, many years ago. Memories are priceless so display them with pride! These things are as close as the boxes and bins you have stored away around your home. Bring out those memories and add them to a shelf like this one in this DIY beach bathroom.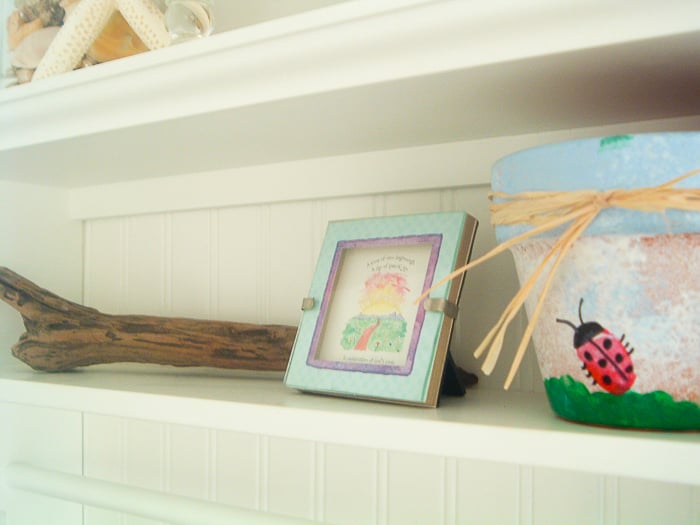 Decorate Your Beach-Themed Bathroom with Thrift Store Scores
The apothecary jars on this shelf I have been thrifting over time. I am sure I did not pay over $1 for any of them. And the shape is so similar on them all, it is like they are a matching set from the store! A thrift store is a great source for creating a beach themed bathroom like this one on any budget.
They are even full of odd shells that were also thrifted. It is budget friendly and gorgeous! Look for odd shells in bags, baskets, and more. I am sure after a little hunting you will have thrift store success and be able to add some to your own coastal themed bathroom.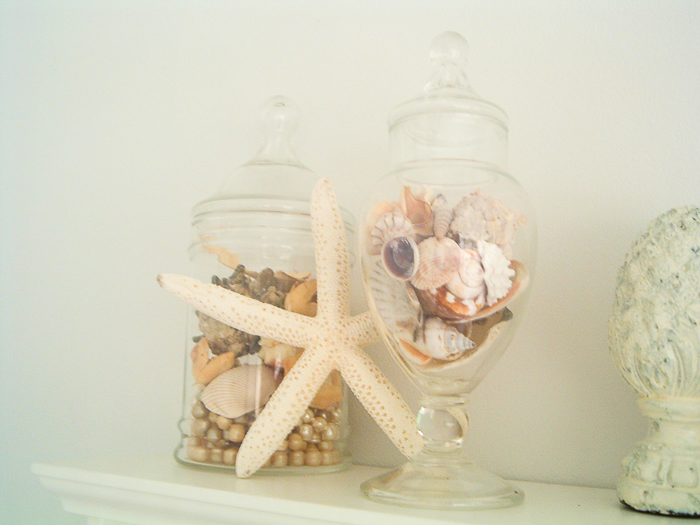 It took me a while to get all the things in my collection, but only a few minutes to put them together on the white beadboard shelf. Beach decor just in time for this southern heat wave!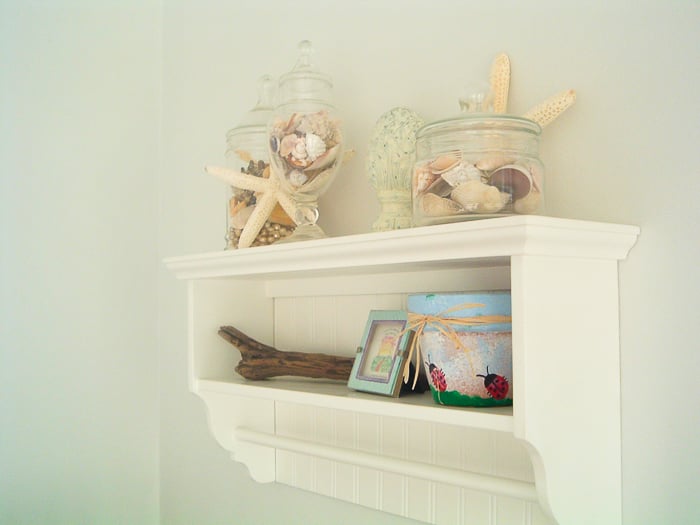 So do you feel the need to add shells next to your bathroom sink? Please tell me I am not the only one with a beach themed bathroom!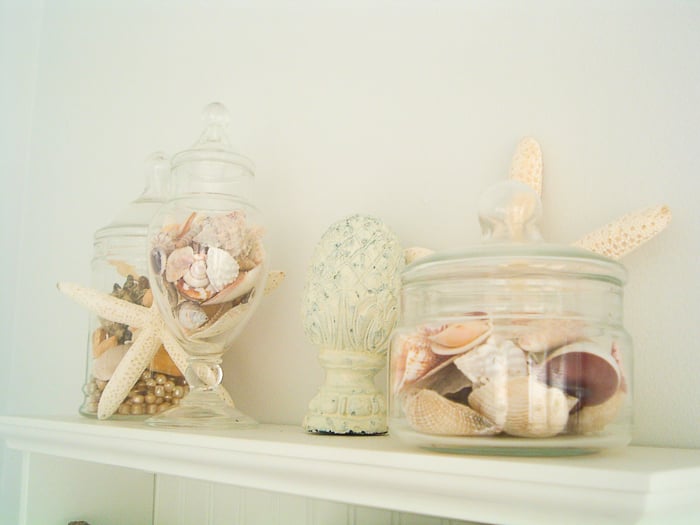 So, will you be on the hunt to create your own DIY beach bathroom on a budget?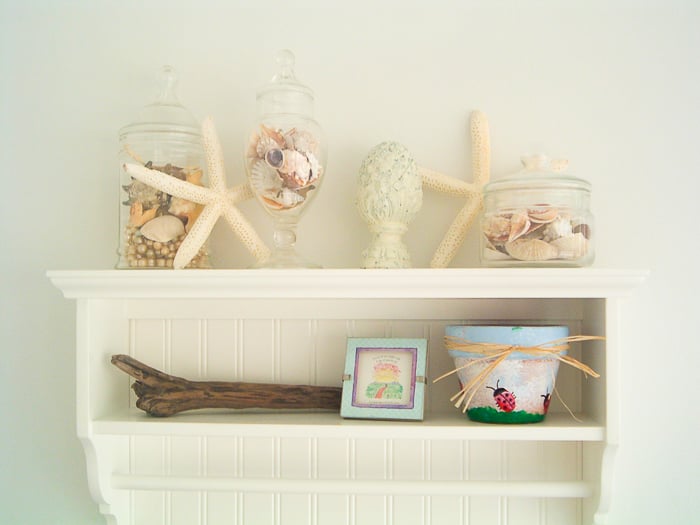 Love this coastal themed bathroom and want more ideas? Try the links below!