If you're searching for eye-catching wedding decorations, try making jar candle holder centerpieces. The metal cutouts give them an elegant look that's perfect for daytime and nighttime celebrations!
I love wedding crafts! Transforming something as simple and versatile as the humble mason jar into items fit for a wedding sucks me in every time.
And today's jar candle holder craft is just one of those exciting transformations. I am thrilled to share today's mason jar wedding craft with y'all. It's elegant enough for special occasions and easy enough to make for everyday decor pieces too.
My metal-wrapped jar candle holders are perfect for weddings or, let's face it….anytime, anywhere! I know I will be holding onto these great metal sleeves for use around my own home.
The fact that they can be made in literally minutes is just icing on the proverbial (wedding) cake! 😂
If you're looking for more wedding inspiration, check out my 80+ Mason Jar Wedding Ideas, including Mason Jar Wedding Favors and Felt Mason Jar Wedding Centerpieces!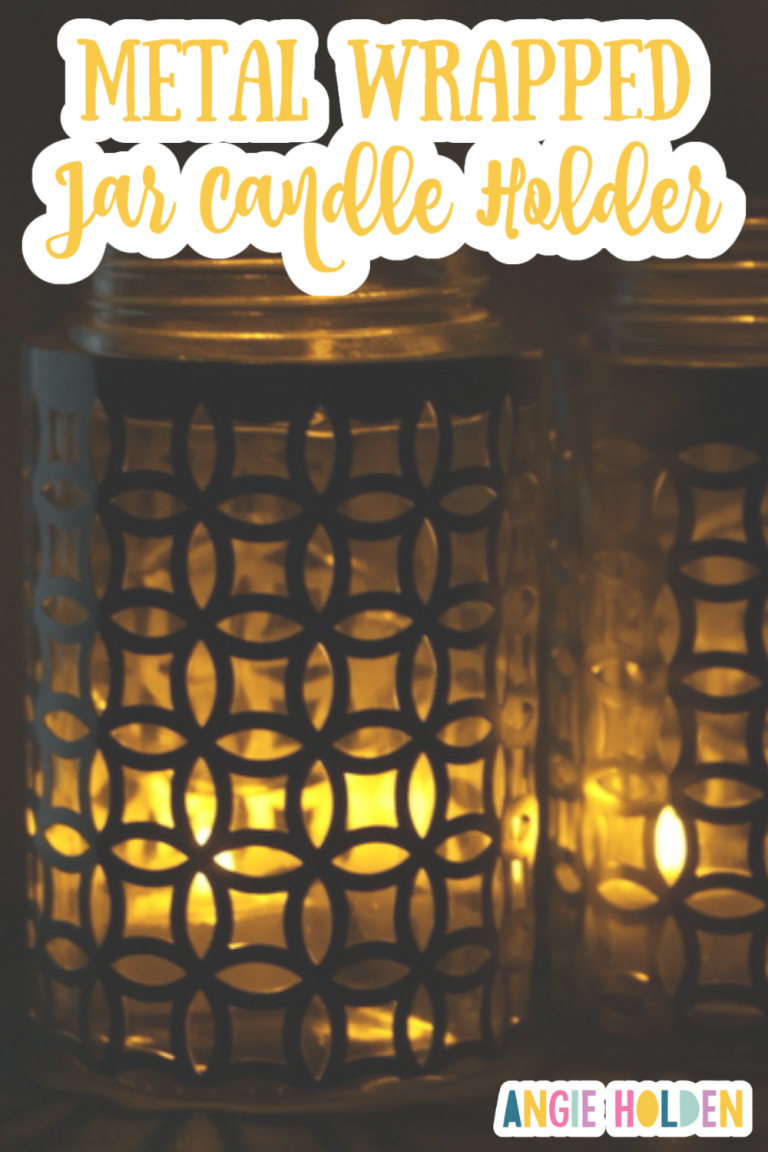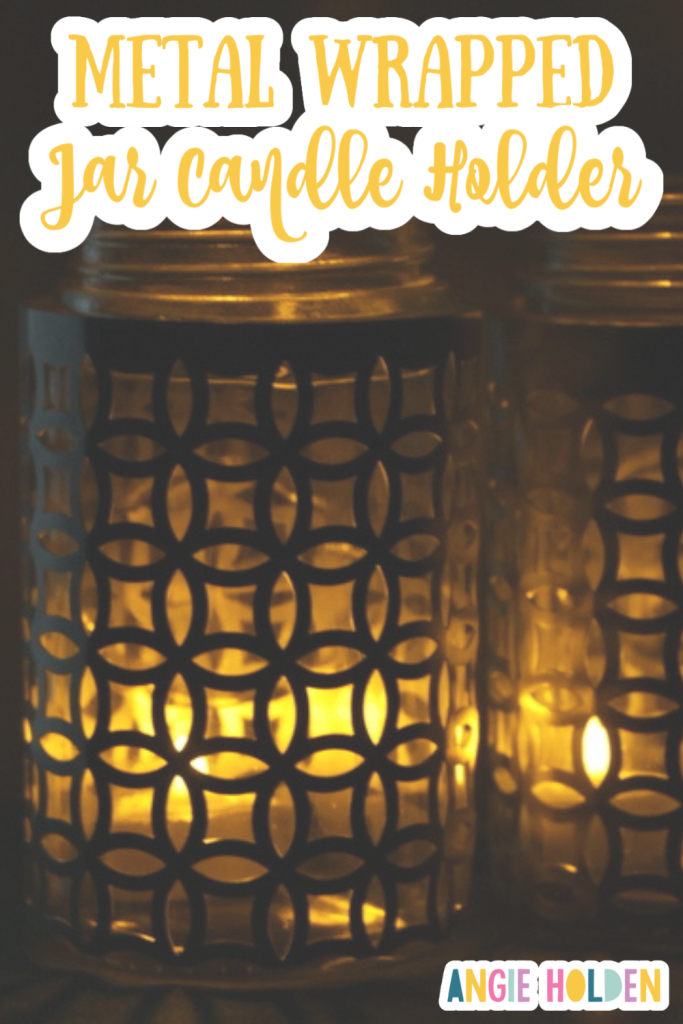 How To Make A Metal-Wrapped Jar Candle Holder
Here is everything you will need to have on hand for making metal-wrapped jar candle holders. I have even included a few links to help you find what you need faster.
Supplies Needed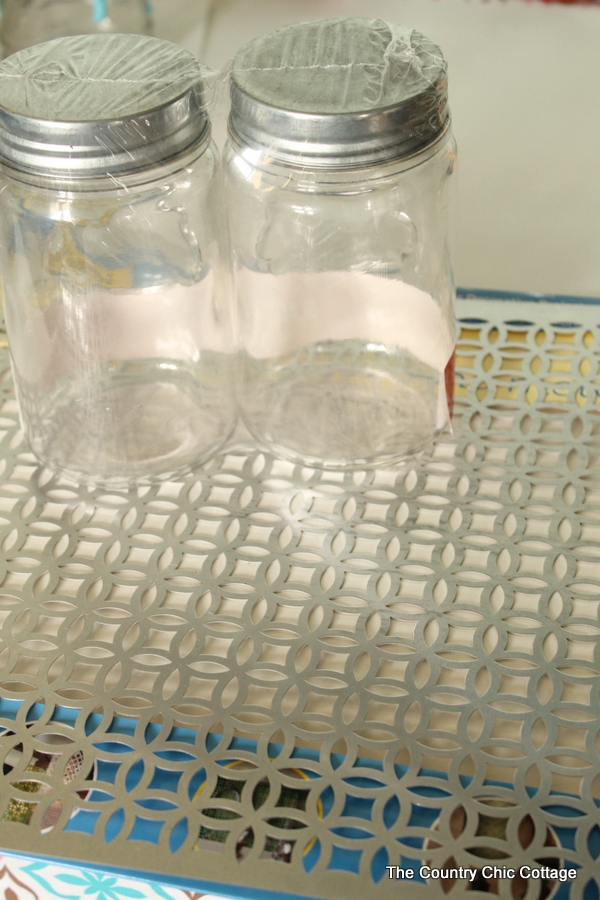 Jar Candle Holder Instructions
Just follow these step-by-step instructions. If you've ever thought about making a metal candle holder, you'll be pleasantly surprised at how simple this project is!
Step 1
Cut the metal to size.
You should cut the length of the metal so that it will fit on the flat portion of the jar you are using. The shears cut the metal well, but you will have to put a little effort into it to make it happen.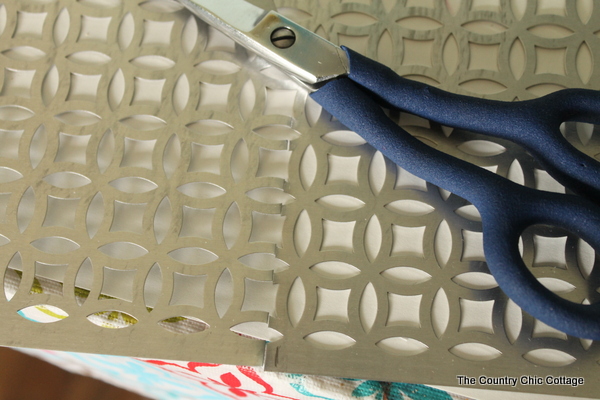 Step 2
Wrap the metal around the jar, using the jar to add curvature to the metal. Just hold with your hands and roll the jar to form the metal around the jar.
Note: When you let go, the metal may bounce back slightly and be larger than your jar.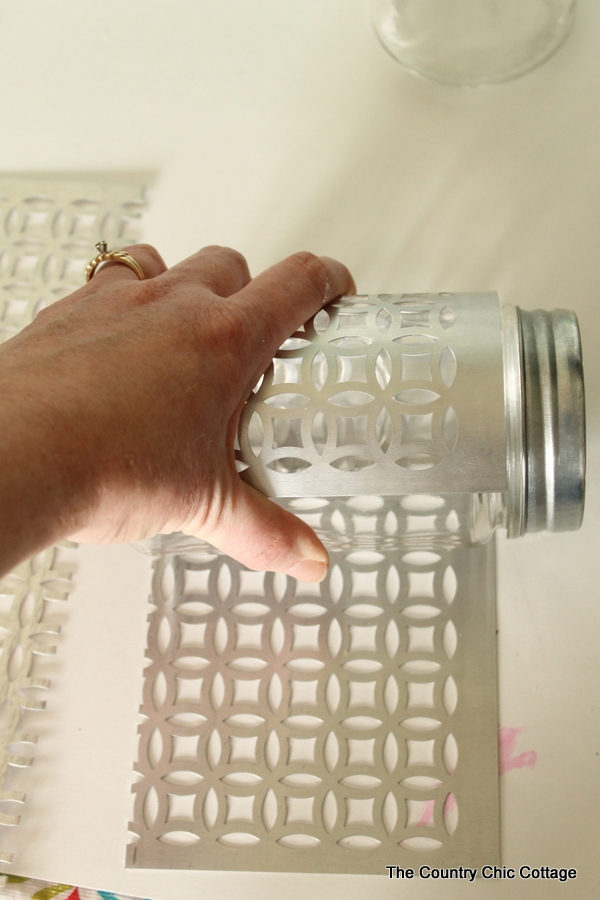 Step 3
To fix that, you need to wrap the metal around a round object that is slightly smaller than the jar. I used a can of spray paint.
Use the same technique as above, but this time when the metal bounces back, it should be around the correct size or slightly smaller than the jar.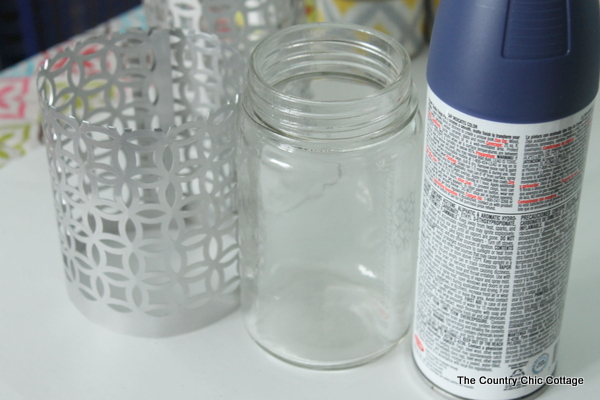 Step 4
Apply liquid nails to where the metal overlaps in the "back" of your metal-wrapped jar candle holder. I did not glue the metal to the jar – only to the metal itself.
The metal acts as a sleeve over the jar and can be removed when you are tired of it or want to change it up for the occasion.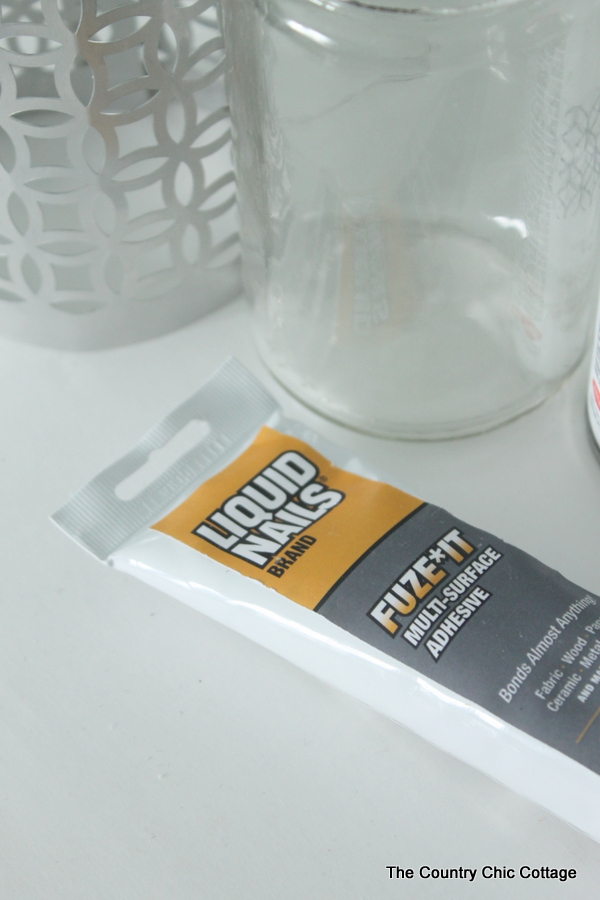 Step 5
Clamp the metal together after you add the liquid nails. I just used simple clothespins, and they worked perfectly.
Allow them to dry overnight or longer (I recommend longer drying times if possible, but overnight would be the minimum).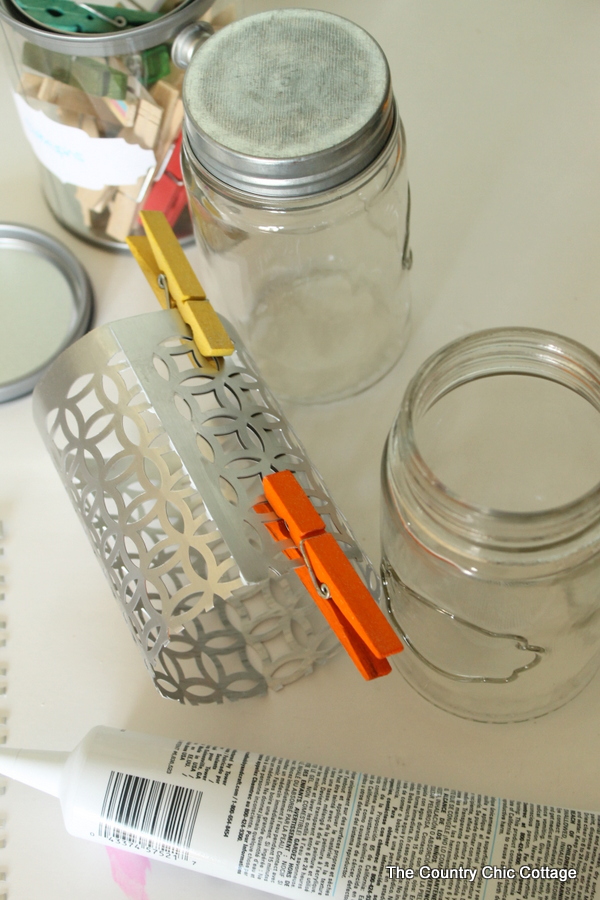 Step 6
Gently drop your jars into the sleeves.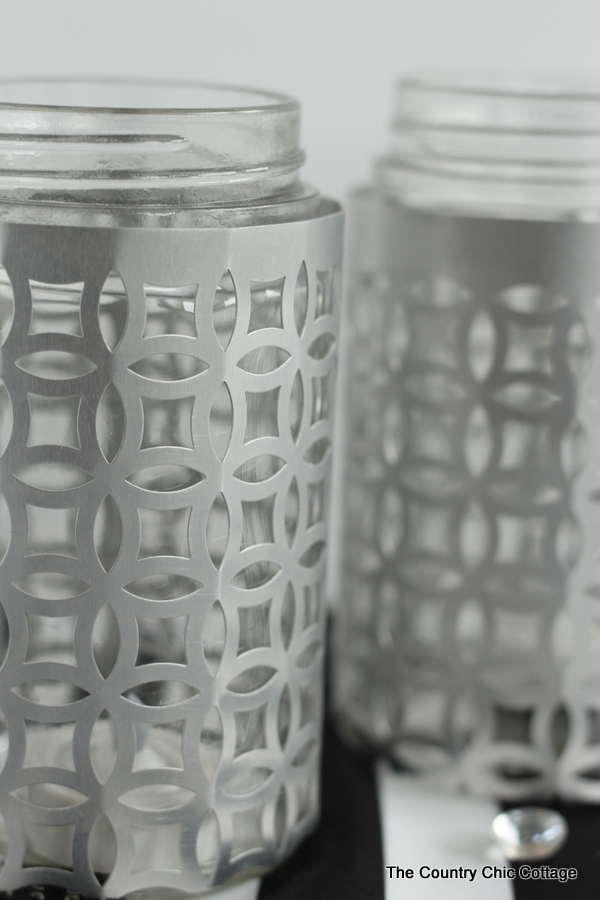 Isn't that easy? I love crafts like this because you can make a lot of them in a short period of time. The longest part of the process is just waiting for the glue to dry!
FAQs
Here are a couple of questions that I see readers ask about making this jar candle holder project. Please check to see if I've already answered it below if you have a question. Don't see it? Leave it for me in the comments!
How can I use these jars for weddings?
These jars make terrific centerpieces at wedding receptions. You can also use them as candles or mini lights for evening weddings and other events.
Just add a battery-powered tea light, a real candle, or fairy lights (similar to these Simple Fall Fairy Light Luminaries).
No matter how you use them, you will love the look of these metal-wrapped jar candle holders!
You can also just make a few of these for your home. They easily dress up or dress down, depending on how you use them.
What can I use instead of Liquid Nails?
If you don't have Liquid Nails on hand, you could also use Loctite or Gorilla Glue for this project. Just apply them the same way I described using Liquid Nails.
Remember, with strong adhesives like these; a little goes a long way! Just apply a little at a time – you won't need gobs.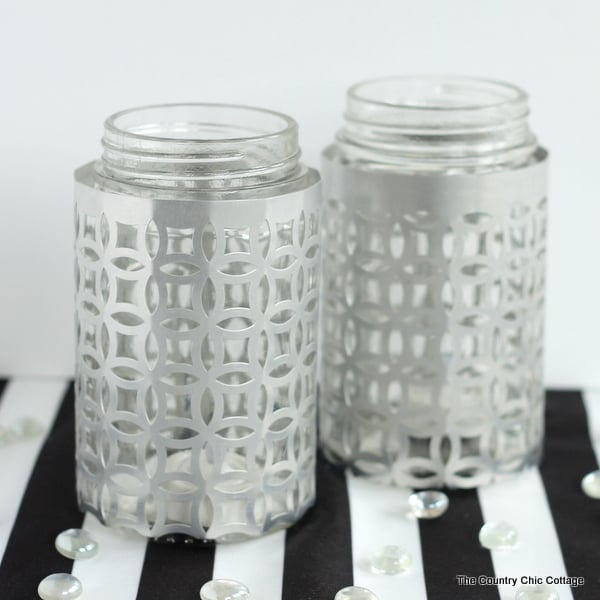 Whether you make these to display all the time or for a special event, they will look like they took you forever to make. Your secret is safe with me y'all!
More Wedding Inspiration
If you need more wedding craft inspiration, check out these popular projects: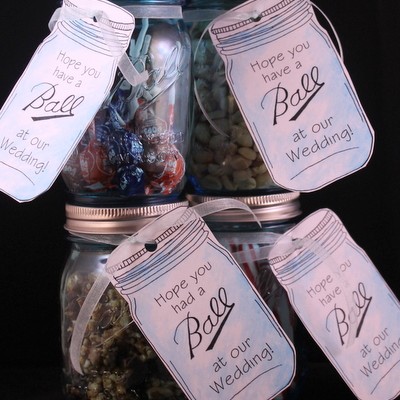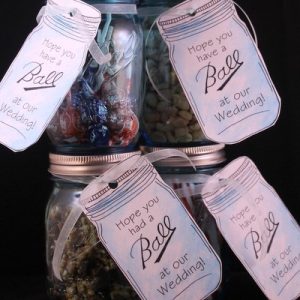 Mason Jar Wedding Favors with Free Printable Tags
The perfect idea for the guests at your ceremony or in your wedding party, these crafty wedding favors using mason jars are so easy to make and such a joy to create!
Read More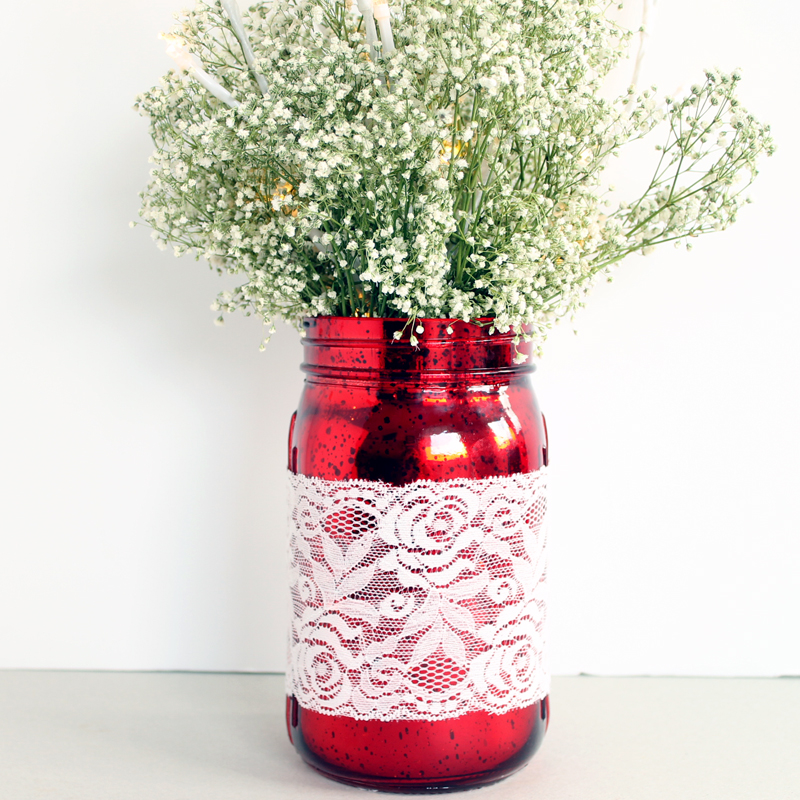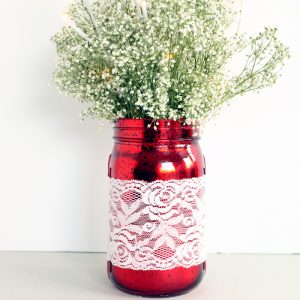 Mason Jar Wedding Centerpieces
Incorporating mason jars into your wedding centerpieces is a great way to add a personal touch to your big day!
Read More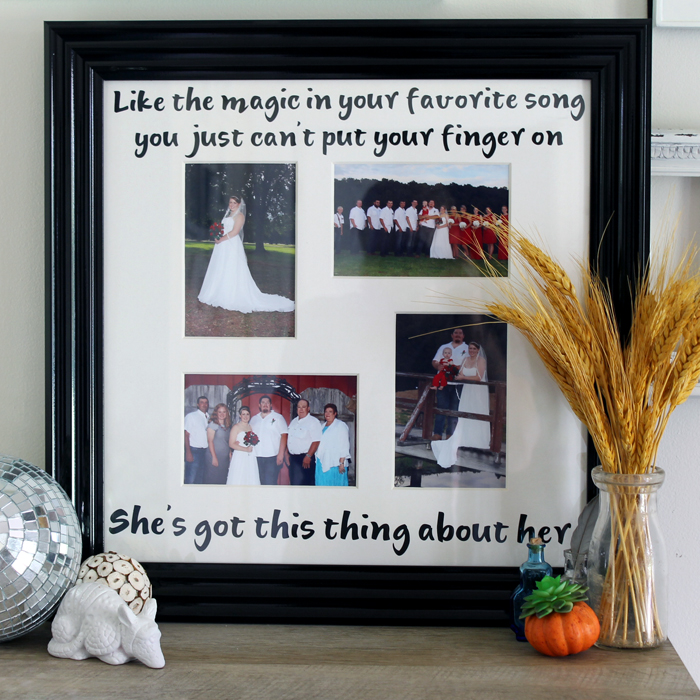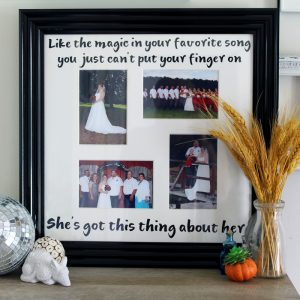 Wedding Frame with Song Lyrics from Cricut
Make a wedding frame with song lyrics as a memento of your special day.
Read More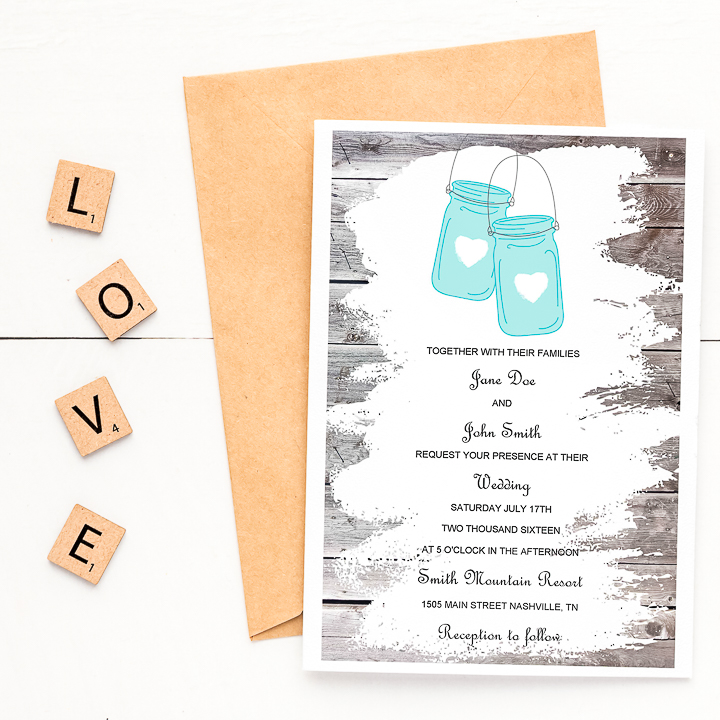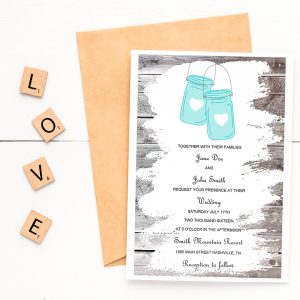 Free Printable Mason Jar Invitations for a Wedding
Free customizable mason jar wedding invitations.
Read More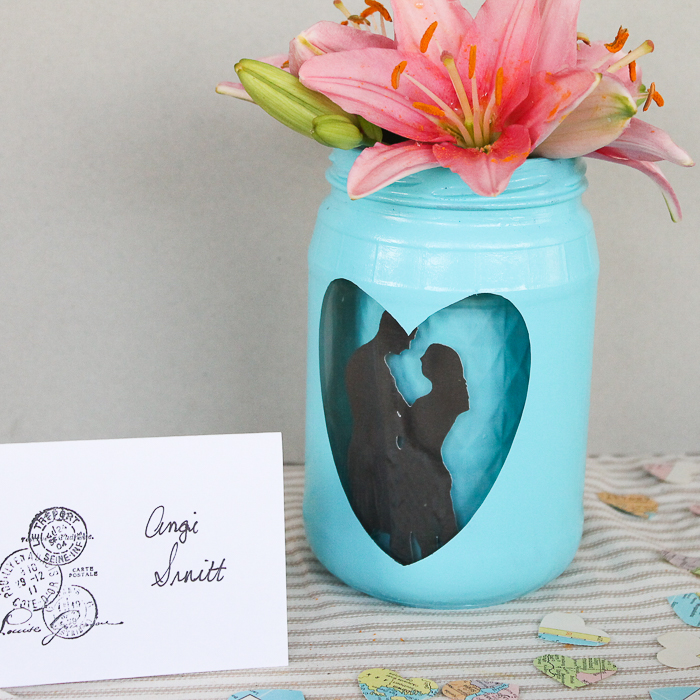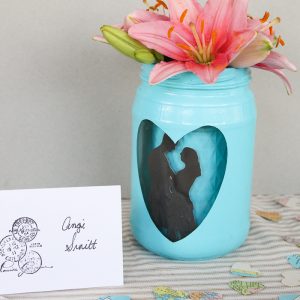 Mason Jar Centerpieces For Weddings With Your Cricut
Save money and add a beautiful personal touch with these mason jar centerpieces!
Read More
How to Make Paper Flower Balls: Step-By-Step Tutorial
Creat a beautiful string of paper flower balls that can hang practically anywhere!
Read More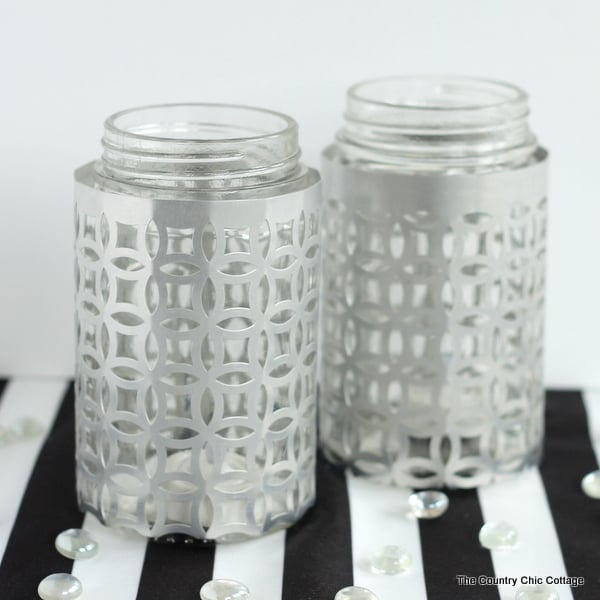 How To Make A Metal-Wrapped Jar Candle Holder
Learn how to create this candle wrap in just minutes to create gorgeous decor perfect for every day and fit for special occasions!
Instructions
With the scissors, cut the metal to the appropriate length for your jars.

Holding the metal in place, wrap it around the jar to form it around the jar.

If the metal snaps back and is too wide for the jar, wrap it around a smaller cylinder shape so that it will wrap around your jar tightly.

Apply your adhesive to the metal where the ends overlap. Take care to prevent the glue from getting on the glass jar.

Clamp the metal pieces together to hold it in place while the glue dries. Use clamps or even a simple clothespin.

Carefully slide these metal "sleeves" onto the jar and you're done!
Tried this project?
tag us to show off your work!
A Year of Jar Crafts
Sign up for our email list to get a FREE book with an entire year of jar crafts! 12 months, 12 crafts, tons of fun!