Side note: Dear Mom, if you are reading my blog today, please turn away. Don't scroll down. You will totally ruin the surprise!
Are you ready for Mother's Day? It is this weekend ya know! I have a simple DIY Mother's Day gift idea for you today. Hand painted flower pots…the easy way! These are super simple to make. Get the kids and gather your supplies. You can have some fun with the kids and make something for grandma. Or gather up the kids and force them to craft something for you…you gotta do what you gotta do right?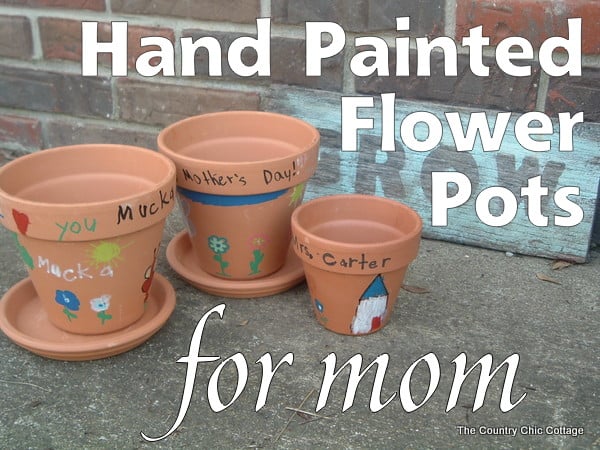 Gather up your supplies. These are made easy with the use of Elmer's Painters Paint Markers. I purchased mine at Walmart so they should be readily available. They are in the craft section at Walmart. You can buy them in packs of 5. But I was also so happy to see that they also sell them individually. Perfect for when you have a specific project in mind and only need a color or two. Plus at Walmart's everyday price of $1.97 each they don't break the bank! Just look for the display pictured below…look at all the color choices…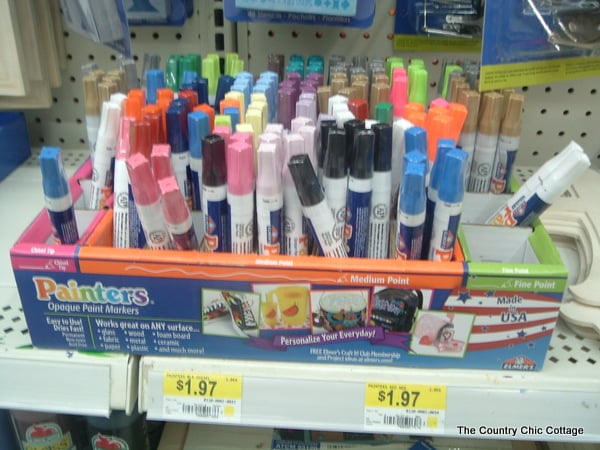 I already had a pack of primary colors at home. If y'all missed it, I let my kids play with the Elmers Painters Paint Markers before. Head on over and check out our
children's canvas art project.
So if you don't like the idea of the flower pots, turn your children loose on an art canvas. This trip I picked up a pastel pack and some other individual colors that I liked.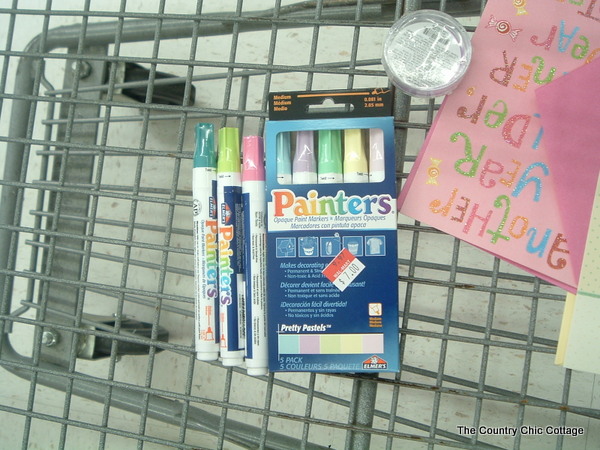 I also stopped by the Walmart garden center and picked up the rest of our supplies. You can read about my entire shopping trip over on
my google plus album
.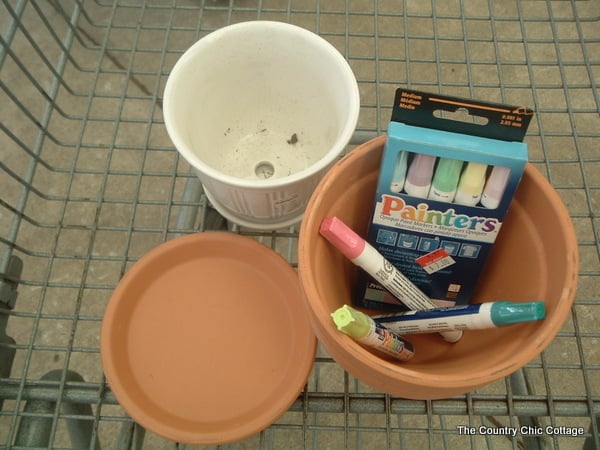 I got all of the markers started as per the package instructions. It is simply shaking well and pressing down until paint starts to flow. After they were ready, I let the kids loose on a covered table.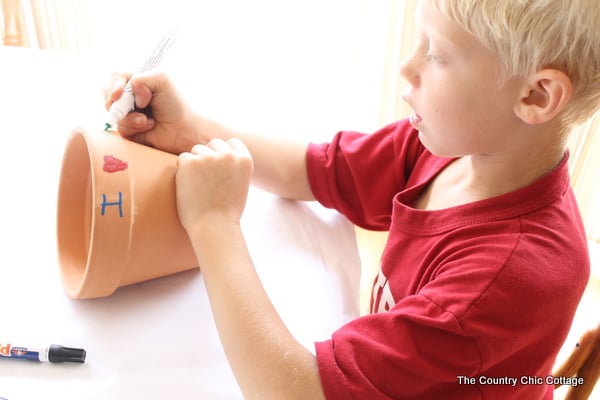 Each of the two little ones made a flower pot for grandma. I let them draw and write whatever they wanted. No rules means extra fun.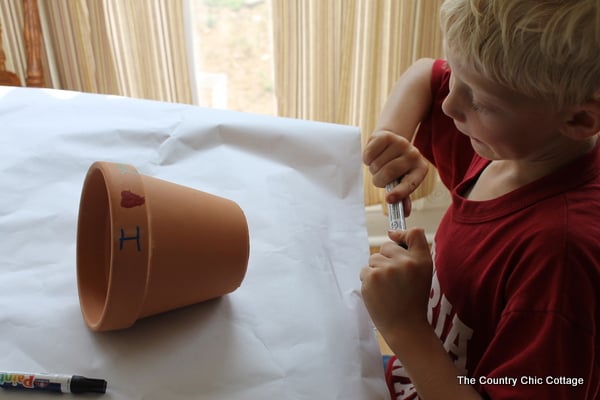 Elmers Painters Paint Markers are perfect for the budding young artist. They offer control that a
paint brush
does not. They can easily get great results without frustration. Plus they were virtually mess free. I covered my table just in case but there was not any mess.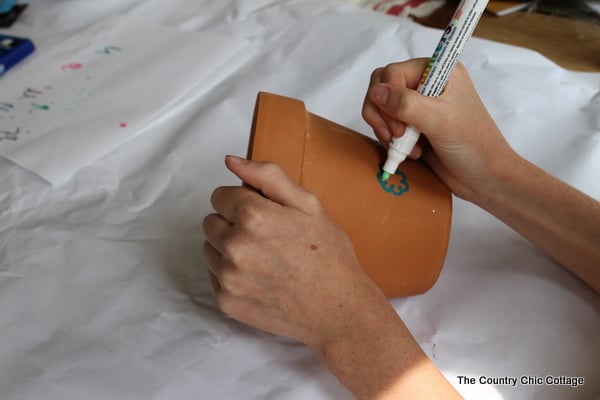 The results are oh so special and perfect to give as gifts this Mother's Day.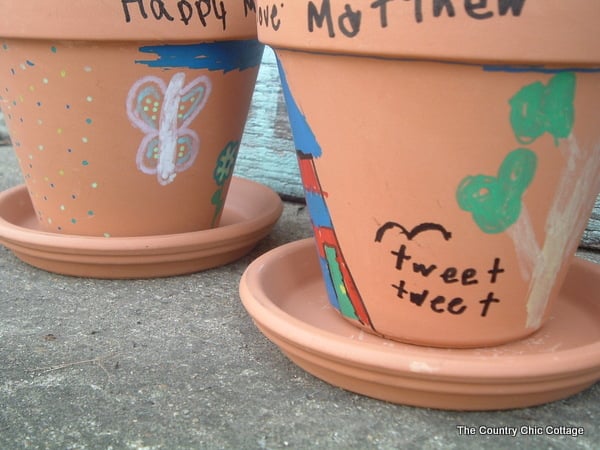 While we had everything out, I tackled some more projects as well. Just to demonstrate that there is so much you can do with this product. We made a flower pot for Teacher Appreciation week. How special will this be for a teacher's gift?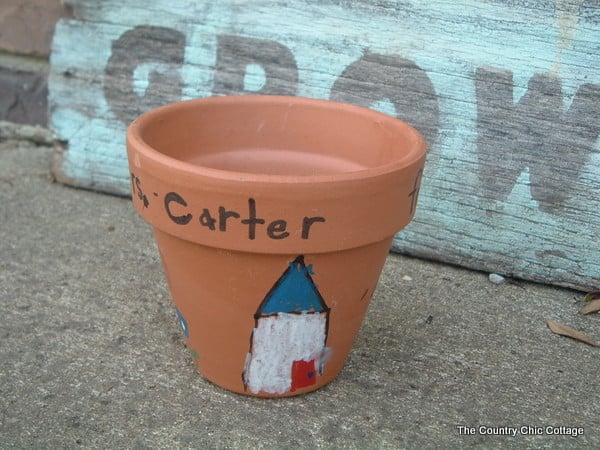 I couldn't help but to use the markers to make some thing for myself as well. I used a combo of three different colors for these pots. One in stripes and one in dots.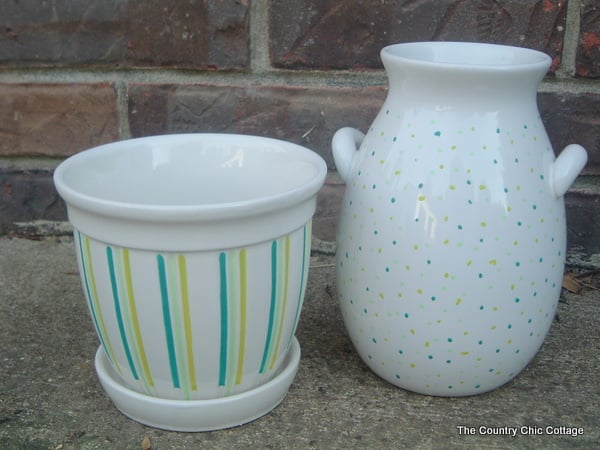 These two are ceramic where as the kids were painting on terra cotta. Both surfaces worked very well. I would say grab some paint markers no matter the surface that you are working with.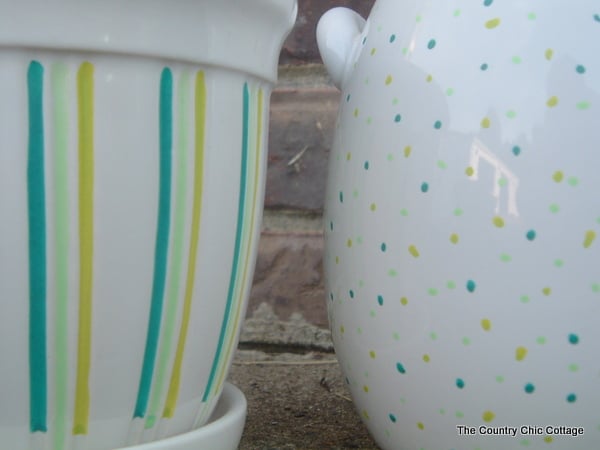 After all that success, I even took my markers outside and worked on my herb garden a little bit. The pots are actually plastic.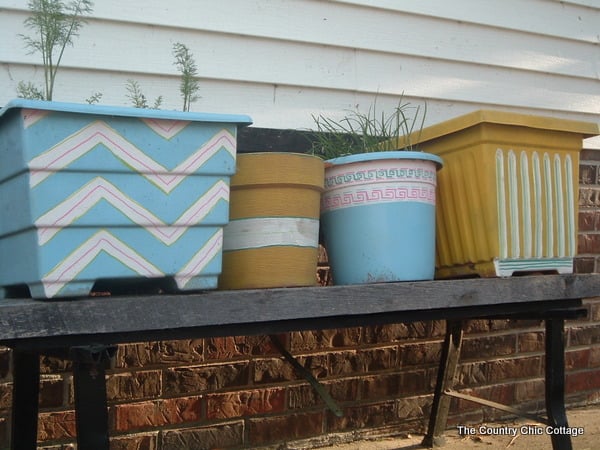 After some quick paint marker touch ups, the pots were looking so much better and I even planted some more seeds while I was out there. Can't wait to start harvesting herbs….I will keep y'all posted.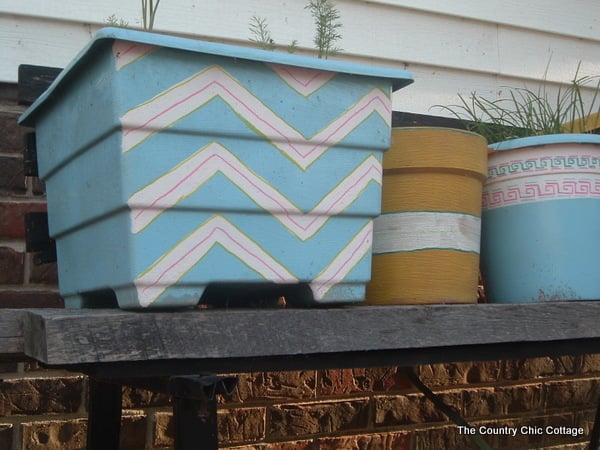 So if y'all are wondering my kids call my mom Mucka. That would be a post by itself as to why.
What a great way to celebrate Mother's Day! I think I will plant a flower in each one before gifting it. Making it even more special.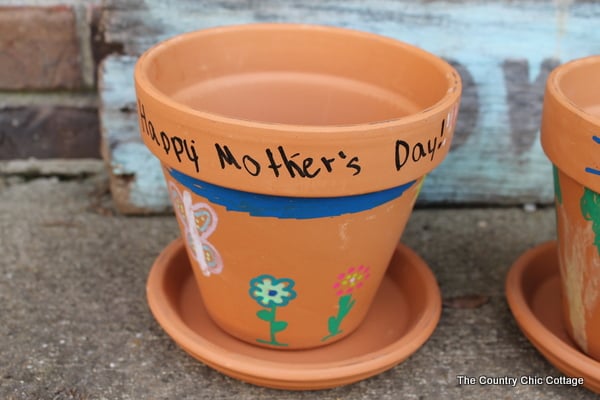 But of course hand painted pots are special all on their own. Yes our trees have yellow trunks. I got reprimanded for not buying a brown paint marker. Let this be a lesson to y'all — buy more colors than you think you will need or your kids will let you know about it.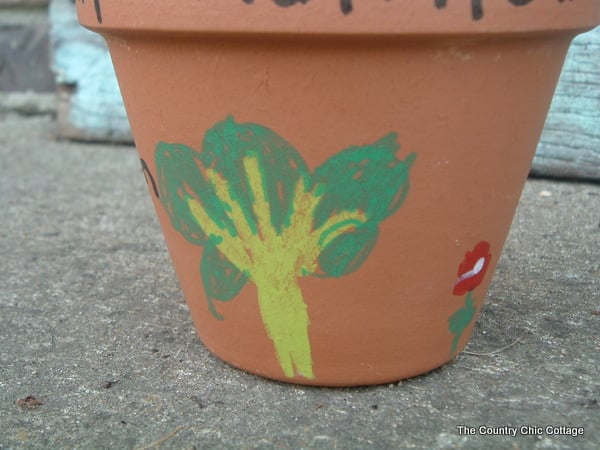 Now y'all know that I am officially hook on Elmers Painters Paint Markers for kid and adult crafting! Follow along at the hashtag #expressyourself on twitter for even more ideas with paint markers. You can always follow
Elmers on twitter
or
like them on faceboo
k to keep up too. So are you making anything for Mother's Day? I want to see! Leave me a link to your blog post.
I am a member of the Collective Bias™ Social Fabric® Community. This shop has been compensated as part of a social shopper insights study for
Collective Bias
™. #CBias #SocialFabric" All projects and opinions are mine.
Posted on the outdoor linky party on Cool 2 Craft.