Are you searching for that perfect DIY gift to make mom? Do you want that one gift that she'll both cherish and use? These easy hand-painted mugs have you covered!
Every day is Mother's Day, right? Well, if it isn't, maybe it should be. 😂
All joking aside, if you're looking for a gift your mom will love, look no further than today's craft. I have a project that's easy to make and one she can use. Say hello to hand-painted mugs (no artistic skills needed 😉).
This hand-painted mug idea is one that you can do, but it's also easy enough that the kids can help (or do it themselves). What makes it so easy? Decoart sent me some of their glass paint markers and they take this project from a "painting" craft to a "drawing" craft.
The kids will love making a beautiful mug for mom or grandma.
If you're on the hunt for more Mother's Day ideas, check out my Free Mother's Day Printable Art, Painted Flower Pots, and Handprint Pillow ideas!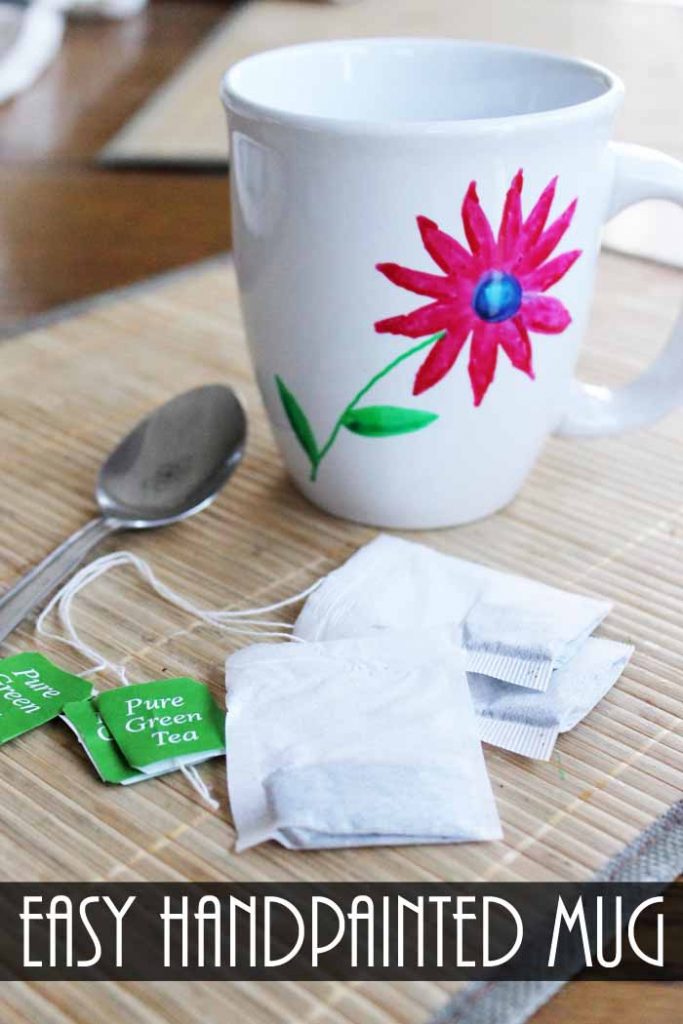 How To Make Hand-Painted Mugs For Mom The Easy Way
Here's what you need to know about this project to ensure success, including the supplies you'll need to gather and the detailed steps you'll follow.
Supplies Needed
Here's what you will need to have on hand to create this quick and easy craft. I even included a few links to help you find what you need faster.
Video Tutorial
Watch the full video tutorial below as Carolina from 30 Minute Crafts and I show you some quick and easy Mother's Day gifts. Who says you don't have time to make handmade? Give us 10 minutes and we will show you that you DO have time!
Instructions
Just follow these steps and see for yourself just how quick and easy this project is! In just a bit you'll have a fun decorated mug DIY gift that mom or grandma will cherish.
Step 1
Use a paper towel with a little alcohol on it to rub over the mug and make sure it's clean and ready to paint.
Step 2
Take your markers and start drawing your design. I started in the center and worked my way out.
Step 3
When you have completed your artwork, let the ink dry. Then follow baking instructions on the marker packaging to set the ink so it doesn't wash off when you wash the mug.
Your hand-painted mug is now done!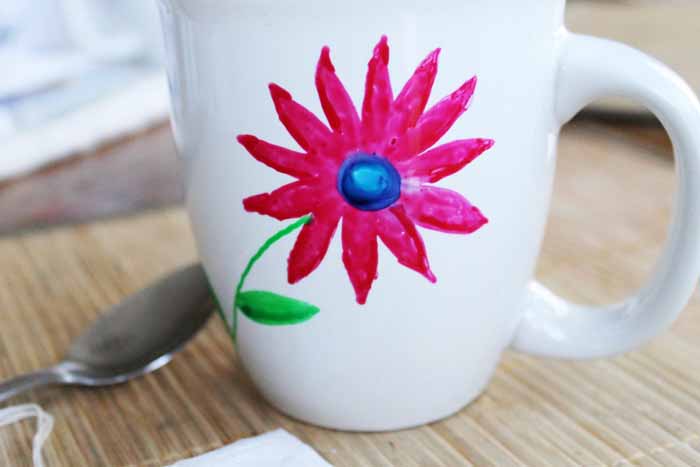 I have actually completed several projects with these markers and I must say that I love them. They are easy to use and the finished project will last a really long time.
FAQs
Here are a couple of questions that I see readers ask about making projects like these hand-painted mugs using glass markers. Please check to see if I've already answered it below if you have a question. Don't see it? Leave it for me in the comments!
Can these finished mugs go through the dishwasher?
Make sure you follow the package instructions for baking your projects once your art designs are complete. This will heat-set the marker ink and ensure that the paint lasts through several washings.
I like to hand wash my hand-painted mugs because it's gentler so that paint lasts longer. However, out of curiosity, I did some experiments with the dishwasher and the paint stayed on! After baking one of the hand-painted mugs, I ran it through the dishwasher six times without any issues at all.
If I mess up the design as I draw it, can I fix it?
Yes, I have a little trick for you to do just that! If you (or your kiddo) don't like the design or mess it up, simply take a paper towel and put a little alcohol on it. Rub it over the ink until the mug is clean and let the mug dry. Then start your design again!
The ink only becomes truly permanent once you bake the finished mugs.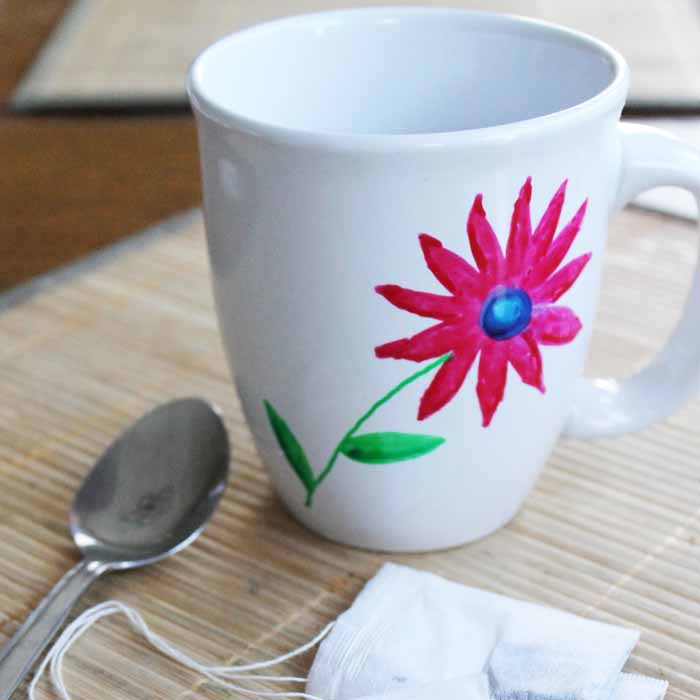 This is such a quick and easy project, right? You can pick whatever you want to paint on the mug and the paint markers make the task of painting super easy.
This is also a great project for kids to make – just let them go wild with the markers and draw whatever they want on a mug. The final result will be a completely unique final project, moms love those types of DIY gifts!
Once the mug is complete and baked, wrap it up for mom or grandma. They will love the handmade art and you will love just how quick and inexpensive this project is to make. The markers last a really long time so you can make a ton of projects once you make your purchase.
More Mother's Day Inspiration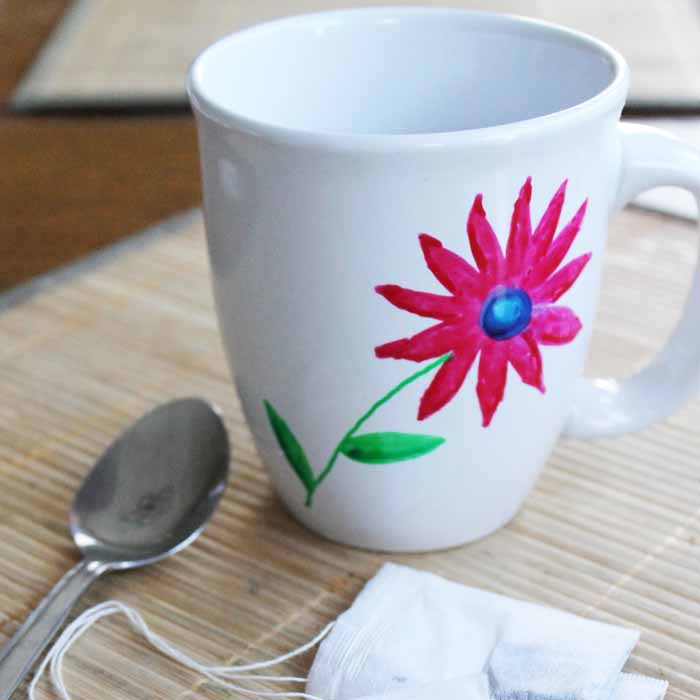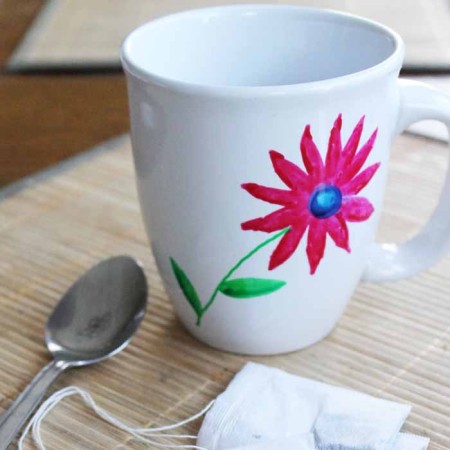 How To Make Hand-Painted Mugs
This easy project comes together in minutes and creates completely unique hand-painted mugs using only glass markers!
Supplies
White coffee mug

Paper towel

Rubbing alcohol
Instructions
Clean the mug with a little alcohol on a paper towel and let it dry.

Use your glass markers to draw any images you desire on the mug.

Let the ink dry then follow the baking instructions on the marker packaging to heat-set the ink.

Wrap up the gift and give it to mom or grandma!
Tried this project?
tag us to show off your work!