I have a fun afternoon project for you this morning. My ombre log table for outdoors is a quick and easy project that will add a touch of fun to any outdoor space at your home. Yep we are turning just a regular log into a fun table with just a little paint. Make sure to tell everyone you know that you are looking for a log this year. I am a member of the DecoArt design team and this post is in conjunction with that. All projects and opinions are my own however. This project was posted last year over at the DecoArt blog but I wanted to put it here as well in case y'all missed it.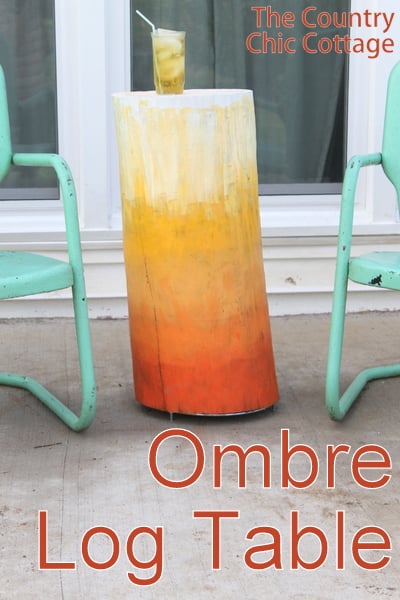 I started with a plain log from our wood pile. I chose one that was the right height and diameter for a table. Hubby then stripped the bark from the outside for me. That definitely makes it easier to paint y'all. We pressure washed the entire log to remove all the sap and anything else that was living on the log. Be sure to clean your log very, very well before continuing with this project.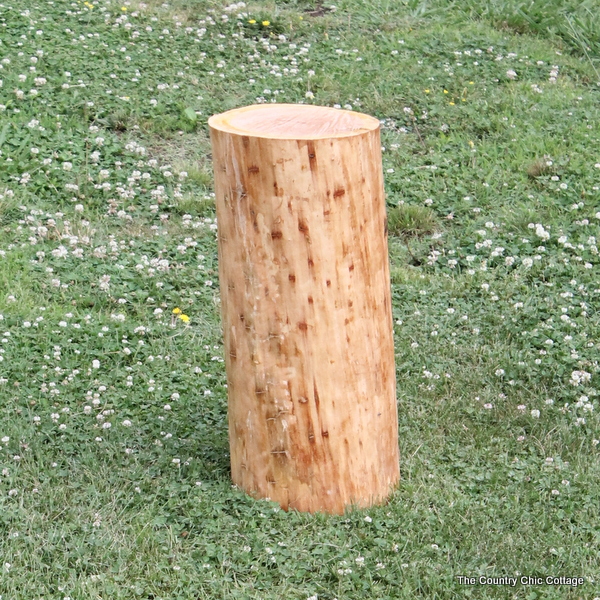 Items needed for your own ombre log table:
Patio Paint 2oz – Cloud White
Patio Paint 2oz – Deep Buttercup
Patio Paint 2oz – Marigold
Patio Paint 2oz – Butternut
Patio Paint 2oz – Pumpkin
Patio Paint 2oz – Tiger Lily Orange
Wooden Log
I recommend the patio paints exclusively for this project. They are meant to be used outdoors and also formulated to adhere well to porous surfaces. Your unfinished wood log is very porous and will absorb quite a bit of any other paint. You can purchase patio paint online at Jo-Ann's by clicking here. This is an affiliate link and if you purchase by clicking a portion of your purchase will go to support this site. You can of course use the colors of your choice.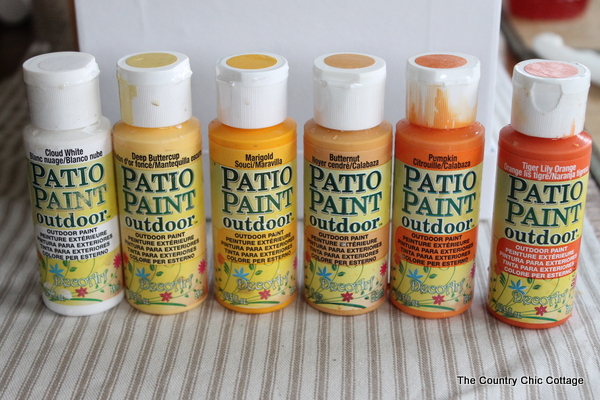 Start at the top of your log with white. Divide your log approximately into as many paints as you have (6 in my case). Each area will get two coats of paint.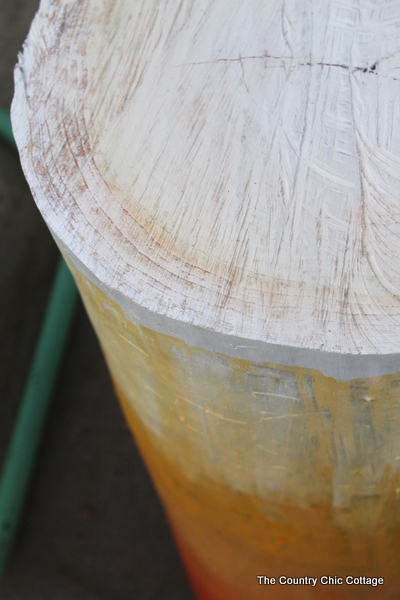 As you apply each new color blend it in with the color above it. This gives you more of that ombre or gradient effect.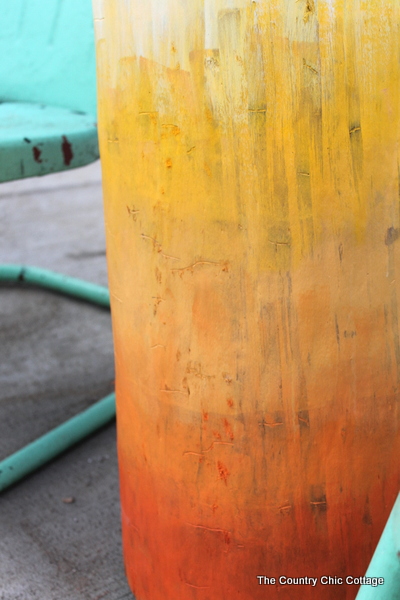 Allow the paint to dry completely and cure for 72 hours before exposing to moisture. I put my log table on top of a plant stand from the store so it is not sitting directly on my patio. This is a simple and affordable way to add a wonderful splash of color to your outdoor area. I am happy to report that I have now had this table for a year and it has been sitting outside the entire time. The paint is still on it and it still looks great! So sit around and drink a glass of sweet tea on your own ombre log table.