Terra cotta clay pots are an affordable and durable staple for gardeners… but they all look the same. If you sometimes crave a little variety, try making terra cotta painted pots! This tutorial will walk you through how to paint a clay pot so you can add some fun color to your porch or garden.
Terra cotta pots are my go-to gardening (and sometimes crafting) item because they're predictable, reliable, durable, and affordable for any budget.
The downside to terra cotta pots is that they're extremely uniform, which can sometimes feel boring.
However, I have an alternative! You can easily transform your terra cotta clay pots into works of art that will delight you and everyone else who sees them. How? By painting them!
Believe it or not, making terra cotta painted pots is easy to do.
Note: If you want to see some of the amazing things you can create from painting a terra cotta pot, check out our solar lights for a walkway, tiered planter, and customized planters!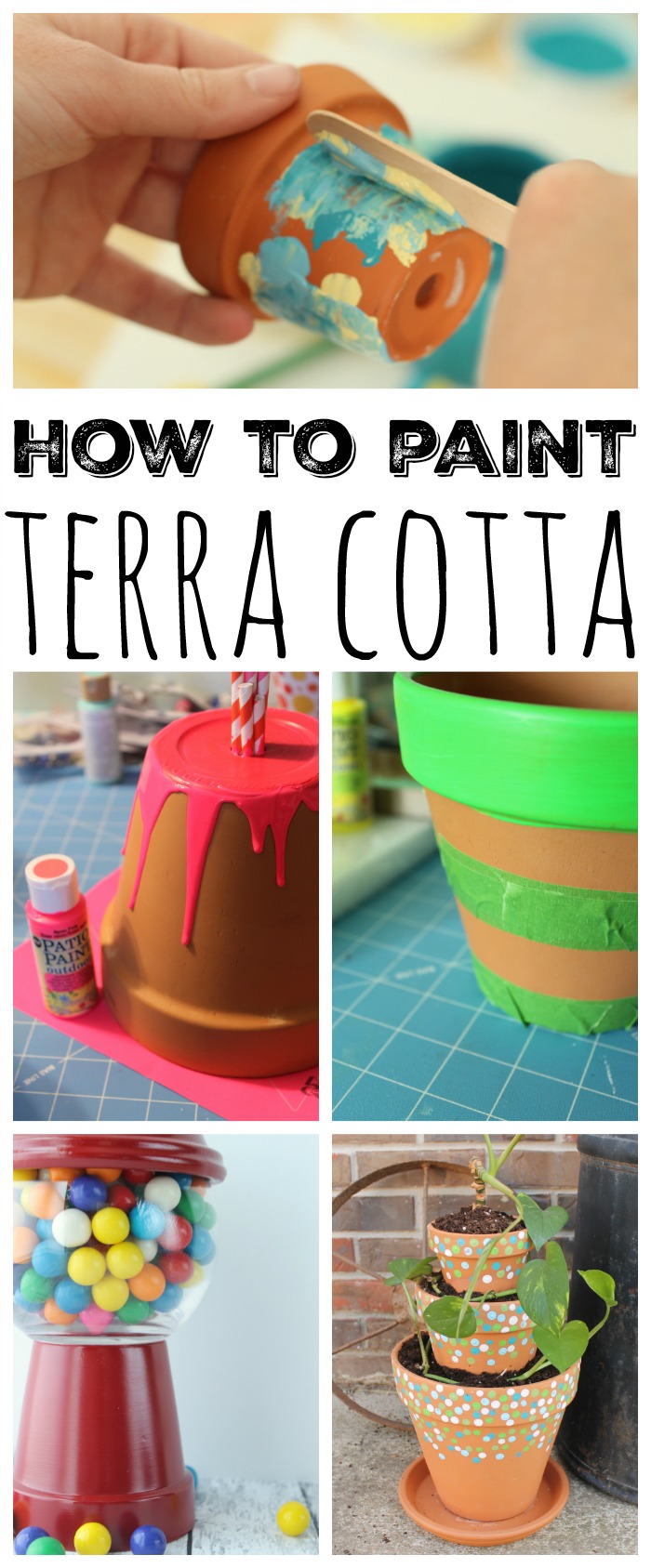 Painting Terra Cotta Pots
I love outdoor decor, but let's face it: the cost can add up quickly! With many pot designs, the colors, styles, and sizes are limited – especially if you are on a budget.
Recently, I "rediscovered" terra cotta. I have always used them in crafting and (in limited ways) outdoors, but the little clay pots just seemed so bland compared to the beautiful, shiny options many garden stores provide.
But, after I learned how to paint terra cotta pots, a whole new world of possibilities opened up!
It's amazing how a coat of paint can bring new life to an outdoor space. This project is super simple and gives you plenty of flexibility with colors, shapes, and sizes.
How To Make Terra Cotta Painted Pots
Transforming plain clay pots into stylish outdoor decor only requires a little paint and time! And it's an inexpensive and creative way to jazz up your outdoor decor.
Supplies Needed To Paint A Clay Pot
Terra cotta pots or clay pots – Generally speaking, clay or terra cotta pots will work well for this project. Choose the size and shape you prefer, because any will work.
Patio Paint – Use any color that fits your style and space. If you can't find patio paint, look for outdoor paint that says it will work on clay. (See more info below in the FAQs section.)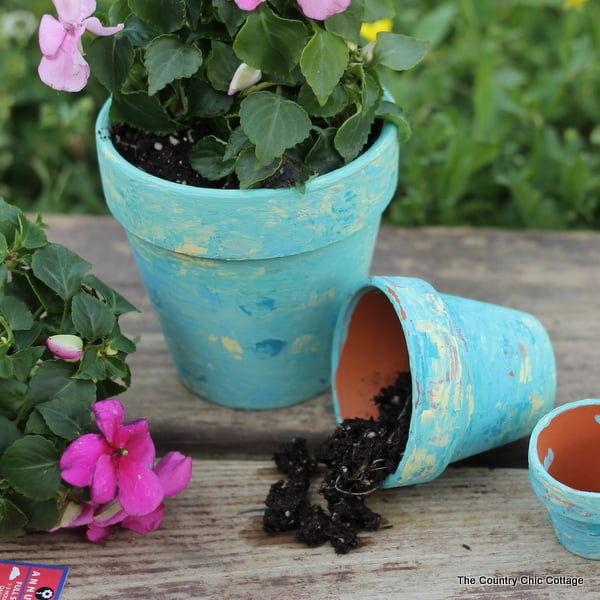 How To Paint Terra Cotta Pots
With these simple methods, you will learn how to paint terra cotta pots like a professional. Get ready for gorgeous flower pots with your own unique style!
Pro Tip: Since terracotta draws moisture away from the soil, paint the pot both inside and out to retain more moisture for your plants. Skipping this step may result in moisture seeping through and bubbling the paint on the outside.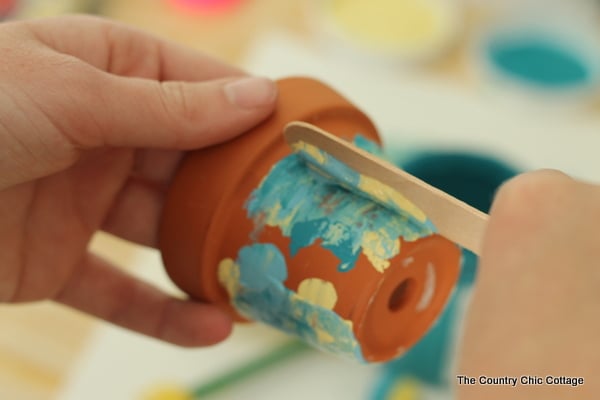 Step 1
Apply paint to your pot either in a single color or mix and match paints for a marbled look.
Note: I find that I need at least 2 coats on any clay pot. For lighter colors, you may find that you need 4 or more coats for adequate coverage.
Step 2
Allow the paint to dry completely between coats.
Note: You can also add decorative paint on top of your first base coat. Consider adding patterns or even faces to make plant people!
Step 3
After painting, make sure the pots aren't exposed to moisture for 72 hours. That means, no planting until the 72 hours have passed! This will ensure that your paint lasts a really long time.
That's it! The process is super simple. For best results please check below for answers to common questions readers ask as well as some of my top tips.
Tips For Painting Clay Pots
Did I mention you can reuse clay pots? If you want to decorate a pot you have already used, just make sure you clean out any dirt or critters first. Then, allow them to dry completely (24-48 hours) before painting.
Apply patio paint when temperatures are between 45 and 85 degrees F.
Terra cotta is great for colder climates as it draws away moisture from the plant and prevents "freezing" the soil.
Because it is porous in nature, plants in clay pots may require more frequent watering.
Do not paint inside birdbaths or fountains, as the paint is toxic for animals and humans if consumed.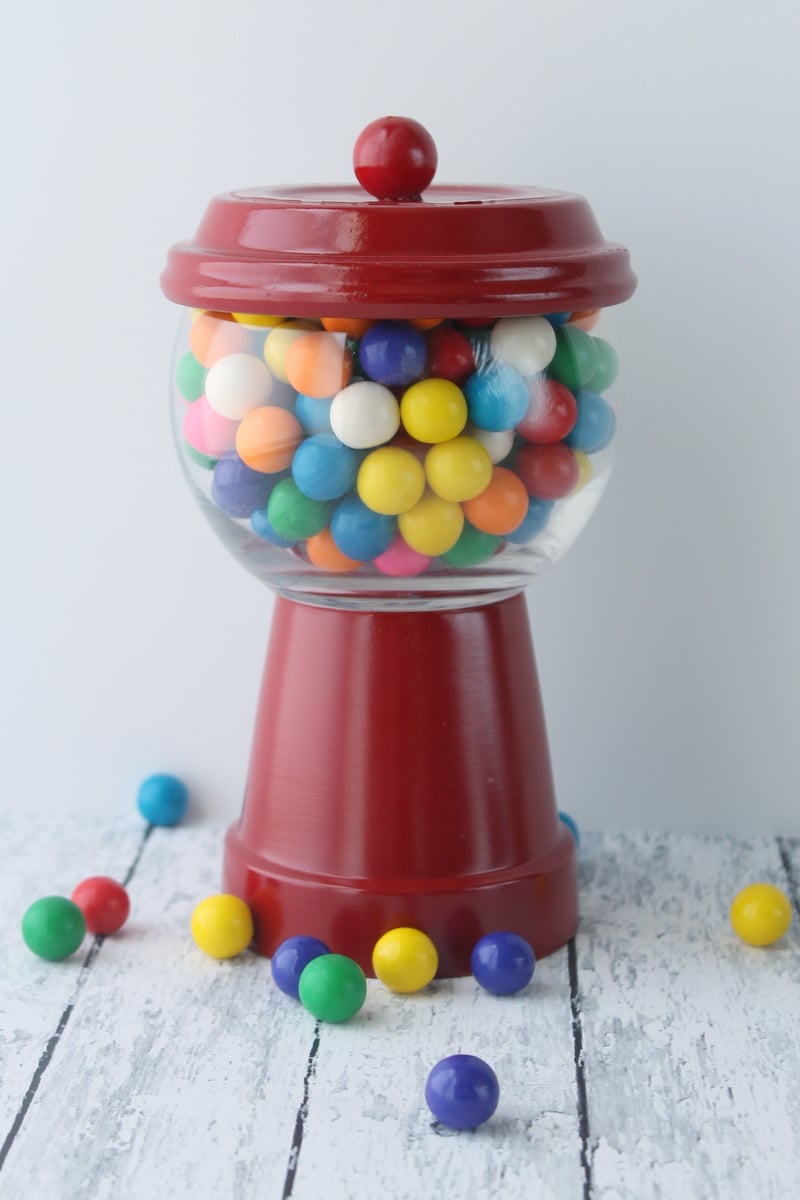 FAQs
Here are a couple of questions that I see readers ask about painting clay pots. If you have a question, please check to see if I've already answered it below. Don't see your question? Leave it for me in the comments!
What is terra cotta made from?
Terra cotta is a clay-based porous material that is used in sculpting and in flower pots. You'll most often see it unglazed with a dull brownish-orange color. This porous material can really soak up paint, so be aware of that and follow recommendations for the best paint to use on them.
Typically, these pots are inexpensive in comparison to "designer" brands found at big box home improvement stores. They come in a variety of sizes, shapes, and styles for all of your planting dreams.
What kind of paint do you use on terra cotta?
There are two options for paint: patio paint or spray paint.
Personally, the best product I have found for terra cotta projects is patio paint because it's specially formulated to work on porous surfaces and will generally cover a pot well with just two coats (depending on the color). This method is best for clay pots that will be outdoors.
If you are looking to paint terra cotta for indoor craft projects, grab some spray paint or regular acrylic paint! It will cover well and give you a quick surface to make your crafts.
What types of projects can I make by painting clay pots?
As you begin dreaming up a new design for your space, challenge yourself to think outside the box with a number of possibilities.
Perhaps, a tiered planter would give a corner some height for that trailing plant, or maybe a family of flower pot people would add a little more personality to the back deck. You can even give them a marbled design. The sky is truly the limit with this outdoor DIY project.
Crafts made with terracotta make adorable gifts and decorations, like Easter gift baskets, Santa Clauses, and we've even turned them into gumball machines!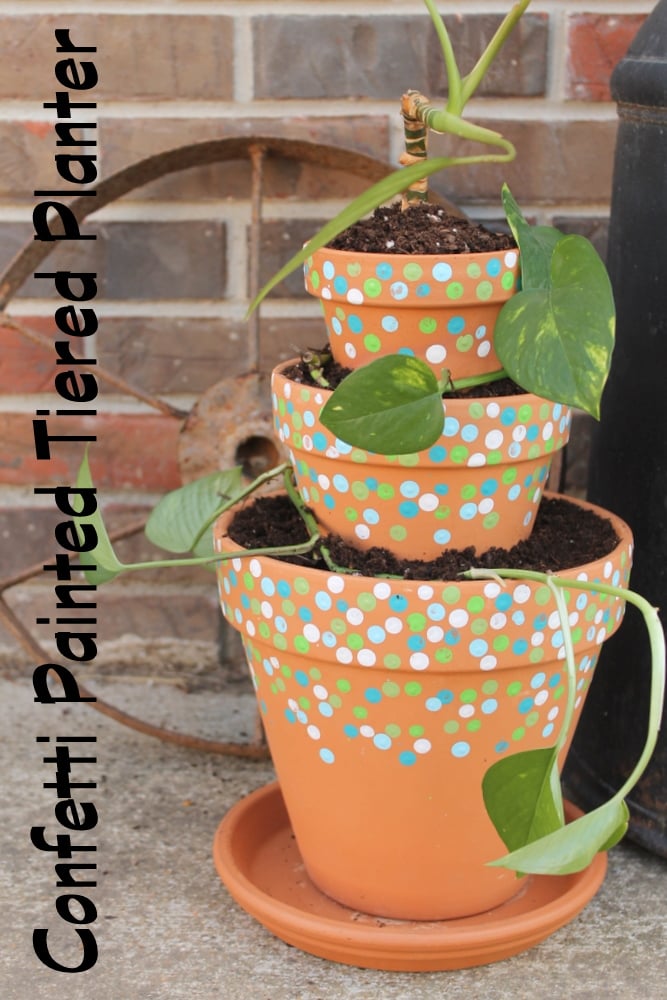 Get creative with this project to spruce up your space. I can't wait to see the designs you create. Grab your Patio Paint and start on some great projects for your home today. Painting terracotta pots is such an easy project that can yield some incredible final results.
More Terra Cotta Planter Inspiration
If you love this project and want more ideas, check out some of my favorites below!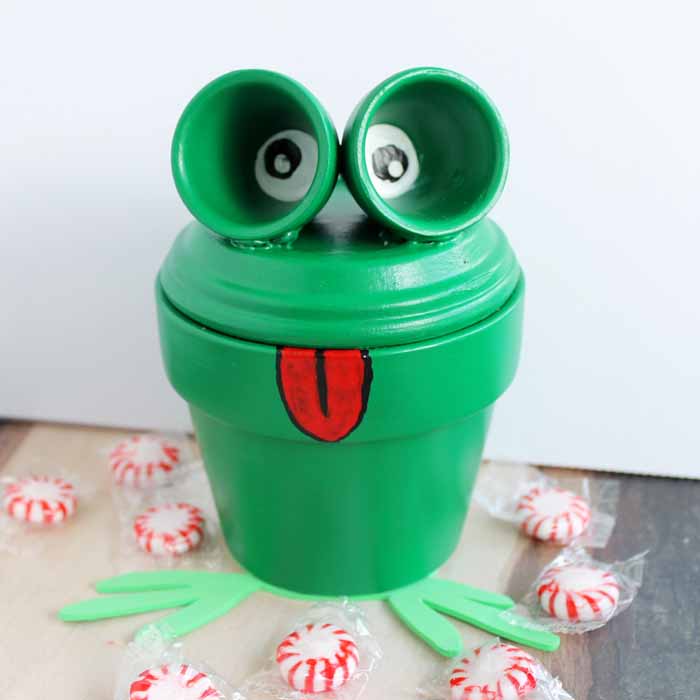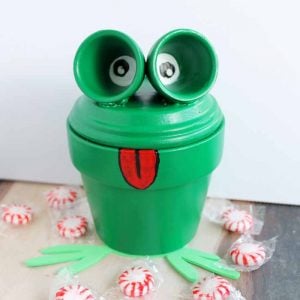 How to Make Frog Clay Planter Pots
These adorable frog planter pots are a fun craft that's perfect for around-the-house decor! Perfect to use as a cute candy jar.
Read More
Drip-Painted Flower Pots
Are you looking for a special gift that's perfect for Mother's Day, teachers, etc? These drip-painted flower pots are super easy to make and exactly what you need!
Read More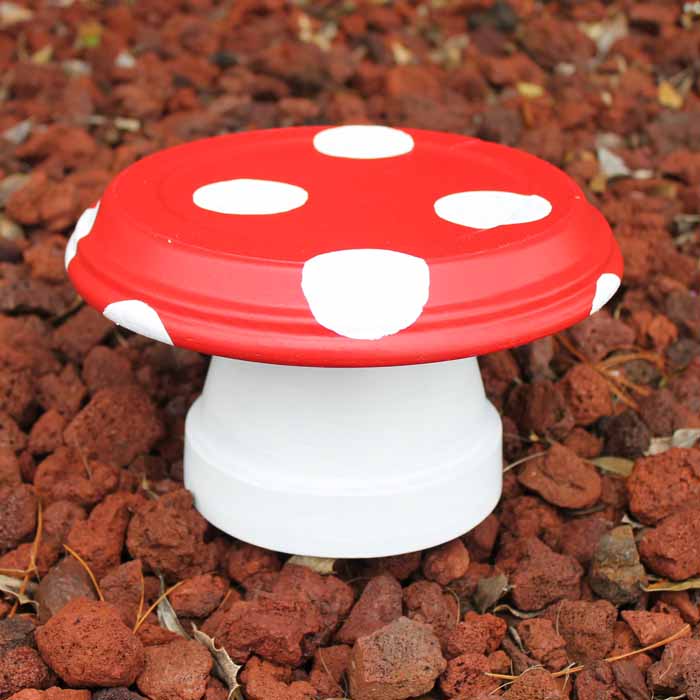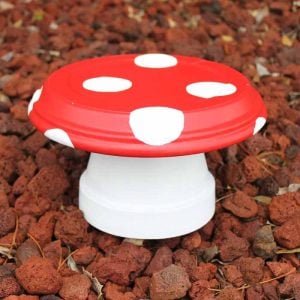 Clay Pot Mushroom Decor for Your Garden
This fun clay pot mushroom is the perfect addition to your garden decor! They're simple and whimsical and so easy to make!
Read More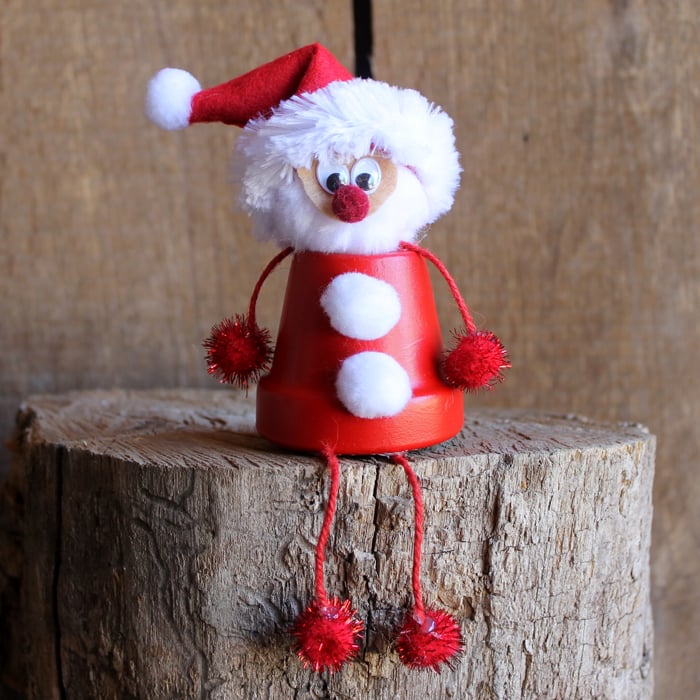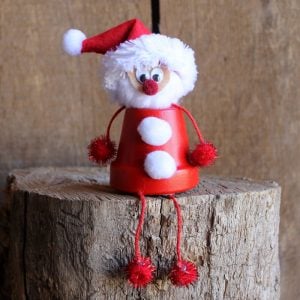 How to Make a Santa from Clay Pots
This terra cotta Santa Claus is a great craft for adults and kids alike!
Read More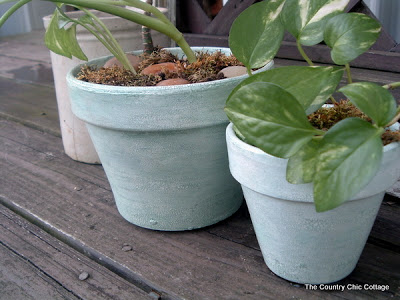 How To Make Terra Cotta Painted Pots
Use this method to paint your new or old clay pots and transform them into beautiful and personalized works of art!
Instructions
Apply paint to your pot. Use a single color, or mix colors to create a marbled look.

Allow time for the paint to dry completely between coats. To customize your design further, feel free to add decorative paint on top of your base coat.

After painting, ensure the pots aren't exposed to moisture for at least 72 hours.
Notes
Since terracotta draws moisture away from the soil, paint the pot both inside and out to retain more moisture for your plants. Skipping this step may result in moisture seeping through and bubbling the paint on the outside.
Tried this project?
tag us to show off your work!