Here's an Easter craft idea that's simple enough for kids to do and lovely enough to give as Easter gift baskets! These flower pot bunnies come together quickly and make the perfect "dish" to hold holiday candies.
Easter usually falls in late March or in April, and no matter when it happens to fall each year, it always feels like it surprises me like some unexpected event. Whether it's a week or a month after St. Patrick's Day, it never fails to arrive "in a flash!"
Is it just me or does time seem to speed up as you get older?
As I started thinking about Easter for this year, it nudged me to get started on some Easter crafts. I made these cute little flower pot bunnies that you can give to your kids as Easter gift baskets. You can even get the kids to help you make this flower pot bunny craft!
They would also make adorable Easter decor items if your kids are too little for breakables or they've "flown the coup." And, if your kiddos ARE too little, make these Easy Paper Mache Easter Baskets instead!
If you want more Easter basket and decor inspiration, check out my DIY Easter Basket and Decor Ideas, Easter Mason Jars with Washi Tape, and Coloring Page Decoupage Easter Eggs.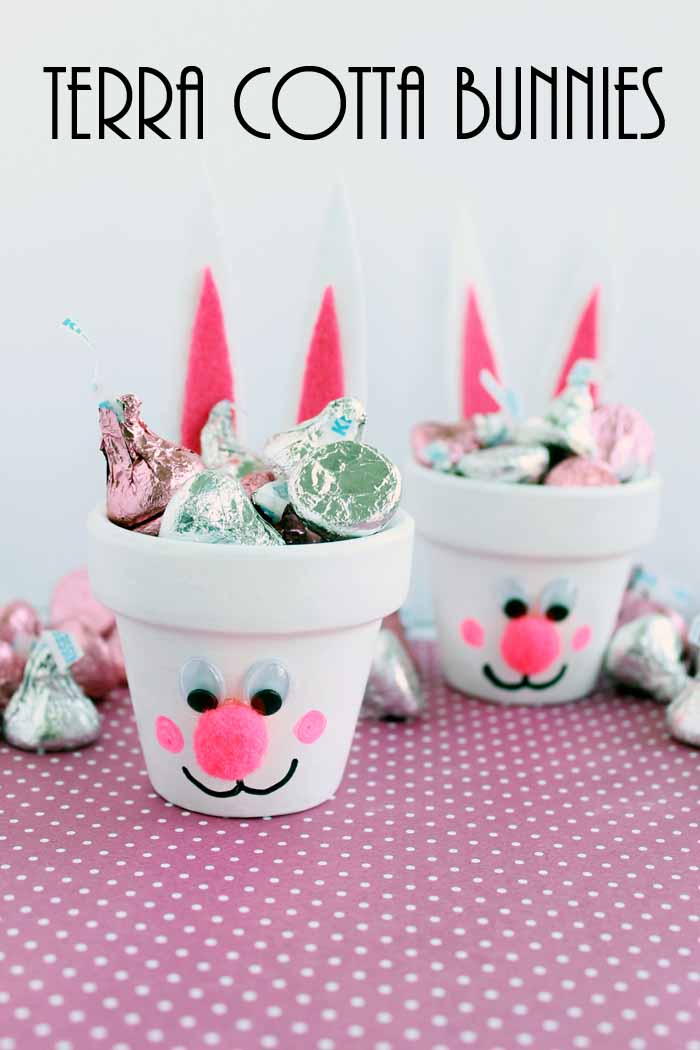 How To Make Bunny Flower Pots
Here's what you need to know about this project to ensure success, including the supplies you'll need to gather and the detailed steps you'll follow. I even have a video for you!
Supplies Needed:
Here is everything you will need to know to make these flower pot bunnies. I even included a few links to help you find what you need faster.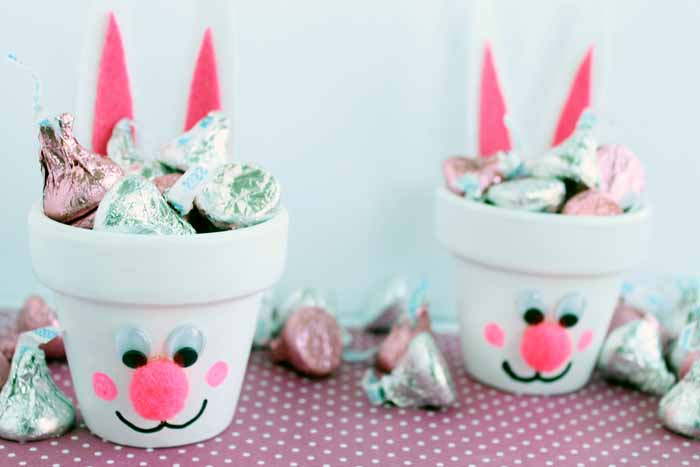 Video Tutorial
Ready to see just how I made these Easter gift baskets? You can watch me make these terra cotta bunnies in the video below.
Instructions
If you can't see the video or need more instruction, just follow the steps below.
Step 1
Paint your terra cotta pot with a few coats of white paint inside and out. This may require multiple coats.
Step 2
Cut ear shapes from white felt.
I just freehanded it, but if you want, you can use a pencil to lightly draw the ear shapes on the back of the felt and cut on the pencil line.
Step 3
Cut smaller ear shapes from pink felt.
Again, I freehanded this, but you could also draw (smaller) ear shapes on the pink felt and cut it out on the line.
Step 4
Adhere pink felt to white felt with glue (or the self-adhesive on the felt if you have that type of felt).
Step 5
Hot glue ears to back of clay pot. If you're working with small children, check the FAQs section for more information about adhesives.
Step 6
Hot glue on the google eyes and the pom-pom nose in the front of the pot.
Step 7
Draw on the mouth with a black marker.
Step 8
Draw on cheeks with the pink marker.
Step 9
Fill it with candy and display it or give it to someone special!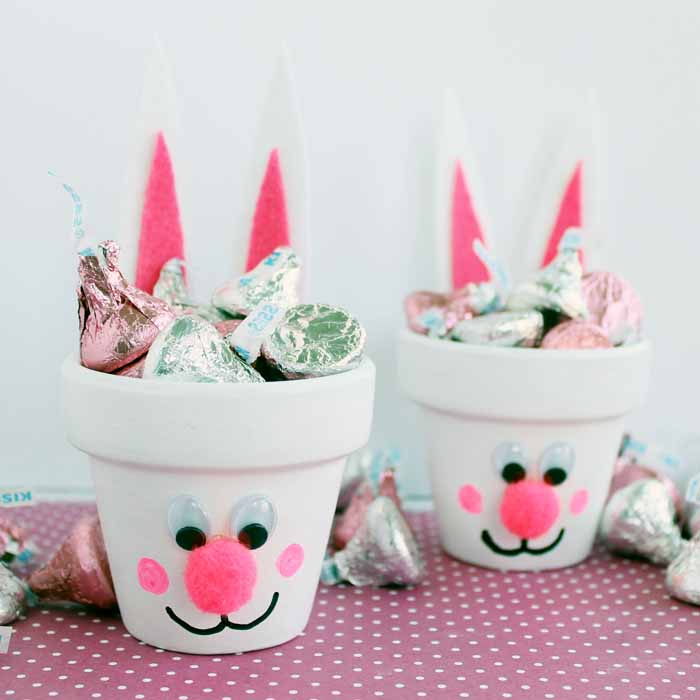 Aren't these flower pot bunnies adorable? Anyone who sees them will love them!
FAQs
Here are a couple of questions that I see readers ask about making projects like these flower pot bunnies. Please check to see if I've already answered it below if you have a question. Don't see it? Leave it for me in the comments!
What type of glue works best for this craft?
My favorite adhesive to use when working with felt is hot glue. However, if you have small children helping you make these pots, using hot glue can be dangerous. In that case, I recommend using tacky glue to make it safer for young kids.
What kind of felt should I use?
Since the ears are supposed to stand up like a bunny's ears, you want to use a very stiff felt. Normal felt won't be strong enough to stand up and will fold over. The links above take you to stiff felt, but please double-check the product information to verify before you make a purchase.
Can I use other materials for the ears instead of felt?
Yes! If you don't have stiff felt already at home, you can substitute white and pink craft foam in its place. Craft foam is about the same thickness as felt, and it maintains its shape in a similar way too.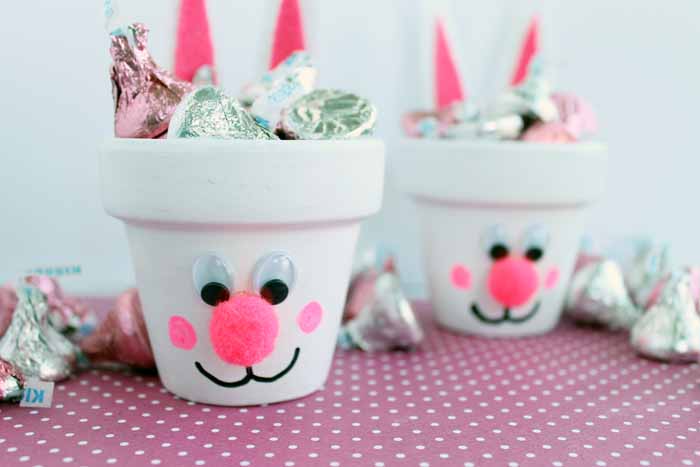 Let the kids help make these cute Easter crafts with you! Get your supplies and get started on these flower pot bunnies today.
Don't leave without checking out these 30+ Handmade Easter Ideas for Kids' Baskets, too!
More Easter Crafts And Festive Recipes
We have so much Easter fun to share! Check out these ideas for even more Easter inspiration: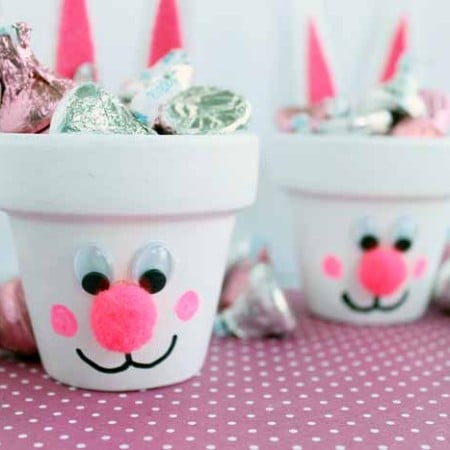 Flower Pot Bunnies
These bunnies come together very quickly to make adorable pots that can double as an Easter gift basket or eye-catching decor!
Instructions
Paint the inside and outside of your terra cotta pots. It works best to paint either the inside OR the outside first and let it dry before painting the other side.

You may need at least 2 coats for full coverage. Allow sufficient drying time in between coats.

Cut large ear shapes out of the white felt.

Cut smaller ear shapes out of the pink felt.

Glue the pink felt ears to the white felt ears.

Glue the ears to the back of the clay pot.

Attach the google eyes and pom pom nose to the front of the pot.

Use the black marker and freehand a mouth on the front of the pot.

Use the pink marker to freehand the cheeks.

Fill the pot with candy and give it away or display it.
Tried this project?
tag us to show off your work!