Have you ever tried painting a mason jar? Glass paint is a great way to decorate your mason jars and have fun crafting too. This tutorial shows how to make a watermelon mason jar just using glass paint.
Y'all know I can't let a thrift store challenge pass without doing something with a mason jar, right?
I love doing mason jar makeovers because I can often find them at thrift stores near me for only 10 CENTS, which makes them very affordable crafts. Plus, there are SO many things you can do with mason jars that I love the creativity of coming up with something new!
Well, today I have a mason jar craft that takes only 10 minutes (or less!). In fact, my friend Carolina is joining me so that we can craft together! She's making her own craft while I make mine.
So, are you ready to learn how to paint a watermelon mason jar craft today? I'm excited to show you how.
Note: If you love mason jar crafts as much as I do, check out some of my other popular projects, including my Fall Mason Jars, Mason Jar Tissue Holder, and Mason Jar Fairy Lights!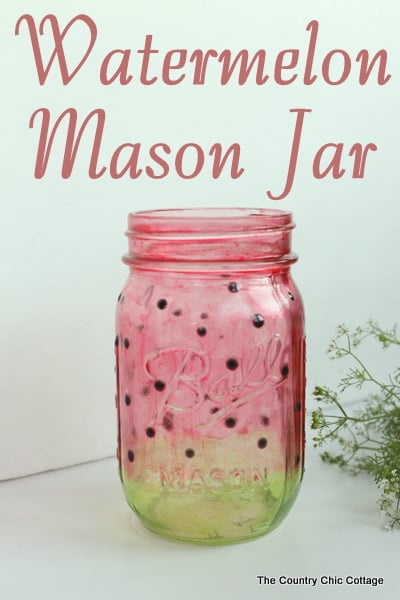 How To Paint Watermelon Mason Jars
This craft is super easy. Here's everything you need to know, plus a video tutorial so you can see me do it live!
Supplies Needed
Gather up these simple supplies to transform your mason jars into watermelons:
DIY Video Tutorial
I am doing this one live with Carolina from 30 Minute Crafts. Join us below as we craft live together from opposite ends of the United States. Pretty cool, right?
You'll get two crafts for the price of one as we show you how to make my watermelon mason jar and Carolina's in 10 minutes or less.
Instructions
You know the process is simple if you have a completed project in just 10 minutes, right? Follow these step-by-step instructions.
Step 1
Clean your jar with alcohol and a cosmetic sponge. Then use a clean and dry cosmetic sponge to dry it off.
Step 2
Holding the mason jar with your hand inside it, use another cosmetic sponge to apply the red glass paint to the majority of the jar. Just like the red part of a watermelon is the bulk of the melon, you'll use more red paint than green paint.
Note: Glass paint can look streaky if you use a paintbrush to apply it to the jar, but using a cosmetic sponge helps create an even and smooth coat of paint.
Step 3
Still holding the glass with your hand inside it, use a clean cosmetic sponge to apply the green paint to the bottom of the jar.
Step 4
If you don't already have a writer tip screwed onto the top of the black paint, go ahead and add that.
Then add black dots on the red paint all around the jar to look like watermelon seeds.
Note: My dots started running just a little bit, so once they were partly dry, I flipped the jar over to let gravity help pull them back, so they look like I wanted them to.
That's it! Once your paint is dry, your jars are done.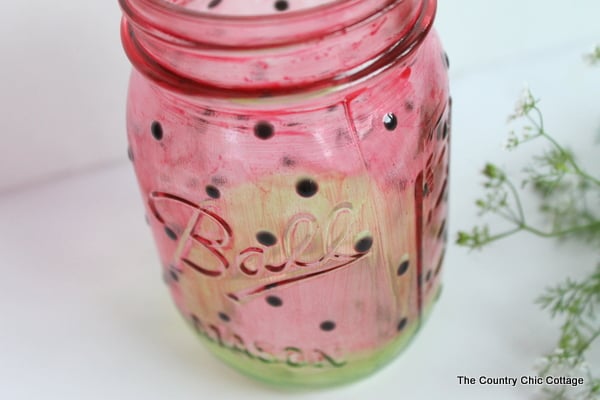 Notice how the glass paint tints the mason jar, but it's transparent enough that you can still see through to the inside.
Add flowers for a vase, candles for a centerpiece, or maybe even add something to the inside as a gift for someone. This watermelon mason jar craft is a blast during the summer and can be enjoyed all year round.
Before you go, make sure to check out Carolina's Woven Ribbon Mason Jar that she made in the video!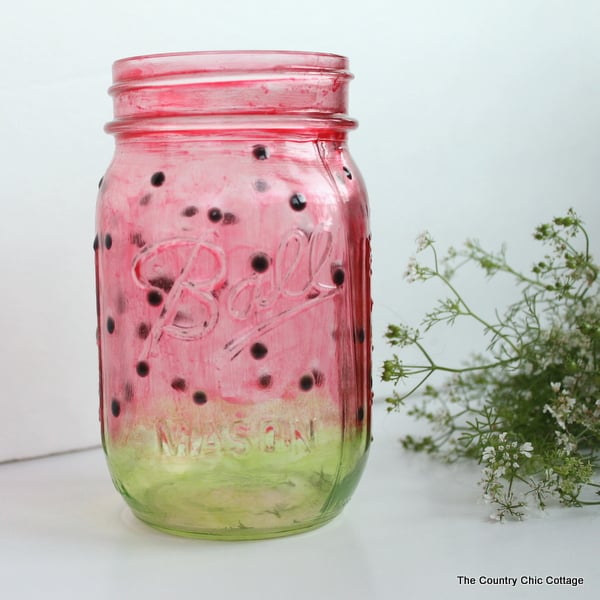 FAQs
I know people have questions about painting watermelon mason jars. Here are some that I see readers ask repeatedly.
Is it better to paint the inside or the outside of the jar?
I'll paint either one, depending on the project. However, for this project, I decided to paint the outside of the jar because I think it could be a beautiful vase. If you want to put water into the jar, it's best to paint the outside.
The glass paints are dishwasher safe if you cure the paint onto the glass, but they aren't food safe.
How many coats of paint do I need to use?
I used two coats of the red and green paint because a single coat didn't provide enough color. These colors dried very quickly, so by the time I was done painting the color onto the glass, I could go ahead and start adding the next coat.
The black dots take longer to dry and aren't spread as thin, so I didn't need to add a second coat on top of the first dot.
Can I use spray paint to make watermelon mason jars?
There is spray paint for glass that you can buy. However, I wouldn't recommend using it for this project because you won't get that random, natural look that you get when hand painting. Also, you may end up with too much overlap of the colors by accident.
Do I need to cure the paint on the jar?
No, you don't need to. If you don't, make sure to handwash the jar instead of putting it into the dishwasher. However, if you do cure the paint, you can put your jar into the dishwasher.
If you do want to cure the paint, here's how:
Heat your oven to 350°F.
Bake at 350°F for 30 minutes.
Turn the oven off but leave the glass jars in the oven until they are completely cooled.
Allow them to cure for an additional 72 hours before washing.
More Mason Jar Crafting Inspiration
If you love this watermelon mason jar craft project and want more mason jar ideas, check out the links below!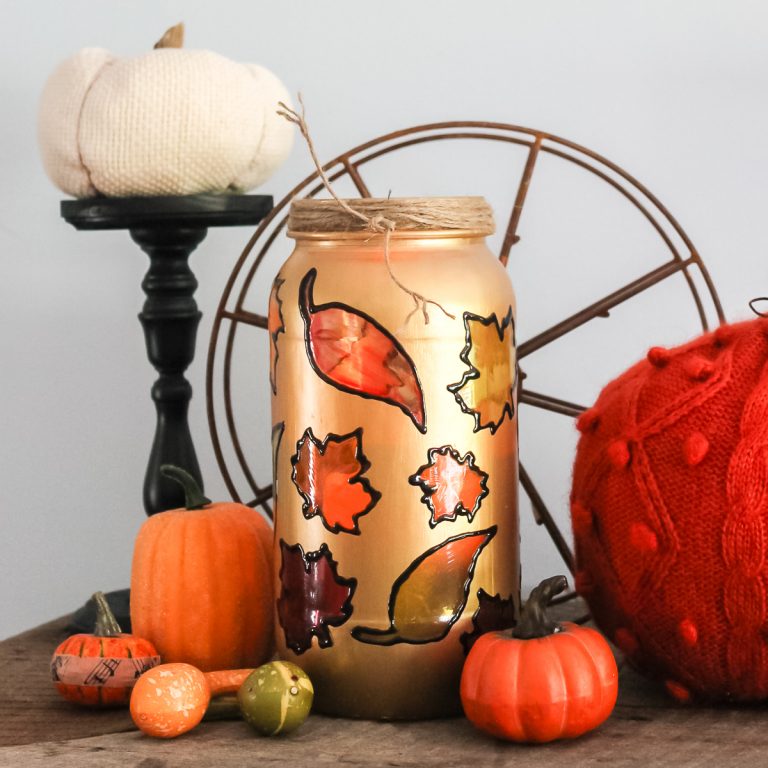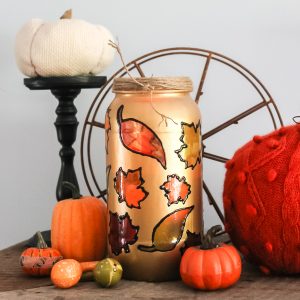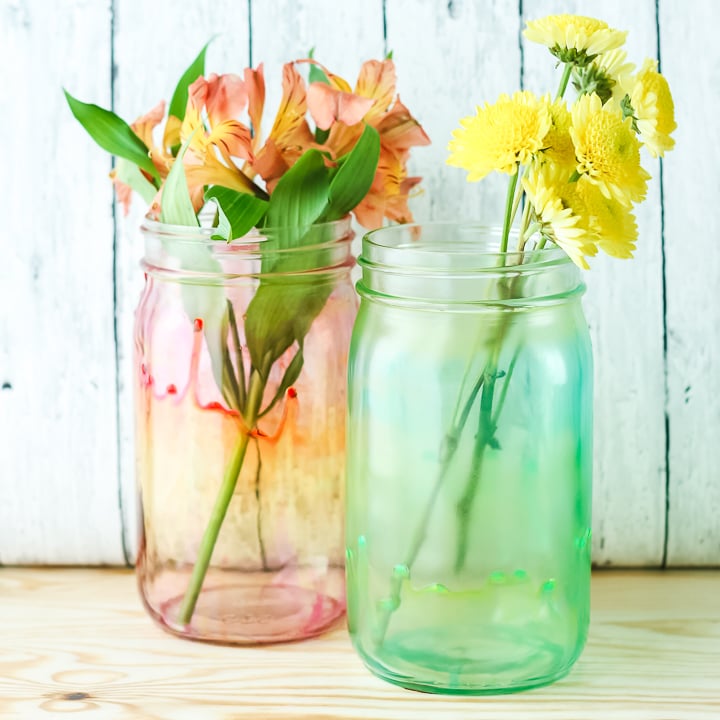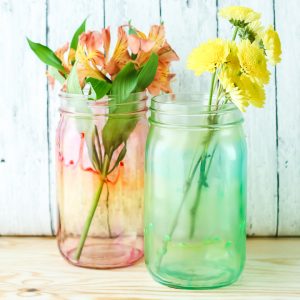 Making Easy Watercolor Mason Jar Vase
Giving mason jars a watercolor effect is actually super simple to do and these will make a big impact in your home.
Read More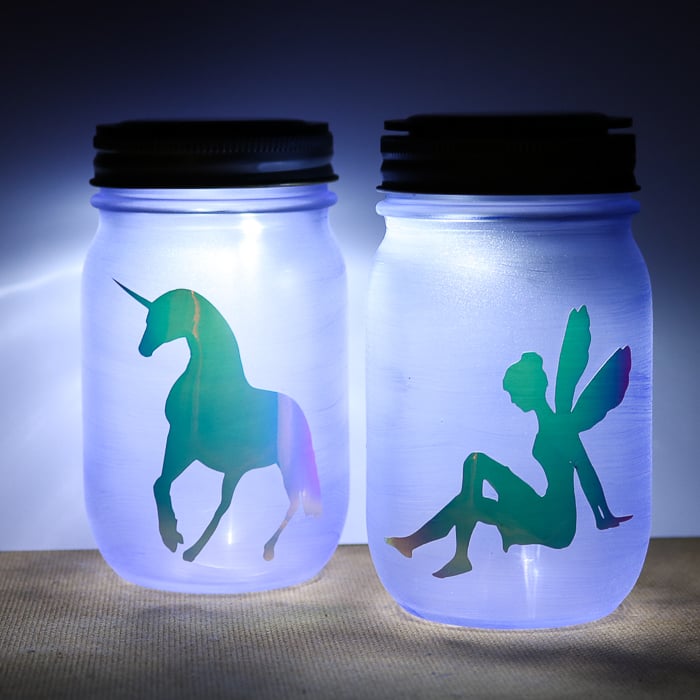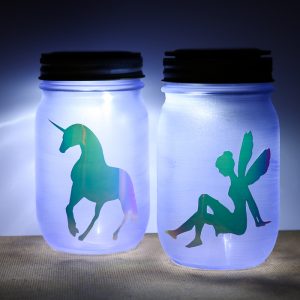 Fairy Cricut Nightlight In A Mason Jar
Looking for a fun and easy project that you can do with your Cricut? This blog post will show you how to make a fairy Cricut nightlight using a mason jar! This is a great project for kids of all ages, and it only takes a few simple steps to complete.
Read More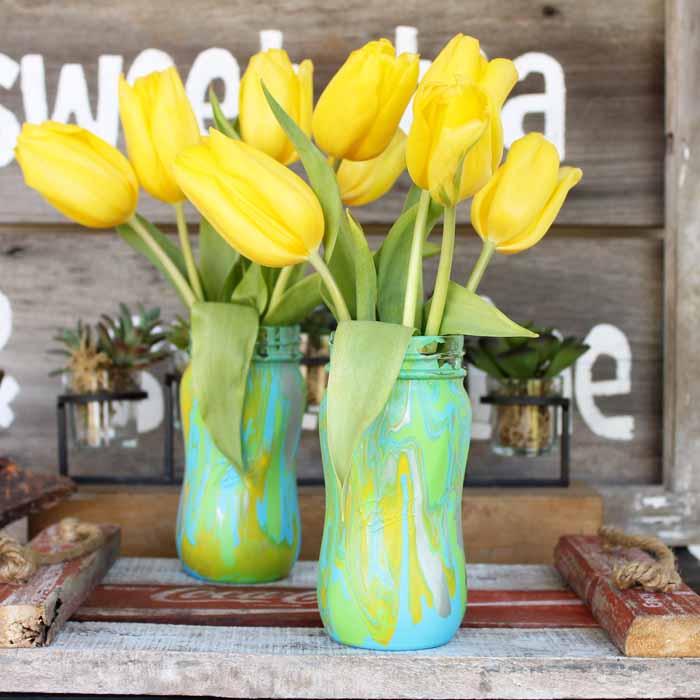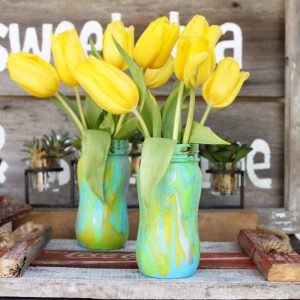 Acrylic Pour Painting On Mason Jars
Quickly and easily create vases you'll love with this acrylic pouring technique.
Read More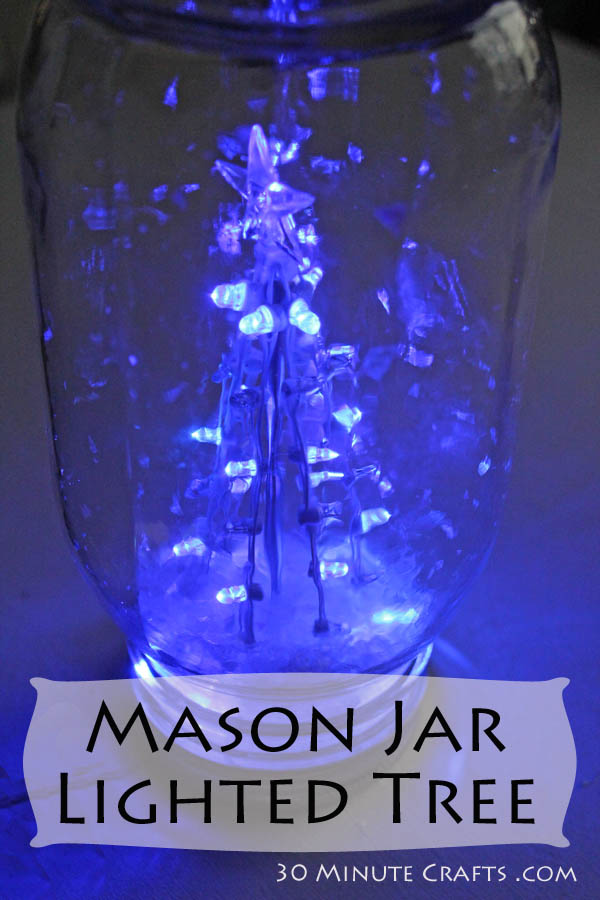 Light-up Snowglobe in a Mason Jar – 30 Minute Crafts
Turn a mini light-up tree and Ball's new smooth mason jars into something special with this easy craft!
Read More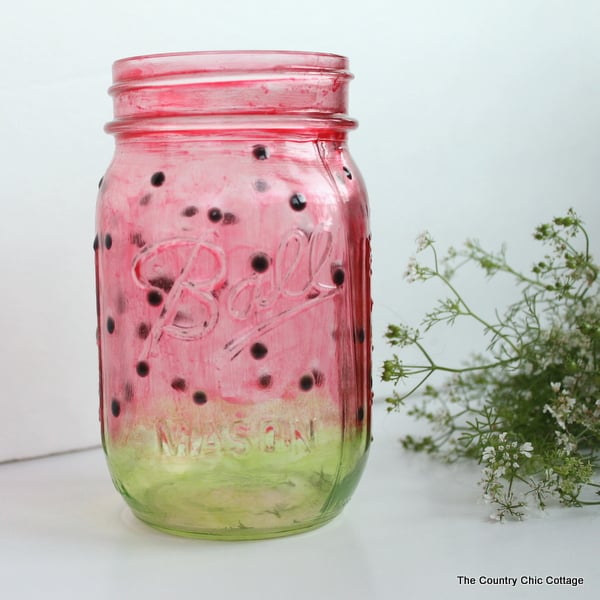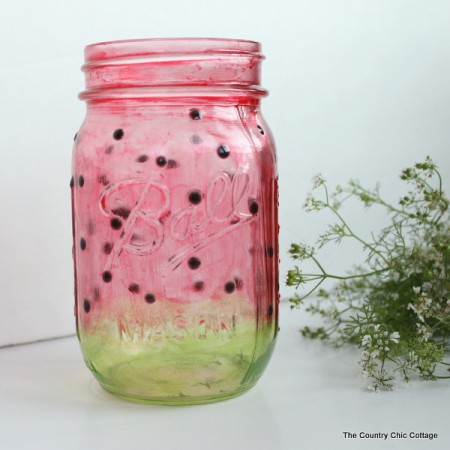 Painted Watermelon Mason Jar
Follow this tutorial to makeover your mason jar to look like a watermelon.
Supplies
Mason jar

Isopropyl alcohol

DecoArt gloss enamel glass paint

Cosmetic sponges
Instructions
Clean your jar with alcohol. Then use a clean cosmetic sponge to dry it off.

Use a cosmetic sponge to apply the red glass paint to the majority of the jar, starting at the top.

Next, use a clean cosmetic sponge to apply the green paint to the bottom of the jar.

Screw a writer's tip on top of the black paint bottle.

Then add black dots on the red paint all around the jar to look like watermelon seeds.

Let dry completely.
Tried this project?
tag us to show off your work!
A Year of Jar Crafts
Sign up for our email list to get a FREE book with an entire year of jar crafts! 12 months, 12 crafts, tons of fun!