Jen Goode with 100 Directions is back this month with a fun patriotic bandana banner! She was inspired by my bandanna wreath project that you can see here. Bandannas are the ultimate in crafting tools!
With all these fun bandana craft ideas Angie's been talking about on Facebook this week, I wanted to try my hand at coming up with my own bandana craft. So, today I'm sharing how to make a Patriotic Bandana Banner. You can customize this banner with your own choice of words, leave out the words all together or use my God Bless America banner letter template. Add some good old fashioned Patriotic pride to your decor this summer!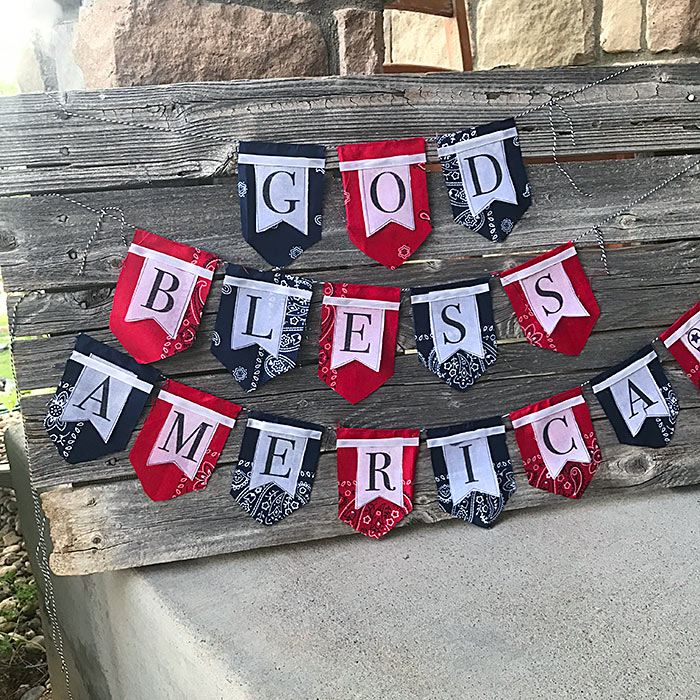 Patriotic Bandana Banner
I picked up the red and blue bandanas are the local Dollar Tree and the white one I grabbed at Walmart. You can find all kinds of fun colors, so you could make this same simple banner to fit any party theme color combination.
Materials
Red, white and blue bandanas
Glue – craft glue or hot glue gun
Twine
White ribbon
Printable t-shirt transfers or fabric markers or fabric paint (see below for supply options)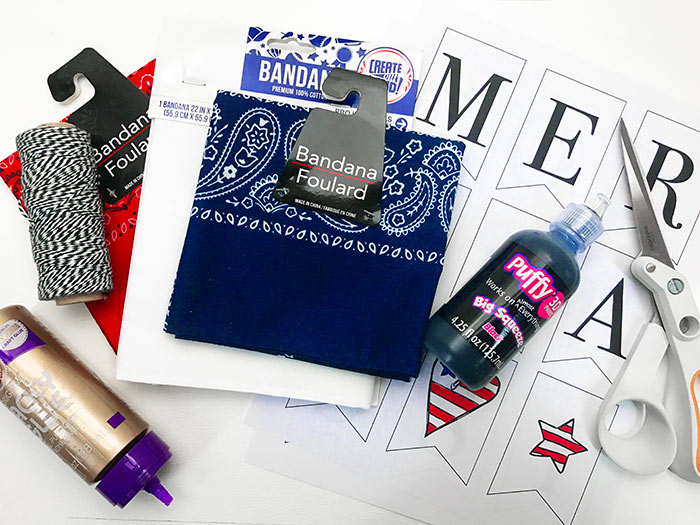 Instructions
Cut the bandanas into individual banner pieces. I used half of the red and have of the blue bandanas and cut 12 banner pieces from each. Each little flag is about 4″ by 6″.
Add a line of glue 1/2″ from the top, on the back side, of a banner flag. Place the twine on the glue and fold the top of the fabric down over the twine.
Continue adding banner flags, leaving 1/2=1″ apart and alternating fabric colors.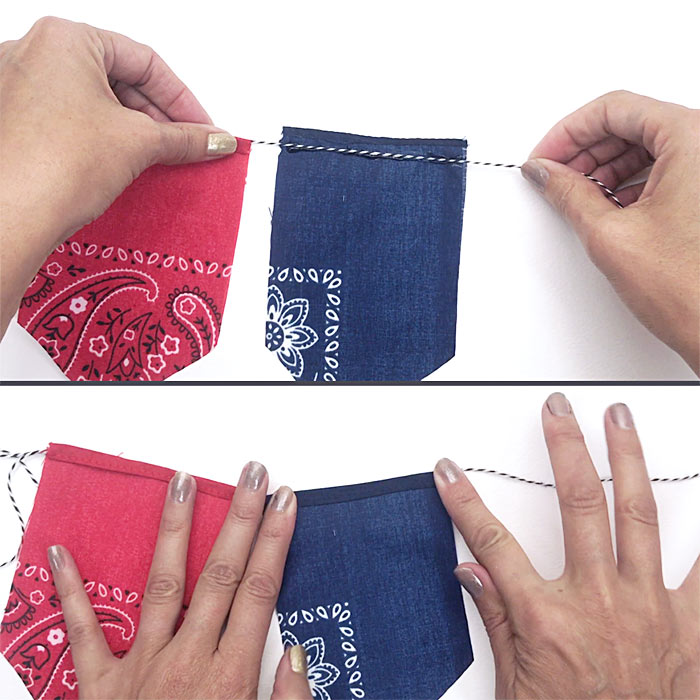 You could use the banner at this point without any text. Just use it as a fun color accent to your celebration decor.
To add text
There are a couple different ways you can add text to your banner.
You can trace the letters from the printable template on to the white bandana using either fabric markers or paint.
OR Print the letters on to printable transfer sheets and then iron on to the white banana.
Cut out the individual letter flags.
Glue each letter on to each of your banner flags. I just added glue to the top of the letter flag to apply
Add a strip of ribbon to accent and cover any glue lines.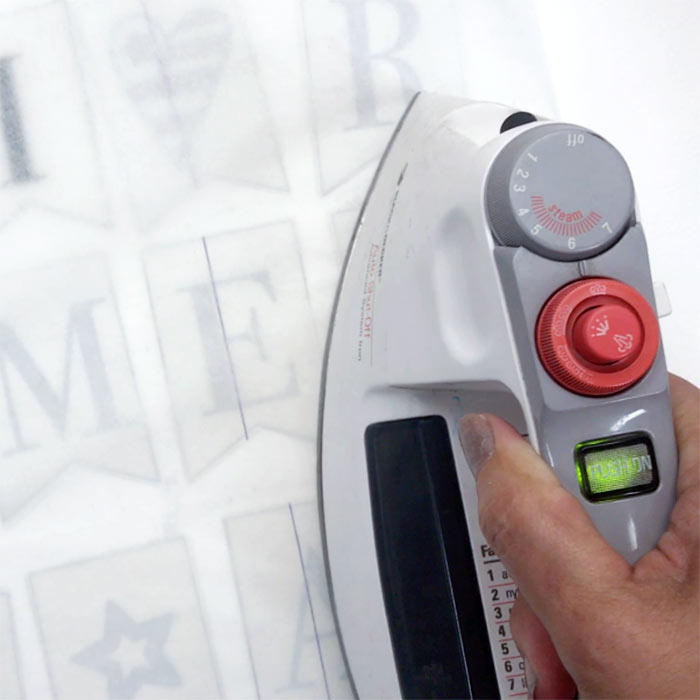 Optionally, you could use the patriotic letter template, printed on paper, to attach to your banner. This is not weather friendly… so it's better to use the fabric options, but if it's a nice day or you're decorating inside, the paper is a good option too.
If you have a Cricut machine, you could also cut out the letters using heat transfer vinyl and apply them directly to each banner flag. Get creative and have fun customizing with your own ideas!
I like the rough cut edges of this type of banner. It's quick to make and have a fun rustic style. You could make the banner with the words and then use the remaining bandana fabric to create more banners to decorate your space.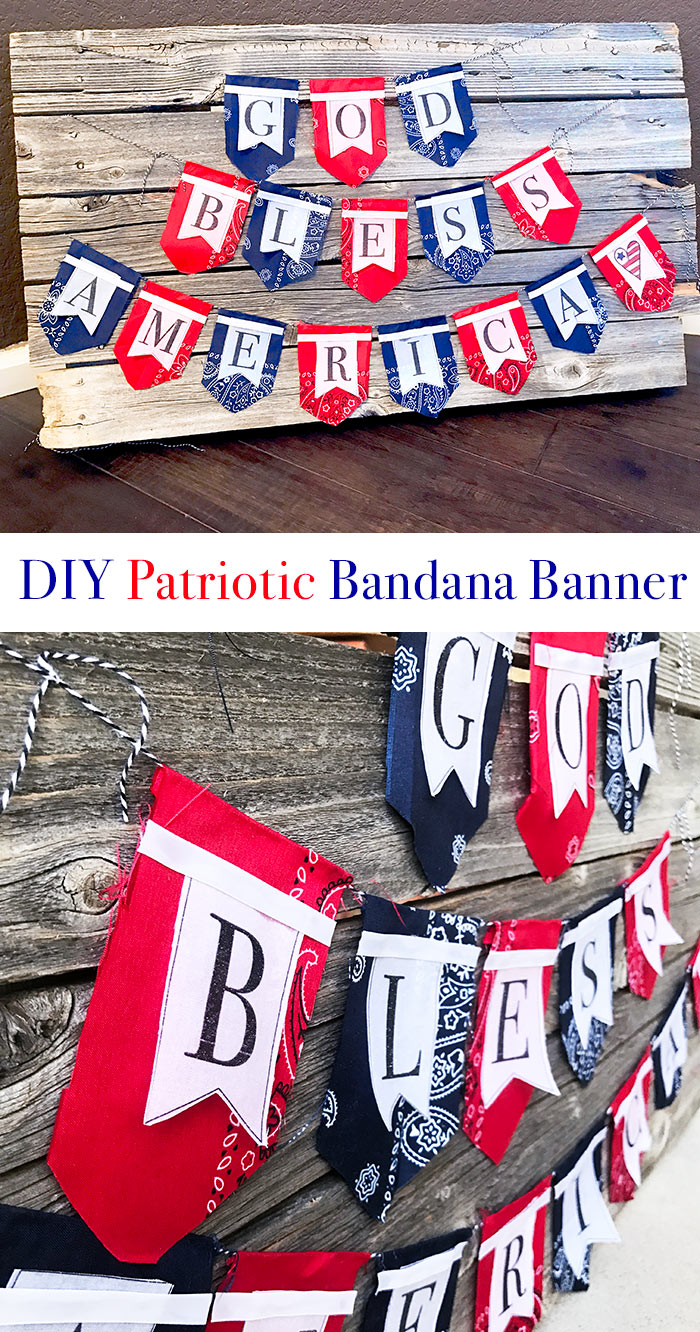 Love this and want more? Head to the links below for more patriotic crafting!