Do you know how to cut fabric with a Cricut? You can cut a variety of fabrics with both the Cricut Explore Air 2 and the Cricut Maker. I am going to share how to cut fabrics with both machines as well as some of my tips and tricks for maximum success below. Then you can start making fabric projects with your Cricut machine! Need sa project to get started? Try making our fabric storage bins to store your Cricut tools.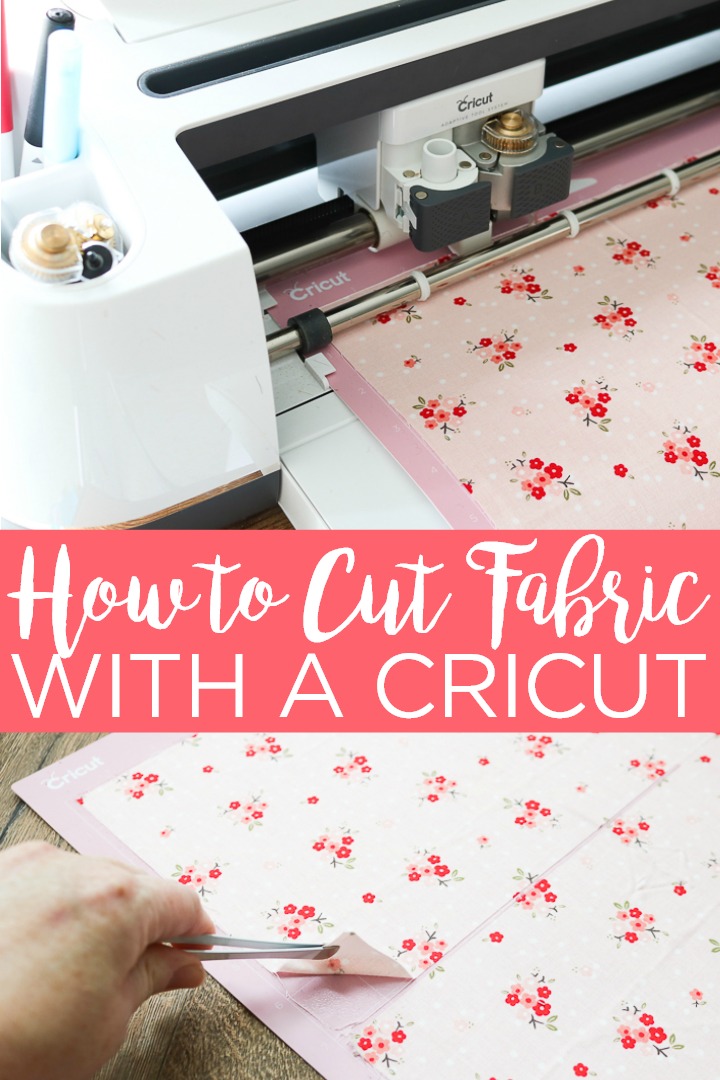 Links below may be affiliate links which means that you do not pay more, however, a small commission will go to support this site.
Types of Fabric You Can Cut
First things first, what fabric can you cut with your Cricut? The answer really depends on what machine you have.
Bonded Versus Non-Bonded
The Cricut Explore series only cuts bonded fabric while the Maker can cut bonded and non-bonded materials. What is bonding? It is the process of using a product like Heat n Bond on the back of your fabric.
There are several types depending on what you are going to do with your fabric after it is cut. So, choose the type of Heat n Bond required for your project and iron it to the back of your fabric. You can even iron freezer Paper on the back of the fabric to give it stability. Really you just want the fabric to be stiff for cutting.
The Cricut Maker can cut almost any material including those that have no bonding. So, this machine is a great option when you want to cut a lot of fabric. You can completely skip the step of bonding when cutting with your Maker machine.
There is a list of materials that have been tested with the Cricut Maker right in Cricut Design Space, however, I have cut materials not on this list without issue. So, experiment a bit and push your machine to the limit!
Mat to Use with Fabric
Now that you have your fabric and perhaps your bonding material, what mat should you use when learning how to cut fabric with a Cricut? Hands down the best mat is the pink fabric grip mat. This has the best adhesion for fabric, for both sticking it down as well as controlling the fray when removing your fabric pieces from the mat. You can get it in both 12×12 and 12×24 sizes.
Adding Fabric to the Mat
If you are using bonded fabric, remove the backing paper and add the material bonded side down onto your mat.
If you are using non-bonded fabric, you can cut either good side up or good side down. If cutting upside down, be sure to mirror the image before cutting. Cutting good side down is great if you want to mark your fabric with the fabric pen which we will discuss below.
Either way, you will want to trim your fabric to the 12-inch width of your mat. You might also want to pick up a brayer to help secure the fabric to the mat. Roll it over the surface to remove wrinkles and help extend the life of your mat as well.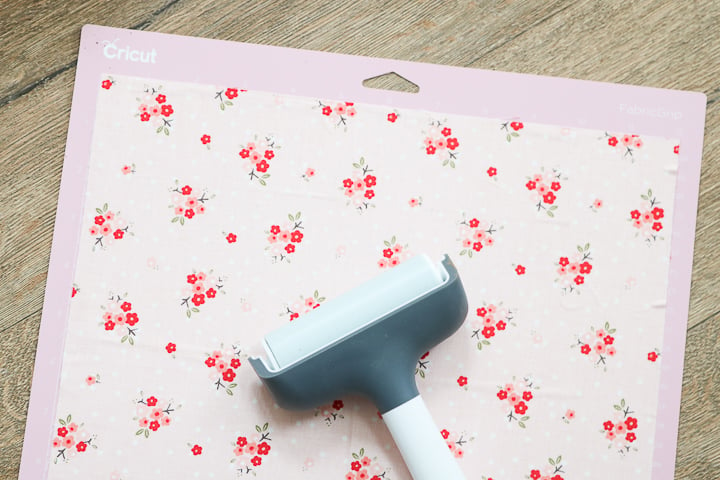 Removing Fabric from the Mat
The fabric mat itself has a unique adhesive that breaks down from the oil in your fingers. Try to avoid touching the adhesive with your hands. I find that removing the fabric with tweezers once cut is the best way to handle this. My favorite tweezers for this job can be found in this tool set.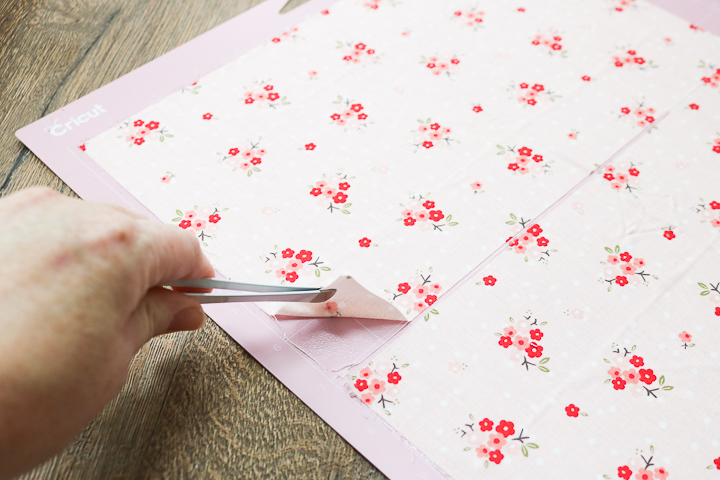 How to Clean Cricut Fabric Mat
What do you do when your mat gets dirty? The fabric mat needs to be treated differently than other mats when it comes to washing as well. The mat will get threads from your material on it as you cut. A few of these are actually okay. Just put your next material over the top and cut away.
When the threads become excessive, try using strong grip transfer tape over the entire surface of your mat. Press it down well then peel it up. You should find that the debris goes with the tape.
The brayer that we discussed above will also help to stick the fabric to your mat even when it doesn't seem to be sticky. As a last resort, you can also try our mat cleaning procedure.
Which Cricut Blade Cuts Fabric
Which blade is best when learning how to cut fabric with a Cricut? There are a few options depending on the machine and the material you are using.
Bonded fabric blade – just like you want a special pair of fabric scissors that do not cut anything else, you will also want a blade just for bonded fabric. This blade is just the fine point blade in a pink housing so you know which of your blades is for fabric. Use this any time you are cutting bonded fabric on your Cricut Explore series or Cricut Maker. You can also use a fine point blade that you have on hand at home.
Rotary blade – this blade is for the Cricut Maker only and will cut bonded or non-bonded materials. This is just like a rotary cutter that you might hand cut fabric with, but smaller for your machine. It really cuts fabric of all types like a dream. If you have never used the Cricut Maker and the rotary blade to cut fabric, you will love the cuts you get with this blade.
How to Cut Fabric with a Cricut Explore Series
You can cut fabric with a Cricut Explore. Just follow our step by step instructions below for cutting any fabric on this machine.
Add a bonding of some type to the back of your fabric. There are several options and some of those are listed above.
Remove any liner sheet and put the fabric bonded side down onto the fabric mat. Use the brayer to secure if needed.
Add the fine point blade to your Cricut machine. My recommendation is to have a bonded fabric blade that you only use for fabric to get the best cuts.
Add your mat to the machine and cut your design.
Be sure to remove your pieces from the mat with tweezers so you don't get the oils from your hands on the mat.
How to Cut Fabric with a Cricut Maker
Now for the Cricut Maker. Follow our instructions to cut fabric with your Maker machine.
No bonding is required but you can add if you wish for things like applique.
Put the fabric directly on the mat with no liner required. You can cut the fabric face up or down. If cutting face down, be sure to mirror your image in Cricut Design Space before cutting. Use the brayer to help secure the fabric to the mat.
I recommend cutting all fabric (bonded and non-bonded) with the rotary blade when using your Cricut Maker. Just click "edit tools" in Cricut Design Space and change from the Bonded Fabric Blade to the Rotary Blade if it is asking for it.
Load your mat into the machine and cut your design. You can also mark pattern pieces with the Washable Fabric Pen. We discuss more about how to use that below.
Be sure to remove your pieces from the mat with tweezers so you don't get the oils from your hands on the mat.
Using the Fabric Pen
You can add the Washable Fabric Pen to the pen side of the carriage when cutting fabric. This will allow you to mark pattern pieces on the back for things like button locations, seam allowances, and more. This is a game-changer for anyone that likes to use sewing patterns. The ink will wash away once you are done with the lines.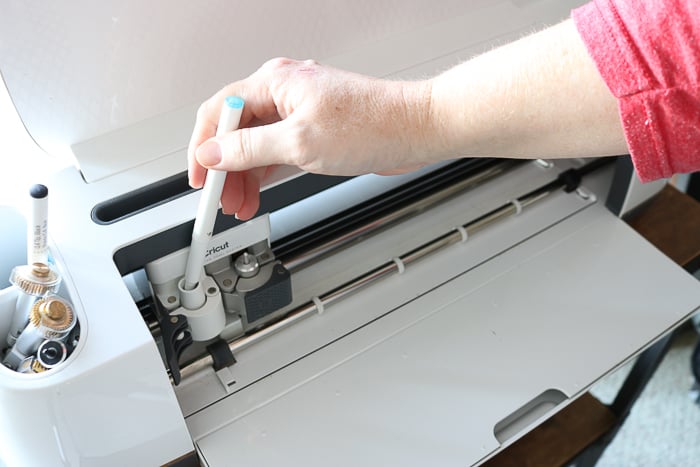 Which Cricut Cuts Fabric Best
Now that you know how to cut fabric with a Cricut, you might wonder which machine does this job the best. Maybe you are debating which machine to purchase. Well, I can tell you that hands down the Cricut Maker cuts fabric better than the Cricut Explore series. The rotary blade cuts so many fabrics like a dream. You will not believe how well it cuts fabrics!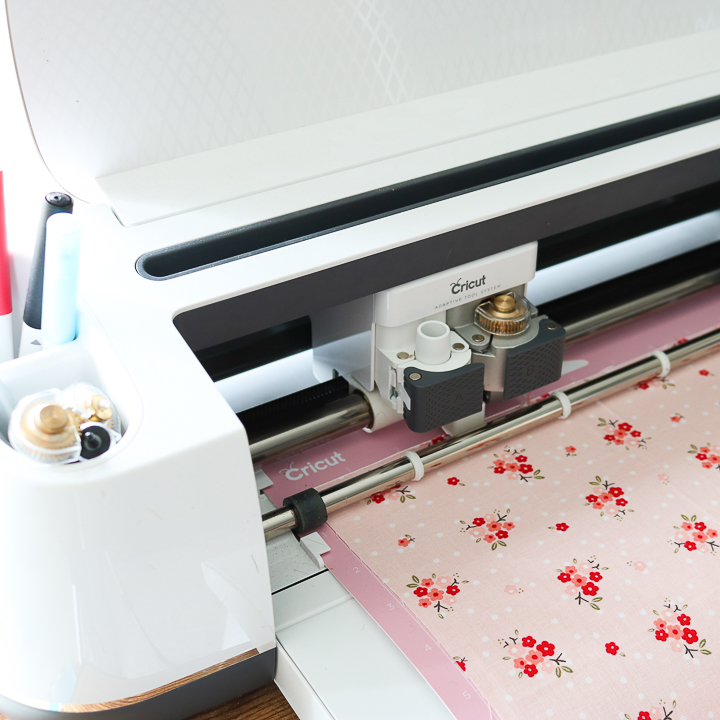 Cricut Fabric Projects
Are you inspired to use your Cricut to make a project now? Try the links below for great fabric projects you can make with your Cricut.
Now you know everything there is to know about how to cut fabric with a Cricut. I'm happy to answer any questions you have. Leave them in the comments below. Happy crafting!
New to Cricut?
Sign up for our email list to download the Beginner's Guide to Cricut Design Space for FREE today!
Sign up to get the guide emailed to you!