So, you want to know how to use Cricut pens? This is the post for you! We are going to share just how to use pens in your Cricut machine as well as share some Cricut pen projects to give this method of creating a try.
New to Cricut? Join my 7-Day Cricut Class here.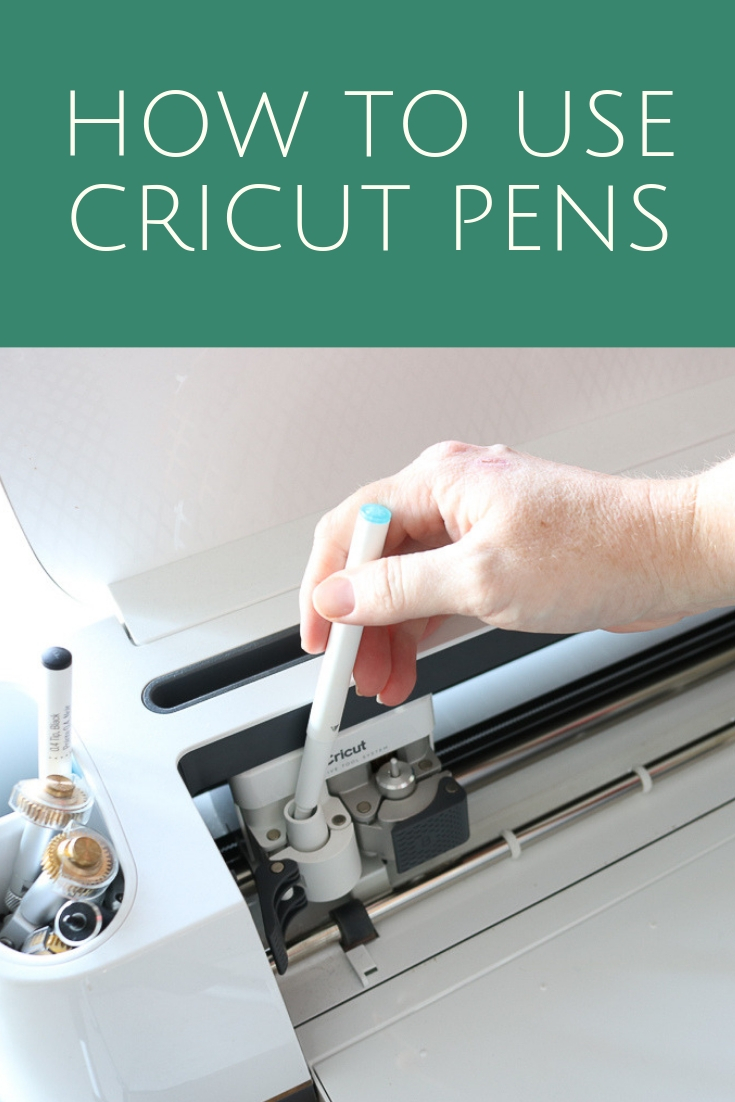 Today we're going to cover how to use pens on every Cricut machine including the Cricut Explore machines, Cricut Maker machines, and the Cricut Joy. Get ready because you are about to be an expert on how to use pens in a Cricut.
What Are Cricut Pens?
Cricut pens are special size pens that will fit in the pen holder of your Cricut machine. They are the same for the Cricut Maker machines and Cricut Explore machines. You will need special-sized pens for the Cricut Joy as the regular pens shown above will not work.
There are adapters to fit other pens in these machines but please note that these are not made by Cricut and the use of these will void the warranty of your machine. I do cover the use of those below so keep reading if you don't want to purchase the Cricut markers or pens.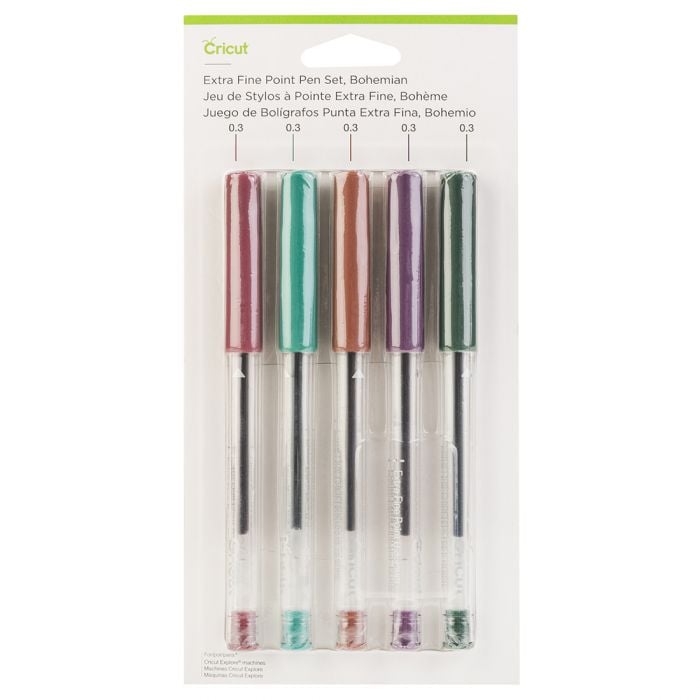 Types of Cricut Pens
Official Cricut pens look like the image above and come in a wide variety of sizes and different colors. Remember this size and shape are for the Explore and Maker family of machines only. You can see the full line of pens by clicking here. A few of the sizes and types you will see are as follows:
TIP: Store your pens upside down to keep the tips full of ink.
You can see the difference between the regular Cricut pens and the pens for the Joy in the image below. Note the difference in the shape that makes them unique for each machine.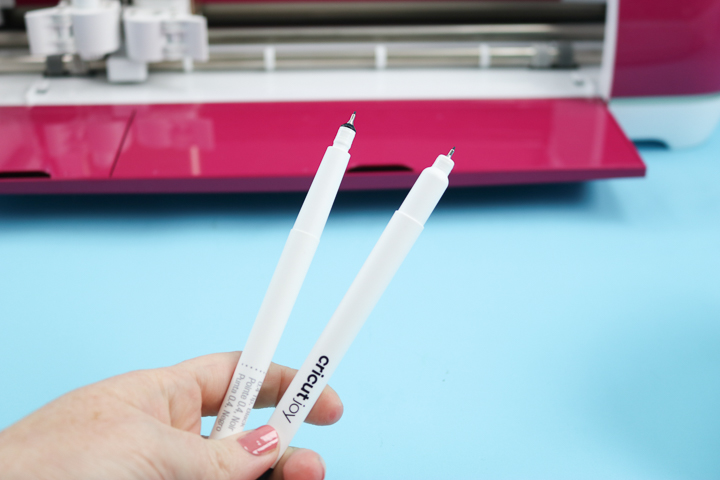 How to Use Cricut Pens: Step-By-Step Video
I thought a video would be a great way to really show you how to use Cricut pens with your machine. Note that we show the Cricut Maker in the video but the process is the same for the Cricut Explore machines and the Maker 3. We are also showing the screen on Cricut Design Space for turning your lines from cut to draw.
Want to see the Cricut projects in the video? Try the links below!
Can't watch the video or missed some of the steps? You can follow along with our instructions below.
How to Use Pens on a Cricut Machine
Are you ready to draw something with your Cricut? Follow the steps below to see how to use the pens correctly in your machine so you are successful with your pen projects.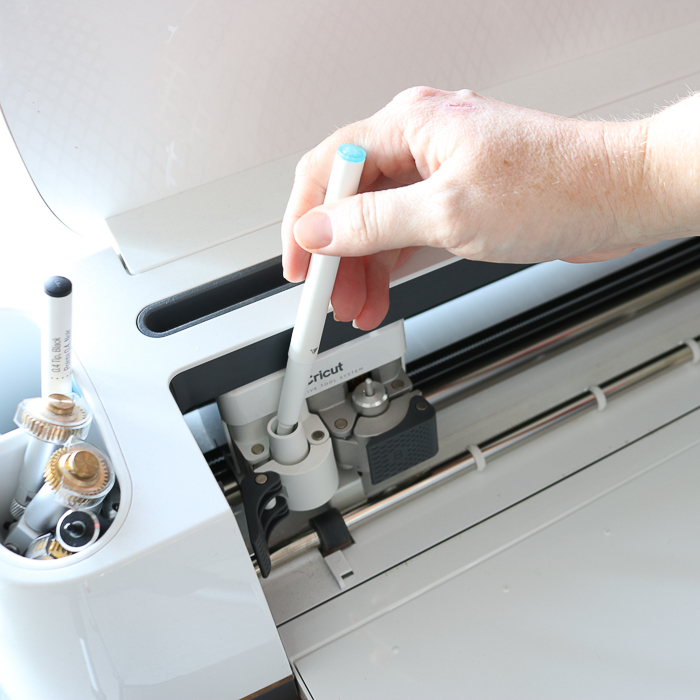 How to Insert Cricut Pens
To put a pen in your Explore or Maker, open up the clamp on the left (carriage A) then insert the pen with the cap off. Press down until you hear or feel it click. You will need to hold the clamp from the bottom to do this. Then close the clamp to use the pen.
To put a pen in your Cricut Joy, open the clamp when prompted in Design Space and remove the blade. Drop the pen into place and close the clamp. There is no need to push down on the Joy. Just drop it in and lock the clamp then press continue in Design Space.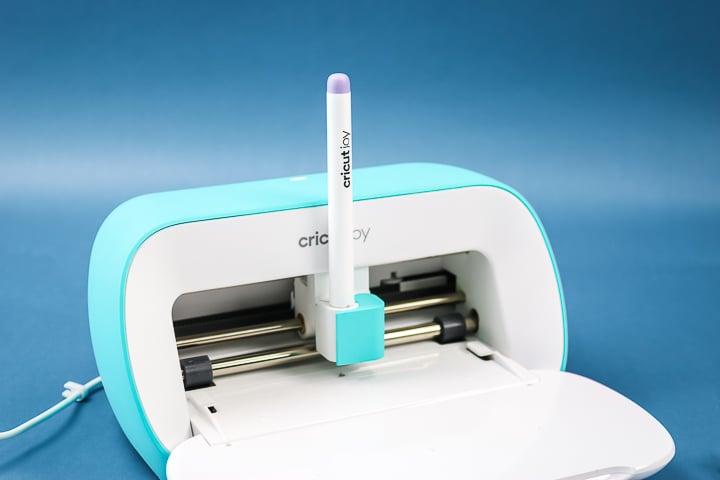 Changing to Draw Lines
You will then want to pull up Design Space and pick an image with draw lines or change your line type to pen lines. You can see how to do this in the video above but you'll find those changes in the top toolbar under "Operation".
To change any line or text, pull down the "Operation" drop-down and pick pen instead of cut. Then click the color square beside the Operation drop-down to pick the type and color of pen you are using.
This is especially important if you are using more than one pen on a project. Your machine will prompt you to put your pen in the machine as well as change pens if applicable.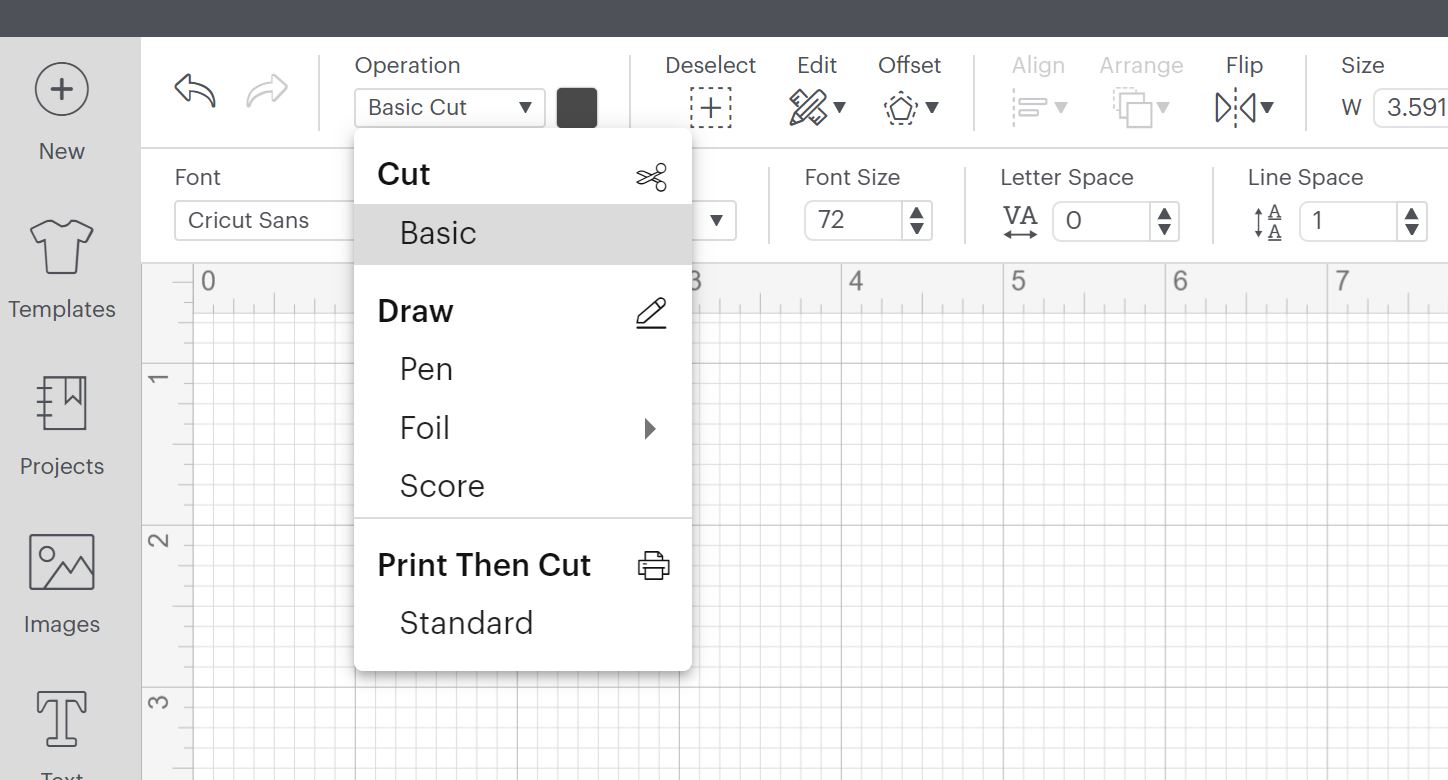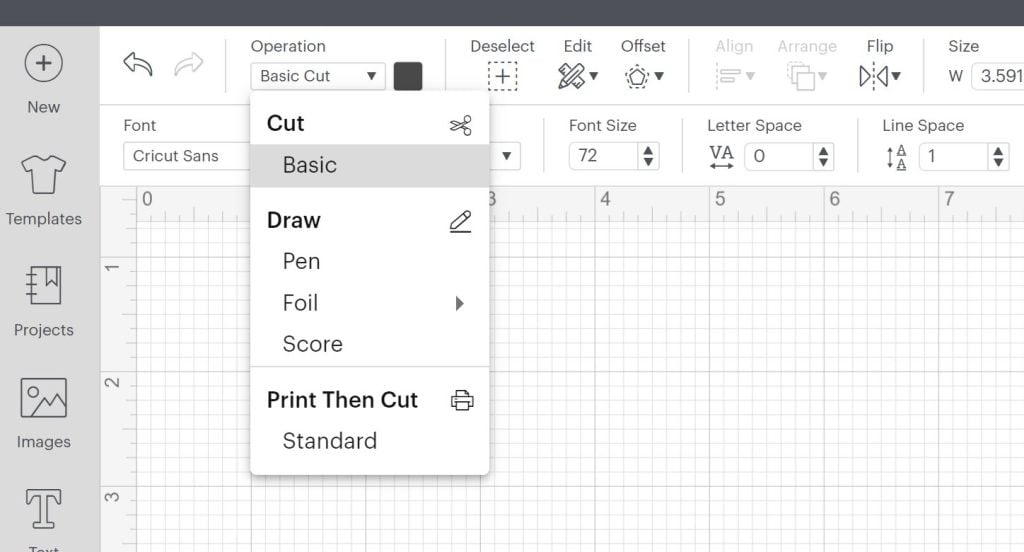 Remember that Cricut Joy pens are different and you will need to choose those when picking your pen colors for the lines to work on the Joy machine. If you get an error, most likely you have chosen pen colors that are not applicable for Cricut Joy.
You will also want to make sure your font type is set to writing instead of regular. Pick writing from the dropdown beside the name of the font.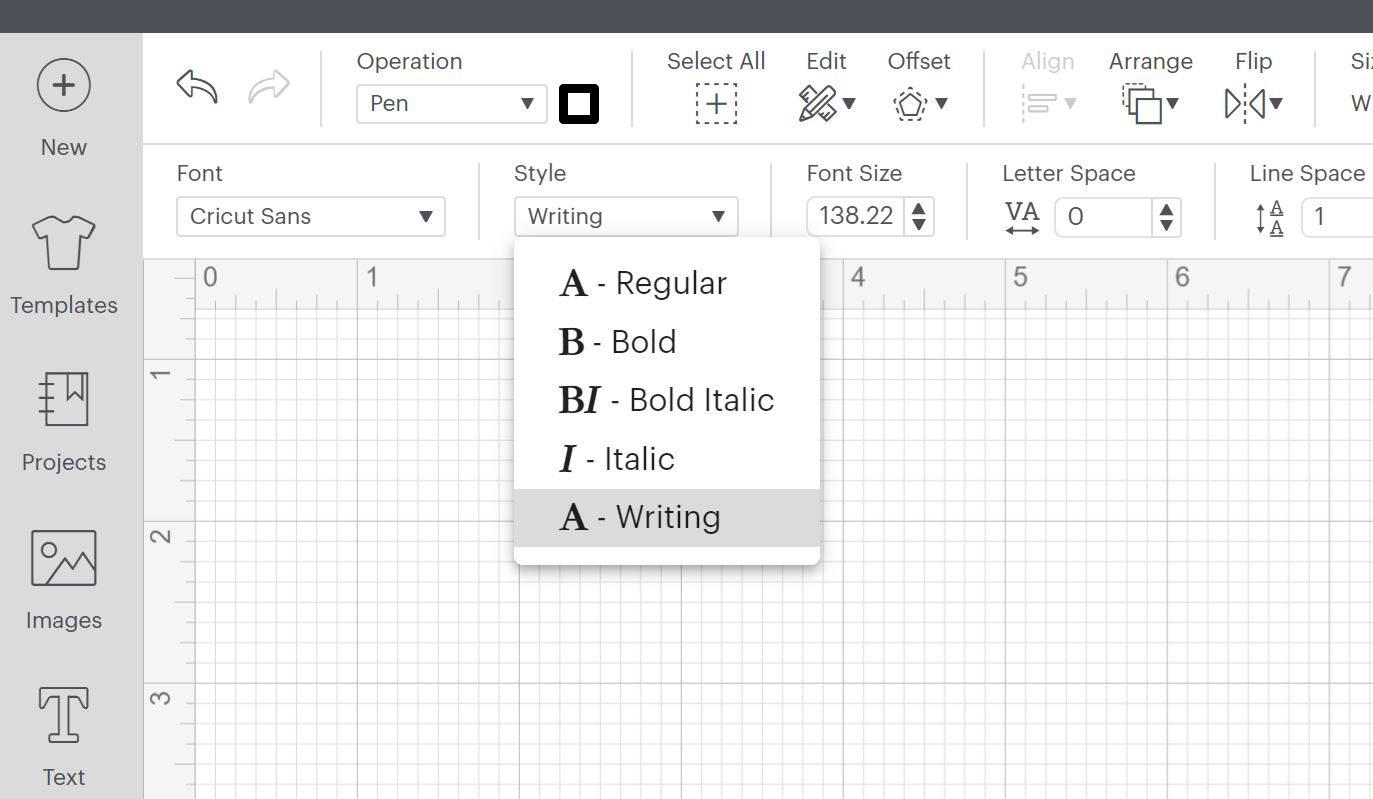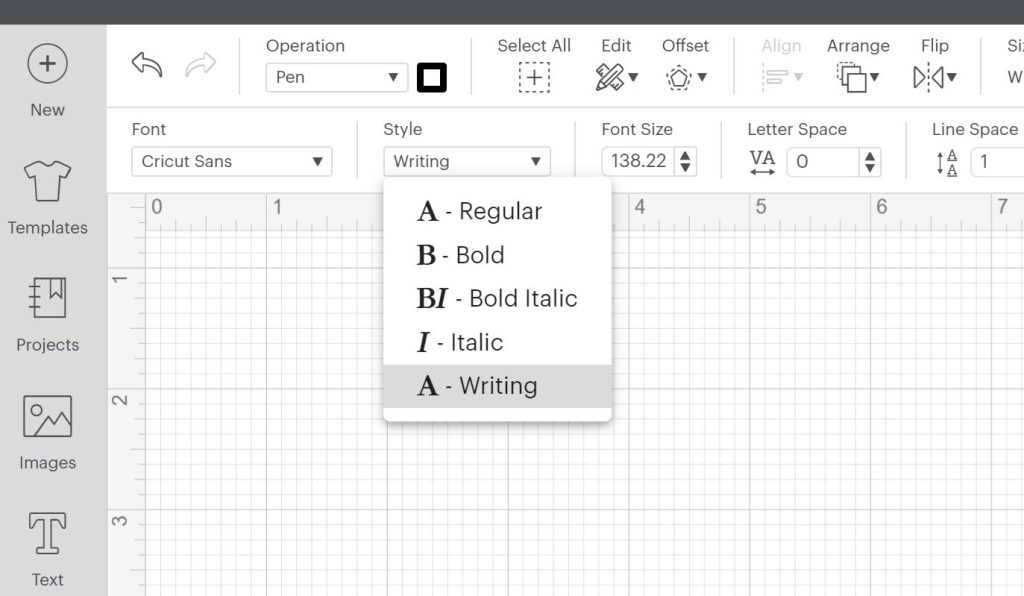 Types of Fonts that Work Well
You will want to pick the right fonts so that you get something that looks like writing instead of an outline. You can use Cricut fonts for this by filtering down and picking ones that are for writing.

This is the easiest way to find writing fonts on your Cricut, however, not everyone has Cricut Access to be able to use these fonts for free.
Instead, you can use your system fonts by finding single line fonts and adding them to your device. These writing style fonts are perfect for using with Cricut pens. You can see below what it looks like when you choose a font that is intended for cutting versus one that is intended for writing.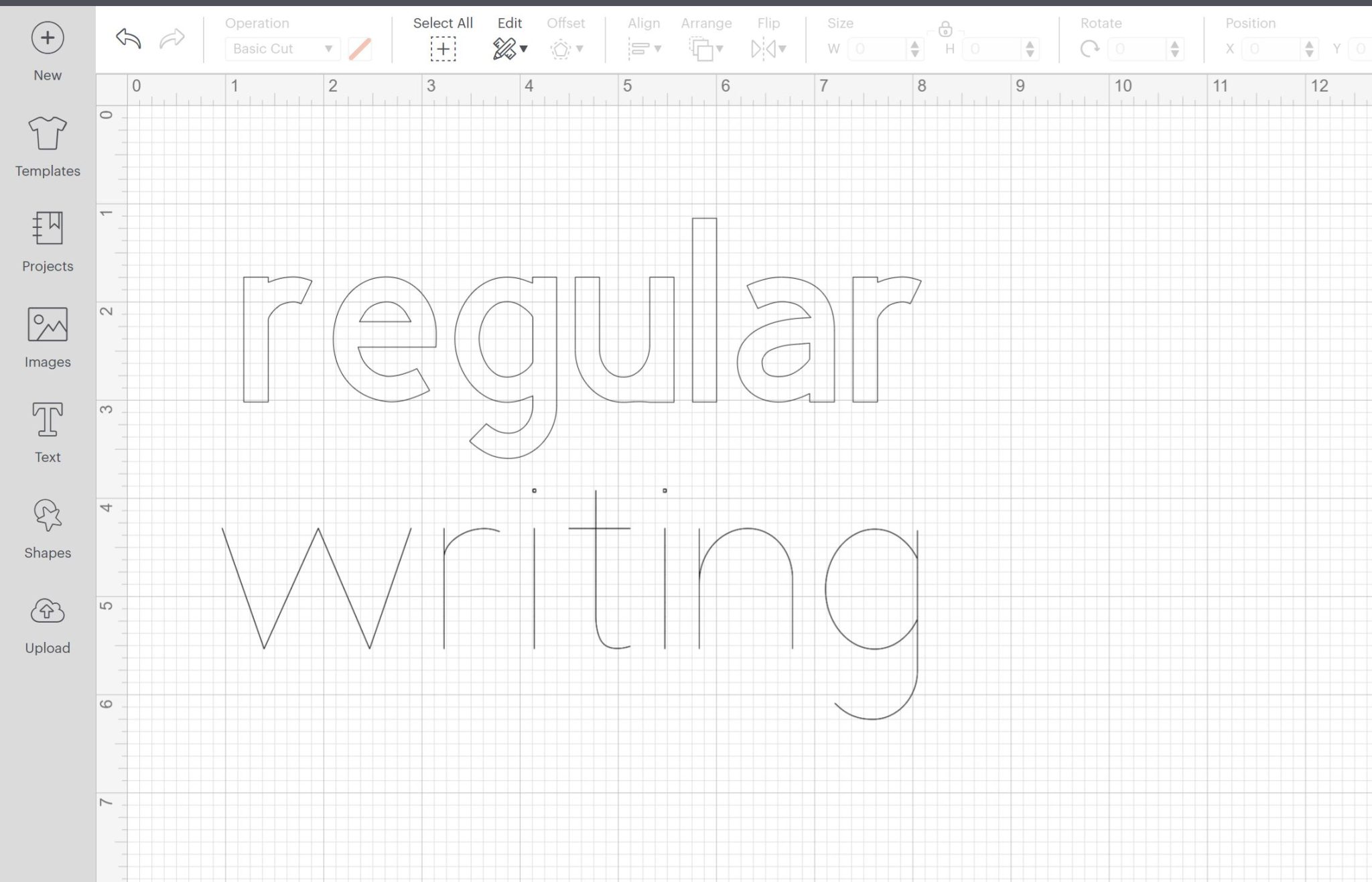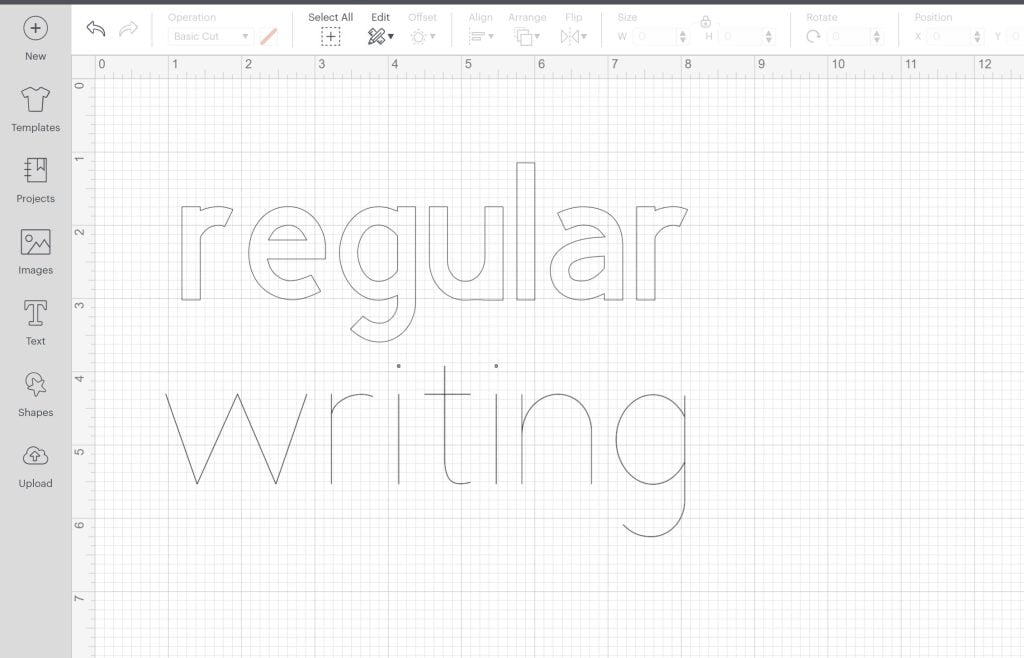 Troubleshooting Tips
When it comes to learning how to use Cricut pens, there are some common issues. If your pen is not drawing, there are a few troubleshooting steps to try first. Pull the pen out of your machine first and write on a scrap piece of paper. This will get the ink flowing and ensure that it is working. Next, make sure the pen is completely in the clamp until it clicks. To check this, watch when it draws and if the pen is not even touching the paper, you do not have it inserted all the way.
Using Other Pens with Your Cricut
This is all great, but what if you don't want to buy the Cricut brand of pens. Can you use other pens in your Cricut machine? The answer is yes but you do run the risk of voiding the warranty on your machine. I do have videos for each machine and using other pens, however, so use the links below to head there!
Then you can break out things like calligraphy pens, Crayola markers, and so much more and use them with your Cricut machine. Once you learn how to use Cricut pens and other markers in your Cricut, the sky is really the limit.
Find More Easy Cricut Pen Projects
Now that you know how to use Cricut pens, it is time to put them to the test with some projects! Want to see a collection of things you can make with Cricut pens? Watch the story below!
Here are the links to those Cricut pen projects to get your creative juices flowing. Click on each to see how to make them and start creating today.
So many ideas so little time! Y'all enjoy these Cricut pen projects as well as this tutorial on how to use Cricut pens. Now that you know how to use pens on the Cricut Explore Air 2 and Cricut Maker, the sky is the limit! Using pens in your Cricut machine is so easy and opens up a whole new world of project ideas.
New to Cricut?
Sign up for our email list to download the Beginner's Guide to Cricut Design Space for FREE today!
Sign up to get the guide emailed to you!