This post and photos may contain Amazon or other affiliate links. If you purchase something through any link, I may receive a small commission at no extra charge to you. Any supplies used may be given to me free of charge, however, all projects and opinions are my own.
I originally posted these Pottery Barn knock off candle holders and candles over at
Crafts Unleashed
almost a year ago. These candle holders are still one of my favorite decorating objects so I wanted to post them here in case y'all ever want to know how to make your own versions. I love creating catalog look a like items. Plus getting the Pottery Barn look on a shoe string budget just makes me happy, happy, happy (yea I just said that!!).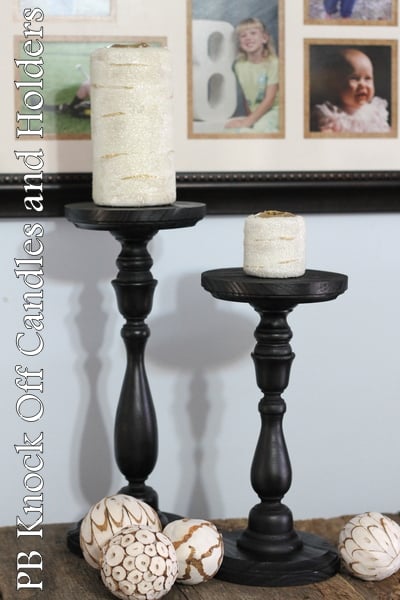 The original versions of the beaded candles are actually not available through PB anymore. So I guess if you want your own you will just have to make them. Supplies needed to create your own Pottery Barn Knock Off Candles: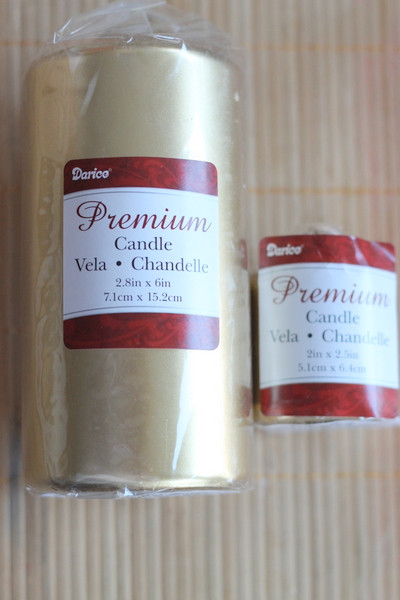 The candles are actually a little domed at the top so I just lit them for a while to get the center to be sunk in. I then painted on two coats of white paint leaving areas unpainted as shown below. NOTE: The picture below is after only one coat of paint. This does not have to be perfect. Leave random areas unpainted. Don't fret over making it perfect.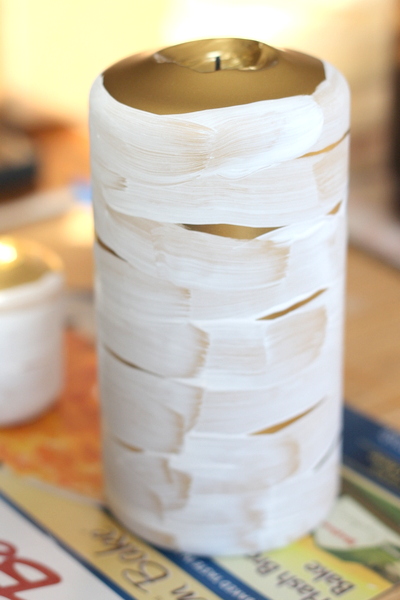 I then gathered my Mod Podge and beads. You will see two packages of beads pictured. I actually only used a tiny fraction of one package for two candles. Those packages will go a long, long way.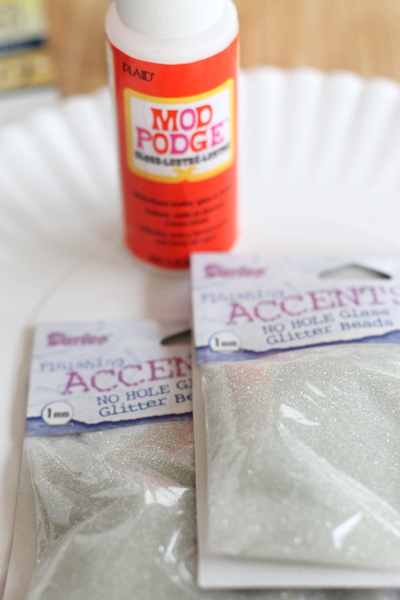 I poured the beads into a paper plate. Coated about 1/2 of my candle with Mod Podge then rolled the candle in the beads.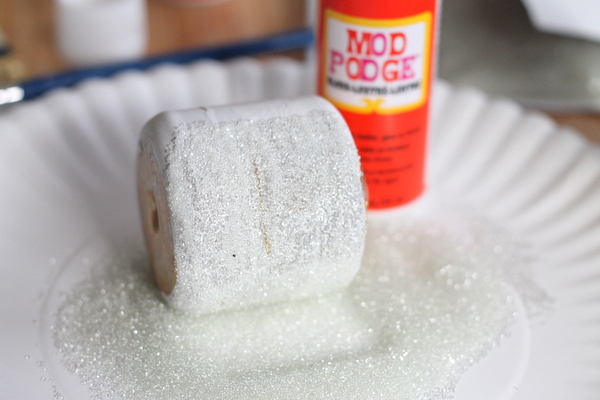 Just repeat until your candles are completely covered in beads. Set them aside to dry. I just want to show y'all the plate below. It is the remainder of one package of beads after my candles were complete. Seriously there are plenty of beads in one package to cover several candles.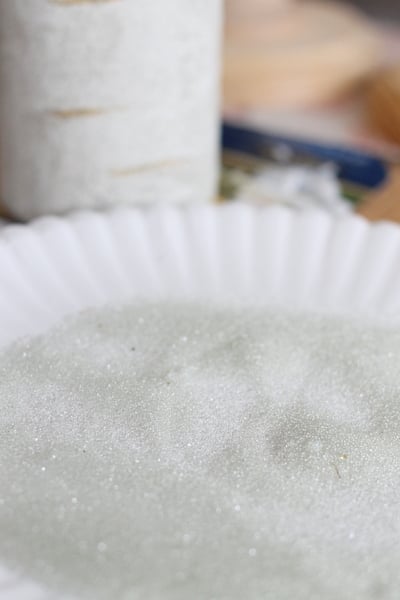 These are my candles drying. I would recommend putting them on a paper plate and touching them all over when they are dry. You will have a few stray beads fall off.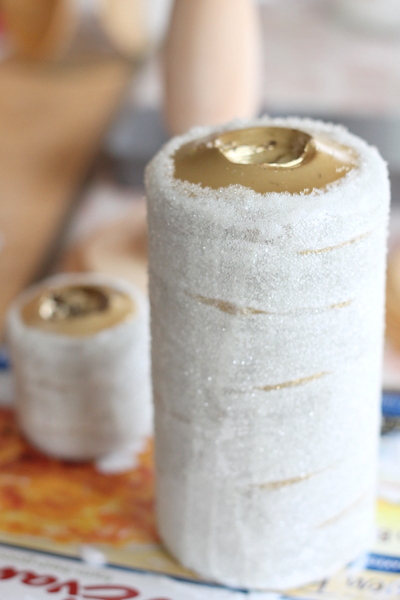 And here is my faux beaded birch bark candle all ready for display! I love the glitter of the beads on the outside of the candle. These would be perfect in any home and any time of the year. I think these would look lovely in a fall themed display.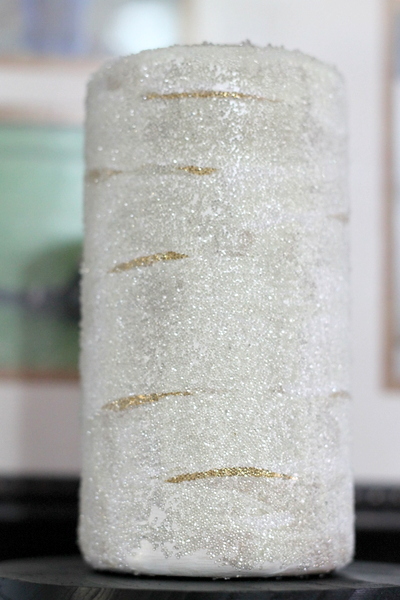 The originals for the turned pillar candles can be found on the PB website. To make my version you will need:
I gathered up my wood supplies from Consumer Crafts (complete list above). I just played with fitting the pieces together dry until I had the look I wanted. You will note that I have two 6 3/4″ candlesticks below but I only used one of them. Really it is trial and error that made the final product.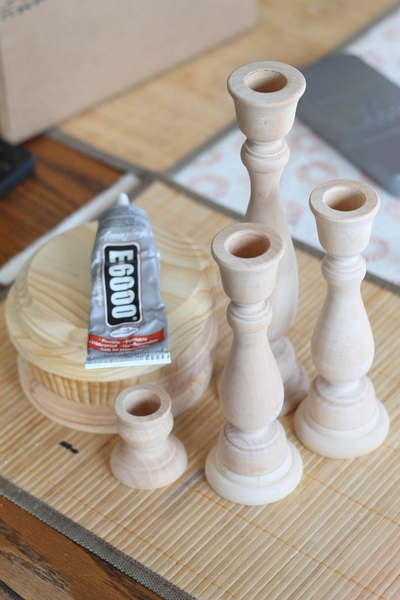 I just glued the pieces together using E-6000 and allowed them to dry. I spray painted mine black using Krylon Dual in black (it is paint and primer in one). Both the E-6000 and the Krylon will go a long way and make many candle holders.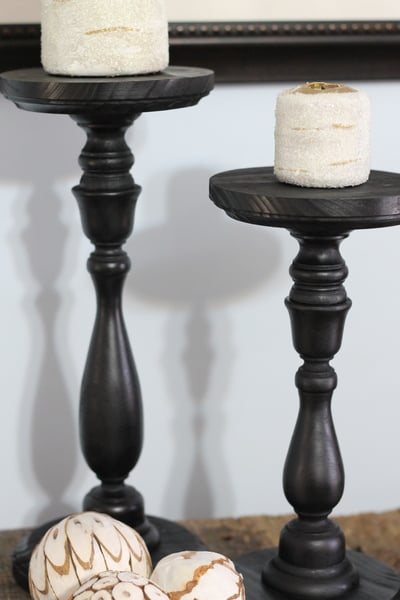 My candle holders have held up over the past year even though you see them all the time in use here around the blog. Plus my kids even knocked them over a time or two. So grab your supplies and make your own Pottery Barn knock off candle holders and candles today.
Get Our Weekly Newsletter