If you love modern farmhouse Christmas decor, I made some must-have burlap mason jar Christmas ornaments! Learn how to make these holiday ornaments using a mason jar SVG and burlap to add to your farmhouse-style tree.
Confession: Not every crafting endeavor turns out as expected.
Case in point: If you saw my Plaid Simply Screen Silk Screen Kit post, you will know I had a failure with my mason jar screen. The image has a lot of detail that didn't transfer to my fabric.
It wasn't ruined. Instead, the screen came out way more rustic-looking than I had anticipated.
Sometimes, projects just don't end up the way you think they will. But, I like to turn craft fails into successes!
I am a rustic-loving gal, so I embraced the rustic nature and turned these screenprint "fails" into some fun burlap mason jar Christmas ornaments. And I'm walking you through the process so you can make your own.
Note: If you love Christmas crafts, your seasonal crafting efforts won't be complete without our Rustic Christmas Ornaments from Wood Spools, Burlap Christmas Trees, and Free Printable Christmas Ornaments!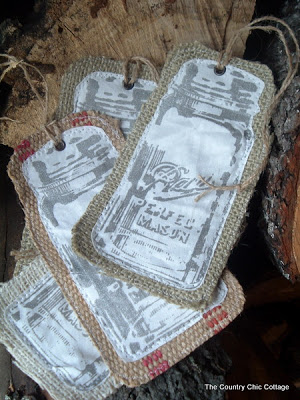 Supplies Needed For Christmas Ornaments
Burlap and mason jars all in one Christmas ornament?? Yes, please! I decided to use this wonderful image from The Graphics Fairy (gotta love her) for this project.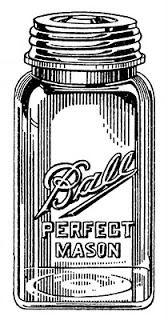 Here's a list of everything you'll need for this holiday craft project. I even added links for some items to make finding them easier. Some links below may be affiliate links, which means that you do not pay any extra but a portion of any purchase will go to this site.
Embracing A Craft "Fail"
The screen-making process just did not cut it for an image this detailed. This is my completed print using silver glittery ink. See how rustic it looks?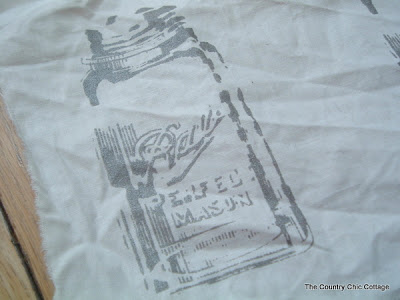 It's definitely quite a bit more rustic than the original image. But, looking at it again, I decided to embrace the rustic nature. I even decided to add some burlap backing to let the rustic quality really shine!
How To Make Mason Jar Christmas Ornaments With Burlap
Here's your step-by-step guide to making your own beautiful farmhouse-style ornaments.
Step 1
Get your image onto the fabric through silk screening or any other process you prefer.
Step 2
Cut out a backing for your ornament. I cut some scrap burlap into rectangles that were larger than my image. FYI, for each mason jar image, I used three pieces of burlap.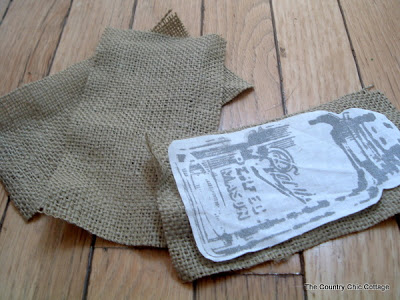 Step 3
Sew your mason jar print on top of all three layers of burlap. I used a zig-zag stitch.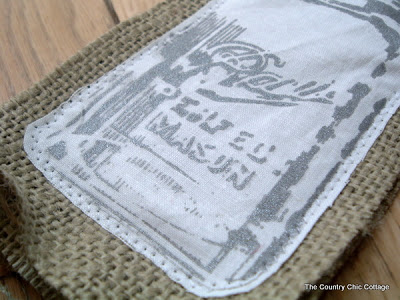 Step 4
Next, I trimmed my burlap to the same shape as the mason jar.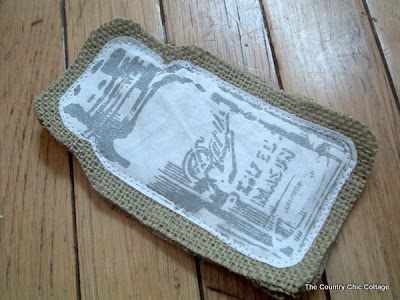 Step 5
Then, sew all the way around the outer edge of the burlap.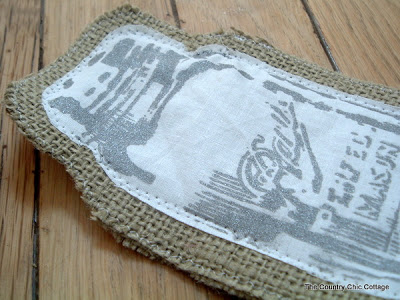 Step 6
Insert a grommet so you can hang your ornament. I have a wonderful tool (called a crop-a-dile) for punching holes and inserting grommets.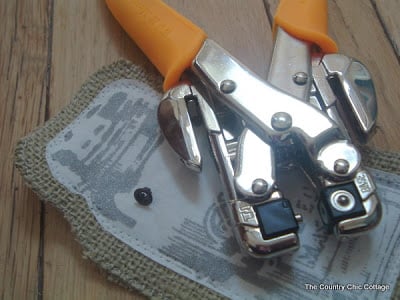 See…gorgeous!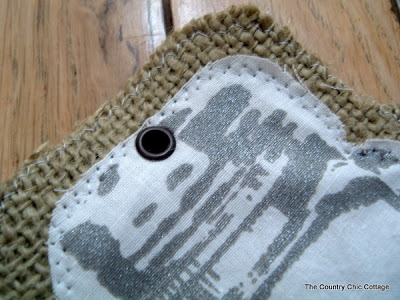 Step 7
Then, I threaded in twine so I can hang my ornaments.
Project Tips
I used three layers of burlap help to stabilize the entire thing and keep it "stiff". If you choose to use other types of fabric backing (see FAQs below for ideas), you may not need to use so many layers.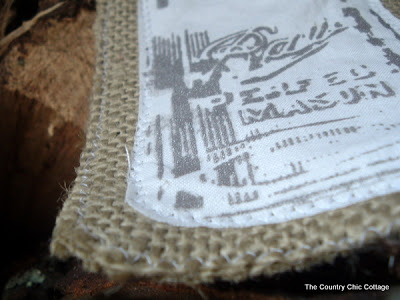 My rustic image has just a touch of glitter from the ink. I love that sparkly touch!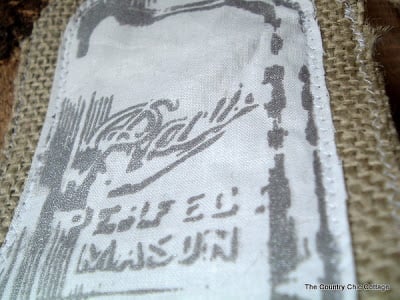 In fact, I couldn't stop with just one ornament! I also had some white burlap and needed to put it to good use.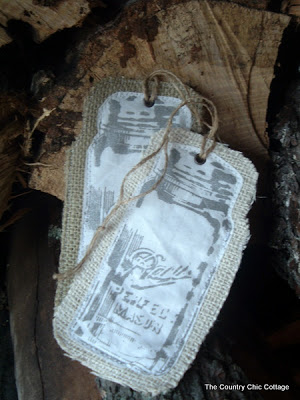 I made another ornament. See the color difference…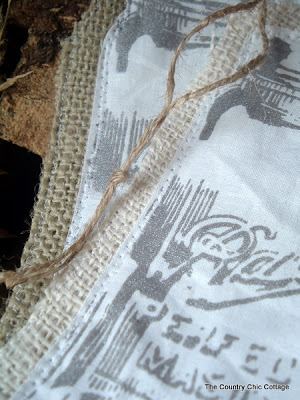 FAQs
Here are questions I frequently see readers ask about this mason jar Christmas ornament project. If you have a question and don't see it answered below, please leave it in the comments so I can answer it for you.
Are there other ways to get the mason jar image on the fabric?
If you don't have a rustic screen printing of the mason jar, can you get the image on the fabric another way? Yep! You can use a variety of other methods to get that graphics fairy image onto some fabric. Examples can include:
Printing
Painting
Stenciling
Can I use other types of fabric for the backing?
I used burlap initially, but I was having so much fun with this crafting "fail" that I couldn't even stop there. I also had some chair webbing sitting around and decided to try using that in addition to the "regular" and white burlap versions.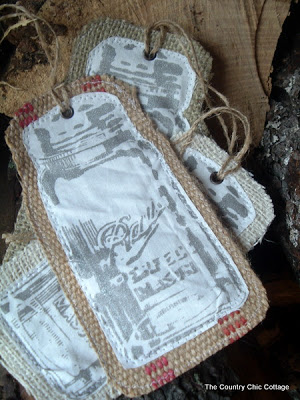 The chair webbing version really only needed one layer of the webbing because it's thicker and stiffer than the burlap is.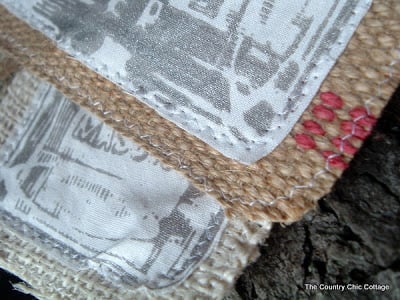 You could also use other types of fabric such as canvas, muslin, or other neutral fabric scraps you have on hand.
I can't wait to hang these mason jar Christmas ornaments on the tree this year…enjoy!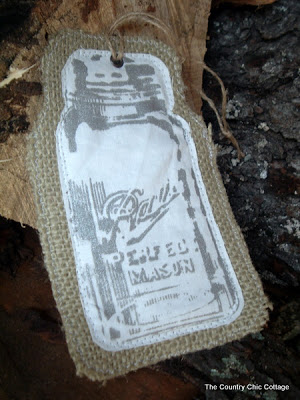 Love These Mason Jar Christmas Ornaments? More Christmas Decor Inspiration
If you love this simple project, be sure to check out these other ideas too!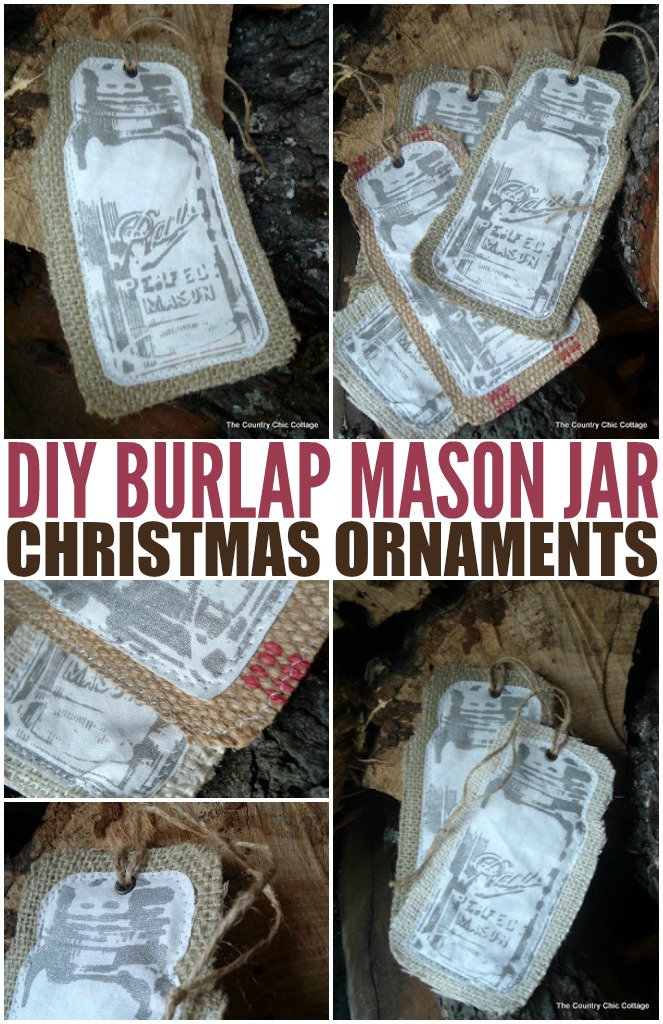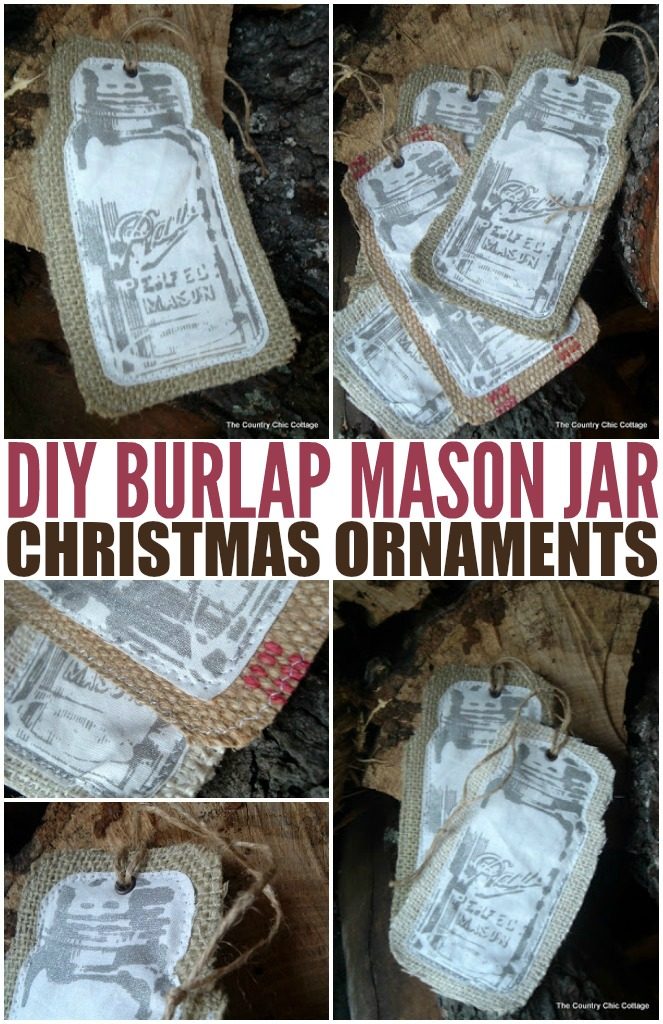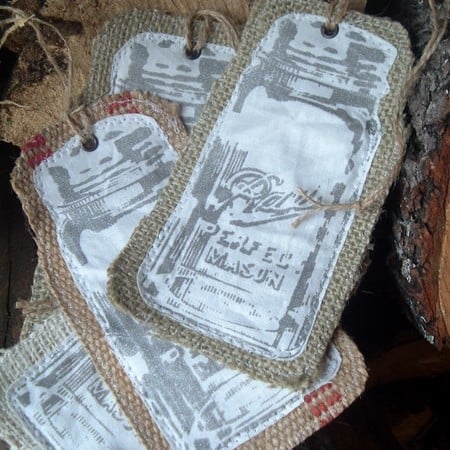 Rustic Mason Jar Christmas Ornaments
Use a silk screening process to create beautifully rustic mason jar ornaments perfect for any farmhouse-style Christmas decor!
Instructions
Transfer your image to your fabric.

Cut out your fabric backing. I used burlap, but you could use chair webbing, canvas, or any other natural fabric of your choice.

Use a zig-zag stitch to sew the mason jar image onto your fabric backing.

Trim your fabric backing into the same shape as your fabric image.

Sew a seam around the edge of the fabric backing to prevent fraying.

Use a crop-a-dile to insert a grommet.

Thread a piece of twine through the grommet and tie it off so you can hang your ornament.
Tried this project?
tag us to show off your work!