Want to make a DIY Rose Petal Chandelier of your very own? Oh yes, you can and with just a few rose petals and a
sewing machine
. This is great for any teen or kid room. It would even be great as DIY wedding decor. Wanna know how to make it? Read on to find out how!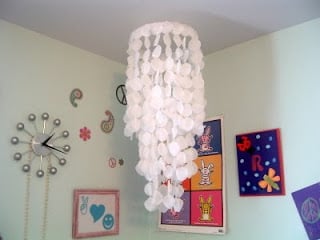 Supplies needed to make this chandelier from rose petals: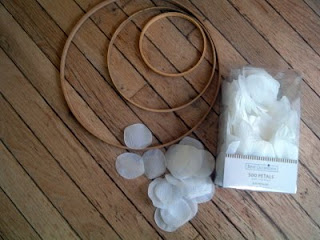 How to Make a Rose Petal Chandelier:
Sew each and every one of the petals.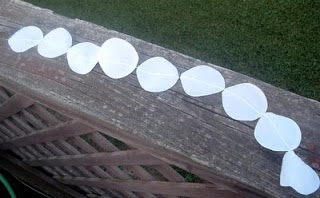 I sewed them in strands of 9 petals each. Leave a little space between each petal.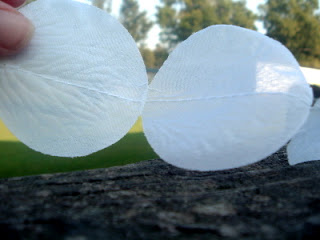 Makes it more "flowy" when you get done. Your sewing does not have to be perfect. I tried getting them all in the same direction, etc. But they are not all the same. No one is going to climb up and look at this once you have it hanging from the ceiling.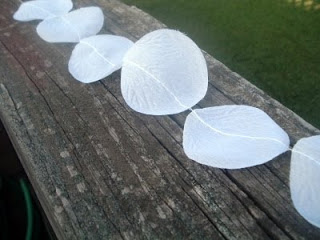 Sew lots and lots of strands together. I used around 400 petals in total. Yep, 400. Sew your little heart out.
I took the rings and painted em white. Then tied them up with a fishing line like this…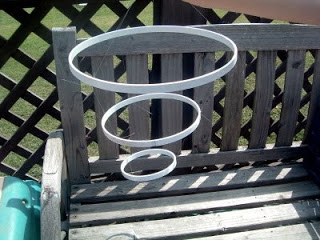 A fishing line at the top too to hang it up when you are done. Then glue on your petal strands. I started at the bottom. I folded the top petal over and glued it to the second petal. Actually I glued each one twice. Yes, I used hot glue and regular glue on each one. May not be necessary but I have extra insurance.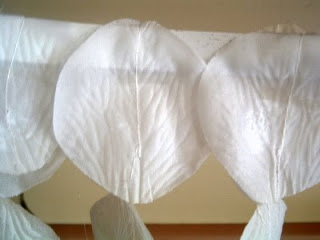 The secret to holding this while you are gluing on your strands of petals?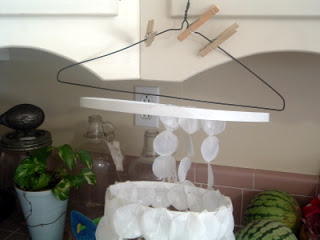 Keep gluing them on til it is all filled up and looks just how you want it! I would glue some on, then go sew some more, then glue more on, sew some, etc. That way I did not end up with any extra strands at the end. No sense in doing any extra sewing!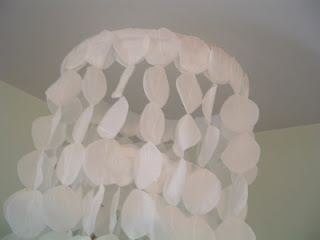 Hang from a hook on your ceiling. I used the fishing line tied in a knot at the top and just slipped it over the hook a few times. I am so pleased with how it turned out!! This could be for any girl's room. Baby to a teenager!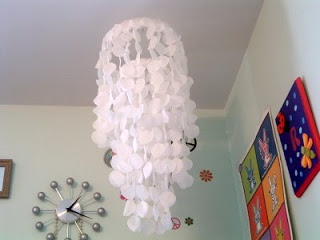 Y'all let me know if you make one and send pics! I would love to see em!
Love this post? Be sure to subscribe to THE COUNTRY CHIC COTTAGE so you don't miss a thing!
Plus check out our other ideas on decorating teen and kid rooms and even more DIY wedding ideas.