You can make some snowman door decorations in just minutes with a few lights and the instructions below. I love adding some Christmas cheer to our yard this time of year. If you do as well, you will want to read on and learn a little more about these lights as they change color and they are remote controlled! This post is sponsored, however, all projects and opinions are my own.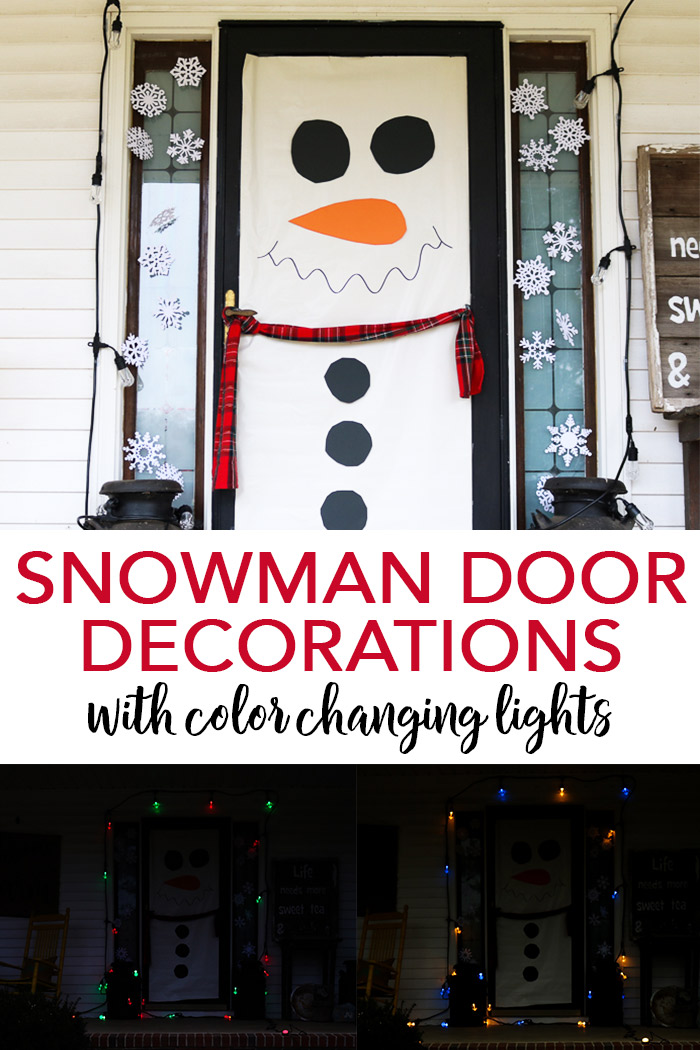 When it comes to snowman door decorations, color changes everything. What if you could change those colors at the press of a button? Well, now you can! Enbrighten Color Changing Cafe Lights and Landscape Lights make decorating for the holidays easy and fun. In these boxes, there are 16 different colors and selectable color modes. This allows you to pick your favorite color, two-color combination, or preset color modes. That makes for over 120 possible color combinations! Now that is bringing a little color to your life!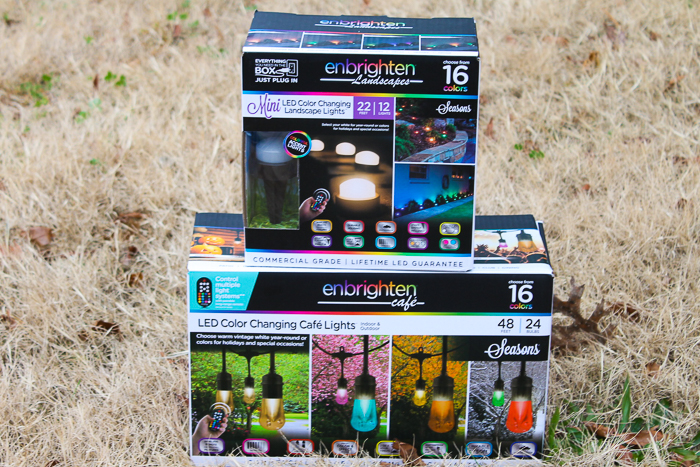 Making Snowman Door Decorations
Want to see just how I made my snowman door decorations this year? Just watch the super quick video below!
Can't watch the video or missed some of the steps? No problem! Just follow along below!
Step by Step Instructions
Grab Enbrighten Color Changing Lights. You will need the Mini Landscape Lights and the Seasons Cafe Lights.
Add the Enbrighten Cafe Lights around your door. You can use stick-on light clips to make this easier.
Add the stakes that are included in the packaging to your Enbrighten Landscape Lights and add them up and down your sidewalk and on your steps as well.
Run an extension cord to your creation and plug it in! You can then use your remotes to create all of those gorgeous color combinations!
To make the snowman add white paper to your door with tape.
Tape on a paper nose, eyes, and buttons. I just used scissors to cut these from paper. After all, the eyes and buttons are supposed to be coal and that is not perfect. Plus, have you ever seen a perfect carrot?
Add on a fabric scarf with some command hooks.
Then draw on a mouth with a large magic marker.
Add some paper snowflakes on fishing line to complete the look if desired. You can cut these by hand or with a craft cutting machine.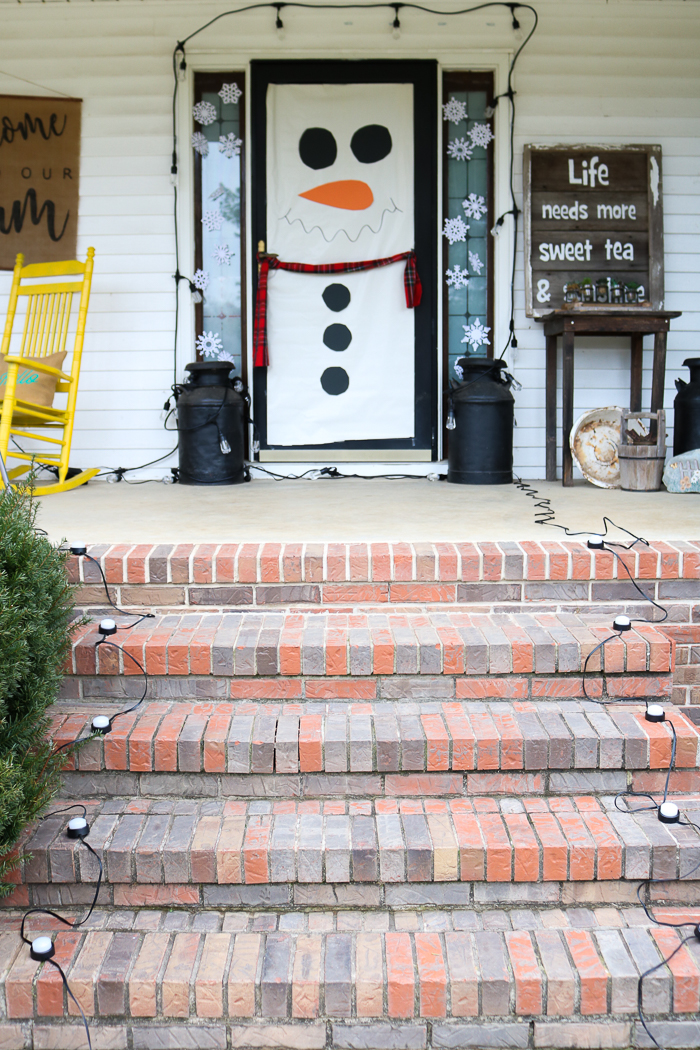 Changing the Light Colors
Here is an up close picture of the remote so you can get an idea of all of your options. In addition to the color changing aspects, you can also dim them, set countdown timers, and create other fun effects. I used the two color options for my snowman door decorations. Just click color 1 and choose red. Then click color 2 and choose green. You have multi-colored lights in minutes! Each set of lights come with one remote, but the remotes are pairable, so you only need one for all of your lights!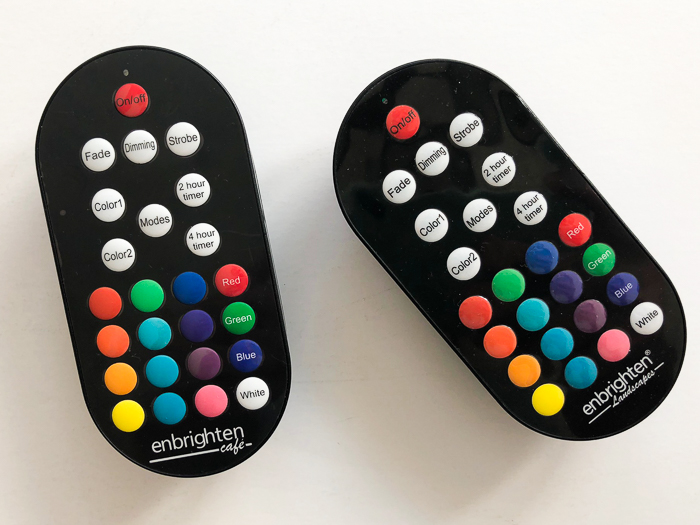 My favorite part is the durable, impact resistant acrylic Edison-style bulbs. I love the look of an Edison bulb but am always too scared to use them outside. These won't break if dropped, stepped on, or blown around in the wind. They are actually designed to withstand year-round exposure to the elements so you can use them for so much more than just snowman door decorations.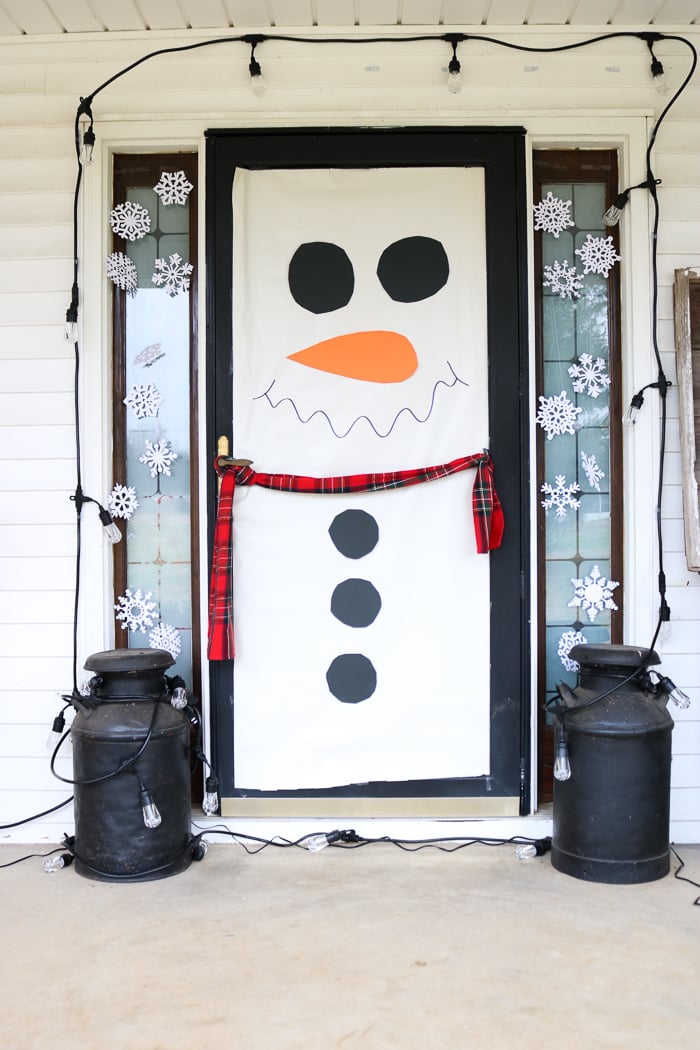 Now for the big reveal! After all, you have to wait until it gets dark to actually see what you have created.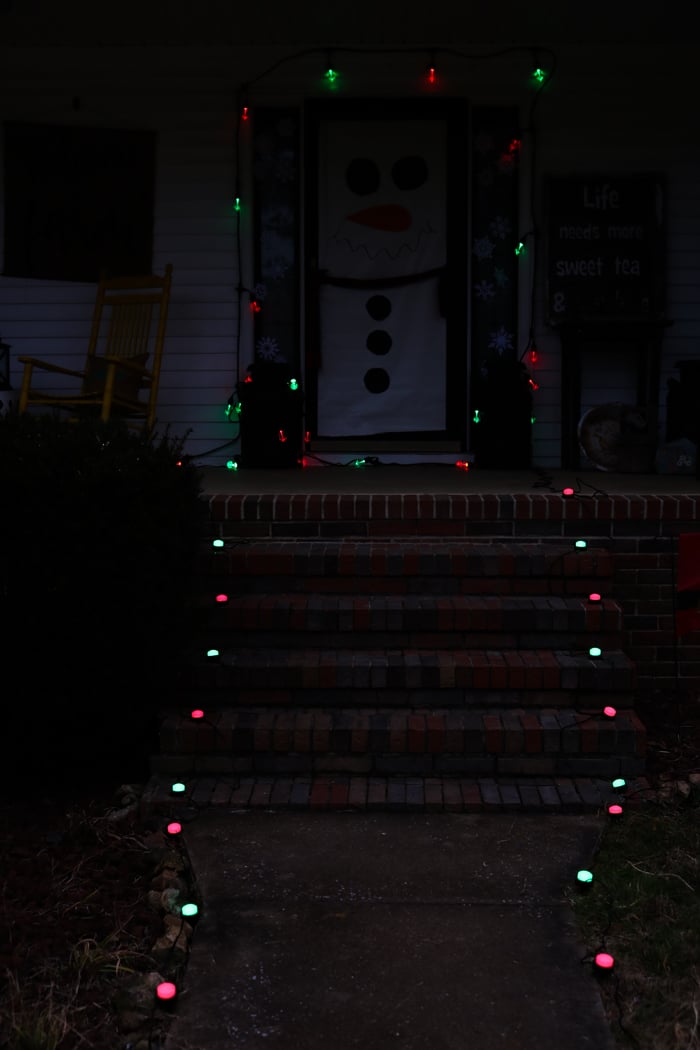 The picture above is with the red and green lights and is perfect for Christmas. But you can change to white and blue after the holidays for a cute winter display! Lights you don't have to take down after Christmas? Sign me up!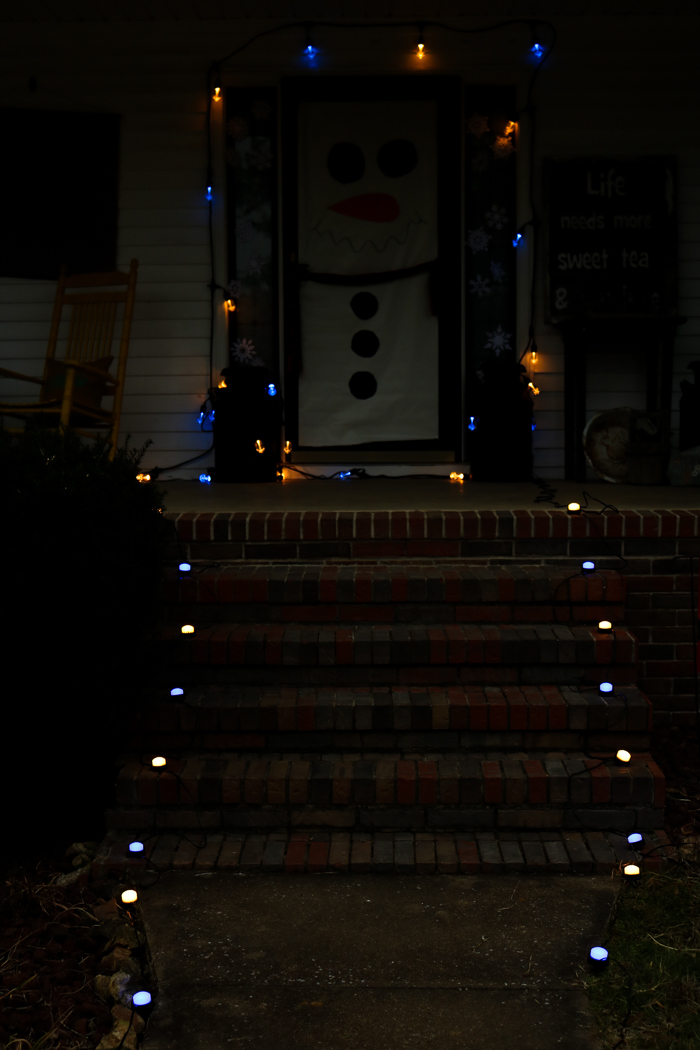 You can even use the lights on strobe if you wish. Want to see the strobe in action? Be sure to watch the video at the top of this post!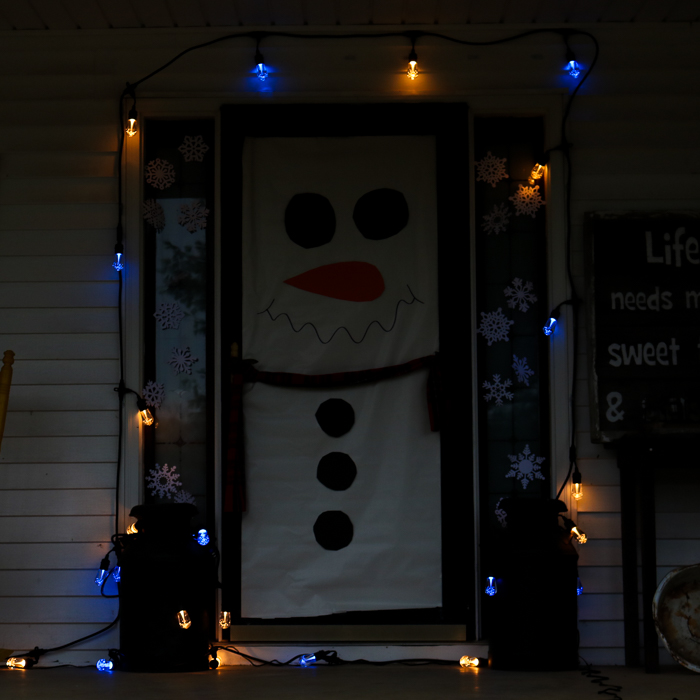 So, where do you purchase these great lights? You can click here to find them on Amazon.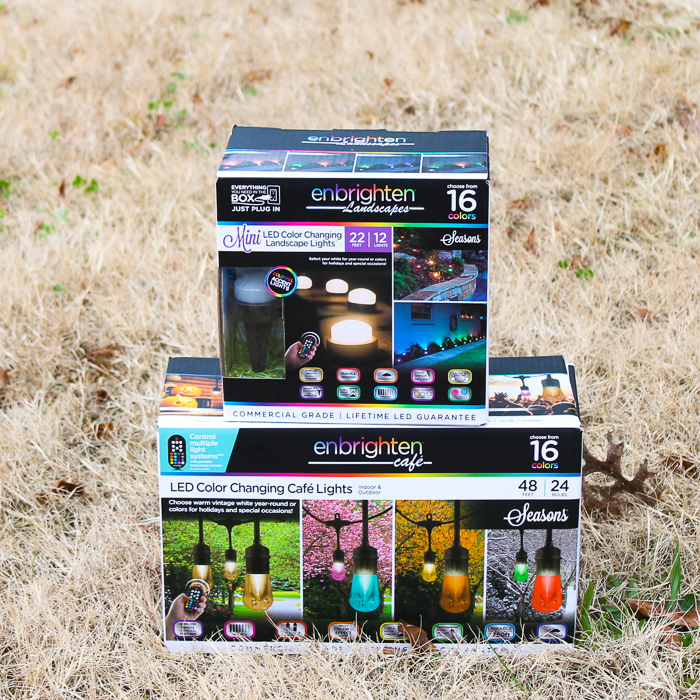 Once you have them in hand, use them to create fun snowman door decorations like these around your home this holiday season.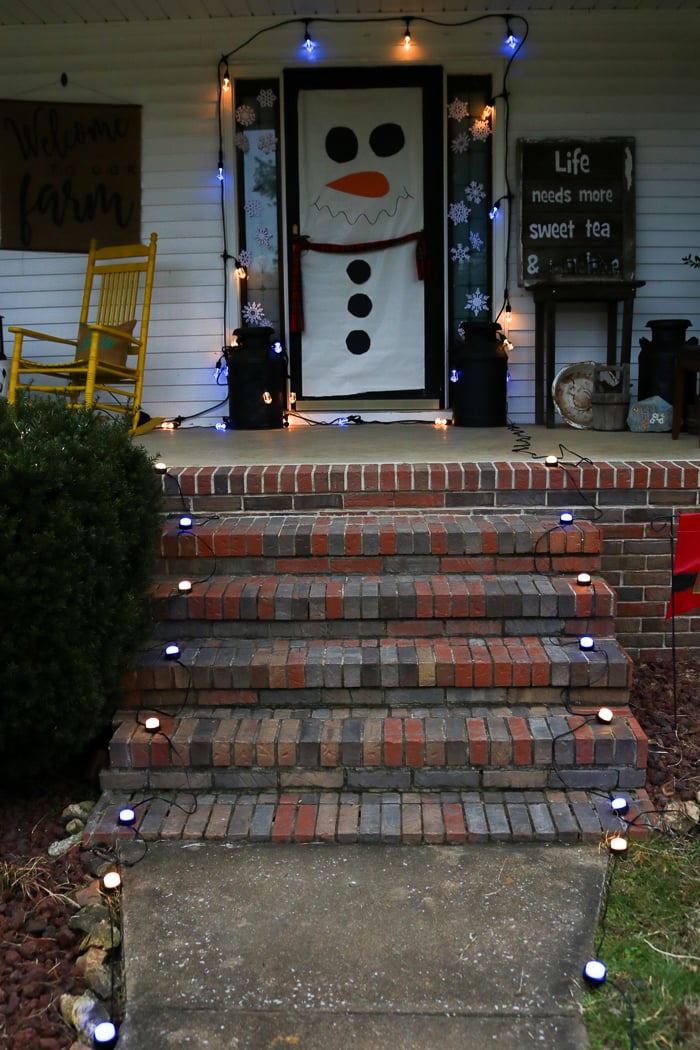 Change up the lights with color combos or even monochromatic looks for decorations all year!