This post and photos may contain Amazon or other affiliate links. If you purchase something through any link, I may receive a small commission at no extra charge to you. Any supplies used may be given to me free of charge, however, all projects and opinions are my own.
I have been bitten.  Bitten by the spring cleaning bug.  I don't go all out every year but this year has certainly been the exception.  I have to get motivated to start.  The first thing that I started was decluttering and removing items from my home.  My inspiration for this came from the 40 bags in 40 days challenge over at
White House Black Shutters
.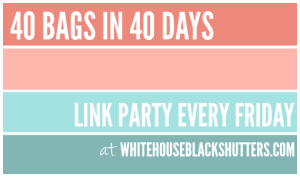 This idea is brilliant!  For me, it divided up the task into a bunch of smaller manageable pieces.  Ann Marie even made up
free printables
so you could schedule your areas to be decluttered.  I decided to wing it.  I just tried to declutter SOMETHING every day.  A basket, a surface, an entire room, whatever fit my mood that day.  So far, so good.  Do I get a "bag" everyday?  No.  But I do make progress and I realized that progress was key.  As I decluttered, I became motivated to start cleaning.  But let's face it, spring cleaning is a BIG word and a daunting task.  I found then found my cleaning plan via
House of Grace
.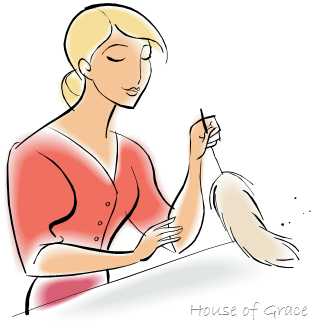 She lays out a Spring Cleaning Checklist.  Now you do not have to follow this exactly (I didn't).  But the checklist helped me to put all the tasks in order like I had not thought of before.
Here are the spring cleaning tips that work for me:
Go one room at a time — finish that room then move on.
Go from top to bottom.  Start at your ceiling and work your way to your floors.
Take breaks if you need to — don't try to be a cleaning super woman.
Have all of your supplies handy (more on my favorite supplies in a second).
Just bought that picture a week ago, hung new curtains two weeks ago?  SKIP THEM!  Surely they have not gotten dirty already.
Break up your home into areas.  Mine are upstairs, downstairs, and outside.
Involve your kids.  I am putting my kids in charge of the upstairs on their spring break.  Will it be perfect?  No…but I don't have to do it myself!
Clear your clutter OUT of the house.  I have three things I do with my outgoing clutter:  trash, donate, or consignment store.  I can get rid of everything immediately.  This way little hands don't conveniently reach in and rescue the clutter.
 Now for the spring cleaning products I cannot live without.  I have been a Skaklee fan for two years now.  Healthy cleaning products for my family and the environment — and they actually WORK!

 First of all, there is the one Shaklee product I cannot do without — Basic  H.  One 16 oz bottle makes 48 GALLONS of all purpose cleaners.  I have used the same bottle for two years.  TWO YEARS!  This is my daily cleaner, my spring cleaner, my everything cleaner.  You can mix at different concentrations for different levels of clean.  If you only try one Shaklee product, try this one!
For spring cleaning, sometimes you have to get REALLY into it and scrub.  Have you ever had to wear those cumbersome yellow gloves when cleaning with toxic chemicals?  Well, this year I tried out the Scour Off Paste from Shaklee.  This stuff is amazing.  I can't even write words to express my love.  No yellow gloves required.  Clean your OVEN with no yellow gloves!  I used the paste on my entire shower.  It ate though the soap scum like it was nothing.  Again, a little goes a long way and I have plenty left to use in other areas of my home.  Yes the scour off paste will even remove rust.  Again no gloves required.  How many cleaning products can you say that about?
I am hands down a Shaklee fan.  I have also used their Automatic Dish Wash detergent.  I am chomping at the bit to try even more products (I will definitely add another Scour Off Paste to my order when I do).  Want an even better deal?  How about 15% off your first order!  
Head on over here and sign up
to get your discount!
My checklist so far is looking pretty good!  I have decluttered various areas of my home but as we all know that is a work in process.  The downstairs is complete for spring cleaning tasks.  I am going to put the kids on the upstairs next week.  I will just be left with the outdoors tasks to complete but I hope to enlist some help from hubby on those.  I am also going to try this baseboard cleaner. So tell me about your spring cleaning?  Have you started?  Don't even plan to start?  Any tips you have for me?
I was sent product from Shaklee for this post but all opinions are mine.  Some links are referral links to Shaklee.
Get Our Weekly Newsletter